Gift Guides
18th Birthday Gift Ideas: Super Cute Jewelry That Won't Break the Bank
Turning 18 years old is an extraordinary milestone in a teenager's life. Not only do you become an adult officially, but in some places across the world, you can legally buy alcohol and are illegible to vote. You may also have graduation coming or moving out of the parental home. In some places around the world, 18-year-olds can get married without parental consent and learn how to drive. It is an age where you begin adulthood and can start making life-changing decisions that will affect your life. Some decisions scary and some very exciting! So you really have to think about some 18th birthday gift ideas if you plan on attending such events.
To mark the occasion you may like to celebrate your special day by having a birthday party, a family meal or even going on holiday. Whatever you decide to do, you're bound to receive a variety of gifts to mark the milestone. Jewelry, in particular, is a great gift to give someone, as this tends to have a sentimental value attached to it. Whether it's a stylish watch, personalized bracelet, or a pretty pair of earrings, the young lady will love a piece of jewelry to mark the special day.
Choosing your gift
When a young girl turns 18 years old, it is a special occasion that she'll never forget. At the age of 18, you can be sure that a young lady will appreciate a piece of jewelry as a gift. She's not only reached the age that she'll look after the beautiful gem properly, but she'll treasure it for years to come. It's essential to be aware of her style and tastes when it comes to jewelry because there is such a variety of pieces to choose from. Once you have a rough idea of this, they'll be no stopping you select a gift that they will love! Take, for instance, some stunning diamond earrings.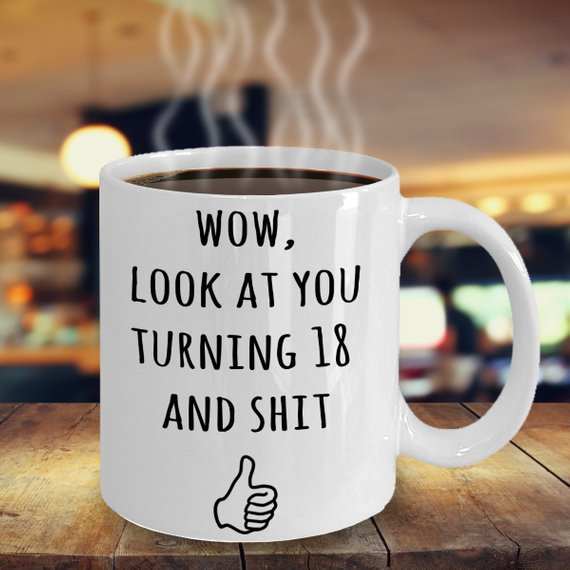 This may be the first time the young lady may own or has ever worn a pair of diamond studs, so why not treat her to a couple of dazzling beauties. You can guarantee the timeless gift will be worn for years after her 18th birthday. You've also got the option of buying a gift that represents her birthstone. Whether it's a necklace, bracelet, ring, or pair of earrings, she'll be `very happy with this piece of jewelry that carries a special personalized meaning. Charm bracelets are another classic gift to give her on her special day. If she already wears a charm bracelet, you may want to buy a charm to add to it.
You could opt for a good luck symbol or a charm to represent an interest or passion of hers. Either way, you can't go wrong with this. Personalizing a piece of jewelry is a great way to guarantee originality. The choice of jewelry is endless – necklaces, bangles, bracelets, and charms. You may like to include some words of wisdom for the young lady or personalize the piece of jewelry with her name or date of birth. Either way, she'll genuinely cherish your gift.
So if it's your daughters, granddaughters, nieces, or friends special day, we have selected a variety of pieces that will show them how much they mean to you.
Our 10 Favorite Birthday Gift Ideas

1. Sllaiss Set with Swarovski Zirconia Stud Earrings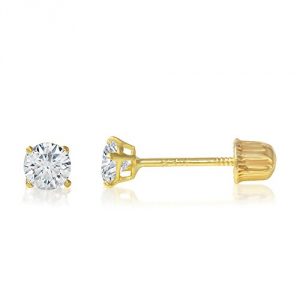 What better way to mark your daughters 18th birthday than with a stunning pair of stud earrings. These gorgeous earrings have been designed with a beautiful round diamond in a four-prong setting. The earrings have a gold finish which provides a lovely setting for the sparkling diamond. These elegant earrings would be a great addition to any ladies wardrobe.
Made using Swarovski zirconia diamonds these earrings have been cut to a round shape, approximately 6.5mm in diameter. Interestingly the brilliant diamond has 57 facets to it, making the pair a stand out jewelry accessory. These earrings have been made from solid sterling silver which has been covered in an 18k gold plated metal. A four-prong basket setting also achieves a classic design and shows off the 2-carat diamond from many angles. The metal stud has a high polished finish, making them shine beautifully. The stud earring has also been designed to ensure comfortable wear in mind.
A 0.8mm width earring post provides a comfortable fit, and a double notched post attachment ensures extra security when wearing the earring on your earlobe. The 18k gold-plated finish makes this pair hypoallergenic, so there's no need to worry if you have sensitive skin. Made from 18k gold plated, these earrings are incredibly durable so they will last for a lifetime.
Diamonds are a girl's best friend, so diamond gold studded earrings like these will undoubtedly please any lovely lady. The great thing about these sparkling beauties is that they'll match every outfit in your wardrobe. Dressing for a day in the office, meeting up with friends for lunch or going out for a special evening, these earrings are exquisite and will lighten up any room.
This gorgeous pair of sparkling stud earrings have been made by Sllaiss Jewellery who specialize in creating beautiful jewelry. They pride themselves in creating high-quality pieces of jewelry. They also have a design philosophy which is 'love.' They pride themselves in blending love into each piece of jewelry that they make.
This eye-catching pair comes in a gift pouch and black gift box.
2. KUIYAI Happy Birthday Necklace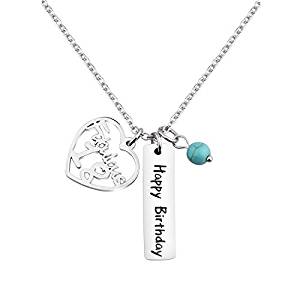 If you want to surprise someone with a little bit of personalization, then this necklace is a great choice! This stainless necklace consists of modern and simple design. The dainty charm includes three complementing charms. Firstly the silver heart which includes the text 'Fabulous 18', marking the fantastic milestone. The second charm includes a lovely 'Happy Birthday' message which is featured on a stainless steel dog tag bar. Finally, the third charm is a turquoise style bead that finishes off the trio of charms perfectly.
One of the things we really like about this necklace is that it is made of stainless steel, meaning that it is hypoallergenic which ensures that it won't tarnish, change color or rust. It is nickel and lead-free, which is excellent if you have sensitive skin. This charm necklace is a classic gift to give someone for their 18th birthday. The design has a young vibe to it which makes it perfect for this age. The heart chain is sized to approximately 0.79 inches, and the happy birthday bar is sized to 3cm by 0.8cm. The chain is 18.11 inches which is the right length. Along with the turquoise bead, the style of these charms looks excellent together.
What's careful about this necklace is that it shouts about the fact that wearer has turned 18 years old. The accessory also allows you to add further charms to the piece of jewelry at a later date. It's also improbable that someone else will have a necklace like this.
This piece of jewelry has been created by jeweler, Kuyai. Looking at their jewelry collection, they offer a range of personalized jewelry. These pieces include bracelets, necklaces, bangles, pendants, and key chains. The items are made from stainless steel, and there is a common trend of messages contained on all of the individual pieces within their collection, giving them a level of sentimental value and uniqueness. The jewelry style also carries a modern and minimalistic feel to it which we really like.
3. Pandora Women's Charm 791726PCZ, Silver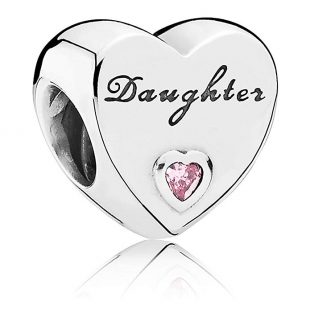 Pandora bracelets continue to be a firm accessory in every girl's jewelry box, and with this, in mind, a new charm makes a great gift to treat a young lady to on her 18th birthday. This sterling silver charm would make a gorgeous present for your daughter's birthday. Shaped as a heart, the smooth, shiny charm includes a smaller pink heart-shaped charm. The gem sparkles and brightens up this charm beautifully. This heart-shaped charm also includes a lovely handwritten message 'daughter' personalizing the charm.
Made from sterling silver, this gorgeous charm includes a pretty pink cubic zirconia gem that lightens up the charm. The heart-shaped charm is a generous size being 4.70 inches in length and weighing approximately 5 grams.
This genuine PANDORA charm is packaged in a PANDORA box and is secured safely inside a white bag with a ribbon. The well-known brand, PANDORA, is known for creating a beautiful collection of unique and individual charms suitable for any occasion. Whether it's a pretty charm to put on your bracelet or one for your necklace PANDORA is the supplier to buy your charm from. As you're probably already aware, PANDORA has a stunning collection of pieces including rings, bracelets, and necklaces.
4. Initial Disc Necklace Coin

If you can't get enough of personalized jewelry, this range of delicate jewelry may be just what you've been looking for. This necklace includes a coin-shaped pendant on a thin dainty chain. The smooth, shiny coin-shaped necklace would make a lovely 18th birthday gift for the young lady in your life. The pendant also features a letter and date referring to the special day. This makes a very sentimental and personal piece of jewelry that we love to see.
Made from a 16k gold plated base this circular coin-shaped pendant is approx 0.71 inches wide by 0.71 inches high. What we love about this piece is that's it's available in gold-plated, silver-plated and rose gold-plated metal. On this occasion, we've chosen the gold-plated colored metal because we like it so much! If you're looking for a delicate piece of jewelry for that special someone, this will be a match. The smooth, shiny finish to the gold-plated metal gives this a stunning shine that you won't be able to miss. This coin can be personalized with an initial, name or date of birth to mark their special 18th birthday milestone. Multiple charms can also be added to this necklace at a later date which makes it even more special. This piece of jewelry is definitely worth purchasing because it makes a lovely charm and is great to wear every day.
This charming gift has been designed and created by a company called Mignon and Mignon. Their range of jewelry consists of beautiful necklaces, including coin pendants, name bars, and engraved bracelets. Each design is available in yellow gold, rose gold and silver. They love their personalization across their pieces of jewelry which is great to see! This stunning necklace is also being sold for a reasonable price, making it even more attractive!
5. NinaQueen Lucky No.18 925 Sterling Silver Pendant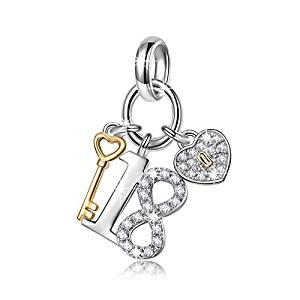 We've selected another charm, but this time it's more in-keeping with the birthday occasion. This gorgeous sterling silver charm consists of a striking '18' number. The number 8 is made from sparkling gemstones which stand out alongside a smooth plain sterling silver number 1. The charm also features a dazzling silver locket which is full of sparkling gems and yellow gold detail around the lock. This pretty charm is then paired with a sizeable yellow-gold key which complements the sterling silver metal color. The trio of charms complements and balances one another perfectly.
Made from sterling silver the number '18' charm is approx 0.43 inches wide and 0.47inches in height. Designed by NinaQueen, this charm will fit perfectly on Biagi, Chamilia European and Troll branded bracelets as well as necklaces.
One of the many things we like about this NinaQueen charm is that it comes in a lovely black gift box. All of NinaQueen's jewelry is made from sterling silver and are created to the highest quality. NinaQueen pride themselves in making pretty, elegant, and unique pieces of jewelry that mark a special moment in time. NinaQueen also believes that each of their gorgeous bracelets tells a story, and when wearing them, the charm reminds them of the special occasion. Charms are also meant to possess special magical powers, and when a bracelet reaches 16 charms, the wearer will receive a lifetime of good luck.
This charm is a beautiful piece of jewelry that any 18th-year-old girl would be pleased to receive as a gift on her birthday!
6. Sterling Silver Lucky Horseshoe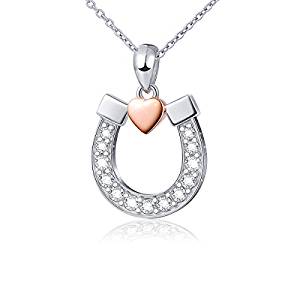 One of the reasons why we chose this pretty little necklace is because the design includes lots of sparkles and a pink heart – what more could you want! This gorgeous necklace includes a delicate sterling silver horseshoe that includes a single row of sparkling gemstones. Joining the horseshoe to a sterling silver chain is a pretty little rose gold heart that adds a touch of pink to this little pendant.
Made from sterling silver, this gorgeous necklace features a 'U' shaped symbol that represents a horseshoe shape and is also shaped to represent a 'Love U' message. The 'U' shape features cubic zirconia style gemstones that give this piece an unforgettable shimmer. Sized at approximately 1.06 inches high by 0.79 inches wide this is a cute little piece that would suit anyone's neck. The gemstones are positioned in a flat-top-setting, making them take center stage in the necklace. The tiny rose gold heart also displays a shiny, smooth surface that looks very elegant. This gorgeous pendant is attached to a rolo style chain which gives this necklace a delicate feel.
You'll be pleased to hear that this piece of jewelry is lead-free, nickel-free, cadmium-free and hypoallergenic, so if you have sensitive skin, you don't need to worry about wearing this necklace. The piece is also very durable, so it will last for years to come. If you want to go one step further, you can also buy a matching horseshoe bracelet to match this charming necklace! The supplier also offers a horseshoe necklace available with a rose gold star instead of a heart, giving you plenty of options when it comes to the birthday gift.
This pretty piece of jewelry has been crafted by Silver Light Jewellery Company who has jewelry stores in Hong Kong. They make all of their pieces from genuine sterling silver, and a lovely collection of jewelry online includes stunning necklaces, rings, and bracelets. Take a look at their collection; you'll love it!
7. Cate & Chloe Isabel 18k White Gold Teardrop CZ Earrings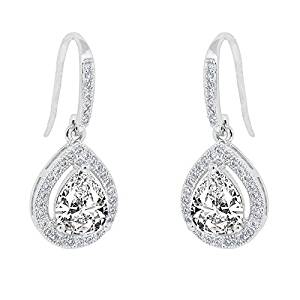 Wearing these beautiful earrings will certainly make you the belle of the ball. Perfect as an 18th birthday present, these earrings are both comfortable and look utterly gorgeous. Shaped in a teardrop these earrings are covered in dazzling diamonds, making them shine brighter than the stars at night.
Made from an 18k white gold plating these teardrop earrings include lots of cubic zirconia stones which make the earrings stand out beautifully. They also look like real diamonds so you'll be pleased to own these at a fraction of the price. These earrings are nickel-free, which means they're suitable if you have sensitive skin. These earrings also sit comfortably on your earlobe via a hook. The pair of earrings arrive in a pretty black and white gift box which includes the 'Cate & Chloe' logo on the front of the box as well as a pretty black ribbon preventing the box from opening.
These stunning earrings have been created by Cate & Chloe, a leading jewelry designer that creates quality pieces. Their beautiful collection of jewelry includes rings, necklaces, and earrings. They pride themselves on creating timeless pieces that are made to the highest quality.
These crystal style earrings would make a lovely gift for any young lady celebrating her 18th birthday!
8. Sterling Forever 3 Piece Stacked Ring Set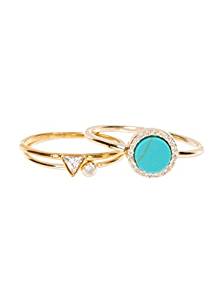 Stackable rings are bang on trend at the moment, and these pretty rings are no exception! This trio of rings consists of three different designs, including a gold band with a gorgeous turquoise stone that is surrounded by sparkling gems. The second ring contains a smaller triangular gemstone, and the third ring includes a smaller circular gemstone. Worn all together, these three rings will definitely add a touch of sparkle to your day!
Each of these rings has been made from 14k gold plated brass. The larger of the three rings contains a simulated turquoise gemstone and the two other rings model a circular and a triangular cubic zirconia gemstone. Each ring ranges from 5 to 10 in size, allowing you to choose the perfect size for your finger. The combination of brass, turquoise, and cubic zirconia colors complement each other perfectly. The brass metal also has a lovely shine that lightens up the room. Even though these three rings should be worn together, they'd also look great worn individually. On arrival, each piece of jewelry comes in a high-quality pouch. These will keep your jewelry safe and prevent them from tarnishing.
Created by Sterling Forever, this supplier offers a collection of beautiful necklaces, rings, bracelets, and earrings. They sell a variety of jewelry made from gold and silver-plated metal and contain a selection of dazzling gemstones that you won't be able to take your eyes off!
9. Fossil Jacqueline Three-Hand Date Leather Watch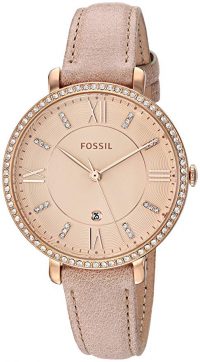 This Fossil women's leather watch would make a fantastic gift for the 18th birthday! Made by one of the leading watchmakers, this stunning watch is very pretty and unforgettably elegant. The watch face has a rose gold background, and three rose gold dials. Sparkling gemstones frame the entire watch face and brighten it up, and a rose gold leather strap completes this fashionable watch.
Made from stainless steel the watch case is 36 millimeters in diameters and 8 millimeters in thickness. The watch strap has been created from leather calfskin giving it a lovely texture, and the beige color complements the watch face well. The strap offers a good width, 14 millimeters to be exact. The attention to detail in this watch is quite something that makes it a stunning gift to give as an 18th birthday present. This watch is being sold for a medium price.
Even though it's more money than a lot of our other gifts we think it's definitely worth the extra dollars! Not only is this watch beautiful in style but its lightweight giving extra comfort for the wearer. Its casual design also makes a great accessory for everyday wear. The Fossil brand speaks for itself, so we're not surprised at the quality of this piece of jewelry. Buy your watch now! You know you want to.
10. White Gold Plated Bangle Bracelet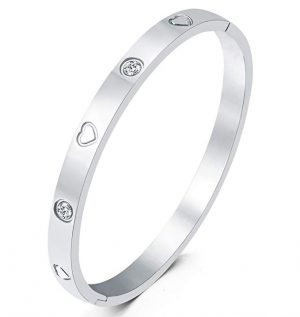 This white gold plated bangle has been beautifully designed, creating a lovely piece of jewelry perfect for a young lady turning 18 years old. Made from stainless steel and coated in white gold this bangle contains quality cubic zirconia simulated diamonds. These gemstones certainly make the bracelet shimmer in the light giving the piece of jewelry a feminine feel. The sparkling gems are also broken up by featuring smaller hearts that have been engraved into the stainless steel bracelet. This circular bangle is made to approx 2.36 inches by 1.97 inches in diameter, making it a great size. In order to open and close the bangle, it features a push-and-pull mechanism where you squeeze the ends of the bangle in the opposite direction to release the notch. This simple method makes it easy to put on and doesn't affect the stunning design of the piece of jewelry.
This beautiful bracelet is packaged in a pretty cream gift box with a shiny bow on the lid, giving it that wow factor. You can expect a quality product from this supplier. Made by Mvcoledy, they also produce a number of similar bracelets, ranging in a variety of colored metals including yellow gold, silver and rose gold. Their collection also consists of stunning earrings that you won't want to miss out on. Enjoy browsing their selection and spending those dollars!