Gift Guides
Jewelry Christmas Gifts: 10 Items We would Like to Find under our Christmas Tree!
Marianne 17 Dec 2019
3165
There's almost nothing that beats that 'Christmas is around the corner' feeling. With the air already filled with Christmas songs and the twinkles of those lights dancing in the night. All the tell-tale signs you need to start preparing how to spend the Christmas with your loved ones is complete. And what better way to prepare than to start thinking of the gifts to get them for a great Christmas. One of the most precious gifts you can give is jewelry Christmas gifts.
If you haven't found the perfect gift yet or you are still unsure of what to put under the Christmas tree, then why not choose – jewelry. This gorgeous pieces of accessories always make the cut when it comes to gifts. They are perfect for Christmas, the new year, engagement gift and any other holiday your mind can conjure. Just look for the perfect one that has all that shimmer and sparkle but still meets your budget.
There will certainly be a lot of smiles around and your loved ones will know you have been thinking about them all year long with such a meaningful gift. So why not flow along with the beauty the holiday brings to the world by adding jewelry to your Christmas gift list.
Why choose jewelry as gifts this Christmas
Jewelry has always been a perfect choice when it comes to sharing gifts. From trendy accessories to heirloom that speaks a thousand tale, you can always be sure that you can't go wrong with it. And these trends didn't just start recently.
In ancient times jewelry was made from shells and was worn as a mark of high rank or revered status. Over time, when metalworking started to find its way into civilization, craftsmen became skilled in the art of crafting gold, silver and other precious stones. This made the popularity of the jewel increase, and those that could afford them immediately encroached it. Royals even adopted it as a gift for their family or anyone they wish to proclaim love to.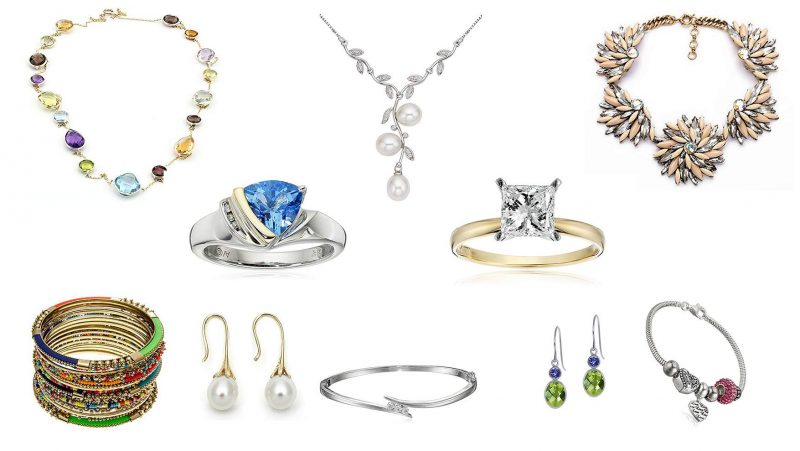 One significance of the jewelry to the Christmas holiday is the fact that it was recorded as one of the gift 'baby Jesus' was given. This is surely one of the stones used in pieces of jewelry today. And what's more, they mark wealth, love, abundance, prosperity and vibes all the positives in the gift list.
Furthermore, pieces of jewelry can be worn anywhere. You can use them to adorn yourself when you are going out for a formal outing, celebrity concerts, red-carpet events and even to the club. With their versatility in full fledge, you can be sure that they are indeed one piece of ornament that is well appreciated all over the world.
What to consider when choosing jewelry as Christmas gifts
If you have finally decided that you want to give your loved one's jewelry this Christmas as gifts, then you should know there are certain things you have to consider. It will be the wrong choice to get earrings for someone who has no piercings or an anklet for a girl who never wears one.
There are also certain pieces of jewelry that don't suit the lifestyle of people, don't go giving out gems that go against peoples believe. Another thing is to make sure that you know the size the persons wear. For example, check the previous jewelry collection of the person for accessories like rings, bangles, and watches. Most importantly you want to know if the person has a specific allergy history with some types of metals. If you don't want to find out, then get a material that is universal like platinum.
What we want is for you to get a gift that will forever stay on the body of those you are getting them for, not just something that won't fit.
Our 10 favorite picks!
1. Shi Keng Men's Watches Waterproof Chronograph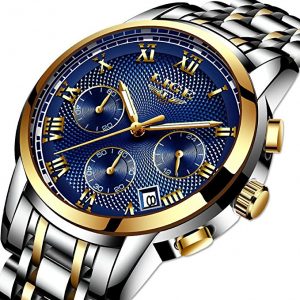 Watches are one fashion accessory that is universally accepted. You can dazzle in them while still using it to keep track of time. With the sophistication and usefulness combined, you get a piece of jewelry that has all you need.
This timepiece from Shi Keng has everything you need to wow that special one you want to give. It comes with a stainless steel plate and keeps accurate time using the Japanese quartz. You also can use in cases of temporary contact with water, but it is not suitable for long immersion like swimming in the pool or taking a shower. Also, the design is luxurious and can be used to add a bit of sophistication to your dressing, whether you are going out for a cocktail party or casual outing, you can count on the quality glass to keep you on time.
Another perk that adds up to the list of excellent features of the watch is the scratch-resistant glass. There is also a clasp that keeps the watch on your wrist making sure it is safe just where it is. Get one for you man or your teenage son, they definitely will feel special with a gift like this.
2. Joelle Jewelry Design Handwriting Bracelet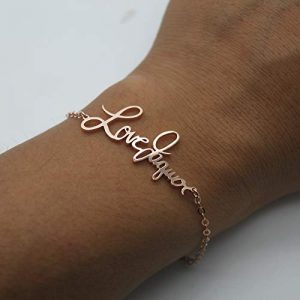 Superb jewelry gift that spells out the name of who you are giving it to – well, there is nothing more personal than that. Joelle jewelry crafts bracelet with great designs that can be customized with the name of the person you want to give it to. With beauty and allure, it will bring great joy to that special person's heart when they see their name beautifully designed in silver.
The bracelet is made with 925 sterling silver and has a thickness of 1.2 millimeters. With the Rolo chain connected to the designed initial, the bracelet can be adjusted to fit just about any wrist size. Joelle jewelry also uses the services of expert craftsmen, which means that their product comes with outstanding quality and they are fast in getting the whole crafting done.
You can order for yours and get it within a week. The process is also quite affordable, and you can choose the design that you want. With so much choice for an exquisite piece of jewelry, you certainly want this under your Christmas tree.
3. QIANSE ️♥ Stay for Love ♥ Bermuda Blue Swarovski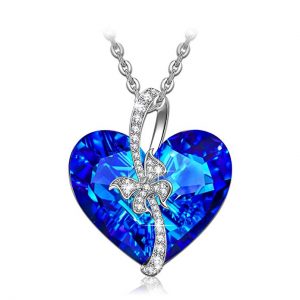 Necklaces are pretty lovely when thinking of Christmas gifts. They look magnificent than you use them, especially with a great pendant that radiates beauty. And this is precisely what you have with QINASE Swarovski crystal necklace. Made with Swarovski's crystal, it is specially crafted with the level of expertise needed to make sure that quality is guaranteed.
With a theme of "spread your wings and fly," the Bermuda crystal necklace was made with a micro-pave setting. The heart shape of the blue crystal had metal twisted all around and adorned with beautiful little crystals. You won't also need to worry about any allergy the person you are gifting has since there are no nickel or lead in the material composition. Also, various tests have been carried out on it, before it was awarded a Switzerland's SGS Environmental Standards Certificate.
If you are wondering how much the necklace weighs, the jeweler made sure it is lightweight with just 4.2 ounces.  You can also get the whole set complete with earrings and bracelets. The entire package comes in a gorgeous gift pack so, with just a little Christmas wrapper, you can slide it under the tree.
4. Finecraft Square Link Tennis Bracelet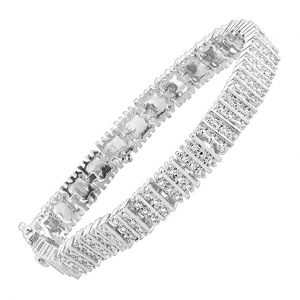 Get It Here
For anyone that loves to rock tennis bracelet in style, this is just for them. The design of the bracelet is breath-taking and awe-striking. There are representations of the little square all glittering and made with diamonds for such a sparkle that is blinding. You can take one look at it and know that whoever is going to unwrap that package will be screaming with glee.
Finecraft are famous for their exquisite collection of jewelry, from necklace to bracelet, they have hands-on experts that create nothing but the absolute best. The bracelet comes with round-cut diamonds set in rectangular sterling silver plate. It comes with a brass link that features some rectangular plate in the middle for elegance.
You can also be sure that it will be an excellent fit for your hand since a box clasp with tongue was crafted into the whole set. The diamonds weigh about 0.01 carat, but with so many of them, ambiance is not far from your wrist. The diamonds were made without any treatment in an all-natural process.
The width of the bracelet is about 0.25 inches while it measures 7.25 inches in length. Everything was done appropriately to give you comfort, beauty, quality, and elegance all in one package. Another beautiful thing about the bracelet is that you can give it to a man or woman. Just check it out, and you might end up even getting one for yourself and another as a Christmas gift.
5. GemStar USA Bracelet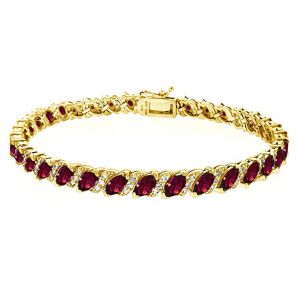 The beautiful thing about the bracelet is that they are worn in the part of the body that makes them easily noticeable. And nobody wants to wear an ugly bracelet if they can afford it. Which is why we have Gemstar USA marquise-cut tennis bracelet with topaz accents just for you. It's really a beauty to behold with all the sparkle the gem creates against its bright background.
With an elegant and chic design that the bracelet was crafted with, all the features were brilliantly handled by expert jewelers. It was made with marquise-cut created ruby gemstones set in elegant yellow sterling silver. No nickel or tarnish was used so that you can be guaranteed skin safety. There are also topaz accents which were used to complement the beauty making even more gorgeous.
Each of the shine is 6×3 millimeter marquise and weigh 7.58 carats, while the topaz is 6.82 carats for lightness with quality. You won't need to be scared of having the jewelry fall off your wrist since there is a box with tongue clasp installed in it. There is no doubt that Gemstar USA outdid themselves with this one. Just click on the link above and see the dainty bracelet that features a million sparkle in an extraordinary package.
6. SILVER MOUNTAIN S925 Sterling Silver Stud Dangle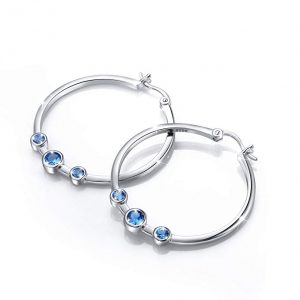 Get It Here
Earrings are a very prominent part of the jewelry family; you can use them to complement any other piece of jewelry that you have on. Or just use them alone to add that bit of dazzle to your apparel. This Christmas you can be Santa and get this beautiful pair of earrings for your loved ones.
These earrings are the hoop type and have been designed with S925 sterling silver, a material that is absolutely durable. It is also hypoallergenic and does not have nickel, cadmium or any other dangerous material added to it. When you look at the picture, you can also see three grade AAA blue cubic zirconia used to add a simple but nice ambiance to the product. If you have someone that loves elegant but simple, then this is for them.
It measures just 1.18 inches in diameter and weighs only 6.69g which makes sure that it doesn't weigh your ear down. With the color, you can wear it on any piece of clothing. Simplicity meets stunning is what describe these beautiful hoop earrings (see the hoop cartilage earrings), and you can count on its charm to win a smile when unwrapped this Christmas.
7. Devuggo MABELLA Jewelry Sterling Silver Pendant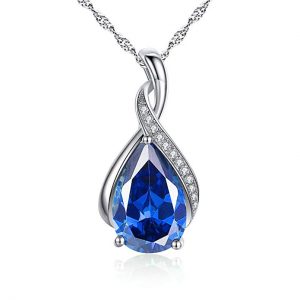 If you still haven't found your pick in all the jewelry listed above, then this might be just for you. A blue necklace that surrounds your neck with a beautiful chain and unusual gem. It was created especially for gifting and has everything that can please whoever it is you want to give it to.
The pendant that comes with the necklace is beautifully made with simulated-blue-sapphire cut into a pear shape, or more like a tear-drop. There are cubic zirconias to accent the whole design and complement its beauty. Even though the metal is made of sterling silver, the two colors still look gorgeous together and are held secure by a good prong setting.
You won't have any trouble wearing this beauty with the 18 inches of chain that comes with it. Made without lead, cadmium, or nickel, it is absolutely safe for you to wear. You can trust that expert hand that made it was careful enough to craft every detail exquisitely. Although you have to take a bit of care when wearing it, especially when you are taking a dip in the pool, just take it off and keep it in a box or soft pouch.
8. Menton Ezil "Enchanted Love Swarovski Set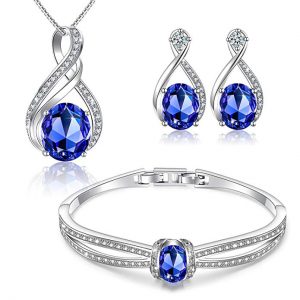 This is one seriously complete set of beauty accessories. You can have all you want in one awesome package. What you get when you make this purchase is an exquisite and timeless set that has a bracelet, earrings, and necklace – all specially crafted with Swarovski crystals. All the jewelry is assorted and creates a beautiful array of sophistication all in one big pack.
Mention Ezil is the official brand partner of Swarovski element, and they have professional craftsmen that can fashion quality jewelry out of the crystals. Starting with the necklace, it features a heart-shaped Swarovski crystal set into an 18K plated alloy for more durability and aesthetic pleasure. The set is also perfect, and the lobster-claws-clasp is there to keep the chain securely around your neck. While the length of the chain is 17 inches, the pendant is 0.78 inches wide which makes them a perfect combination to fit your neck perfectly.
The earrings are made with the same crystal but have them in smaller detail. You can be assured that the 0.43 earrings match the necklace with every detail. And it has no harmful material like nickel, lead or any of such materials. Finally, in the set is the bracelet that is 7 inches round and meets up with the other two features.
Love has never been better designed at how Mention Ezil has put it. The signature of this set is love and that is what this holiday should be all about. Get the complete set today and have it wrapped neatly with the other gift under the Christmas light and décor. The manufacturers made sure that high-quality materials were used so you can be sure that durability, quality, and affordability is guaranteed.
9. Bling Jewelry Lucky Elephant Animal Charm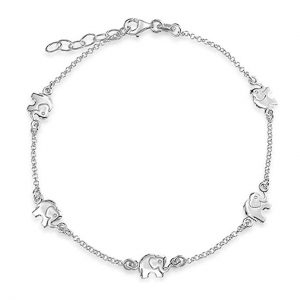 Ever seen how beautiful anklet really are, they shimmer all over your ankle especially when you are wearing knee-length pants. This piece of jewelry comes in dazzling array, and you should not have any trouble getting one for your loved ones. Bling jewelry creates exceptional jewels that bring out the best in whatever part of the body you wear them. From a remarkable array of the collection, this product is one right from their top-shelf.
The anklet is made with 925 sterling silver that has five elephants strung together by Rolo chains. Elephants are thought to be symbols of wisdom and great strength so you can rock it as your good luck charm. You can safely secure it around your ankle with the lobster claw clasp and not worry about having any redness or irritation afterward. Crafted with a length of 9 inches and weighing 4.7 gram, it's the perfect fit for your legs.
This gorgeous anklet comes in a beautiful pouch for you to keep it safe when it's not in use. With such an accessory you certainly will make someone year by gifting it at Christmas.
10. U7 Crystal Cufflinks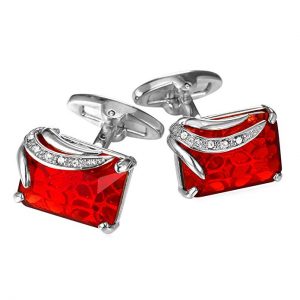 Cufflinks are pretty great with the quaint beauty they give to any cloth you use them with. They are pretty handy and can create a whole deal of classiness to a man's clothing, and that is why we have added it to our Christmas wish list.
U7 are pretty nice when it comes to creating fashion accessories for men. They make sure that any item that carries their brand name is well-crafted with such dexterity that it is utterly unique. And this is the level of expertise they have put into making the crystal cufflinks. The product was made with ruby red Austrian fancy stone and decorated with 7 cubic zirconia. You can rely on its 1.8 x 0.6 dimension to fit your cuffs perfectly and not slip off while you are out. They also weigh about 16g for each pair and come in very high-quality platinum metal.
Get one today for your son, husband or any other loved ones, and they would really love the pair. Whether it's a formal dinner, a charity event or a meeting, they surely will be comfortable putting this gorgeous pair on jewelry on their cloth. It's also affordable and comes in a nice box.
How to Care for Your Jewelry
✓ Most of the jewelry in this article are affordable and might not be able to withstand severe conditions like the chlorine in the pool or hard knocks.
✓ So to take excellent care of them, take them off while taking a dive in the pool.
✓ You can also brush them softly before storing them in the soft pouch they came with.
✓ For sterling silver, you should take it off before taking a shower. This would ensure they last a very long while.