These 7 Blue Sapphire Engagement Rings Will Warm Your Heart!
last updated:
Aug 12, 2021
Blue sapphire engagement rings have a luxurious allure that's unmatched by other gemstones.
The effortless brilliance of the crystal-clear blue gem symbolizes good fortune, virtue, and unmatched wisdom.
Suppose you're looking for a showstopping piece to give to your forever person.  In that case, this is one of the most illustrious options to consider.
Let's take a look at some of the most intricately designed blue sapphire engagement rings perfect for your future fiance/fiancee.
Frequently Asked Questions
q:

What is a sapphire?

a:

Sapphire is a gemstone that is famous for being the birthstone for September and the gem used to celebrate a 45th wedding anniversary. However, that isn't the only occasion for which sapphires can be worn and we think that sapphires make a great choice for an engagement ring.

Traditionally, sapphire is blue in color, however, sapphire gemstones can come in a range of colors from purple to green.

Interestingly, the only color that a sapphire can't be is red as this would be classed as a ruby (which of course is just as beautiful!).

Sapphires are known to have been worn as jewelry as far back as Roman times and when used in jewelry, the stones are polished until they display a fantastic shine, perfect to be used as the centerpiece for rings, necklaces, earrings and much more!

The color of sapphire comes from the minerals within the gemstone and sapphires get their color from a particular mineral called corundum. There are other minerals contained within a sapphire (such as iron and copper) and the color of the stone will vary based on the amount of each mineral that the sapphire contains.

One thing is for sure, sapphires are tough! They're actually the third hardest mineral in the world and are noted as being 9 on the Mohs scale which is used to measure the hardness of minerals (diamonds are the hardest mineral).

This is great news if you're wearing a sapphire as part of a ring because it means that it is very durable and won't scratch easily. It's very likely that you may already own a sapphire or at least something which contains sapphire.

Sapphires are so hard that they are often synthetically produced to make robust sapphire glass (often used by watchmakers and even by Apple for some models of their Apple Watch).
q:

What's the difference between a natural and a simulated sapphire?

a:

Some of our top blue sapphire rings contain what's known as a 'simulated' sapphire. A simulated sapphire can be distinguished from a natural sapphire as it is one that is made within a lab whereas natural sapphires will be mined from beneath the earth.

When we say 'made', these simulated sapphires are in fact 'grown' under controlled conditions. You might be a little put off from buying a simulated sapphire by thinking it's not a real or 'natural' stone.

However many simulated sapphires are indistinguishable from natural sapphires when it comes to their visual appearance, physical shape and also their hardness.

Natural stones are noted for their rarity however simulated stones are also known to be of very high quality and in appearance are generally of equal beauty. Gemmologists will be able to tell the difference, but to most people, a simulated sapphire is just as attractive and just as desirable!
q:

Where have I seen blue sapphire rings before?

a:

The real question is where haven't you seen a blue sapphire ring! These are famous for being gifted as the ultimate romantic gesture and are the ultimate example of an engagement ring.

One of the most famous examples of such a gesture was given by the French Emperor, Napoleon Bonaparte, who chose a sapphire and diamond engagement ring for his fiancee Josephine in 1796. The ring has since sold for almost one million dollars but rest assured, our top 10 list contains a section of rings for a more modest budget!

Blue sapphires have since been the engagement ring of choice for a long list of celebrities including Penelope Cruz and Elizabeth Hurley and it's also one of many engagement rings chosen and worn by Victoria Beckham.

But by far the most famous and perhaps the most beautiful blue sapphire ring is owned by the Duchess of Cambridge, Kate Middleton. This ring famously belonged to the late Princess Diana and was the ring of choice for Prince William when he proposed to Kate.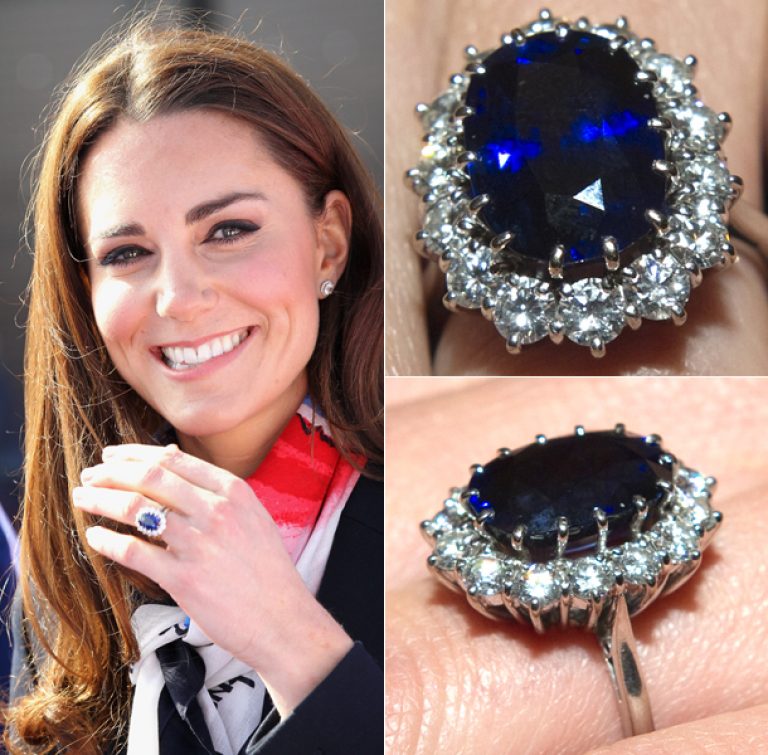 This 18k white gold ring is truly stunning and includes a 12-carat oval blue sapphire which is elegantly set amongst fourteen diamonds. If you're looking for an example of why sapphire rings are so sort after, this ring certainly shows why sapphires are so popular.
q:

What does a blue sapphire symbolize?

a:

Blue sapphire is one of the most beautiful natural stones that have a unique symbolism.

In the past, cultures referred to it as a gemstone resembling social harmony and peace between lovers and adversaries.

Other groups suggest it symbolizes overall well-being, good fortune, and positive influences.
q:

How can I tell if my blue sapphire is real?

a:

There are three primary ways to check whether your blue sapphire is genuine or not.

Checking for flaws, searching for tiny bubbles, and conducting a fog test should give you a good idea. When checking for laws, you'll want to use a jeweler's loupe to see any blemishes within the stone. If there are inclusions, it's likely a real sapphire.

The fog test is convenient as it doesn't require any extra equipment. All you have to do is breathe on the stone and see how long the fog takes the clear; if it takes less than five seconds, it's real.

Finally, searching for bubbles is similar to looking for flaws and inclusions. Using a jeweler's loupe, look for tiny bubbles in the middle of the stone while it's held in front of a light. If there are clusters of bubbles, it's likely the stone is fake.