These 7 Blue Sapphire Engagement Rings Will Warm Your Heart!
last updated:
Aug 12, 2021
Blue sapphire engagement rings have a luxurious allure that's unmatched by other gemstones.
The effortless brilliance of the crystal-clear blue gem symbolizes good fortune, virtue, and unmatched wisdom.
Suppose you're looking for a showstopping piece to give to your forever person.  In that case, this is one of the most illustrious options to consider.
Let's take a look at some of the most intricately designed blue sapphire engagement rings perfect for your future fiance/fiancee.
Top 10 Picks
1

. Stone and Strand Ombre Sapphire Ring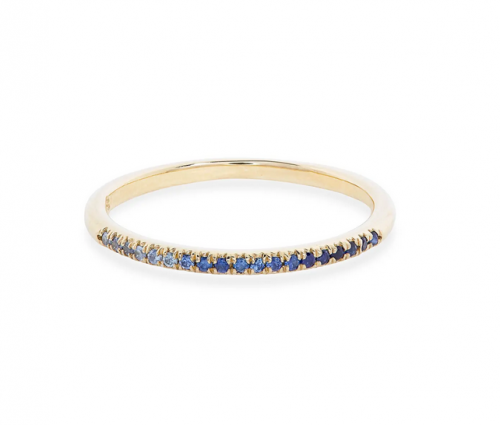 14k yellow gold
Ombre blue sapphires
25 individual sapphires
Thin band
This ring features a dainty band that fits effortlessly on your finger without being too over-the-top.
It's by far one of the most dependable and decorative pieces we've found, especially with its modern designer touches.
Read more
One of the first things you'll notice with this ring is the brilliance of the blue inlaid gemstones.
It boasts a brilliant exterior, paired perfectly with glistening yellow gold.
Instead of the traditional silver or white gold band, this piece has an elevated style for the most daring jewelry lovers.
What makes this piece truly unique is the design of the blue sapphires inlaid in the band. Instead of having one solid blue color throughout the piece, the stones are arranged in an ombre design.
You'll notice light blue, medium blue, and dark blue sapphires working perfectly together, creating a mosaic display.
To elevate the piece's quality, you'll find it's crafted primarily from 14k yellow gold.
2

. Macy's Sapphire Heart Ring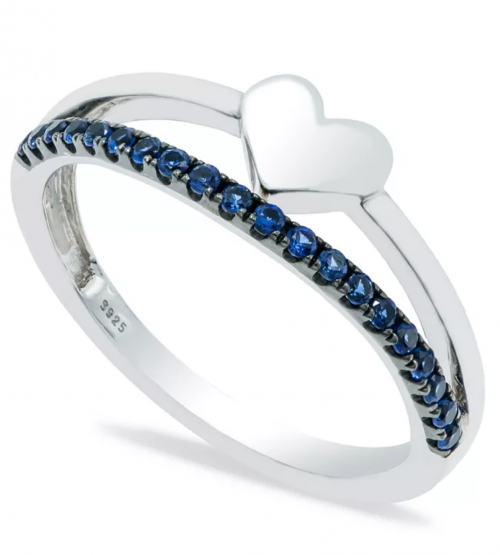 1.5 tcw blue sapphires
Sterling silver setting
Sterling silver band
Heart accent
This option has a unique design combining two rings into one. You have the elegance of a blue sapphire band paired with a delicate heart accent band.
Read more
This ring is one of the most attention-getting pieces we've seen, especially with the duality it offers.
You'll notice the top half of the ring boats a perfectly polished sterling silver heart with a beautiful band of sapphires underneath. There's no doubt the most luxurious part of the ring is the sapphires, ideally set within the thin band.
One of the more notable features is its sterling silver band. As an affordable option, this material is also skin-safe, perfect for people with sensitive skin.
It's time you gave your significant other an eye-catching accessory with a slender, slip-on design.
This piece is striking and finely detailed, perfect for showcasing your true feelings.
3

. Gem Stone King White Gold Ring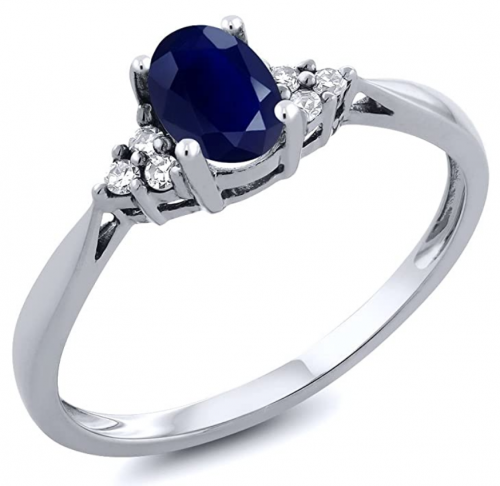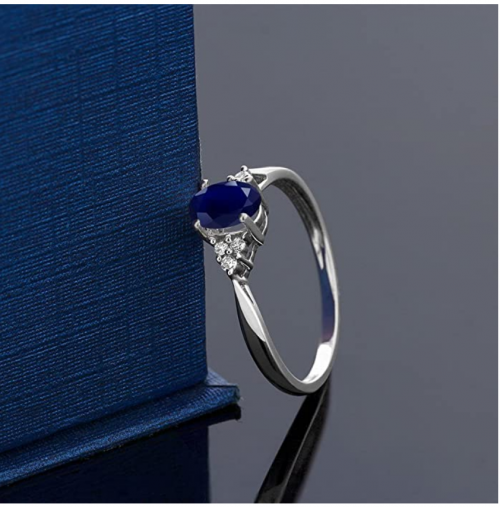 14k white gold
0.61 cttw sapphire
US based brand
This classic ring has a 14k white gold band which elegantly holds the sapphire in a 4 prong setting. To complement the stunning sapphire stone, the ring also includes 6 white diamonds which sit around the larger blue sapphire.
Read more
We think this ring is so attractive and the oval sapphire is perfect if you're looking for a dainty and timeless engagement ring.
The budget for this ring is mid-high; however, you really are getting a lot of ring for your money! In addition to the 14k white gold band, the sapphire in this ring is a natural gem, as are the diamonds.
This all comes together to create a beautiful ring that perfectly balances the deepest shade of blue with the crystal clear whiteness of the diamonds.
What's even better is that your ring will come in a cute little box so it's ready to give as a gift and has somewhere safe to be kept.
4

. Macy's Sapphire and Diamond Ring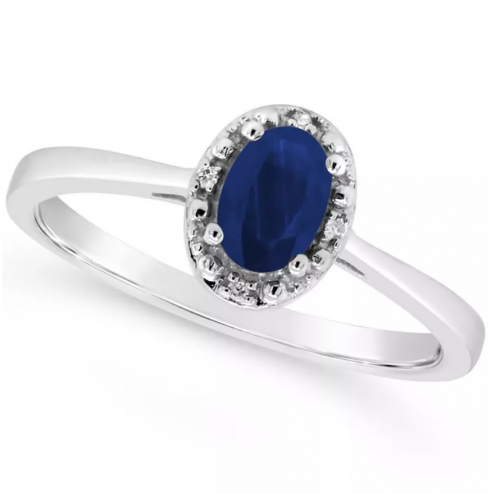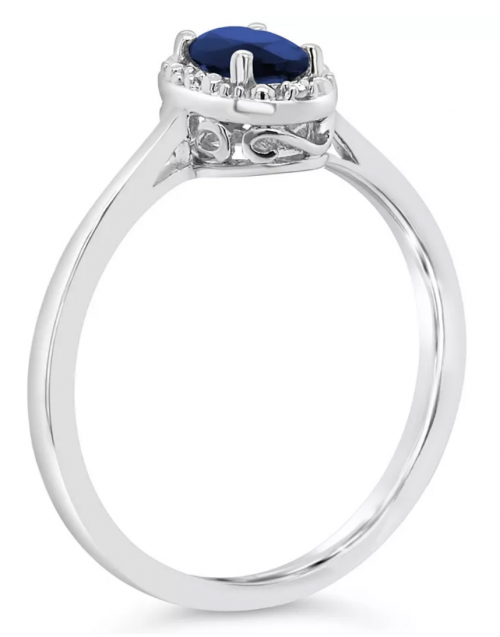 Diamond accents
5/8 tcw sapphire
Sterling silver setting
Polished metal
If you're searching for a more traditional approach to an engagement ring, the Macy's Sapphire and Diamond Accent Ring in Sterling Silver is iconic.
Read more
You will fall in love with the graceful styling it brings to the table, with a vintage setting and two precious gem types.
First, you have high-quality diamond accents encompassing a brilliantly cut sapphire in the center.
The stunning sterling silver band also complements the entire piece, bringing it together effortlessly.
The unique oval setting sets it apart from modern pieces, making it perfect for the most sophisticated jewelry enthusiasts.
We also love the thinness of the band, which makes the sapphire the focal point.
There's something whimsical about this piece, almost as if it was designed for a fairytale princess. We guarantee it will impress even the pickiest jewelry lover.
5

. Dazzlingrock Collection Band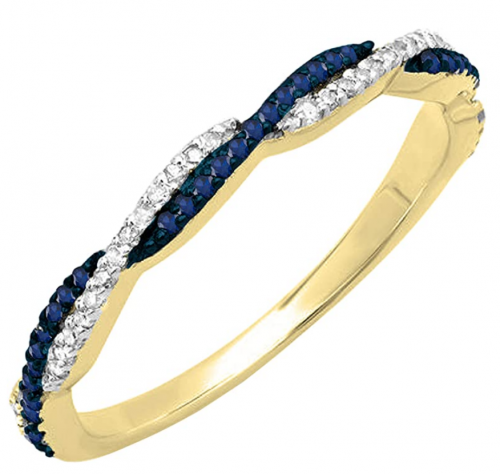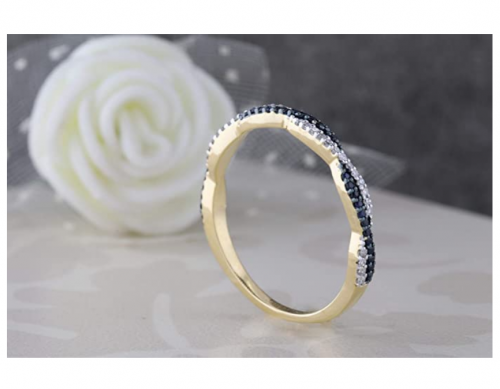 3 metal colors to choose from
Natural sapphires
90 day warranty
This option features a mixture of blue sapphires and white diamonds to once again showcase that classic combination of blue and white gems.
Read more
This ring offers 70 (yes 70!) stones in total along with the band. The sapphires and diamonds are round and natural so you're definitely getting your money's worth with this piece.
The band has cleverly been designed to swirl the blue and white diamonds between each other, resulting in a stunning ring that will look elegant and beautifully dainty on your finger.
It does have a higher price tag, however, you've got the choice of either white, yellow or rose 14k gold (and don't forget you are getting 70 gemstones!).
This item is made by Dazzling Rock Collection and this ring certainly lives up to the company's name – it really does dazzle!
6

. Black Bow Jewelry Co. Paradise Ring Set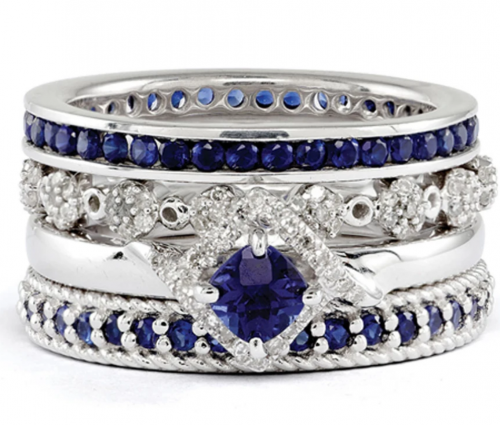 Multi-stack ring
Natural white diamonds
Blue sapphire accents
Rhodium-plated band
The Black Bow Jewelry Co. sapphire set captures everything you need in one. Not only does it work elegantly as an engagement ring, but it also serves as a wedding band and anniversary band.
Read more
There are four unique rings added to the stack, each with its own design that complements one another.
At the top of the stack, you'll find a traditional, thin, silver band with inlaid sapphires.
The second band from the top is comprised of brilliant white natural diamonds set amongst sterling silver.
You'll likely find the third band to be the most impressive, as it has a glistening modestly-sized sapphire set in the center.
Surrounding the uniquely shaped sapphire are more genuine diamonds, showcasing its effortless glamour.
To finish the set, there's a delicate sapphire band with a sterling silver setting that perfectly captures the piece's structure.
In total, the gemstone weight for all of the pieces is approximately 2.07 carats, which is exceptional.
7

. Macy's Channel-Set Sapphire Ring
Lab-created gemstones
1 tcw sapphire
Sterling silver
Channel-set stones
This option is a unique take on a traditional engagement ring. Instead of focusing on a single, large-sized sapphire in the ring's center, this piece has multiple glistening stones to appreciate.
Read more
The colorful nature of sapphire pairs perfectly with the bright sterling silver band that this ring offers.
What makes this ring unique is that it not only features sapphire but an assortment of other gemstones as well.
It's the perfect one-of-a-kind option for the unique love of your life that wants a stellar engagement ring.
You'll find lab-created Alexandrite, white topaz, amethyst, peridot, tourmaline, brown topaz, and blue topaz in this piece.
Each of the stones has been uniquely dyed to offer a stunning blue hue, similar to a traditional sapphire.
However, it's a far more affordable piece that also speaks to your more luxurious nature.
Another significant benefit of this chic ring is that it's perfect for any partner, regardless of gender.
Its unisex appeal adds a charming appeal, especially with the thin band crafted from gleaming sterling silver.
Frequently Asked Questions
q:

What is a sapphire?

a:

Sapphire is a gemstone that is famous for being the birthstone for September and the gem used to celebrate a 45th wedding anniversary. However, that isn't the only occasion for which sapphires can be worn and we think that sapphires make a great choice for an engagement ring.

Traditionally, sapphire is blue in color, however, sapphire gemstones can come in a range of colors from purple to green.

Interestingly, the only color that a sapphire can't be is red as this would be classed as a ruby (which of course is just as beautiful!).

Sapphires are known to have been worn as jewelry as far back as Roman times and when used in jewelry, the stones are polished until they display a fantastic shine, perfect to be used as the centerpiece for rings, necklaces, earrings and much more!

The color of sapphire comes from the minerals within the gemstone and sapphires get their color from a particular mineral called corundum. There are other minerals contained within a sapphire (such as iron and copper) and the color of the stone will vary based on the amount of each mineral that the sapphire contains.

One thing is for sure, sapphires are tough! They're actually the third hardest mineral in the world and are noted as being 9 on the Mohs scale which is used to measure the hardness of minerals (diamonds are the hardest mineral).

This is great news if you're wearing a sapphire as part of a ring because it means that it is very durable and won't scratch easily. It's very likely that you may already own a sapphire or at least something which contains sapphire.

Sapphires are so hard that they are often synthetically produced to make robust sapphire glass (often used by watchmakers and even by Apple for some models of their Apple Watch).
q:

What's the difference between a natural and a simulated sapphire?

a:

Some of our top blue sapphire rings contain what's known as a 'simulated' sapphire. A simulated sapphire can be distinguished from a natural sapphire as it is one that is made within a lab whereas natural sapphires will be mined from beneath the earth.

When we say 'made', these simulated sapphires are in fact 'grown' under controlled conditions. You might be a little put off from buying a simulated sapphire by thinking it's not a real or 'natural' stone.

However many simulated sapphires are indistinguishable from natural sapphires when it comes to their visual appearance, physical shape and also their hardness.

Natural stones are noted for their rarity however simulated stones are also known to be of very high quality and in appearance are generally of equal beauty. Gemmologists will be able to tell the difference, but to most people, a simulated sapphire is just as attractive and just as desirable!
q:

Where have I seen blue sapphire rings before?

a:

The real question is where haven't you seen a blue sapphire ring! These are famous for being gifted as the ultimate romantic gesture and are the ultimate example of an engagement ring.

One of the most famous examples of such a gesture was given by the French Emperor, Napoleon Bonaparte, who chose a sapphire and diamond engagement ring for his fiancee Josephine in 1796. The ring has since sold for almost one million dollars but rest assured, our top 10 list contains a section of rings for a more modest budget!

Blue sapphires have since been the engagement ring of choice for a long list of celebrities including Penelope Cruz and Elizabeth Hurley and it's also one of many engagement rings chosen and worn by Victoria Beckham.

But by far the most famous and perhaps the most beautiful blue sapphire ring is owned by the Duchess of Cambridge, Kate Middleton. This ring famously belonged to the late Princess Diana and was the ring of choice for Prince William when he proposed to Kate.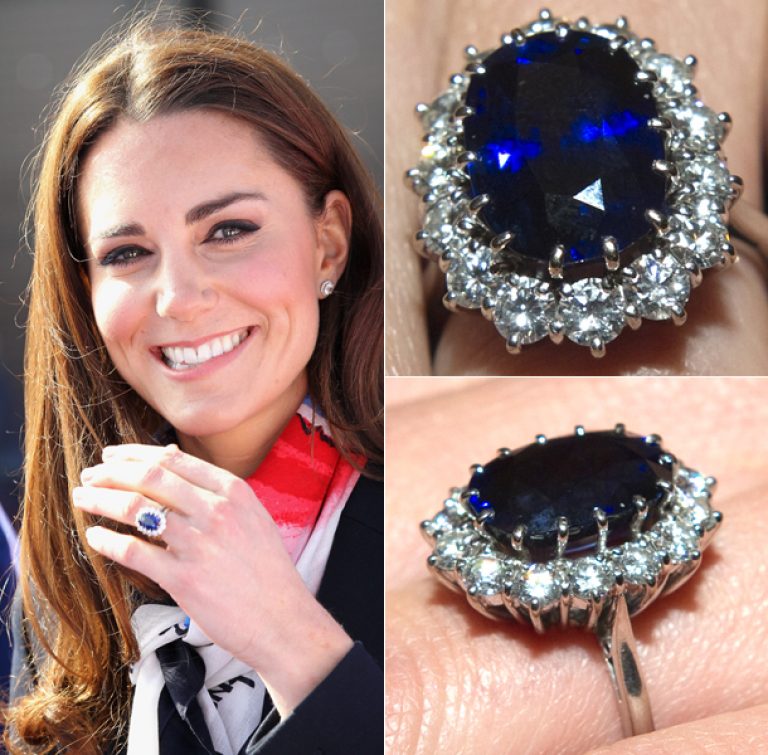 This 18k white gold ring is truly stunning and includes a 12-carat oval blue sapphire which is elegantly set amongst fourteen diamonds. If you're looking for an example of why sapphire rings are so sort after, this ring certainly shows why sapphires are so popular.
q:

What does a blue sapphire symbolize?

a:

Blue sapphire is one of the most beautiful natural stones that have a unique symbolism.

In the past, cultures referred to it as a gemstone resembling social harmony and peace between lovers and adversaries.

Other groups suggest it symbolizes overall well-being, good fortune, and positive influences.
q:

How can I tell if my blue sapphire is real?

a:

There are three primary ways to check whether your blue sapphire is genuine or not.

Checking for flaws, searching for tiny bubbles, and conducting a fog test should give you a good idea. When checking for laws, you'll want to use a jeweler's loupe to see any blemishes within the stone. If there are inclusions, it's likely a real sapphire.

The fog test is convenient as it doesn't require any extra equipment. All you have to do is breathe on the stone and see how long the fog takes the clear; if it takes less than five seconds, it's real.

Finally, searching for bubbles is similar to looking for flaws and inclusions. Using a jeweler's loupe, look for tiny bubbles in the middle of the stone while it's held in front of a light. If there are clusters of bubbles, it's likely the stone is fake.