Mix / Piercings / Women
10 Best Cartilage Hoop Earrings for All the "It" Girls Out There!
Marianne 06 Nov 2018
7850
Some of our very favorite cartilage earrings are cartilage hoop earrings. Tiny little rings of silver, gold, or color delicately hug the ear, catching the light and adding textural diversity to your look.
There's something so delicate yet edgy about cartilage earrings. Whether you wear them alone or add them to your collection of ear piercings, they add interesting new detail to your jewelry styling.
Some are plain metal, others are dotted with tiny jewels, and others are "feature pieces" with larger stones and shapes. Whichever you choose, cartilage earrings are in style and are here to stay.
This article is for all of you "it" girls out there who like to take your ear jewelry to the next level, layering and adding pieces from the lobes to the top of the helix.
We've picked out ten beautiful, affordable, and stylish cartilage hoop earrings to help you make your next cartilage hoop choice.
Best Cartilage hoop earrings…what are they?
Ear cartilage is all of the harder, tougher parts of the ear. Anything you can pierce, which is not the earlobe, is cartilage. The most commonly pierced parts of the ear cartilage are the helix, the ante-helix, and orbital piercings.
The helix is the outer edge of the ear that curves up and around. The antihelix is the little raised curve just inside the helix on the middle-top part of the ear.
An orbital piercing is when to holes are pierced on opposing sides of each other, so the earring can wrap around a portion of the ear as opposed to simply piercing through.
You often see celebrities styling their red carpet looks with jewel-encrusted hoops and studs adorning the top of their helix to add a bit of edge to sharpen out the more traditional lobe earrings.
More on this later on, when we explore some of the most prolific cartilage hoop wearers in Hollywood.
Hoop earrings for the cartilage are generally tiny in diameter so they can hug the cartilage neatly. You can get slimline, narrow hoops, or wider cuffs.
Depending on the style of hoop earring you choose, they can look effortlessly pretty and feminine, or downright badass and edgy.
You can use different colors, shapes, and metals to customize your look according to your mood and preference.
That's the great thing about jewelry! Nothing is permanent, so you can switch your style influences daily, going edgy one day, and completely feminine the next.
Our Top 10 Picks
1. MASOP 925 Sterling Silver Hoops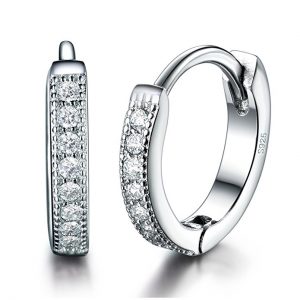 These little silver beauties have a diameter of 0.5-inches, perfect for giving your cartilage a little love. They're studded with cubic zirconia crystals for a glam sparkle and luxurious luster.
They have a hinge and clip closure, staying nice and tight once snapped closed. They could be the perfect gift for a friend with cartilage piercings who needs a little glitz to add to their collection.
The price is great, so you could grab a few sets and use them as layering pieces if you have multiple cartilage piercings.
Materials
Hypoallergenic 925 sterling silver
Free of nickel and lead (which makes them ideal for sensitive ears)
Cubic zirconia crystals
Why we like it/why we selected it
We selected these pretty hoops because they're super affordable for the quality you receive. The sterling silver is a huge plus for us because it protects all those sensitive ears out there.
We also love the bright, cool tone of the silver matched with the icy sparkle of cubic zirconia crystal. And of course, the price is great, so you could even get a couple of pairs and layer them up.
2. MASOP 925 Cartilage Hoop Earrings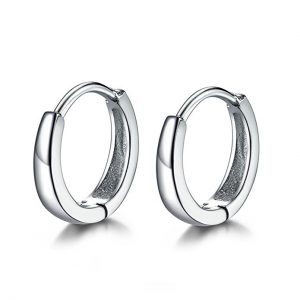 Another style from Masop, these earrings are small, shiny, cool-toned, and simple. Made from hypoallergenic materials, with a hinge and clip closure.
Great for the lobes and any part of the helix cartilage. Stock up on these and layer a few at the top of your helix to offset your lobes.
They have a thick design that packs a little more punch, standing out more boldly than thinner cartilage hoops. There's something slightly masculine about these tiny hoops, which we absolutely love.
Materials
Hypoallergenic 925 sterling silver
Nickel and lead-free for keeping ears safe and comfy
Why we like it/why we selected it
We love these earrings for their simplicity and shiny finish. For guys and gals who love the cool tones of silver, these could be a good addition to your ear jewelry without overloading your look with too many details.
We love the sterling silver, as it is durable and, most importantly, gentle on the skin.
3. Jstyle 10Pcs Stainless Steel Barbell Cartilage Earrings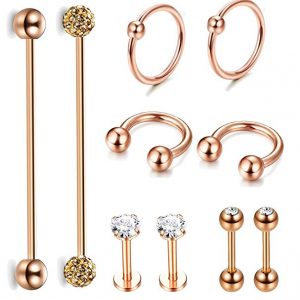 You get more than just hoops with this set of cartilage earrings. You get one set of small hoops, a set of horseshoe rings, a set of barbel rings with cubic zirconia, barbell earrings with cubic zirconia, and a pair of 1.5-inch industrial bar earrings with cubic zirconia.
You could place the industrial earring through the helix of on-ear, keeping the rest bare, and layer the other ear with hoops and small barbells.
Materials
316l stainless steel (rose gold or silver)
Cubic zirconia
Why we like it/why we selected it
We selected this versatile little set because it offers so many combinations in one go. We also love that you can select between rose gold and silver tones. They're so affordable you could choose both and mix your metals!
The option of having a little glitz with cubic zirconia is there but in very subtle doses such as neatly studded at the end of a barbel or monroe ring.
Great for newbies to cartilage piercings as it gives them lots of options to figure out which looks they like best.
4. Carleen 925 Sterling Silver Channel Setting Hoops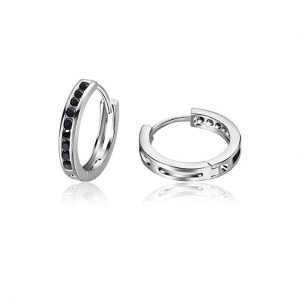 Small hoops in cool sterling silver, studded with a line of glistening cubic zirconia. There are 6 different gem color options: white, green, black, purple, pink, and blue.
Ideal for adding a little dash of color on your cartilage without veering too bright or bold. For multiple cartilage piercings, you could mix and match colors.
Perhaps a clashing effect with pink and green, or a cool-toned theme with blue and black.
Materials
925 sterling silver
Cubic zirconia
Why we like it/why we selected it
We loved these as soon as we saw them because they offer the opportunity to add color to your ear jewelry, while still harnessing the flattering shade of silver.
We especially like the black stones, they're glam and tough at the same time. For girly girls with a penchant for femininity, the pink and purple options are perfect.
5. Forbidden Body Jewelry 14G-18G Surgical Steel Hoop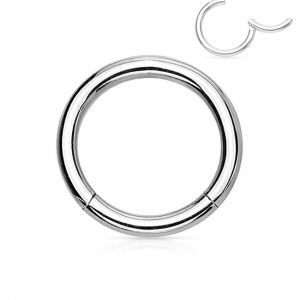 Delicate, barely-there surgical steel hoops with hinges and easy click closure. They're super affordable and highly-rated by happy customers.
The cool thing is that you can use these for your cartilage, but if you happen to need a simple earring for another piercing, you can use these for that too.
Ideal for cartilage beginners who are just getting used to their piercing and not quite ready to go for the full-out glitz and glam just yet.
Materials
Why we like it/why we selected it
We love how easy and versatile these little hoops are. They're perfect for adding a little silver sheen to the cartilage without adding a heavy hit of detail. They're affordable so you can buy a few sets and use them for layering.
Ideal for workplaces or schools where only plain jewelry is permitted. You can still keep your cool cartilage style, without rocking the boat.
6. Five CZ Set Round Cartilage Earring


These cartilage hoops are so much fun to look at, and even more fun to wear on the cartilage for a bold take on the bejeweled hoop.
They come in silver, gold, and rose gold metals with a crown-shaped cluster of five cubic zirconias in clear, aqua, and pink.
The earrings retain a certain edginess with the sharpness of the protruding stones. They have a clicker closure and are made from surgical stainless steel to protect our ears.
Materials
Surgical stainless steel
Cubic zirconia
Why we like it/why we selected it
We adore these earrings for their quirky shape, shiny finish, and bold use of cubic zirconia. We love that we get the option of gold, rose gold, or silver metals, and the option of aqua, clear, or pink stones.
Our favorites are the rose gold/clear stone combination, with the silver/pink combo close behind.
We think there's something reminiscent of Disney with these earrings, like the tiny crowns of our favorite princesses.
7. Jstyle Stainless Steel Unique Small Hoop Earrings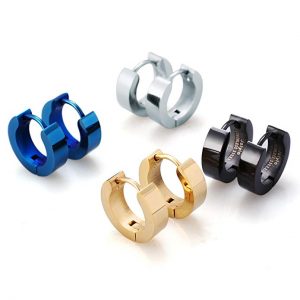 Now one for the guys (and gals too, of course). These huggie hoops are made from stainless steel and come in four metallic shades: blue, black, gold, and silver.
They have a width of 4mm, which gives them a thick, robust aesthetic for a little edge. Perfect for people with no time for delicate, thin hoops on their helix.
Materials
Why we like it/why we selected it
We selected these because we love how chunky they are without losing the smallness needed for a cute cartilage piece.
The color choices are spot on also, with an inky black for depth, silver, and gold for classic glam, and blue for a fun shot of color.
Stainless steel protects sensitive ears, and the low cost protects sensitive budgets.
8. Opal Nose Ring Cartilage Helix Earring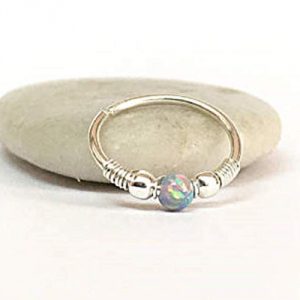 Small hoops with an intricate design in a choice of silver or gold. Small, round balls edged with tiny ridges, with a gorgeous opal sitting in the middle.
A distinct bohemian flair and delicate, iridescent color. Perfect for festival styling, or Summer parties on the beach.
They would look great as a statement piece on the top of the helix, with only a simple stud or small hoop to offset the lobes.
Materials
925 sterling silver, 14k gold-filled, or 14k gold solid
Opal in 10 color choices: grey, light blue, light green, pink, white, purple, peach, dark green, multi-cherry, or blue
Why we like it/why we selected it
We adore these for their bohemian femininity and shot of dreamy color. The selection of opal colors allows you to go pale and milky, or deep and moody.
The perfect statement piece for the cartilage. We can see these as beautiful gifts for the hippie-chic ladies in your life.
9. Infinite U Huggie Earrings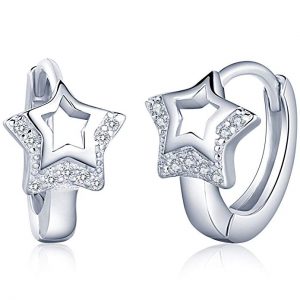 These earrings off the gift of choice, and they're incredibly pretty and fun choices. Our favorites are the stars, studded with cubic zirconia crystals.
The hearts are romantic and delicate, also sparkling with cubic zirconia. You also get the option of the "infinite love" style, which features a double heart pattern curving around the entire huggie.
Materials
Nickel-free sterling silver with platinum and rhodium plating
Cubic zirconia (for the hearts and stars)
Why we like it/why we selected it
We love these earrings for the whimsical femininity they offer our cartilage. They're fun without being cutesy, romantic without being too obvious.
The materials are impressive, too, so you know you're getting a great item.
We think the stars are perfect for adding a subtle, playful flair to special occasion styling, and the hearts are ideal for the Valentine season or for as an anniversary touch.
10. 
16G CZ Stainless Steel Hinged Hoop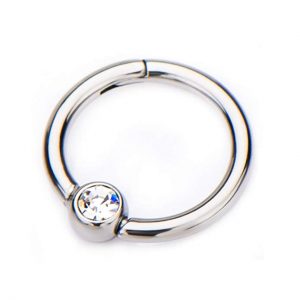 These little beauties have something incredibly modern and sleek about them. High-shine stainless steel, a hinge, and a tidy click closure provide chrome glamour with ease of use.
The best part is the single, deep-set cubic zirconia, which catches the light as you move and live. There are two available sizes, 8mm and 9.5mm.
Materials
Stainless steel
Cubic zirconia
Why we like it/why we selected it
We chose these silver wonders because of their high-shine finish, and modern take on the bejeweled hoop.
With one single cubic zirconia, set deep into the silver base, it's like a mini engagement ring adorning your cartilage.
A beautiful choice for special occasions, or simply for a little everyday luxe.
Style tips for cartilage hoop earrings
 There are no rules when it comes to styling your jewelry. But there are some tips and tricks to help you get the most out of your pieces.
Mix your styles and influences. Perhaps you love a little sparkle, but you also love a deep, dark grungy look too. Don't choose between the two, mix them up! Wear a jet black stud on the lobe with a sparkling, jewel-set hoop on the cartilage.
Go for an unbalanced ratio of earrings between each ear. One ear may have one simple stud on through the lobe, with one little hoop in the helix. The other ear may have two studs through the lobe and three tiny hoops in the helix.
Choose metals which best flatter your skin tone. You may find that silver brings out the translucence of your skin if you are pale. Girls and guys with deeper, richer skin tones may find that gold enhances the warmth of their complexion.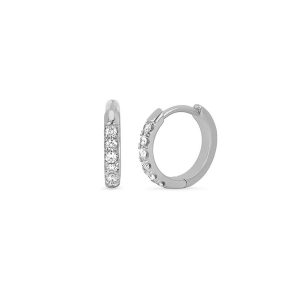 Experiment with colors and shapes. If you've gotten used to plain hoops and are itching to add a new dimension, try a color or interesting shape.
Colored metal or colored resin hoop will add a pop of brightness to your cartilage, flashing boldly as you turn your head.
You could also go for a colored gem insert, perhaps an amethyst or emerald (fake or real, it doesn't matter!) for a touch of regal luxury.
Hoops such as the Infinite U Sterling Silver Cubic Zirconia Huggie Earrings above feature shapes incorporated into the hoop, such as stars and hearts.
These give us the chance to play with whimsy and romance while still enjoying the simplicity of a subtle hoop.
For those of us with long hair, our ear styling can become hidden in our tresses. If you've got to the effort of putting together the perfect combination of cartilage hoops for an occasion, don't waste your creative flair by covering them with your locks.
Go for an updo such as a rustic bun or high ponytail, or pin your hair back and to the side away from the ear for an old-school aesthetic.
Caring for cartilage ear piercings
 Cartilage piercings don't heal as readily as piercings through fleshier parts of the ear, such as the lobes. This just means that you'll need to upkeep your care and maintenance for a little longer.
Use a saline solution (salt and water) to clean the piercing at least twice daily, and always make sure to wash your hands before cleaning the piercing. Try to avoid playing with the piercing, as you're running the risk of infecting the area.
A handy tip is to fill a little spray bottle with saline solution and keep it in your handbag or work desk. If you're feeling as though your piercing needs some love (perhaps it's itching or feeling hot), give it a spray.
Hang in there and stick to your aftercare, it's worth it!
How to clean and store cartilage hoop earrings
 Clean cartilage hoops are healthy, safe cartilage hoops. It's important to keep your earrings clean to avoid infections and general discomfort. It's actually super easy and affordable to keep your earrings clean, you just need a couple of items:
Cotton pads
Rubbing alcohol or sanitizing liquid
When you got your cartilage piercing done, you may have been given a sanitizing solution for your jewels. If not, just buy a bottle of rubbing alcohol and you're good to go.
Wash your hands before you handle your earrings to avoid any infections. Soak a portion of the cotton pad with rubbing alcohol and gently rub the entire earring, ensuring all surface areas have been wiped.
Either pop the earring back into your cartilage or store safely.
Speaking of storage…
Cartilage hoops are tougher to store than dangly earrings because they don't have a hook to hang onto an earring rack or mesh board.
We find the best way to store them is to have a dedicated box, especially for small hoop earrings. A box with lots of separate compartments is ideal, but not a necessity.
Keep all of your tiny cartilage hoops in a little box with a secure lid, and ensure they're snapped closed before you put them in.
This ensures that they don't become tangled and hooked onto each other. Make a rule that only freshly-cleaned earrings are stored in the box, as it means there's no risk of adding contaminated earrings to clean ones.
Regularly cleaning and properly storing your earrings is not only healthy and safe, but it extends the life of your earrings, keeping them shiny and lustrous for longer.
Celebrities who wear cartilage hoops
 Intricate ear styling is popular among the most stylish celebrities. Red carpets are a great place to scour for earring inspiration, and there's no shortage of cartilage hoop goodness.
While back in the golden era of Hollywood, you would very rarely, if ever see a starlet rocking anything but a dazzling lobe earring.
It would have been quite outrageous to see an ear bejeweled with studs and hoops rising the helix.
However, times have changed, and experimentation with jewelry is welcomed and admired, as it should be! Some of the celebrities who rock cartilage hoop earrings are:
Beyonce – Queen of all-out glamour
How could we not put the Queen of all things glam, beautiful, cutting-edge, and straight-up incredible at the top of the list? Beyonce's jewelry looks are endlessly inspiring, and her cartilage jewels are no exception. We've seen her wearing matching hoops in descending sizes, bejeweled with black gems glistening up her helix.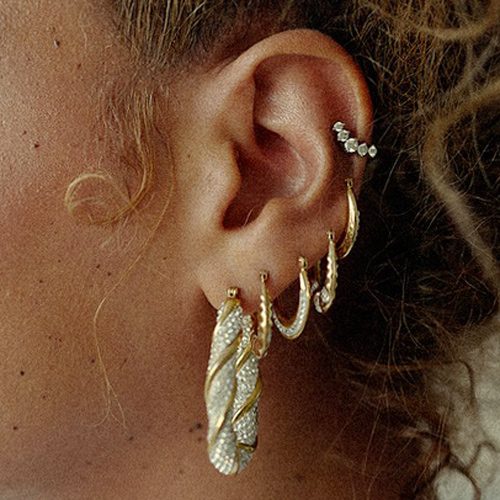 We've seen her with huge gold hoops on the lobes, and tiny, diamond-encrusted hoops dotted up the ear. If you're all about all-out glamour and a bold style, absolutely look to Bey for your cartilage earring inspiration.
Sienna Miller – Queen of bohemian glamour
The queen of bohemian glamour, Sienna has been known to pair dangling, bejeweled lobe earrings with simple cartilage hoops.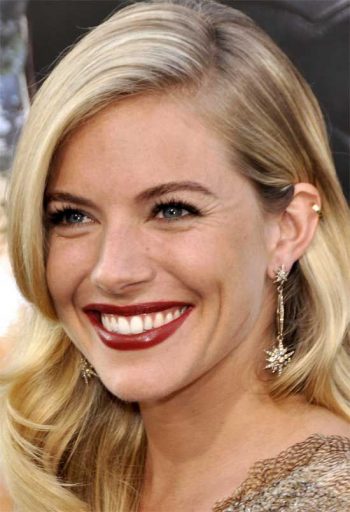 Sienna shows us the beauty of juxtaposing different styles. She rocks tousled hair with perfect makeup and elegant gowns with edgy jewels. The top of her helix is often adorned with a single gold hoop, not over staging the centerpiece on her lobe.
Emma Watson – Queen of sophisticated glamour
You can't get a better example of classy sexiness than Emma Watson. She's known not only for her elegant, modern style but also for her enviable earring style.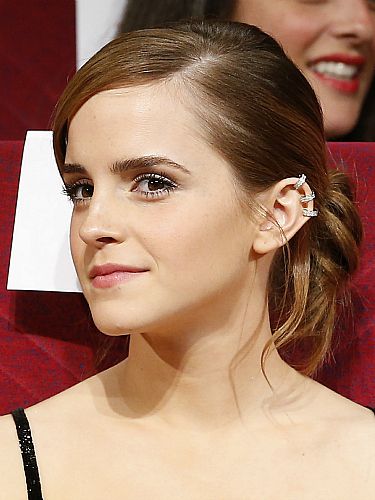 She's been seen with a helix layered in an entire row of little hoops, some with diamonds, some plain.
Scarlett Johansson – Queen of modern Hollywood glamour
Scarlett is an expert at mixing the simple with the exaggerated.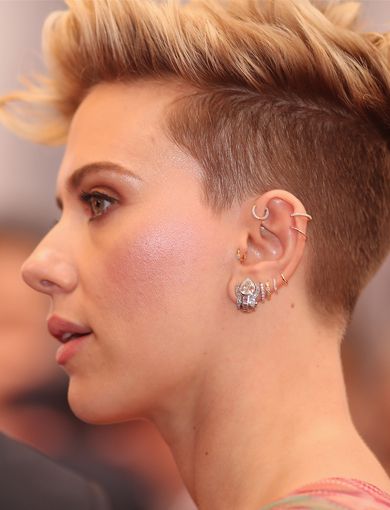 One of my favorite looks of hers is when she went for huge turquoise earrings dangling from the lobes, with three effortlessly simple, shiny gold hoops placed around the helix.
Rihanna – Queen of everything badass
Last but not least, the "it girl" of the moment, Rihanna. Riri has fun with her styles, switching between rockstar glam, beachy casual, and avant-garde couture.
Her earring choices follow this pattern, and she doesn't hold back. Rihanna's cartilages are often stacked, studded, hooped, and bejeweled with eye-watering beautiful pieces.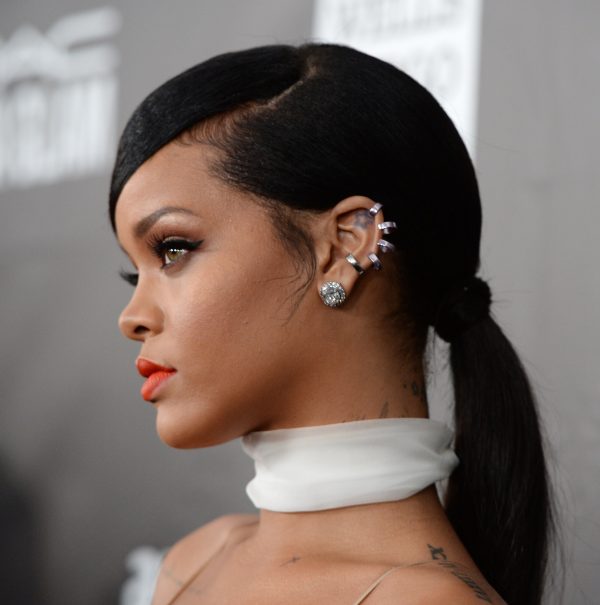 One of my favorite looks from Ri is when she layered five silver hoops arching up the helix, with a large silver stud on the lobe.
The silver-tone shone against her warm skin, and the abundance of pieces added a luxurious, full glam aesthetic without the over-the-top look of dangling lobe earrings.
Conclusion
Cartilage earrings can be as subtle or statement-making as you want them to be. If you're just starting out with cartilage piercings, choose a few styles made from hypoallergenic metals such as surgical steel and nickel-free stainless steel.
Simple hoops, either plain or with a touch of glittering stones are the perfect way to get used to your new piercing.
Once the piercing has healed and you're used to the look and feel, you can start to branch out with larger hoops, more gems, different colors, and edgy shapes.
For inspiration, look toward our favorite "it girls," from Beyonce to Emma Watson and beyond, so you can mix and match style influences with your own personal, fabulous flair.
Don't be afraid to go all out and stack your helix with multiple cartilage hoop earrings for a super cool, modern take on ear styling. Most of all, just have fun!
Show your style, experiment with different looks, and of course, practice proper earring hygiene to ensure a healthy and comfortable piercing for life.