The Helix Earrings We Fell In Love With At First Sight!
last updated:
Apr 06, 2021
Helix piercing earrings add an edgy and innovative twist to your everyday style.
They're also some of the most exciting piercings to have, as there are plenty of decorative accessories to consider.
Whether you're in the market for lightweight, thin gold earrings or chunky and complex pieces, the options are endless.
Let's explore some of the most beautifully designed helix piercing earrings you can get your hands on.
Our Top 10 Picks!
1

. PAVOI 14K Gold Plated Earrings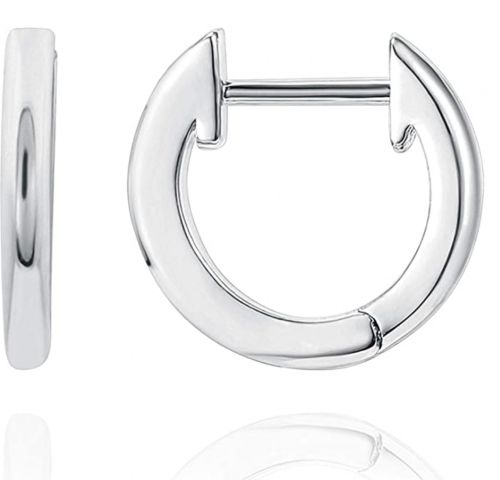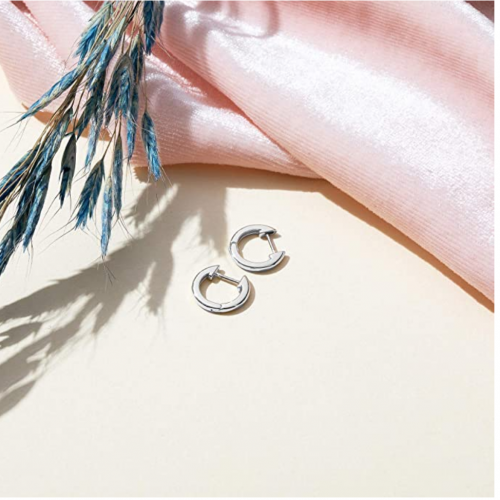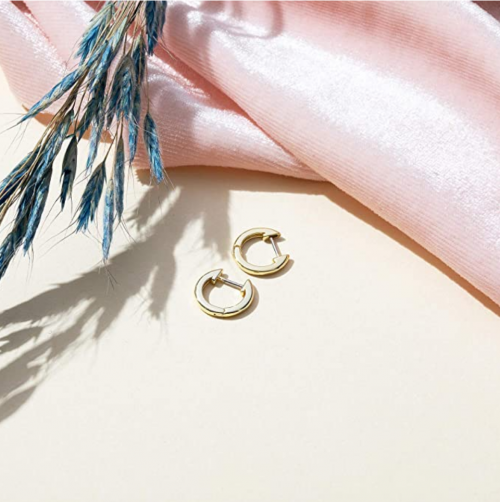 14K plated gold
Silver, gold, or rose gold
.5" in diameter
Huggie design
Some of the most beautiful pieces of jewelry are the simplest pieces with delicate finishing. The PAVOI 14K gold plated earrings are the perfect option for minimalistic fashionistas. Instead of choosing an ornate and eye-catching piece, this subdued design is perfect for contemporary wearers.
Read more
As mentioned, the PAVOI 14K Gold Plated Cuff Earrings are straightforward and minimalistic. They don't boast any loud colors nor bold oversized gemstones. The smooth plated metal's effortlessly classic styling looks perfect when paired with any other jewelry in your collection.
With gold plating, you can guarantee the earrings are safe and comfortable to wear, even with allergies. They arrive perfectly polished, giving off a spectacular platinum-like appeal that speaks to their versatility. You can guarantee it will look like you're wearing an expensive and cutting-edge pair of earrings.
Like many other designs we've explored this far, these earrings are perfect for helix piercings. They're designed to be huggies, meaning they sit closer to the ear than standard earrings. Each piece is under .5 inches in diameter, making them ideal for everyday wear without discomfort.
You'll find it's easy to pair with more ornate pieces or wear on their own as a single focal point. We especially love the 14K gold plating, which extends the wearability of the earrings over time.
2

. OUFER Heart-Sharped Helix Earring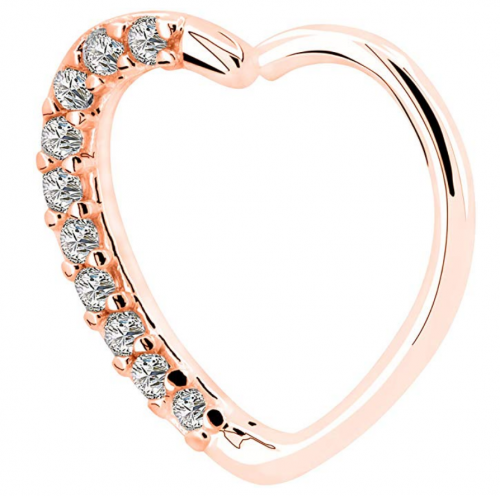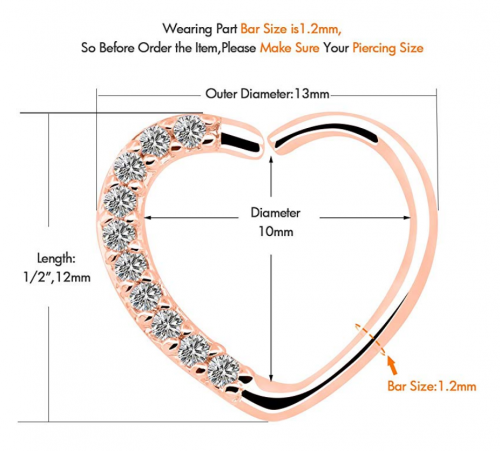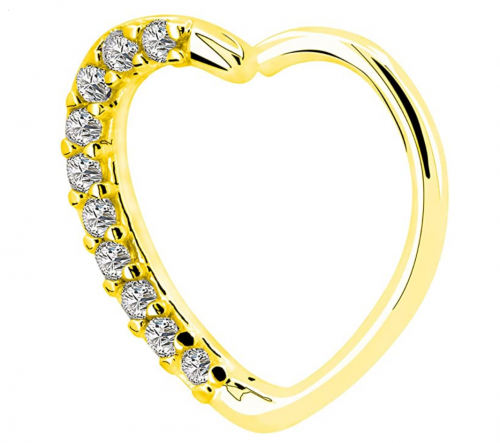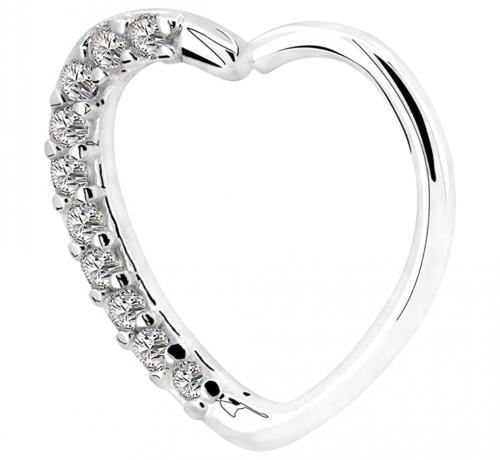 Rose gold plating
Cubic zirconias
Right ear earring
If you're a fan of heart jewelry, then this heart-shaped cartilage helix earring will make a fantastic addition to your collection!
Read more
The gorgeous earring has been shaped into a heart, with half of the heart covered in small individual cubic zirconia diamonds that give off a beautiful shine.
The other side of the heart has been left plain, partly because this is the side of the piercing that goes through your cartilage, and secondly, because the rose gold metal looks lovely against the sparkling stones.
This pretty piece has been created using an 18 carat rose gold plated metal, which is suitable for people who have sensitive skin.
It's important to note that this pick is a right closure cartilage earring so you can wear it on your right ear and not your left.
If you don't like rose gold, you'll be pleased to hear that the jeweler also sells these earrings in gold, white clear, white pink, and white red, giving you plenty of colors to choose from!
These heart-shaped earrings are being sold by Oufer for a low price.
3

. Black Bow Jewelry Co. Ram Hoop Earrings
14K yellow gold
15mm in size
Extremely lightweight
Easy-to-open clasp
The Black Bow Jewelry Co. double headed ram hoop earrings are a multipurpose set that you'll love for everyday wear. You can choose to wear both hoops in your standard lobe piercings or one in your contemporary helix. If you're searching for a multi-faceted earring that's sure to capture attention, this is one of our top recommendations.
Read more
These earrings are ornately designed with minimalism that works with any outfit. They're lead-free and lightweight, designed to hang gently from your helix piercing without pulling. You'll love the nickel-free 14K yellow gold that's ideal for people with sensitive skin and metal allergies.
Along the earring's base, you'll notice a unique design of two ram's heads colliding. They're the perfect option for headstrong men and women on the hunt for a contemporary and original pair of earrings.
One of our favorite features of this piece is how each earring is hollowed. Instead of being filled with gold, they're far more lightweight and comfortable for all-day wear. You'll also find the hoops are perfectly sized for all ears, as they're only 15mm each.
4

. Body Candy 3 Set Earrings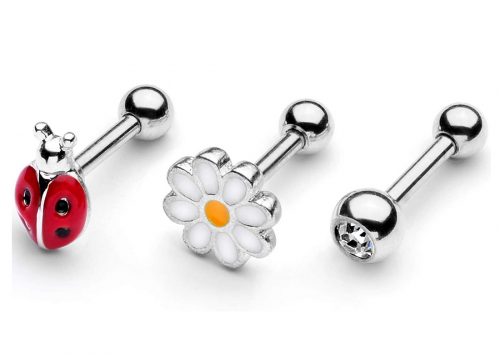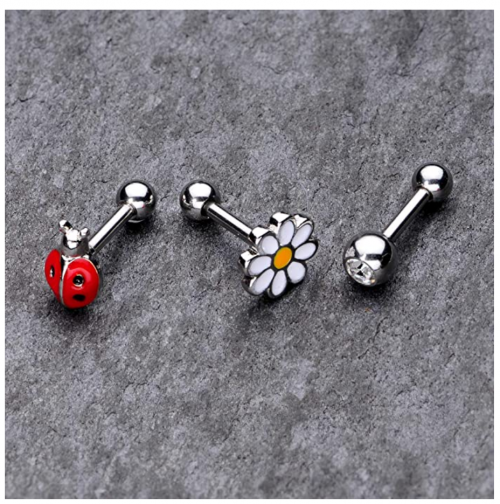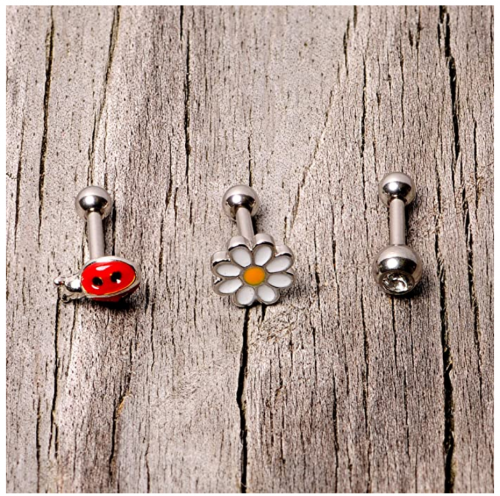 Three-pack
316L stainless steel
16G barbell
Secure closure
The Body Candy earrings are the perfect alternative for your helix. If you're not a fan of traditional hoops, you can choose a piece that showcases the playful side of your personality. With three different earrings included in your order, you'll be able to change your style daily.
Read more
These earrings are unique in that they feature a straight bar which is often preferred for helix piercings. Instead of having a dangling hoop, you can secure the earring, so it sits comfortably on the edge of your ear. With this pack, you'll receive three different barbell styles with unique designs.
You'll find an adorable ladybug embellishment on one, a beautiful daisy on another, and a basic cubic zirconia stud. Each earring is 16G, making it ideal for most cartilage piercings, whether it be a helix or tragus. The embedded charms are also small, measuring only 6 millimeters in width.
We love the style of these dainty earrings, especially with their unique detailing. Each of the embellishments is beautifully etched and painted, making the earrings appear high-class and expensive.
Another benefit of their design is that they're crafted using 316L stainless steel. The resilience of stainless steel makes them ideal for everyday wear.
5

. Famier 925 Sterling Silver Hoop Earrings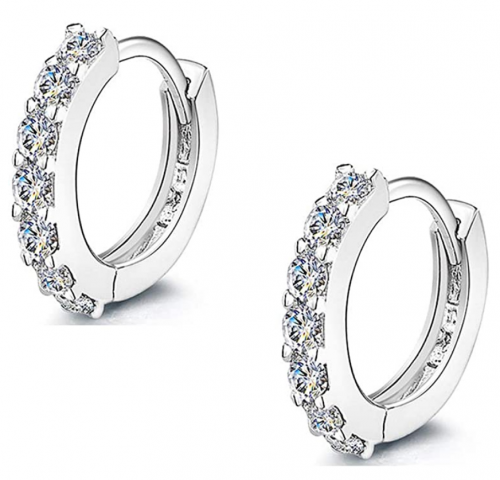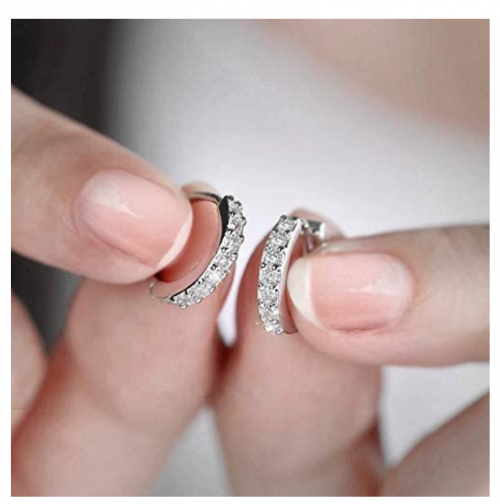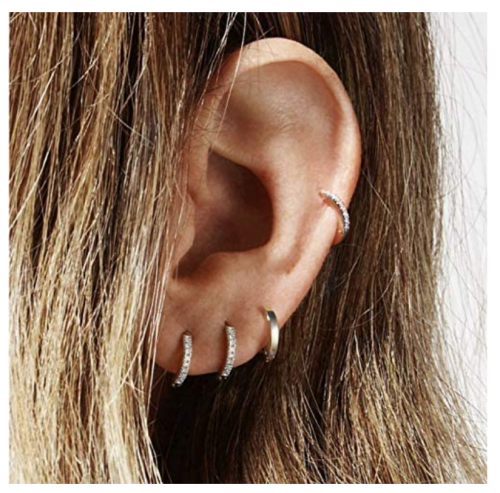 925 silver
Cubic zirconia stones
8.5mm inner diameter
Huggie closure
With the Famier earrings, you'll have a delicate and elegant pair of earrings for formal occasions. They add the perfect amount of sparkle to casual jeans and contribute ideally to formal gowns and suits. Their smaller size makes them ideal for wearers of any age, perfect for a subdued yet sparkling accessory.
Read more
There's no doubt that the hoop earrings are designed with every wearer in mind. They have a classic style that will hang beautifully from your helix without tugging at the skin. Also, they come in a set of two, so you can alternate where the earrings are worn for a custom style.
Their smaller size makes them exceptional for cartilage piercings or small lobes. You'll love how the earring's interior is smooth against the skin to help prevent irritation. The hoops sit close to the edge of the ear, so you won't have an oversized earring dangling uncomfortably.
There's plenty to appreciate with these multi-faceted pieces, especially their high-quality 925 sterling silver. This material is highly resilient to wear, making them the perfect everyday option.
Our favorite component of these delicate designer-friendly earrings is their cubic zirconia. You'll find although they aren't natural diamonds, the stones capture the light and provide beautiful reflections.
6

. MoBody Mother of Pearl Cartilage Helix Stud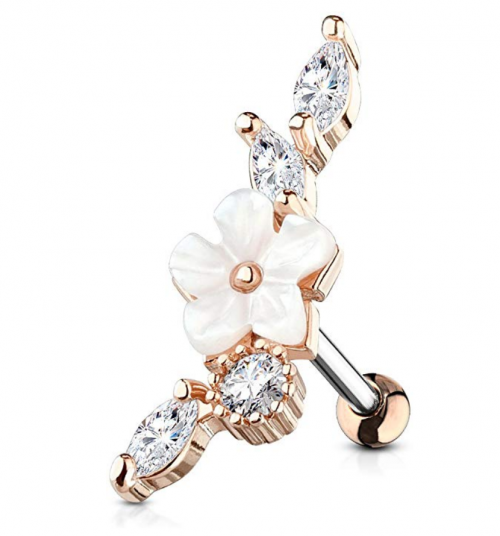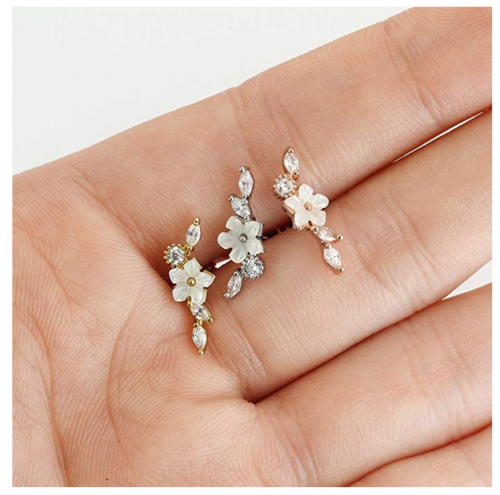 Stainless steel
Mother of pearl stone
Available in other metal colors
For those who love flowers and diamonds, we've chosen this helix piercing especially for you! The piece has been crafted with a white flower in the center that has five flowing petals. Either side has two round diamonds that complement it perfectly.
Read more
The main structure of the earring has been created using a rose gold base, which looks beautiful against the white flowers and clear diamonds. This particular piercing would fit perfectly at the top of your ear, creating a pretty band of sparkle!
It was created using a surgical stainless steel material that is lead and nickel-free. It's also hypoallergenic, which makes it completely safe if you have sensitive skin.
The white flower has been created using a mother of pearl stone. The diamonds featured are cubic zirconia stones.
Another reason why we love this piece is that it has been designed in a strip and is very lightweight, making it comfy to wear.
Even though we'd suggest wearing it as a helix piercing, it can be used as a cartilage and tragus earring, meaning it is extremely versatile.
It's also available in yellow gold, silver, and rose gold.
7

. Ruby & Oscar Heart-Shaped Helix Earrings
Opal stones
Sterling silver
30 day money back guarantee
If you like opals as we do, then you'll love these opal helix studs! The stud consists of white-colored opals. These pretty earrings have been crafted using solid sterling silver.
Read more
The choice of metal makes these earrings extremely strong and resistant to rust and tarnishing. The sterling silver is also nickel-free and hypoallergenic.
When it comes to the size of these earrings, the length of the bars is approximately 9mm long. The opal stone is 6x6mm. The stones have been positioned in a four-prong setting, ensuring that they're secure and will not come out easily.
These cute little heart-shaped opal earrings come in a gorgeous gift box that will keep them safe and secure.
This option is a little pricier than most of our other picks. However, the studs are so beautiful they're worth every single penny!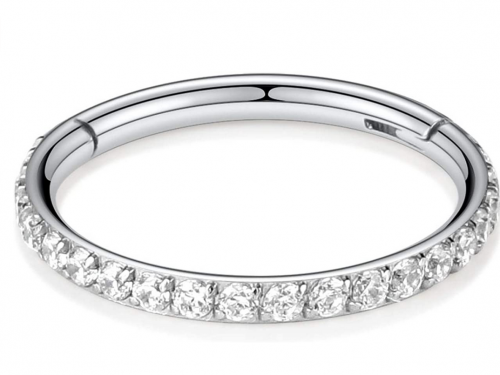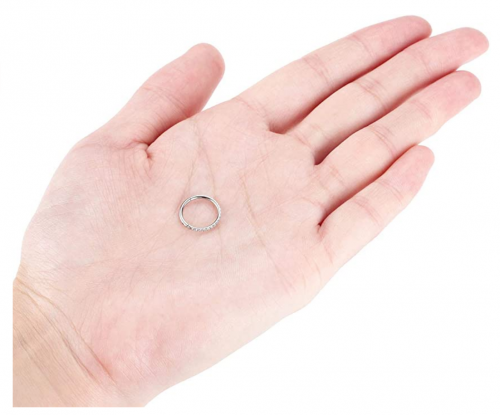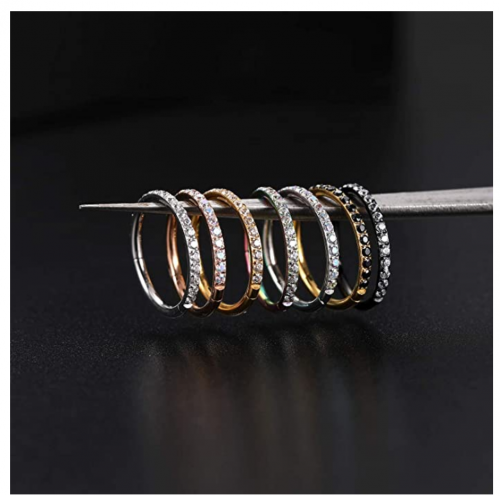 316L surgical steel
Cubic zirconia and opal stones
Multifunctional earring
Easy closure
The PEAKLINK earring is advertised for the septum, but it's highly versatile. Instead of investing in a complete set of earrings, you can purchase this single ring that will fit comfortably in your helix. The earring is available in either 16G or 18G, depending on your piercing size.
Read more
At first glance, it's easy to see how this accessory is one of the best options on the market. It's a seamless combination of modernization and classical elegance perfect for men and women. The ring is delicate and decorative while adding a detailed design anyone would love to wear for any occasion.
At the top of the piercing, there's a solid curved bar that sits comfortably within your piercing. On the bottom surface, you'll find several embedded cubic zirconia stones as well as opals for a beautiful accent. The combination of the two stones sets the perfect radiant display for a distinctive flair.
This model is designed using 316L surgical steel, skin, and piercing-safe. The material is nickel-free as well as lead-free, making it perfect for people with sensitive skin. Above all else, this is one of the most lightweight helix earrings you're bound to find.
It's perfect for relatively newly pierced ears, especially if you want a feminine rocker-style accessory. You'll find it's a highly versatile piece, designed for forward helixes, lobes, tragus piercings, rooks, and more.
9

. Bodyjewellery 2pcs Earrings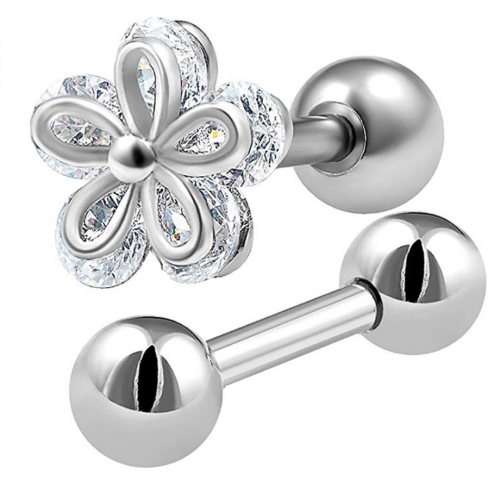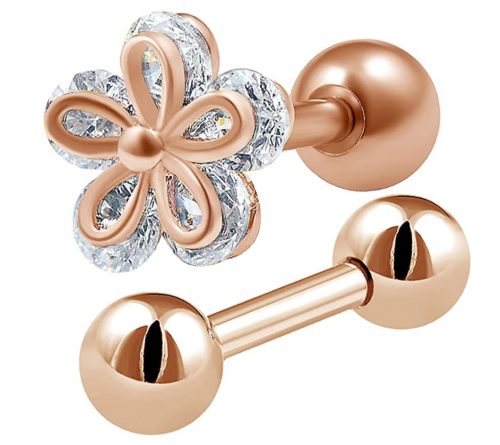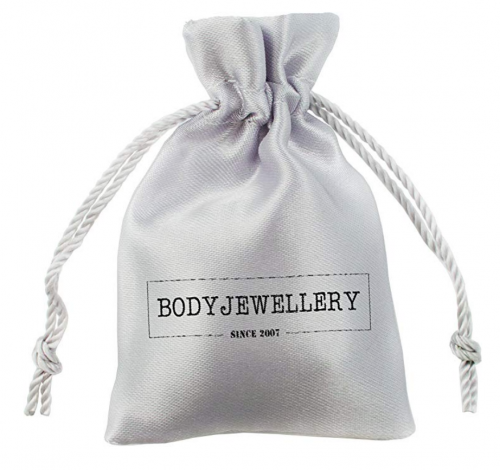 Stainless steel
Comfortable to wear
Satin purse included
To finish off our list of the favorite helix earrings, we've chosen this lovely set of two earrings. Both look lovely worn together but they also look great worn separately.
Read more
The first helix stud has been crafted into a flower shape and consists of five petals. You'll notice that this flower has been created using a mixture of plain metal and sparkling diamond texture.
The second stud, on the other hand, is very different. It has been designed to include a plain simple stud with a sparkling diamond.
Both of these pieces are made with quality surgical steel material. What's great about it is that it is resistant to corrosion, easy to clean, is long-lasting and is bio-compatible.
There are some important factors to point out when it comes to these. They have been made so that the flower earrings fasten tightly onto the ear but the earring also unscrews smoothly making them very easy to use.
Another great thing is that as well as a helix stud they can also be suitable to wear in your cartilage, tragus, conch, pinna, lobe forward helix and rook. These studs are therefore very versatile.
They will arrive in a stylish sleek satin purse, keeping your earrings safe.
10

. LOYALLOOK 4Pcs Helix Earrings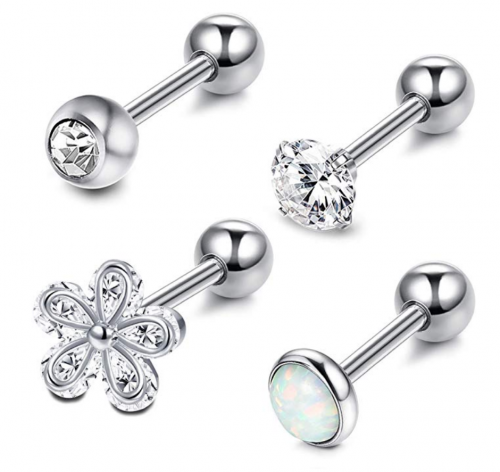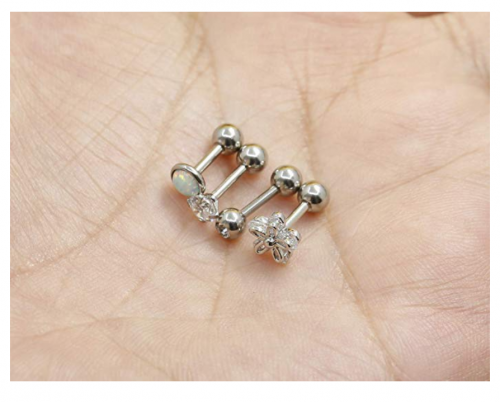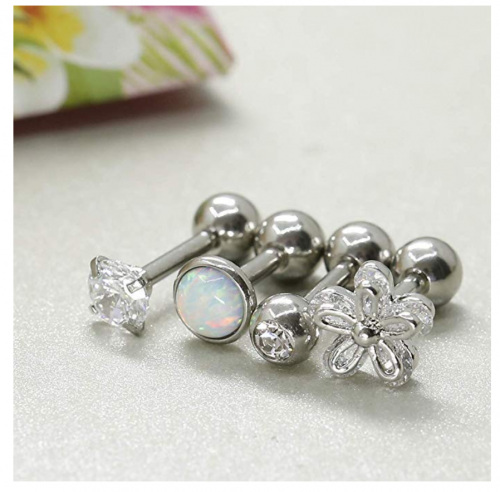 316L stainless steel
Nickel free
Affordable
Money back guarantee
This is another of our favorite set of cartilage helix earrings! The set of four earrings includes a plain round white diamond, a silver flower, and two diamond-encrusted flower earrings that offer plenty of sparkles.
Read more
All of the cartilage earrings have been crafted from high-quality stainless steel. This material makes the earrings very durable and long-lasting. They are also lead and nickel-free and hypoallergenic, so the earring won't harm people who have sensitive skin.
In more detail, the first earring is a white flower that includes 5 petals and is approximately 9mm in diameter. It also has a 4mm diameter steel ball for fixing at the back.
Next, we have another flower with five teardrop-shaped petals. It also features cubic zirconia jewels, which give it a gorgeous shine. The flower design is approximately 9mm in diameter, and the steel ball is 4mm in diameter. The third flower features six petals that contain cubic zirconia jewels.
The final jewel is a single round white earring that is approximately 4mm in diameter and has a steel ball, which is approximately 3mm in diameter. All four-helix pieces have a simple steel ball and a screw mechanism that makes them very easy to put on and take off.
You'll be pleased to hear that the jeweler is selling these for a low price. They're also offering a 240-day after-sale service, meaning if you're not 100% satisfied with your earrings, they'll give you your money back, or you can exchange the items.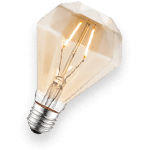 Does a helix piercing hurt?
Talking about the helix piercing and the level of pain, it all comes down to your pain threshold and the piercee giving the piercing.
It's normal for you to feel some discomfort when the piercing is carried out and after when your ear is healing.
However, it's important to point out that the helix piercing isn't the most painful piercing.
You may not, be aware that a helix piercing can take between 3 to 6 months to heal properly.
You can also expect to feel some soreness, swelling, redness, and initially some bleeding after the helix piercing.
If you're geared up for these side effects then you're ready to get your helix pierced.
Celebrities who love helix earrings
In recent years the helix piercing has become a popular piercing. Celebrity icons including actors, singers, and fashion icons have been captured wearing the gorgeous jewelry accessory.
Singers like Beyonce, Rihanna, and Miley Cyrus have been photographed with a helix piercing.
Actors like Jennifer Lawrence, Scarlett Johansson, Vanessa Hudgens, Emma Watson, Sienna Miller are also fans of the new fashion trend.
This once alternative piercing is, therefore, becoming a mainstream piercing that everyone wants.
With A-list celebrities captured wearing the piercing daily, the helix piercing is becoming a must-have accessory.
Important Notes
q:

How to best avoid an infection?

a:

The best way to avoid infection with the helix piercing is to make sure the area is kept clean. You can ensure this by using a cotton bud and a saline solution and gently clean around the area daily.

It's also important not to change or twist the piece of jewelry until you're certain that the piercing has healed because this can cause an infection and prevent the healing process.

Interestingly, an infection may not be as a result of a poor piercee or lack of cleaning but it could be a result of the metal you've chosen to wear. Therefore, it's important to do your research when buying your helix earring.
q:

What is the best way to protect your helix earrings?

a:

✓ Ensure that your earrings are stored in a dry cloth and place them in a separate jewelry box to avoid any damage.

We also recommend you avoid storing them in a damp place.

✓ When cleaning your earrings, use a soft non-shedding piece of cloth and gently scrub them.

✓ If the metal is a dark shade, you may want to try wiping it with some toothpaste which will brighten it up.

✓ Another way to keep the earrings in good condition is to frequently change the piercings and rotate wearing them.
q:

What kind of earrings do you use for helix?

a:

Several types of earrings are typically used for helix piercings. Ideally, you'll want to opt for styles made from easily disinfected materials such as 14K gold or titanium.
lternatively, stainless steel can be an excellent option for sensitive ears.

Regarding the specific type of earrings, any style that sits close to your ear will be comfortable to wear.
You can opt for barbell earrings, hoops, studs, or even crawlers.

The most important thing to consider is the earring should be comfortable to wear day and night.
q:

Can you put normal earrings in helix?

a:

Normal earrings can undoubtedly be used in helix piercings, especially if they're small in size. Studs are pretty simple to fit into your helix as they are in your lobe. Hoops are the most popular amongst trendy wearers, which can be a little more challenging to wear.

You must find hoops that don't hang too low; otherwise, they can tug on your cartilage. Our recommendation is to opt for huggies, which are designed to sit closer to the ear.
q:

What size earring is used for helix piercing?

a:

Most piercing studios will use 16G needles for helix piercings, making it the most common size. Alternatively, you might find piercers that use 14G, which is the standard size for barbells.
Finally...
Deciding on helix earrings may seem a bit of a mission so to get you started we've chosen some fantastic ideas which will leave you feeling inspired and excited.
Whether you're thinking about having your helix piercing done or want to add to your growing collection of pretty and unusual helix earrings, have a read of our favorite helix earrings.
We made sure to pick earrings made from either surgical steel or sterling silver, meaning all options on our list are super safe, even if you have sensitive skin.
We also paid attention to price; you'll notice most of our picks are super affordable so even if you have a very limited budget, you'll be able to afford almost any earring on our list!