The Helix Earrings We Fell In Love With At First Sight!
last updated:
Apr 06, 2021
Helix piercing earrings add an edgy and innovative twist to your everyday style.
They're also some of the most exciting piercings to have, as there are plenty of decorative accessories to consider.
Whether you're in the market for lightweight, thin gold earrings or chunky and complex pieces, the options are endless.
Let's explore some of the most beautifully designed helix piercing earrings you can get your hands on.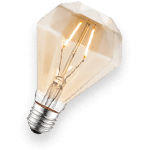 Does a helix piercing hurt?
Talking about the helix piercing and the level of pain, it all comes down to your pain threshold and the piercee giving the piercing.
It's normal for you to feel some discomfort when the piercing is carried out and after when your ear is healing.
However, it's important to point out that the helix piercing isn't the most painful piercing.
You may not, be aware that a helix piercing can take between 3 to 6 months to heal properly.
You can also expect to feel some soreness, swelling, redness, and initially some bleeding after the helix piercing.
If you're geared up for these side effects then you're ready to get your helix pierced.
Celebrities who love helix earrings
In recent years the helix piercing has become a popular piercing. Celebrity icons including actors, singers, and fashion icons have been captured wearing the gorgeous jewelry accessory.
Singers like Beyonce, Rihanna, and Miley Cyrus have been photographed with a helix piercing.
Actors like Jennifer Lawrence, Scarlett Johansson, Vanessa Hudgens, Emma Watson, Sienna Miller are also fans of the new fashion trend.
This once alternative piercing is, therefore, becoming a mainstream piercing that everyone wants.
With A-list celebrities captured wearing the piercing daily, the helix piercing is becoming a must-have accessory.
Important Notes
q:

How to best avoid an infection?

a:

The best way to avoid infection with the helix piercing is to make sure the area is kept clean. You can ensure this by using a cotton bud and a saline solution and gently clean around the area daily.

It's also important not to change or twist the piece of jewelry until you're certain that the piercing has healed because this can cause an infection and prevent the healing process.

Interestingly, an infection may not be as a result of a poor piercee or lack of cleaning but it could be a result of the metal you've chosen to wear. Therefore, it's important to do your research when buying your helix earring.
q:

What is the best way to protect your helix earrings?

a:

✓ Ensure that your earrings are stored in a dry cloth and place them in a separate jewelry box to avoid any damage.

We also recommend you avoid storing them in a damp place.

✓ When cleaning your earrings, use a soft non-shedding piece of cloth and gently scrub them.

✓ If the metal is a dark shade, you may want to try wiping it with some toothpaste which will brighten it up.

✓ Another way to keep the earrings in good condition is to frequently change the piercings and rotate wearing them.
q:

What kind of earrings do you use for helix?

a:

Several types of earrings are typically used for helix piercings. Ideally, you'll want to opt for styles made from easily disinfected materials such as 14K gold or titanium.
lternatively, stainless steel can be an excellent option for sensitive ears.

Regarding the specific type of earrings, any style that sits close to your ear will be comfortable to wear.
You can opt for barbell earrings, hoops, studs, or even crawlers.

The most important thing to consider is the earring should be comfortable to wear day and night.
q:

Can you put normal earrings in helix?

a:

Normal earrings can undoubtedly be used in helix piercings, especially if they're small in size. Studs are pretty simple to fit into your helix as they are in your lobe. Hoops are the most popular amongst trendy wearers, which can be a little more challenging to wear.

You must find hoops that don't hang too low; otherwise, they can tug on your cartilage. Our recommendation is to opt for huggies, which are designed to sit closer to the ear.
q:

What size earring is used for helix piercing?

a:

Most piercing studios will use 16G needles for helix piercings, making it the most common size. Alternatively, you might find piercers that use 14G, which is the standard size for barbells.
Finally...
Deciding on helix earrings may seem a bit of a mission so to get you started we've chosen some fantastic ideas which will leave you feeling inspired and excited.
Whether you're thinking about having your helix piercing done or want to add to your growing collection of pretty and unusual helix earrings, have a read of our favorite helix earrings.
We made sure to pick earrings made from either surgical steel or sterling silver, meaning all options on our list are super safe, even if you have sensitive skin.
We also paid attention to price; you'll notice most of our picks are super affordable so even if you have a very limited budget, you'll be able to afford almost any earring on our list!