Piercings / Women
10 Septum Rings Worth Having Your Septum Pierced!
As the popularity of septum piercings continue to rise there are so many more septum rings to choose from so which ones are the best? Well, we've decided to review a selection and give you our recommendations. For those of you who are thinking of taking the plunge and getting your septum pierced, we've also done some initial research that may help you when making your decision.
The septum is the cartilage wall that divides your two nostrils. In detail, this is the thin and flexible strip of soft skin located at the bottom of your nose. This is where the septum piercing normally occurs.
Historically the septum piercing has been a popular piercing among Native Americans and South Indian dancers. Traditionally, Bengali women have worn a septum piercing which is a sign of their marriage.
More recently the tradition of wearing a septum piercing has been on the decrease amongst Bengali women because they have opted to wear a nose stud instead. Historically, a septum piercing has also been a way of representing a women's tribal, social and religious status in her society.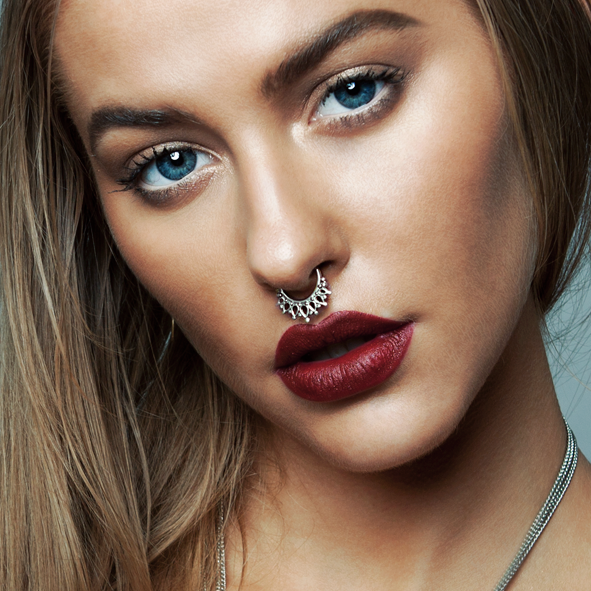 In recent years the popularity of septum rings and piercings has been on the increase. Famous singers like Rihanna and Lady Gaga have been photographed wearing a septum ring. This exposure from A-List celebrities has therefore contributed to making these piercing a mainstream trend. Actors like Jessica Biel have also been photographed on the red carpet wearing a septum ring.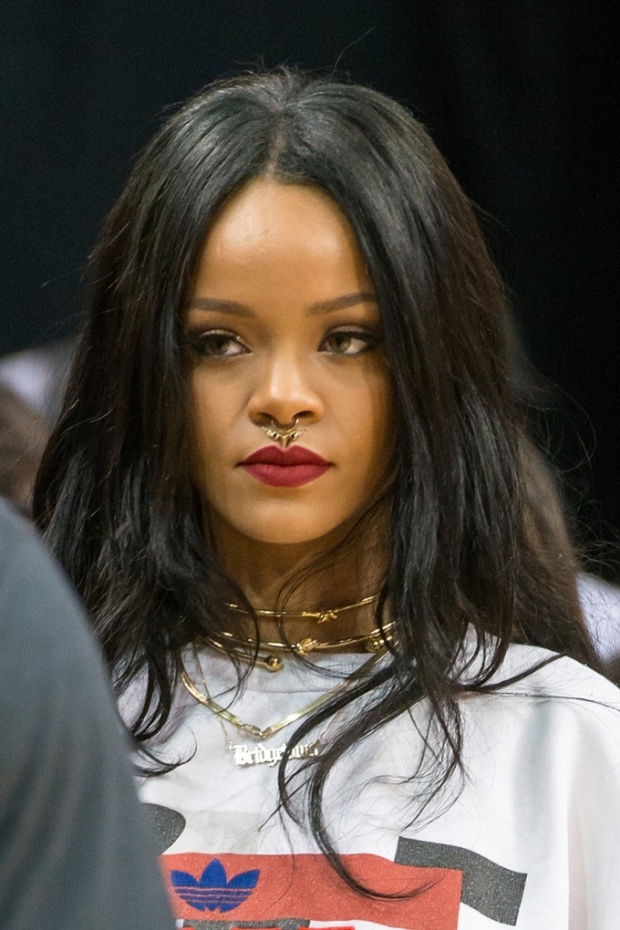 So to help you choose a septum jewel we've collated a list of the best rings available. Enjoy taking a look!
Our 10 Favorite Septum Rings!
1. Septum Clicker Hoop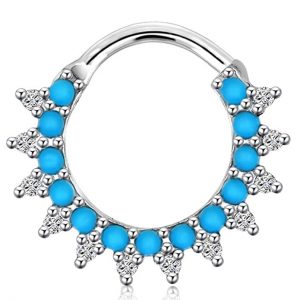 This septum ring consists of a small oval silver hoop. The circular hoop contains turquoise stones that have been evenly spread around the hoop. This hoop cleverly leaves a section at the top of the hoop which allows the ring to sit comfortably on your septum.
Along with the turquoise gems, the hoop features clear diamonds that complement the turquoise stones and add a little sparkle to the hoop. The turquoise stones have also been framed with plain silver balls.
This septum hoop has been made from a 16G curved bar with turquoise beads. The bar is approximately 1.2mm in thickness and the inner diameter of the hoop is 10mm. What's great about this septum hoop is that it is nickel-free, making it suitable for people with sensitive skin.
The hoop has also been crafted with a high polished shiny surface, creating a comfortable and lovely aesthetic look.
The bar has been made from a stainless steel material making it extremely strong and resistant against tarnishing. The sparkling clear gemstones are made from AAA+ clear cubic zirconia diamonds which have a shiny and elegant look.
This gorgeous septum hoop has been created by jeweler, Jewseen and is being sold for a low price. If you take a look at Jewseen's extensive collection you'll notice they specialize in piercings like belly bars, nose hoops, cartilage bars, and earplugs. If you look at their collection, they've designed a collection of edgy pieces that look great.
2. Stainless Steel Hinged Segment Ring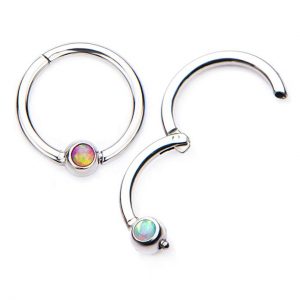 If you like opal stones then you'll love this opal style septum ring. One of the reasons we simply adore the opal is because it is a semi-transparent gemstone that consists of a quartz-like form. Opal is also known for shifting in color when the light reflects on it. This means that no two opals are the same because of its shifting color!
The lovely thing about this septum ring is that the opal takes center stage. The hoop is made from a stainless steel metal which makes it very strong and durable. The thickness of the hoop is 1.2mm and has a hinge half way along the ring which allows the ring to be open and closed easily. The hinge also allows the septum ring to be removed comfortably from your septum.
Referring back to the gorgeous opal, this gemstone is a synthetic gemstone that has been framed within a shiny stainless steel metal. This protects the edge of the opal and enhances the beautiful gemstone making it stand out!
What's great about it is that it comes in a couple of different colors and size which is perfect because the jeweler gives you plenty of choices. As seen in the image, this opal hoop can be bought in a rainbow color opal as well as a pink colored opal. The gemstone is also available in a 3/8" or a 5/16" length depending on your how big you'd like your hoop to be.
Another thing that we like about it is that if you have any other piercings like a nose, ear, eyebrow, lip or nipple piercing, this septum hoop is also suitable to wear.
This pretty piece of jewelry has been made by Pierced Owl who love making sparkly and dainty jewelry. Rings, septum hoops, belly bars, and nipple rings – this is the place to go to buy your jewels for your piercings.
3. Pierced Owl Tribal Arrow Point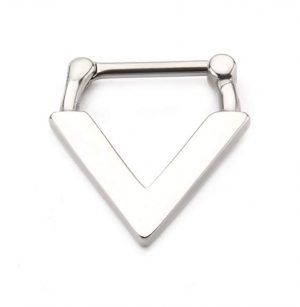 If you're looking for something slightly different then this tribal arrow septum ring may be just what you've been looking for! You may have already guessed but this septum ring has been shaped into an arrow shape, making the jewelry a big statement piece.
It has been made from a plated stainless steel metal which is great news because stainless steel is very shiny, strong and durable! This jewelry accessory is also available in a gold or silver tone which is what we love to hear!
When it comes to the septum bar, the bar length is approximately 8.25mm and the thickness is 1.2mm. The thing that is really striking about this piece of jewelry is the design.
The straight lines are a big statement which we like! This tribal arrow style piercing also offers a clicker feature which allows it to be easily open and closed and removed when required.
This precious piece of jewelry is another piece that has been designed and made by Pierced Owl. We love the designer so much we couldn't leave this septum accessory out of the mix. Take a look at their brilliant collection!
4. Cubic Crystal Faux Nose Ring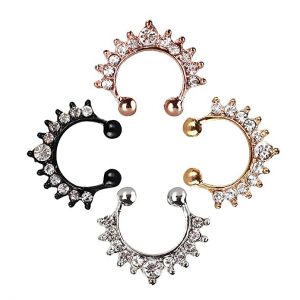 Are you slightly nervous about the pain that may come with having your septum pierced? Well, for those of you that are a little scared of the needles, you can wear the septum ring but without the pain! Check out these gorgeous nonpiercing septum rings, you'll love them!
If you want to try before you go ahead with the real thing, why not buy some of these pretty little fake nose rings. They're perfect for any girly girl! This set of four nose rings comes in four different colors – rose, gold, silver, and black. This means you can switch colors throughout the week! These are also great for everyday wear.
These pretty little septum rings have been created using a high-quality alloy which gives the jewel its smooth surface, comfortable wear, and long-time color retention. The hoop is also lead-free, nickel free and hypoallergenic so if you have sensitive skin these won't hurt your nose.
The hoop is approximately 20mm in length by 19mm in width with a 10mm inner diameter, making it a decent size. This stunning hoop also contains rhinestone encrusted gemstones that really make your ring stand out in a crowd. The sparkling gems are quite remarkable, they're hard to miss!
These fake septum rings have been made by TOFOCO COM who prides themselves in making high-quality alloy septum rings. If you're not old enough to have your septum pierced or simply can't handle the pain, then TOFOCO COM offers these fantastic fake hoops.
They definitely offer a collection of septum hoops that you'll love! The great thing about this jeweler is that you can adjust the size of the septum ring by simply pressing the ends of the opening with your hand.
5. Hinged Gemmed Seamless WildKlass Septum Clicker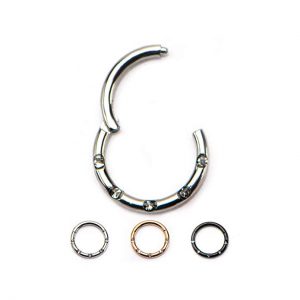 If you want a more minimalistic septum hoop which is slightly more subtle then look no further then this beauty! This septum hoop has been crafted from a surgical steel metal that has a beautiful shine to it. The steel has a perfectly smooth surface which makes it not only look great but is very comfortable to wear.
This piece features beautiful gemstones along the hoop which look beautiful. These are small and are embedded within the steel metal which gives the ring a subtle shimmer and sparkle. The jewel displays a clear sparkle which is great when it comes to accessorizing with your wardrobe because it will go with everything!
When it comes the structure of the ring it has been cleverly made by WildKlass Jewelry. The septum hoop has been constructed to include an undetectable seam which opens and closes with ease.
When closed the seam almost disappears which results in the design of the ring not being compromised. If you're looking for a particular size, this hoop is 16 GA and its length is approximately 8mm. It is also made from high-quality surgical steel.
One of the things that are great about this jeweler is that they offer this septum hoop in a variety of colored metals including yellow gold, black, and silver. Even though we think this would make a fantastic septum ring it would also make a great jewel for a lip, nostril or ear piercing.
Made by WildKlass Jewelry, this jeweler knows a thing or two about piercings. All of their pieces have been carefully crafted so they're a statement piece. These include frog earring studs, skull enclosed plugs and daisy tongue ring.
We could talk all day about the variety of piercings this jeweler offers. The designs, colors, and styles are quite remarkable! Take a look at their website, you'll be amazed at the variety they offer.
6. Hinged Segment Ring for Septum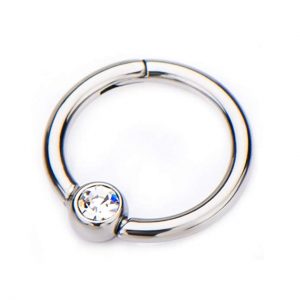 If you want a touch of bling in your septum hoop then this may be a great option! This stainless steel septum ring contains a beautiful crystal stone in the center of the hoop. Made from stainless steel this hoop is not only shiny but is very strong and durable. Having been made from steel is also won't tarnish.
When it comes to the size of this ring, it is available in a couple of different sizes. The first being 8mm in length and the second being 9.5mm in length. The thickness of the hoop is a decent 1.2mm thick which is great.
When it comes to the sparkling stones, this septum ring features pretty cubic zirconia. The clear gemstone gives this hoop a gorgeous shimmer and really makes the septum jewel stand out.
The combination of steel and clear jewel complement each other perfectly. The jewel has also been framed with the shiny steel which makes it stand out even more. We love this attention to detail!
The hoop offers a hinged segment which allows the stainless steel ring to be easily opened and closed. This allows the hoop to be easily removed when required and at the time ensures complete comfort for your noise which we feel is very important when it comes to a septum ring.
Once again we've decided to include the jeweler, Pierced Owl, in our top ten list. They offer a great selection of stylish, individual and unique designs. The supplier also offers these at a great price so you're getting a good value for money product. We always like a bargain!
7. Nose Septum Horseshoe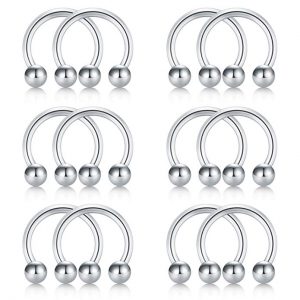 If glitz and glamour isn't your style and you simply prefer a plain septum hoop then you'll love this septum horseshoe circular barbell!
This simplistic design has been created using a strong surgical steel metal. The steel used for this piercing gives the accessory a smooth and shiny finish. The steel is also very strong and durable which means it will last for years and years.
The smoothness of this steel also makes this ring comfortable to wear and remove when you want to change your hoop. Another thing we like about the septum hoop is that is nickel free and is hypoallergenic. This means it's safe to wear if you have sensitive skin. This is very important if you're going to be wearing the septum ring all day.
What makes this hoop unique is the specific design. The jeweler has opted for a more simplistic design with this ring inspired by a horseshoe. Traditionally the horseshow is meant to bring you good luck so we like this horseshoe style hoop even more! This circular ring also includes a prominent barbell at either end of the hoop which finishes off the nose septum nicely.
When it comes to the size of this jewel, this size of the hoop is 16G. The inner diameter of the septum hoop is approximately 10mm and the diameters of the barbells are 3mm. This particular jeweler offers you 12 horseshoe style septum hoops for the price of one. This means you've got a new ring for each day of the week. What more could you ask for?
These gorgeous septum hoops will arrive in a lovely velvet gift bag that will keep them safe and protected. If you like the design of these septum hoops so much they're also suitable to wear in your lip, nipple, and ear.
These septum hoops have been designed and crafted by Vcmart, who offer an extensive collection of jewelry. Necklaces, bracelets, tongue rings, ear plugs, and nipple bars feature in their collection. The designer also likes to create pieces that feature a lot of colors. Take a look at their collection and enjoy!
8. Stainless Steel Hinged Segment Ring with Prong Set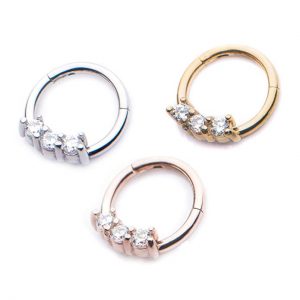 We love sparkles especially when they're in the form of jewelry! Once again we've chosen some items made by the talented Pierced Owl. We love their jewelry and so will you!
These beautiful septum rings feature plenty of shimmer and shine. The rings have been made from strong stainless steel with a colored tone to them. This jeweler offers a selection of colors when it comes to the hoops.
Rose gold, silver, and gold – these different tones of stainless steel offer you plenty of choices. What's great about stainless steel is that it contains a beautiful shine within the steel. The metal is also very strong and durable.
When it comes to the structure of the hoop this septum ring has been designed with a hinge in the middle of hoop allowing you to easily open and close the hoop.
This makes it very comfortable to place the hoop on your septum and is easy to change when required. This specific hinge also offers a seamless snap fit which doesn't impact on the design of the jewelry.
Another striking element of this septum hoop is the shimmering jewels that are featured along the hoop. The septum jewel features three dazzling gemstones that sparkle beautifully.
The stainless steel ring features cubic zirconia gems in a prong setting. The three gemstones are situated alongside each other in a row of three. They are also framed by the shiny steel metal which makes them stand out.
As well as a septum piercing this jewel would also be suitable for a lip, nostril and ear piercing. Created by Pierced Owl they offer an extensive collection of jewelry, particularly with a focus on piercings.
Browsing their collection you'll notice their love for gemstones including opals, cubic zirconias, and crystals. They also specialize in creating gorgeous designs out of stainless steel which is durable and very shiny to look at.
Their pieces are being sold for a very reasonable price. Why not treat yourself to something special, you know you want to!
9. Bendable Septum/Cartilage Hoop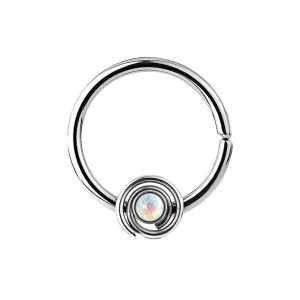 Opals, opals, opals – we can't get enough of the gorgeous opals!
The pretty septum hoop has been cleverly made using a surgical steel metal. Crafted into a circular shape, this ring features a spiral design on the hoop with a pretty opal stone in the center of the spiral.
This not only looks visually attractive but the spiral design with the opal in the center draws your eyes into this beautiful stone. We love the attention to detail in this hoop – it's lovely!
Going into a little more detail about the structure of this piece, the length of the hoop is approximately 10mm and the thickness of the hoop is 1.2mm. The circular spiral is also 2.5mm in diameter. This hoop also offers a unique bendable mechanism which allows you to open and close the hoop ring so it can be put on and taken off easily.
Another great thing about this jeweler is that they offer you the choice of having up to 4 different types of opals in your jewel. With this circular septum hoop, you can choose from an opal blue, opal pink, opal white, and opal green! We love all of these colors so why not buy them all. You'll be missing out if you don't!
As well as a septum hoop this piece of jewelry can also act as a cartilage hoop for your ear!
Created by Dynamique, this jewelry design really offers a lot of originality when it comes to this piece. Nipple bars, belly bars, septum, and cartilage earrings – this jeweler offers a variety of pieces depending on your style and preferred pieces.
The jeweler offers plenty of color and glamour with their collection. Diamonds, opals, gemstones and lots of color… Their jewelry collection includes a lot of attention to detail. Why not take a look at their range, you'll be spoilt for choice!
10. Lacey Single Opal 16g Septum Hanger Clip On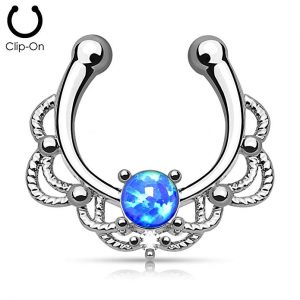 To finish our roundup of the best septum rings, we thought we'd finish on a high by featuring this decorative septum ring which has been designed and created by no less than jewelry designers, Pierced Owl!
This circular hoop has been crafted using stainless steel metal, making it durable and shiny! The circular ring also includes a barbell at either end of the circular hoop.
This ring features a decorative design along the hoop which gives it a bohemian vibe to it. In the center of the ring, there also features a deep blue opal cut into a circular shape. There's no question about it, this piece of jewelry is very decorative and will definitely turn heads!
The structure of the ring consists of stainless steel metal. To give you a realistic size of the hoop it is approximately 17mm wide by 16.2mm in height. The inside length of the hoop is approximatel10.6mm.
The decorative stainless steel brings this ring alive because it displays a unique pattern along the stainless steel bar. The steel has been twisted to represent a rope texture. Smaller barbells of different sizes have then been featured along the rope styled steel to finish off the design.
When it comes to the centerpiece, the gorgeous opal is a synthetic opal. What's great about this septum ring is that the beautiful opal comes in a variety of colors including blue, purple, pink and white. Nearly every color of the rainbow!
This allows you to choose your favorite color or match your precious jewel with the outfit of the day! What more could you want? Our favorite color is the blue opal as seen in the picture but as we said this jeweler offers you bundles of choice to choose your favorite!
Again when it comes to the jewelry designer we've opted for the clever, Pierced Owl. What more is there to say about this talented jeweler! Well, they offer beautiful pieces of jewelry that you'll want to get your hands on.
Opals, diamonds, and gemstones! Stainless steel is the foundation of all of their pieces. Each design is also very unique and individual which make them very eye-catching. We also like the use of color that this designer has opted to use in their pieces of jewelry.
When wearing one of these septum rings, you won't be forgotten, you'll be the center of attention. So don't wait any longer, take a look at their website and get shopping!