Necklaces / Women
The Most Beautiful Horseshoe Necklaces We Found Online!
Marianne 20 Mar 2020
2028
You have seen nail necklaces, lariat necklaces, and the beautiful anchor necklace, but here is another stunner piece that will make you look lovely no matter how you wear it. Although you might not have paid so much attention to them before, horseshoe necklaces are a remarkable piece of jewelry. They have the right shape to dangle from your neck correctly and bring out the resplendence of any other accessory you are using. We found them in some of the collection on online stores, and we thought they are just what you need to dazzle for any occasion you are out for.
So from casual to formal, we have pieced together a detailed article about horseshoe necklaces, why they are incredible and the exact ones that are the most beautiful.
With the number of necklaces that are in the fashion world right now, you might be wondering why you should go for horseshoe necklace. Well, if you want something that is adorable and can be adorned using several gemstones, then you want to go for this one. It has all the right features set smack into its build. The shape is an add-on and only makes it much lovelier for you.
Before we show you the amazing collection we have for you, here is a little background story about the horseshoe necklace.
The necklace has always been a thing right from as old as any other piece of adornment. The horseshoe pendant was used throughout several ages to mean different things. It was an item which was very rich in symbolism and meant protection from witches and any source of evil in the Middle Ages. They would usually use it on the coffins of anyone considered evil to stop them from resurrecting. All this was attributed to the fact that it took the crescent shape ascribed to the moon goddess.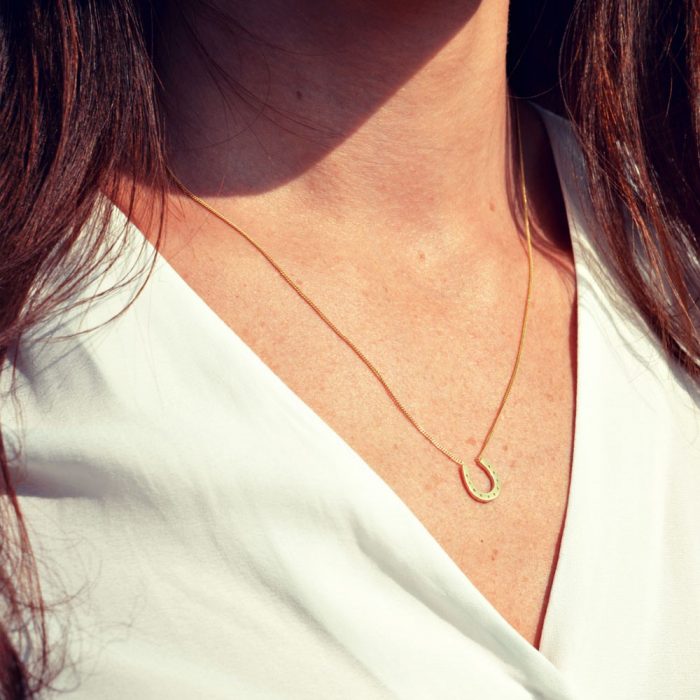 In Greek lores, our protective charm got seen as bad luck if worn upside down. But all those happened quite a while ago. In recent times, it is still believed to protect the wearer, from nightmares or those shadowy fingers that reach to you from the dark spot in your room. 'Yeah! Horseshoe necklaces are a simple piece of antique accessory that is beautiful, and whether you choose the one made with gold, silver or decorated with other gemstones, they will complement your looks.
Another thing you will love about them is they make a perfect idea for a gift. Be it Valentine's Day, birthday or any other occasion, you would make the one you love happy with these wrapped up pretty nicely.
Celebrities Seen Wearing One

We always love to add this section where you look at your celebrity crush rocking your favorite piece. Some of the stars we found with a horseshoe necklace adorning their neck include Michelle Keagan, Jade Ewen, and even the famous Mila Kunis. But the first one to put a horseshoe pendant on our radar was Sarah Jessica Parker in Sex and the City! So if you want an assurance that what you are wearing is in vogue, they are there on the neck of Hollywood stars.
We search all through the internet and came up with ten great pieces of horseshoe necklace that should be on your neck.
Our 10 Favorite Picks!

1. Dazzling Rock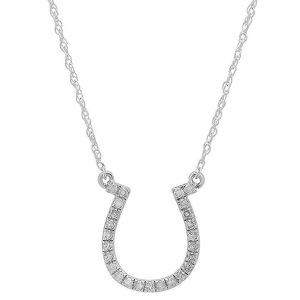 Dazzling Rock has always been one of the best brands when it comes to making jewelry pieces that are worth your while. And this horseshoe necklace from them is no exception. The product comes with three different design of rose-gold, white-gold, and yellow-gold. You can opt for any you like and be sure that the same quality will be kept.
Moving on, the horseshoe pendant is further accented with 0.22-carat white diamond, giving off such beauty you can hurt your eyes. For a perfect fit on your neck, the pendant is held by an 18-inch chain with the same metal stamp. Each of the stone is round, and they are natural. All around the necklace is evidence of expert craftsmanship with acute attention to detail.
The chain isn't resizable, but it comes with a spring ring clasp to make it stay secure on your neck, you have it all with this necklace, and for whatever outing you have, you can use it on any outfit. It comes with a 30-day return policy in case there is any reason you need to have it returned. For such an affordable price, you don't want to miss this one.
2. Silver Light Jewelry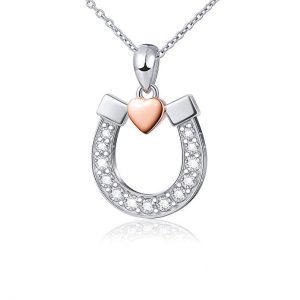 When you are choosing a piece of jewelry, it has to have all the right pieces put in the right place by expert crafting. Which is why we recommend this necklace for you. With the horseshoe pendant set in the center and commented with a heart shape, it is truly an adorable piece. It was created with a "love U' theme and is a great accessory to celebrate love.
From Silverlight Jewelry, this necklace comes made from sterling silver, which is one of the safest material for your skin. The material was used for both the chain and the pendant to make sure that they both look amazing. For a beautiful sparkle, the pendant has cubic zirconias set into it.
You can choose the necklace that has the gold-plated love shape or the one with the star shape. Whichever one you choose has a Rolo chain measuring 7 inches in length and comes with a 2-inch extender. You would think that's all, but there is still the flat-top setting that brings everything into place and will make you fall in love with the necklace at first sight.
Additionally, the chain has a lobster-claw clasp to make it stay on your neck. You can use it as a gift for your wedding anniversary, and you won't need to go through extra stress. It already comes packaged in a nice box.
3. Beaux Bijoux Sterling Silver Created Blue Opal Horseshoe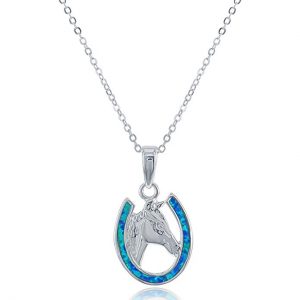 We found a horseshoe necklace that comes with the horsehead and thought it would look amazing on you. From Beaux Bijoux, here is a gorgeous necklace that has everything you want in one package. It has a horsehead inserted into the center of the pendant to symbolize freedom to gallop the world with all your care thrown to the wind. Just one look at it and you will feel all your luck change to good.
The horseshoe pendant used for the necklace is sterling silver-made, and it has a blue created opal to make it even more exquisite. Each of the stone measures 2 millimeters in height, width, and length. They were built with high-quality synthetic materials and shaped irregularly. The necklace also has an adorable setting that is inspired by the ocean and has a beautiful array of the color spectrum in of the opal. There is also an 18-inch chain to help you keep the pendant right where everyone can see and admire it.
At the end of the chain, there is a spring clasp to let you secure it on your neck without having to worry about it getting lost while dancing at the club or jogging in the evening. Whether it is a high-class dinner or a work get-together, you can wear this necklace to just about anywhere. You also don't need any cut-backs on your budget when you decide to buy it since it is affordable.
4. ACJNA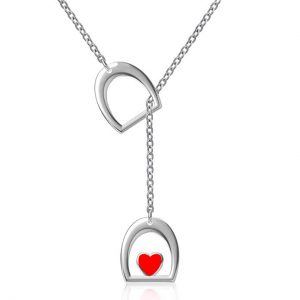 We all know that combining a beautiful pendant with a fantastic style, will look awesome. This piece does just that; it features three different designs that all make up a great collection. You can choose any one of them, and you still get that horseshoe pendant dangling at the nape of your neck.
All three necklaces are sterling silver-made, which is hypoallergenic and nickel free. The first one in the collection was made with a horseshoe pendant and diamond-shaped cubic zirconia at the center. There is a tiny heart at the tip of the second pendant, and the third one which is intriguing has a two horseshoe pendant in its layered design. They all have an 18-inch chain holding them with a 2-inch extender to make it adjustable for whatever size you need.
The necklace is a perfect gift for sisters or any generation of women you want to give it to. The first one is for the family; the second and third one will make a perfect gift for your partner. ACJNA are sure that their product is perfectly safe for your health, so they come with a 100% refund if they cause any damage to your skin. To top it all, there is a gift box that the package arrives in, so straight from delivery to that special one.
5. Amanda Rose Collection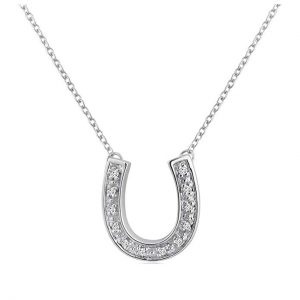 Next on this list is a piece that is not only remarkable for its radiance but also for the perfection in each detail used for crafting it. It comes with the regular horseshoe pendant, but with more chic design. This is one product that you will adore when you get yours.
By now, it's pretty much a thing that diamond necklaces are radiant. Well, this one features 12 0.1 carat diamond set into the horseshoe pendant. The pendant itself is crafted using the 925 sterling silver metal stamp. Naturally crafted, the diamond used didn't undergo any treatment and had a round shape. Like all other necklaces in this collection, this one also has a chain that measures 16 inches and 18 inches in length so you can choose the one that is just right for you. You can secure the spring ring clasp to make sure it doesn't fall off.
Amanda Rose is a brand that has a lot of expert craftsmen, and when it comes to making exquisite jewelry piece, you can always count on them. The delicate necklace comes in a branded box that makes it ready for gifting. You can also get one for yourself to add that needed spark to your accessories.
6. Silver Mountain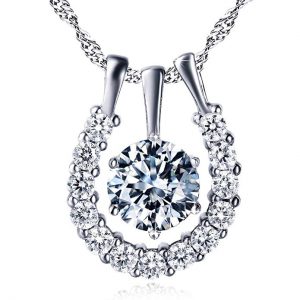 Cubic zirconia has become a revolutionary material in the fashion world; this is because it has allowed tons of pricey jewel to have affordable dupes. So for those on a budget and can't get that natural 10-carat diamond necklace, they can easily switch to dupes and still dazzle in style.
Well, accenting with cubic zirconia doesn't get better than what silver mountain has done with this jewelry. It comes with the horseshoe pendant and has cubic zirconia twinkling all around it. To even make it catchier, the manufacturer used a big, bright and top quality cubic zirconia at the center of the pendant. It's a beauty to behold, and if you look at the picture, then you should be able to imagine what it would look like while you stare at the mirror.
To make sure that wearer compromises nothing, the necklace is made with 925 sterling silver and doesn't bring any allergies to the table. You can also trust the expert that crafted this one since the finish is expertly polished. All these features are not just to flatter; it's the intriguing amount of work put into one piece.
The necklace has a chain that is 18 inches in length and model a water wave with a spring-ring clasp. Lightweight and chic, the whole weight exerts 4.9 gram on your neck which is pretty comfortable. For anniversaries, birthday, prom night and valentines, this would make the perfect gift for anyone. You can also wear it yourself and be the diamond of the day or night.
7. Dote Jewelry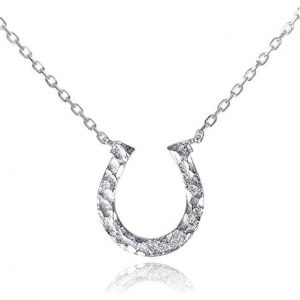 For horse lovers and those who need that extra boost to cast their fears away and gallop into the world, worry-free. Then horseshoe necklaces are just what you need. This unusual but beautiful jewelry item means a lot of things and one of them is 'good luck.' You can look at it all day and feel that vibe that gives you that extra edge that you need.
This necklace from Dote jewelry comes in two styles; you can choose the hammered or the polished. But whichever one you pick, they are made of sterling silver without any harmful materials like cadmium, nickel or lead. There is also an 18-inch chain with 2-inch adjustable length to help you bring it down to any size you choose to.
When it comes to formal occasions that needs elegance, you can throw on that attire you have always loved and use this necklace to complement it. It is also durable and won't get missing since it has a lobster clasp to keep it secure. Get freedom, flexibility, and beauty all in one affordable package when you choose this necklace.
8. Apotie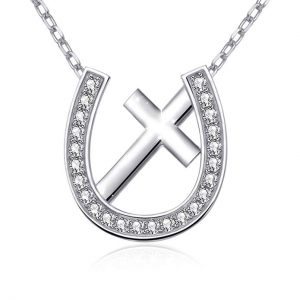 If you are a fan of relics, then you would love the combination used to craft this necklace. It is still a horseshoe necklace like we promised, but this one has a little something that makes it more beguiling. The horseshoe has a cross set into the center. This creates an already beautiful pendant look even more gorgeous, and we thought it would look lovely when it's dangling from your neck.
Crafted with 925 sterling silver, the materials used for the whole product is perfectly healthy for your skin. You won't need to be fighting off bacteria or rashes after wearing it for a few days. Check out the picture to see how the horseshoe and cross expertly connected. The pendant size is 19.3*20.4*2.0 mm and has a comfortable weight of 5.34 grams. The lobster claw is the clasp inserted into this one, and you get a water drop tag with the entire package.
One thing about great brands is that they make sure that nothing is left out when making a jewelry piece, so they put a guarantee on their products. Apotie is one of these brands, and this necklace comes with a free return and quality assurance. If you have been thinking of what to buy for that special occasion coming up, then here is a great idea, both for you and your family or friends.
9. Laura Elizabeth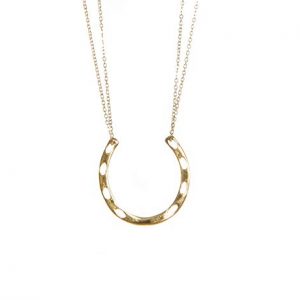 Laura Elizabeth is known for making jewelry pieces that are timeless, elegant and top-quality. She builds them while considering date night, watching the kids and all the harshness of the event. And being a fan of ladies being in good graces herself, she made this delicate horseshoe necklace with that in mind. The jewelry comes designed for every season of life, and it's even layered to create what you need.
When you need a necklace that comes with gold-tone, this necklace should come to your mind. The chain and the pendant come with the same material to make sure that you get the best. To help you carry your lucky charm around, there is a chain which is 18 inches long and has a 2-inch extender. If you are wondering what the extender does, it's this excellent little add-on that allows you to turn your necklace to a choker and then back again into a chain.
This is an ornament fit for a queen and the infusion of sterling silver into the chain, clasp, and finding is good evidence. If you are an environmental loving person, then you will be delighted to know that this piece meets eco-friendly standards. Get your today, and you will receive it in a nice little package. It's also an excellent gift idea.
10. BlueRica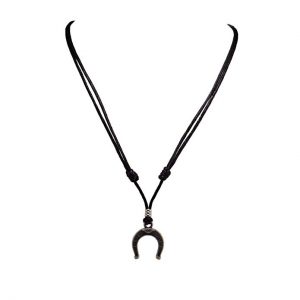 We thought it would be nice to have a horseshoe necklace for those who don't like the feeling for metals around their neck. Well, if you are like that, then you can still enjoy the protection the horseshoe brings to you. This jewelry was created with an adjustable cord and has a horseshoe pendant its center.
Made with an alloy, the horseshoe metal was fabricated using a natural fiber. It also has a resizable cord attached to it, making it one size fit all. The necklace is perfect for anybody, be it for your child's prom, your mother birthday or Christmas. You can also trust the materials use that they are perfectly safe for your skin with all the necessary treatment done.
There isn't much to say about this one, but one thing that we can tell you is that if you are a fan of simple, yet elegant. Then you certainly want this necklace in your box of accessories. It is also perfect for casual outings or those early morning jugs you go for. You never know when you need a good luck charm warding off all those negative vibes.
Frequently Asked Questions

After putting together all these fantastic pieces that we are sure you would love. We found some questions that we think you might have after going through the article and we provided some answers to them.
How do I take care of my horseshoe necklace?
Pretty much like most other necklaces, make sure that you don't use harsh chemicals when cleaning it. Mild detergents are okay, and you can also use a cotton napkin to wipe and get rid of dust. If you want to keep it after wearing it for a long time, it is best to keep it inside the pouch it came in or just look for a soft cloth and store it.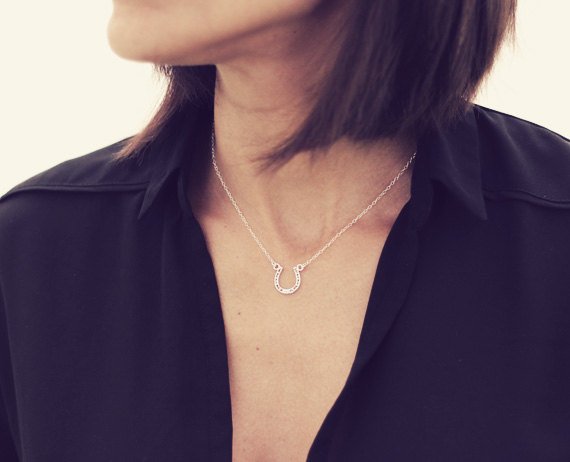 For materials like natural gemstones, you can take them to jewelers to help you clean them when there is indeed a need for it.
Are there specific sizes for each age-grade?
When it comes to necklaces like this, there are specific sizes. You can get one of them and then use the appropriate chain to make sure it fits you. They also have extenders so that you can resize it to what suits you. What matters most about horseshoe necklaces is the pendant.
What other accessories complement horseshoe necklace?
Well, there are horseshoe earrings and bracelet. So if you want to go for the whole collection, you can check for it. However, a simple bracelet and hoops or huggies for your ear will be charming.