Other / Women
Lace Chokers We Can't Help but Adore
For any of us who lived through the nineties, there is almost no more iconic piece of jewelry than the choker.  Every pop star and them some sported the braided cord of plastic stretched around their neck. Tiny little crystalline beads and charms dangling just at the hollow of their throats.  Delicate lace numbers featured heavily on the necks of celebrities through the back tenth of the twentieth century.
In perhaps the best news of the new year, chokers seem to be coming back with a vengeance and we love it!  But while we are all about the throwback plastic woven number, these days we are leaning a little more into lace chokers.  Great for bridal wear, daily wear, and a super unique accent piece for a night on the town, lace chokers are here to stay for a bit and that is making it a happy new year for us here at Jewelry Jealousy, indeed.  
A Brief History of Lace
While historians of textile and clothing will hotly debate the true origins of lace, there's no denying the wide-reaching impact of lace on fashion. There is an Italian trace on roots as well as a Flemish history that claims its start. Even with these, there are so many various ways of creating lace, it is unclear that either the Italians or the Flemish can claim to have truly "invented" lace. We do know that lace first started appearing in art as early as the fifteenth century as decor on clothing.
The wide ruffle collars most identified with Tudor England and Queen Elizabeth I were made of various types of lace. Shaped and hardened into the iconic ruffs we imagine when we think of The Virgin Queen.  That's quite a choker and we are pleased this particular style does not seem to be emerging once again. Henry VIII's first wife, Catherine of Aragon, is said to have loved lace so much she wanted to support lacemakers local to where she was living after her exile. She reportedly had all of her lace burned and had new pieces commissioned by the local artisans. This created demand for the local lace as then, just like now, what the royals do is always in vogue.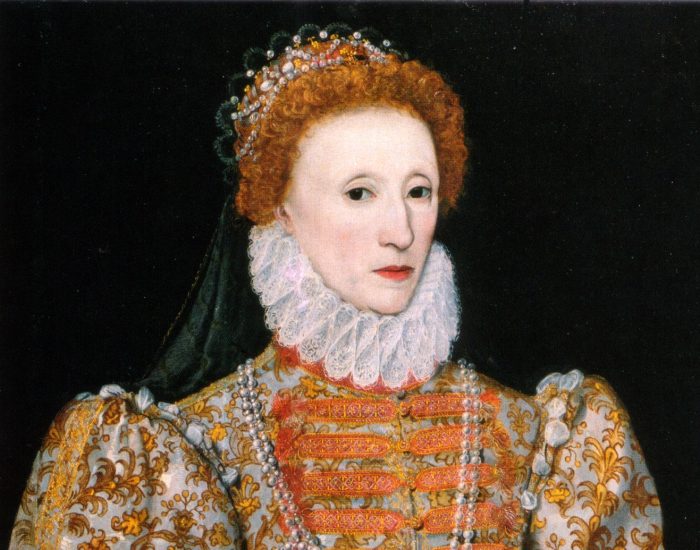 Lace, while its application has changed wildly over the centuries, seems to one style that is utterly timeless. Since the fifteenth century, we have loved lace for everything from detailing to whole sheath dresses. Even ages wherein style seemed to be far more conservative and muted such as the Victorian Age and the Great Depression, lace clung to the fringes of fashion and endured, sometimes by being a literal fringe.
Lace in jewelry
Given the complexity of creating lace, it is no surprise it has long been associated with elegance, opulence, and high society. Something that takes that much effort, time and dedication to create will not come cheaply. While today we have machines that can create lace of any style nearly in the blink of an eye, the allure of lace remains. It is still closely associated with a fine elegance and we love that these chokers can give that bit of flair to your outfits. Most notably, lace is still wildly popular as a material or detail on wedding gowns. Famed makers like Vera Wang and Christina Wu have dresses dripping with lace. In fact, all ten of the top ten wedding dress designers offer at least one, if not more, pure lace creation with every line they create.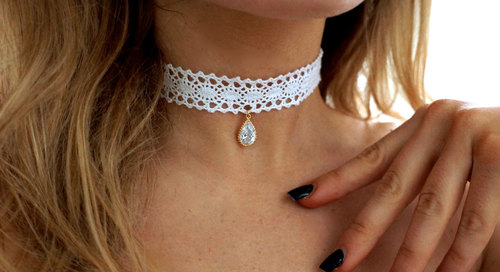 Many of our lace chokers on this list will work wonderfully as an accent to bridal ensembles, for either bride or party. Or you can rock them on the daily and join the ranks of the Kardashians and Rihanna sporting the revived choker look. Some of the more dramatic pieces will take lace from simple work of art to absolute statement piece.
We will say right up front that almost all of the simple band chokers on our list are prime candidates for a layered look.  There is something just so finishing about capping off a set of tiered chains and chunky ropes with a delicate little piece of lace, no matter what color you choose.  Plus, the standard bands of lace can even be layered with each other for multiple pops of color and texture.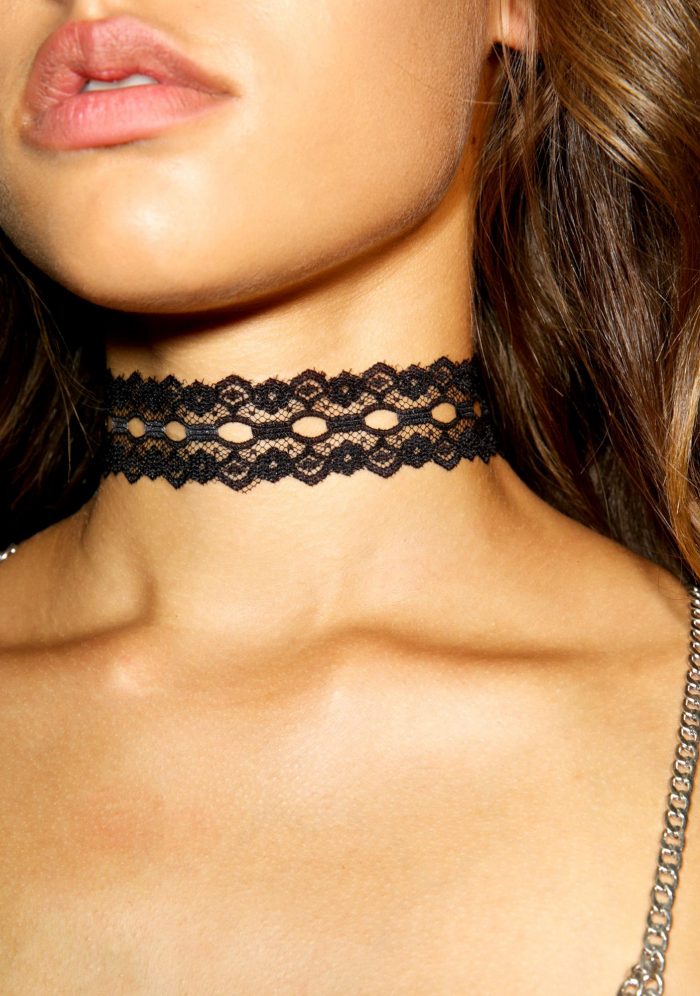 Others of our more complicated, embellished pieces might stand alone as statement pieces and those are always necessary for any collection, but simple bands lace chokers are turning out to be a must-have for any modern jewelry collection. We will start with our collections of simple bands before getting on to the solo pieces.
Our 10 Favorite Picks!
1. Black Scalloped Lace Choker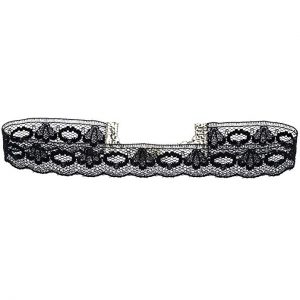 This one is as simple as they come. A length of black, scalloped edge lace is joined by an adjustable chain and lobster claw closure. It adjusts from 10 and ¾ inches to 13 and ¾ inches so it should fit most adults and teens snugly as a choker should.  
Because the lace is loose, you can easily hook a charm or five to the scallops without damaging the lace. This is machine made lace so while you don't have the fine craftsmanship of the mesmerizing Chantilly lace, you do get the predictability of lace made with computerized precision. You also get to skip the handwoven price. All the luxury of lace with the exorbitant price.
Alternatively, you can use this choker as a background for a piece of colored ribbon tied in a simple bow. You can also use it behind another lace choker to darken or add a gentle dark background.
As mentioned above, dark chokers are perfect for layering! This will add a super trendy top end piece to your collection of favorite chains and pendant.
2. Ten Piece White Lace Choker Set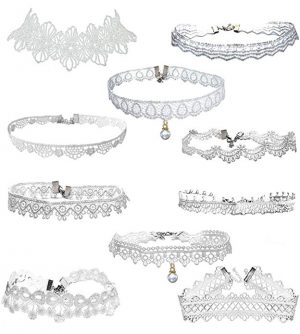 This is the perfect set for a daily wear collection. Classic white lace in various patterns and inspired by various lace making techniques, this ten pack of lace chokers could not get any better.
Two of the pieces feature a pearl and gold bauble. There are machine created examples of tatting, needlework, and bobbin lace. Just about every texture you could imagine is covered in this collection
Each of the ten has an extender and lobster claw closure so you can adjust fit and tightness across your throat. We think these would be amazing layered over a wider piece of velvet or ribbon to add a pop of white across a bold, wide band of color.
Since the messy layered look is totally in right now, leave one on the longest setting, cinch another one uptight under your jawline and toss on your favorite heap of messy chains and bangles. Wear all this over a band t-shirt, a collared, unbuttoned overshirt and boyfriend jeans and you've practically got the starlet out for coffee look down pat. Bonus points if you've got a solid colored beach tote to finish the "No Paparazzi Please" vibe. No one said "cas" could not be glam. And these lace chokers will add the perfect amount of refined glam, even to your most low-key outfit.
3. Ten Piece Multi-Colored Collection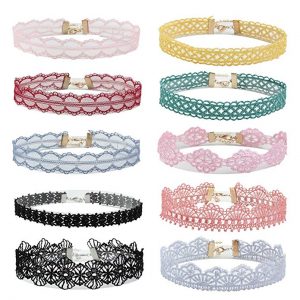 If white is a must have set of chokers, we are not sorry to say so too is a nice rainbow collection as well. This set of ten does not have the variation of designs as the previous white collection but it does have those pops of color that will take your look to the next level.  
Three of the chokers included in this set are the same sheer lace with draping loops overlayed but they come in different colors. Two additional ones repeat each other but once more come in different colors. The remaining five are unique in the pack. Colors may vary according to the manufacturer but we know that every color has a place in a jewelry collection. Any outfit can benefit from a contrasting color. Wearing blue? A rusty orange lace choker will add just the right amount of pizazz without looking like a sports mascot.
We have always maintained that attention to detail can take an outfit from wasted to wowzer. Imagine wearing one of those super trendy velvet chokers with this layered just underneath so the colored lace scallops or details just peak out of the bottom. The effect would be stunning yet subtle. A bit of you to add to the trend. Who knows, maybe if you sport our suggestion, you might be a new trendsetter and influencer on social media.  #welovejewelry
4. Ribbon and Lace Accent Choker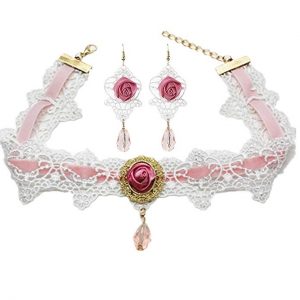 Get It HereGet It Here
If the above entries were staples to add to your wardrobe than this piece is the transition from a subtle hint of lace to the more in your face lace additions to your collar. This velvet ribbon and lace choker feel very rustic and authentic featuring trendy velvet ribbon, lace, and an old-fashioned gold-rimmed brooch. Bonus this piece comes with matching earrings so you can go all out for roses and lace. And really, besides diamonds and gold, is there a better pairing?
The rose-colored velvet ribbon is gently layered through the white lace. A bold ribbon rose brooch is affixed to the center with a rosy crystalline teardrop hanging below.  
It somehow evokes both a Little House on the Prairie feel and a Lolita feel in one single piece. Depending on how you style it will make all the difference. Pair it with a pastel blousy button-down shirt, perhaps featuring a subtle tiny floral pattern, a la a calico print, with a pair of skinny jeans and ankle boots for a very modern, clean feel with a pop of boldness. Or pair it with a lace accented baby doll top and your cutest Mary Jane shoes for an homage to the Lolita fashion.
For those who live and love cosplay and truly go all out for the steampunk or Lolita looks, this piece is a must-have. We love a piece that can jump from cosplay to daily wear without skipping a beat. This lace choker is an all-around winner for us.
5. Chandelier Beaded Bridal Lace with Rose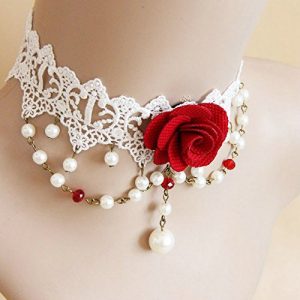 We will go from one rose-bedecked lace choker to another, slightly more dramatic one. This bridal lace based on the bobbin style of lace creation features a bold floral motif of lace with chains of pearls and red crystals cascading in graceful swoops across the collarbone.  
A stunning and vividly red rose is affixed to the center and adds such a vibrant pop of color this is another piece that can span the events. It would be wonderful for a bride with red in her bridal party colors or as the statement piece paired with a stunning black dress and a pair of Louboutins with their signature red soles.
The piece is costume jewelry but that doesn't mean you have to reserve it for fancy dress parties and Halloween. With some clever styling, this lace choker does not need to look over the top. Like the last offering, this choker can lean into Lolita with a baby doll top or you can evoke that inner emo and pair it with a deep maroon or ruby red top and a smokey, heavily lined eye. Pair with a black legging and a stunning tall boot to complete a youthful, playful look that you can still pull off in the office.
6. Black Loop Lace Off-Center Bow Choker
This one could be our favorite on the list.  It is simple yet gorgeous. The lace is based on a tatting style of lace with loops of knotted lace extending gracefully from delicate florets. The piece is adorned with a cute, fluffy satin bow that fits just perfectly.  Three long, beaded tendrils hang from the bow to create a beautiful little focal point for this otherwise understated choker.
The piece is designed to wear off-center on the throat. So the bow will sit just over your collarbone rather than the hollow of your throat and the beaded tendrils will direct attention to that sweet little spot above your breastbone. It manages to be alluring yet acceptable and that is a sweet spot for us when choosing jewelry. We love a big, stand-alone statement piece but any piece that, for its simplicity and amazing design, serves to highlight your own natural beauty is a winner for us.
This would pair wonderfully with just about anything. Because of the clever angle at which this piece is worn, it is a solo piece.  Let it do the work for you and do not try to pile on too much with this lace choker. Any style will work but we think this is another great selection for the rocker tee and boyfriend jeans. Alternatively, this piece will do wonders for a night out dancing in your best leather skirt and mile-high boots. Wear it with a low scoop neck in the color and pattern of your choice and watch this little piece work its magic.
7. White Gothic Style Pearl Drop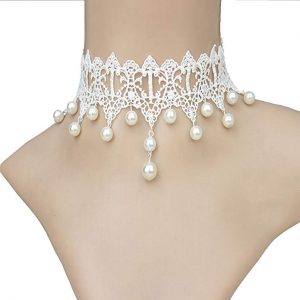 Normally when any piece of jewelry says "gothic" in the name we assume it will be dark and give off a pleasantly "forbidden" vibe. For this choker though, this is not the case. This pure white number with pearls literally dripping from it is a needlework style of lace with a pattern and shape that reminds us of the gothic style architecture. Why the gothic fashion movement is also tremendously influenced by the dark, foreboding structures popular during the Gothic period in the 12th century, surprisingly the true use of the movement was to bring as much light as possible.
Beginning in first in France before spreading to other parts of Europe the Gothic architecture used sharp angles, steep inclines and declines and tremendously ornate carving working. Most notably are the flying buttress or supports on the outside of the building, often carved with baubles, gargoyles and ornate decorations. The Cathedral of Notre Dame, of the hunchback and rose window fame, is perhaps the most notable example of Gothic architecture.
With that in mind, it is easy to see how we would call this steeply peaked lace piece gothic. Each little crest reminds us of a beautiful church steeple. The pearls dangling off the lower parts of the necklace could not be more perfect. We can absolutely see this piece paired with a lovely lace wedding gown. Great for evening wear too with gold or pale colored gown, this will certainly be a talking point and a pleasant departure from the standard fare of formal jewelry.
8. Jeweled Brooch Black Choker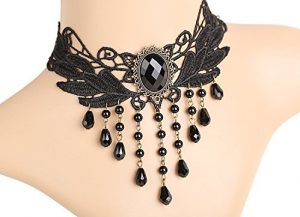 Switching back to black lace, this one is one of the more intense on our lists. A black jewel is set in a brooch style over a leaf motif in black lace. Stark black crystalline beads hang in an inverted tier across the breastbone. While we will always say, wear what you love as often as you would like, this one may be a little harder to incorporate if you have mainstream daily wear tastes.
If your tastes run a little more emo, gothic, punk rock or biker you'll be fine and this dramatic piece is perfect for you. This particular piece is loosely based on needlework lace although it is still machine manufactured.
We can absolutely see this piece paired with a cut-up tee, a strong, black leather jacket and a good pair of riding boots for that strong biker chick vibe.  We love the strong set of the lace for this with the solid leaves extending from beneath the chunky brooch.
This is also, naturally, perfect for the emo, gothic, or dark Wicca styles for either daily wear or cosplay. The dramatic swoop of the black lace across the chest and the slight motion of the beads would look wonderful with a corseted Alice in Wonderland style pinafore dress. Match that with chunky combat boots to tie the dark necklace in with the daintier clothes. Add a super lined cat eye or Cleopatra eye for an even starker juxtaposition.
9. Victorian Style Lace Choker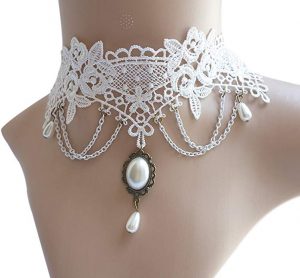 Right back to white lace we go with this needlework inspired choker. This one absolutely begs to be in a wedding around the neck of a blushing bride. While wedding jewelry tends to be higher end pieces full of gemstones and precious metals, we know this piece will be perfect for the lace loving bride. It combines the classic teardrop pearlesque beads with a gorgeous gold-rimmed brooch. Dainty cable chains form a crisscrossed chandelier that hangs just above the collarbone. The floral motif will complement a wide range of lace-draped wedding gowns currently on the market.
While we feel deep in our soul this piece is a wedding choker waiting to happen. We can absolutely see it with a deep scoop, sweetheart neckline blouse with a warm colored cardigan and your go-to pair of knee-high boots. Browns, rusts, oranges, and reds will come together wonderfully for a very "evening by the fire" look. Add a steaming cup of tea and you'll be Instagram ready wearing this Victorian style lace choker.
10. High Neck Chandelier Hung Black Choker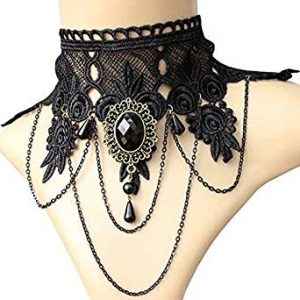 We close our list out with the most dramatic and bold piece of all of our selections. This high neck Victorian choker is needlework lace inspired and features a curlicue embraced black stone brooch, black teardrop beading and long crossing chandelier draped cable chains. The delicacy of the lace with the hardness of the chains creates quite an opposing beauty versus industry vibe. We love it though.
While a piece like this will always go for the darker style ethos. This choker can actually give a Victorian or Edwardian vibe to business wear as well. Tuck this piece in underneath a collared button-up shirt for just a peek of lace underneath your blazered power suit. Yes, the chains might get tucked away but with the right style of fitted button blouse. That black stone brooch will add a touch of whimsy and mystery to your next business meeting. Nothing says business like a person who can sport a lace collar and still look professional.
A brief note on storing your lace chokers

Because they are fabric these are best kept stored flat or fastened around a shape keeping figure like a mannequin head or jewelry display rack.  
This is especially true for pieces that include bead fringe, tendrils, chandelier chains or brooches. If that type of storage is simply out of the question, consider using a bit of cork board and sewing pins to pin them flat against the board. Adding additional pins along with points at which any extra weight wants to pull it taught. This will keep your lace looking top notch.