Necklaces / Other / Women
Black Choker Necklaces That Will Never Go Out of Style!
Marianne 09 Mar 2020
7769
Black choker necklaces were all the rave back in the '90s. Did you have one? If you grew up in the '90s, you may remember when you and all your friends had them and would wear them every day. For those of us who owned one, or maybe a few, the thought of these may be nostalgic for you and bring a cheesy grin to your face. I don't blame you, because when I see a choker I still immediately react that way. I visualize those middle school and high school pictures with my best friends and I casually matching with our dainty chokers. But as much as we can talk about the '90s and our memories of our favorite chokers, are they still in style? And are they here to stay?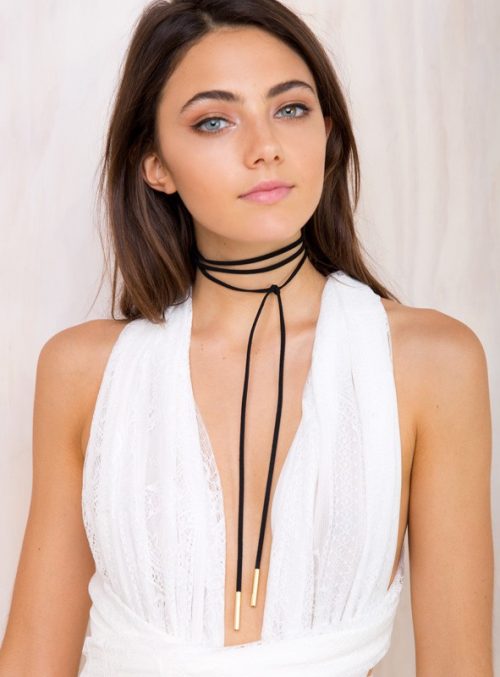 When we think of what's in style or not, many of us turn to celebrities for inspiration and guidance. So we went to our favorites to find out what they are flaunting, or the lack thereof, when it comes to black choker necklaces. There is a whole list of celebrities that are letting us know that this is a style that may vary in exactly what is fashionable from season to season, but it is definitely still a necklace that you can feel confident wearing. Kim Kardashian is often seen showing off different styles of chokers as well as Rihanna and Kylie Jenner. With those three boss babes alone, I think we all know that the black choker necklace is something that we should add to our jewelry collection and wardrobe.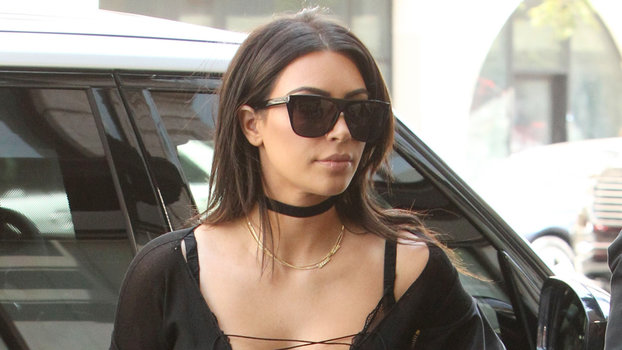 We have established how popular choker necklaces were back in the '90s, but when did they really make their comeback? It's a debate that varies from who you talk to or what magazine you may be reading. However, one thing that is for sure is that it happened at least a few years ago, and it's not going anywhere anytime soon. Whether your style is classic and dainty or bold and dazzling, you can be sure to find something you are interested in here. We've got your back, or I suppose we've got your neck, with some of the cutest and sexiest black choker necklaces out there these days.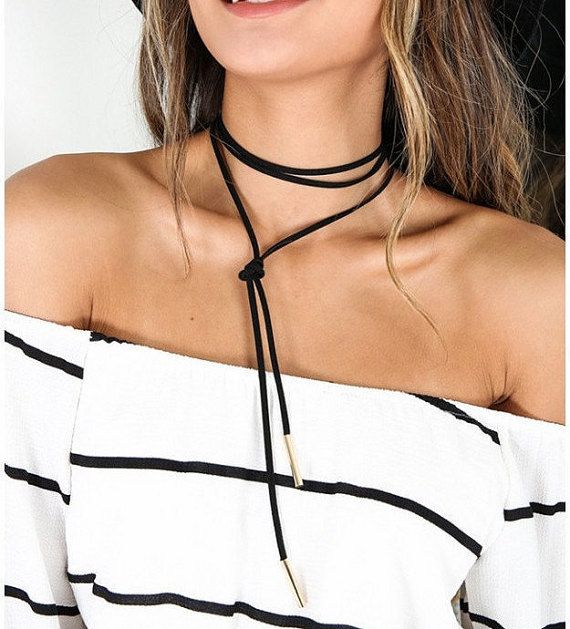 So let's take a look at them because you can be sure that they will never go out of style!
1. Mudder 6 Pieces Black Tattoo Choker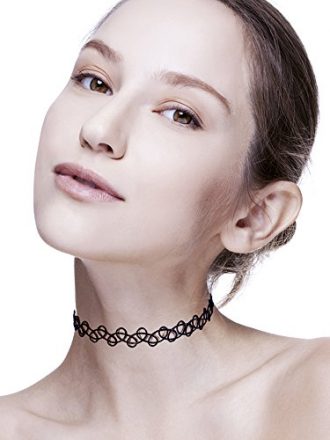 First, we will start with this classic piece that you will be joyous to see again if you consider yourself a 90's girl. This darling black choker necklace is stretchy and one size fits most. One of the best parts about it is that you get a pack of six of them for a price that will leave you as happy as you were when you first saw this picture and thought back to your 15-year-old self. You may find yourself wanting to keep one and give the other five to yourself.
Another option would be to keep the whole pack and save the rest in case you lose that special one between busy days and fun-filled nights. We also love the idea of stacking these necklaces in sets of two or three, just like stacking rings. It's a darling way to spruce up the basic choker and add that character that will make you stand out from others you may spot with this timeless choker on. But hey, if you are matching her, be proud and not ashamed! Matching chokers is the perfect way to find your new best friend if you are asking me.
Let's talk about the details of this necklace. People who have purchased it are extremely satisfied with the steal of a deal that you get with this product. Honestly, you are getting six chokers for what you would probably expect to pay for just one. Because it is made of a stretchy elastic material, the length is adjustable and you can be sure that it will fit on your neck beautifully. If you are still concerned, measure your neck before ordering, as the choker measures 2.36 inches without being stretched out. So consider that number and then give it plenty of space to expand, regardless of your dress size.
Some of you may worry that because these can be stretched to fit whoever's neck they land upon, that they may lose their shape easily. However, unless you are making a real effort to stretch out or deform this choker, you can put your worries behind you.
Other than some slight extra stretchiness than you experienced with it on your first time wearing it, you should not have any stresses about it fitting you how you want. With that, it may be extra enticing to you because even if it's a little too tight the first time you put it on, you can be sure that it will fit great and be a little more comfortable each time in the future. However, if that additional stretch is not the right fit for you, simply replace it with a new and sure-to-be tighter version of it from your inexpensive six-pack that you purchased. This set of black choker necklaces is a win-win plus a few in our book!
2. Arthlin Genuine Leather Choker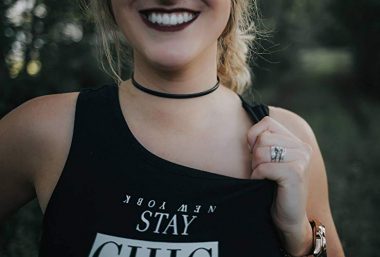 This simple choker necklace is beyond classy. It is made of genuine leather that is 5 millimeters wide. It is of high quality and made in the US. You will find that it is sized as one size fits most, measuring 11 and a half inches long with a half-inch clip and two and a half-inch chain. This gives you plenty of leeways to ensure that regardless of your neck size, it should be sure to fit. If you are still concerned there is also the option of requesting a custom size choker so that you can be absolutely sure it will be perfect for you. You will receive this package in a darling purple box that comes filled with non-tarnishing cotton.
We are obsessed with how sexy, classy, and versatile this black choker necklace is. Are you the type of girl that wears silver every day? Do you love gold and flaunt your earrings, ring, and gold watch more frequently? Whatever kind of preference you have between gold or silver, mixing the two, or alternating them both, you will want to add this choker to your collection!
You can easily pair it with either gold or silver, or any other color you like. It is bold but easy to match and add character to the jewelry you have already selected for the day. This is also a stunning transition piece from your day to day routine and then easily into a date night or a night out with your girls. You will not be disappointed in this piece and though it comes at a price that is barely over the standard black choker necklace, you can be sure that it is worth it as you are getting quality leather that you will be beyond satisfied with.
3. REEBOOO Necklace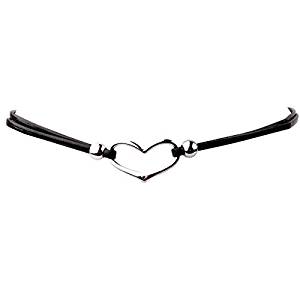 One thing we love most about choker necklaces is that you can add the smallest bit of detail and it makes it so unique. This piece does exactly that. This darling piece comes with a dainty open heart pendant in the center. The heart is the focal point of this necklace and is sure to make the statement that you are hoping for, above and beyond the standard choker we are used to seeing.
The silver balls on either side of the heart are a great transition from the choker material into the heart. We love the way the edges of the choker are raw and make this a casual piece that you also would not hesitate to wear with a dress. On top of that, you will be pleased with the price of this product. This choker is one that can give off a more mature vibe paired with the right pieces, but it also can be fun for a younger girl. Because of that, this would make a great gift for any age!
4. WaMLFac Alloy & Faux Leather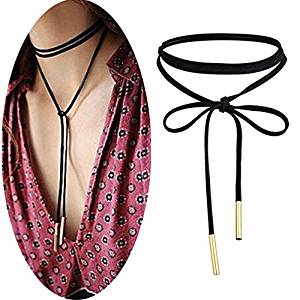 This choker. Need we say more? Okay, we will. But honestly, nothing more needs to really be said before you decide to buy it. We are completely captivated by this detailed piece. This handmade long elastic tassel necklace is made of alloy and faux leather. It is 63 inches long and gives you the flexibility and length to wear it however you want to. Do you have a hard time finding the perfect necklaces to pair together for the gorgeous layered look you are wanting? Look no further because, at an unbeatable price, you can get the entire layered look with only one piece.
There are so many variations to how you could wear this necklace, and we will tell you a few of them that we just cannot get enough of. One option is to wrap it around your neck just once, leaving a long tie to dangle in the front. You could also do the one wrap method and then tie the long front piece in a bow, making the extra length make more of a bulky statement, rather than hanging lower.
If you are wanting a shorter necklace overall, take it to the next level by wrapping it around your neck two times, then tying the end in a loop or a bow to give that shorter style look. You can't go wrong with how you decide to wear this necklace, yet you can make it completely fitting to you, which may change from outfit to outfit or even day to day. Tie it however you are feeling that day or play around with it to see what looks the best on you.
Speaking of it looking the best, you will find plenty of inspiration with a simple search through a magazine or the internet. However, our all-time favorite shot of a black choker necklace this style is of Vanessa Hutchings. This gorgeous style icon shows us exactly how fabulous this simple piece can be. She paired it perfectly with a casual black tank top and olive green shorts. The accents on her belt and choker tie perfectly with her gold rings, glasses, and bracelets.
She has chosen the option of wrapping it around her neck once and then doing a loose tie in the front. This piece instantly makes her casual outfit become sexy and sleek and that is exactly what it will do for you too! If you want to feel sexy and bring out that confident woman in yourself, this necklace is for you. We only have one warning, watch out because heads will turn and people will compliment you when you wear this stunning black choker necklace. So if you are fine with that, this necklace is the one for you!
5. Cozylife 3/8″ Velvet Retro

Are you looking for a simple option that will add some character to your jewelry collection? Are you the type of person who is attracted to simplicity, but likes to add some flare to your style? If so, we think this would be the perfect choker for you. It is made of a ⅜ inch soft velvet ribbon. Yes, velvet.
As gorgeous as that it, it is detailed with a dainty cubic zirconia diamond round ball pendant. The pictures may make it appear to be a flat pendant, but note that it is a sphere that will dangle just right on your neck. This will fit perfectly on a small neck at its tightest setting and includes plenty of chain expansion to flatter most necks.
The packaging is cute and will surely bring a smile to your face, but it is also ready to share with a friend if you are looking for the perfect gift. The way that this piece is subtle, but highlights a touch of sparkle, makes it perfect for a more showy look. You can confidently wear this to a Christmas party, on a fancy Valentine's Date, or any other special event you may have coming up soon. This is such a cute piece with a price tag that is easy on any budget.
6. Black Rhinestone Choker


This gorgeous rhinestone crystal necklace is absolutely stunning. We love the way the rows of rhinestones glimmer on the black-plated background. This piece is the perfect statement of sexy and stylish while also being edgy and independent. One of our favorite things about this choker necklace is that you can order it in three different sizes. You can be sure to keep things a mix of dainty and dark with the simple three-row necklace, add some boldness by rocking the five rows of rhinestones or go all out with the full eight-row wide look. We love the way you can change up the vibe of such a breathtaking piece by getting the size that is the most flattering on your neckline. The necklace is thick and durable and is adjustable for ultimate comfort.
It comes with a five-inch chain extender that will ensure that you can find the right fit for you. You want to make sure that you wear the necklace at just the right fit, not so tight that your skin bulges around it, but not too loose to avoid sagging. Having five inches of flexibility makes it so that you won't have to worry about that at all. You can even share it another night with your bestie with that kind of size adjuster. She'll probably have to beg for it though because this is a piece you will be too obsessed with to take off.
This piece is the perfect accessory for a glamorous gown, little black dress, or even a costume of some sort. However you choose to wear this, and for whatever occasion, you are sure to feel like a sexy queen every time that you put it on. While we are on the subject of a queen, let's talk about Rihanna. She is an absolute queen of style and fashion. She is often seen in thick chunky chokers like this one. We love the way she rocks it with a simple t-shirt, but also on the red carpet. Another hot celebrity that inspires this piece is Britney Spears. Both of these babes rocked the choker look back in the '90s and have made us all more comfortable and confident in bringing them back in recent years.
7. MEiySH Choker & Earrings Set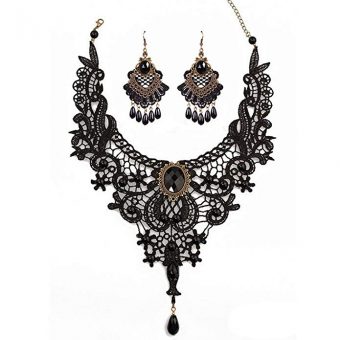 Are you looking for an option that is more bold and exquisite? Do you want something fancy and fashionable to wear to an upcoming event? If so, look no further. This jaw-dropping piece is sure to satisfy your wants and needs. The gorgeous lace starts as a choker and flows down onto your chest elegantly, leading down to a dangling black jewel. The brass metal that holds the center jewel and the dangling pendant contrasts perfectly against the black and adds just a touch of color. This choker necklace also comes with matching earrings as a set at a price that can't be beaten. Men and women alike will be drooling when you walk into the room wearing this choker.
Women are loving wearing this with simple and chic attire that makes this necklace the statement that it is designed to be. You don't need to stress about whether you are dressed fancy enough for your next event because this necklace will completely enhance your entire look. We absolutely love this piece on women with short hair or with long hair pulled back. It is busy enough that you don't need to worry about hours of curls or having your hair down all night when you wear this gorgeous jewelry. Seriously, the way that this necklace lays elegantly on your necks and chest will make you more confident than ever before!
8. Twilight's Fancy Floral Elastic Stretch Lace Choker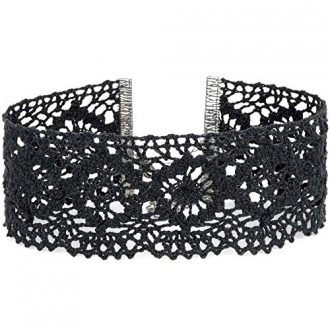 Lace is one material that will absolutely never go out of style. It has been around for decades and always has been fashionable. Whether it's your entire wedding dress or a simple accessory, lace is sure to be a stunning option. This beautiful black necklace is moderately priced and sure to be worth the little more money than the basic chokers you may have looked at in the past. The lace is stretchy and the floral elastic details make it a gorgeous option for your black choker collection.
The choker is available in sizes small, medium, large, extra-large, and double extra large. For reference, the medium will fit necks between 11.75 inches and 14.75 inches because of its stretch. This piece will hold its shape and you do not need to worry about it stretching out in everyday wear. It comes with a platinum silver lobster clasp, chain, and ribbon clamps all giving it that extra adjustment space to fit your neck just right. The necklace measures about 30 millimeters, or just over an inch wide.
This piece is timeless in the sense that lace has always and will always be in style. But it is also timeless in that any age woman can wear it. You could buy this same choker for your daughter and your mother, and even though one may wear it to school with her school uniform and the other will wear it to an expensive anniversary dinner, it will be flattering on both of them. Another thing we love about lace is that it can be dressed down for a semi-formal activity, or it can be worn with a gown for Prom or a Ball. However you decide to wear this, it will be the right accent that you are looking for.
9. Twilight's Fancy 7/8″ (22mm) Plain Velvet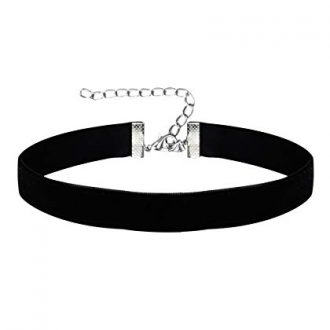 Velvet is another one of those materials that is totally timeless. Do you want a choker that you can wear any time of day and with any type of outfit? If so, look no further. This one doesn't have to be customized with your daytime attire or your fancy black dress. The simplicity and the soft velvet make it the perfect fit for any style. It is classy and stunning. This choker is almost an inch thick and is currently available in a size large in the black option. The large fits necks ranging from 12.75 inches to 15.75 inches. The back platinum silver lobster clasp and chain makes it flexible for up to three-inch adjustments.
The admire that this choker brings back that timeless look that started in the 90s. There are so many styles, colors, and versions to the choker necklace these days, many of which are gorgeous. But simplicity is sometimes better and that's exactly what this choker displays. It is so versatile and takes us back to our roots when we first fell in love with this classy and trending look. A simple black choker is sure to slim your face and neckline and add just the right amount of sexiness and captivation to your appearance.
10.
Wunionup Simple Tiny Dainty Pearl Necklace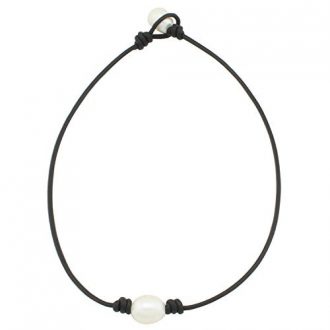 Last but not least, we have this dainty twist on the classic black leather piece. This one features a small pearl in the middle of the heavy-duty skinny strand of genuine black leather. There are no compromises here as you get genuine hypoallergenic leather and a freshwater white pearl bead imported from a pearl farm. The pearl measures 11-12 millimeters and the leather band is available in numerous lengths. These include 14, 15, 16, and 18 inches. This piece is flattering and easy to style with a wide variety of clothes. It can be dressed up or dressed down, and worn at any age. We love the way the white contrasts the black and makes it stand out in all the right ways.
One concern that is expressed with this necklace is that it may have a sort of musty smell due to the real genuine leather cord necklace. If you experience this problem, simply leave it in a dry and ventilated environment for a couple of days to tame the smell. Make sure to take it off when showering or exercising to ensure the longest life out of the cord and the pearl. Other than that, people are raving about this simple and chic look and both aspects of the necklace, leather, and pearl, make it timeless and one that you can pass on for generations!
---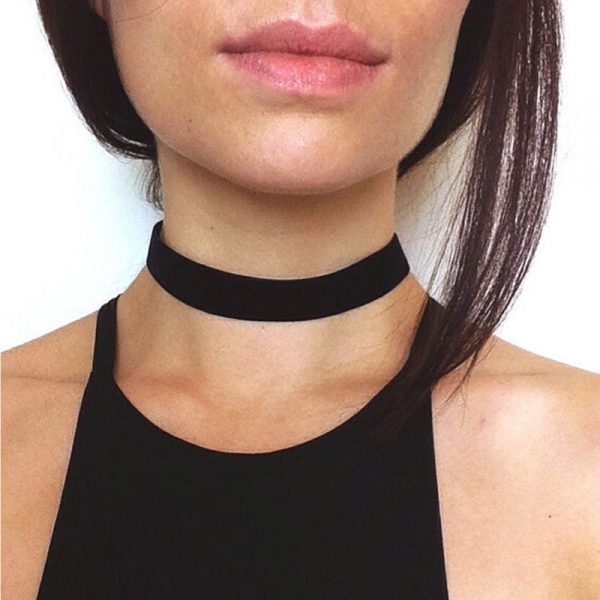 That's a wrap on our ten gorgeous black choker necklaces that will never go out of style. If you are one of the hundred million people out there who follow this gorgeous celebrity on Instagram, you may be a lover of Kim Kardashian or any of the Kardashian and Jenner girls. You probably are aware of how flawlessly they all have shown off chokers over the last few years.
If you aren't a follower of the Kardashian tribe, don't think that this timeless statement isn't legitimate across different groups of celebrities. We also love the legendary Taylor Swift in numerous versions of the black choker necklace look, and if you are one of her hundred million followers on Instagram, you probably do too. With gorgeous icons like that flaunting them over the years, we can be sure that these classy pieces are here to stay.