Rings / White Gold
10 White Gold Rings for Men
Marianne 12 Mar 2020
2399
Ever wondered why men wear rings, well it is a fashion piece that stays right where everyone can see them. So, if you were planning on getting one soon, or you want to add to your collection, white gold rings for men are one of the best trends you can jump on.
This fascinating jewelry will give you that high feeling and grab all the compliment from your friends, colleagues, and even passer-by. The exciting product shines differently since there is a way it catches the light at the perfect spot. You can wear them to absolutely any occasion, so whether it is a dinner date, an official presentation or a vacation, you can trust you will be the guy with all eyes on him.
Why You Should Go for White Gold Rings for Men
White gold is such a perfect stone, and it stands for purity and eternal beauty. There are so many reasons why you want to get one to adorn your fingers. First, white gold is gorgeous, and you have to admit that. The way they shine and look so perfect is almost too good to be true. You can also use them on absolutely any outfit. They are also quite masculine, and if you are a woman reading this, they are a perfect band to get for your 'man-engagement.' If you are going for a vacation or you have a presentation where you need to make a statement, then white gold rings are for you.   
Additionally, they are perfectly durable and trust us when we say they are worth every dime they cost. just like gold itself, there are some background stories about white gold. White gold started to be a thing around 1710 when it was composed in Germany by three scientists, but there wasn't much of a statement until 1920 when the process was refined. The gemstone mainly uses impurities to bleach the natural yellow of gold into white. There are a variety of mixtures that produce this excellent product, and they can vary from rhodium to nickel and even zinc. Most of this metal can be brilliantly varied to increase the brightness of the metal.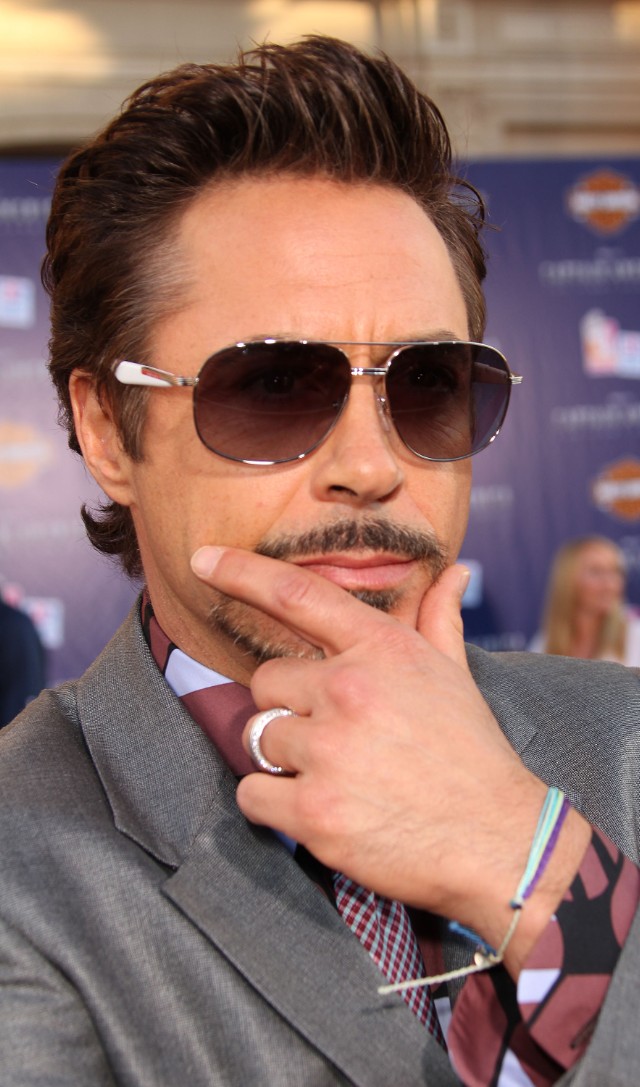 And since it became famous, several houses of fashion have adopted it in creating fashion pieces that are mind-blowing. But let's stay ion the one for men. All the beautiful description we used are nothing but the way it is. You can get enough inspiration to get one just by looking at the pictures on the internet. Glimmering, awe-striking, breathtaking and gorgeous are not even enough terms to describe them. You would find it on the fingers of Hollywood stars like iron man actor, Robert Downey Jr., Chris Hemsworth, Idris Elba among many others. Just take a closer look at their finger while they stand smiling at events like the Oscars, Grammy or Emmys, and you will see that white gold ring on their fingers. With so many choices to pick from, it is quite easy to choose the perfect white gold ring for you. Check out this fantastic ten picks, and you will find one for yourself.
Our 10 Favorite Picks White Gold Rings for Men!

1. Sterling Manufacturers Sterling Silver .925 Designer Ring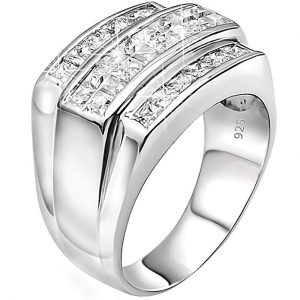 We decided to start with one of the most beautiful pieces of accessory that you will ever see. This magnificent ring from Sterling Manufacturers features an elegant design set into a quality build for top satisfaction. Every angle of the rings is well cut, and you will love the super shiny, super-bright finish given to it.
Natural white gold can be costly, and you might not be able to afford it. Which is why this ring was crafted using 925 sterling silver that looks and feel like white gold. The layers are platinum and rhodium plated to make sure that the quality is up to standard and it is safe for your skin. On the front side of the ring are well-arranged, three horizontal rows of 16 clear cubic zirconia that has almost the same refractive index as diamonds. This means that they would give the same sparkle you would get for diamonds. Every component of the rings is well blended to ensure that everything is perfect for you.
The dimension of your rings matters a lot. You don't want to wear a ring that gets stuck on your fingers. With this piece, that won't be happening, the dimension is perfect and will fit just right. You have to check the chart and select from the available size 6 to size 14. There is only so much that you can get from a ring at this price and you certainly have here, what will keep you shimmering all day and night. You can also get this as a gift for Father's Day, birthday, Christmas or even Thanksgiving, leave it in the gorgeous pack it comes with, it's perfect already.
2. TWJC 14k White Gold Wedding Band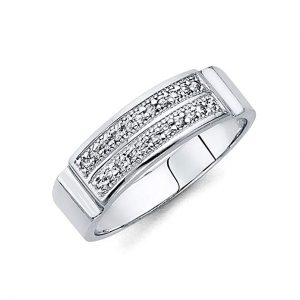 Are you looking for a ring that fit and still has enough shine to keep you at the top of your game? Then check out this stunner form TWJC. The ring features AAA grade cubic zirconia and has quite an excellent finish to give you exactly what you need.
The ring was made with metal alloy and carries the 14K metal stamp, which is quite high. It has reasonable quality and comes with a classic look. Another thing you will love the ideal cut and the excellent polish combined with impeccable craftsmanship and design. There is also the beautiful cubic zirconia set into the ring to make sure it catches attention and dole out the beauty in high doses. You can get one that fits the size of your fingers from 8 to 13. Also, the width is 6mm, and it weighs just 2.5 grams,
TWJC is one brand that is committed to making sure that their accessories have a dazzling high finish and catch the eyes of everyone they come close to. This ring is part of their incredible selection and it is designed to be comfortable, durable and won't go anywhere above your budget. You can get one for yourself, and you wouldn't want ever to take it off again.
3. Crownal Titanium White Gold Rings for Men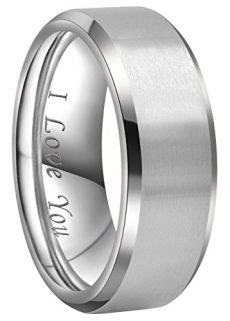 Love rings are a perfect way to show your partner that you meant it when you said forever. The rings have been used through ages to show commitment and undying devotion to loved ones. Well, here is one in white gold and apart from the love statements you will be making, the piece is quite fashionable with the glimmer that surrounds it. This sophisticated ring is made with stainless steel and titanium, two very durable materials. Also, the titanium plating makes it look like white gold with the shining present.
Crafted by professional with great attention to details, the ring is adorned with CZ stones that look like tiny diamonds. These small stones were embedded into it, all around the band.
When you click the link, there are two other designs that you can choose from the collection, but we think this white gold has the best looks. Just make sure you keep it away from harsh chemicals, and you would be enjoying it for such a long time. Rings come in different sizes to make sure that everybody gets exactly what fits them. So, before ordering up, check the size of your finger.
4. Sterling Manufacturers Red Square Center Stone Ring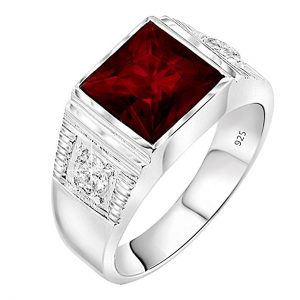 White gold rings are gorgeous, but they are even better with the infusion of colored gemstone that complements that beauty. This is one product that has the right features to make your fingers adorable. With a very trendy look and cool design, Sterling Manufacturers went all out making it.
Talking about 'making,' the ring was made with super shiny sterling silver with platinum plating. It also has a rhodium finish which combines to gives the ring strength, durability, and an endless sparkle. There is square red cubic zirconia, similar to rubies, at the middle with white gold all around, making it looks stunning. To put a topping on the icing, there are two very brilliant cubic zirconia that looks and twinkle just like a diamond (one at each end of the 'big red'). You would be amazed at how dazzling the jewelry look when you check it out.
Just like most of the best brands, these rings also come in various sizes to allow you to have a pick that fits you well. And to top it off the ring comes in a pouch as gorgeous as all the features we have described to you. You can choose to use it as a gift to your loved one or order for yourself and take all the spotlight anywhere you go.
5. Universal Jewels  14k White Gold Solid Engagement Ring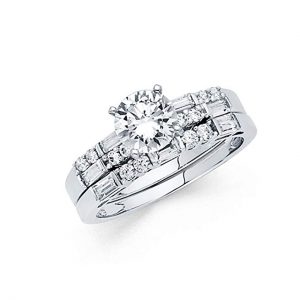 One thing about white gold rings is that they are widely used when it comes to engagement ceremonies. They symbolize love and evoke feelings like value and desire. Which is why we decided to add this to our collections, so if you want something for your engagement, then this is for you. It was made specially to grace the hands of the couple at weddings, and it comes with natural white gold.
Universal Jewels are exquisite when it comes to making rings that are beautiful. This ring came in two sets, that is one for the husband and the other for his bride. The band was formed with a 14K metal stamp to make sure the authenticity stays intact. But the main component that will pull your gaze to the ring is big white diamond-shaped gold that is set smack right at the center. This astounding 1.25-carat piece sits in the prong setting of the metal band and is decorated at the base by cubic zirconias.
The setting of the whole rings is quite breath-taking, and you will have nothing but pure joy when your bride slips it onto your fingers. The ring is 3.2 millimeters wide and comes in different sizes. So, if you are still looking for a ring to make your wedding an unforgettable experience, then you certainly want to go for this ring.
6. LuReen 2 Rows Iced Out Hip Hop White Gold Rings for Men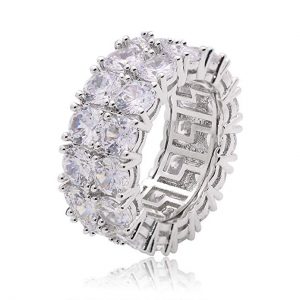 If you are in love with rings that has all-around bling, then this is just what you need. The product features a gold-plated brass metal band, that is iced all around with remarkably sparkling cubic zirconia that twinkles like diamonds. You would agree that we can't have a collection for men, without including such an awe-striking piece.
This is one piece that must have required top-notched expertise from LuReen. All the components of the ring are nickel-free and are quite safe for your skin. It has two rows of AAA iced CZ stones and comes with 18K real gold plated unto it with excellent cut. You will be delighted with the quality of the build and vibrant look. You can also get the ring in the rose gold-plated design, but if you want natural shine, then go for this one.
The ring is available in size 7 to 11, for you to choose the best choice for yourself. Order for yours and have it come in a beautiful package. Trust us when we say the rings will take your breath away as you open your box and it comes at a ridiculously affordable price too.
7. Dazzling rock 0.30 Carat (Ctw) 10K White Diamond Ring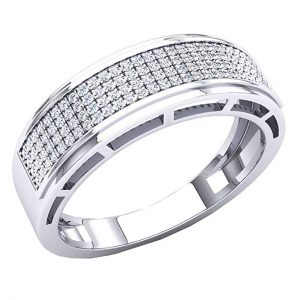 From Dazzling Rock comes this super beautiful piece with so much to recommend. You will be impressed with the vintage design and quality features that meet your needs. And considering how much attention to details was used in crafting this ring, it has top quality written all over it.
White gold and diamonds are two unique gemstones, but you get what is known as a 'symphony in music' when you use them together. You might not be able to look at them in direct light, because of the stunning way they reflect light. The diamonds are arranged in a micro-pave setting all round a band of 10K white gold. No matter your allergies, you can wear the ring without worrying. Each of the stones is 0.3 carats, with a round shape and high clarity.
The ring measures 0.26 in width and 0.97 in length with a natural treatment. Dazzling rock doesn't just make jewelry, and they have experts who check and verify each piece of stone before it is used. To make sure you get that needed extra, there is a beautiful package that the ring comes in. So, for engagement, wedding ceremonies and your wedding anniversary, this is a perfect choice.
8. PEORA Black Onyx White Gold Rings for Men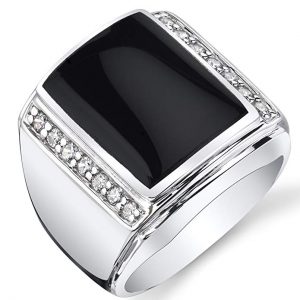 This is another white gold ring that is worth your while. It is made with a combination of black onyx with white gold and sparkling CZ stones, and it's excellent on any man's finger. What we love most about the ring is its masculine feel with a timeless beauty that feels right when you wear it. It's so outstanding that it complements any other jewelry you have on and any outfit.
The metal used to craft the band of the ring is 925 sterling silver, which is hypoallergenic and won't cause any skin irritation. At the center of the band is the big back onyx we described, the gemstone is rectangular and fits the band perfectly. Something else that is unique about the band is the 14 sparkling CZ stones used to accent both sides of the black onyx. Everything about the ring is beautiful, and there is no turn off whatsoever in the whole arrangement.
Dimension matters when it comes to rings, they shouldn't be too big and shouldn't be too small either, especially for males. That is why this rings measures 1 inch in height and 0.75 inches in width. The band also comes in different sizes with a weight of 12 grams for all of them. So that no matter your size, you get to enjoy that dazzle this ring brings to your finger.
Jewelry has never failed to be one of the best gift ideas you could have. So, with the gift box used to wrap the ring, you could order yours and give it to your loved ones. The ring is also really affordable and well worth every penny you spend on it.
9. Vir Jewels Wedding Band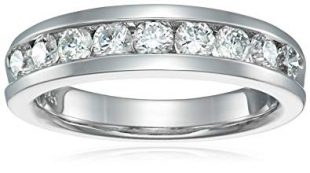 If you want something that will make your 'I do' a memorable one, then this ring is just right for you. It comes with white gold and with natural diamonds accenting the front of the ring. You would entirely fall in love with the sparkle that greets your eye when you stare at it for the first time. And will continue to remember the exact moment where you felt it been slipped onto your fingers.
Wedding rings are much more than just exquisite jewelry, they are symbols which represent particular moments in your life. That is why extra care was taken to make these rings as elegant as possible. The white gold band carries a 14K stamp. And the nine beautiful diamonds that gimmers at the front are 1 carat each. The ring is perfect for any couple and wouldn't look out of place anywhere you go.
One thing about this piece is that its price is a little on the high side, but we added it because it has the highest quality you would find. With a combination of industry experts and state-of-the-art technology, it was crafted to perfection. The rings have a great cut and its perfect for your wedding day.
10. SHINY.UGold Plated Iced Out White Gold Rings for Men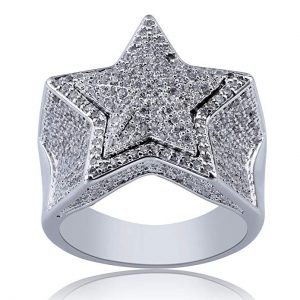 Shiny, confident, and outstanding are all the features that Shiny.U wants to put on you with these rings. With the hip-hop style the rings that define the rings, you could quickly get your swag on. The quality is also on point and trusts us when we say there is no regret lurking at any corner for the ring.
Cast in white gold brass, this ring is perfect for men who have allergies to metal. The ring has a star-shape and is handsomely detailed with its cubic zirconias accenting the big star at the front. It is perfect for any finger size since you can choose the exact one that fits you. You can use it with other accessories to create that stylish look you see on those guys you admire on TV.
The star is a symbol of complete radiance, and it is said that if you get close to a star, it gets blindingly bright. And that is the inspiration that moved this brand to create such gorgeous fashion piece. It has a micro-pave setting also, which allows everything to blend perfectly without any imperfection.
With all the fantastic features of this ring, you might think the price will be on the high side, but check it out, and you will see that it is more affordable than you think. So, what are you waiting for? Get one for yourself and a gift for that friend that genuinely deserves it.
How to Take Care of Your White Gold Rings for Men
After going through our extensive collection of white gold rings, we thought it would be nice to add a little tip about cleaning them. So here are some ways that you can get your white gold rings to stay durable and also entirely without scratch marks or dent all through the time you use them.
✓ If you have material like 925 sterling silver you don't need to go to great lengths to clean them, get a soft cloth to wipe off dust before wearing them. If you find stains on them, get a mild detergent, dip the soft fabric and gently clean it off.
✓ Don't use harsh chemical, like bleach to clean them.
✓ You can use them in the shower, but take them off when taking a dip in the pool or a weekend at the beach.
✓ For pure white gold, or rings that have a natural gemstone, you can clean them with soft clothes, but also occasionally take them to jewelers to have good clean.
✓ Store your rings in the pouch they came in initially or get a soft cloth and wrap them in it before keeping them.