Gemstones / Mix / Women
10 Black Earrings that Go with Any Outfit!
Marianne 06 Apr 2021
4034
Black jewelry always has this quaint beauty to them; they don't sparkle like the white diamond or shine as bright as rose gold. But they complement your ears pretty well and make you look stunning in any outfit you choose. Whether you wear black earrings out to a dinner party or to take a hike, they work for almost every occasion.
Some of them are made with black diamond; others are crafted with cubic zirconia. No matter the type of material used, one thing you can trust is that they will make your face a cynosure with great appeal to everyone that sees you.
We have some exciting things to say about this stylish piece of jewelry, and we have listed ten of them to save you from going through the endless list on the internet.
Why You Should Choose Black Earrings
Black earrings are earrings that are made with blacked colored material. Any earring you see that has a black gemstone, black hoop, or is decorated with black cubic zirconia qualifies to fit this category. They are so dynamic that they can be crafted into different shapes and design. From studs to Huggies and even hoops, they fit into the profile of all types of styles.
There are lots of earrings you can get on physical and online stores, so why should you go for black earrings. Well, if you love to have a simple piece of accessory, that suits any fashion statement you want to make, then you can use black earrings for just that. With gemstones like black diamond, these set of earrings can be uncommonly exquisite. You can even get them as a gift for your loved one to show them how much you care.
Celebrities Seen Wearing Black Earrings
On the red carpet, in award dinners and celebrity get-togethers, there are individual pieces of jewelry you see that are undoubtedly the rave of the moment. And you can trust those styling them to put together something that will make them dazzle and appear stunning when their picture appears on the front cover of those big magazines.
Angelina Jolie was one of the first celebs we found with a black pearl earring bringing out her sparkly eyes and matching her lovely black gown. Also, Beyoncé was spotted with a big black Chanel earring to match her black sweater. Rihanna, Christiana Ricci, Anne Hathaway and loads of other celebrities also have their picture on the internet smiling for the camera with that hint of black sparkling up at the lobe of their ears.
Our 10 Favorite Picks!
1. Brilliant DiamondBlack Diamond Stud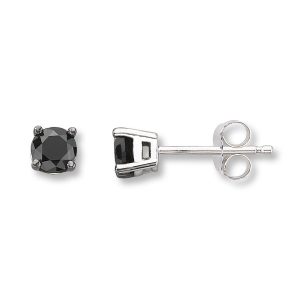 These classic black beauties are just perfect for anyone. You can use them to complement your evening dress and be as stylish as can be at any occasion. Diamonds are quite remarkable, and even though some people don't know about the black ones, they are still great pieces of gemstones. That was what Brilliant Diamond used to accent this one.
One of the first things we fell in love with is the conflict-free 0.50-carat diamond that was set into the sterling silver setting. A dazzling round cut was used to make sure that it appears aesthetically pleasing and sits right on your ear. Great for any outfit, the perfect combination of the black diamond with sterling silver metal exudes sophistication with style.
Lightweight and perfectly sized, the stud earrings weigh just about 0.73 grams and are 0.61 inches long. The back is secured with a post and nut clasp to make sure it doesn't fall while you are dancing to your favorite music. Additionally, all the details of these earrings were crafted expertly, so don't expect to see any imperfection.
With the fact that this product features a naturally created diamond, you might be thinking on the high side about the price. But it is very affordable and trust us when we say it is excellent quality for a great price.
2. FRONAY Natural Stone Drop Dangle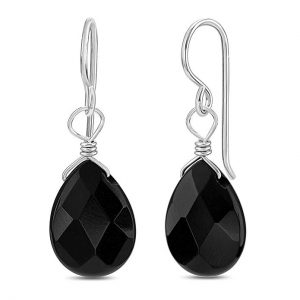 When you need to get an earring for any reason, you should first check out the quality and style. We did, and this is why we recommend this beautiful black dangle earrings. They are from Fronay Silver Collections and feature natural black onyx, that is quite amazing. The product adds a perky look to your outfit and makes you look superb.
Natural black onyx is the material used to make this product a cynosure. It has a perfect setting with the 925-sterling silver worked into the gemstone to create an ideal ambiance for the jewelry. You can trust that the material is hypoallergenic, which means it is safe for your skin. Shaped as one big teardrop, the onyx was naturally created with the irregular cut.
The dimension of this one is 10 mm x 14mm for the stone and 30mm for the entire drop. For girls who love something that is easily noticed, you would undoubtedly fall for the charm. Another perk to enjoy from Fronay is the perfect pouch that comes with the earrings, they are eco-friendly and gift ready.
So, whether it is Hanukah, Thanksgiving, Christmas, Valentine or birthday, this won't fail you as a beautiful gift. So you can get them for yourself, you can be sure that they will make such an excellent addition to your jewelry collection.
3. EVERU Druzy Stud Black Earrings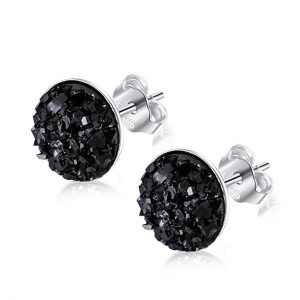 Before we go on and on about how beautiful this jewelry is, scroll back up and check out the picture. The edgy design, the fantastic finish and the classic touch will leave you stunned. Everu outdid themselves with the expertise they used in crafting such an excellent piece of jewelry.
Made of 925 sterling silver, the metal is perfect for anyone, no matter your allergies. But what dazzles the eyes is the round cut quartz set into the flat-top of the metal. It has a multicolored facet and reflects light in such a perfect way, much like glittering stardust with natural imperfections. The 8mm faux druzy also comes in other colors, but the black is our pick for this category.
Everu's mantra is "forever with you," and that is why they have a post and nut clasp at the back of this earring to keep it on your earlobes at all times. The product is unisex, so whether you are getting it as a gift for your friend or just as something to spice up your style at the club later in the week, it is just perfect.
All this beauty comes to you in an elegant jewelry gift box, with a polishing cloth to make maintaining it very easy. It would be a delight to your wardrobe, and with how affordable it is, you don't want to miss out.
4. 925 Silver Natural Gemstone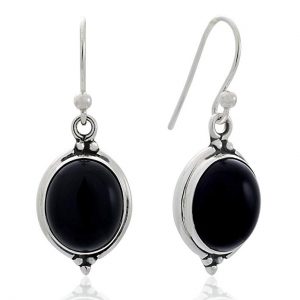 Simple but stylish, here is one earring that fits any outfit in your wardrobe. The quality and integrity of the product got it onto our list of black earrings. To that, the first thing we have to start with is the classic looks and high quality (both due to sterling silver) which will keep it as your top choice when going out.
925 sterling silver is such a great metal alloy (92.5% silver and 7.5% copper), they don't contain tarnish, they are hypoallergenic and durable for any jewelry. And that is the metal used for these earrings; it is used to hold the beautiful round black onyx that will catch the eye of anyone. With the dangle style, they seem to float around your ear creating a link to take you from casual to fancy.
Dimensionally great, the earrings are both 13 millimeters long and have a back finding to keep them on your ears. This is just what you need for any occasion you have been looking forward to. Just get yours and look into the mirror to see how stunning you will look with it swaying gently beneath your ear.
Chuvora jewelry is a mystic clothing store that is snowballing due to their loyalty in making quality products. You won't need to worry too much about the quality of this one, and it is affordable to make sure you can get one.
5. Viyino Fashion Cubic Zirconia Studs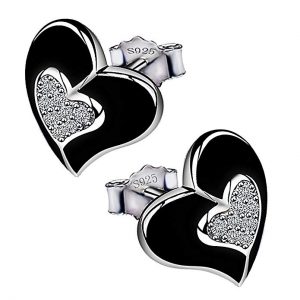 What we love about these earrings are their simplicity and high-quality finish. For those who enjoy a blend of color that are different, yet so beautiful together, this is a no-brainer for you. The earrings have a versatile design with the vibrant look and fabulous materials.
One of the beautiful things about cubic zirconia is that they can be made into any shape and type of stone you desire. This one comes with AAAAA cubic zirconia with a leaf shape. The black leaf was combined with a smaller silver one, which is a match that can only be described as gorgeous. Each of the stones used was attached carefully, and you get a money back guarantee for any missing stone within 60 days. To make the metal that the stones stay on, 925 sterling silver was used to guarantee that there is no compromise in quality.
Great for anyone at any age, the dimension of the jewelry is 0.55" x 0.39" x 0.33". Its weight is 1.6g which means it can stay on your ears for the whole day without making you feel uncomfortable. We think these earrings are remarkable and we adore the perfect combo of black and silver.
Viyino is the brand responsible for creating this brilliant jewelry, and they made sure this one comes with a luxury gift box. You can store your earrings there when they aren't on your ears or gift them as they come.
6. 1928 Jewelry Black Victorian Inspired Earrings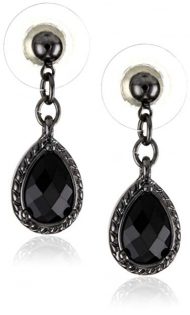 Vintage accessories always make the cut every time. Their build and the style that they exude is always a great compliment to any outfit that you plan to put on. Whether you are going for lunch with the girls or that dinner date you have been looking forward to, here is one classic piece that won't fail you. This one was created by 1928 jewelry, and its vintage details are something to adore.
Crafted with surgical stainless steel, the product is plated black to make them possess that vintage gleam. It has black cubic zirconia fashioned with a multi-faceted shape to make it look amazing. Teardrop is the shape of the stone, and the low cost allows it to be affordable and beautiful at the same time. One of the things you would find fascinating about the whole setting is the clutch disc back that is used to secure the earrings to your piercing. Everything used for the product reeks of chic style and gorgeous outlook.
Simple and still elegant, these beautiful piece measures 1 inch in length and 0.25 inches in width. You would also enjoy the classic medium box used to deliver the product. With an atmosphere of creativity, 1928 jewelry uses time-honored style to craft gorgeous pieces. Right from their top collections, you can get this Victorian-inspired earring for a great price.
7. 1/2-10 Carat Black Diamond Studs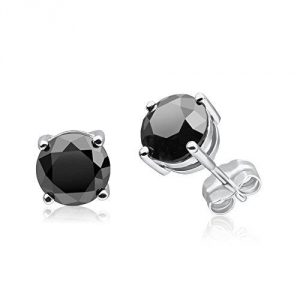 Black diamonds are just like the white ones, only with so many inclusions that they appear black. This cute piece of gemstone represents authority and power. So, if you need that extra reminder to keep your shoulders up and boost your confidence for the day, get these earrings for yourself. They were specially crafted to be durable and to satisfy your fashion needs.
This pair of earrings is made with white gold metal with a 14K stamp, adding to the already excellent quality of the set. But really, the main attraction the product is the 6-carat natural black diamond that sits in the prongs of the metal. Both of them comes with a round cut, and they have a minimum clarity of grade AAA. With the best-looking stones, this is the type of fashion piece you use to add a bit of glamour to your black or wine gown.
Houston Diamond District, who crafted the earrings, considered the choice of consumers and made sure that the metal type comes in four varieties. You can choose to go with the white gold, platinum, rose gold and yellow gold. To round up such great work, there is a post and nut clasp at the back of the earrings to keep it secure on your ears. Great for young girls and mature women, you get to have studs that are the perfect size for you.
8. Black Onyx and White Created Sapphires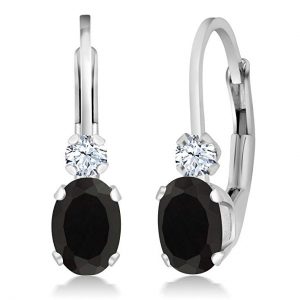 If you check out fashion accessories a lot, then you certainly know gemstone king. They are a brand that prides themselves in making the highest quality of jewelry possible. And this one also forms them. With expert crafting, we love this product for its chic look and impressive finish. If you fancy a mixture of two beautiful gemstones in a formidable array, then check this out.
Uniquely designed with 925 sterling silver, you wouldn't need to worry about allergies with this one. The sterling silver was used in making it a lever-back earring, which is fantastic for the arrangement of the stones. With the onyx stone bigger and sitting below the sapphire, it gives such aesthetic pleasure that can be quite hard to describe. Both of the tones are set into the four prongs setting of the metal using expert craftsmanship.
The sapphire is synthetic and is fascinatingly shaped like a round heart with arrows, while the onyx is oval and weighs 0.39 carats. Black onyx is the birthstone of December, and it inspires happiness and good fortune.
You can get one and receive it in the mesmerizing and sleekly design pouch it comes in. It's the perfect gift idea, and with the affordable price, you can get one for yourself also. The earrings are suitable for your everyday outfit, and you will stand out effortlessly with this lovely jewelry.
9. Handpicked AAA+ Genuine Freshwater Cultured Pearl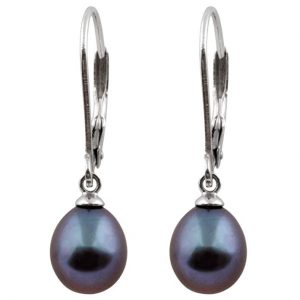 Pearls are gorgeous in the way they twinkle though they are still modest enough to look simple. From Splendid Pearls, these pair of black pearl drop earrings will make a fantastic addition to your collections. We selected this one because of its special meaning to everyone. You can use it with a pearl necklace and bracelet, to make every moment memorable.
The lever-back design of the earrings was crafted using 925 sterling silver, making it really durable and still affordable. It features a cup setting which holds the elongated freshwater cultured pearl, perfectly. Elegance and sophistication are written all over the product, and you will look the best with this one.
With clean and unblemished surface, the pearl is the primary source of glitz in the product. It is black with some green overtone and elongated to drop better. Dimensionally, the pearl is about 7.5 millimeter and has excellent uniformity. Putting all these descriptions together, it means this is an excellent product with a top-quality finish.
It's a very great idea for Christmas, Thanksgiving, Hanukkah, or birthday gift and you wouldn't need to rewrap the earrings, it already comes in a great package.
10. Flongo Men's Classic Stainless Steel Hoop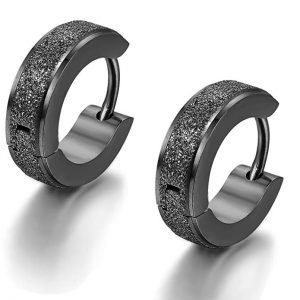 Huggies are an all-time favorite for a lot of people. They go well with their name and hug your lobe perfectly while making your face sparkle and gleam with every turn you take. We decided our collection would be incomplete without adding a black huggie earring for your pleasure. And we made sure to look for the best black huggie earring that is chic and adorable.
Made with stainless steel, this product is guaranteed to last for a really long time. The surface has a matte finish which is solid and won't fade anytime soon. This is one product that will endure any wear and tear. It is unisex so you can use it no matter your age or your gender.
They are ideal for workplaces, school, clubs and any other event. Although there are ten styles in this collection, the black one is our favorite. Dimensionally perfect, the earrings measure 0.5" in length and 0.16″ in width. For comfort, it is lightweight and complements any other pieces of accessory you have on. Flongo is a brand dedicated to making sure that their wide selection of jewelry, meets your taste. You should check this out, since it's pretty affordable and would make a nice addition to your collection.
Frequently Asked Questions about Black Earrings
With all the beautifully stunning product we have displayed in this article, we know you might have some questions. So, we have compiled some of the ones we saw frequently asked on the internet and put up answers to help you get a clearer picture.
Which black earrings are the best for me?
When it comes to jewelry, you definitely have favorites. But you must consider a few things before you order for one. For example, some of the black earrings you see online are made with materials that might cause skin irritation.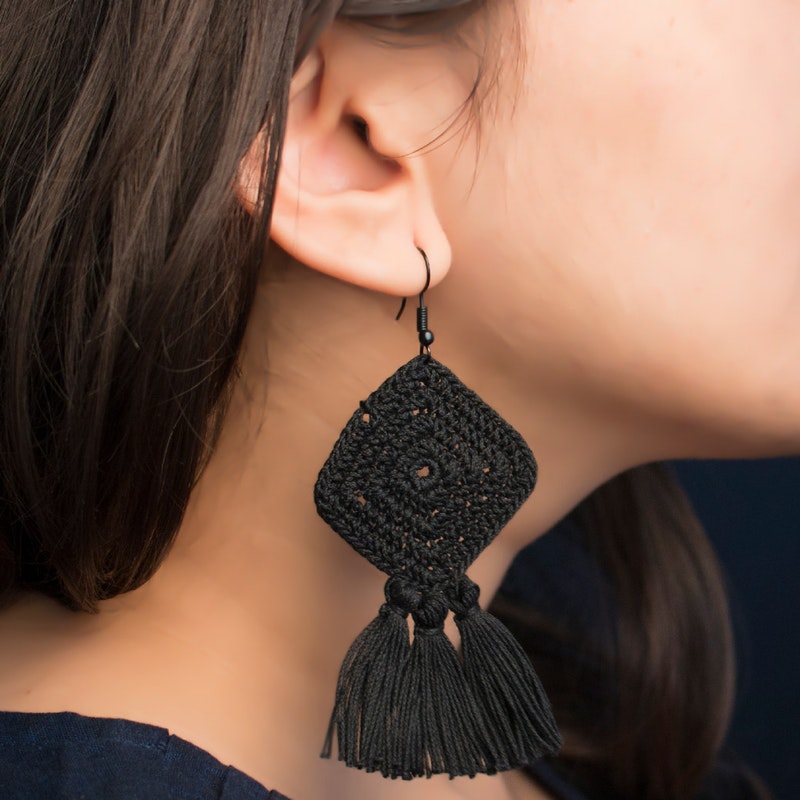 To avoid that, you have to check for the one that is made with surgical stainless steel, platinum or 925 sterling silver. These three don't peel and doesn't react with the skin. Which is why you can trust the ten black earrings we have for you in this article, they all come with materials that are tarnish, nickel and lead-free.
How do I clean my black earrings?
Clean black earrings are safe and healthy, and it's pretty easy to do clean them. You need to get yourself some cotton pads and mild sanitizing liquid. Always remember to wash your hands before handling your earrings, especially if you just got your piercings done.
Storage is also pretty important; you can use the pouch the earrings came in or get a box padded with soft lining. This would prevent contamination and extend the life of your earrings.
What are some styling tips for black earrings?
You don't need to know too much to stun with a black stud on your earlobes. However here are just some tips on how to get the most out of them;
✓ Black earrings plus black outfit equals awesome
✓ Wear different types of black earrings for different styles
✓ For a classy look, choose the hoop styled black studs or the Huggies
✓ For a simple and chic look, the studs should be your choice
✓ Get black tassel earrings for a trendy look, throw in some black bracelet with them and a cute blacktop