Gemstones / Women
Stunning Swarovski Bracelet Picks We Want to Put on Our Gift List!
By owning a Swarovski bracelet, you'll always have a stylish wrist. What's great about Swarovski bracelets are that come in a variety of styles ranging in different colored stones and designs.
There are no two Swarovski bracelets the same which is one of the things we love about them. We've therefore made the most of showing you the variety of Swarovski bracelets available here so you have plenty to choose from when it comes to your holiday!
Our 10 Favorite Swarovski Bracelet Picks!
1. LADY COLOUR A Little Romance Series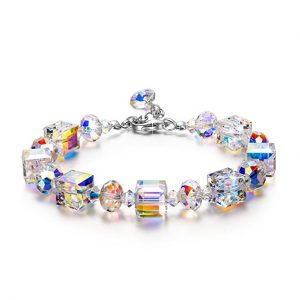 This Swarovski bracelet is a truly stunning piece of jewelry that you'll want to wear all day long! What makes this bracelet unique are the different shaped Swarovski beads within the bracelet, in particular, the combination of square and circular beads.
The pattern within the bracelet gives it a very interesting design and plenty of texture. What makes this bracelet stand out is that even though the Swarovski beads are clear, when the light catches on them each individual bead resembles a unique and different color. The spectrum of colors that are reflected within this bracelet includes blue, purple, pink, yellow and green.
To give you an idea of its size the inner circumference of this bracelet is approximately 18cm / 7inches and the designer has cleverly designed this bracelet offering an extendable chain of 5.1cm / 2.0 inches.
This bracelet also has an adjustable clasp which has a lobster claw clasp. It has been made from sterling silver and is lead and nickel free. This means there's no risk of this bracelet harming anyone with sensitive skin.
If you're looking for a glamorous accessory, this bracelet would look perfect worn with any outfit. A useful thing that the jeweler has done is advice on how you can best care for your Swarovski bracelet.
They suggested storing your bracelet separate to other jewelry to avoid it getting scratched. They also suggest rubbing it with a baby wipe to bring out the shine.
Another suggestion the jeweler makes is removing your bracelet before you have a bath or shower and avoid it coming into contact with any cleaning chemicals.
This stylish bracelet is being sold by LADY COLOUR. If you take a look at their website you'll see they have a big collection of jewelry, ranging from sterling silver, white gold rose gold and yellow gold.
The jeweler sells a variety of pieces including necklaces, bracelets, earrings, and rings. One thing's for sure this jeweler loves using sparkling gemstones that will light up any room!
2. Swarovski Crystal Bracelet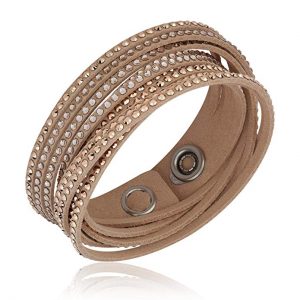 Next, we've decided to choose a slightly different Swarovski bracelet, one that is made from silk and contains plenty of crystals.
This bracelet has been created using soft leather. What we love about it is that it includes crystal suds that create a beautiful sparkle across the entire bracelet. The leather and sparkle combo is lovely on this bracelet.
We can also guarantee that it is very comfortable to wear. The size can also be adjusted using the two snap button detail on the closure. The length of this bracelet is approximately 14.13 inches.
We think this is a very trendy Swarovski accessory that will go well with any outfit. You can wear this bracelet with a casual outfit or it can suit a dressier outfit, giving you plenty of opportunities to wear this lovely accessory.
We love that this silk fabric bracelet will always feel soft against your skin. The use of poppers makes this bracelet easy to put on and off. However, it's important to be aware that the length of a silk bracelet like this doesn't offer a large extension.
The bracelet could also become quite sweaty when worn in the summer. However, apart from this, we think this nude colored bracelet is a fantastic buy! Opting for a nude color will make this bracelet go with practically anything.
The thicker cuff style bracelet is also very in at the moment so you'll be bang on trend with the latest fashion by choosing a piece like this one!
It has been made by Swarovski and is being sold for a medium price. If you take a look at their collection, they offer a variety of jewelry pieces. If you don't like this nude colored bracelet, they also offer a range of different colored silk bracelets. Enjoy browsing and choose your favorite piece of jewelry!
3. Swarovski Twisty Drop Bangle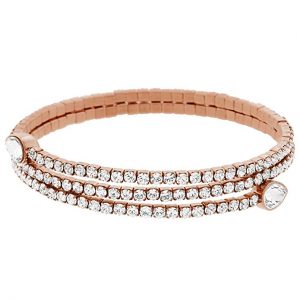 If you want more of an evening accessory, this Swarovski rose bracelet would make a lovely accessory to wear on your holiday!
This piece is unique in many ways! Firstly the bracelet has been created using a rose gold plated metal and features beautiful crystals. This rose gold metal has a smooth and shiny surface which shimmers beautifully alongside the crystals. The structure consists of a double wrap bracelet and includes a single row of clear crystals across the entire outer edge of the bracelet.
What's great about it is that it's stretchy and flexible which means it can naturally be adjusted to suit the size of your wrist. This stretchy quality is not only evident due to the structure of the bracelet but also the fact that it has been designed to be a double wrap bracelet which when stretched it won't affect the overall design.
It features dozens of crystals, there's so many, it's difficult to count! A slightly larger crystal is also featured at the end of the bracelet. These have been cut to a pear-shape rather than a circle like the other stones.
This difference in size and shape makes the stones stand out and finish off the bracelet nicely. It also adds that extra bit of sparkle which we love so much with this bracelet!
For a trendy look, this bracelet would look fantastically worn alongside a similar piece in a stacked look. These double wrap bracelets have a timeless classic look that you'll love them for years to come.
The diameter of the bracelet is approximately 5cm so it has been designed to a decent size. This size and structure of the bracelet also make it extremely comfortable.
4. Swarovski Crystaldust Bracelet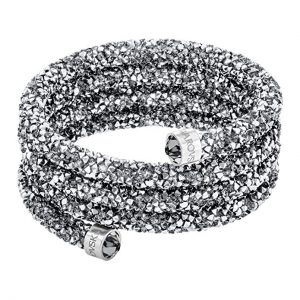 This is another option that you won't forget in a hurry! The designer, Swarovski, has really done well in creating a unique bracelet that stands out among the rest.
One of our favorite things about it is the sparkle that comes from the bracelet. The shimmer and sparkle that is created when wearing this bracelet are very unusual. Interestingly, Swarovski has used a rolled crystal technique to create this chrome-effect crystal.
The bracelet has been lavishly encrusted with these upper sparkly crystals. It has been created using a rhodium plated base metal which has then been covered in these encrusted crystals.
The size of the bracelet is also approximately 4.8cm in length making it a good size. Another thing we like about this bracelet is that it's adjustable in size.
It has also been designed to suit a wider wrist than a narrower one. The Swarovski bracelet has been designed so it consists of a three-spiral wrap. This design, therefore, allows the bracelets to change size depending on the width of your wrist.
This means that it is likely to last much longer because there will be no need to buy a new bracelet with a different size. This gorgeous crystal bangle has also been finished by including stainless steel crystal-capped ends at either end of the bracelet.
The great thing about it is that the encrusted crystals make it a very glamorous accessory to wear. It could be either worn on its own or as a layered style. This Swarovski's bracelet is the perfect accessory if want to wear it with an evening outfit or simply a pretty dress on a summer's day. You have plenty of options to wear this stunning bracelet.
This piece is being sold for a median price by Swarovski, so once again you're buying this bracelet from the experts who are fantastic!
5. Swarovski Emily Bracelet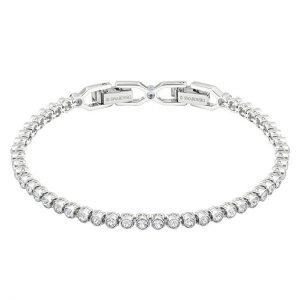 If you like classy simplistic jewelry that shines, you'll love this Swarovski Emily Bracelet! This Swarovski bracelet consists of very simple design and is extremely elegant to wear.
We think it would make a special gift for a romantic occasion like an anniversary, birthday or wedding present. Whatever the occasion, this bracelet is definitely a must-have buy. The bracelet has been simply designed so it features individual Swarovski diamonds.
The gemstones have been cut into a small circular shape. When you look at the diamonds, you'll be shocked at the strength of the shine, they truly are something quite special!
Apart from these gorgeous jewels, the rest of the bracelet has been made from a rhodium plated crystal chain bracelet. The rhodium has encapsulated the beautiful stones so they are framed. This design also protects them from any scratches or damages that may be caused by wearing the bracelet.
When it comes to the size, this lovely accessory is approximately 4.33 inches in length and weighs approximately 6.66 grams. Made from a rhodium plated base metal, this bracelet is extremely strong and durable.
Using rhodium to create the piece will also prevent it from tarnishing. We love it when a beautiful accessory like this looks gorgeous and will last for years to come. It means you'll get plenty of wear out of it! It also includes a great fold-over clasp closure.
This style of lock makes the bracelet easy to open and close when you want to remove it from your wrist. There's also no need to be afraid about it falling off your wrist because you can be reassured this beauty isn't going anywhere!
This is another of their bracelets that have been sold directly from Swarovski because they are the best in their field of making these stunning bracelets. This particular piece will arrive in a stunning blue box with the Swarovski branding on.
The useful box will also keep it safe when you take the bracelet off at night. We'd suggest wearing this particular piece with a pretty evening dress or a smart pair of trousers with a jacket and top. It deserves to be shown off and so do you wearing your lovely new addition!
6. Swarovski Slake 5064290 Emerald Green Alcantara Bracelet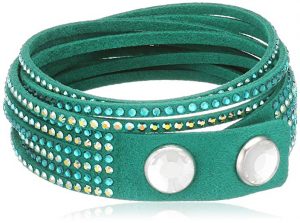 This is another of our Swarovski bracelets which we felt offered something slightly different. Similar to one of our other reviews, this bracelet is colored in a gorgeous emerald green color. We think this bracelet would suit a relaxed daytime outfit like a pair of jeans and a pretty top.
This gorgeous piece has been made from a silk emerald green colored leather. It has then been decorated using a mix of dark crystals that sparkle when the light reflects on them.
These beautiful crystals have been positioned in a continuous straight line around the entire bracelet. When looking at the bracelet you'll notice how shiny and sparkly this accessory is!
The bracelet also features a two snap button closure to it which allows the size of the bracelet to be adjusted slightly. These button closures have been made in shiny metal. The circular shape of the crystals also ties in nicely with the shape of these buttons.
There are lots of things which we like about it. One of the things is the gorgeous emerald green color. This color would make a great addition to your summer wardrobe and would go lovely with a variety of colors. Another thing that won't miss is the sparkling crystals. They really transform this piece of jewelry and turn it from being bland to glam!
Another thing we like about it is that it offers a small adjustment in the size, giving you room to adjust the size slightly. However, it is important to point out that some of our other bracelets offer a longer extension.
Even though this is a small feature it may put you off purchasing this item. We also like how this style of Swarovski offers plenty of texture and style. The layers of leather give this bracelet a lot of depth and individuality which is nice to see in a bracelet. Buy your silk leather Swarovski bracelet today!
7. T400 Blue Purple Pink Swarovski Crystal Butterfly Bangle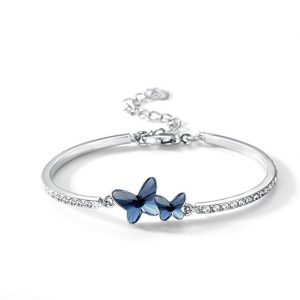 If you like diamonds and butterflies then take a look at this blue Swarovski crystal bracelet. Whether your lady loves butterflies or you've been searching for a butterfly themed jewelry accessory for your daughter, this is a lovely gift to give to someone special.
It has been made with Swarovski crystals which makes it a high-quality piece of jewelry that you'll cherish for years to come. This beautiful piece is similar to that of a bangle rather than chained bracelets.
The solid bangle features the lovely Swarovski crystal detail that makes this bracelet shimmer beautifully. In the center of this bracelet, it features two blue butterfly gems positioned next to one another. One is larger and the other is smaller. You could say that they represent a mother and daughter butterfly.
These have been crafted from a shiny blue material. The bangle also includes an extendable chain allowing it to be made bigger in size if required. We really like the mixture of the solid bangle and loose chain fixture. Both qualities give this piece plenty of character and make this piece of jewelry more appealing to buy.
When it comes to the structure it is definitely a comfortable piece of jewelry to wear on your wrist. It has been constructed to a very high quality. The piece has been made using a lead-free rhodium plated alloy which means you can enjoy wearing the piece even if you have sensitive skin.
The classic butterfly design also works in giving this bracelet a lovely artistic beauty to it. The butterflies cleverly capture the light creating a beautiful sparkle that is pure perfection!
The Swarovski crystals have been positioned in a flat top setting making them extremely secure and safe to wear. As mentioned previously the bracelet also offers an extendable chain if you need to adjust the size slightly.
This extendable chain also includes a lobster claw clasp which will guarantee that your bracelet won't become loose. We wouldn't want that happening, now would we! This stunning bracelet will also arrive in a pretty box so there is no need to spend out on special gift wrapping because the jeweler does it all for you!
The clever designer is called T400. Looking at their range, not only do they sell bracelets in this style of jewelry but also earrings, pendants, anklet, and necklaces. They offer a full range so you'll want to buy the whole set! Their collection is simply beautiful and sparkles effortlessly!
8. Swarovski Crystaldust Bangle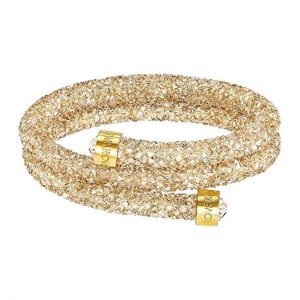 This Swarovski bangle is another bracelet that we think is a lovely accessory to have in the jewelry box. This beautiful piece is very individual and will brighten up any outfit.
Similar to one of our previous Swarovski bracelets, this accessory consists of golden-hued crystals on a beautiful bangle. What we love about this bangle is that it has been designed in a spiral silhouette style which has been covered in gorgeous gold crystals which sparkle beautifully. Wearing it with your outfit will make you look instantly glamorous and will cause everyone to turn heads!
This lovely bracelet also includes gold-plated capped ends which are featured at the end of the bracelet. This special detail adds even more gold to the piece of jewelry.
When it comes to the structure, we love that it has been designed in a double spiral style. The size of the bracelet is approximately 5.5cm in diameter and the length of it is perfect. The design of this bracelet also allows you to be adjustable. Whatever the size of your wrist, this piece will adjust to the size you want. We can also guarantee that it will keep its shape!
The gold encrusted crystals give this bracelet plenty of colors and that special wow factor that will make everyone jealous. It's also being sold for a median price which is well worth it!
This accessory offers your outfit that extra bit of bling that you may have been looking for. We'll be surprised if you don't like this bracelet just as much as we do. We simply love it! It's stunning and offers a very unique style which you won't get anywhere else other than Swarovski.
9. My Jewellery Story Swarovski Pink Crystal Bracelet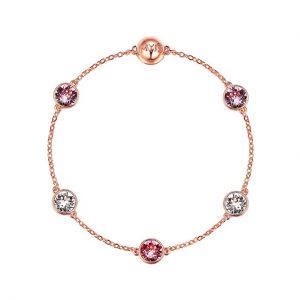 We've chosen a dainty Swarovski bracelet for those of you that prefer more delicate jewelry and also love the color pink!
This is a stunning piece that offers plenty of sparkles, we simply love it!
The bracelet has been created using a rose gold metal and features five individual Swarovski crystals. The bracelet includes three different colored stones, a pink, silver, and purple. What's great about this mixture of colors is that they subtly complement one another, even the tone of the chain creates a perfect touch of beauty.
When it comes to the structure of this bracelet is has been designed with a small rose chain. These tiny links don't draw too much attention but offer a strong structure to this bracelet. Even though the chain has been designed with a rose gold color it has actually been made from a gold plated base.
As you'll see from the picture this rose gold metal has been polished to perfection and when worn will keep its beautiful polish. An important feature that we need to point out is that this bracelet is 100% nickel free and hypoallergenic which means it is safe for people to wear who have sensitive skin.
It also features a clever closure fixture. When looking at it you may be surprised to find that the solid rose gold circular ball is actually the bracelet closure and not part of the bracelet. What the designer has done well is make this aspect of the bracelet part of the overall design so it subtly ties in and doesn't stand out.
This invisible closure is also magnetic which means it will easy to close without too much effort. This magnetic fixture also makes it very strong, secure and gives this bracelet a seamless finish which we love.
It contains beautiful Swarovski crystals that sparkle effortlessly. As mentioned before this particular piece features 3 different tones. What we love about these crystals is that they have been cut into a circular shape and have a flat bottom.
To continue the rose gold theme they are also framed by rose gold which looks utterly gorgeous. You won't be forgetting this bracelet in a rush! It's also important to note that this style of bracelet is very versatile. It would look lovely on your wrist as the only bracelet but would also look great if you wore a selection of bracelets creating a layered style.
It comes enclosed in a soft luxurious velvet drawstring bag so you won't have to worry about your bracelet because it will be protected from damage. My Jewellery Story has designed and created this piece and is selling it for a low price.
Browsing their website they offer a variety of pieces that have plenty of sparkles. Earrings, bracelets, and rings – this jeweler loves making jewelry with shimmering gemstones. Take a look at their collection today!
10. Swarovski Angelic Bracelet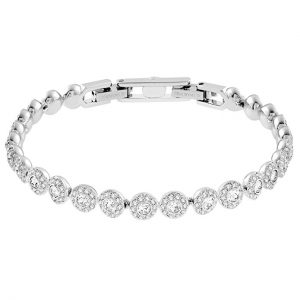 We chose this piece as our last bracelet because we thought it was very classy and absolutely stunning! It has been created using a rhodium plated metal which makes it extremely strong and durable. It also won't tarnish easily.
The design of the bracelet consists of clear round crystals which create a sophisticated piece. The size of the bracelet is approximately 7cm making it a decent size.
The crystals used have also been cut into a round shape. When it comes to the structure of the jewel this consists of a circular jewel in the center and smaller gemstones around the edge of the center stone
. This jewel shows how much attention to detail has gone into this piece of jewelry. It also includes a simple clasp, allowing the bracelet to be easily removed from your wrist.
This elegant Swarovski bracelet is being sold for a high price but we feel it's well worth the dollars. Take a look for yourself!