Three Stone Engagement Ring Selection for Girls Who Like Serious Bling!
last updated:
Mar 25, 2021
This is certainly a welcomed guide since finding a gorgeous three stone engagement ring is no easy task and believe us when we say we know that!
Now, with that point made, we decided to help out with things by finding rings that are beautiful, made from quality metals and gemstones and, don't cost a mint.
Nailing the right engagement jewelry, the carats, the color, the stones, it takes some serious effort; not to worry though, our team of jewelry experts got your back.
If you're a man browsing for a jewelry pick to surprise your lady, believe us when we say that these beautiful three stone engagement ring picks may just do the trick.
Our Top 10 Picks!
1

. GemsChest 3-Stone Ring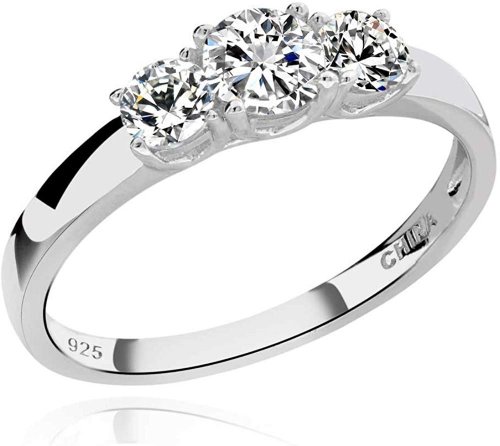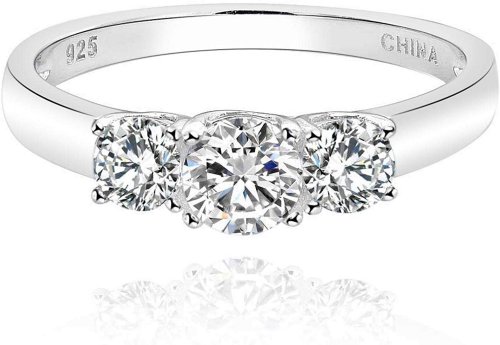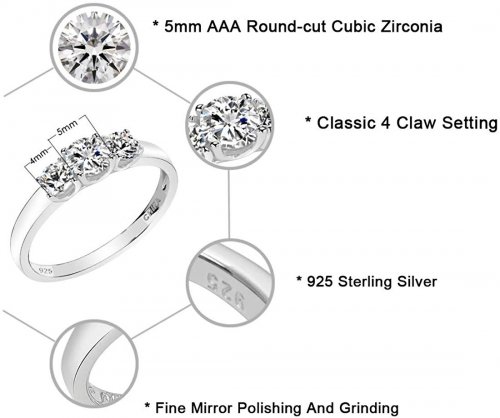 We love the build of this ring straight from Amazon's Collection. It has a design that's bolder—not your typical feminine one. At the same time, it's princess like!
Read more
It carries 3 CZ stones on a band made completely out of 925 Sterling silver.
This, in simpler terms, means both the stones and metal are durable. Cubic zirconia was created to imitate diamonds.
Basically the ring not only shines as much as a real diamond will, but it can also stand up to diamonds pretty well when compared on a toughness scale.
When it comes to the band, Sterling silver has a solid reputation that guarantees durability in time as well as looks.
2

. Metal Factory – 925 Sterling Silver Stone Ring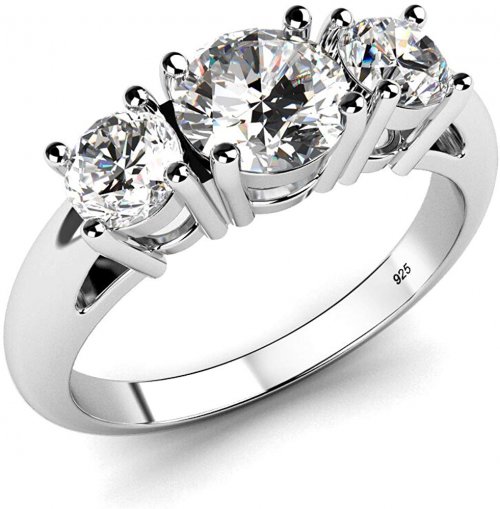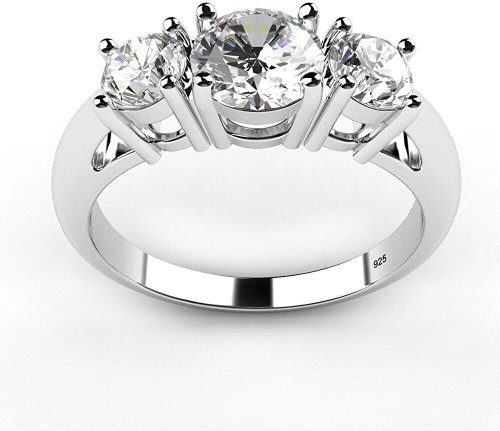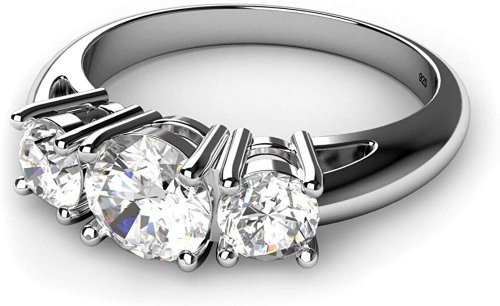 We don't quite know how Metal Factory did it, but this is one of the best options to consider if you're on a tight budget.
Read more
This ring is made from 925 Sterling silver and just 3 5A grade CZ.
Looking at the band, we have the usual durable side of the metal, which is a huge surprise considering the price.
As for the gemstones, 5A grade scores an 8.5 on the Mohr's scale is considerable when you compare it to a 10 from diamonds.
Both of these things are what we think creates the perfect ring you've been looking for. Couple that with the fact that it comes in a free gift box, and it's a great option if you're proposing for the first time.
Otherwise, it's still good as you'll have a quality case for your piece.
3

. POMPEII3 – 1ct Diamond Band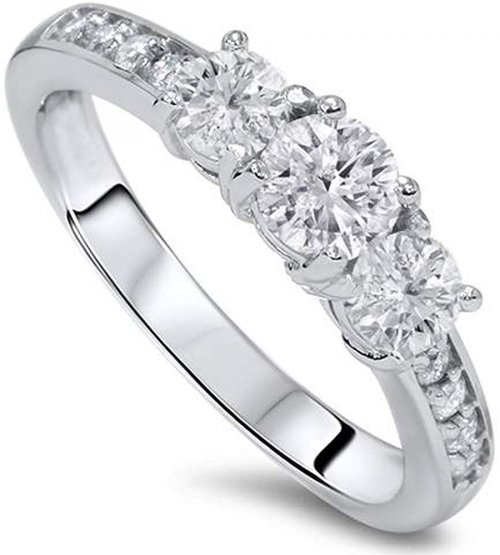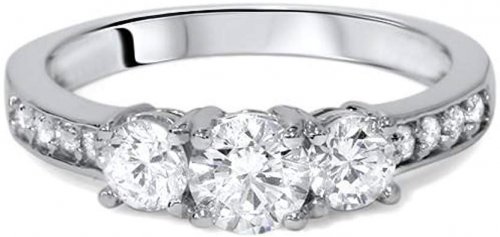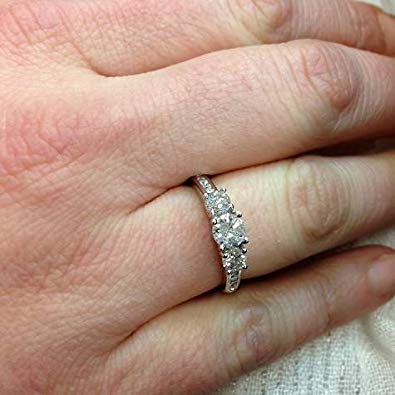 The POMEPEII3 piece features the classic 3 stones white diamonds design at the top. Smaller diamonds run along complementing the ring's appeal.
Read more
Now, both of these highlights create a look that suits the occasion while carrying another meaning altogether; diamonds say you'll love your girl for all eternity.
It may sound a little corny, we agree—but the bustle of the occasion will kill that notion. And the fact that these are authentic diamonds should not be ignored.
The design that we mentioned sits on a white gold band. This means the metal's high level of durability is not excluded from its list of highlights.
If you've been worried about whether or not the ring will last in time, white gold is known to be some of the strongest metals around and it will preserve its shine no matter the years gone by.
Finally, it comes in a jewelry box and you can purchase it in different sizes. This definitely makes your job a lot easier since you are likely to find the perfect size.
4

. BERRICLE – Rhodium-Plated Ring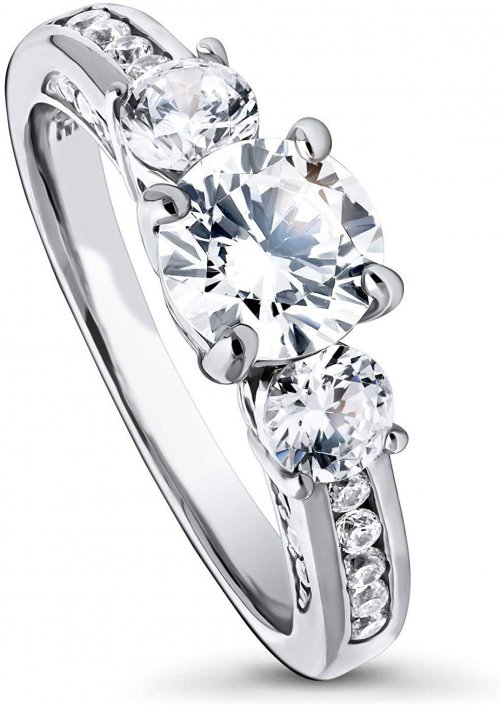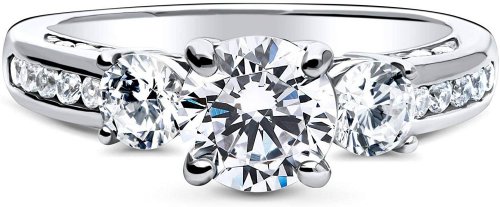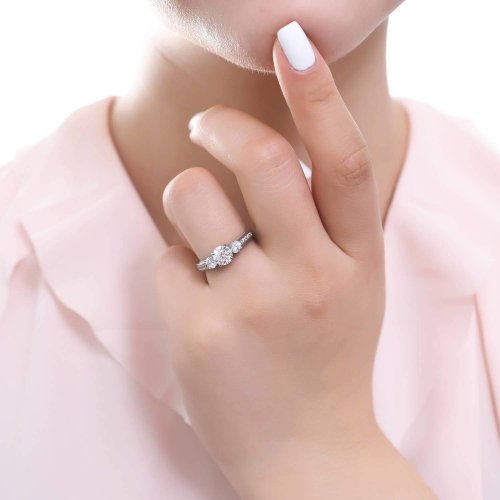 With the BERRICLE piece, the designers decided to take the simpler route. They combined a simple ring design with 3 stones (simulated diamonds) and the combo works rather well.
Read more
Heck, the ring looks more expensive than it really is, which is a huge milestone for any jewelry manufacturer.
Let's talk about the build quality. The ring is well-made, and evidence of this is the use of Sterling silver as the ring's only metal.
The silver is electroplated using rhodium, which is a surprise as most manufacturers usually make use of gold or silver.
We think it's a great option regardless if this is an option for you or not.
The ring bears a vintage design as well as being quite classic and this means it will be perfect for any lady out there who wants to wear a ring that will stand the test of trends throughout the years.
5

. Ioka – White Gold Ring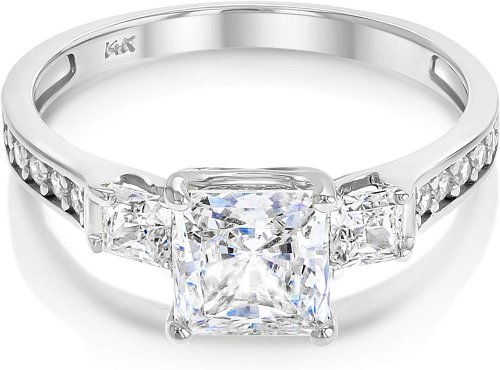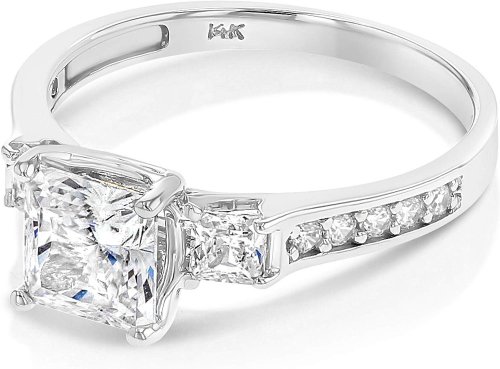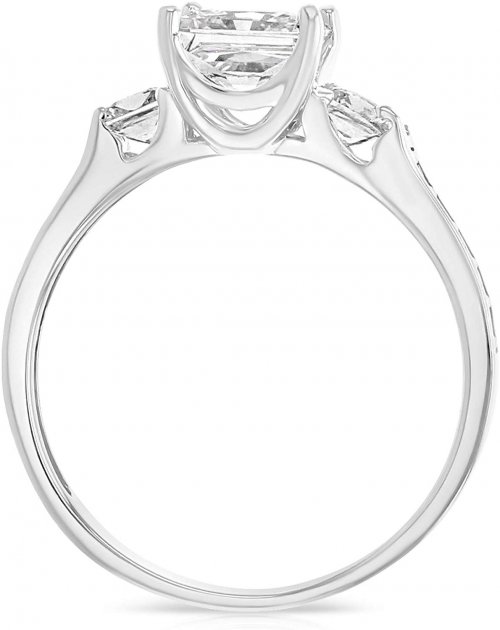 The Ioka 14K gold ring is another option to consider, especially if you're looking to spend a little more just to get some major bling. It comes as a combination of 3A CZ stones and 14K gold.
Read more
The latter can be chosen in a solid white or yellow gold hue. Whichever one you prefer, you won't miss since the piece looks so beautiful no matter the color fo the band.
Thanks to the use of real gold, you can be assured the ring is durable and will stand the test of time without tarnishing or discoloring.
As for the stones used, the diamond-like stones, or in this case, CZ, look just like the real deal without bearing the price of a real diamond.
The princess cut three stone engagement ring is gorgeous and one of our favorite on this list. You may have to dig a little deeper into your pockets, but honestly, it's worth every penny!
6

. BERRICLE – Emerald Cut Ring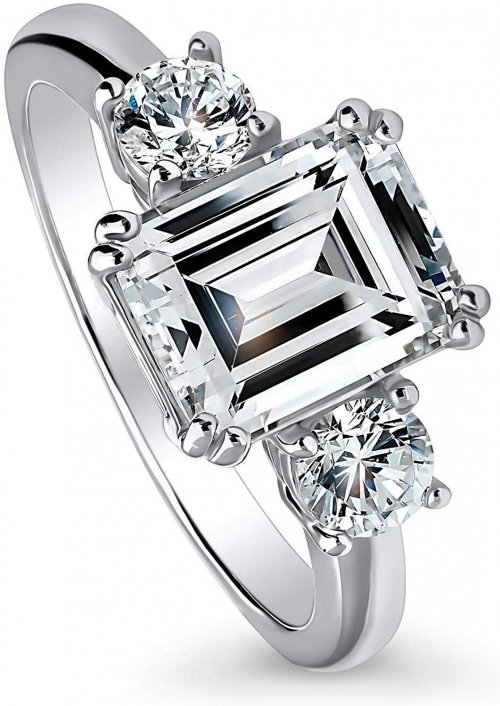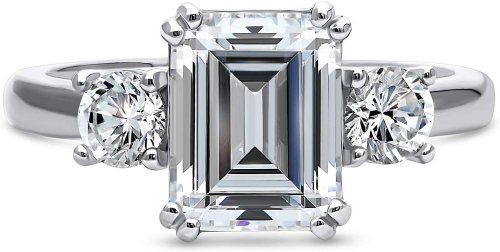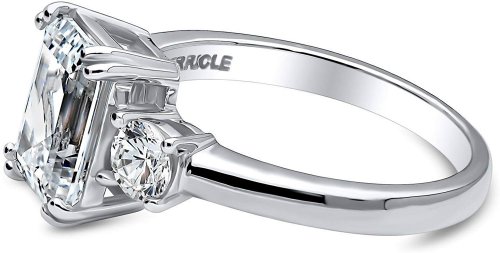 Like the BERRICLE option on the list, this one also features a rhodium-plated body.
Read more
This means the ring will be so much cheaper since it's not real gold or silver, but it'll still look polished and shiny thanks to being plated with a precious metal such as Sterling silver.
This ring has a big emerald-cut CZ at the center while 2 smaller round cut stones support it.
The central stone is quite big in comparison to many of the other picks on this list, and the emerald-cut makes it super sparkling when reflecting light.
The super-affordable three stone engagement ring is one of a kind thanks to it's refined cut and big gemstones and the best part?
You get a 90 days warranty on this piece which means that if the ring arrives with any defects, the seller will send you a new one in no time.
7

. BERRICLE – Halo Engagement Ring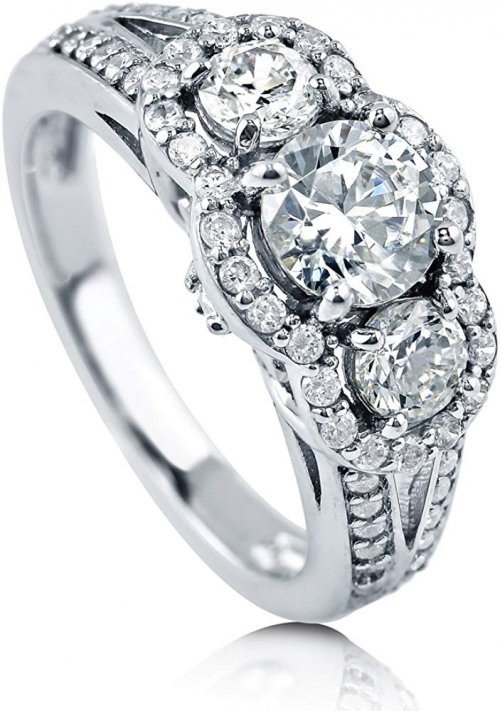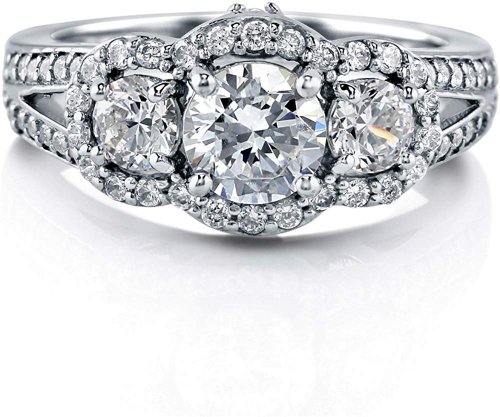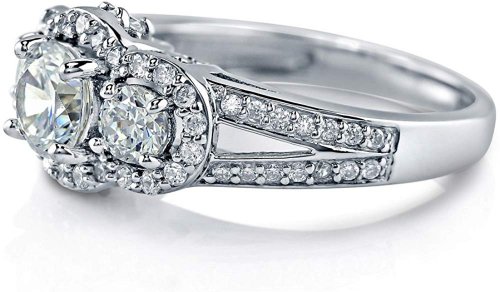 This gorgeous option is also rhodium-plated. However, the metal used for plating is 925 Sterling silver, and it has the stamp of authenticity to prove it.
Read more
The main difference between the previous BERRICLE ring and this one is the tiny CZ stones running down the sides of the ring. There's certainly a lot more ice when compared to other options on the list.
The intricate design and the many gemstones make this piece unique and dazzling, perfect for the woman who likes to wear statement bling.
As we stated before, Berricle is a brand that gives you a 90-day warranty and returns on all of their jewelry items, so if you're worried about the quality of the ring, you can always send it back in case it comes with any defect.
The ring sizes available are 4 to 10 including half sizes, and that means you can find your perfect fit!
8

. Dazzlingrock Collection – 10K Ring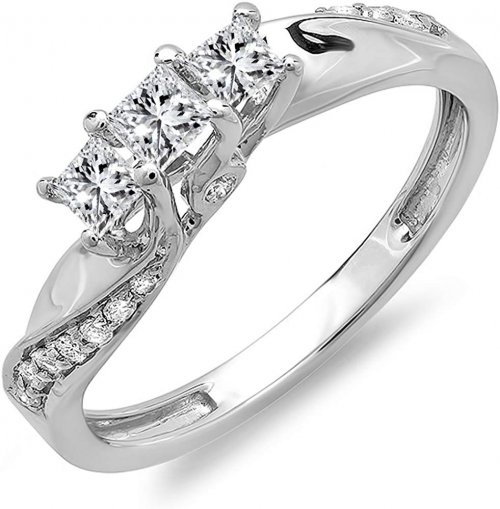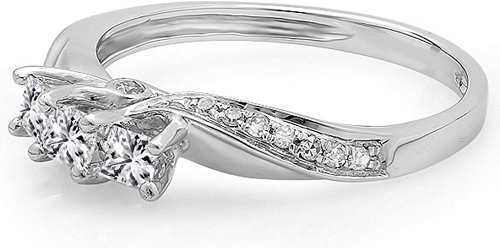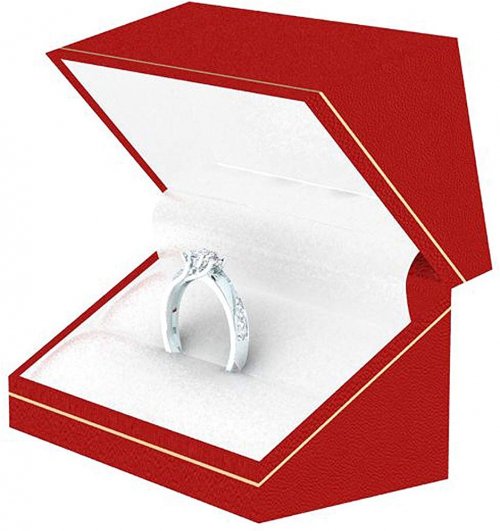 The Dazzlingrock Collection piece has a different take on the ring design. Yes, it has the usual 3-stone arrangement, but it's the vein-like design that includes more diamonds that stole our hearts.
Read more
This specific design gives a ring a kind of classical/romantic feel. Couple this with the metals used and we are talking about 10k gold, and you have a winning piece of jewelry, perfect for any engagement!
The best part? You can choose among 3 metal colors: white gold, yellow gold, and rose gold. All three options are gorgeous, but we prefer the classic white gold which complements the colorless gemstones perfectly.
Now bear in mind we are talking about real, conflict free diamonds here which means the piece does not come for cheap; however, for a piece of diamond jewelry, we would call it a bargain!
The seller offers a 30-day return policy and promises to fix any damages to your ring for up to 90 days from the day of your purchase. Quite a sweet deal!
9

. BERRICLE Three Stone Ring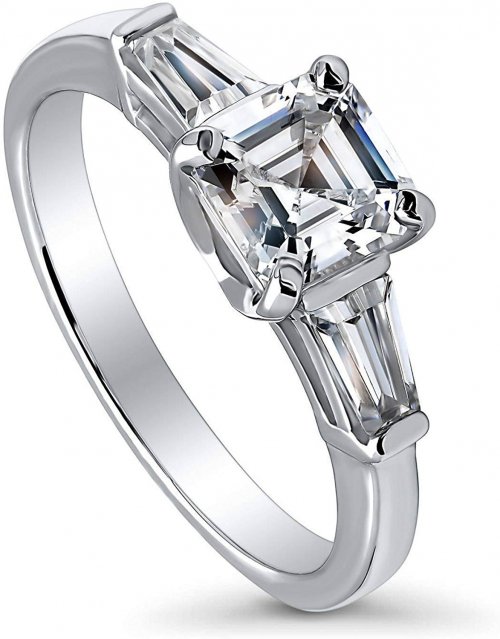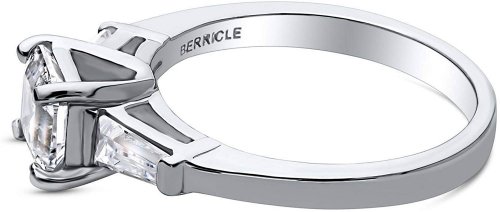 This is one of the more modest-looking 3-stone options on the list, but that doesn't mean it's any less beautiful. The size, price, and design are all quite small while the beauty of it is still big!
Read more
The three stone engagement ring is made of 925 Sterling silver rhodium plated; you get the classic stamp of authenticity on it so you can be sure it is real silver and it will stand the test of time.
The Cubic zirconia stones come in 2 forms; an Asscher cut central stone and 2 baguette-cut smaller stones on the sides.
The way the central stones protrudes it steals all the attention and since it's a 1.24 carat stone, it certainly won't go unnoticed on your finger.
The band is a highly polished simple one; it complements the simplicity of the general ring design.
The piece comes in a beautiful gift box and the 30-day return or exchange policy we mentioned for all Berricle rings.
10

. Sonia Jewels – 925 3-Stone Ring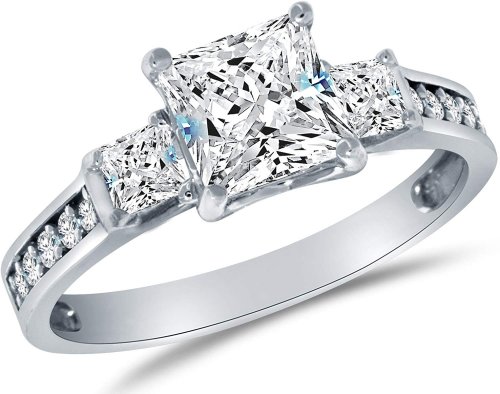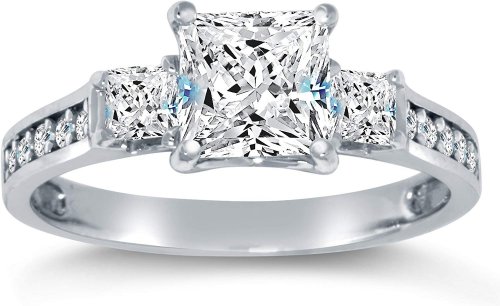 This piece features a princess cut solitaire stone surrounded by 2 similar, smaller pieces. The Sonia Jewels ring comes with a 1.75 carat stone, and that's some serious bling!
Read more
We also love the smaller cubic zirconia stones running all around the 925 Sterling silver band giving it additional sparkle and elegance.
Being made with CZ, the price is super affordable while the design is something else and that's why it's a steal deal!
Yo also get free shipping and a beautiful velvet box included with the ring.
The princess cut beauty is the perfect choice for all the ladies who prefer a classic design with a solitaire stone and an intricate band which will sparkle just as much as the 3 central stones will!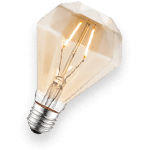 Type of rings
There are actually different types of rings that you can choose from. They are traditional, chic, nature-inclined, romantic, and modern. Depending on your partner's personality, choose out of all we have listed so far.
Traditional
When it comes to a traditional design, you should opt for something that looks vintage. Choose a ring that's timeless with a classic cut gemstone.
Designs that we like include rings with a single round-cut stone at the center. The band that carries the stone itself can be made from white gold, or it can be a mixture of Sterling silver and gold.
As for the gemstones, go for the classic, colorless options such as white sapphires, diamonds or Cubic zirconia stones.
Type of rings
Romantic
Romantic rings are characterized by solitaire-type pieces of jewelry and princess-cut gemstones.
When choosing a romantic ring, go for a piece in yellow gold or rose gold with a gemstone in a light pink color (think morganite!).
Type of rings
Modern
When it comes to a modern design, there is no rule really. You can opt for intricate designs such as flowers and hearts or you can go simple by choosing a band with a small gemstone encrusted in it.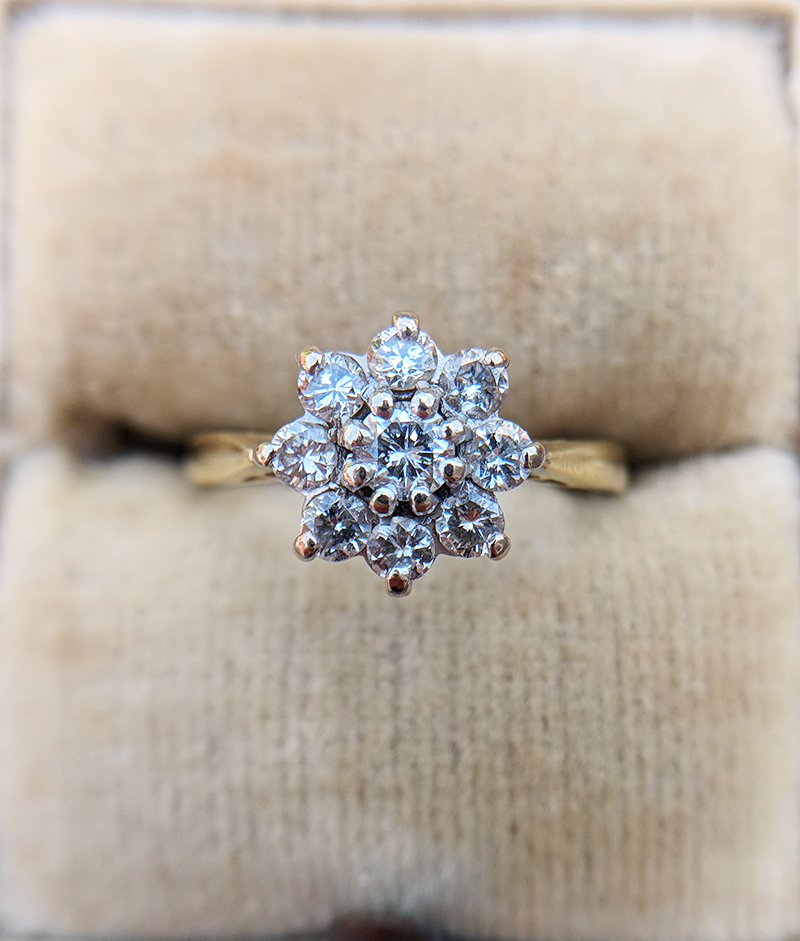 You can also go for something super fun such as silicon bands which are all the rage now and don't cost a thing!
Type of rings
Chic
Chic stands for engagement rings with a touch of elegance/style and a lot of bling and gemstones included in the design itself.
These rings are a lot similar to a three stone engagement ring that we listed above due to the cluster of simulated diamonds embedded all over the bands.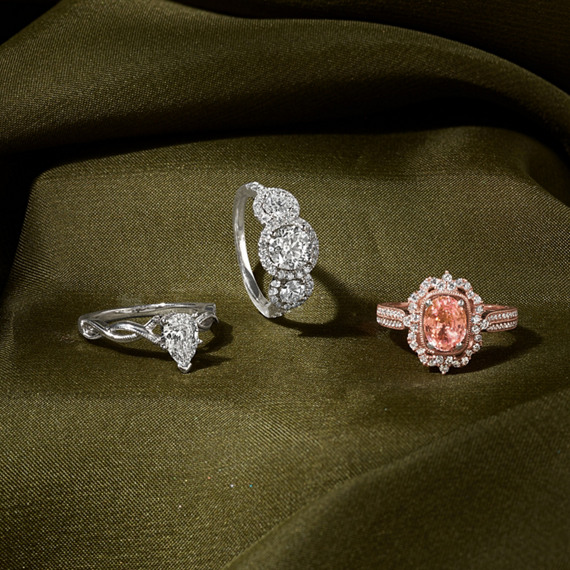 The gemstone choice should be either Cubic zirconia or real diamonds if you can dig deeper into your pockets. However, you can also opt for a unique stone such as a blue sapphire, aquamarine, or ruby.
What metals to choose?
It's either you buy a ring made from precious materials such as gold or platinum or you buy something that's electroplated. Options such as silver-plated and rhodium-plated exist.
The combination of both is great because if done right, you'll be able to get durability while not sacrificing the aesthetic appeal.
As for the stones, most of our picks feature Cubic zirconia, gemstones that perfectly imitate real diamonds without bearing the same price tag!
Frequently Asked Questions
q:

Which finger should I wear it on?

a:

The engagement ring generally goes on her fourth finger on her left hand (conveniently called ring finger).

Everybody wears the wedding band with the engagement piece, though you can choose to wear the former alone if you wish.
q:

How to wear engagement and wedding rings?

a:

On her engagement day, she has to put the engagement ring on the fourth finger on her right hand. On her wedding day, you have to place the wedding ring on her left hand's fourth (third for others) finger.

Then you follow that up with the engagement ring. This method has ties with people who believe the wedding ring should always come first.
The notion accentuates the fact that your wedding and therefore, your union will always come first. It's a promise to each other.
After the wedding, you remove the engagement ring which has sealed in the wedding ring and carry it over to the fourth finger on the same hand.
q:

Is machine-cut CZ still good enough to wear?

a:

Yes—the 3 engagement rings on are list are all machine-cut. CZ has a rating system which comprises of 5 levels—with each one being determined by an "A". This means the lowest quality is 1A (or a simple "A") while the highest quality is 5A (AAAAA").
With most of the options above, that's a hardness of at least 8.3 which is considered almost as hard as diamonds.
So choose something along these lines. Though, if you want to choose 5A stones, the hike in price should not come as a surprise.