Rings / Wedding Jewelry / Women
Three Stone Engagement Rings for Girls Who Like Serious Bling!
This is certainly a nice topic, considering the fact that most of us women prefer being inconspicuous. But instead of that, your personality, or better yet, your partner doesn't really mind the eyes that come her way. Her personality may demand only an engagement ring with enough 'Ice' to surprise anybody within glancing-distance. It's a good choice too, considering that it's very worth it. Now, with that point made, we decided to help out with things by finding rings that'll surprise even her. Surprising your loved one is no easy task, however, these beautiful three stone engagement rings may just do the trick.
Note: We're definitely not talking about the engagement.
Our 10 favorite picks!
1. Amazon Collection – Sterling Silver Round Cut Three-Stone Ring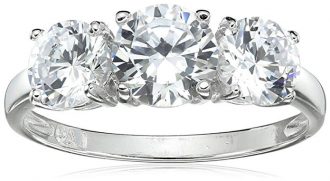 Despite the fact that the earlier pieces are no slowpokes when it comes to their designs, we actually prefer the build of this ring straight from Amazon's Collection. It has a design that's bolder—not the softer, feminine one. At the same time, it's tough.
It carries 3 CZ stones on a band made completely out of 925 Sterling silver. This, in simpler terms, means both the stones and metal are durable. For example, Cubic Zirconia was created to imitate diamonds. That means it not only shines as much as a real diamond will, but it can also stand up to diamonds pretty well when compared on a toughness scale. For the other one, Sterling silver has a solid reputation that always mentions its nice amount of strength, as well as looks.
2. Metal Factory – 925 Sterling Silver 3 CZ Stone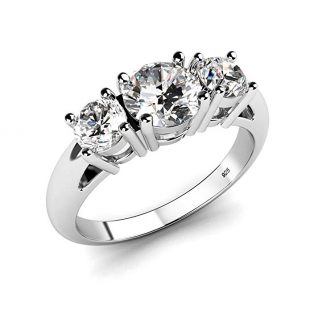 We don't quite know how Metal Factory did it, but this is one of the best options to consider if you're operating on a budget. It's made from 925 Sterling silver and just 3 5A grade CZ. For the first one, we have the usual durable side of the metal which is a huge surprise considering the price. For the second one, 5A grade scores an 8.5 on the Mors scale, which is considerable when you compare it to a 10 from diamonds.
Both of these things are what we think creates the perfect replacement ring you've been looking for. Couple that with the fact that it comes free gift box, and it's a great option if you're proposing for the first time. Otherwise, it's still good as you'll have a quality case for your piece.
3. POMPEII3 – 1ct Diamond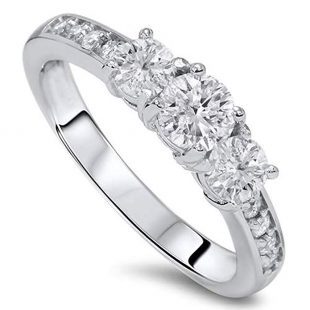 The POMEPEII3 piece, as expected has 3 stones white diamonds at the top. Along the sides, smaller diamonds run along complementing the ring's appeal. Now, both of these design highlights create a look that suits the occasion while carrying another meaning altogether. That is, diamonds say you'll love your girl for all eternity. It's a little corny, we agree—but the bustle of the occasion will totally kill that notion. And the fact that these are authentic diamonds should definitely not be ignored.
That said, while the looks and the meaning have been discussed, the durability hasn't. The design that we mentioned sits on a white gold band. Nothing more, nothing less. This means the metal's reasonable level of durability is not excluded from its list of highlights. If you've been worried about whether or not the ring will last till the wedding day since it does look flashy, then you shouldn't be.
Finally, it comes in a jewelry box and you can purchase it in different sizes. This definitely makes your job a lot easier since you don't have to look for any other item. Rather, the manufacturer has your best intentions at heart, which is certainly nice to see.
4. BERRICLE – Rhodium-plated Piece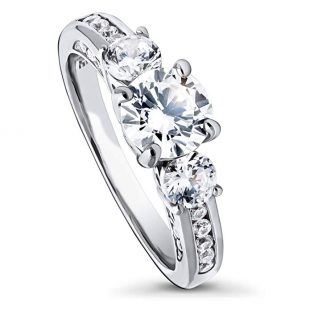 With the BERRICLE piece, the company decides to take the simpler route. They combined a simple ring design with 3 stones (simulated diamonds) and the combo works rather well. Heck, the ring looks more expensive than it really is, which is a milestone for any jewelry manufacturer.
Still, let's talk about the build quality. The ring is well-made and evidence of this is the use of Sterling silver as the ring's only metal. After that, the silver is electroplated using rhodium, which is a surprise as most manufacturers usually make use of gold or silver. We think it's a great option regardless if this is an option for you or not.
Moving on, when it comes to the romantic weight of the ring itself, it's unique as well. Firstly, it carries that appeal that makes it easy to flaunt outside. At the same time, the cultural tone isn't lost, and it's as a result of the vintage design that the ring makes use of.
So, when all is all said, you'll be giving her everything through the ring, so it's pretty much a welcomed sight that they still managed to throw it in a gift box.
5. Ioka – 14k Solid Yellow/White Gold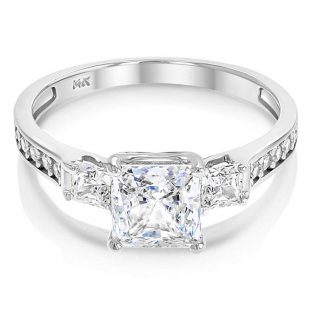 The Ioka 14K Gold Ring is another option to consider, especially if you're looking to spend a little. It comes as a combination of 3A CZ stones and 14K gold. Wherein, the latter can be chosen in a solid white or yellow gold hue. Whichever one your partner prefers, you can ask her or try to take a guess. Still, we think the ring looks pretty in both cases, so you really can't go wrong with either.
The band comes with the usual durability that all gold jewelry has, and while that means wealth, we prefer the meaning of the stones. Diamonds, or in this case, CZ are signs of eternal love between you and your partner. If this ring is going to replace your previous one, then this, like any other ring that uses diamonds, is a nice move to consider taking.
6. BERRICLE – Emerald Cut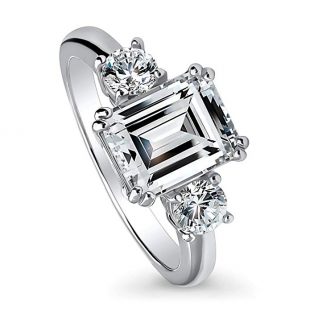 Like the previous BERRICLE option on the list, this one also features a rhodium-plated body. But where there's a difference is the choice in 3 stone arrangement. This ring has a big emerald-cut CZ at the center while 2 smaller round cut stones support it. With this kind of bold design, it's more or less an engagement ring that's also fit for making statements.
If you're doing the proposing sometime next month, this is an option that informs people she's taken. On the other hand, if you're just considering a replacement for what you have/had, then you can go ahead and use this.
Still, while the looks and applications are great and diverse respectively, the question of how well it'll hold up must come up. To that, our answer is that the ring performs well enough, given the fact that it's totally made from Sterling silver. The rhodium plating we mentioned above was only there for the aesthetic appeal.
7. BERRICLE – 3-Stone Halo Engagement Split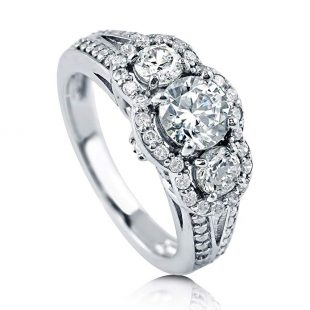 Yes, it uses rhodium plating also, but then there's nothing to complain about since it uses the same ingredients as the previous one. For one, you'll find 3 round-cut stones on your first glance at it. On your second glance, then you'll find the little difference between the previous BERRICLE ring in the form of tiny CZ stones running down the sides of the ring. There's certainly a lot more ice when compared to others on the list. That's why it's important that we mention just who you can give this ring to.
Only purchase it if your partner won't mind the eyes that accompany rings with this number of stones. If she's the type who does, there are simpler options above that you should take another look into.
That said, all of the design we've mentioned so far can be found on a band of silver. It's a good choice by the manufacturer since it's actually durable enough for everyday wear.
8. Dazzlingrock Collection – 10K Gold Princess and Round Diamond 3 Stone Swirl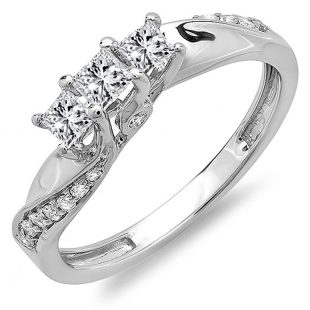 The Dazzlingrock Collection piece has a different take on ring design. Yes, it has the usual 3-stone arrangement, but it's the vein-like design which contains more diamonds that took our attention. The design gives the ring a kind of classical/romantic tone that'll certainly help her fall in love easily with the ring. Couple this with the make, which strictly uses 10K gold in different hues and you have a really likable engagement piece.
This is what we mean—the ring comes in 3 gold colors for you to choose. They are yellow, rose, and white gold. And while we want to say all 3 are excellent, the topic restricts us. White gold is an option, only if your partner is the type who's inconspicuous, and you wouldn't be here if that's the case. With that in mind, the 2 other options are what will get you result you're after.
9. BERRICLE – 3-stone Sterling Silver with Rhodium Coating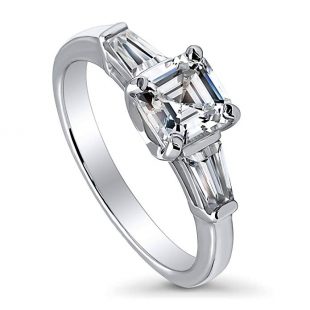 This is one of the modest-looking 3-stone options on the list, and we mean that literally. The size, price, and design are all accommodating. In the case of the first one, you have here an engagement band that weighs 1.6 ounces and has a width of 2.4 mm. This size, combined with the petite and minimalistic design (even with the use of the CZ stones) creates a ring that screams feminity than most. The great price is only there to act as an incentive.
Nonetheless, not all pretty rings perform all that great when it comes to durability. Which is why we were happy to find it using 925 Sterling silver despite the price. It should easily keep up with activities up till the wedding and even far after, so you're good to go.
10. Sonia Jewels – 925 High-quality 3-stone Ring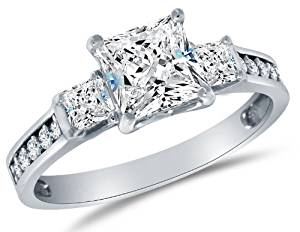 This piece features a princess cut solitaire stone surrounded by 2 similar, but smaller pieces. After those 3, there are 5 round-cut CZ stones embedded along the 2 sides of the ring. They form one of the better-looking designs when it comes to 3-stone arrangement rings. And this is the main reason why it's even on the list.
It's here to help you make the best impression if you're replacing your wife's engagement ring. Likewise, if you're considering proposing to her now, then this should easily help you make a statement.
It performs well in our durability tests too. —How this applies to you is that it'll easily keep up with her activities, even when the preparations for the wedding get a little hectic. At that point, we think the ring will show its worth by easily resisting wear whilst telling people to back off. Certainly has a good set of functions, doesn't it?
Picking an Engagement Ring Yourself
We want to teach you the correct manner than an engagement will occur.
Which materials do you prefer?
It's either you buy a ring made from precious materials such as gold or platinum or you buy something that's electroplated. We mean, options such as white gold-plated stainless steel rings exist. The combination of both is definitely great because if done right, you'll be able to get durability while not sacrificing the aesthetic appeal.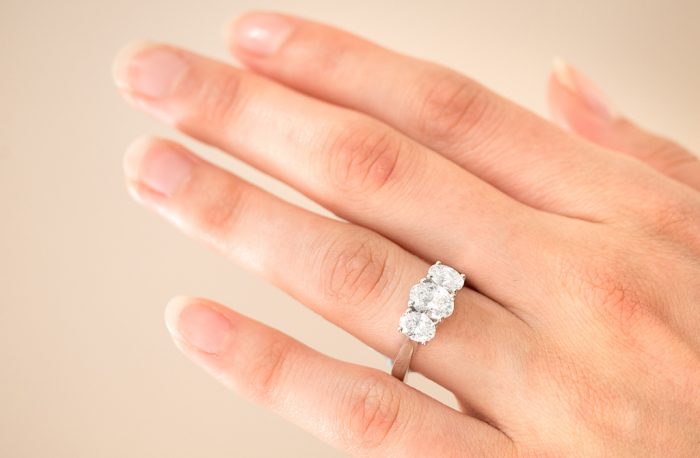 When you're done with the kind of metal, you go to the precious stones and thus, the simulations. Our choice here was CZ, one of the diamond's best simulators. You can go for other stones such as colored CZ, sapphires, emeralds, rubies, amethyst, tourmalines, opals, aquamarines, etc. All of these stones have their own meanings and you can apply them any way you want to the engagement and thus, wedding. For example, sapphires mean loyalty, amethyst is a symbol of deeper love, and rubies can stand for romantic fire.
Look at Her Lifestyle
You have to take a good look at her lifestyle, which includes her work and personal taste. For the former, don't purchase a ring that'll affect her work negatively. At the same time, keep in mind that the ring can also affect her work negatively.
Having said that, never operate without a budget. You can have the rings replaced at a later date, after the wedding if it's not up to both of your standards. Still, take a good look at the options you have. Even under $50 like we've shown, there are a lot of engagement rings to consider.
Types of Rings
There are actually different types of rings that we know of right now. They are traditional, chic, nature-inclined, romantic, and modern. Depending on your partner's personality, make a choice out of all 4.
Traditional
For traditional options, you go for something that looks vintage. This doesn't mean the design should be ugly. Rather, choose a ring that's timeless, and if the durability is right, that ring can turn into an heirloom.
Designs that we like include rings with a single round-cut stone at the center. The band that carries the stone itself can be made from white gold or it can be a mixture of Sterling silver and gold.
Romantic
What we have here is probably the number one theme adopted by rings in most parts of the world. And for good reason too. The idea of timeless love with a woman and vice versa creates a sense of hope for both of your future. At least, you can ride the world with the help of another who has your back no matter what (this is a lot to brag about).
So, having caught up with our softer sides, what are the types of rings you should go for? You should go for a vintage option or if you want one with stones, a diamond ring is an obvious choice. Though, we recommend you look for heart-themed rings to play with.
Chic
Chic stands for engagement rings with a touch of elegance/style. These rings are a lot similar to 3 that we listed above due to the cluster of simulated diamonds embedded all over the bands.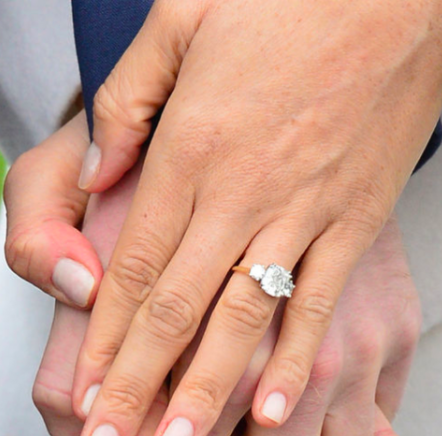 If your partner is the type who doesn't mind the extra attention, works professionally (clothes-wise) all the time, and finally, loves to stand out, the rule is to get them jewelry with a lot of diamonds. Because certainly, they'll find a use for them.
Modern
If she's the professional type who prefers her things from the present or future, here's something that'll catch her eye immediately. Look for rings made from ceramics or even simple bands of platinum and with unique engravings. We remember one ring, though it's not anywhere close; it has a love message in Latin, which is a favorite of the couple.
You can go for something like that, or you can use rings with precious stones not cut and arranged to the wishes of tradition.
Note: The CZ hues you can consider for the engagement ring are pink, black, canary yellow, and champagne.
Questions Asked About Three Stone Engagement Rings
Which finger should I wear it on?
Except if your tradition says otherwise, the engagement ring generally goes on her fourth finger on her left hand (conveniently called ring finger). This is actually a common sight, though what most may get mixed is that if you find a single shiny ring on a woman's ring, it doesn't necessarily mean she's married.
Everybody wears the wedding band with the engagement ring, though you can choose to wear the former alone if you wish.
How to wear engagement and wedding ring?
It's actually a simple process that you should get comfortable with fast. We know 2 that you can use, and they both use the left hand—so they're really simple.
Her Left Hand's Fourth Finger
First, on the engagement day, she has to switch the engagement ring to the third finger on her right hand. Following that, you have to place the wedding ring on her left hand's fourth (third for others) finger. Then you follow that up with the engagement ring to seal in the flavor (so to speak). This method has ties with people who believe the wedding ring should always come first.
The notion accentuates the fact that your wedding and therefore, your union will always come first. It's a promise to each other.
Her Left Hand's Third Finger
Here, she follows the same process of placing the engagement piece on the third finger of her right hand. By after that, you don't place the wedding ring on her left hand's fourth finger. Instead, the ring goes on her third finger while the engagement ring now goes to the same spot also.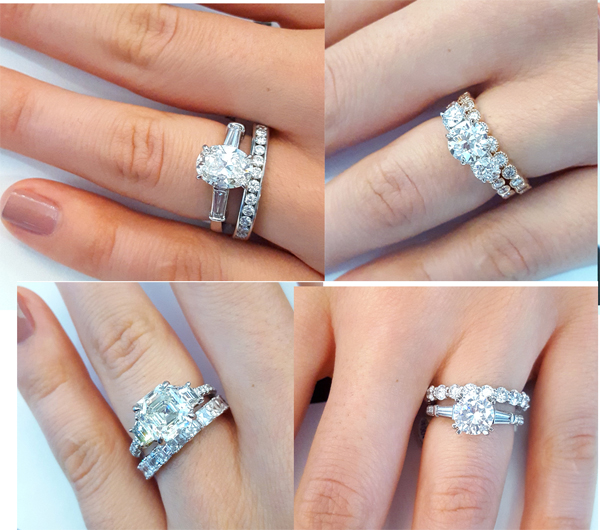 After the wedding, you remove the engagement ring which has sealed in the wedding ring and carry it over to the fourth finger on the same hand. This is a custom that originated from Egypt, instead of the former one which pretty much is adopted by the UK and Ireland.
Are there variations of the rules?
Yes, of course. Though, it all depends on the woman. If your partner wants, she can continue wearing the engagement ring on her right hand, rather than the left as tradition seemingly demands. Similarly, she can dismiss the engagement ring entirely as you'll probably notice different women already do. Other examples that people do is welding the 2 rings together to form an entirely new design, wearing a wedding ring on both of her hands, and wearing the engagement ring first, then the wedding ring on the top.
Note: We're giving you these tips for her to consider. It should with the image you create since it means you're
How to grade Cubic Zirconia?
The fact that you're here to glance should not be disregarded. So we decided to cough up a guide on evaluating CZ's quality, and thus, the quality of the engagement ring you want to buy. So, to that, let's talk about who or what cut the CZ.
Hand-Cut vs. Machine-cut CZ
It's as the names imply. Hand-cut CZ means the stones were cut with hands. On the Mors hardness scale, CZ takes a staggering 8 – 8.5 out of 10 (diamond takes the full points). That means that the gemologist(s) has to painstakingly work the stones to maintain quality and clarity.
This is the opposite of machine-cut CZ since machines do that en masse. Most manufacturers usually spend just the barest minimum attention on the stones. So it's quite impossible to create precise cuts that'll maintain the quality. So here, the trick is to either choose the former, though you can expect the price to bump up slightly—or you do the latter, but read the people's opinions first.
Is machine-cut CZ still good enough to wear?
Yes—in fact, the 3 engagement rings above are machine-cut. When we said manufacturers produce them in max, we did tag it with "most" and "usually". CZ has a rating system which comprises of 5 levels—with each one being determined by an "A". This means the lowest quality is 1A (or a simple "A") while the highest quality is 5A (AAAAA").
With most of the options above, that's a hardness of at least 8.3 which is considered as diamonds are just some distance away. So choose something along these lines. Though, if you want to choose 5A stones, the hike in price won't come as a surprise now.
What do diamonds and by extension, CZ represent in marriage?
You might be wondering why it's that important to always get an iced out ring for the engagement, well, this should answer your question.