Three Stone Engagement Ring Selection for Girls Who Like Serious Bling!
last updated:
Mar 25, 2021
This is certainly a welcomed guide since finding a gorgeous three stone engagement ring is no easy task and believe us when we say we know that!
Now, with that point made, we decided to help out with things by finding rings that are beautiful, made from quality metals and gemstones and, don't cost a mint.
Nailing the right engagement jewelry, the carats, the color, the stones, it takes some serious effort; not to worry though, our team of jewelry experts got your back.
If you're a man browsing for a jewelry pick to surprise your lady, believe us when we say that these beautiful three stone engagement ring picks may just do the trick.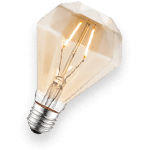 Type of rings
There are actually different types of rings that you can choose from. They are traditional, chic, nature-inclined, romantic, and modern. Depending on your partner's personality, choose out of all we have listed so far.
Traditional
When it comes to a traditional design, you should opt for something that looks vintage. Choose a ring that's timeless with a classic cut gemstone.
Designs that we like include rings with a single round-cut stone at the center. The band that carries the stone itself can be made from white gold, or it can be a mixture of Sterling silver and gold.
As for the gemstones, go for the classic, colorless options such as white sapphires, diamonds or Cubic zirconia stones.
Type of rings
Romantic
Romantic rings are characterized by solitaire-type pieces of jewelry and princess-cut gemstones.
When choosing a romantic ring, go for a piece in yellow gold or rose gold with a gemstone in a light pink color (think morganite!).
Type of rings
Modern
When it comes to a modern design, there is no rule really. You can opt for intricate designs such as flowers and hearts or you can go simple by choosing a band with a small gemstone encrusted in it.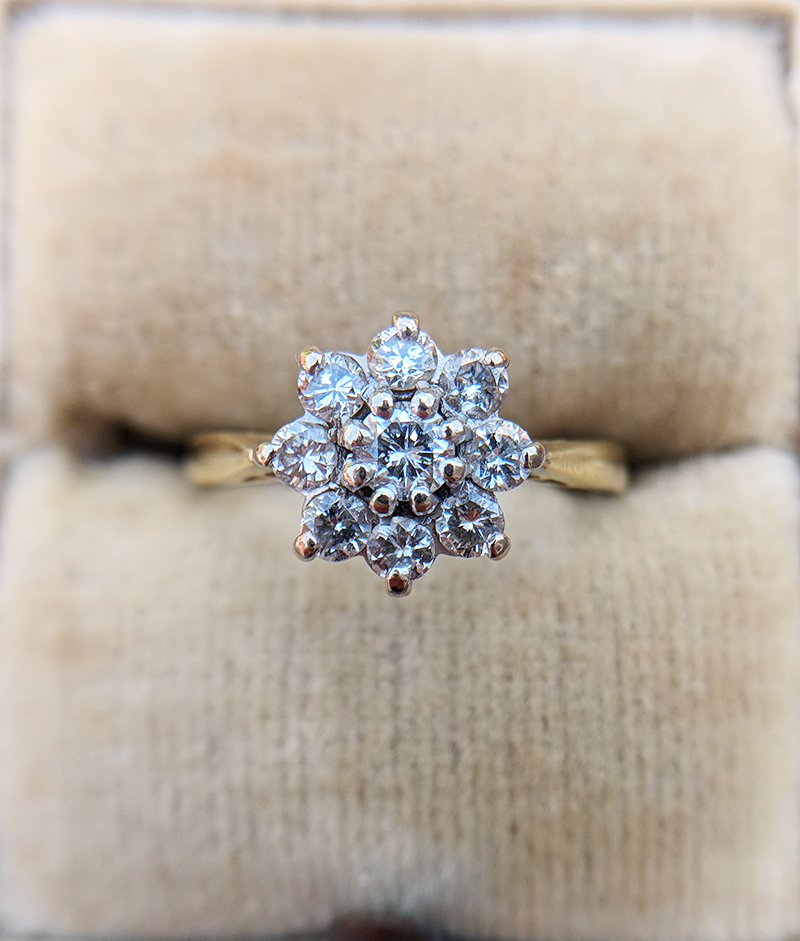 You can also go for something super fun such as silicon bands which are all the rage now and don't cost a thing!
Type of rings
Chic
Chic stands for engagement rings with a touch of elegance/style and a lot of bling and gemstones included in the design itself.
These rings are a lot similar to a three stone engagement ring that we listed above due to the cluster of simulated diamonds embedded all over the bands.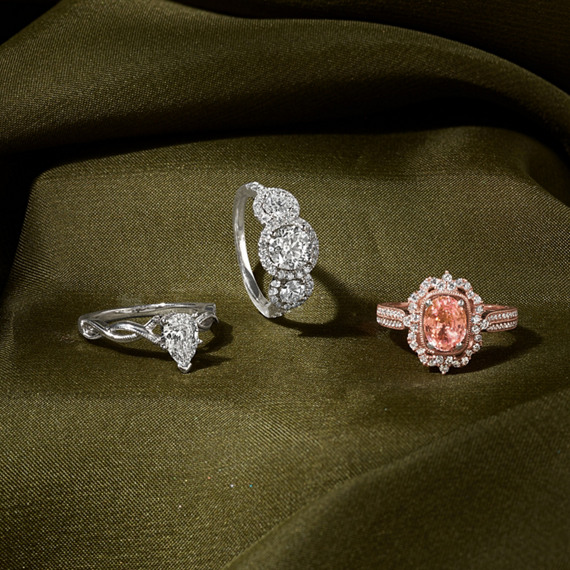 The gemstone choice should be either Cubic zirconia or real diamonds if you can dig deeper into your pockets. However, you can also opt for a unique stone such as a blue sapphire, aquamarine, or ruby.
What metals to choose?
It's either you buy a ring made from precious materials such as gold or platinum or you buy something that's electroplated. Options such as silver-plated and rhodium-plated exist.
The combination of both is great because if done right, you'll be able to get durability while not sacrificing the aesthetic appeal.
As for the stones, most of our picks feature Cubic zirconia, gemstones that perfectly imitate real diamonds without bearing the same price tag!
Frequently Asked Questions
q:

Which finger should I wear it on?

a:

The engagement ring generally goes on her fourth finger on her left hand (conveniently called ring finger).

Everybody wears the wedding band with the engagement piece, though you can choose to wear the former alone if you wish.
q:

How to wear engagement and wedding rings?

a:

On her engagement day, she has to put the engagement ring on the fourth finger on her right hand. On her wedding day, you have to place the wedding ring on her left hand's fourth (third for others) finger.

Then you follow that up with the engagement ring. This method has ties with people who believe the wedding ring should always come first.
The notion accentuates the fact that your wedding and therefore, your union will always come first. It's a promise to each other.
After the wedding, you remove the engagement ring which has sealed in the wedding ring and carry it over to the fourth finger on the same hand.
q:

Is machine-cut CZ still good enough to wear?

a:

Yes—the 3 engagement rings on are list are all machine-cut. CZ has a rating system which comprises of 5 levels—with each one being determined by an "A". This means the lowest quality is 1A (or a simple "A") while the highest quality is 5A (AAAAA").
With most of the options above, that's a hardness of at least 8.3 which is considered almost as hard as diamonds.
So choose something along these lines. Though, if you want to choose 5A stones, the hike in price should not come as a surprise.