Necklaces / Women
We Found 10 of the Most Unique and Quirky Charm Necklaces on Amazon!
The world of charm necklaces stretches about as deep and wide as the ocean is wet. If you can think of it, there exists a charm of it. Everything from sports and professions to hobbies and appreciations can be celebrated with a charm hanging from a chain. Your love of video games can be made into a necklace form. Bibliophiles can wear their favorite title as a charm while sky diving enthusiasts can find a lovely little parachute to glide down their front.
Often, people use charm necklaces to display the things they love most. Others wear them to share their pride in an accomplishment or to profess the love for family and significant others. They can be used to memorialize or celebrate a lost love as well. Rich with symbolism and meaning, these are often worn every day to keep those things close to our hearts.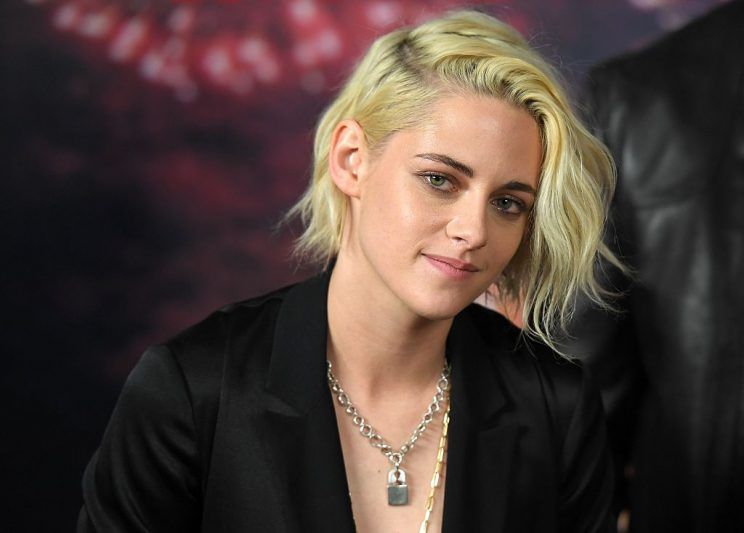 The other side of that same coin is the plethora of charms that just are. They don't mean anything and have no special symbolism in particular. They are abstract shapes, interesting colors, and lovely collections of materials hanging from a chain around one's neck.  You wear them for the beauty, fun, or quirkiness of it and nothing else. They add pop or texture or interest to your outfit. They can be statement pieces or a part of a layered look.
Channel your inner Katy Perry, Rihana and Lady Gaga with their incredible taste in more obscure pieces. Take a bold step and really seize on pieces that might otherwise be skipped over in your browsing. We have amassed a list of our top favorite, quirky, unique and charming charms in necklace form.  
Our 10 Favorite Picks!
1. Floating Charms Locket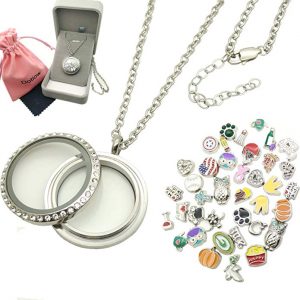 Our first pick takes the old school idea of a charm bracelet, removes all the charms and packs them into a darling locket hanging from a twenty-four-inch chain. Two threaded discs seal together to contain a wide array of miniature charms. Everything from enameled sports icons to tiny, sparkling gems can be housed inside this. Also available from a wide variety of sellers are additional floating charms designed specifically for the floating charm lockets.
We love that you can, essentially, amass a collection of the mini-charms and this becomes a versatile piece for any outfit, occasion, or mood. Swap out the charms to display a theme for upcoming events. Alternatively, you can color coordinate your charms to match or complement your outfit. Choose all sparkle and gems for a more refined look. Select fun and funky enamel pieces to add a lot of character to an otherwise straightforward ensemble. The possibilities of floating charm lockets and their charms.
We particularly enjoy this one as it adds a ring of crystals around the top, outward-facing disc. Constructed of 316L stainless steel, this is a perfect daily wear, regular wear piece. 316L stainless steel is surgical grade steel and handles moisture and oils well. Used most often for surgical instruments, underwater applications, and environments with high humidity, 316L stainless steel is a perfect choice for jewelry applications. While it is a little harder than its cousin, 304 stainless steel, it will certainly deal with sweat and regular handling well. Of course, it will still need to be cleaned to preserve shine but it handles the wear and tear of daily use very well.
We love this one as the anchor of a layered look. As mentioned above, this comes on a generous twenty-four-inch chain so it will hang mid-torso on most people. We sort of love this as part of a heavy layer look as well, sporting several chains, charms, and pendants on similar length chains. All the versatility of the locket and charms means you can pair it with literally any other assembly of your collection.
2. Dandelion Wish & Pearl Necklace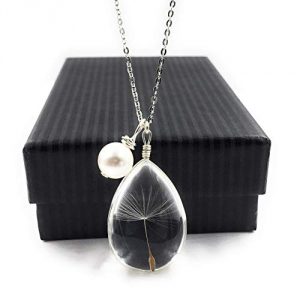 Dandelions, once the bane of every lawn-care enthusiast's existence, are now an incredibly trendy part of fashion and decor. Get your own little piece of one with this handmade charm by Utah-based jewelry designer Aimée Trésor. Essentially, this charm adds a wish to your jewelry collection.
An eighteen-inch sterling silver chain contains two baubles in this creation. A piece of smooth, tear-drop glass charm encapsulates your dandelion seed and fluff while a Swarovski pearl adds a touch of elegance. The creator also offers this same creation with a gold chain and details but we prefer the more ethereal silver.
Dandelions are magical in and of themselves. The fluffy, cloud-like version we are accustomed to envisioning is actually the end game in the life a dandelion. They begin as a bright yellow bunch of very tiny flowers called florets. The leaves and roots are famous in medicinal and herbal healing applications. The flowers are a vital source of pollen for pollinators. Dandelion honey, or honey created from the pollen of dandelions, is one of the most common honey varieties on the market.
Once it is time to spread their seeds, the little yellow florets puff out into the fluffy, floating bits of white to be carried away on the wind, planting more dandelions as far as the wind can blow. It is common for children, and even adults, to pick a puffed dandelion and blow the seeds onto the wind, making a wish as they do. The belief is that if their wish is carried by a dandelion poof that lands, takes root, and produces a flower, their wish will come true.
This handmade piece allows you to think of all those childhood wishes you made, blowing on dandelions. Plus it is a gorgeous and unique, charm. Not only for being hand made but in design as well. We love this to go with pretty much anything and everything.
3. Wearable Mini Succulent Charm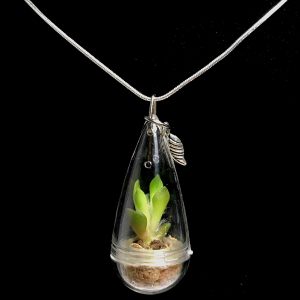 We will stay with the real nature vibe and take it one step farther this time. By far this is our favorite on this list! We are a little bit obsessed with cacti and succulents right now. Not only are they adorable but they are so easy to take care of. Nothing is better proof of that than this next pick. A tear-drop shaped charm holds a real, living succulent plant. Hung from an eighteen-inch chain with an optional two-inch extender, it will put this stunning piece front and center, no matter how you style it.
The charm is plastic which we are normally not a fan of. But given that this plastic little orb contains a real, live plant, we will forgive it. This necklace comes with a dropper so you can water your little living charm. The creators say the included succulent can stay in its charm for up to two months before it will need to be transplanted into a different container and continue to grow.
Then you can transplant either a clipping or a fresh tiny succulent into your necklace and keep on bringing real life to your outfits. We love this as a wonderful addition to any southwestern vibe outfit. Pair it with turquoise, silver, and coral colored pieces to keep a theme rolling. And, naturally, anything featuring a llama or alpaca is just begging to be paired with this succulent piece. Given the uniqueness of this particular charm, we absolutely recommend it as a solo piece. It will already be the talk of your look. No need to try to add competition.
4. Custom Printed Picture Heart Charm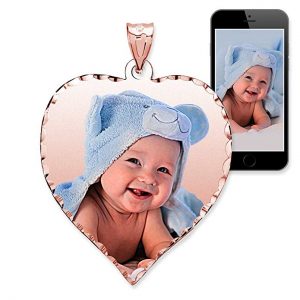 This next one is as custom as they come. Select from your choice of 14k gold in white, rose, or yellow or sterling silver for the base of your diamond cut-edged heart charm. Then you upload a picture of your choice to be imprinted on the charm. The charm is fairly dainty, measuring at just three-quarters of an inch in both height and width. That's smaller than an American dime. But being a charm, the size does not bother us.
The creators are excellent at scaling your photo down but you will not want to choose an overly detailed or busy photo. Many of the details may be lost when printing at such a diminutive size. The printing is very well done and their experts even double check placement to be sure the best possible use of your selected photo is featured.
We love this for a multi-charm necklace. It will pair perfectly with any letter charms you own, most especially if they are in the same gold tone. Select a picture of your child or children and wear your printed heart charm on the same chain as their letter pendants or name bars for a full homage.  
This is also a wonderful "In Memoriam" piece for a loved one or cherished pet that has passed on. Pair it with a flower charm or a paw print to tie the piece together. This would also look beautiful accompanying an awareness ribbon such as breast cancer if a loved one lost their battle with it.  
5. Sea Glass and Starfish Necklace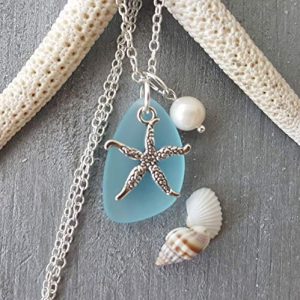 This is our second find that comes from the handmade selections available on Amazon. Created by an artist in Hawaii, this necklace features a piece of sea glass and a playful little starfish charm on a sterling silver chain. Also included is a little pearl charm to complete the look and refine the aesthetic.
The artist includes a standard eighteen-inch chain but is more than willing to include any chain up to thirty inches as a custom order upon request. Really, we love the eighteen-inch length just fine. The charms are actually fairly small, coming in around American penny size.
Sea glass in a work that combines the folly of man and the power of nature to create beauty from refuse. When glass is discarded instead of recycled, it often finds its way into the ocean through several nefarious means. Over the course of the years exposed to the harsh conditions of the deep blue sea, the class is broken up and its sharp edges are worn down. The salt and grit in the water gently scratches at the surface to create a unique matte finish. It takes our trash and returns its own unique type of jewel.
Jewelry artist yinahawaii finds these pieces as they wash up on the Hawaiian shores and turns them into lovely pieces of jewelry.  For this particular piece, they have selected pieces of sky blue glass. It is very reminiscent of December's birthstone, aquamarine. More appropriately it looks like the color of the sea which created the glass.
6. Elephant Essential Oil Diffuser Charm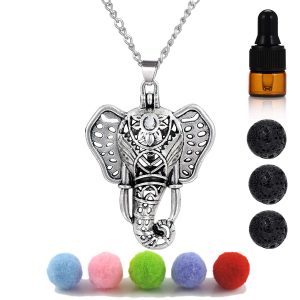 We have featured oil diffusers before. We have featured elephants before. Naturally, we love them both. So to find one charm that was both in one, we were smitten. This piece comes with five colored wool pompoms, three lava stones and one small vial of essential oil. The scent shipped will vary but you can use your favorite empowering or calming scent after it arrives.
The elephant is typically assigned as a good luck charm, so of course, it needed to be included in our list of fun and quirky charms.  Combine it with its job as an oil diffuser and it is made even better. The wool pompoms serve not only as vessels for the essential oil but add pops of color behind the filigree design of the elephant face.
Given the detailing of the elephant charm, this will be best worn over solid colors. Perhaps pair a solid blouse with a nice flowing vest or oversized shawl to give a nice, airy look.  Along with the lovely, calming scents of our oil selections you can look as relaxed as your adorable little elephant had can make you feel.
Alternatively, the lava balls can also carry the essential oils and deliver a long-lasting scent but without the color. This makes it the perfect charm to include in a layered look. Especially one with a South Asian bent to it. To carry the theme all the way through, wear this essential oil diffuser with other charms in jade or a set of japa mala beads.
7. Hanging Sloth Charm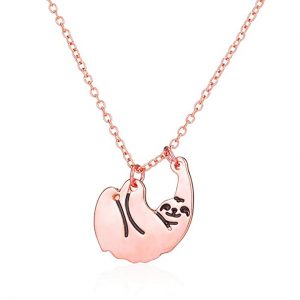 Every generation has its trendy animals.  In the nineties, everyone had dolphins, lizards, and alligators on everything. Today it is all about llamas, owls, and sloths. We are not even mad about it either. For example, just look at this adorable sloth charm clinging to your newest "I NEED IT NOW" find. Crafted of zinc alloy in your choice of rose gold, yellow gold or white gold tones, the creators of this incredibly priced charm necklace paid attention to detail. A note to those with metal sensitivities, this may not be the best choice in sloth-themed jewelry as zinc alloy is not always allergy and sensitivity friendly.
The sloth's iconic little face and black-masked eyes stare back from its perch on a sixteen-inch chain. He will stare back at your admirers from the hollow of your collarbone. It also includes an optional two-inch extender so lengthen it just a bit in case you want to pair it with a nice ribbon choker. (Which is a look we think would really work, especially a black velvet with a pearl detail.)
8. Galaxy Orb Charm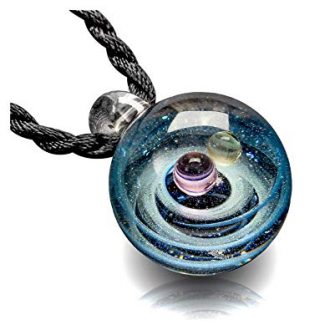 Wear an entire galaxy in charm form with this out of this world creation. Swirls and bubbles of color are contained inside this incredibly durable globe of glass and hung from a cloth cord. No matter how it falls on your person, the view will be incredible as the galaxy contained inside is visible from every angle. 
The black cloth cord is thirty inches and adjustable so you can wear it at the length you need for any outfit. Wear it long and in a layered ensemble with other star, moon, and planetary pieces to carry a theme. Or pair it with other one of a kind pieces for an eclectic look.  Finally, this can look absolutely killer as a solo piece, the universe on display.
Each galaxy is handmade and completely unique. No one else in the world will have a galaxy orb like yours. While the colors will lean toward a darker, cooler palette, the handmade nature means you may not know exactly what colors will be included in your charm.
Nevertheless, it will be great to pair with louder, more boisterous prints as the swirling effect will be able to hold up to the volume of the outfit. For maximum effect though, wear it over a dark blue or black solid top so the orb will show off all the detail inside.
The glass is annealed three separate times during the crafting process. This means it was allowed to cool slowly rather than with flash cooling in water or oil baths. This helps reduce the chances of internal cracking or becoming brittle. Your orb will be sturdy, solid, and well able to withstand regular wear and tear.
9. Bullet Pill Fob Charm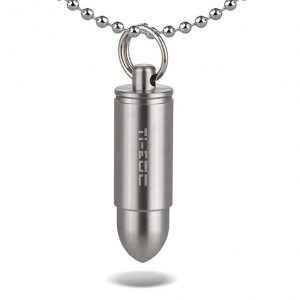 Since we are pretty big on multi-tasking pieces here at Jewelry Jealousy, this next unique find had to be included. A bullet-shaped charm doubles as a pill fob. Constructed of titanium, your medicine or supplements will be well protected. And you'll look pretty cool as well.
Hung from a twenty-four-inch ball chain, you can keep this piece on display as a part of an industrial vibe or keep it tucked inside your shirt or blouse. Since titanium is highly resistant to water, moisture or sweat will not be a problem. The pill fob screws together with a threaded cap and moisture-blocking silicone o-ring to protect the contents as well.
This can hold four standard size aspirin for reference. Use it to transport a mid-day dose of medicine, emergency use headache meds or your lunchtime herbal supplements in style. This is also wonderful for outings and trips that may make a purse or bag impractical. We are thinking that a concert, camping trip or bike around town date would make this a must-have.  
As for styling, we love this for folks who follow either a traditionally male or female styling. If you choose to wear this visible, consider pairing it with other silver pieces with a harder edge. That studded leather choker and a few heavy chains will play beautifully with this bullet pill fob. Alternatively, wear it on the same chain as some dog tags for a more militaristic homage.  
Layer that over a splash of camouflage or a solid black t-shirt and a chunky pair of combat boots with your best skinny jeans to really complete the look and feel.
10. Interchangeable Charm Necklace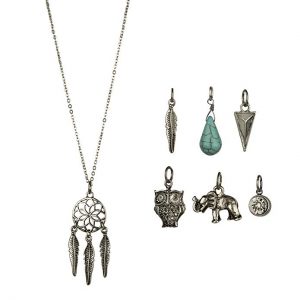 Part of the appeal of charm bracelets, in general, is that you can swap out charms on the regular. Our last pick does the same but in necklace form. A twenty-two-inch chain comes with seven different charms to swap, pair, stack, or layer with different chain lengths for a complete look. An owl, elephant, dream catcher, feather, arrowhead, white crystal, and turquoise-styled stone give endless options.
Take it tropical with the elephant and white crystal worn over reds and white. Or perhaps you prefer a southwestern look. Go with the dreamcatcher, arrowhead, and turquoise over a coral colored top and flowy patterned overshirt. Work a straight up boho style with the owl, feather, and crystal over a bold outfit rocking multiple prints and textures. Keep a messy bun and fun, clunky boots to really keep it free-spirited.
This versatile charm necklace is really a great way to collect a few great pieces for an absolute bargain price. Purchase an extra chain or two (or seize others from your existing collection) and you have an automatic layered look that you know will work. We are always fans of options and this find gives them all to us in one purchase.
So How Did We Start Calling it a Charm?
Charm can mean a magic spell, it can mean a pendant for jewelry, or it can mean an attitude that gives delight or arouses admiration. Three incredibly different ideas all wrapped up in one single word. It all ties back to the original origins of the word.
Typically the word charm evokes an image of something small and dainty, but it can be any sort of pendant, really. The etymology, or origins, of the word, start at Latin with carmen for song. From there Old French shifted it to charme for chant or chanted magic spell. Middle English got a hold of it and it stayed in the language, dropping that French-looking e at some point. It could mean a magic incantation or it could refer to someone so suave it was as if they cast a spell. So how, exactly, did a word for a magical spell become the name for a pendant, amulet, or medallion that we wear as jewelry?
First, we have to look at how jewelry has evolved. Trinkets and pendants that looked appealing have been hung from necklaces and bracelets since pre-history. Archaeological sites of Neanderthal burial sites and encampments have uncovered jewelry sporting teeth, bones and stones as decoration. Humans and protohumans have been attracted to beautifying themselves with pretty things since the dawn of history. Aside from our continued desire to do so, we cannot be sure why.  It turns out we have always liked pretty things.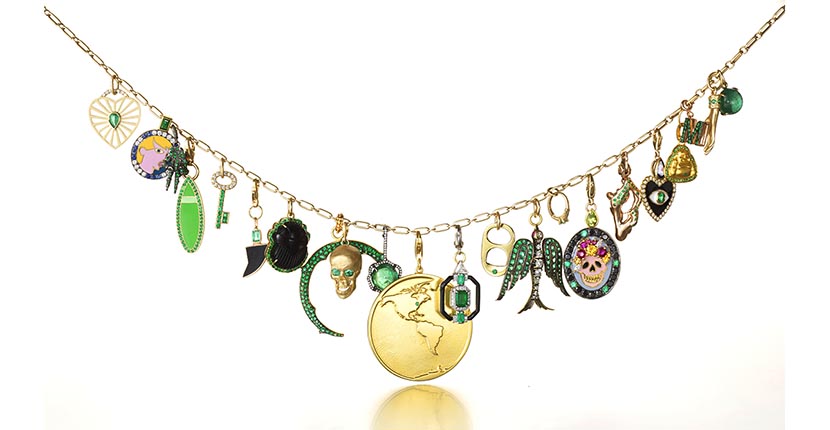 In Ancient Egypt, pendants were used as identification, among other things. Cartouches bearing the wearer's name or rank were common, especially among the upper classes. For the working and service classes, there began a trend of wearing items meant to ward off evil, curses, and ill wishes. Think hamsa hands and evil eye beads.
A pendant charged or loaded with mystical energies is sometimes called an amulet. Amulets were often created with materials believed to be endowed with magic by nature such as crystals or sacred trees. Others can be made powerful through various rituals or incantations. Thus, charms or magical spells were recited over it, thus the term charm became intrinsically tied to hanging pendants.
As history progressed, the call for magical spells to make a charm dipped off, but the term remained. During the Roman persecution of Christians, followers of the then forbidden faith often wore charms of a fish, known as an ichthys, so that other believers could identify folks with a similar faith. Medieval knights wore charms in hopes that they might be protected in battle and victorious in games.
Caring for your Charm Necklaces
Many of our selections can present challenges in caring for them as unique as the charms themselves. As always, wipe down each piece with a clean, dry microfiber cloth after every use.
For pieces on cloth or leather cord, be sure you return your piece to storage completely dry. Fibrous materials such as these can trap moisture and may begin to develop staining, odor, or mildew. Wring and squeeze dry with a dry towel. Then lay out on a new towel or hang in a warm, dry environment to dry.
For non-conventional materials, care for them as you would if they were not a piece of jewelry. Remember most cleaning solutions and chemicals are not recommended for gold, sterling silver, or stainless steel as they can lead to tarnishing or damage. So apply these carefully if they are required to care for the charm.