Necklaces / Women
Elegant Lariat Necklaces in Gold, Silver, or Rose Gold
Marianne 12 Mar 2020
2721
This season, we have one of the best necklaces for you which will give your fashion statement a new definition. With style and timeless elegance, you can add it to your collection and trust us when we say "you will definitely steal any show you walk into". The necklaces we are talking about are the lariat necklaces.
Lariat necklace is one beautiful set of jewelry that is quite unique, and fantastic too. They have that classic beauty that gets the praise of admirers. You can also use it on just any outfit without worrying about being overboard. There is more to this necklace than meets the eye, so just read this article to know more about it, and some of the fantastic ones available in the market.
Why You Should have Lariat Necklace in Your Jewelry Collection
It's a new year, and you might be looking for one or two fashions items that could help you remodel your fashion style. Well, you can use a lariat necklace to get that result. This beautiful necklace gets its name from the fact that it does not have a clasp or hoop to help fasten it on your neck. Instead, you can tie it as a knot, or use a special hoop to secure it right in place. It can work with almost all fashion trend and is virtually staple in the fashion world.
There are sleek, modern and impressive ways that you can tie the loop. It fits on your neck anyhow you want it too. You can find several on the internet, and they come in different designs also. There are rose gold, silver, and even pure gold collection.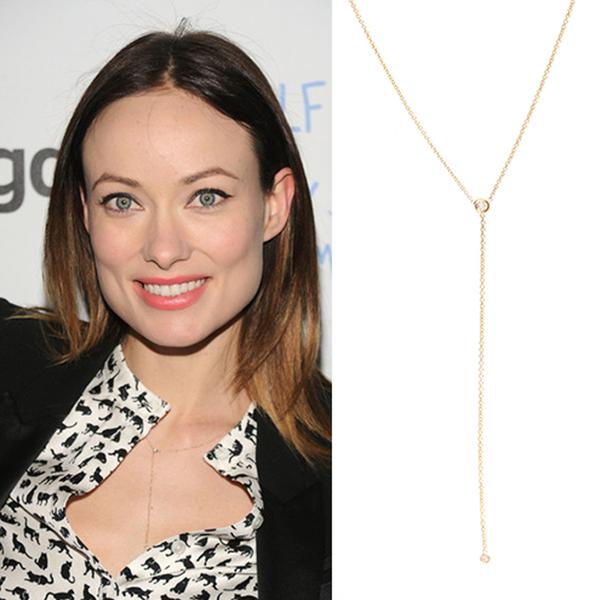 With so much striking feature, even Hollywood couldn't stay away from this iconic fashion piece. You can find Olivia Wilde recently styling her neck with a piece and Kylie Jenner dazzling with an all-black ensemble while topping it off with lariat necklace. Just check among the glitz and glamour, and you wouldn't have to scroll for long before finding it on the neck of one of the 'Beverly Hills inhabitants.'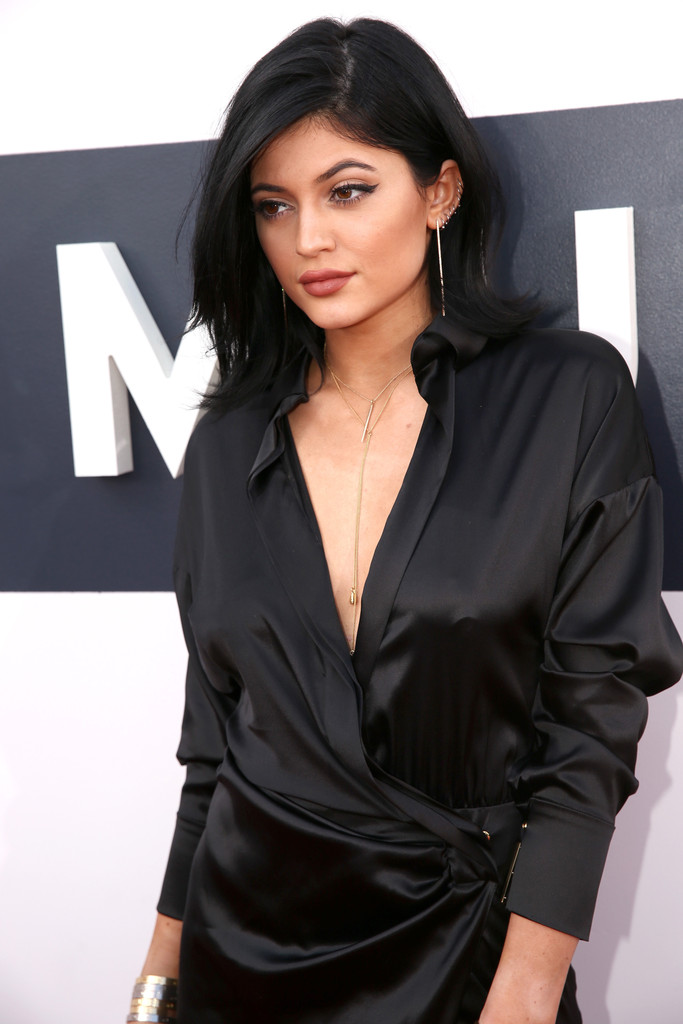 With all the remarkable features of the lariat necklace we have listed, it's time to check out the very best of them available in the market. Here are 10 lariat necklace that will undoubtedly steal your attention.
Our 10 Favorite Lariat Necklaces!
1. PAVOI 14K Gold Dipped Y Necklace Opal Pendant
To start our great collection of lariat necklaces, we decided to pick right from the best array of lariat jewelry that Pavoi has to offer. It was crafted using great expertise since they have been made excellent fashion accessories for years. You would find it entirely natural to love this exquisite piece of lariat concept.
The chain of the necklace come in a delicate and timeless Y-shaped design crafted with 14K white gold. There are also blue opals along the 17 inches long chain and its 2-inch extender, to create a sort of ambiance that catches the light. It is one whole package of awe-inspiring features, combining creativity with such mature elegance. You can also count on the lobster claw to help you hold it securely in place. The necklace comes with the highest guarantee of quality you can find and you don't need to worry about any adverse effect on your skin.
To top it off, you can use Pavoi plated necklace as a gift for just about any woman. So if you haven't decided what to give her for the coming mother's day, valentine, Hanukkah or even her birthday, just order up. And it also comes in a gift box allowing gifting to be easy. Pavoi made several varieties of the same design and quality to allow you to have a range of choice to pick from, you can click on the link to get gold, rose gold or white gold.
2. VUJANTIRY Long Sweater Necklace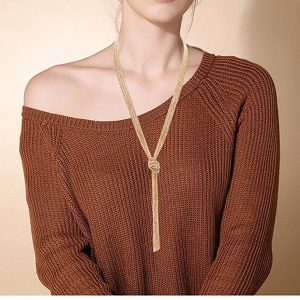 Tassel necklaces are pretty amazing; you can tie them around your neck using different styles according to what suits you. Just check out the image of those wearing sweaters with the necklace around their neck, and you would undoubtedly warm up to the trend. Well, Vujantiry has one of the best lariat necklaces for you, and the design is worth writing about. From the sleek look to the chic setting, you won't have trouble falling in love this one.
Lariat necklaces can be made with different materials, but this one comes in a metal alloy and has three different platings. You can choose to go for the gold, rose gold and silver designs. The length measures around 29 inches and its tassels is just about 5 inches making it perfect for your neck. With the snake chain fringes that are incorporated into the set, there is that firmness that keeps it in proper shape. You can also count on the Y-knotted necklace that drops on your sweater creating such a great combination that you can't help the compliment coming your way.
There aren't many hand-crafted necklaces that have the quality that comes with this one, but you might have to be careful with it. Make sure you don't touch it with harsh chemical, and you can use the bag it comes with to store it. Inspired by contemporary fashion and current style, this is one necklace you want to add to your collection.
3. LINLIN FINE JEWELRY 925 Sterling Silver Cz Snowflake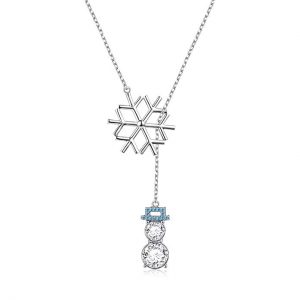 Get It Here
Infusing high quality with an exquisite design is a tough balance that only a few can achieve, but that is precisely what we have here. With the combination of a beautiful necklace and the sparkle of cubic zirconias, Linlin Fine Jewelry created what could only be described as a masterpiece. The beauty with which the Y-shaped pendant necklace shimmer is something to be excited about.
Here is a necklace that was made with one of the finest materials you can find, which is the sterling silver. The quality makes it hypoallergenic and fantastic for your skin. There are also the cubic zirconias added to the pendant to give it a touch-up of sparkle. All you need is present in the package, and even the high polish finish was done with remarkable creativity.
The 20 inch of chain is perfect for your neck, and you can rest assured that it is lightweight too. For graduation, wedding, birthday or any other celebration coming up, this is one perfect gift that your loved one would be fascinated with. It also comes in a lovely jewelry box for keeping it not taking all the shine on your neck.
4. Z-Jeris Women's Crystal Flower Jewelry Tassel
From one of the finest jewelers you can find, this necklace has all the remarkable features that make it stand out. The elements are all complete making it perfect for just about anyone that loves elegance. The lariat necklace comes from the very best set of the brand's collection and just with one look at the picture, you know it's something you want to have in your jewelry shelf.
Made with a very durable metal alloy, it has crystals all shimmering over the pendant. The glare from the crystal is arranged so well that the brilliance is noticeable even in low-light. There is also the 40-inch length that makes sure that it stays on your neck while reaching down way beyond your chest.
Just like the other three, we have listed before, this one also comes in two designs, you can choose to go for silver or the rose gold. Whichever one you pick; you can be sure that the unisex necklace will complement any outfit you decide to go with. But most especially, we advise that you use it for a casual sweater.
5. Bohemian Synthetic Turquoise Necklace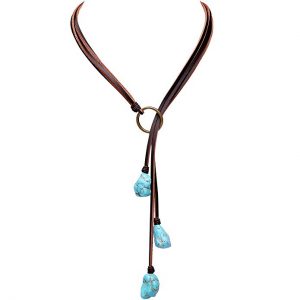 If you are not a fan of the metal chain, then this neckpiece is the perfect choice for you. The leather used in the design has very high quality and is very durable. This lariat necklace was, and even though the design looks simple, it has a quaint elegance that makes it unique.
Lariat necklaces usually have no clasp to hold them together; instead, they have a knot in front that can be adjusted. This exquisite fashion piece follows that same design, the leather is made with three different lengths of leather cord with the highest measuring 60 cm and the shortest at 50 cm. To spice up the design, the jewelers added synthetic turquoise at the end of each cord. Turquoise is used to symbolize wisdom and truth. This creates a breath-taking effect when you step out with it. With a vintage feel, it is one fashion accessories that boho-chic lovers will love to have in their collection.
One more thing you should know is that the leather used is lead-free and really safe for your skin. All these awesome and fantastic component pieced together to get the gorgeous necklace are genuine. You will definitely be the cynosure of any event you wear it too, and the leather gives it a bit of formal look so you can achieve that formal-casual effect anywhere you go.
6. Custom Stamped 925. Sterling Silver Bar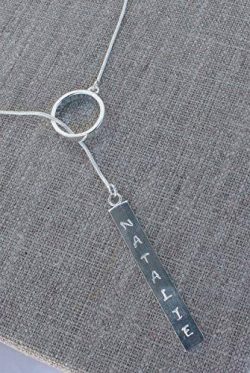 Jewelry has always made the gift list for any occasion. They can be given out on birthdays, weddings, Mother's day or any special event that celebrates people you love. Well, you can add a little bit of edge to your gift when you select this customized lariat necklace from, Eliza. You can customize the person you are gifting name or the occasion you are celebrating it.
Eliza is a brand owned by skilled craftsmen that make several pieces of jewelry with perfection. This is the same expertise that was used to create this lariat necklace. Made with .925 sterling silver, the hypoallergenic steel is excellent for your steel and still beautiful enough to make you look stunning. The main catch of the product is the rectangular pendant that hangs from one end of the chain. It is long enough to inscribe the name of your loved one in whatever design you want.
The length of the chain is 24.5, and there is a steel hoop that you can use to adjust the chain around your neck. Sexy, feminine and eye-catching, there isn't more to ask from a beauty piece than this. It is also affordable and comes in a gift pack, ready to be taken straight away into the arms of your loved one.
7. New Fancymix Black Lariat Suede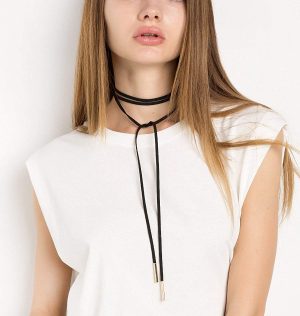 Lariat necklace can be very versatile; you can create an array of design form the length of cord used. This great lariat piece comes with a sued styled chain that allows you to combine it into a choker and a necklace. The effect is simply amazing and the classic looks it gives you will make it your top choice.
Made with a leather cord, the base of the necklace is a metal that creates a nice balance for the mix. It isn't too short, and the 59.8 inches allows you to wrap it around your neck twice as a choker before letting it fall to your chest in style. Put it on with a plunging top and cutoff shorts to create a spectacular fashion signature. There is no clasp, just like most of the other lariat necklace, and there's absolutely no need for it since it stays firmly around your neck.
For that timeless feel that knocks your casual look right to the top of the elegance scale, trust this necklace. It was crafted with genuine material and by professional to make sure that you get the highest quality possible. Additionally, it is also quite affordable and comes in a nice pack to make it suitable for gifting.
8. SHEGRACE Jewelry Women 925 Sterling Silver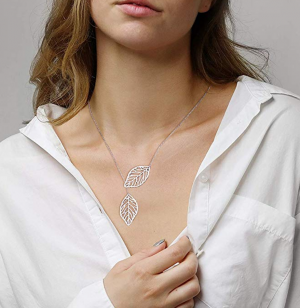 Cubic zirconias are one superb category of jewels that are just amazing, they create the right amount of sparkle in your jewelry while making it affordable. Now imagine such beautiful sparkle on a lariat necklace down on your chest. There will be that combination of elegance with a shimmer of sparkle to keep you at the center of attraction anywhere you go.
The Shegrace silver lariat necklace is crafted with 925 sterling silver metal, which is a hypoallergenic material. It has excellent strength and doesn't peel. The metal was used to create a leaf shape at the end, complementing the exquisite design quite perfectly. To make sure that it fits your neck the chain is 400 millimeters long and has an extension of about 45 millimeters. It is perfect for just nearly everyone and can be used for most casual outfit.
One thing that you would really love about this necklace is the subtle dazzle it throws around. Just click on the link to see the images that will certainly get your fingers to click the 'buy' button. For gifting, there is no need to worry about extra gift wraps, it already comes in a suitable gift box that is perfect.
9. Clear CZ Ball Lariat Y-Shaped Necklace Globe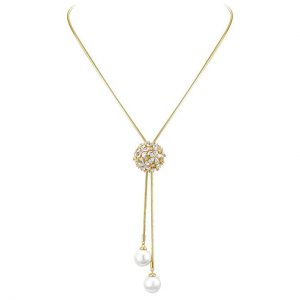 There is entirely no way we can go on with our list of lariat necklaces without talking about gold, it is one of the best and rare gems in the fashion market. And whether it is plated on material or used in its original form, it is always a delight to have a gold necklace. Here is a necklace that was crafted with a base metal of brass. It features a gold-tone that is of supreme quality and will stick to it for quite a really long time. It is long as all the other necklace in this category and will add a boost of confidence to your outfit when going for that event.
The length of the chain is 35 inches at the end, there are two clear cubic zirconias in the form of a glowing crystal. Also, you can adjust the necklace to fit your neck anyhow you want it, just by working the extenders a bit. The whole jewelry piece is made with such graceful design that it instantly charms you. There is also the ball-shaped at the heart of the chain to add much more aesthetic pleasure to the entire set.
The product is made with the highest quality possible with the material use, and you can even get your money back if it doesn't meet your standards. Well, it doesn't get better than this, and you can be sure that with the durability and price of the jewelry, you can have all you want without any budget cutbacks.
10. Infinity Cross Pendant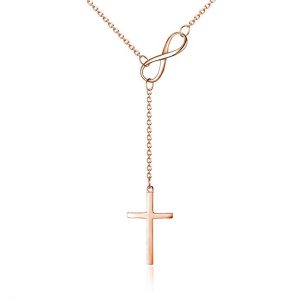 Get It Here
Our last recommendation comes from Lemondrop. Crafted by experts, it has top-notch quality and the combination is just beautiful. It comes with a cross-shaped pendant dangling from one end of the chain. There is also the infinity symbol that secures the two end of the chain to the cross. It was made with 925 sterling silver and plated with rose gold just to make it very appealing.
The necklace features a 17-inch chain and also a 2-inch extender to make it fit you perfectly. It is safe for your skin since there is no lead or nickel finish in the mix. You can choose between the rose gold and yellow gold design, just look at each of them and decide which of them you want to have among your jewelry collection. Every single feature about this necklace makes it fit for comfort, elegance, and style.
This product isn't for men, but still, you can use it as a surprise gift for that lady you have always admired. She would really love such a gorgeous necklace, and you don't have to spend too much to do something that means so much. Just order up, and it would be delivered to you in an elegant gift box.
Some Extra Tips on Lariat Necklace
By the time you get to this section, you must have already picked one of the ten awesome lariat necklaces we have for you. We made sure that we picked from only the best that we could find in the market, so you can rest assured that you are selecting quality with anyone you choose.
Here are some extra tips to help you enjoy the lariat necklace experience, we decided to add some simple tips that you could follow just for your enjoyment;
Tying a Lariat Necklace
Most of the lariat necklace in this article comes with a chain and already has a pendant and a holder that keeps it in place. However, there are some of them that are not tied from the brand creating them, to tie these ones there are different ways to go about it, and we have listed the tips to create a suitable knot with your lariat necklace;
✓ If your necklace comes tied, then you don't need the next set of instructions, however, if you also decide to tie your's again, then read on.
✓ Take the necklace and place it around your neck making it drape around you.
✓ Use both hands to hold each strand of the necklace and make a loop with both of them.
✓ Pull both of the strands into the loop and create a knot in front of the necklace. It should resemble a bolo tie's end.
Cleaning Your Lariat Necklace
You can use a soft cloth to clean your jewelry in case it gets dusty. Also, the pouch that the necklace came in is usually a very great option to help you keep it safe anytime you aren't using it.
Make sure that you avoid the use of harsh chemical like alcohol, especially on those that were plated, it might cause it to peel faster. You should also try not to expose your necklace to too much moisture.
Styling Option with Your Lariat Necklace
This great piece of jewelry is best worn for a casual outfit, but that depends on how you define your casual, for example, you should use a lariat necklace that looks like a scarf to compliment your suit with a turtleneck sweater and jean trouser.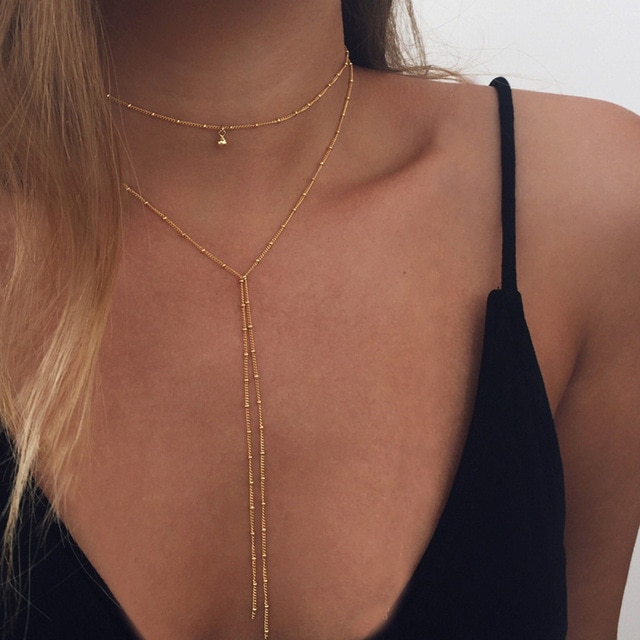 You can also use the ones with a pendant for low blouses and jean shorts. It goes with the absolutely most casual outfit; you just have to find the right mix.
Lariat Necklace for Men and Women
If you have this question on your mind, well this should help you. Yes, lariat necklace is great for both men and women, you can use it to complement most of your outfit. But try to check the specific one you are getting as some of the designs were made specifically for one gender group, and you certainly don't want to be wearing the wrong one.