Mix / Watches / Women
Playful Watches for Girls - 10 Whimsical Watches!
Watches are an important part of both style and performance. For women, it becomes a toss-up on either form or function.  If you choose a fun, playful watch, they can sometimes appear juvenile with professional looks. We all love a cute, vintage Mickey Mouse watch with the iconic gloved hands spinning around the face.  But it doesn't quite say "Take me seriously" when it is glimpsed from underneath your power suit in a board meeting. If you choose a serious, no-nonsense timekeeper, you lose the personality and whimsy of the more cute watches for girls.  
Men seem to have an easier time of it, finding the balance between work and play when choosing their watch.  We have scoured the selections and located ten whimsical watches that have personality without sacrificing a level of appropriateness for a grown woman.
Our 10 Favorite Picks!
1. Bamboo and Leather Watch by CUCOL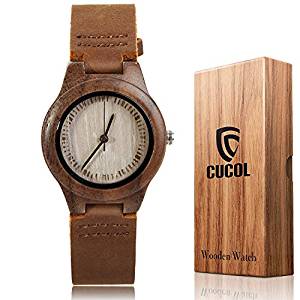 We will start with a watch priced as most as beautifully as it is designed.  The most affordable on our list this CUCOL timekeeper features a very natural aesthetic.  The band is made from rough cut cowhide leather. This is not to say it will be uncomfortable to wear. Rough cut leather simply means the leather was cut to shape and left it in rawest form after tanning. No edges were slicked, beveled or finished.  Only the bare minimum of stitchwork is added to secure the bands to the face.
Leather is created by a process known as tanning. Using hides that would otherwise be discarded from the meat and dairy processors, the most common and widely useful hide is a cow. However, sheep, goat, and pig hides are also popular. Tanning is a delicate balance between preservation and conditioning the hide. It is a multi-step process that, depending on the hide used and the hoped-for end result, can take months. The finest leathers are almost as soft and supple as fine cloth.
This watch, again, features a cowhide leather band, in its rawest form. Paired with the bamboo, it is chunky without being clunky.  Nice, thick bands with all sorts of visual interest point are a fantastic pairing with the smooth elegance of the wood.
Moving to the face and case of the watch, these are created from sturdy and eco-friendly bamboo. Bamboo is one of the fastest-growing trees in the world. It can grow nearly three feet in a single day meaning that what is cut down is easily and quickly replenished. (By the math that is about one inch every forty minutes!) Grown most plentifully in Southeast Asia, this amazing wood is as hard as a brick and as strong as steel.  It comes in a wide variety of colors from white blond to deep grey ash.
This watch face is carved from this miracle wood and sanded to a smooth finish. Bamboo typically has a very subtle wood grain pattern and this watch is no exception.  CUCOL took the natural look to it most extreme, opting to use pyrography to add the indexes and face detail.
2. Rose Floral Watch by Nine West
Moving up the price bracket just slightly we arrive at this bit of floral fanciness. A warm blush-colored leather band wraps around to a rose gold face emblazoned with 3D printed floral pattern. Stunning hints of rose red, carnation pink, chocolate brown and shimmering ivory come together to create an old-fashioned floral landscape. The 3D printing technique creates a distinct feel of embroidery. The juxtaposition of the old fashioned embroidered look with the modern and trendy rose gold metalwork is, quite simply, perfect.
This three-handed watch features rose gold index ticks on the decorated face. The case is a warm flush of rose gold-toned stainless steel. The workings are in quartz so superior timekeeping is assured while the lens, or piece that covers the face, in a mineral crystal. This reduces the risk of scratches, cracks, or breaks.
The final touch to complete this fun watch is the faux leather band in blush. The designers have selected an absolutely perfect shade of pink to complement the floral design on the face. There is something so timeless and elegant about a leather band. The chains, link styles, and other types of watch bands are nice and certainly, have their place, but we love the leather for this look.
The designers of this playful timepiece are Nine West. Established in 1983 the company specialized first in designer footwear. By the mid-nineties, the line had expanded to belts, purses, jewelry and other accessories including watches.
The company was named for the address of the flagship location, 9 West 57th Street in New York City. That same year the company was able to open a full-fledged storefront in Stamford, Connecticut. By 1994 Nine West had experienced such success that went international, opening a store in Hong Kong.  From there the growth was rampant, expanding to fifty-seven countries and swelling to eight hundred locations. A partnership with Vivienne Westwood continued to propel the brand
Unfortunately, the 2010s represented a bit of a downturn for the company. By 2018, the brand was doing well enough at department store retailers but the stores were in trouble. In April of 2018, Nine West filed for bankruptcy in the United States. Within months all global retail locations liquidated and closed. However, the brand was saved at the last second by Authentic Brands Group. So while the stores may have been forever shattered, Nine West's knack for design has been saved. If they keep giving us pieces like this watch, we are cool with it.
3. Watch and Bangle Set by Anne Klein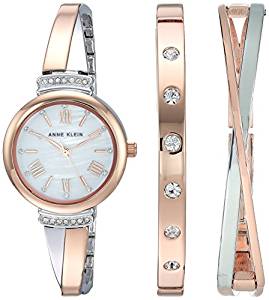 Moving up the designer scale a tick, we land on this three-piece set by Anne Klein. The watch and bangle set masterfully combines rose gold and sterling silver with Swarovski crystal rhinestones for a glamorous glimmer and shine. We love the concept of combining timekeepers with jewelry. It moves the watch from the world of utility to the world of accessory effortlessly.
The watch features quartz movement and bold roman numeral indexes in warm rose gold. Swarovski crystals dot each numeral with a finishing touch. The face is a beautiful mother of pearl surface that plays perfectly with the two-tone gold finishes. The three-hand watch is dainty enough to be paired with the two coordinated bangles. The first is a simple band with bold crystals inset in rose gold. The second is a crisscross of rose gold and silver. The set is wonderfully coordinated but each piece is distinct enough to carry its weight.
Anne Klein, the designer rose to fame in the 1960s. Her most notable claim to fame was designing a girdle to be worn with a miniskirt. 1965 saw the launch of her own brand including a line of gorgeous statement necklaces. In 1968 she and her second husband founded Anne Klein & Company. Building upon the aesthetic and design culture of the famous Coco Chanel, Anne was a genius at taking men's fashion and adapting them for the feminine figure. By 1973 her fashion was popular around the world. She even took part in The Battle of Versailles fashion show that same year, one of only five American designers invited.  Sadly she succumbed to breast cancer in 1974 but her fashion legacy lived on.
2018 saw Anne Klein & Company celebrate fifty years of design and impeccable style. This watch and bangle set epitomizes their elegance and playfulness as a company. We love that the set automatically offers options. The watch is solid enough to be worn solo or with its bangles. The bangles are graceful enough to be moved to the alternate wrist, allowing the watch to really shine while still joining in on the aesthetic. Alternatively, pair the bangles with other rose gold and silver-toned pieces to beef up your existing bangle arrangement.
4. Courtney by Michael Kors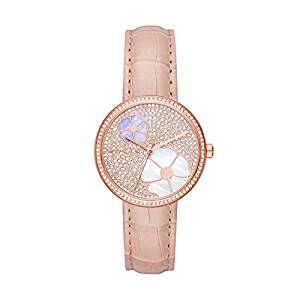 Further up the designer ladder we climb, arriving at this beauty by famed designer, Michael Kors. Our second selection of rose gold and blush-colored leather, this time the band is created from gently detailed crocodile skin. The muted ridges of the leather add texture to the band and a flare of exotic elegance.
The case is rose gold-tone stainless steel and houses the most amazing face we have featured on this post. A whole slew of rhinestones covers the face, leaving room for two gorgeous and whimsical enamel flowers. One in a gentle lavender and the other in a delicate iridescent white, each five-petaled flower is added so gracefully, you almost expect the petals to wave gently in a warm, summer wind.  These delicate creations are surrounded by those pave set rhinestones. The look strikes the balance between overdoing it with the gems and underplaying the design.
As with many of our watches, quartz movement is protected by a mineral lens. Because the case is stainless steel it is hypoallergenic and perfect for people with metal allergies or sensitivities. The rose gold-tone plays beautifully off the pink band for a cohesive look that retains that certain whimsical look we love.
The designer, Michael Kors, is a world-renowned high-end fashion designer. His fashion households sway in women's wear, menswear, designer shoes and a line of perfectly styled accessories. The son of a former model, Kors attended the famous Parsons School of Design but, after two semesters, left to pursue his own self-directed passions.
Even after leaving the school synonymous with high fashion, Kors was able to solidify himself as a force to be reckoned with.  He sold his first line at the high-end boutique Lothars in 1977. By 1981 his work was carried up and down the fashion mecca of Fifth Avenue at powerhouse retailers including Saks, Nieman Marcus and Bloomingdale's.
His award-winning fashions grace the runway with a sensibility and a clear finger on the pulse of what real people wear.  His accessory lines are much lauded as sensible, well-conceived, yet still stylish pieces. He co-starred on the show Project Runway in 2007 to much critical acclaim and his reputation in the general public eye was set. In 2018 Kors dropped a cool $1.2 million to acquire the famous shoe line by Jimmy Choo.
Today, you can wear a piece created by this fashion icon with this reasonably priced watch. High-end fashion name power without giving up thousands of dollars cannot be beaten.
5. Art Deco Crystal Work by Seksy

Take the beautiful use of crystal in the Michael Kors piece and quadruple it. Add a vintage art-deco styling and brilliant yellow gold and sleek black coloring and you arrive at this little wonder by Seksy.
The band is wholly encrusted by black rhodium crystals, this will sparkle and shine from every angle. It wraps around the wrist to join a long, rectangular face in a smart, sleek black.  The case is cleverly shaped in a dual-tiered architecturally inspired rectangle. The yellow-gold toned stainless steel also clings to two long rows of white Swarovski crystals.
The smooth black face is simply adorned with four white crystal index mark on the Twelve and Six. Beyond this, the Seksy brand name and two yellow-gold angular hands complete the face assembly. It is a brilliant use of minimalism amidst a flurry of crystals.
The art-deco movement began in France in the 1920s.  The architecturally influenced ethos made its debut at Exposition Internationale des Arts Décoratifs et Industriels Modernes in 1925.  It began on that which inspired it, architecture but soon bled into home decor, fashion, jewelry, automobiles, and graphic design. The epitome of the style in almost all aspects is the Empire State Building in New York City. From the famous fanned arches of the building cap to the glorious gold line detailing in the marble floors, this building is everything art deco was.
Jewelry created and inspired by the movement is known for its gently sweeping, angular shapes, often making use of tiered designs. This watch is a prime example of this. Art deco managed to take over the top aesthetics and minimalist ideals and combine them into a cohesive movement. So much is happening with so little on this watch and we love the fun, playful aspects of it.
6. Peacock Crystal Link Band by Princess Butterfly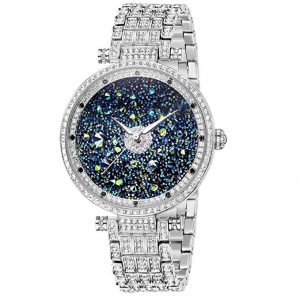 If the art-deco inspired watch took crystals to the next level, this one's use of crystals is in outer space, or at least the upper stratosphere.  While it is not created by a high-end designer, we do not need a fancy brand name to love a good, solid piece of fun and whimsical WOW!
This timekeeper put crystals everywhere crystals could be put. The platinum-plated link style band hugs row after row of white Swarovski crystals.  But the face is where the real magic begins. The entire surface is coated in peacock colored iridescent crystals, again by Swarovski, carefully placed at off-angles. This allows the facets of the stone to catch light from every angle. The three-hand assembly is ringed by a gentle circle of white rhinestones. The hands are heavy enough to be visible over the crystal face but not so bulky as to detract from the stunning display.
Overall the piece reminds us strongly of Van Gogh's "Starry Night".  The peacock stones gleam in tones of blue, green, yellow and orange. This is remarkably reminiscent of the famous swirling color palette of the work. We love the subtle nod to one of the world's most famous works of art.  Housed at The Museum of Modern Art in Washington D.C., the Dutch impressionist work has inspired countless works of art. We would like to believe this watch is included.
This is a wonderful timekeeper that walks the ever-so-fine line of fun and serious.  Since it is not outright an image of Van Gogh's masterpiece, it does not end up kitschy. The rainbow of colors means it will go well with any color palette.  This is ideal in a watch and this watch is ideal.
7. Eco-Drive by Citizen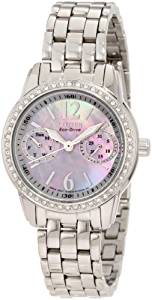 Back to the designer's wheelhouse, we go with this creation by Citizen. After all the glitter and glitz of the crystals, this watch is a fantastic departure from it. It does feature a ring of bezel-set crystals around the face, but set in highly polished stainless steel, their effect is somewhat muted. Not so much as to detract from their beauty, but enough that the piece is not all about the Swarovski.
The real star of the show is the bold use of mother-of-pearl for the face. Mother-of-pearl, also known as abalone or abalone shell, is the iridescent face of the inside of an oyster. It garnered the moniker of mother-of-pearls as the oysters it is harvested from are responsible for the production and culturing of pearls.  It can range in base tones of blue, green, pink, orange or ivory but always maintains the rainbow, pearlescent effect characteristic of the material. The application of mother-of-pearl in this watch is no exception.
Designed by Citizen, it features more timekeeping tools than our previous selection. Included in the face adorned with digits at Twelve and Six and simple index hashes for the remaining clock face, are a weekday and date indicator. Simply set with a three tick setting dial, it echoes a common design trend of diver's watches.
Citizen watches just reached their centennial and are known for their impeccable timekeeping. They debuted something called atomic timekeeping in 1993 and have been both a leader and pioneer in the field ever since. Their incredibly refined engineering has a margin of error so slight it may lose one second every one hundred thousand years. Their innovative system relieves the watch itself of such precise workings to keep nearly perfect time. Instead, it uses a radio clock to send signals to Citizen watches, keeping it them in perfect synchronization. Radio clocks are located in Japan, Europe, and North America and can broadcast signals over hundreds of thousands of miles.
8. Gen 3 Venture Smartwatch by Fossil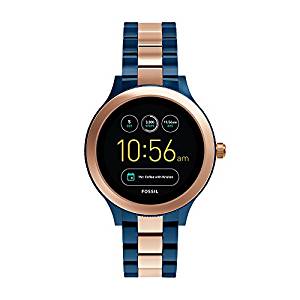 The only smartwatch on our list, this offering by designer, Fossil is a brilliant combination of style and technology. Flanked by rushes of deep navy blue, a rose gold band wraps around the wrist joining at a rose gold encased face.  The face is a fully touch-capable smart screen customizable with thousands of interfaces. Powered by the Google OS (Operating System) this Fossil wearable technology is compatible with both Android and iOS phones.
As with most smartwatches, a pulsometer and pedometer are included in the workings. We love this stylish take on the sometimes ungainly treatment of wearables. It maintains the simple, sleek design elements characteristic of the designer. It also does not sacrifice the functionality of the smartwatch. The inclusion of warm and cool tones plus the pop of blue is very playful yet sophisticated.
Fossil as a brand has its fingers in a good many pies of big-name designers. Founded in 1984 in Texas, the company has grown exponentially in the last thirty-five years. It produces designs and production for notable brands such as Michele Watch, Abacus, Relic and Misfit.  It has a history of working with notable designers including Michael Kors, Armani Exchange, DKNY, Burberry and Kate Spade of New York. With so much clout to throw around, their pieces have remained true to their ethos.
Far ahead of its time, Fossil is no stranger to smartwatches either. Long before wearable technology was in high demand, they released a wrist-worn digital PDA all the way back in 2003.  2006 saw the release of a caller ID watch that could link to your phone. They have a proven track record of understanding the market of smart technologies.  
Together with the playful design, this had to be our smartwatch pick for this list. And the price is way more reasonable than some of the other big-name smartwatches, making this quite a find!
9. Mini Metro Snake Double Wrap by Kate Spade New York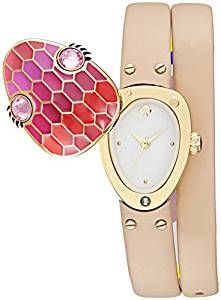 This adorable creation by one of our favorite fashion icons had to be included for sheer cuteness alone. The double wrap leather band in a cunning fawn color is capped by a charming snakehead watch case. It looks like this lovable, jewel-toned danger noodle is coiling itself around your wrist. The snakehead spins away to reveal an ovoid-shaped watch face with minimalist design.
We love that this is both a watch and a bracelet simultaneously. Keep the charm closed over the face and onlookers may never know this Kate Spade creation is a utility piece as well. We cannot get over how enchanting the little snake is too! A honeycomb pattern of rose, red, fuschia and magenta enamel frames two brilliant pink gemstone eyes.  The icing on the cake and the bit that sends us over the edge are the tiny little black eyelashes.
Kate Spade was founded in 1993 and began with a basic black handbag. In just over a decade her designs and influence had expanded across the globe with 180 stores around the globe and a company worth $70 million dollars. Her line had expanded to include handbags, office decor, home decor, women's apparel and, of course, accessories. Kate's husband and business partner Andy also launched a successful men's apparel line under the sub-brand Jack Spade.
Her designs lean toward the whimsical and creative and always feature her brand icon, a stylized spade from a deck of playing cards. This watch features it at the Twelve index. We cannot get over this double-duty piece and are awfully tempted to consider it a must-have for watch lovers.
10. Swiss Stone Check Fabric Watch by Burberry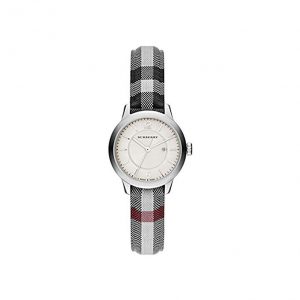 Our final selection is by none other than the iconic fashion mogul Burberry. The British luxury line started out with an innovative outdoor wear line using gabardine in 1870. Today the company is known for its stylish outdoor wear, notably trench coats, its main claim to fame. With the coats and jackets came lines of complementary fashions including sunglasses, timepieces, accessories, scarves and fragrance line.
This Burberry creation harkens back to its drapery roots with a cloth band in a body subtle stone horse ferry check pattern. Flashes of white, black, grey and red line the band of this watch, joining at a tastefully created sunray dial in silver stainless steel.  A sunray dial features a slight indentation in the face allowing light to cast a shadow, a la a sundial. It is a clever use of old and new technology that is very Burberry in its essence.
The face, with its three-hand assembly,  is lightly textured in twill or hatched woven feel. It resembles the trenchcoat materials that brought the fashion house over a century of success. The closure is a lovely tan leather with a buckle emblazoned with the Burberry logo.
While this is the highest-end piece on our list the price is still reasonable for all the fine detail and design put into this piece. The fun checked horse ferry pattern is another hallmark of the Burberry designs. It's a wearable piece of iconic fashion that we highly recommend. It adds a touch of refinement to any casual outfit and a touch of airiness to the more business-centric, boardroom-ready look.