Mix / Rings / Women
Pink Morganite Engagement Ring? These Are the Ones We Adore!
If you love pink gemstones and you're looking for an engagement ring, a morganite ring is just what you need! Morganites are arguably one of the most beautiful gemstones available and offer that real wow factor when it comes to jewelry. Our top 10 pink morganite ring picks offer you the ultimate selection of rings to consider for your special occasion!
What is morganite?
Morganite is acquired from the beryl mineral which is composed of beryllium aluminum cyclosilicate.  Don't worry though, if you're looking to buy a ring you don't need to know about morganite in quite so much detail!
But what you do need to know is that morganite is often referred to as a pink emerald. Whilst emeralds, which are another variety of morganite, are famously known for being green, morganites are instead a beautiful light pink or rose-colored gem.
Sometimes morganite gemstones are colorless, however, they are often more sought after for their beautiful pink color.
Morganites are generally known to be free from inclusions (an inclusion is a material which is trapped within the gem when it forms) so will often be very clear gems that catch the light well.
This is useful to know when you're thinking about which type of gemstone to have on your engagement ring (as a comparison, emeralds are known to usually contain significant inclusions which can be visible to the eye).

Morganites were first discovered in the early 20th Century near Madagascar and can be found in countries all over the world including the USA, Zimbabwe, and Italy. Brazil has even been known to create crystals that contain both aquamarine and morganite in the same crystal – how beautiful!
Whilst morganite gems are usually light pink or rose, some may contain a hint of orange or yellow. However, it's less likely that you will find one in this color as morganites that contain these colors are usually heat-treated to make them much pinker in color.
You may be wondering where morganites get their name from. Interestingly, this gem is actually named after the famous banker and financier JP Morgan who was a regular collector of gems and was well known for donating some of his collection to museums in New York.
What are the benefits of wearing a morganite ring?
Morganites are a very hard and durable gem so are the perfect choice for a ring that you can wear on a regular basis. But apart from being a practical option, why else should you choose a morganite ring?
Well, morganite is commonly referred to as the crystal of divine love and if you wear this gemstone it's said that you'll benefit from compassion, healing, promise, and assurance. So by choosing one of our top ten pink morganite rings, you could be getting a lot for your money!
Morganite is also said to help with healing and cleansing emotional anxiety and stress, helping to achieve growth in confidence; and helping to achieve a feeling of inner strength. So as well as being a strong gem on the outside, wearing this gem will help you feel strong on the inside!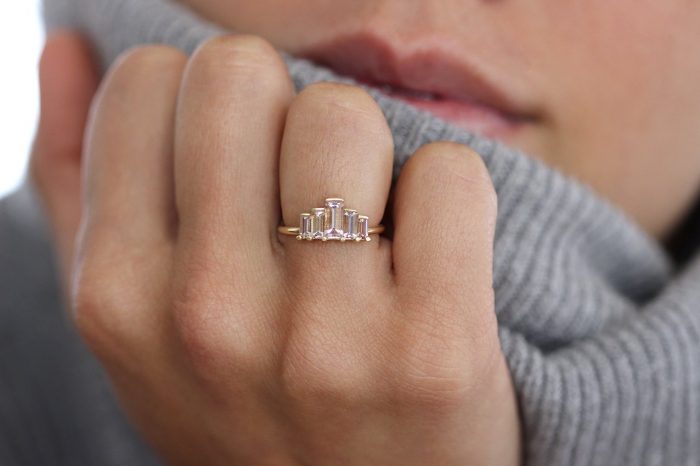 As with many gems, you have the option of choosing from a natural or simulated gemstone. Natural gemstones are those found within the Earth, whilst simulated gems will have been created in a laboratory.
Natural gems will often have a higher price tag so if you're on a tighter budget then a simulated stone may be the preferred option. But don't worry, simulated stones are often just as beautiful as natural gems and are sometimes indistinguishable to the eye.
So the great thing with morganite rings is that there is something available for every budget!
Is morganite a good option for me?
 A quick search online will show you that morganite is very often recommended as a great alternative to other similar quality gems such as diamonds. The main reason that morganites are commonly recommended is for their quality in addition to the fact that they generally have quite a low price tag compared to other gems such as diamonds.
Our 10 favorite pink morganite engagement ring picks! 
1. 10k Rose Gold Morganite and Pink Tourmaline Solitaire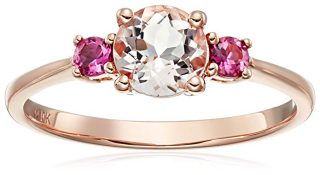 The first ring in our shortlist really is a stunner! This ring showcases a beautiful natural morganite gemstone which sits between two bright pink tourmaline gems. This ring really is attractive and the gemstones are set in a simple four prong setting which screams simplicity.
The two tourmaline gems are of equal beauty and the perfect pairing for the large morganite and next to each other the colors work together to draw the eye.
The three gems sit on a 10k rose gold band which further adds to the look and feel of this ring and we love that that the three shades of pink come together to create an effortless look.
The morganite gemstone sits nice and high on this ring and the tall prongs that stand from the base of the band actually sit higher than the gem, making them an attractive feature. The ring also has a really pretty side profile so looks great from all angles.
This item is in the mid to high price range but you're getting lots for your money – from the 10k rose gold band to the large morganite gem and twin tourmaline gems. This ring is a great option not only for your engagement but for a range of occasions including birthdays, anniversaries or even as a promise ring. It also looks great with any outfit, whether you're going out for a special meal or relaxing at home.
This piece of jewelry is from the Amazon Curated Collection which means that it has been hand-selected by Amazon's gemologists to ensure that it meets their high standards. This also means that you'll have the option to return your ring within 30 days if you're not satisfied (we're sure you won't be disappointed!).
2. 1ct Oval Morganite 14K Rose Gold Ring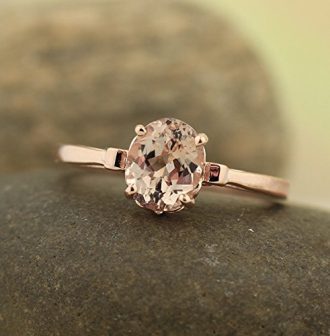 If you can't get enough of the beautiful morganite gemstone and you're looking for a simple and elegant engagement ring, this is the perfect option! This classic ring shows off a beautiful 1-carat natural morganite gem.
The gemstone is set in a simple 4 prong setting which draws the eye and makes for an extremely attractive ring. The timeless fleur-de-lis design creates a decorative piece of jewelry, particularly for the side profile.
The band further complements the gemstone and is made from solid 14k rose gold. We love the simple detail on the band, particularly where the thin metal increases in width on the shoulders of the ring. This detail makes it very easy on the eye!
The morganite stone is oval in shape and nice and large and the gemstone is a peach-pink color that works really well with the rose gold band and catches the light well. We think this ring works very well with other jewelry, particularly with another rose gold band so this is a great option for an engagement ring.
This ring is available from GNGJewel Morganite Collection who offers a range of alternative morganite jewelry including rings, earrings, and stunning necklaces. We recommend taking a look at their wider range of jewelry to see some beautiful examples of why morganites are so special.
With this ring, you'll have peace of mind with your purchase as the ring is authenticated by a 14k stamp and also arrives in a stylish leatherette ring box which is the perfect way to store the ring or to give it as a present to a loved one.
3. 10k Pink Gold Morganite Ring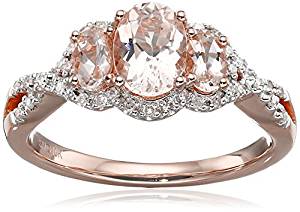 If you're looking for more of a statement piece, we've chosen something that will certainly catch people's attention! This ring features 3 oval morganite gemstones, all of which are natural.
The morganite gems are the star of the show here and they are all framed in style by dozens of white diamonds. This addition makes the ring extremely sparkly and gives it a really dazzling look that you'd expect to see on the finger of a famous Hollywood celebrity.
If this is looking like your perfect engagement ring (and let's face it, it is very attractive!) it's important that you first consider what style of ring you'd like for your wedding band.
Due to the larger setting, a wedding band could be easily overshadowed when worn next to this ring and some wedding bands may clash if they are heavily decorated. This may, however, give you the perfect excuse to go out and try on lots of different wedding rings to find the perfect match!
This piece sits in the higher budget range however you're getting a lot of sparkle for your money. Including the natural diamonds, there are 41 stones in this ring! The gemstones are effortlessly intertwined around the 10k rose gold band.
This design, which sees the rose gold softly twist around the finger, helps to frame the larger morganite gems and the whiteness of the diamonds helps to bring out the beautiful color of the larger morganites.
This is another ring which is part of the Amazon Curated Collection so you're again getting the peace of mind that this has been hand-selected for its quality and for its standout looks.
4. 10k Pink Gold Morganite and Diamond Ring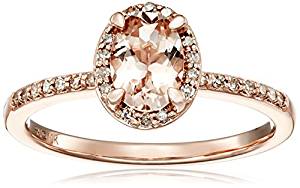 This piece brings together the elegance of a single, beautiful oval morganite gemstone with a delicate diamond-studded band. This is one of those engagement rings that you see being worn and think, WOW!
Although the design of this ring is minimalistic, the sparkly band draws the eye and offers the perfect backdrop to the morganite gem. This is another 10k rose gold band which again complements the pink gemstone and the bold 4 prong setting which grips the gem giving you that feeling that this is a well-made ring that will take the wear and tear of being worn regularly.
An important feature to be aware of is that the diamond sits very high above the band which is a feature of the Halo and Shank design. Don't worry, if you've not heard of a halo and shank ring we'll talk you through the basics!
A halo setting is a ring that has a central gem that is surrounded by lots of pave diamonds and helps to accentuate the gemstone, something which works really well with this piece.
A shank design or 'split shank' as it is sometimes called, is a style of ring that sees the band parting as it moves towards the setting which means that there will likely be a gap between the band and the setting.
Both of these features help to make this a very pretty ring, but it's important to remember that it will sit a lot higher on your finger if you are used to wearing more low profile rings or rings that do not feature a large central gemstone.
This is another option available as part of the Amazon Curated Collection so it will come in a lovely custom box.
5. Halo Infinity Shank Ring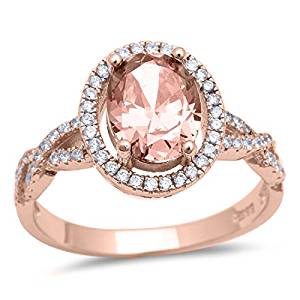 All of our rings so far have had a mid to high price tag but don't worry, if you've got a more modest budget then we have a stunning morganite ring for a bargain price!
This ring features a beautiful oval simulated morganite gem which sits on a rose plated sterling silver band. The design of the band is very pretty and the seller of this piece, Blue Apple Co, describes this as an infinity ring. The band intertwines around itself which gives another depth to the look of this item.
Surrounding the simulated morganite are dozens of smaller white gems which, although not diamonds, really do help to frame the central gemstone and give the ring that extra sparkle.
The 4 prong setting along with the shank design is another attractive feature and the gemstone almost feels as though it sits above the band with little contact between the two. Even though it's a lower budget ring, you'll still receive a lovely gift box in which to keep it safe.
You may be thinking that you want to spend a little more on your engagement piece. However, this is a great option if you're either on a tight budget or if you would like to get a feel for wearing a morganite ring before going ahead with a more expensive purchase.
We think this ring is a bargain and you even have the choice to have an optional engraving or the potential to have the ring resized for a small extra cost.
6. Blue Apple Co. Halo Fashion Ring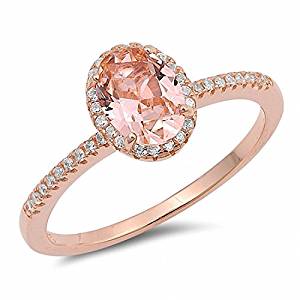 At a quick glance, this ring seems very similar to one that we have already reviewed. This is another ring that really showcases the beautiful morganite gem, this time with a simple halo setting. This is a simulated morganite so this ring fits into the lower budget range however it is still nonetheless a beautiful piece.
We love the simplicity of this ring which carefully balances the large central morganite, the decorative selection of smaller white gems; and the delicate light rose band. This is a dainty looking ring that will accentuate your fingers and it certainly catches the eye.
This is another piece that is available from Blue Apple Co and again a great example of a low budget ring that looks great. If you ever have issues with rings being slightly too big or too small, you'll be pleased to know that this ring is available in ½ sizes for an additional fee.
You can also have your ring engraved for a small fee and of course you'll receive your beautiful ring in a gift box to keep it safe. It's great to know that morganite rings can be enjoyed whether you have a small or large budget!
7. 10k Rose Gold 1ct Morganite and DiamondRing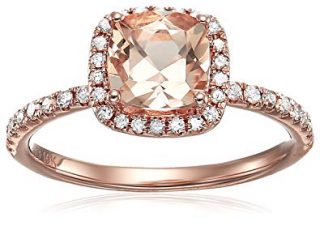 We'd describe this ring as elegant, sparkly and classic. This ring will certainly catch the attention of those around you, if not for its beautiful 1-carat morganite gem, then for its glitzy band which is full of white diamonds (there are 52 diamonds in total!).
Morganites and diamonds are often used to complement one another and this piece clearly shows why. From above the design looks very simple and similar to some of the other rings that we've already reviewed. However, when viewed from the side, the ring really comes into its own.
The cushion-cut morganite gem sits high above the band as if it is elevated to show off the morganite in all its glory. This not only allows the gem to catch light extremely well but also gives the ring that extra dimension which makes the ring very eye-catching.
If you've never worn a piece of this design then you might want to try on a similar ring first to see what it feels like before going ahead with your purchase because, as with many items of jewelry, it can be useful to try before you buy.
However, one thing is for sure. When you wear this ring you will definitely turn heads!
This is another ring from the Amazon Curated Collection and one that we couldn't help but include in our top ten list.
8. Round Cut Pink Morganite Piece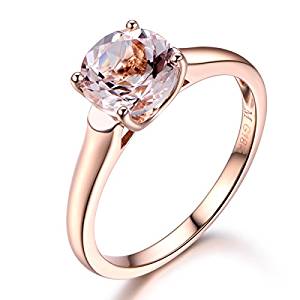 Some rings benefit from having a glitzy band and there's no doubt that diamonds and morganites go very well together. But sometimes it's nice to let the morganite do all the talking and with this option, the morganite is certainly the main attraction!
If you think this morganite gemstone looks big, that's because it is big. This 1.21-carat natural gemstone has been cut to a cushion shape and is beautifully pink in color. It's set in a simple 4 prong setting on a solid 14k rose gold band which screams simplicity.
This ring has the highest price tag compared to all of the rings in our list but if you're looking for a classic ring that has a large morganite gem, the higher cost is definitely worth it!
Another feature that we love about this ring is that it is free from nickel, lead, and cadmium which gives you peace of mind if you've ever suffered from jewelry allergies. The band is also easily resizable so it can be amended if you find that you need to go up or down a size or two.
This option is sold by MYRAYGEM who offers a wide range of rings, many of which feature morganite gems. Although we're focusing on the morganite gem on this occasion, this ring can actually be customized and if you prefer you can choose a different gemstone such as amethyst, ruby or sapphire. But of course, who wouldn't want a stunning morganite gem as the centerpiece for their ring?
9. 925 Sterling Silver Halo Ring Rose Tone Promise Ring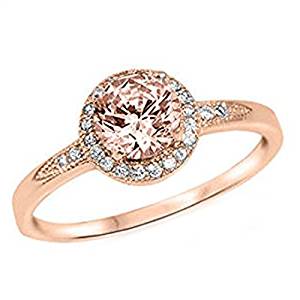 This is another option that fits into a smaller budget but is nonetheless a beautiful item of jewelry. This ring features a stunning round, simulated morganite gem in a halo setting. We could talk for hours about how well it works in a halo setting, but with this ring, the pairing needs no explanation!
The band is made from sterling silver which has been rhodium plated and the finished effect is one of light rose color. The great thing about the rhodium plating is that it is anti-tarnish so should help your ring to keep looking clean and sparkly.
In addition to the decorative detail that surrounds the simulated gem, there is further detail on the band which complements the design of this ring and helps to soften the band.
The circular plate on which the central morganite sits feels nice and thick which further adds to the look of the ring and gives it depth. We particularly like the way that the gem sits above the center plate, held in place by a simple four-prong setting. This gives the ring several layers and helps the ring to pronounce the gemstone from your finger.
Available from Blue Apple Co, this supplier offers you the choice to customize your piece by choosing a different band, if you'd prefer something different from the rose-colored metal. You can choose from silver, yellow gold, or even black gold rhodium plating, so you could even buy a selection of rings to suit every outfit!
As with most of the options in our top ten list, it will arrive in a gift box to keep it safe. You also have the option to have the ring engraved for a small additional cost.
We think this ring is a great option if you're getting engaged on a small budget or if you're looking to enter the world of morganite rings for the first time and want to get a feel for what it's like to wear this beautiful gem!
10. Natural Morganite Infinity Style Solitaire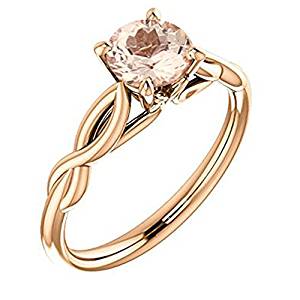 Get It Here
To complete our top ten list we've chosen a piece that combines some of our favorite features from the rings that we've reviewed so far. This infinity style ring features a stunning pink morganite which is a natural, round cut pink gem.
Rather than having additional gems on the band, this ring utilizes the decorative design of the band which has a classic infinity style design that elegantly wraps around your finger. From the top, the band looks beautiful and the 10k rose gold almost looks like a French plait/braid which has been tied around the finger. What we love even more though is the side profile of this ring.
Here the rose gold band has been designed to join together with 2 loops through which four prongs come together to hold the gem in place. The level of detail on this ring is gorgeous and it's the perfect setting for this natural gemstone.
If there's one thing we love when it comes to choosing jewelry, its options! With this ring, you have the option of choosing the weight of your gem and you can choose either a 0.45 carat or 0.7-carat gem.
Naturally this will have an impact on the price you pay for your ring, however, it's nice to know that you can choose the size of gem that best suits your style (and your budget!).
This piece is available from GNGJewel Morganite Collection and will be delivered in a lovely leatherette case. The ring also includes an authenticated 10k stamp so you'll have peace of mind that you are getting what you pay for.
We think this is a great option for an engagement ring that truly showcases the beautiful morganite gemstone!
How do I look after my pink morganite engagement ring?
Although it is a strong gem, a morganite gem may be susceptible to some scratches and damage if it is not stored correctly. It's also important to remember to clean your pink morganite engagement ring and to avoid contact with strong chemicals (you'll definitely want to take off your ring if you are cleaning at home!).