Mix / Rings / Women
10 Amethyst Rings Because Purple is the new Best Color to Wear!
Are you familiar with gemstones? If you are, then you surely know a thing or two about the precious amethyst. The gemstone has been around for a very long time and is well known in the world of fashion. It has been used to make all forms of jewelry, including necklaces, earrings, bracelets, and amethyst rings, which we will be looking at today. Apart from its obviously stunning appearance, the amethyst gemstone has a great history and other powerful qualities which attract more and more people to it.
The naturally purple color of the amethyst gemstone is one of its most attractive outward qualities. There are those who, despite the availability of other gemstones, choose to go for the amethyst solely because of the sparkling purple nature. It gives this aura of maturity, class, and of course, royalty. Amethyst is also the birthstone of all those born in the month of February and is believed to bring them good luck as well as courage whenever they lack confidence. Let us look at the history of amethyst gemstone.
A short history of the amethyst gemstone
The name of this beautiful crystal, amethyst, is derived from the Greek way of saying something is not intoxicated, which is 'ametusthos'. This name is associated with the belief that the amethyst will prevent drunkenness and other forms of intoxication in a person who wears it.
According to Greek legend, the wine god, named Bacchus felt insulted and got irate over it. In his anger, he decided that the insult would not go unpunished, so he cursed the next human he would meet to be eaten by his deadly tigers. Unfortunately, the person he met was a young beautiful and innocent woman, who was on her way to worship at the shrine of goddess Diana. As already cursed by Bacchus, the tigers hungrily ran towards the young mortal woman to devour her, but she called upon the goddess Diana for protection.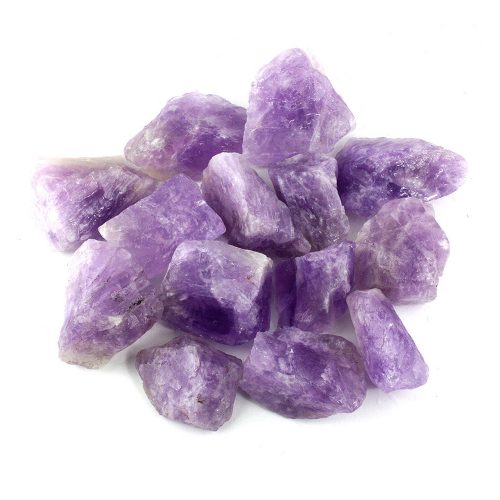 Despite being swift to ask for help from the goddess, the beautiful mortal was not spared of some misfortune, because while the goddess heard her prayer, she could not do more than turn the maiden into a white crystal. Seeing this, the wine god Bacchus, regretted the action he took out of anger, and made an offering by pouring his grape juice on the crystal. This is what gave amethyst its signature purple colour, as that same crystal turns out to be the root of this precious gem we have today. There are versions of this story that say the maiden's name was Amethyst, which is another thought to where the gemstone got its name.
Special powers that the amethyst gemstone is believed to have
Because the amethyst has been around for such a long time, so many have talked about all the good fortune they have received as a result of wearing this gemstone. They may look unbelievable, but they are as true as you take them to be. Here are some of the most well-known powers that the amethyst gemstone is believed to have.
It can help prevent drunkness
If this power seems little to you, then you don't know what it is like to be addicted to alcohol. A lot of people have a hard time controlling what they take in when alcohol is available to them in large quantities, and this can cause a lot of health as well as financial problems. Where does the amethyst come in here?
Well, it is believed that the gemstone has the power to protect a person from getting drunk. In those days, especially in Greece and Rome, people attached amethyst gemstones to their drinking goblets. They believed that the presence of the amethyst in their drinking vessels lessened whatever intoxicating power the alcohol might have, and it did work for them that way. Those who could not adorn their cups with amethyst just wore it on their clothes or as a necklace, and it had the same effect as those who attached the gem to cups.
It can help strengthen relationships
A lot of people believe, even till this day, that amethyst gemstones can be the solution to any issues they could have concerning love and relationships. It is said that the amethyst crystal possesses special energy that will help a person understand the needs of their partner in a relationship. With this understanding, each member of the union can easily grant the desires of their significant other and unlock the keys to true happiness with that special someone.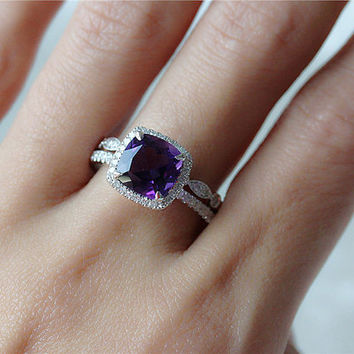 The presence of the amethyst stone has a way of opening hearts to express true love, this has been said about people who have a hard time letting themselves go in relationships, usually because of a former abusive partner. When a person wears this stone often, especially on the left side of his or her chest, their hearts will be stimulated, giving them the ability to love afresh.
It can help with warding off evil thoughts
This might be a little supernatural, but I am sure you are not surprised. These gems do have a powerful history and we should expect anything from them, including magical or supernatural powers. Those who used amethyst for this purpose in days long before ours, wore the amethyst in the form of rings.
Religious leaders of old, especially those who took vows of celibacy, would make rings out of amethyst gemstone and wear it all the time to ward off any sexual thoughts which would be evil, given the vows they had taken. In situations where they found their minds getting tempted to wander towards evil sexual thoughts, they would kiss the amethyst rings and it would return their minds to more important thoughts like spiritual growth.
The rings on this list are ten of the best and most sought after amethyst jewelry. They will enhance fingers as well as your general appearance, even as the purple hue enriches you with all the powers amethyst is believed to have. Take a good look!
Our 10 Favourite Picks for Amethyst Rings!
1. 925 sterling silver purple amethyst infinity ring
This piece, which is formed out of a gem as great as the amethyst, is a product of Gem Stone King. As the name implies, the ring has the shape of an infinity sign and the rare gem is placed at a prominent position around the infinity sign. The purple beauty is made to be the first thing you see when you set eyes on this ring, as the position clearly suits the size and color of the gemstone.
High-quality sterling silver was used to make the larger part of this ring's body, with the infinity sign being the high point of it all. The amethyst is in the form of a heart shape and is placed at one side of the infinity sign, close to the middle and perfectly placed to draw attention. The makers of this jewelry have passed it through a lot of testing to ensure that it is good for your skin and will last long. The carat total weight of this infinity ring is 0.33CT and the entire package weighs just 0.8 ounces.
There are 10 stones used to further decorate the infinity sign, adding more emphasis to the heart-shaped amethyst gemstone. The ring was made with prongs setting and is available in sizes 5, 6, 7, 8, and 9.
2. Princess Diana William Kate Middleton's 3.2ct ring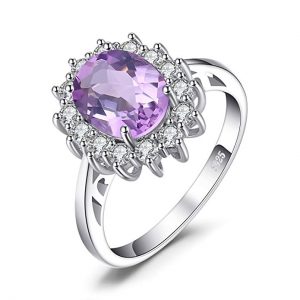 Since this piece was released to the market in September 2018, there has been a mad rush for it. This is because it is named after the British royal couple and the late Princess Diana. A lot of ladies want to be linked to famous people, so the ring has taken offline and online jewelry markets by storm. Right now, it is a leading bestseller, despite being a new release.
It is manufactured by the well-known Jewellery Palace company, and they offer great customer service on all their products, so you can buy it with a lot of confidence. The amethyst used to make this ring takes the oval form, and has 14 stones surrounding it. The metal used to make the circular part of this ring is of very high quality, we are talking 925 sterling silver here. The ring is so beautiful and classy that one can't help but wonder how it is so affordable, you can buy it at any time to present as a gift to the special woman in your life. Though this ring can be used as a gift for any occasion, it is best used as an engagement ring.
Ladies that wear this ring are those who want something they can wear for all occasions but also like to keep things simple and sometimes, informal. The purple color shines so bright and oozes the royalty from which it is so perfectly named.
3. 10k white gold oval centre amethyst stone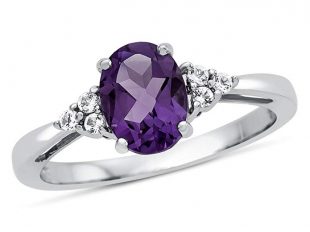 This ring may look like a regular ring because of the typical design, but it is far from ordinary. It is made especially for women who want to make a fashion statement with their finger on any occasion at all. It is a product of Fine Jewellers brand and has been in the jewelry market since September 2018 in ring sizes 4, 5, 6, 7, 8, and 9.
The metal used to design this ring is 10k white gold. There are three additional stones each on the left and right sides of the principal gemstone used to make this moderately expensive earring, which is the amethyst. These stones are there to add more life to the metal and enhance the beauty of the amethyst gemstone in the ring. With so much simplicity, you can see from here that a jewelry does not have to be too complicated before it can turn heads. Let us look at this oval amethyst again, it is beautifully purple, no doubt, and has a measurement of 8 by 6 mm, which is on the small side and would fit perfectly into any woman's hand, no matter the complexion.
If you plan to give it as a birthday or love anniversary present, do it in the early hours of the day or in a room with dim light. This is because the amethyst and white gold will sparkle more in that kind of light, another reason is that those occasions support romantic gestures.
4. Natural raw amethyst stacking rough ring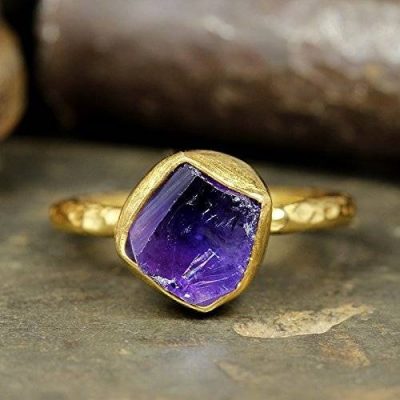 We have been talking about amethyst gemstone and white gold or sterling silver. Well here is something different, it is an amethyst ring mixed with yellow gold. It is manufactured by Caprixus Jewellery and was handcrafted by experts in Turkey. The natural look and uniqueness of the production method really justify why so many male and female ring lovers have praised the product.
The yellow gold used to make this ring is 24k, and the pure amethyst set in the cute bezel form is 10 by 10 mm. The band into which the amethyst is fixed is 2mm, and it would interest you to know that it was hand hammered into the band. The gemstone used in this ring is not smooth, that is why the word 'rough' is present in the title. This classy roughness of the amethyst gemstone used in the ring is one of its most enchanting qualities, it looks really natural and will be so important to you if you are someone who appreciates the wonders of nature.
Looking at it from the mythological angle, the fact that the entire jewelry was handmade and finished with just a hammer without much emphasis on the smoothness of the final product shows that the magical attributes of the amethyst gemstone are still powerfully present in the ring. With this in mind, you can rest assured that besides rocking a very beautiful ring, you will also be carrying around a natural gem that brings good fortune.
5. Elegant yellow gold genuine amethyst gemstone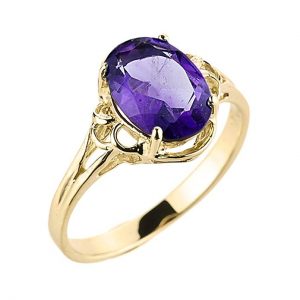 Here is another amethyst gemstone piece designed in yellow gold. It has a lot of resemblance to the regular style of most gemstone earrings, but the quality of the materials used and the amazing sparkle that comes with it is what makes it stand out from the crowd. Though it comes with a slightly higher price tag than those listed above, you will find it to be totally worth your money when you start using the ring. The elegant yellow gold genuine amethyst gemstone ring is polished by hand and there is a guarantee that you will enjoy this ring for many years.
Yellow gold used to make this ring is high-quality 14k, and the amethyst gemstone is, which is about 180cts stays secured in a 2.2mm band. It is manufactured by the famous American jewelry brand, Claddagh Gold, and has been in the market for a little over a year. In the world of modern contemporary rings, this is one of the leading amethyst gemstone jewelry and is the perfect purple beauty you want to give your friend that was born in February. The ring has just one stone, which is the amethyst gemstone, but the design and quality have made it far more popular than other contemporary rings in that same category. Styled in a prong setting, this ring is available in sizes 4, 5, 6, 7, 8, 9, 10, 11, and 12.
6. White gold cushion centre amethyst stone with side white topaz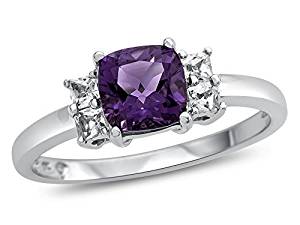 This is the second product on this list that is manufactured by Fine Jewellers brand. They are an American family own company and are known for distributing high-quality jewelry, so you surely won't mind paying a slightly high price for the white gold cushion center amethyst stone with side white topaz ring. It is worth more than the price as you will see when you purchase and start using it.
The purple amethyst gemstone has 6 by 6 mm dimensions and is crafted in nothing less than the best quality of 10k white gold. The total weight of the gem used is 0.220 carats and the ring is available is sizes 4, 5, 6, 7, 8, and 9. If you look at the ring setting properly, you will notice that there are extra stones used to enhance the overall look. These white topaz stones are 4 in number, two of which are placed on the left and right sides of the amethyst stone in the middle.
The stones shine brighter than the white gold and have a sparkling beauty that complements that of the amethyst color at the center. Together, all these high-quality sparkling materials will make your presence felt at any occasion, no matter the type of dress you choose to wear. The maker of this product, Fine Jewellers, has put a life time guarantee on this ring, so when you set out to buy it, do so with utmost confidence.
7. 3 stone design amethyst rings in sterling silver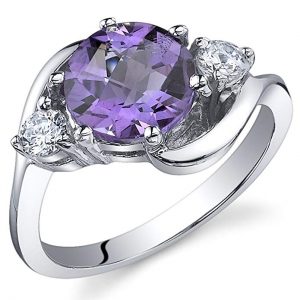 This is one of the most beautiful and also one of the most affordable rings you will find on our list of ten most sought after purple amethyst rings, it is very popular in the jewelry market and will be a huge addition to your jewelry wardrobe. It comes in the usual prong setting but has the uniqueness of three stones, one of which happens to be the great amethyst.
While the amethyst remains the most prominent part of the ring, it is no surprise that it is the biggest of all three stones. The other two shiny white stones are on both sides of the amethyst and the sterling silver used just makes the entire ring dreamy to look at. The royal feel of purple is really seen in the 1.75 carats amethyst used for this ring, as it is round in shape, has a diameter measurement of 8mm and is graced with two beautiful cubic zirconia stones.
It is manufactured by the Peora brand, and they have added a special gift box to the package containing this ring for you to surprise that special lady you would like to give this gift. Peora has also placed a 100 percent money back guarantee on this ring, which means they have so much confidence in the quality of their product and when you buy this, you are practically shopping at no risk. It is available in sizes 5 to 9.
8. Natural amethyst rings  with gold and diamond finishing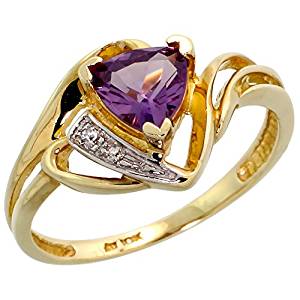 We are not through with amethyst rings wrapped in gold finishing, and this time we have brought you one that also has diamond on it. This beautifully designed piece is not new to the jewelry market. It has been around for more than ten years and is still ruling the market. Some people love it because of the gold, diamond and amethyst combination, others love it because of the high quality and durability.
Those born in the month of February love it because of the powers associated with the amethyst birthstone. Whatever your reason for loving this jewelry, there is no doubt it will help you make a fashion statement and be one of your best additions when it finally enters your jewellery wardrobe. It is manufactured by Gabriella Gold brand and distributed by silver city jewelry.
This amethyst piece has a 10k metal stamp with a total gem weight of 0.80 carats. It is 13mm long and 11mm wide, just the perfect dimensions for any woman's hand. The yellow gold used to make this ring blends really well with the diamond and amethyst gem mixture, you would be really proud to have three classy gems on your finger at the same time. The amethyst used here is natural and will be greatly adored by all those who see it on your finger, real gems are easily recognized by those who can tell the difference. This ring is available in sizes 4 to 9.
9. Sterling silver amethyst cross ring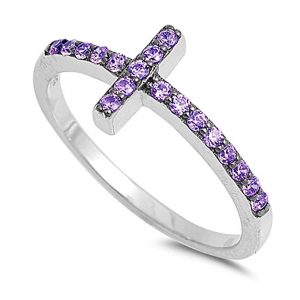 The silver sterling amethyst cross piece is unarguably the simplest and most affordable ring on this list. So if you want to give this to someone as a gift, make sure that person like simple things. With emphasis placed on the fact that this ring is simple, do not get confused by thinking it is not classy. The ring is still as stunning as ever, but it has a really simple design without any major stone in the middle, all purple stones used in this ring are of the same size and play equal roles.
The sterling silver used to craft this ring was specially picked and designed to last many years in active use. It is manufactured by sac silver brand and has been in the market since the year 2016. The makers of the ring have so much confidence in what they have produced, that is why there is a return policy on the ring to ensure that when you buy this product, you are doing so with zero risks involved. The silver used to craft the ring is more than 92 percent pure, with the other additions made just to preserve the silver.
There are 18 small amethyst stones on this ring, and they all form the cross shape as two of the 18 stones are placed on each side of the ring. This gift will really mean a lot to a February born who believes in religion as well as the amethyst gemstone's power to ward off evil spirits and unclean thoughts. You will find this ring in sizes 4, 5, 6, 7, and 8.
10. Vintage 10.2ct purple amethyst rings
This handmade piece is what most people recommend to men who are looking for what to buy for their girlfriends they wish to engage. If you are one of those men worrying about the best ring to give your woman as an engagement ring, this is the solution you have been looking for. It is a perfect symbol of love and will not cost you a lot of money to purchase. Remember that the amethyst is one of the powerful love gems believed to bring couples closer together, so it is a perfect ring to present when you propose to your lady.
The cubic zirconia used to design this ring is of AAA grade, which explains why the appearance is so breath-taking. The design is not only modern, it is also timeless and your woman will treasure it forever. The amethyst stone is 10 by 14 mm and it weighs 10.2 carats. There is a total of 164Pcs used to create this romantic purple ring, and all of them leave the emphasis on the oval cut amethyst stone at the peak of the ring.
It is manufactured by BONLAVIE brand and will last for very long time if you maintain it well. Some of the ways to maintain this ring include protecting it from water, drying it immediately after it accidentally falls into water, and keeping it away from cosmetics. You will find this ring in sizes 6 to 9.