The Best Selection of Cross Necklaces for Women
last updated:
Dec 24, 2021
Adding a cross necklace to your jewelry collection is something that most fashion-forward people consider at some point. These pieces' sleek and effortless styling makes them highly adaptable and suitable for any outfit.
You can wear crosses as a symbol of your faith or as a nod to some of the world's most influential gothic fashionistas.
What makes cross necklaces even more remarkable is how unique their designs can be. Some feature more contemporary styling with sharp ankles and polished metals. You can also find more exotic and antique pieces, ideal for more traditional fashion icons.
Let's take a look at some of the most fabulously styled pieces with innovative and intricate elements to enhance your wardrobe.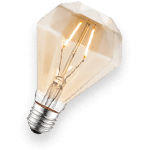 Tau Cross
One of the oldest crosses, the Tau Cross was originally the symbol of Dumuzid, an ancient Sumerian shepherd god. Dumuzid was later to be known as Tammuz, and in Greek, his name started with the Tau symbol, hence the namesake "Tau Cross."
This cross was later co-opted by Christianity and is most likely recognizable to modern-day Christians as the crux commissa.
St. Anthony adorned his habit with a blue Tau cross, and since Anthony of Egypt was the patron saint of the Antonines, the cross gained prominence amongst both the Antonines and the Franciscan Order.
Crux Ordinaria
This is the cross you're likely most familiar with – that iconic "t" shape! Called the crux ordinaria, it has its beginnings as a crucifixion device in Ancient Roman times. If you're familiar with the story of Jesus, this was the stake on which he was nailed to and condemned to death on.
Used as early as the 2nd century CE, this symbol has become sacred in many sects of Christianity and is a symbol many people still wear today to show solidarity in their faith, as well as a source of personal strength.
It is an incredibly powerful piece of imagery for Christians, and no list about cross necklaces for women would be complete without sharing at least one piece of jewelry with this type!
Sun Cross
The Sun Cross is an ancient symbol which represented the sun, found as early as 1440 BCE on burial urns in England. It is a symbol that has been used by many various religions throughout the centuries and is most famous for representing the main god in Norse and Germanic paganism: Odin and Woden, respectively.
In this context, the symbol is representative of a wheel, which shows the passage of life into death, and the circle of life.
If we consider the cross to be a Solar Cross, we see the four parts it is broken into representing the seasons and the cardinal directions. It's also been used as a consecration cross in Christianity, in which 12 of these would be carved or painted into the walls, pillars, or alters of a newly built church in medieval times.
Frequently Asked Questions
q:

What does wearing a cross necklace mean?

a:

Cross necklaces are a rather straightforward accessory, but they're highly adaptable across various styles. Of course, their initial appeal is that they symbolize a crucifix, which has a significant religious meaning. The majority of wearers find that it showcases their Christian faith and belief in God.

However, the popularity of cross necklaces has transcended past religion and into other fashion subcultures, particularly alternative fashion.

They're also trendy in gothic subcultures, adding to the aesthetic of all-black clothing paired with leather, metal embellishments, and more. Cross necklaces are a stylish symbol with such a fluid and adaptable design.
q:

Is a cross necklace attractive?

a:

Cross necklaces are an attractive accessory regardless of how you intend to wear them. They're a fabulous way to showcase your personal faith and beliefs. However, they are also often paired with other pieces to add a jaw-dropping display of exotic accessories to everyday outfits.

Some pieces' sleek and contemporary styling elevates them beyond the traditional idea of rosaries and other religious symbols.

You can also find pieces with more ornate qualities than others ideal for modern fashionistas. There's no doubt that their versatility makes them a phenomenal addition to your wardrobe.
q:

Is it OK to wear a cross sideways?

a:

Depending on your beliefs, wearing a cross sideways may or may not be ideal. More traditional religious groups find that wearing a cross in any orientation other than right-side-up is disrespectful.

However, more modern believers find that unlike wearing it upside down, sideways crosses do not have a negative connotation.