Mix / Rings / Women
We Selected The Best Gemstone Rings in Every Color!
Marianne 09 Mar 2021
3378
Rings have and will always be some of our favorite accessories. There is pretty much no outfit where you can't accessorize with a nice ring! Add in the insane amount of variety there is and you have got the perfect jewelry piece. From simple rings to more elaborate designs, there is something for everyone.
In particular, gemstone rings are some of our favorites because they are incredibly versatile. Some gemstones are so feminine and delicate, while others are edgier, and everything in between! Whether you are looking to make a simple statement, or want all the attention on you and your rock, you can find a gemstone ring to make your outfit, personality, and occasion.
If you think gemstones and all you really think about are diamonds, you are missing out on such a wide variety of other gemstones that are just as beautiful (and in some cases dare we say even better than diamonds?) Diamonds are certainly timeless, and a girl's best friend, but there is a lot more to explore in the gemstone world!
Real or not real?
You might be thinking we are here to just talk about precious gemstones that are sure to cost a small fortune, but you would be wrong! While we will certainly discuss the real stones that you can fine, what we love is that you can also easily find cheaper alternatives to all of the major gemstones out there if you can't afford the real ones.
There are so many beautiful colored gemstones out there that can really make for a beautiful statement ring that is sure to be a showstopper and conversation starter. Whether you can afford the real stuff or not, it doesn't matter! There is something for everyone!
Don't believe us? You are in for a real treat! We have tracked down some of the best gemstone rings out there in every color. Whether you want to be bright and bold or more neutral, there is a gemstone out there for you! We are covering some of the most popular gemstone colors and letting you know which stones are best for getting that perfect shade.
Let's dive in!
Pink Gemstones
We had to start with one of the prettiest, most feminine gemstones out there: Pink gemstones! Classically feminine and perfect for almost any occasion, these gemstones are some of our favorites. If you are looking for something a little different from a typical diamond but aren't sure if you want to go with something that is a complete 180, a pink gemstone is a great option for you. Change things up, but keep that timeless feel. That is what you get with pink gemstones.
So, which gemstones are pink? You've actually got several options believe it or not! Here are our top gemstones if you are wanting to be pretty in pink:
Rose quartz: We absolutely love rose quartz. The past couple of years, what has been everyone's color obsession? Millennial pink! Rose quartz fits perfectly into that color scheme and has become an incredibly popular gemstone lately. In fact, 'rose quartz' was chosen as the 2016 Pantone Color of the Year, and since then we have just seen it everywhere! This is a perfect, trendy gemstone to pick if you want something pink.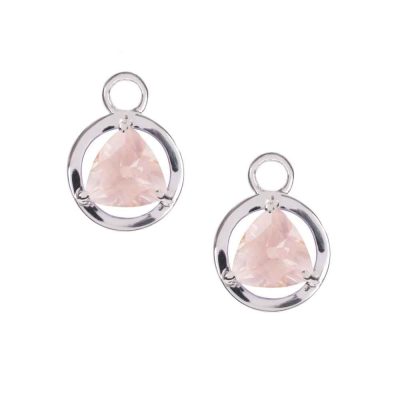 Pink sapphire: There is such a major variety with this stone which is what we love about it! If you only thought that sapphires could be blue, think again! Pink sapphires are actually rubies, believe it or not, but their coloring is what makes them pinker in nature and is what gave them a different name. You can find very pale pink sapphires, deep pink sapphires that almost resemble rubies, and everything in between. If you have a shade of pink in mind, you can probably find a pink sapphire to match it!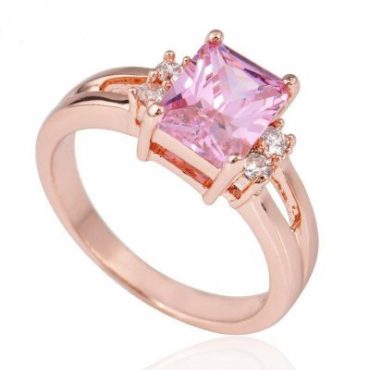 Pink tourmaline: This crystal gemstone also has a wide variety of color variation just like pink sapphire. From pale pinks to bright magentas, you can find the shade you desire with pink tourmaline! What we really love about these stones is that you can sometimes find ones that have varying shades of pink to it, which makes for a really intriguing and totally unique stone. In fact, tourmaline is often referred to as the 'rainbow gemstone' because of the impressive range of shades you can find, including pink!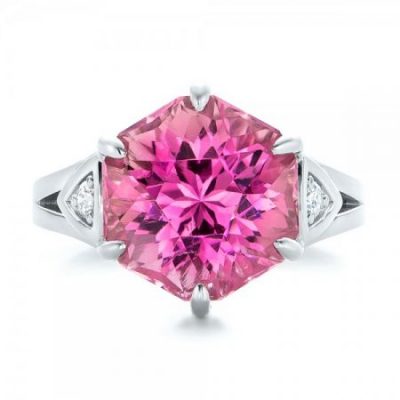 Morganite: What is the other pink trend we are seeing everywhere these days? Rose gold! If you love that rosy, bronze shade of pink, you would love a morganite gemstone. They have that perfect rose gold appearance (in terms of color) making them beautiful, delicate looking stones that are very feminine and absolutely beautiful. If you want a subtle color for your gemstone, morganite is a great option.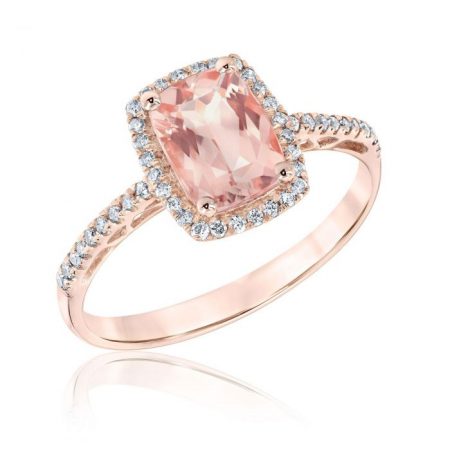 Pink diamond: Of course, we had to include the rare pink diamond on the list, but be forewarned, this gemstone will cost you a fortune! These diamonds are incredibly rare, which helps explain their major price tag. However, it is impossible to not see their beauty, and if you want something truly unique say for an engagement or wedding band, a pink diamond is a sure way to make that happen.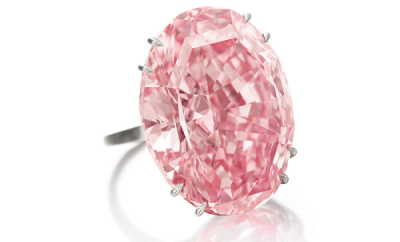 Our favorite picks!
1. Olivia Paris 14k Rose Gold Pear Morganite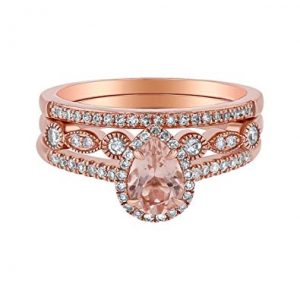 We just love this morganite ring and think it is an excellent choice for someone wanting to do something different for their engagement and wedding bands. Not only does this have a morganite stone, it also has a rose gold band which adds to the level of trendiness this ring has.
While this will cost you a good bit, it is still far more affordable than if you were to buy a diamond or pink diamond. We love the accents of the diamonds that really help the morganite stone to stand out. Not getting married? Wear this ring on your right hand as more of a cocktail ring! It is a beautiful ring and gorgeous stone that everyone will notice.
2. Genuine Rose Quartz 18K Gold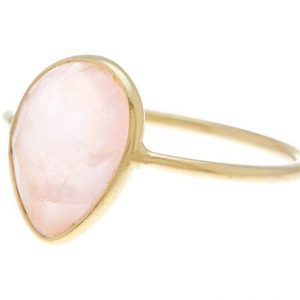 Our other favorite pink gemstone, we absolutely love the look of this rose quartz ring. Best of all, this ring is incredibly affordable, but it doesn't look it! Gold has also come back into style, and we love the large stone combined with the thin delicate band. This is a perfect ring to wear day or night and we love the more modern pear cut of the stone.
If you are looking for a more affordable way to wear pink gemstones, rose quartz is one of your best options. The minimalist design of this ring makes it very modern and is what you will see everyone wearing these days. If you want to try out this trend, this is the ring to do it with!
Purple Gemstones
If you are looking for something totally unique, purple gemstones are the way to go. How often do you see purple gemstones? Not very often! And that is exactly why we love them. Still very feminine in nature, these are bold unique gemstones that really make a statement. If you are looking for something out of the ordinary, give purple gemstones a try! With plenty of variety in shape and color, you can find something perfect. Here are the best gemstones that have a beautiful purple hue:
Amethyst: This is by and far the most well-known purple gemstone out there. It is a beautiful gemstone that is also an excellent choice because of its typical affordability. This gemstone tends to be more affordable because there is a fairly large amount of it that has been found around the world, making it a greatly accessible gemstone that is gorgeous. You can also find some variety in the color, with some lighter shades found as well as deeper shades of purple that make for luxurious rings- after all, purple is the color of royalty!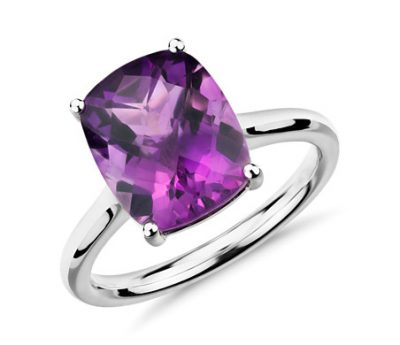 Iolite: Have you ever heard of iolite? Probably not- it is not very well known, but our hope is that that changes! Over the past few years, we have seen the rise of the lilac gray shade- it is all over fashion and wedding color schemes, and now you can have it with your jewelry too! Iolite is known for having a dusty purple/gray like shade to it, which is absolutely trending right now! This is a great purple gemstone to try out if you want something totally unique that is also on trend. Everyone will want to know where you found a gemstone in this color!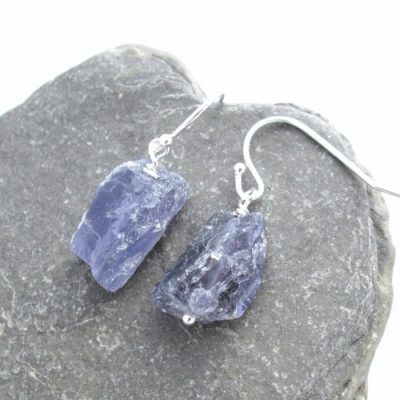 Tanzanite: If you thought that tanzanite was blue, you wouldn't be wrong. This is typically a blue gemstone, but there are also plenty of tanzanite stones that take on much more of a purple hue. If you want a deep colored gemstone that is on the cool (or blue) side of the color spectrum, tanzanite is a great gemstone that you will absolutely love!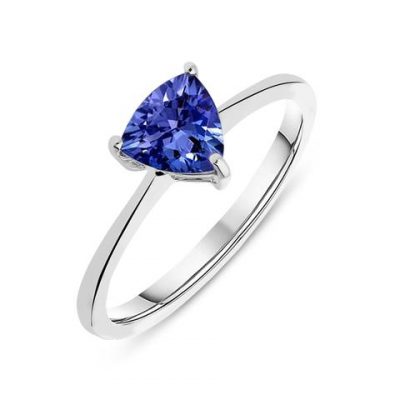 1. Blue World Treasures Wire Wrapped Amethyst Rings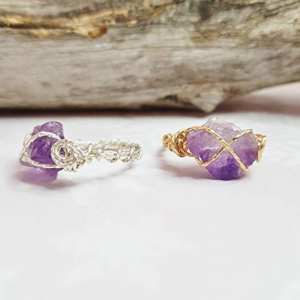 This amethyst ring is one of the most unique and most beautiful we have seen. Not only is the color beautiful and dimensional by having various shades of purple, the stone itself is also raw cut, a style that we have seen a lot of lately and absolutely love. The band itself also takes on more of a 'raw' appearance and is intricately wrapped wire enclosing the stone. This is a gorgeous ring that is surprisingly affordable.
If you want a unique ring that doesn't resemble an engagement ring, this is a perfect option for you. Wear it on your left or right hand and wait for the compliments to pour in! This is one of our favorite rings on this entire list!
2. Finecraft 2 1/2 ct Natural Iolite Infinity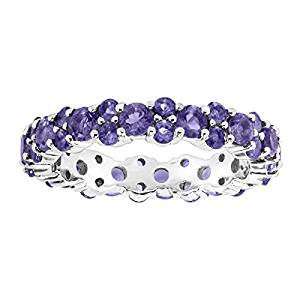 Get It Here
If hearing about iolite interested you, you are sure to love this ring. Complete with a total of 2 and a half carats of natural iolite, this ring is stunning. See what we mean about the purple/gray tone to the gemstone? We love this unique shade and think it looks great with the cool tone of the sterling silver band.
Each of the iolite stones are round cut and placed in a gorgeous infinity setting around the entire band, something we do not see with many rings. This is a beautiful ring that you could easily wear during the day or at night for a special occasion. The ring is muted enough that it will go with a variety of outfits, but is bold enough to make the statement you want it to! An excellent, unique choice!
Green Gemstones
You have likely seen some green gemstones before as they are fairly popular today. However, do you know what your options are when looking for the perfect green stone? As it turns out you have the most options when it comes to finding a green gemstone as there are so many stone choices to choose from! Green gemstones are some of our favorites, as they are both unique and timeless, having been worn for centuries!
Whether you want a more traditional looking ring or something more modern, you are sure to find something with a green gemstone if you want. Here are some great green gemstone options for you to consider:
Emerald: Of course! No list of green gemstones would be complete without talking about the very popular emerald. A beautiful deep shade of green, these are classic gemstones that never seem to go out of style! Are you born in May? Lucky you- the emerald is your birthstone! Whether you are born in May or not, you can certainly enjoy this gorgeous gemstone, even though it will likely cost you! Emeralds are precious gems and do cost a good bit of money (although you can always enjoy a fake stone if you like!)
Jade: You've likely also heard of jade gemstones before, and these are a great more affordable option if you want to purchase a green gemstone ring. Jade is more of a solid gemstone that is not as 'shiny' as some other crystal type gemstones, but that does not mean it is any less beautiful! If you want a more simple, less flashy gemstone ring, jade is a great option for you to consider!
Peridot: Slightly less popular than emeralds and jade, peridot is another gorgeous green gemstone option to consider. If you are looking for a brighter green gemstone that is on the yellow side of the color spectrum, peridot is a great gemstone you are sure to love! Gorgeous and vibrant, it is a fun stone that makes for beautiful rings that are sure to catch anyone's attention.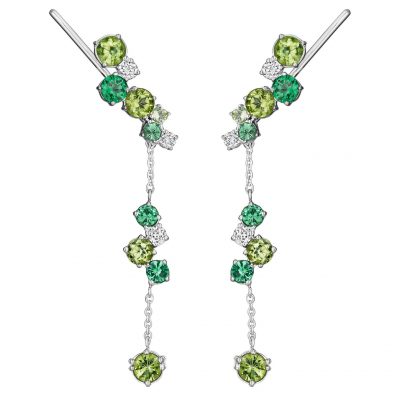 Green sapphire: Finally, like we had pink sapphire, you can also have green sapphire! What is great about green sapphire is that it tends to be more readily available than some other sapphire types (like pink sapphire) making it much more affordable!
You've also got a pretty good variety of color to choose from, which we always enjoy so that you can pick the perfect stone for you. From lighter mint green hues to deeper forest greens, you will find a lot of different green sapphires out there, all beautiful.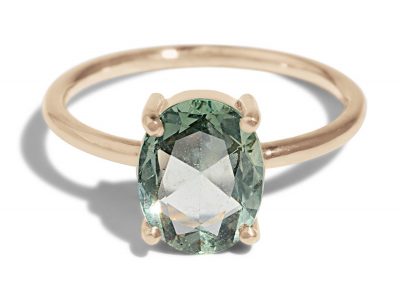 1. Lux Genuine Green Jade Eternity Ring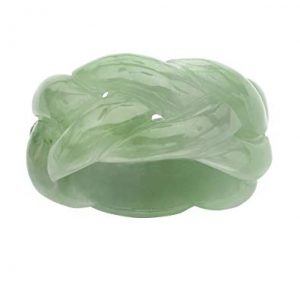 Get It Here
We couldn't help it, we had to include this ring on our list. Typically you think of a gemstone ring as having a band with the stone or stones included, right? Of course, you do! Have you ever seen a ring like this? This ring is made of genuine jade and we love how unique and beautiful it is. The perfect shade of dusty olive, complete with the braided design, this is a one of a kind ring that you can't find just anywhere.
We love the smoothness of the jade and think this is such a beautiful way to wear this green gemstone. Best of all? It isn't terribly expensive. While it is certainly more expensive than your average costume jewelry, it is still far more affordable than most gemstone rings you will find that are made of real stones. In our opinion, this is a must-have ring that every woman should have as part of her jewelry collection!
2. Gemstone King 2.55 Ct Cushion Green Peridot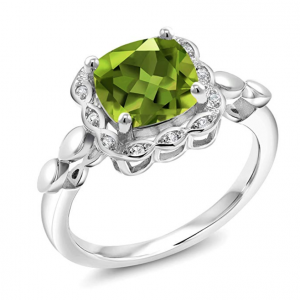 See what we mean with the peridot? We love the unique, bright shade that this gemstone has, it stands out from most of the other gemstones on this list! This particular ring features a genuine peridot and created sapphire, which helps to bring the price down considerably. The band is sterling silver and features a unique scrollwork design that we really love.
This would make for a great cocktail ring, or even a great engagement ring if you want something that is truly unique! If you are bold and daring, why not get a ring to match your fabulous personality and outlook on life? This may just be the perfect fit!
Blue Gemstones
Second in number to green gemstones are blue gemstones – there are so many to choose from! Similar to purple, we love the royalty and richness associated with blue gemstones. We also can't help but think of Titanic- who else wants to try on the heart of the ocean?? Maybe that is just us. In any case, you have a lot of options when it comes to blue gemstones! At a wide variety of price points and colors, you can pretty much have it all when it comes to blue. Here are some of the best and most unique blue gemstones you can find:
Sapphire: Of course! The classic blue gemstone, the sapphire. Known for its brilliant blue color, you can actually find this stone in a variety of shades, but most people want the deep royal blue that the stone is known for. One of the most precious gems, this is certainly not a cheap stone, but it is one of the most beautiful. Perfect as an alternative for an engagement stone, this stone is worth the money to have something so beautiful that is also incredibly durable and able to be worn for a lifetime.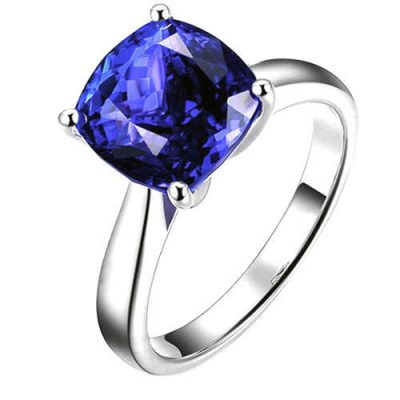 Turquoise: We bet you didn't think of turquoise when thinking of blue gemstones, but we sure did! Typically not thought of as a gemstone, but incredibly popular, we love the unique shade that turquoise has. Did you know that the color was named after the gemstone, and not the other way around? Because it is such a unique shade it was in need of its own name.
Perfectly unique, but also very affordable, turquoise is found in a lot of jewelry and is a less formal gemstone, perfect for anyone looking for everyday jewelry.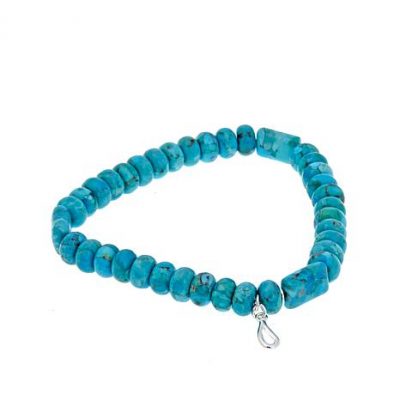 Aquamarine: We love aquamarine, if we had to describe it in a word, it is refreshing! A brilliant light blue shade that will remind you of ocean waters (hence the name), this is a beautiful gemstone that we love both with silver and gold bands. If you do not want a deep blue gemstone (like a sapphire) aquamarine is a great stone option for you, as there is some color variance, but it does not tend to be deep in color.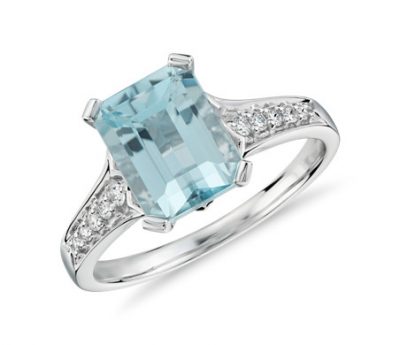 Topaz: Typically thought of as being orange or brown in color, there is also blue topaz which has become an incredibly popular gemstone due to its affordability, bright color, and durability. This is one of the most durable gemstones that also has an incredible price, making it a great option for anyone who wants a true blue gemstone but doesn't have the money to afford something like a sapphire. Coming in a variety of shades, you can go for something lighter more similar to aquamarine, or choose something deeper if you want that true royal looking appearance.
1. Turquoise Network Turquoise Ring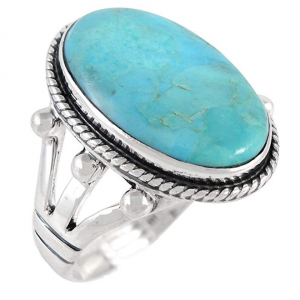 Gorgeous turquoise! We love this statement ring and the huge turquoise stone it comes with. Turquoise is a more affordable gemstone, meaning you can go larger with the stone and still keep the price point affordable.
The band on this ring is sterling silver, giving all the attention to the beautiful natural turquoise stone. This is a great piece of jewelry to wear all on its own, and while it is more of a day time piece of jewelry, we also think it could make a great statement for a night time look as well.
2. Finecraft 1 5/8 ct Natural Aquamarine & White Topaz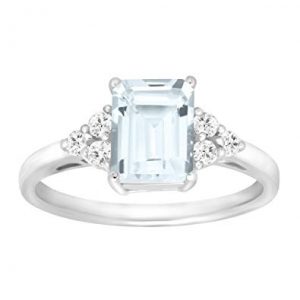 Ice blue! We love the subtle shade of this aquamarine stone, it is the perfect ring fit for an ice princess (anyone saw Frozen?) We love the emerald cut of this aquamarine, it gives this ring a real vintage look, but the unexpected gemstone makes it totally unique. Perfect as a cocktail ring or an engagement ring, this brings all the sparkle you would want in a ring! Complete with white topaz round stones on the side, this is a beautiful ring that we would gladly wear any day of the year!
Black Gemstones
Finally, are you looking for something truly unique and edgy? Why not go for a black gemstone? We absolutely love the appearance of these dark, mysterious stones, and think they are the perfect stone for a unique ring. While there aren't a lot of black gemstones, there are enough to choose from if it is what you are searching for! These are truly unique gemstones that you don't just see every day. If you are always in search of something new and different, this is the gemstone you should try. Here are your best black gemstone options:
Obsidian: Obsidian is actually a type of volcanic glass which is typically black in color. We love the solid dark appearance that this has, and if you are looking for a true dark black stone, obsidian is a great option! It also tends to be much more affordable than other types of stones, making it a great accessible option for anyone.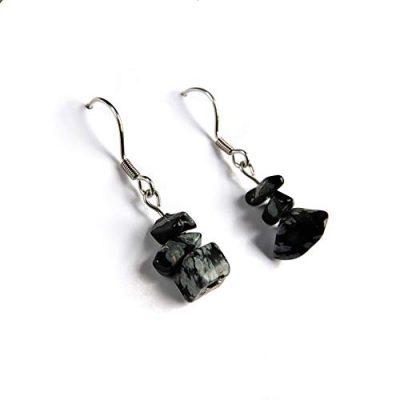 Black diamond: If you want to go all out, why not go for a black diamond? Black diamonds are actually increasing a lot in popularity and we are all about it! Especially when mixed with traditional diamonds, you can find really modern black and white style rings that are absolutely beautiful. There are several types of black diamonds, including naturally occurring black diamonds and ones that are treated to be black.
They start out as white diamonds but have a bunch of inclusions in them, making them worth very little. They are treated in a few ways, including by the use of heat, to produce their black color. These are much more affordable and are a great way to get black diamonds without paying a major price.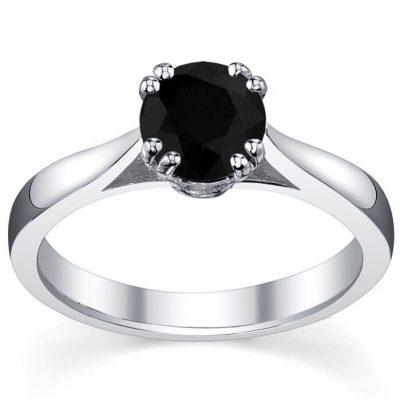 Pearl: Don't forget about pearls! Pearls are a classic stone that we wanted to include somewhere on this list. Pearls never go out of style- they are so elegant, and in particular we love black pearls. Similar to black diamonds, there are both naturally black pearls (which are more expensive) and dyed pearls that are clearly more affordable. If you love the look of a pearl but want to mix it up a little, why not go with a black pearl?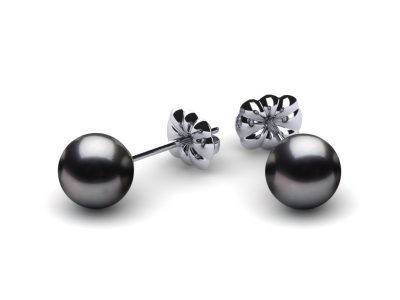 Onyx: Finally, onyx is a great naturally occurring black gemstone that we really love. Typically, onyx will also feature white bands throughout the stone, which we find fascinating and makes this gemstone unique from any others on this list. If you find a black gemstone too boring, onyx is a great way to get a more unique stone that is still black!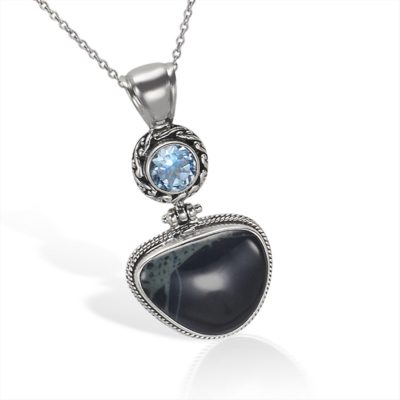 1. Godyce Couple Obsidian Rings for Set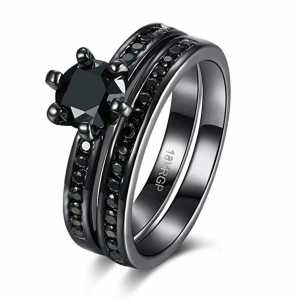 Wow! If you are looking for an edgy ring, this obsidian ring is perfect. Best of all, this comes as a set, one that you can wear, and one that you can give to your boyfriend or husband (or, wear both rings for yourself- that's what we would do!) This is a unique ring that combines the classic femininity of a gemstone with the darkness of obsidian, a look that we are totally loving! Best of all, because obsidian is a cheaper stone, this is a very affordable ring set that looks much more expensive than it actually is.
2. Ulti 14k Gold Cultured Freshwater Pearl Ring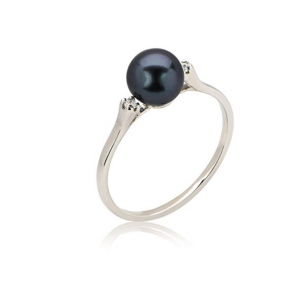 Of course we had to include a black pearl ring, they are too elegant not to talk about! Pearls make a great accessory to any outfit, and while you might think they are good for stud earrings or a strand necklace, they also make for excellent rings. This real black pearl ring is also complete with two small diamonds, making this ring incredibly elegant and classy. Are you attending a cocktail party? Put on your favorite little black dress and accessorize with this ring- you'll be the best-looking person there, we guarantee it!
Wrapping Up
There you have it! Now you know, no matter what your favorite color is, you can find the perfect matching gemstone for it! Whether you prefer classic stones like sapphires and emeralds or prefer something more unique like obsidian or aquamarine, there is truly something for everyone.
Frequently Asked Questions
Can you find fake alternatives to these gemstones?
Thankfully, yes! Just about any gemstone can be artificially created, which will, of course, reduce the price by quite a bit. This is a great option if you are not sure if you want to commit to a real version of a certain ring and gemstone. You might really love a certain colored stone, but what if you grow out of it in a year? Problem solved – get a fake ring to start, and upgrade after some time!
 Are certain gemstones rarer than others?
Yes, absolutely. Rarity is actually one of the main determining factors for the price of a gemstone (including other factors like cut and clarity). Turquoise, for example, is very common, so the price is rather cheap. Pink sapphire, on the other hand, is much rarer and therefore has a much higher price tag.