Fashion Tips / Jewelry / Trends
Mixing Silver and Gold Jewelry: How to Do it Right?
A common myth works around people that mixing gold and silver jewelry is a strict no. Fashion is always what you make out of it.
Therefore, it is quite flexible with the rules, and you can still create a statement with your unique look. You would be pleasantly surprised to know how amazing it looks if you can develop a combination of gold and silver in the right way.
What jewelry you wear defines your personality or mood. Sometimes you want something bold, and other times you want a sleek and straightforward style.
Mixing gold and silver gives you the liberty to play with different styles and patterns and create an overall beautiful look.
Another great reason to mix silver and gold is the fact that you can always create a distinct look with similar jewelry pieces just with a different combination.
How to approach the styling
This might be something new to you since even four to five years ago, mixing two different metal jewelry would be considered a 'fashion disaster'.
We have tried to provide a step by step guide on how to start the approach with your styling. We understand for some people jewelry are always handpicked personalized items and how emotionally they are connected to them.
If you are one of those people who put in a lot of effort while selecting the right type of jewelry, you have come to the right place!
Here's a step-by-step approach on how you can create a well-coordinated look with a mix of gold and silvers.
✓

Decide the clothing first

If you are into fashion trends or style, you know how vital the right dress can be. By that, we don't mean only branded or expensive clothes. How you carry, it is what matters the most.

You can even be the center of attraction by putting on a simple tucked-in T-shirt even. Styling the cloth is more important than the category of clothes itself.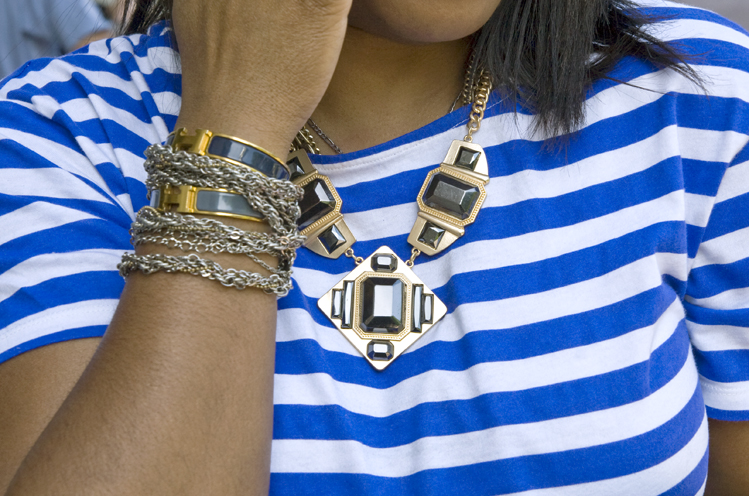 And one of the essential ways to style your outfit is through jewelry. The jewelry pieces that you are selecting should compliment your outfit.
For example, with a summer outfit, you would want your jewelry to be small and with simplistic design preferable a monogram bracelet or neckpiece. But for party attire, you can create a bold look with large rings made of your birthstone.
✓

Mix your jewelry according to each category

The next step is to fix the pieces of jewelry. If you like wearing accessories, you would know the wide variety of jewelry options that are available for each body part.

To help you better organize, we have categorized jewelry into few sections which we are discussing below.

Neckpieces: For neckpieces, you have pendants, lockets, beaded necklace, traditional necklaces, chains, and chokers mostly.

The thumb rule is to use one specific type and then wear extra gold or silver chains. But you can always customize your way, that's the beauty about mixing jewelry.

Wrist jewelry: Wrist jewelry include watches, bracelets, and wrist bands, mostly. When it comes to mixing silver and gold, our personal favorite is to go for a silver watch and mix them with gold bracelets of different patterns.

Rings: This is probably the most versatile of the category. You have earrings, toe rings, rings for fingers, nose rings, rings for eyebrows, and belly buttons.

Although you can only mix and match silver and gold with rings for finger and toes. However, for the overall look, you also need to keep in mind about the nose rings and earrings.

Foot accessories: If you are not wearing shoes or boots, foot accessories like anklets or toe rings are quite trendy nowadays. You can mix and match silver and gold keeping in contrast with your sandal or slipper's color.

Now step 1 and 2 here can be interchangeable. You can either decide on your outfit first and then fix your jewelry pieces or vice versa.
✓

Focus on one area

We know you must love to wear multiple jewelry items in various body parts. However, always keep in mind to create a focus on one particular area only.

What we mean is, you can wear bracelets, rings, neckpieces all together but you need to create a separate statement for one specific area only.

For instance, for a housewarming party, you can wear a gemstone necklace and add multiple silver and gold chains.

In that case, your neck is the focus area. In other parts, go with some small jewelry such as bracelets or a watch.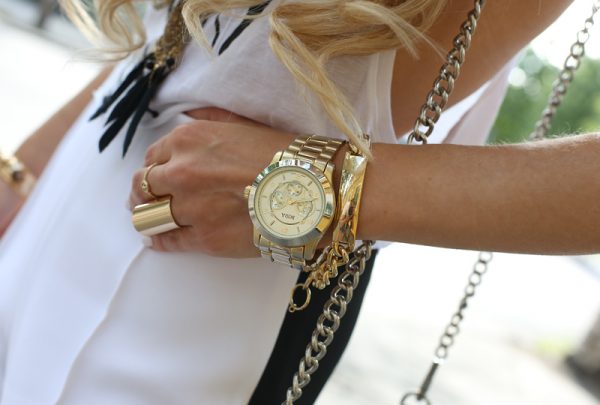 Another reason to create a focus area is to avoid overcrowding and overuse of jewelry. It is always best to only create a mix on one particular area. The focus area can be your neck, wrist, or ears.
Identify the bridging piece
The bridging piece is the most critical factor when you are new at mixing silver and gold jewelry. It will help you design the pattern better.
There are separate ways other than going for a bridging piece, but we would recommend doing that once you fully accustomed to gold and silver mixing.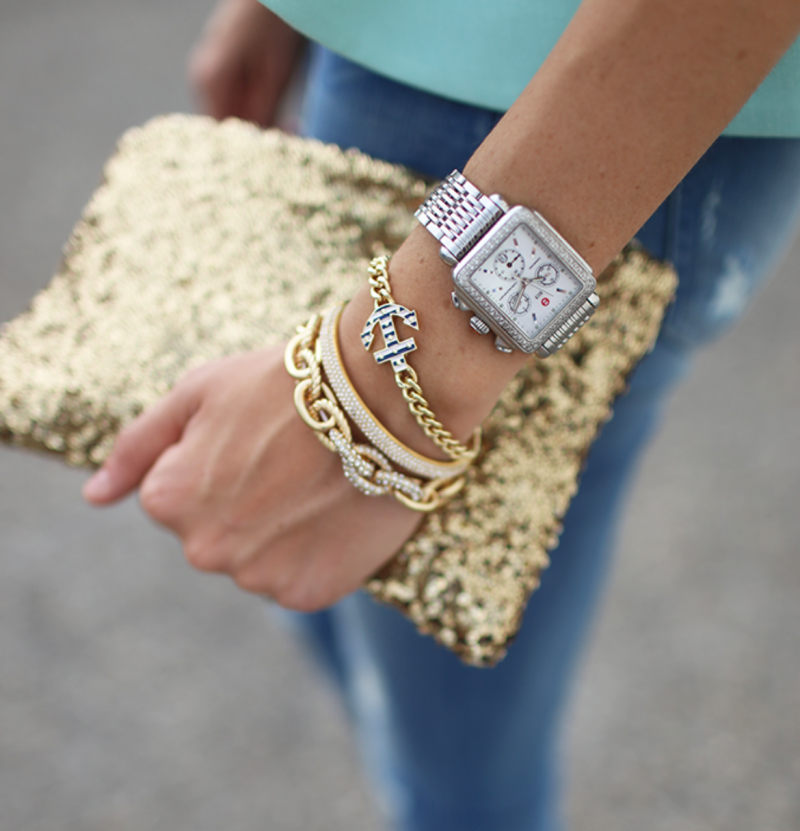 The bridging piece can be an antique watch for the wrist or timeless jewelry. For the neck, you can go for a heart-shaped gold or silver pendant as the bridging piece with multi-layered chains.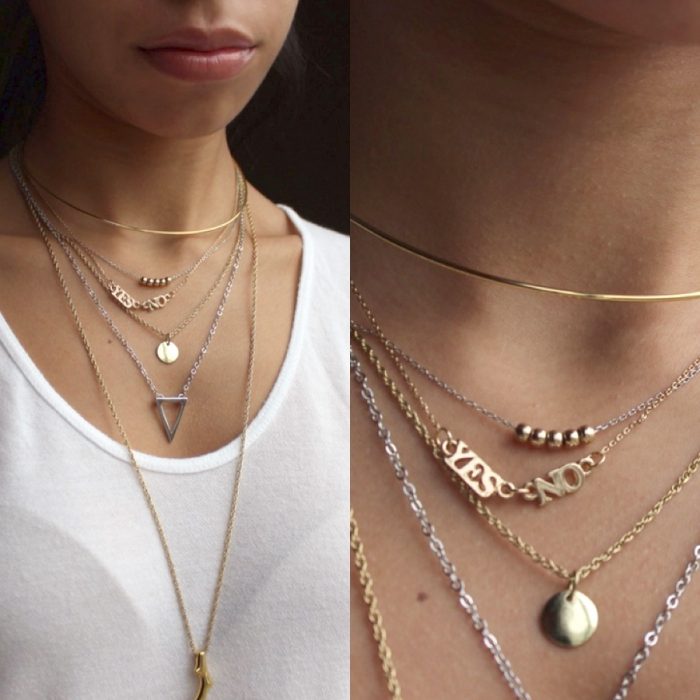 You can even create a bridging piece with your finger rings. Wear a large ring in the index finger or ring finger and wear smaller ones in other digits.
✓

Create a unique combination

Now the significant part about mixing is that same jewelry item can help to create a different look. For instance, if you have only ten pieces of jewelry, you can try out a hundred mixing and matching styles with those ten pieces of jewelry only. Amazing, right?

Another important tip from us: whatever you wear, wear that confidently. Carry yourself confidently and trust us, any style or look will suit you.
→ Patterns based on mood
Creating the right mix is entirely subjective. There are no fixed rules to follow here. The mixing style will vary depending on the occasion or the type of attire you want.
We have come with few ideas on how you can mix the jewelry based on various events or looks.
→ A simplistic look
For everyday office or college, you would want something simple and comfortable. Our favorite style for the simple look is to wear a big dialed silver watch along with two thin golden bangles.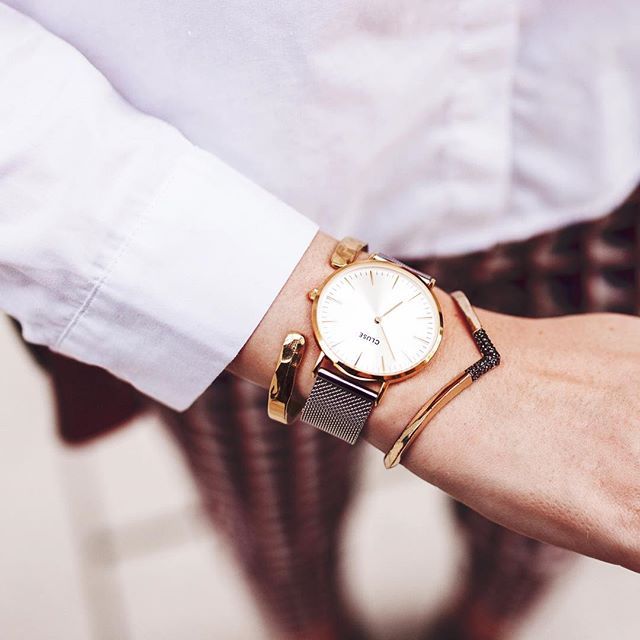 The combination is smooth, comfortable, and stylish at the same time. Another easy and simple look for the wrist can be other bracelets of silver and gold.
For the neck, however, a simple silver locket along with a gold chain should be enough.
→ A traditional pattern
The traditional pattern styles are the best part about mixing silver with gold. Charm bracelets are the most famous piece of jewelry when it comes to traditional look for the wrist.
Sterling silver charm bracelets with some large gold cuff braceles tin the middle are one of our favorite classic looks for the wrist.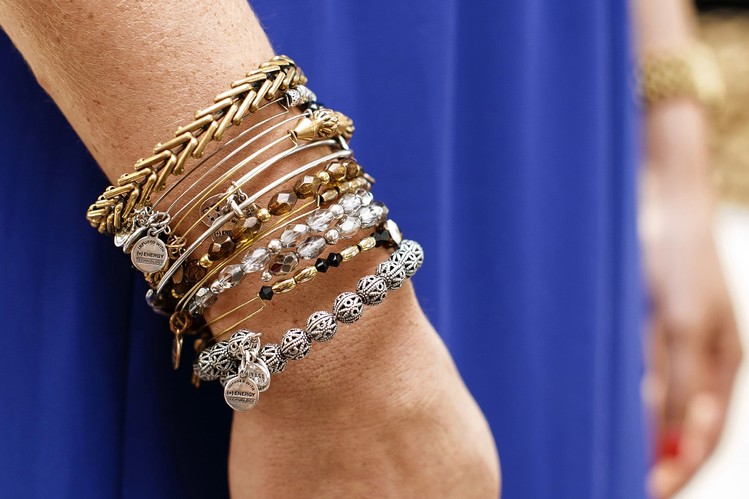 For the neck, you can wear a beautiful gold-plated collar necklace or choker paired with some silver multi-stringed neckpiece.
Although if you are going for heavy jewelry, we would recommend not to overdo with the outfit; otherwise, your jewelry will not stand out.
→ A semi-formal style
For online or business meetings, semi-formal styles are quite popular. We would recommend in these cases to focus on the hands more rather than the neck. Your hand movements, while giving a presentation, will look better compared to the neckpieces.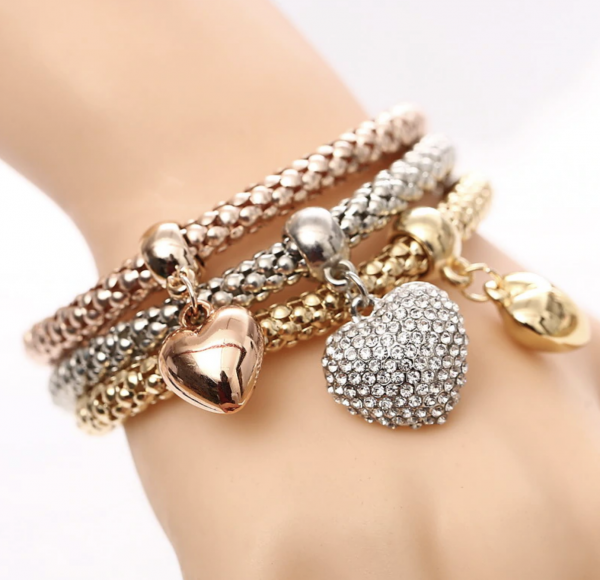 Vintage or antique gold bracelet with a pearl in the middle can be your bridging jewelry. Add some silver cuffed bracelets with those, and you have yourself the perfect jewelry mix for your semi-formal look.
A multi-strand golden bracelet with paired with two single silver bracelets are also a right combination for your semi-formal attire. You can also go with a large gemstone ring on the fingers and a slim silver watch for a semi-formal look.
→ A casual style
For casual styles, even if you know how you can improvise your everyday look. To make things convenient for you, we would recommend that you keep two separate jewelry boxes for your casual and formal wears. Using this will make things simple for you to organize.
For casual wear, you can use a large silver watch as the bridging piece and mix them with alternate beaded gold and silver bracelets.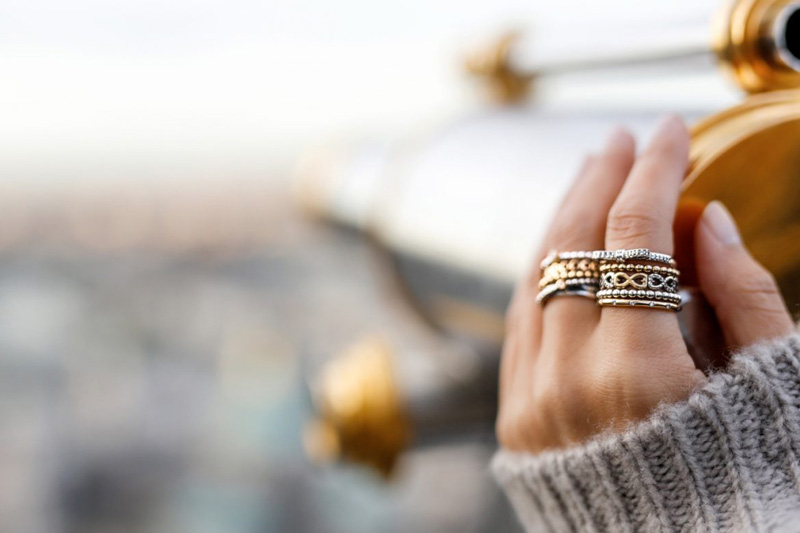 You can also wear a gold ring in the index finger, and a silver ring in the ring finger and a sleek silver cuffed bracelet on the wrist. For the neck, focus area, you can use a silver opera necklace paired with some long golden chains.
→ Strict formal style
For black-tie events, you need to be strict about formal attire, and we understand that. Don't worry mix of silver and gold is so versatile that we have few ideas for your formal look as well.
For the neck, you can go for a golden bib necklace paired with a thin silver choker. For the hands, merely an alternate combination of golden and silver cuffed bracelets will look classy and elegant.

You can wear a silver watch and a golden ring, on the other hand, to create a complete formal look. Alternate gold and silver chains on the neck can also look great if you are wearing a black suit with a white shirt.
→ Festive look
For your festive look, you have the liberty to go 'extra' with your jewelry. For Christmas, Thanksgiving or Easter, gold and silver mix jewelry can create a unique fashion statement for you.
Considering the wrist, use a gold watch and adorn the rest of it with cuffed bracelets, bangles and pearl bracelets in the form of alternate gold and silver colors.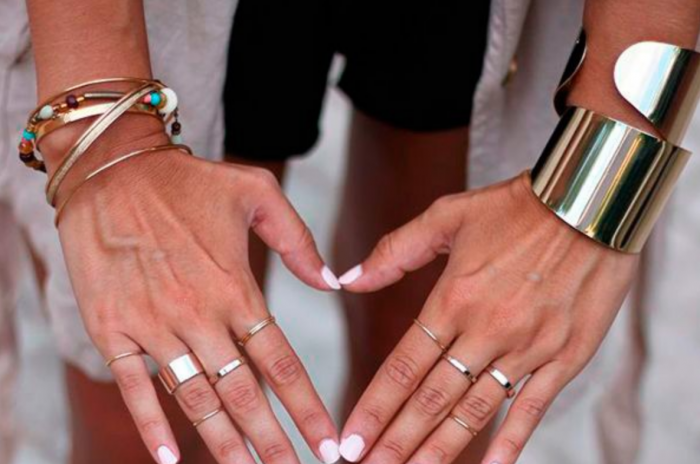 Or you can wear a sizeable golden bracelet on both hands and wear two small silver rings on your thumb and middle finger.
→ Retro style
Retro styles are something that you usually do not do regularly. Maybe for themed parties or gala nights, you might have to manage a retro look.
Luckily for you, we have few ideas on the retro style as well with the existing jewelry you have. Only three to four gold and silver alternate cuffed bracelets can create a great retro look for you.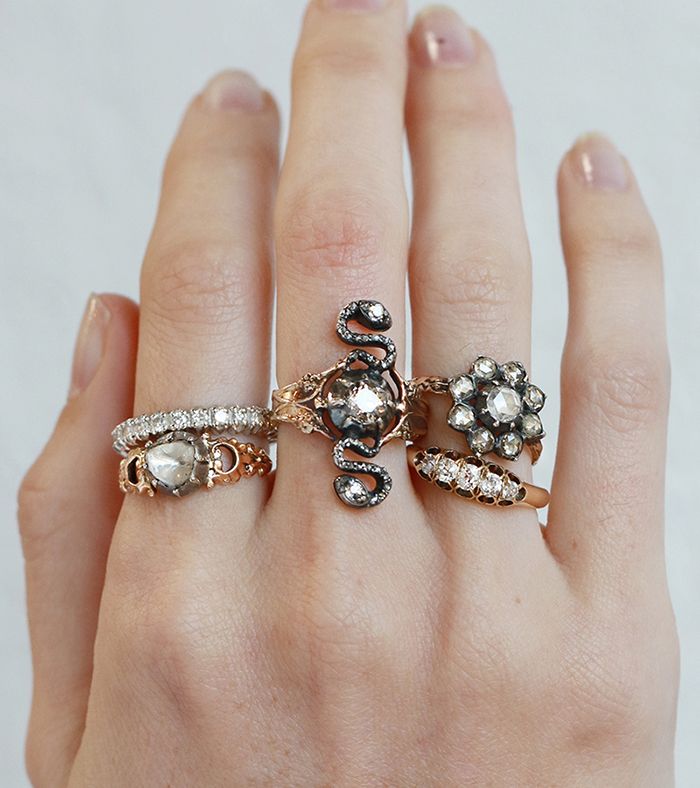 An even exciting approach could be to wear rings on other fingers with a mix of silver and gold. For retro adding few more colors with gold silver, the combination is an excellent way to go.
Event-specific styles for you
Now that you understand the different category of styles, we have made a few pointers for you based on special events.
During special occasions, we know that you probably trial and error plenty of outfit choices. The same problem prevails for jewelry lovers too. So, for those special events, we have jotted down some unique styles.
→ For a date
Surprise your date by wearing an engraved silver bracelet with your partner's initials. Add a few gold bangles with them to create a complete look.

You can also choose to wear a silver locket with a heart pendant or your partner's favorite gemstone along with a golden antique choker.
For something ornate, you can wear a plastron necklace with silver base and golden beads. Single jewelry with a mix of silver and gold is a unique style to follow.
→ For a girl's hangout
For a girl's hangout, we know you would love to show off your collection of jewelry. If you are wearing a fancy top, we recommend that you keep it classy through a branded gold watch paired with two to three charm bracelets.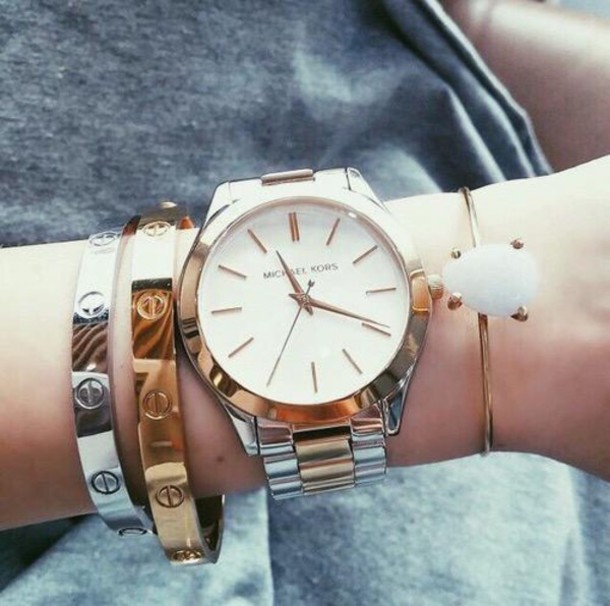 You can also wear a silver matinee paired with multi-stranded golden chains.
→  For a gala night
For gala nights or big parties, we know you want to look your best. In these events, most of the times you like to play it safe. That is, you get over-conscious while choosing your outfit or jewelry.
The most reliable choice would be to go for a golden lariat neckpiece along with a silver choker. If you are confident about your appearance, you can also go for a mix of golden and silver opera neckpieces.

Add some fancy rings on the ring finger and thumbs with a combination of gold and silver, and you have yourself a unique look.
→ For a birthday dinner
For your birthday dinner, when all the attention is on you, it is entirely okay to become over-cautious about your appearance.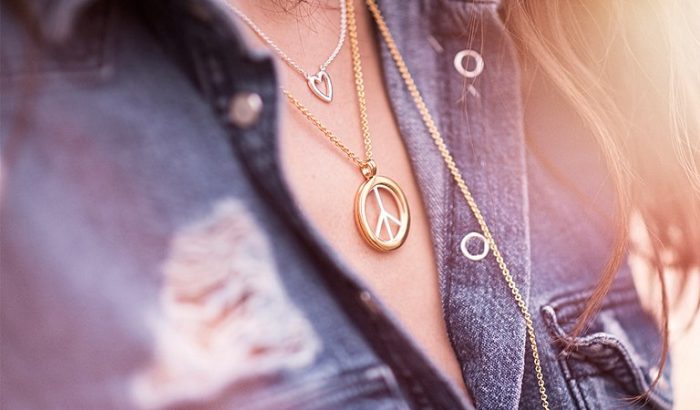 On your special day, look fabulous with a combination of golden princess necklace along with silver operas.
For the wrists, you can choose a turquoise bracelet in the middle with two to three gold and silver bracelets on both corners.
Some extra tips from us
While mixing any jewelry, always keep a few things in mind. Sometimes a random combination gathers a lot of appreciation whereas sometimes you can never get your desired look no matter how hard you try.
It's okay to feel that way and hence some extra tips from our side just for you.
✓

Use exotic jewelry pieces as the bridging piece
The general thumbs rule in standing out among the crowd is to go for an unusual piece of jewelry. It can be anything!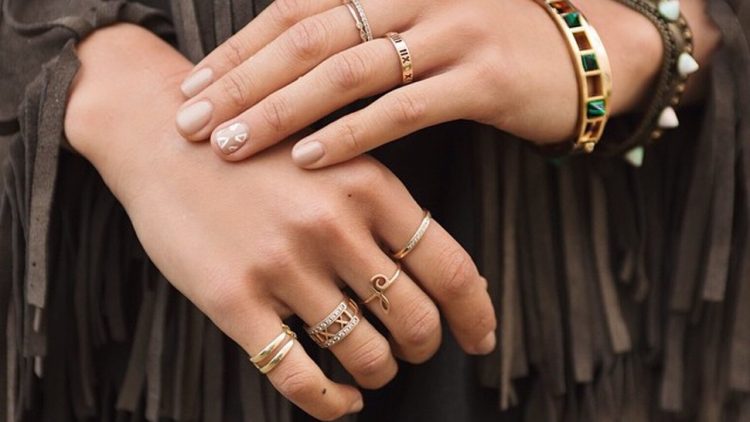 It can be a small diamond cut bracelet or a uniquely shaped bangle. We recommend that you keep at least two to three exotic jewelry pieces in your collection.
✓

Antiques always look classy and elegant
If you are going on an ornate event or any other special event, always choose antiques over other options.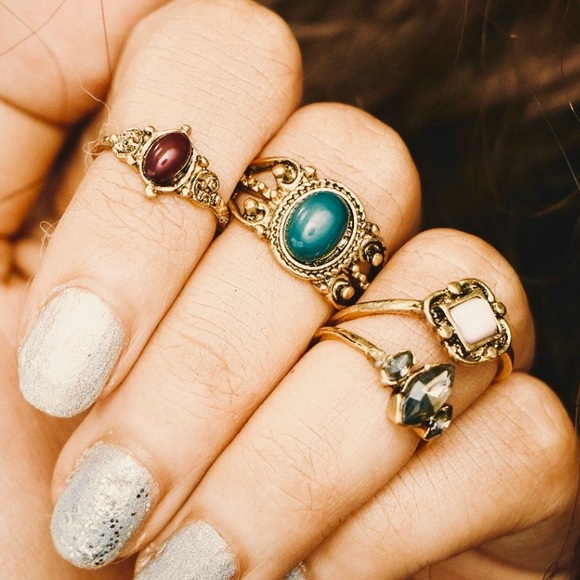 Antiques still gather more attraction compared to a standard piece of jewelry.
✓

Pair everyday jewelry with special ones
Remember, we mentioned that you keep casual and unique jewelry separately? Here's where it gets handy.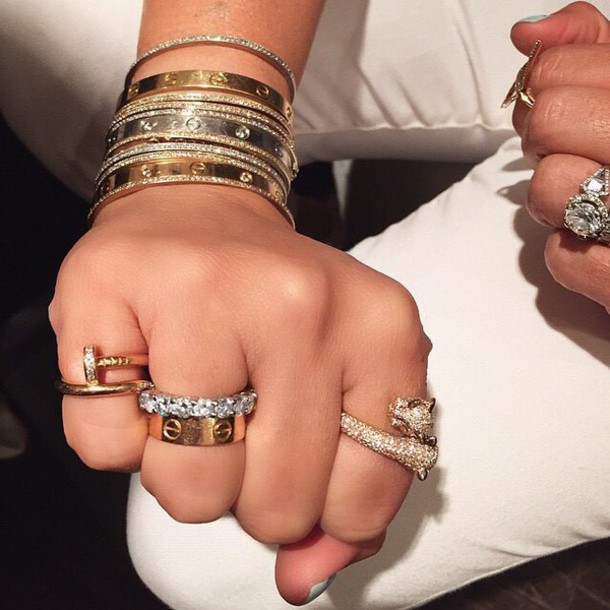 To lift your mood, pair your everyday jewelry with one exceptional jewelry that you own. You will see how pleasantly surprised your co-workers or classmates will become.
✓

Meaningful stones go a long way
The final tip would be to wear significant rocks once in a while. Precious stones not only hold beautiful meanings but look stunning on any jewelry piece.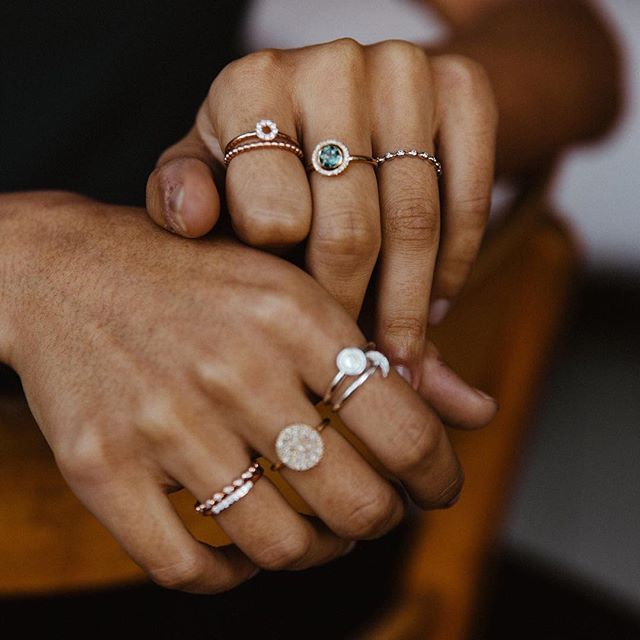 Emerald, amethyst, sapphire, and topaz are our top favorite choices for precious stones that go well with silver and gold combination.
Finally…
We tried to be comprehensive while making you aware of how to mix silver and gold in the right way. Once you get the hang of it, you would love to play with this combination for all types of styles ranging from casual wear to strict formals.
Just remember not to overdo with multiple pieces of jewelry and don't be extra cautious in public while trying out a new style. Just be confident!