We Found 8 Cuban Link Chains Perfect for the Man in Your Life!
last updated:
Aug 12, 2021
Cuban link chains can completely transform an outfit. You'll find they're frequently adorned by both men and women, especially if you want to exude affluence and luxury. As one of the most durable types of chains on the market, they bring plenty of versatility to the table.
It's easy to identify these iconic necklaces, as they are often thicker and flatter than standard chains. In this guide, we'll explore some of the top fashion-forward pieces so you can add elegance to your jewelry collection.
Top 8 Picks
1

. Jade Trau Gold Cuban Link Chain
18k yellow gold
Delicate width
Polished finish
Thin Cuban links
The ade Trau 18kt yellow gold Cuban link chain necklace is the perfect unisex piece to add to your collection. It sits comfortably along the neck with a delicate luxury that women and men can both appreciate. It also has a sexy appeal with its simple and sleek design.
Read more
One of the principal characteristics of this option is its versatility. You can choose to wear the exotic chain on its own, or you can pair it with a pendant for an added flair. The classic styling of 18k yellow gold makes it appear more distinctive and dramatic for formal and casual occasions.
If you love Cuban link chains but not the thickness of some pieces, this is a phenomenal alternative. It's delicately designed to be thinner but still has the same classical elegance as vintage pieces. You'll also love the immaculate polished finish, which captures light and makes the piece glisten.
As it's crafted from quality 18k yellow gold, you won't have to worry about rusting or tarnishing. Also, the necklace is relatively scratch-resistant, making it ideal for all-day wear. It's easy to elevate your look with a simple and modernly styled piece.
2

. Silvadore Curb Necklace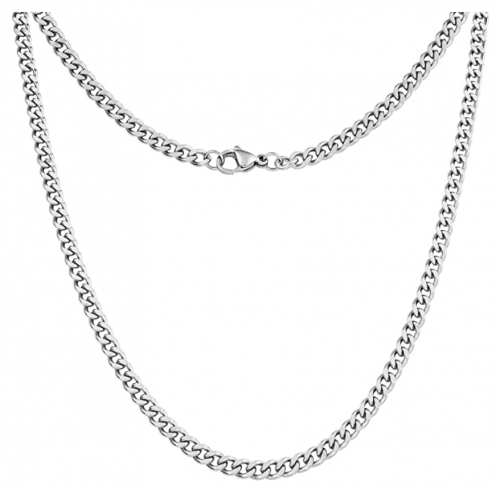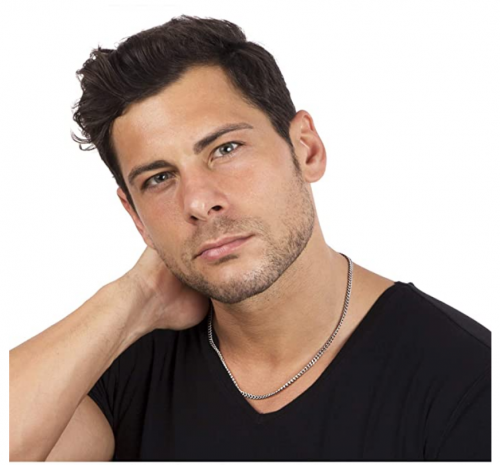 316 stainless steel
Resistant to tarnishing
90 days money back guarantee
If you're looking for a lighter chain that is more affordable, then this Cuban link chain necklace could be a great option. The chain is made from long-lasting links and has a smooth functioning clasp. The steel also has a smooth shine finish which makes this a very attractive piece.
Read more
It also weighs between 8g – 30g depending on the length of your chain. All of these design qualities make this a fantastic necklace to buy!
When it comes to the length of the chain, this necklace comes in multiple sizes and also requires little maintenance because it is made from stainless steel rather than sterling silver.
This means sweat, water and heat won't harm the piece of jewelry. It can also be stored away without tarnishing occurring, unlike sterling silver.
What we love about it is that it has a hypoallergenic finish. If you have sensitive skin then you're safe wearing this beauty. This necklace is a great alternative for you if you prefer a silver tone option instead of gold.
3

. Miabella Cuban Link Chain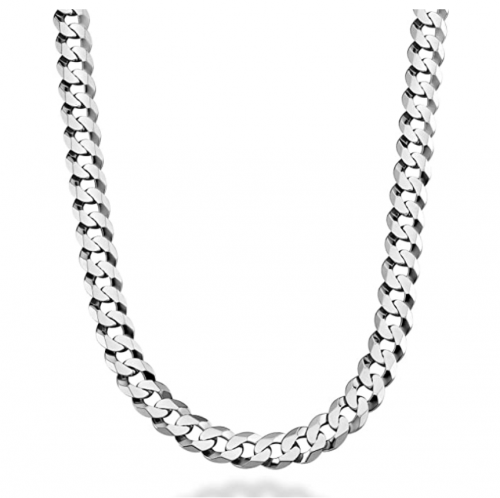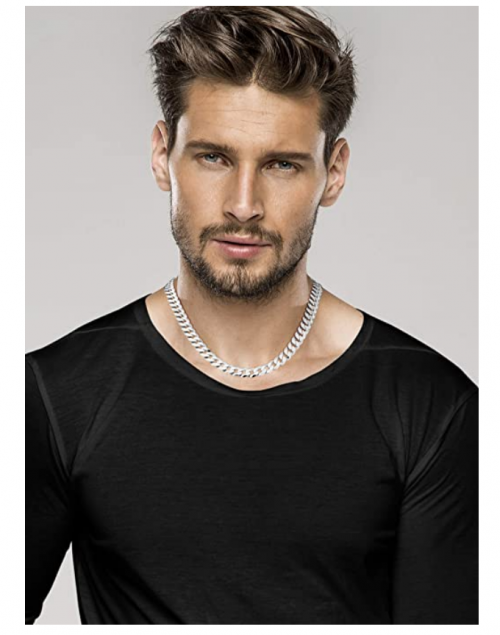 925 sterling silver
Beveled edges
Polished silver
Diamond-cut links
Italian-made jewelry has always been the most impressive on the market, and this piece is no different. With the Miabella 925 sterling Cuban link curb chain, you have a classic chain ideal for everyday wear. Like most other Cuban link chains, this style is conveniently unisex and is more akin to standard chains.
Read more
There's plenty to appreciate with this piece, as it's sleek and silver-toned with immaculate finishing. It's also available in several necklace lengths, so you can find the ideal size for your neck. Wearers can choose between 18, 20, 22, 24, 26, and 30 inches.
The thickness of this chain makes it a phenomenal standalone piece that will draw attention to your neckline. Although it doesn't accommodate pendants, you'll find its edgy exterior is more than enough to elevate your style. One of its most impressive features is each link's quality, as they're all diamond-cut for optimal precision.
Each link is uniquely beveled so that it has depth and dimension while also lying flat against the skin. The beveled edges also help to contribute to the piece's sparkling nature, making it look more expensive. Upon arrival, it's perfectly polished and can easily be maintained with a silver jewelry polishing cloth.
If you need a necklace made from quality materials, this is one of our top recommendations. It's made from pure 925 sterling silver, which is nickel-free and hypoallergenic. Those with sensitive skin can easily avoid cheap materials that usually result in skin irritation.
Another benefit of this option is its secure lobster clasp. You can effortlessly affix the chain at the back so it stays in place throughout the day. It's also easy to take off on your own.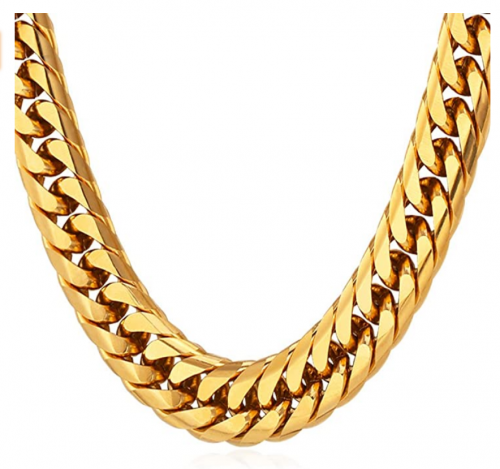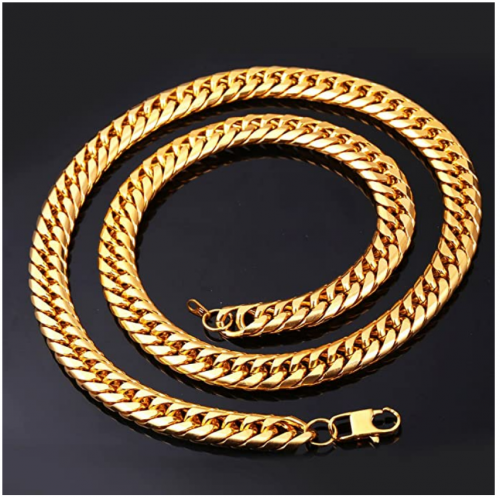 Stainless steel
18k gold plated
Multiple lengths to choose from
If you want a statement piece of jewelry that you can really show off, this is it! This 18K gold plated Cuban link chain really gives off a chunky hip hop vibe that you won't be able to miss.
Read more
The base material consists of stainless steel, making the chain very strong and durable. This necklace is 18mm in width, giving it a chunky and heavy look.
Looking closer at the color of the piece, it has a deep gold color to it which makes it stand out and it is also available to purchase in black or stainless colors.
Being a masculine style necklace, this chain would definitely look good if you have masculine physic. This necklace also gives you options as it would look great as a singular piece as well as being worn in a layered style that would emphasize the design.
When it comes to packaging, it's delivered in a black velvet pouch and dark black box, ensuring that it safely arrives in your hands.
This piece has been created by designer U7 who has an extensive collection of jewelry. Ranging from men's rings, bracelets, necklaces, and dog tags to a variety of women's jewelry, this jeweler certainly likes their gold!
5

. KRKC&CO Iced Cuban Link Chain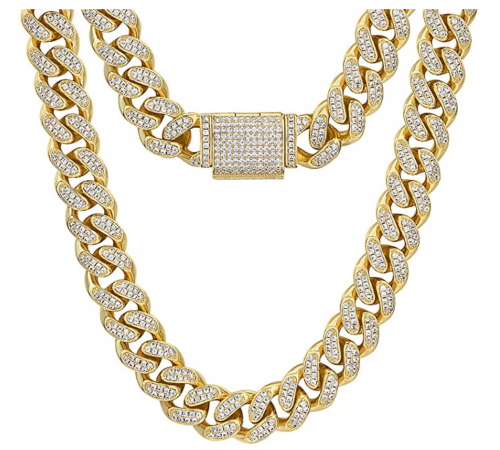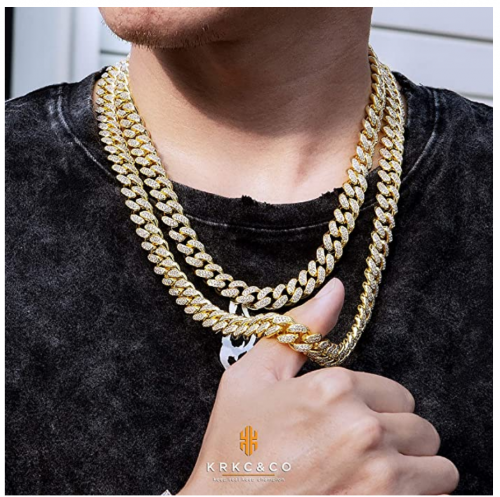 Handpicked cubic zirconia
5A-grade gems
18k yellow gold plating
Embedded stonework
One of the best ways to enhance the extravagance of any piece is to add a lot of glam. The KRKC&CO 12mm iced Cuban link chain doesn't cut corners when it comes to an eye-catching accessory. It has the perfect combination of shine and sparkle for a dramatic appeal.
Read more
When you invest your money in high-quality jewelry, you want it to look luxurious and unforgettable. This piece is sure to meet all of your needs, as it has an impressive number of cubic zirconia embedded in 18k gold. If you love the style of Cuban chains but are looking for something extra, this is one of our top recommendations.
What makes the cubic zirconia in this piece unique is that every stone has been handpicked to ensure quality. Each stone is 5A, known to be transparent and clean with a similar shine to diamonds. You'll also love the chain's sleek polishing, as it's plated with genuine yellow gold to ensure its integrity.
Even after wearing your new Cuban link chain for hours, you won't notice any tarnishing or discoloration. The necklace is also highly recommended for people with sensitive skin. You'll find the necklace's interior is crafted using brass, which is an impressively durable material.
Every single stone has been individually embedded using a prong setting to take this piece a step further. You'll no longer have to worry about inexpensive chains with glued stones that fall off over time. The exquisite nature of this chain is what makes it one of the highest-quality pieces of ice available.
6

. Jxlepe Miami Cuban Link Chain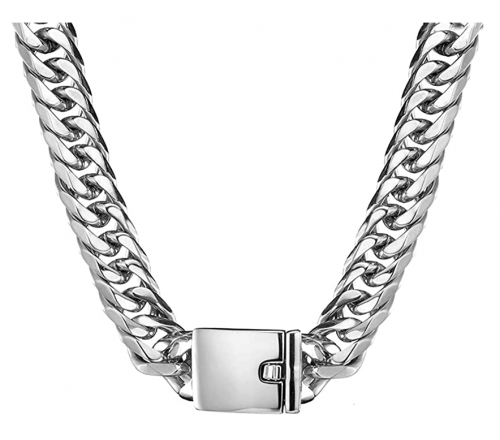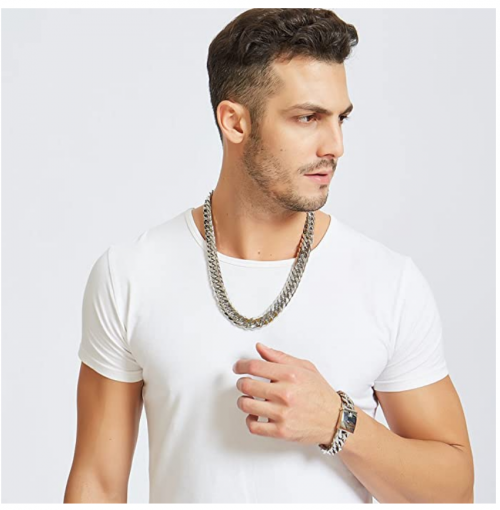 316L stainless steel
Gift box included
90-day money back guarantee
If you prefer silver chains, this necklace makes a great chunky alternative! Made from stainless steel this Cuban link chain is a quality piece of craftsmanship. You can expect this necklace to have a big bold design, weighing 11.5oz.
Read more
One thing is for sure, this accessory is very big, very bright and very shiny! The stainless steel has been polished to a bright silver-tone with no risk of it fading.
What's great about this Cuban link chain is that it's handmade and you can tell from the craftsmanship that a lot of love and care has gone into creating this piece of jewelry.
If you do the cool hip hop look, well then this piece would look amazing with your outfit. This item has been sold at a low price making it extremely affordable and accessible to buy. The supplier, Jxlepe, has made a lovely piece.
They've imported German metal with a high-level ion plating to create this piece. They can also guarantee that the necklace is handmade and browsing at the supplier's collection of jewelry they continue to offer a variety of Cuban link chain necklaces as well as wolf bracelets and pendants.
7

. LIFETIME JEWELRY Necklace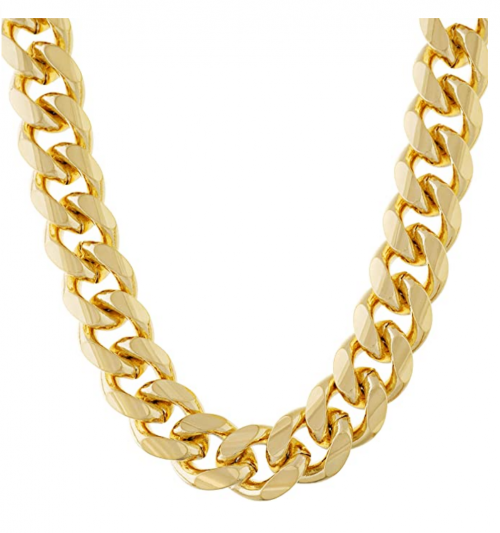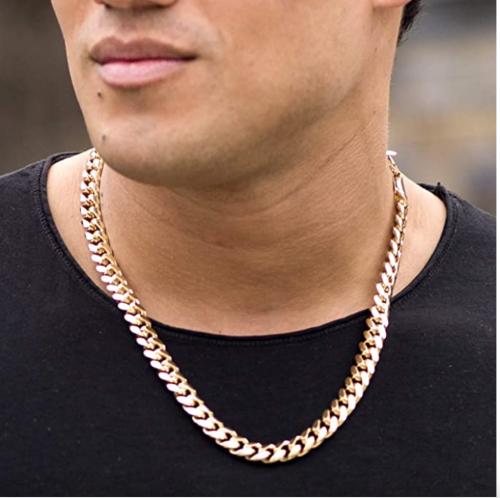 Stainless steel
24k gold plated
11 mm
Lifetime guarantee
This necklace would make a great option if you have a higher budget to play with. Made from the 24K gold overlay, it is utterly gorgeous. 11mm wide and with an overlay style, the design of this chain really stands out!
Read more
What we love about this Cuban link chain is that it feels and looks like solid gold even though it's made from yellow gold plated bronze.
When it comes to the cost, you know you're getting it for a great price. This classic style necklace has a smooth and round cut finish and feels rich and heavy when held in your hand. One thing's for sure, this necklace would compliment any outfit in your wardrobe!
This special piece has been crafted by Lifetime Jewelry who knows a thing or two about making gorgeous Cuban link chains. They are a family-run business that prides itself on making you feel and look your best every day of the week.
Their necklaces are made so that they feel and look like gold and resist any tarnishing. Each piece has a quality tag showing its gold mark.
8

. BLING BLING NY Necklace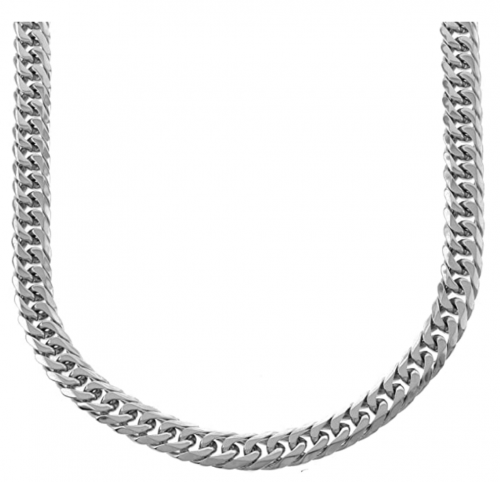 Stainless steel
Silver finish
Quality clasp
This is another of our silver stainless chains which looks utterly gorgeous. This Cuban link chain has been designed with a tight and close link design in mind. Plated inside out, this design gives the necklace a solid look which we adore.
Read more
This piece is of excellent quality and is very heavy. What's great about using stainless steel is that it is a high-quality material and is very resistant to tarnishing, corrosion, and rust. It's also one of the most bio-compatible metals which means it's hypo-allergenic.
This option makes a great fashion accessory and would complement any wardrobe on a daily basis. The chain has a very contemporary and sleek style to it which we really like! It comes in a variety of sizes including 18", 20", 24" and 30". If you like wearing chains, the supplier also gives you an option to buy a matching bracelet.
Made by Bling Bling NY, this chain definitely looks more expensive than it really is. If you opt for buying a bracelet as well, these two pieces look great together.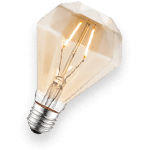 Celebrities who wear a Cuban link chain?
The gold Cuban link chain is a popular accessory to wear among male A-list celebrities, particularly those that are singers. With the likes of Usher, Jay-Z, Kanye West, and Justin Bieber all wearing these chains on a daily basis they are firmly putting the accessory at the top of the list for males who want to aspire to be like them.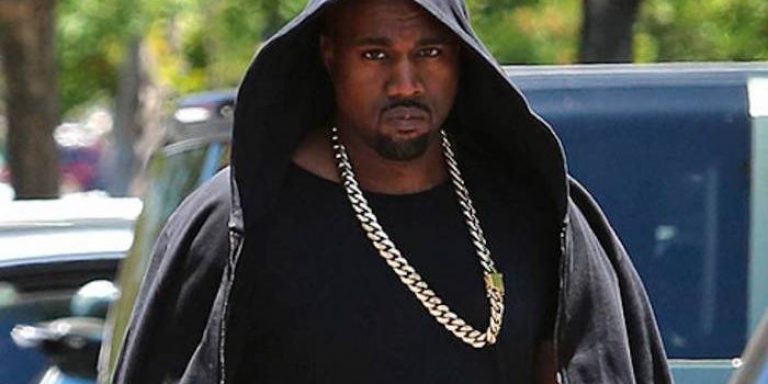 These celebrities are also commonly photographed wearing not just one chain but up to five chains. The thicker and heavier the chain, the better!
FAQs
q:

Are Cuban link chains real?

a:

You can undoubtedly find Cuban link chains made from authentic high-quality materials such as gold. If you're looking for the most expensive pieces, you'll want to avoid hollow and semi-solid articles.

With that said, solid gold can be significantly heavier, which is vital to note with certain jewelry, such as bracelets.
q:

Is Cuban link Cuban?

a:

Cuban link chains are influenced by Cuban culture and have become a trendy mainstream accessory. Their effortless elegance is incredibly versatile, making them ideal for formal dresses and suits. You'll also find they're easy to pair with sweats and jeans as well.
q:

What size Cuban link should I get?

a:

The size of your Cuban link jewelry will depend on how subtle you prefer your jewelry to be. Most pieces are thicker in nature, which makes them the focal point of your outfit.

However, there are thinner pieces, such as 7mm bracelets, that can appear dainty.
q:

Are Cuban links heavy?

a:

If you opt for solid gold or solid metal, you can bet your Cuban link jewelry will be heavy. You can always opt for hollow jewelry if you're looking for more lightweight everyday pieces.
Care Tips!
Cuban link chains can be very expensive, so it's very important to look after them properly because you want them to last for a long time. The chain can vary from having 10k or 14k gold in them so it's important that you care for them in the correct way.
We have put together some top tips to help you properly clean and care for your chain:
Wearing your chain – You should always put your chain on in the morning and remove it before you go to bed. Never wear your chain while in bed asleep because this could damage the chain and hurt your neck. It could also cause tangles in the chain.
Prevent tangling – The best way to prevent any tangling in your chain is to store it in a velvet-lined tray or box. This will remove any risk of your necklace getting damaged.
Caring for your chain – If your chain becomes hard to work with or stiff, one of the best ways to care for your chain is to place a small amount of olive oil on it. This will help to loosen the chain so it's comfier to wear.
Here are our top cleaning tips to ensure that your Cuban link chain stays in good condition all year round:
✓ Firstly if you love your chain so much that you wear it all the time, you should clean it at least twice a year
✓ Clean it in a big enough container of warm water with two to three drops of dish soap
✓ Ensure that the water is warm, not hot
✓ Soak your chain in the solution for at least ten minutes
✓ When cleaning your chain use a soft brush. The best way to clean the chain is by cleaning each link one at a time
✓ Try not to scratch your chain when cleaning it
✓ Once soaked, rinse your chain in clean warm water
✓ To dry your chain, lay it on a soft towel so it can gently dry
✓ Make sure you never use paper towels when drying your chain
If for some reason you stain or damage your chain, we suggest you take it to a local jeweler to repair or clean it.