Buying Tips / Jewelry
Ultimate Necklace Lengths Guide
Marianne 25 Mar 2020
24331
So here you are, you have found yourself looking for the right length of a necklace to buy for yourself or for a friend. You go to purchase the necklace, but before you can buy it you have to choose which length. Now what? This can be a daunting decision because you know you absolutely love the necklace and now the priority is making sure that you love it on you. How do you know which one to do? You may have been feeling happy with yourself for narrowing down your options and finally selecting the exact necklace you want. But now you have hit another speed bump.
Why are there a handful of options just for the chain length on this necklace? The good news is, we have all sorts of information to help you decide which necklace length is best for you. Whether it be good news or seem a bit overwhelming, there are several factors to look into when choosing the length of your necklace. This may also vary depending on what type of necklace this is or what occasion you are wanting it for. You want something that you adore, something that will highlight your favorite wardrobe pieces like your jewelry should, and something that will flatter you and your body type. Yes, a necklace has the potential to do all of that. So let's find out how.
First of all, there are a handful of questions that you may have right up front about purchasing a necklace when it comes to lengths. What lengths do necklaces come in? Are there standard lengths or is it different between jewelers? Does it vary between men and women what lengths of necklaces are offered of which lengths are more fitting for a specific gender? We have answers for all of that and we have more information that will help you get the perfect length of necklace for you. You may even be in a situation where you know what you like on yourself, but you are wanting to buy a gift for someone else.
Are you struggling to know what length they might prefer or what would look best on them? It may seem like a simple task, but there really are some things to think about when considering what necklace length to purchase. Even though this can be overwhelming, don't let it hold you back from purchasing that gorgeous necklace you are wanting! With that being said, definitely, don't let it ruin your genuine desire to give a sentimental gift to someone else. We are here to help you. Now that we have established the questions you may be having racing through your mind, let's talk about the answers so that you can get that dreamy necklace. Stop putting off purchasing it and start wearing, or gifting, it.
Necklace Length Chart
Let's talk about the lengths of necklaces. Are you someone who isn't sure what lengths necklaces typically come in? The good news is, they do typically come in specific lengths which makes it easier to narrow it down. These options do have different ranges for men and women, which is understandably so because their body types are often quite different. So let's start with the women. Ladies first, right? These necklaces are most likely to be available in six to eight categories of length options.
The standard length options include 10-14 inches, 16 inches, 18 inches, 20 inches, 22 inches, 24 inches, 28-38 inches, and 40 inches or longer. We will discuss each length of necklace, what that length is referred to as, what clothing to wear with it, and what face and body shape it will flatter the most. Also, before we continue, yes we have a whole list of tips and suggestions for men as well and we promise to get to those!
So don't confuse this next section as a mix of both genders, because there are certain lengths that will flatter your body type differently as a man than it will a woman. But men, don't skip over this next part because it can be extremely helpful for gift giving. So whether that means for your dear mom, your forever sweetheart, or a gift for a good friend, we can help you narrow down exactly what necklace length or lengths will look best on her.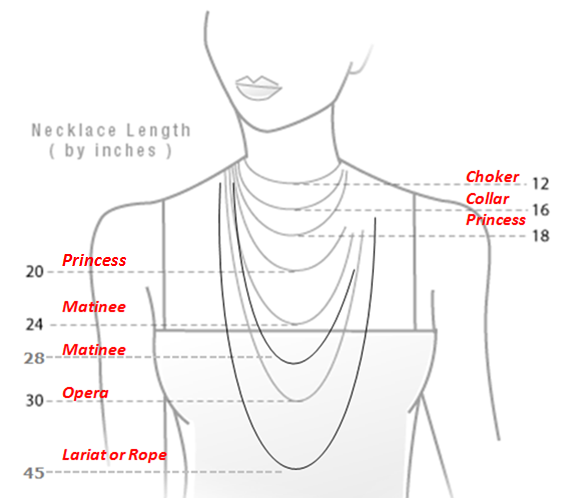 For both men and women, boys and girls, anyone who is looking to buy a necklace for yourself or for your loved one, we want to give one tip up front. The following categories and names of necklaces are the most common ones you will see. This does not mean, however, that they are the only ones. The names and measurements of necklace categories may vary from jeweler to jeweler and even between sellers. So use this guide to get a solid idea of what you want, what you are looking for, and what will be best for your preferences. Then find the range of length that is exact or nearest to your wants and needs and feel confident that you have made the right choice.
There are fluctuations and adjustments that are offered as well, which we will talk about in a bit. So don't stress the exact number of inches too much, because you will be able to find satisfaction in this general idea and then go from there. Alright, let's get started!
We are excited to start with the category of necklaces from 10 to 14 inches. This category is most often referred to as a collar necklace. It is worn high on the neck and is very flattering for women with a swan-like neck. What is a swan-like neck? This type of neck is long and slim. The collar necklace wraps closely around the neck and is gorgeous worn with an elegant gown or even with a collared shirt. This version of a choker will not get lost or hidden by a shirt. It is a stunning way to draw attention to your neck and show off your gorgeous shape. It is also most flattering for someone with an oval or even long-shaped face.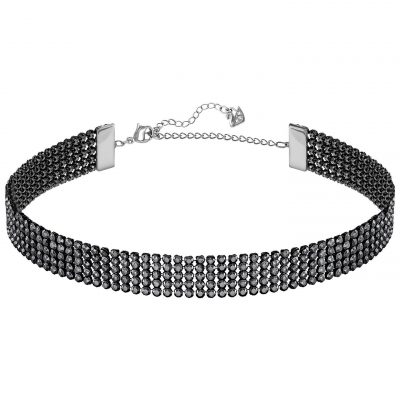 For someone with an oval face, it will elongate the neck and give a slimming look to your face and neck. Are you someone who has a long-shaped face, perhaps heart or diamond shaped? The collar necklace is calling your name girl! This gorgeous accessory will soften and broaden your face shape and give you a look that keeps eyes exactly where you want them, on your stunning face. Now some of you may be concerned by the numbers that are in the collar necklace category. Ten to fourteen inches may seem too small for you.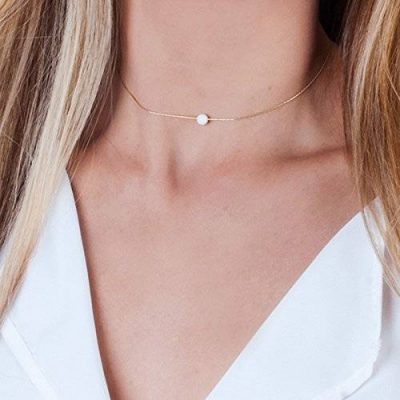 As mentioned before, there are ways for this measurement to be flexible, and we will talk about them in a bit. But don't hesitate to look into the next category of necklaces if you are looking for a choker that you can be confident won't in fact, choke you.
That leads us to our next category. If you have a wider neck or even if you are slender and want a looser look to the choker style, the 16-inch choker necklace might be for you. This beautiful look will wrap around your neck like the collar necklace but will sit more loosely and comfortable. This necklace will most commonly sit right above your collarbone. As the category is called the choker necklace, you will obviously see choker necklaces in this category. But you may also see lockets, strands, and chains being offered at 16 inches. All of which are fantastic choices if you are looking for that necklace that is a little loose and sits right at the base of your neck.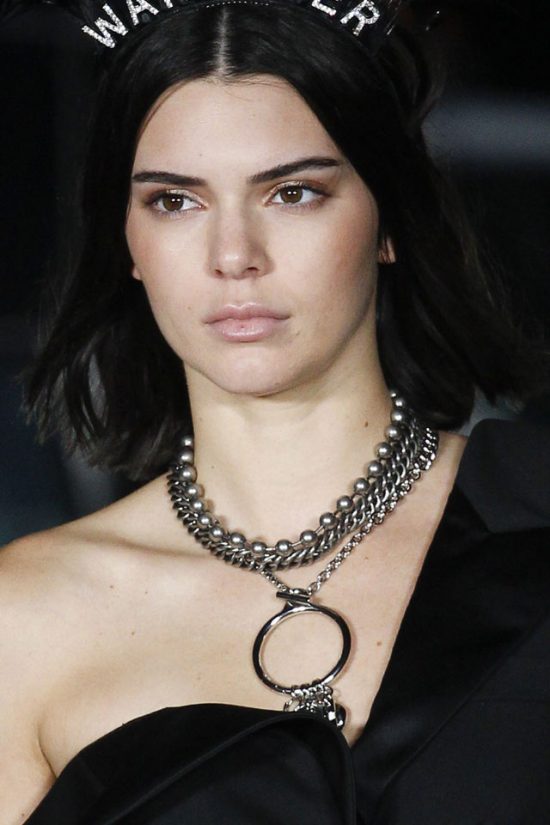 This necklace, like the collar necklace, is a great choice for those of you who have oval, heart, or diamond-shaped faces. Any face shape that is considered long will look stunning in this necklace. However, if you have more of a round face and are dying to rock that choker you have had your eye on, we have good news! This is the kind of choker that will flatter you most. Because it sits lower on your neck, at the base of your collarbone, you can be confident that it will make your neck and even your face appear longer. This piece is beautiful for any face shape and a safe bet for gift giving if you are looking for someone who loves lockets or chokers.
The 16-inch choker is sure to balance out your chin and neck and give the illusion that you are searching for. It is a piece that also is stunning on a wider neck. You might not want to buy the smaller version of the choker necklace, the 10 to 14-inch collar necklace, because it will squeeze you in ways that will not flatter you. However, that does not mean you have to give up the stunning look of the choker.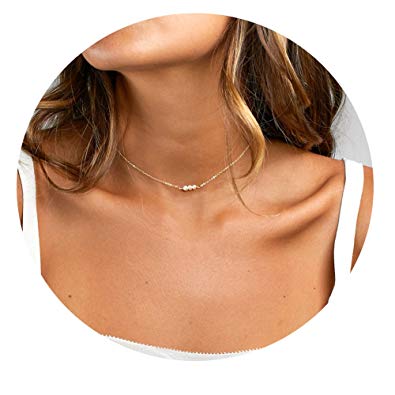 Get the 16 inch that will sit beautifully on your neck and create the gorgeous look you have been searching for. We love how versatile this length of the necklace is. You can rock it with your everyday wear. However, it is absolutely perfect for that evening gown, prom dress, or even the wedding dress that you will be wearing. It is stunning and elegant, and the perfect accessory to dress up or dress down.
Next, we have the 18-inch necklace. This type of necklace is referred to as the Princess length. Its name is fitting because we think every woman is a princess. And this necklace is the most standard and well known for flattering any woman and every woman. It is fantastic on a curvier or those of you who have large busts. It will sit beautifully right on the collarbone and not cause any awkward or uncomfortable interference. This length of the necklace is also fantastic for a slim body type because it highlights the collarbone. Furthermore, it is fabulous for someone who is smaller chested.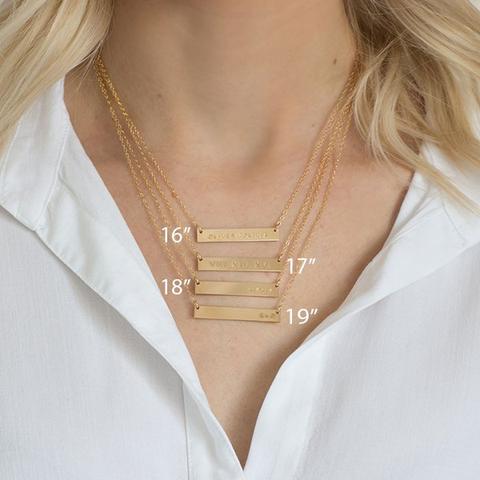 It keeps the eyes higher and flatters your body type as well. Regardless of your body type, this is a fantastic option for any woman. Another thing we love about the 18-inch princess bar necklace is that it is great on any face shape. Necklaces truly do frame your face and this one will do it perfectly regardless of an oval, round, heart, or anything in-between kind of face. This length is consistently used for the ever so popular bar necklaces. It sits at the collarbone where it perfectly can display the initial, date, name, or gem that you are wanting to flaunt.
If you are giving a necklace as a gift, the princess necklace is ideal for you because it is most likely to be satisfying for any woman. Are you a little bit worried that you will not love the 18-inch necklace like you are hoping to? It's fair to be concerned because this can be a big decision and you absolutely want to be comfortable and confident in the necklace you choose.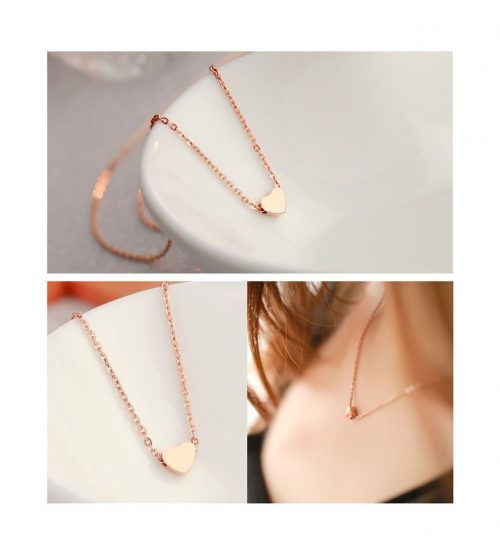 There are options for you that will make you more sure about your 18-inch purchase and will ensure that you don't end up with a choker that you weren't looking for, or with a necklace that is too long for you. So don't get stressed out just yet, or hopefully at all. We've got a few more options or adjustments for your preferred length to help you feel more confident before purchasing.
After the Princess, we have the 20-24 inch necklace which is referred to as the matinee. This beautiful piece starts at a 20-inch length that sits just below the collarbone and expands all the way to the center of the bust or just below. It is a fabulous option for a wide variety of necklaces. Whether you are going for a locket, a sapphire necklace, a dainty or a bold pendant, or a layered necklace, this is one you will want to add to your collection.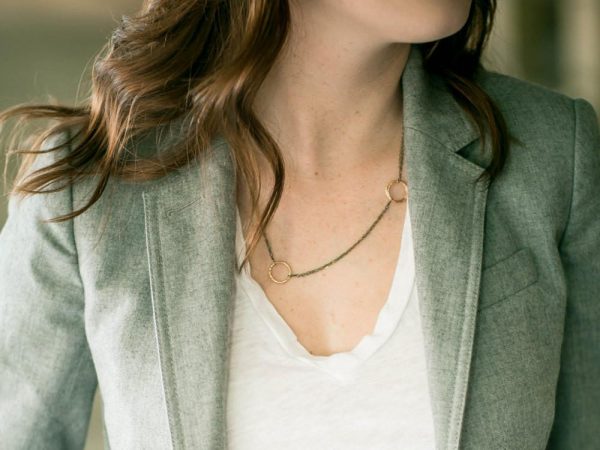 If you have a fuller body type, this is a great option for you as it will hang properly and be a great accessory to add to your wardrobe. Also, for those who are petite, this is a great long option for you. Though there are much longer options ahead, this will be one of the longest lengths that you might want to go as to not drown or overwhelm your small frame.
Moving on to the longer categories, we have quite a range of options. This can get a bit confusing because there is a large range of necklaces in this category. Most often, the options you will see are necklaces that measure 34-38 inches in this category, and they are referred to as the opera length necklaces.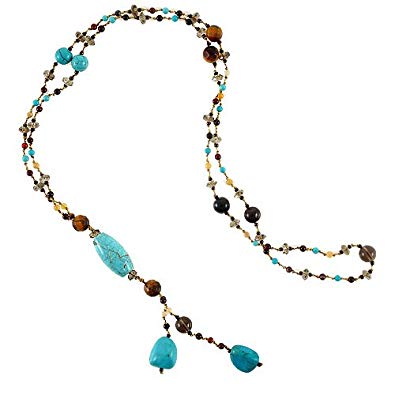 This specific category fluctuates in length but is most commonly in the thirty-inch range. The next category typically starts after 40 inches, so we will talk about that in a bit. But for now, know that most necklaces in the 30-38 inch range will be referred to as opera length necklaces. These necklaces hang below the bust and are most flattering on tall women.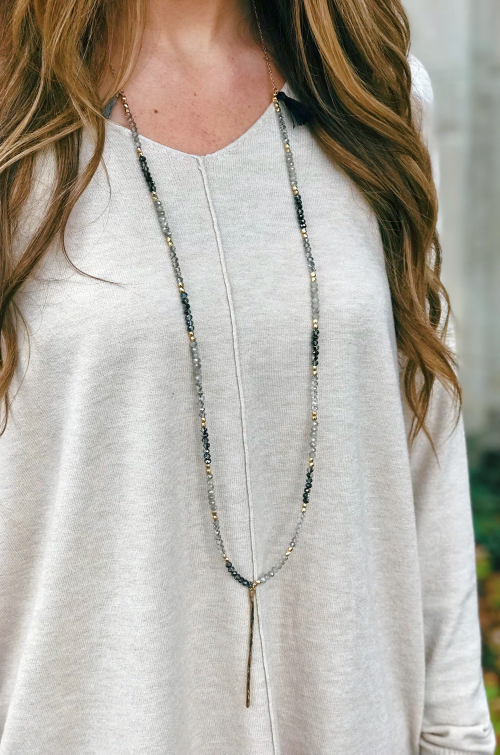 The next category is referred to necklace typically 40 inches or more and they are put into two categories, one called the rope necklace and the other called the lariat. The difference between the two of those doesn't have much, if anything at all, to do with the length of the necklace as these are both your longest necklaces. The difference is that the rope necklaces do not have any sort of clasp, while the lariat necklaces do have a clasp.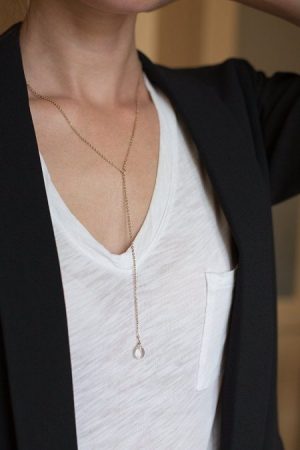 These necklaces are most often beads or pearls. They are worn long occasionally or wrapped around the neck to add a layered look. Another way you may see the lariat or rope necklaces especially worn is with a knot to add layer and dimension.
Now that you are a professional in necklace lengths and what they are referred to as let's talk about making you feel comfortable in your purchase before you finish the deal. Side note, we will be talking about men's necklaces below, so if you're waiting on that don't think that we forgot! We want to make sure you men are comfortable in your purchases too, and we want to inform you women who are looking to gift the special man in your life the necklace he has been wanting.
Okay, back to you being a professional in women's lengths. We have learned about the collar necklace, the choker, the princess, matinee, opera, rope necklace, and lariat. For the most part, the lengths of each of these are pretty specific. But what if you are caught between a couple categories and just not sure what to do. Are you worried that one might be too tight but don't want to risk it hanging lower than you want? Maybe you are concerned as you guess what your best friends neck length is, but don't want to ruin the surprise by asking her for measurements.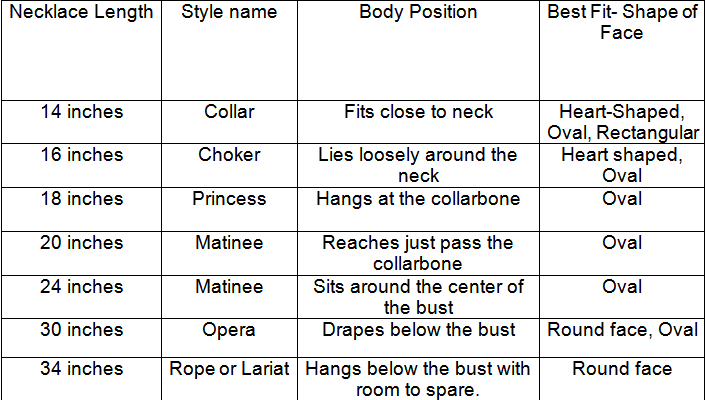 If you find yourself in either of these types of situations, we've got a couple tips for you. First and foremost measuring your neck truly does help when making a decision. We recommend doing this by taking a soft measuring tape and wrapping it around your neck, just tight enough to get an accurate measurement without making you uncomfortable, after all, you don't want even the choker or collar necklace to squeeze your neck all day.
Once you have this measurement, you can make a more exact decision about what necklace style you want or necklace length is best for you. So as we were saying, take the soft measuring tape and gently wrap it closely around your neck, take that measurement, and then add two inches onto it. This added measurement will give you a good idea for how long you would want a choker to be, typically about 16 inches. Add two inches to get the measurement you would most likely want for a bar necklace, and so on and so forth.
Now, if you are not wanting to do this when shopping for a gift, you can attempt to measure a necklace that they already own or simply go with the standard sizing for each of these necklaces. With that being said, we had mentioned that there is some flexibility with the size of necklace you purchase. By that, we mean that you can almost always add a chain extender on to the necklace. Often the necklace will already come with a chain extender attached, but you can also purchase a separate chain extender at any time and have it connected to your chain. This is a great option whether you are buying the necklace for yourself or for a friend or family member because it typically gives you an extra two inches that will make the necklace the perfect fit that you were wanting. Buying a chain extender is a fantastic option and will ensure that you are fully satisfied with your necklace. We also love it because it gives more flexibility to layer and mix and match necklaces of different lengths together.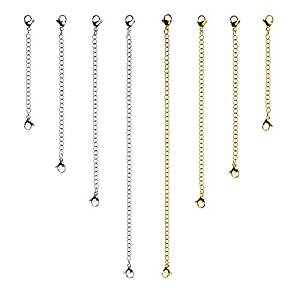 Alright, you gentlemen have made it through all the information to help a woman choose her perfect necklace length. Now let's focus on you!
Men's Necklace Lengths
Men's necklaces typically come in four specific measurements. These are separated by two-inch increments, a lot like the ladies, and are most often seen in even numbers. First, we have the 18-inch necklace which typically sits at the base of the male neck. Moving on to the 20-inch necklace, this will sit at the collarbone on an average man.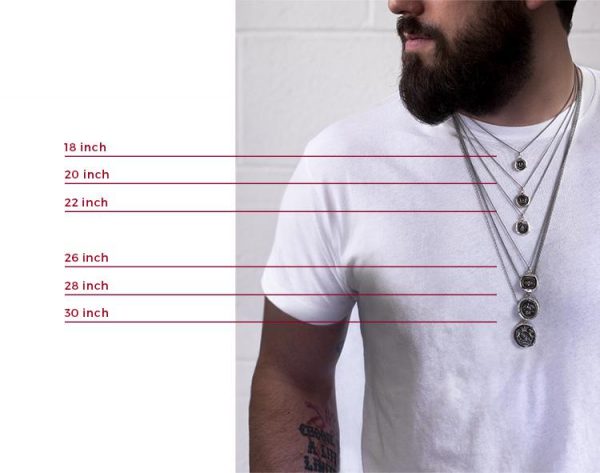 Next we have the 22-inch necklace which typically lands just a few inches below the collarbone, and finally, we have the longest male necklace often sold, and that measures 24 inches. This necklace falls just above the sternum. When purchasing a necklace for yourself or for your man, make sure to take into consideration the clasp size which is typically ¾ of an inch on a man's necklace, but can vary and occasionally come with longer clasps which will ultimately lengthen the total measurement of the necklace.
We have discussed a handful of characteristics that might affect what necklace you choose to buy for you or a friend. You want to keep in mind the face shape of the person who will be wearing this necklace. You also want to be mindful of their bust line and body shape. Your options will also vary when deciding what length based on whether you are shopping for a man or woman.
Your height and necklace lengths
Another thing to consider is how tall you are. There are some general recommendations based on your height, to ensure that the necklace length suits you. Again, these are general recommendations and if you have your heart absolutely set on a length that doesn't necessarily come recommended for your height, don't stress that too much. You want to get something you absolutely love and will want to wear regularly. But with that being said, here are the suggestions for the necklace length to purchase depending on your height.
If you are below 5'4", we recommend sticking with a necklace that is under 20 inches. As we briefly stated above, this will ensure that you do not look weighed down or leave your body looking overwhelmed by the jewelry. Next, you ladies who fall between 5'4" and 5'7", you are the lucky ones when it comes to stress-free necklace shopping. Lucky for you, any length of the necklace is typically flattering for your height and you shouldn't worry about your height affecting what works for your body and what doesn't. Lastly, if you are taller than 5'7", any necklace length is typically flattering for your height as well. We do suggest trying out those longer lengths though, as they will elongate your fabulous tall frame very well.
Though you can typically try on necklaces in the store, it is difficult to know where to start or what might look best on you. It is also overwhelming to shop online for a necklace when you haven't had the opportunity to try it on. Don't hesitate to pull out necklaces from your collection that you love how they fit on you and measure them to see what your favorite style is. However you decide to approach it, you can feel confident in your knowledge to pick out the right piece. You now know exactly how to choose the ideal length of necklace the next time you go shopping for jewelry!