Gemstones / Mix / Necklaces
Don't Miss Out on a Sapphire Necklace; Now is the Time to Shop!
A sapphire necklace is all things blue! It has long been treasured for its celestial blue and violet colors. It is thought to have sentimental, healing and spiritual properties. The sapphire has a lot of meaning and has adorned simple folk and royalty alike for ages. And, it's no wonder, really, because it represents the honor, honesty, and loyalty.
Royalty throughout the ages has worn sapphire both as jewelry and on clothing. Prince Charles gave Princess Diana a sapphire engagement ring and brought history into the modern ages.
If the sapphire appeals to you, here are our top 10 picks for the most gorgeous sapphire necklace picks!
Our 10 Favorite Sapphire Necklace Picks!
1. Amanda Rose Collection Sterling Silver Heart of The Ocean
This sapphire necklace is called "Heart of the Ocean" and why not? This pretty necklace is a manufactured, synthetic, blue sapphire, set with prongs.
It is surrounded by smaller, manufactured synthetic white stones, making it almost feel surrounded by water. The round white stones are embedded in the sterling silver metal setting.
And, if one color sapphire isn't enough, how about two? It even has the imitation white sapphires on the bale.
The stone is cut in a heart shape and is attached to the 18-inch sterling silver chain by the bale. The clasp is a spring-ring.
You might expect to pay a bit more for this piece. We would consider it to be expensive, but well worth every dime.
You will get a 12-carat gem in a heart setting that is about an inch long, including the bale.
The piece is approximately 19 inches in total length.
There are no sizing options; however, a jeweler can add this to another cubic zirconia or pearl piece.
We like this piece for a Mother's Day gift, especially.
It has a little bit of a nostalgic look and a grandmother would like it as well!
2. PEORA14 Karat White Gold Oval Shape Blue Sapphire Necklace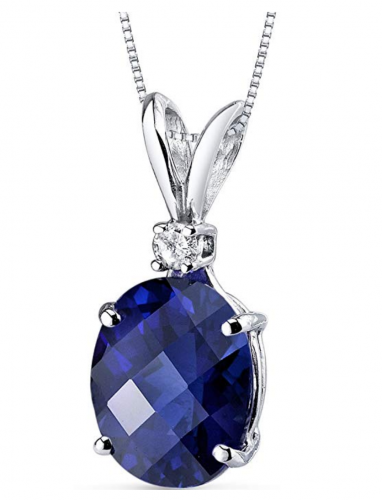 Peora's blue sapphire necklace is simply stunning! This piece exhibits quality craftsmanship, design, and finishing.
This sapphire is set on a 14k, white gold base. It has four prongs to secure it. The stone is an oval, checkerboard-cut and has a Ceylon blue hue. It is classy and gorgeous.
The pendant is attached with an elegant "Y" shaped bale. At the base of the bale, is a genuine diamond.
This all hangs on an 18-inch sterling silver finish, Rhodium, box chain. The sapphire is lab-created and the diamond is genuine. The sapphire has a clarity of SI1-SI-2. It has a good polish.
In this piece, there are two stones with a combined weight of 3.63 carats. The total length of the piece is .75 inches long, .10 inches tall and .50 inches wide.
The sapphire, however, is 10 mm tall by 8mm wide. The clasp is a spring-ring.
This necklace is great for a gift on any occasion. We think graduations and birthdays would be ideal.
But, what about something blue for your wedding?!
3. Elda&Co Blue Sapphire Necklace 'I Love You to the Moon and Back'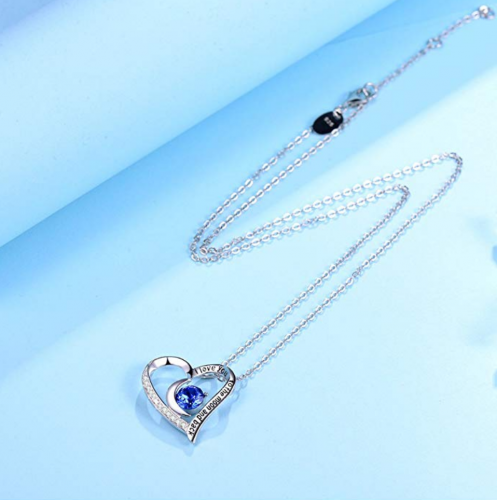 What a Valentine's Day gift this piece would make! This sapphire necklace is heart-shaped and has a moon attached to the top indentation of the heart.
Snuggled nicely on the moon is a round, blue, quality cut, synthetically created sapphire stone. Prongs hold it securely in place.
On the right side of the heart, is the popular saying "I love you to the moon and back". On the left side of the heart, you will find 12 shining, embedded, cubic zirconia stones.
The pendant is made of 18k white gold layered over sterling silver. This piece is the perfect gift for Valentine's Day, or any occasion when you want to let someone know they are special.
You don't need to break the bank to purchase this special necklace. We'll call it affordable and mid-priced. The price is well worth the memory you will create for your special someone.
The gem weight of this piece is 1 carat, just enough for that special someone. While it's not a formal piece, it can definitely make the jump from casual wear to the office, to dressy in no time flat.
The chain is a Rolo chain and the piece has a lobster clap making it easy to open and close for any age.
We like this piece not only because it's pretty but because it has sizing options.
This chain comes with a 2-inch extender, which makes it adjustable from 18 inches to 20 inches.
4. JewelryPalace Gemstones Stone Birthstone Statement Necklace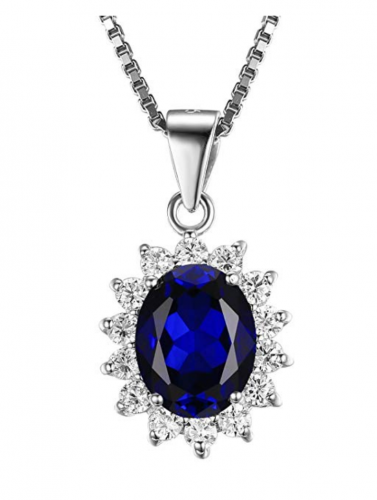 This birthstone necklace is handcrafted with stamped S925 Sterling Silver. The pendant is an oval, synthetic, sapphire and is reminiscent of the Princess Di and Kate Middleton sapphire necklaces.
The gem is set by prongs and is surrounded by accent stones set by prongs, which give it the illusion of triangular shapes. It is an excellent cut in a halo setting.
The accent stones completely encase the diameter of the stone and look spectacular. It has a diamond level cut which gives it an ultimate sparkle and clarity.
The pendant hangs from a standard bale and an 18-inch box chain. This piece is certainly something you can take out on the town, as it is glamorous and elegant.
This sapphire necklace is definitely affordable, making this lovely piece available to almost all buyers.
The sapphire necklace takes you to another level of comfort. It is easy to wear and is hooked by a lobster clasp.
The stone is 3.22 carats and the cut stones are 2.68 carats. It is 11mm wide and 11 mm long.
The necklace is not resizable.
5. Amazon Essentials Sterling Silver Necklace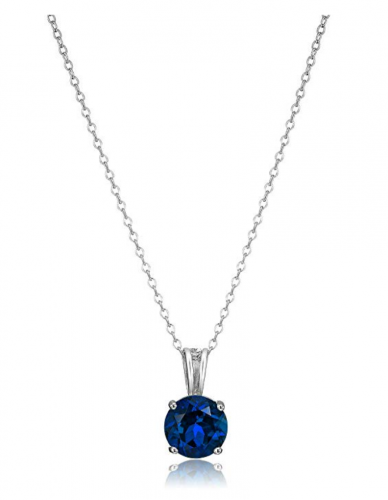 This necklace is a solitaire cut on a round prong setting. It is on a flat pad bail and hangs from a rhodium plated silver chain of 925 sterling.
The gem is a created blue sapphire and it is just the right size. The beauty of the piece is in its simplicity and its rich, deep, blue color.
The chain is fine and dainty and does not detract from the pendant. It is 18 inches long and has a spring-ring closure.
This necklace would be perfect as a gift for any occasion and can, literally, be worn for any occasion. It is so versatile it can be worn with jeans and a t-shirt, but make the transition to evening wear without skipping a beat.
This is one of the more affordable pieces in our top 10 picks.
This necklace does not require you to even think about your piggy bank. We think it falls in the affordable category.
The stone in this piece is 2.5 carats and the metal is 1.67 grams, making it very comfortable to wear. It isn't resizable.
6. Star K Choice of 10k Gold or Sterling Silver Heart Pendant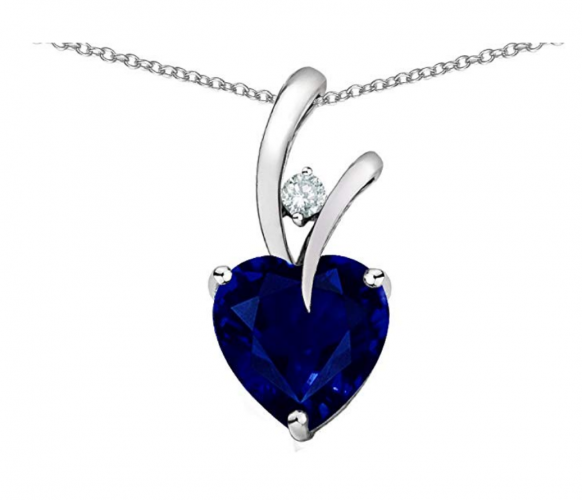 The Star K pendant may be our number one of our top 10 picks. The sapphire is the symbol of truth and sincerity and we are in all sincerity and truth.
The beautifully designed, created, sapphire is in a heart shape and set on a modern style bale. The elegant and flowing design epitomizes eternity and timeless love. The design is breathtaking, direct and simple.
Placed in the middle of the bale, is a smaller and clear cut stone, giving this necklace class and elegance. It has clean lines and a timeless design.
It hangs on an 18 inch 925 Sterling silver chain and has a spring-ring clasp for easy closure. This one will never go out of style.
The pendant is a mid-priced piece. We truly believe it to be worth the investment.
You will be glad for each penny spent and we recommend you get one for yourself and one as a gift.
The pendant measures approximately ¾ of an inch long, or 18 mm. It is 8 mm wide, or 5/16 inches. We think it's a perfect size. It is not resizable.
7. Caperci Sapphire Infinity Necklace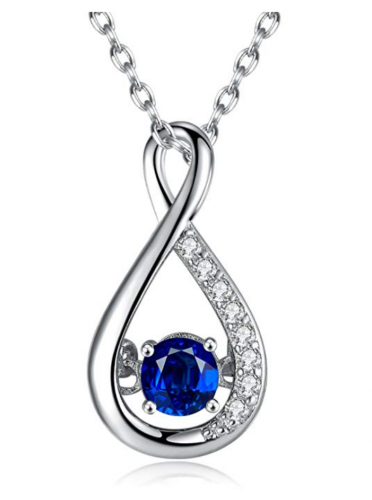 The Caperci infinity necklace has a beautiful, round, sapphire. It is set in an infinity symbol-shaped frame and held by four prongs.
To the right of the stone, on the bottom of the loop are 7 AAA Cubic Zirconia accent stones. They are clear in color and give the piece depth and attractive quality.
The setting is an expertly crafted 925 sterling silver and is white gold plated. The infinity loop represents timeless and endless love and this would be a great piece to give the love of your life, signifying your endless and undying love.
The recipient will wear this pendant on a 16-inch rolo chain secured by a lobster clasp.
This piece is mid-priced and a great value for a birthday gift.
Adding to the value is the fact that it comes with a two-inch extension chain. This gives the wearer the option to make the chain into an18-inch.
This pretty pendant is 0.6 inches long and 0.24 inches wide. It weighs 4.5 grams or less than a ¼ of an ounce. It is lightweight and comfortable to wear.
8. Finecraft Solitaire Pendant Necklace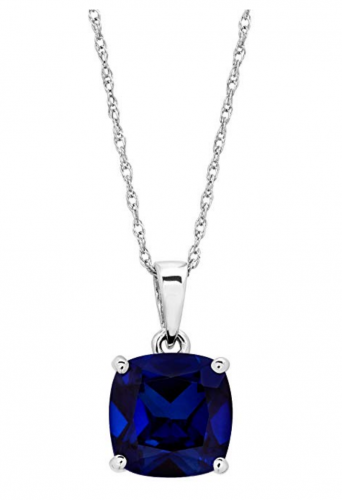 This pendant is made of a single-center sapphire in a very simple setting. The cushion-cut sapphire is set in 14K white gold and is super elegant.
Not so elegant, however, that it can't be worn with a t-shirt. This is a piece that can make the jump from everyday wear to evening -wear without a thought.
This piece hangs from an 18-inch rope chain and is secured by four prongs. The clasp is an easy lobster claw clasp.
This pendant is made from quality materials and comes with a certificate of authenticity to back the claim.
This is one of our more expensive picks. For most, it will require s small amount of budgeting, but we think you'll be glad you made the choice.
This would be a great gift for someone who means the world to you!
The pendant is a 2-7/8 carat gem. The gem is 8mm wide by 8mm high.
The entire pendant is about an inch and a half tall, including the bale and .31 inches wide. It is not resizable.
9. Diamondere Certified Gemstone Infinity Knot Solitaire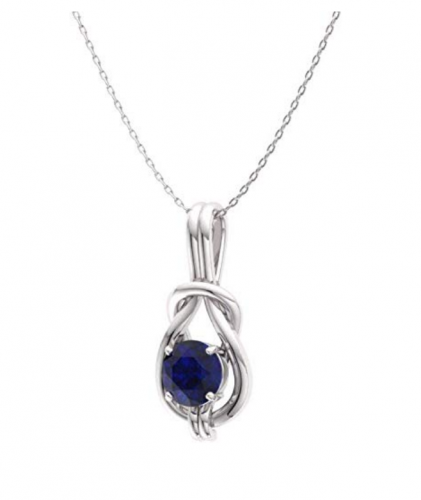 There is no better way to say romance than with this beautiful infinity knot pendant. If you are getting ready to tie the knot, say it with the Infinity Solitaire piece!
It features a natural stone that is stunning at the neckline. The sapphire gemstone is dazzling. It is set in a 14K white gold infinity knot and is held by four prongs.
The pendant hangs from a 14K white gold chain. There is only one stone in this piece and that is all you need. It is a brilliant-cut in a classic pendant.
This piece is a great gift to symbolize your love for an eternity.
Get out your credit card or head to the bank, because this piece is our priciest pick. It's pretty expensive, but we believe it to be 100% well worth it.
The gem in this pendant weighs .42 carats. It is 18 mm high and 9 mm wide. It is not resizable.
10. Amazon Collection Cross Pendant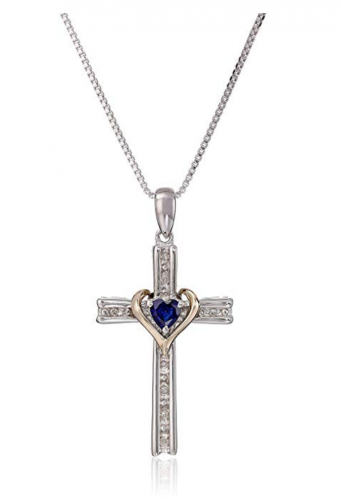 The sterling silver and gold cross pendant is our only pick with a combined metal. This cross pendant has, at its center, a heart-shaped, created, blue sapphire. Where better for the heart to be, than at the center of the cross!
The synthetic sapphire is secured by prongs. Wrapped around the cross, at the center is a 14k yellow gold heart accent. Both the horizontal and vertical pieces of the cross have eight inlaid diamonds.
The pendant is not flat, but the cross is raised and has depth. It hangs for an 18-inch box chain and it has a spring-ring clasp.
The chain is also made of sterling silver. The box chain gives added strength.
This piece is a higher priced piece. It is the perfect piece of jewelry to gift to a spiritual person in your life!
The total gem weight of this piece is .31 carats. It is 1.35 inches high and 0.7 inches wide.
The necklace weighs 4.44 grams, with the metal being 2.36 grams of that. It is not resizable.
Style Tips
For our top 10 picks in sapphire necklaces, we like many of the necklaces alone…for the most part. However, there are always exceptions to the rule and if you feel you can "rock" another gemstone necklace with it, make it either a shorter or longer piece.
Some of the simpler ones could be worn with another longer or shorter plain chain for a very pretty look. You could also try a set of pearls with one of the pieces and see what you think.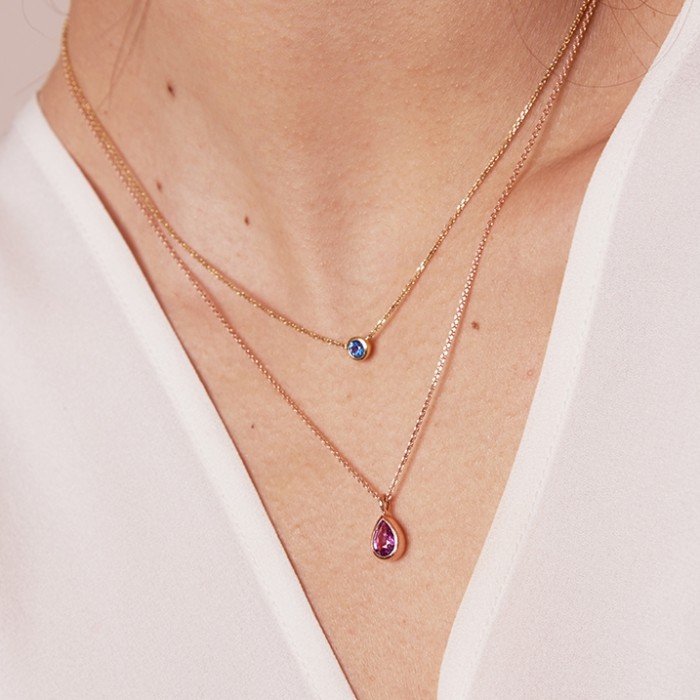 You can't go wrong pairing these pieces with a sapphire, diamond, or cubic zirconia earrings and a bracelet of the same. The more you add, the dressier your look. The key is being able to wear your pieces with confidence.
Layering is often personal and meaningful. If it feels right to you, do it. We also wanted the pieces we chose to be "giftable". All of the necklaces chosen are great for special occasion giving.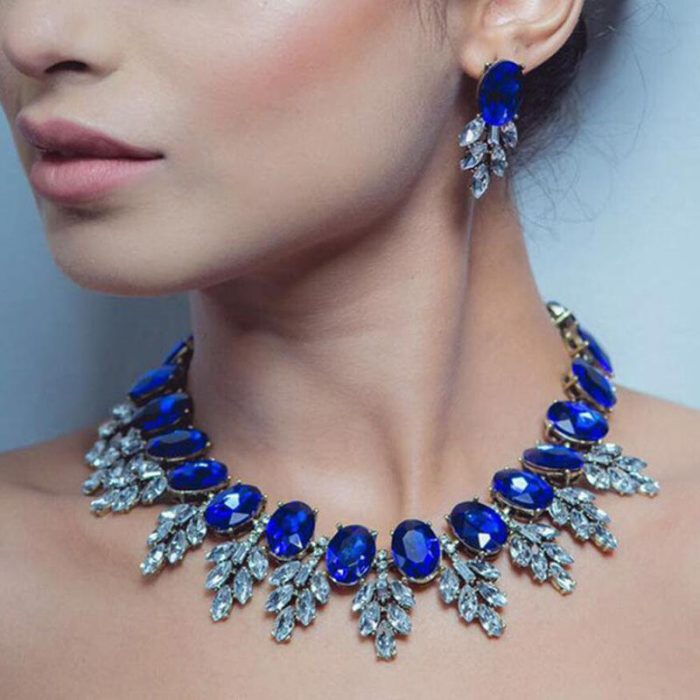 Think of: birthdays, anniversaries, graduations, confirmations, first communions, Valentine's Day, and more. The sky is limit when you can give it; use your imagination.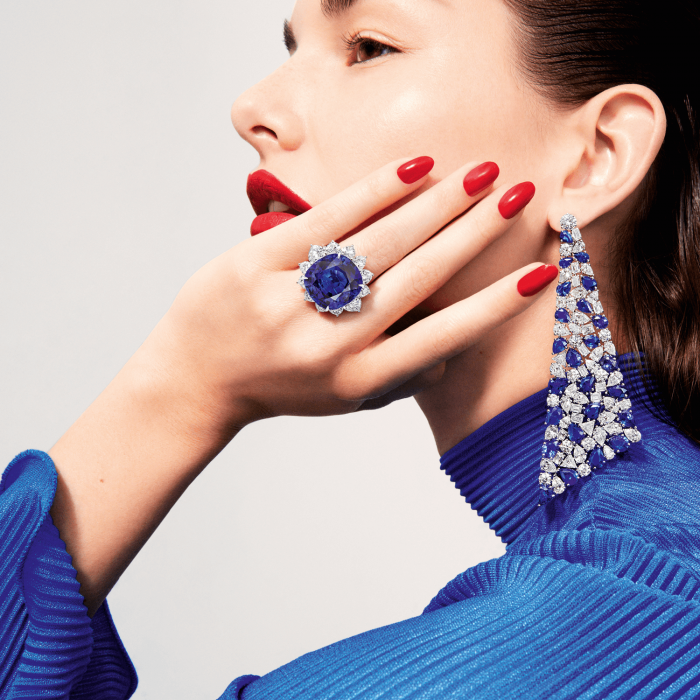 You can also purchase these pieces to commemorate an occasion of some importance to you. Or, just get one just because it makes your heart happy!
Criteria Used for Evaluation
When choosing the necklaces in our top 10 picks, we had certain standards to meet. How does a piece hold up under every day, wear and what gives it that quality?
All of the pieces presented are durable because they are from quality materials and, with care, should last you a long while. We strongly recommend following the manufacturer's instructions for cleaning and storing your pieces.
It's not all about how a piece will hold up, though, a necklace has to be flattering and beautiful. The gemstones in these pieces, either natural or synthetic, are both flattering and beautiful.
They are quality stones and with proper care will bring you joy for a long time to come. The metals we chose complimented the necklaces and, as a result, will compliment you, the wearer.
But, you won't wear anything if it's not comfortable and there are many different ways to define comfort. We didn't choose anything that would snag on clothing or get caught in your hair. That is something easy to wear.
Also, it had to be lightweight and have a user-friendly clasp. If you feel bogged down by a piece, it's going to feel clunky and you won't wear it.
The sapphire pieces we chose also had to be easy to pair. In our estimation, if it doesn't look good with other pieces, you won't wear it and it's not worth purchasing. Can you wear it with earrings, a bracelet, a ring, or even another necklace?
Easy to pair means easy to wear!
FAQs
Q. Are sapphires only blue or do they come in other colors?
A. No, and yes. Sapphires are not the only blue in color. They are also pink, white, green, yellow, orange, purple, clear and black.
Q. When did sapphires gain popularity?
A. The sapphire really became popular in the 14th and 15th centuries when the royals began using them for engagement rings. The sapphire, however, has been around since the ancient Greek and Roman societies.
Q. Are the sapphire and ruby related?
A. Yes, both stones belong to the mineral family called corundum. The red stone from this family is the ruby. All the other gem-quality stones are considered sapphire.
Q. Is the sapphire thought to have spiritual properties?
A. Yes. The sapphire is allegedly thought to influence spirits. Petitioners and necromancers relied on it for this reason.
Q. Why did royalty wear sapphire?
A. Royalty wore it for a number of reasons. Primarily, they thought the stone attracted wealth.
However, they also believed it protected the person who wore it from infidelity and envy. Socially, it's thought that the stone brings harmony to lovers and peace to adversaries.
Q. Do these stones have healing properties?
A. In the Middles Ages, the sapphire was used to heal, especially the eyes.
Q. Is it used in the Biblical Breastplate of Aaron?
A. Some people say yes and others say no. The stone called Lapis Lazuli is used on the Breastplate and some folks use it to replace the sapphire.
It depends on who you use as a source. It is interesting to note, however, that the 12 stones on the Breastplate of Aaron are the historical beginnings of our birthstones.
Q. What is "The Stone of Destiny"?
A. The Star sapphire is known as "the Stone of Destiny". Corundum star stones have six rays and three crossbars.
This star is affiliated with faith, destiny, and hope.
Q. Is a sapphire one of the birthstones?
A. Yes. It is the stone for the month of September.
Finally…
The sapphire is famous and, oh, so royal! Queen Elizabeth wore a set for her Sapphire Jubilee. It wasn't the Queen alone who elevated the sapphire to star status. S
some other famous sapphires include The Logan Blue Sapphire, The Star of India, Princess Di's Sapphire and Pearl Choker and her Saudi and Sapphire Suite and the Rockefeller Sapphire, to name just a few.
Also, caught wearing a sapphire necklace was Jessica Chastain, Kate Middleton, Celine Dion, Keirra Knightley, Jessica Simpson, and Helen Mirren. But thanks to reproductions and manufactured stones, now anyone can wear a sapphire. You don't have to be a celeb to own sapphire.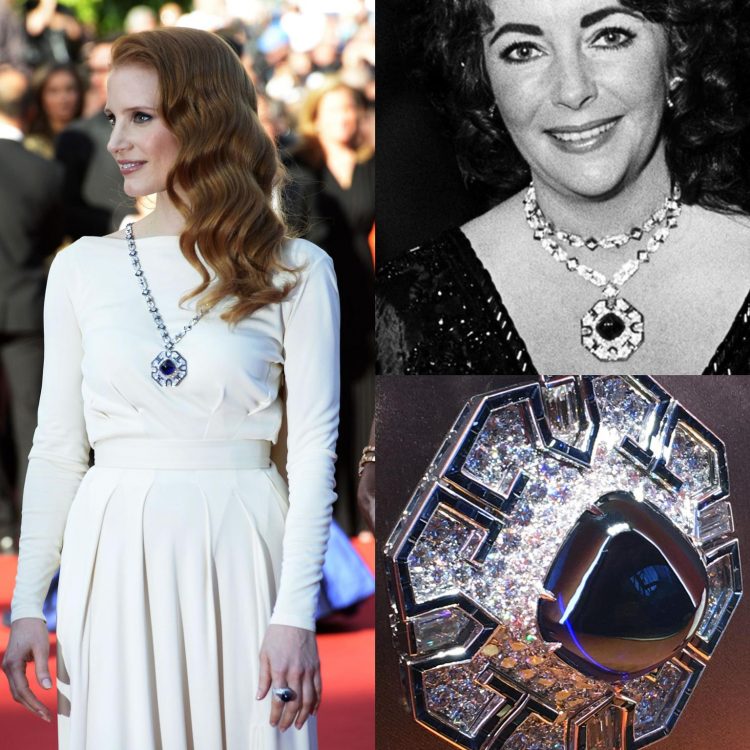 The sapphire has become affordable for all and you can use these gems for any occasion, or any reason. If you enjoy the sapphire for the healing powers they are purported to bring, get one. If you like sapphire because of the color, you can't go wrong.
If you need a spectacular gift, a sapphire necklace may be just what you are looking for.
Finally, remember to store your necklace in a soft lined container such as a pouch, or box. Keep it from water and chemicals and take it off before any strenuous use or showering.
And, lastly, give it some love by rubbing it with a polishing cloth to remove any dullness and restore the shine. In the end, if you are looking for…something old; something new; something borrowed; something blue. Make it a sapphire necklace!