Buying Tips / Inspiration / Jewelry
Sapphire Meaning, Healing Properties and Value
Sapphires will always be one of our favorite gemstones. Don't you agree? Their color is so bold and beautiful; it's hard not to be drawn in by their beauty! But do you know anything about the sapphire meaning? Keep reading to find all about it!

This popularity is largely due to Kate Middleton's engagement to Prince William; her gorgeous engagement ring featured a beautiful center oval sapphire surrounded by a halo of diamonds (of course, the ring originally became famous when it was first given to Princess Diana, Prince William's mother).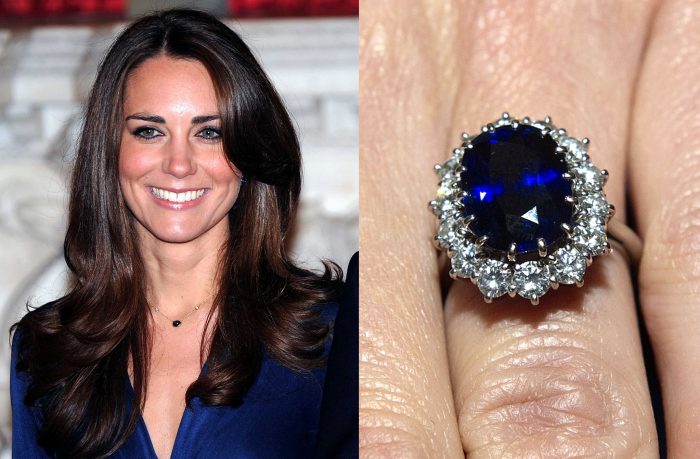 It is a timeless piece of jewelry that is stunning and simply will not go out of style. More and more brides wish for sapphires as opposed to diamonds, and we can see why! 
In addition to their beauty, sapphires have several associated meanings and healing properties as well! Let's discuss all there is to know about sapphires, including their value, as well as sapphire jewelry pieces you can shop right now. 
What is Sapphire?
So, what is sapphire exactly? Sapphires aren't just any precious gemstones but are one of the 4 precious gemstones along with diamonds, rubies, and emeralds. They are known for their brilliant, bold shade of blue, but actually, sapphires exist in other colors as well.
Sapphires are simply the blue varietal of the mineral Corundum. Other colors exist as well, and that's why you have likely heard of pink sapphires, white sapphires, green sapphires, and others.
The only color you won't find for a sapphire? Red. This is because the red varietal of Corundum has its own special name classification- the ruby!

It makes sense why both rubies and sapphires are two of the 4 precious gemstones; they are the same in every aspect except for their color.
What makes sapphires so precious isn't just their gorgeous color, but their durability and hardness. On the Mohs hardness scale, they are given a 9 out of 10, just behind diamonds at 10.
This makes them an excellent choice for a gemstone in something like an engagement ring that you wear every single day; it will hold up and still look just as beautiful for years to come!    
Sapphire Meaning
When it comes to sapphire stone meaning, there are actually several meanings associated with the sapphire. For starters, it is the birthstone for September. The name itself is derived from the Latin and Greek words for blue – saphirus and sapheiros, respectively. A fitting name for the stone!
Because of the intense blue color, sapphires are often associated with the sky, and for those who are religious, the heavens. It is considered one of the most sacred gemstones and has for many years.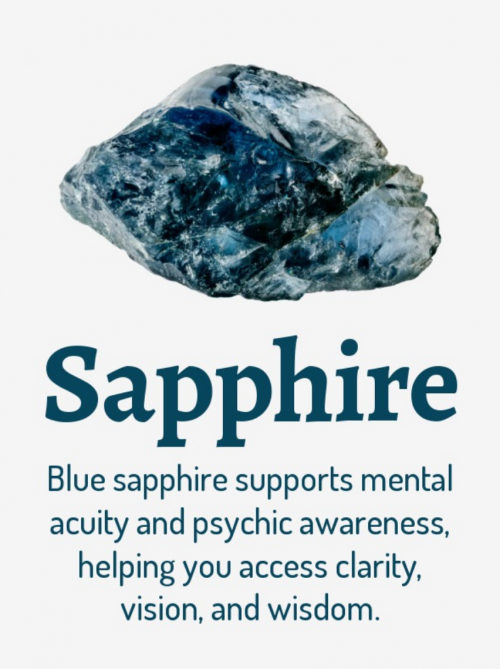 Almost all religions reference sapphires and their connection to hope, faith, and even protection. In fact, some believe that the 10 Commandments given to Moses were inscribed on tablets made of sapphire. 
Sapphires were seen as important and powerful for those outside of the religious world as well. Powerful leaders would wear them for protection, as well as to give them good luck.
Today, sapphires are still seen as a regal gemstone, especially ones with deep shades of blue. They are also the traditional jewelry anniversary gift for those married 5 years and 45 years. 
Healing Properties of Sapphires 
Sapphires have been seen as very powerful gemstones for many years. Especially in years past, it was believed that a sapphire would protect you from all sorts of evil – including poison, the plague, and even dark magic. 
In addition to protection from negative things, sapphires are known for their positive healing properties – bringing its wearer joy, prosperity, and good health.
If you are religious, the sapphire can help keep you on the right religious and spiritual path, giving you strength even in difficult times.  
Average Cost of Sapphires
As you can imagine, as one of the 4 main precious gemstones, sapphires are some of the more expensive gemstones you can buy, although they will typically be less expensive than diamonds. As with any gemstone, the quality and size will greatly impact the price.
Because there is a lot of color variation with sapphires, you will find a larger range in pricing than you might imagine. The deeper and purer a sapphire is, the more expensive it will cost.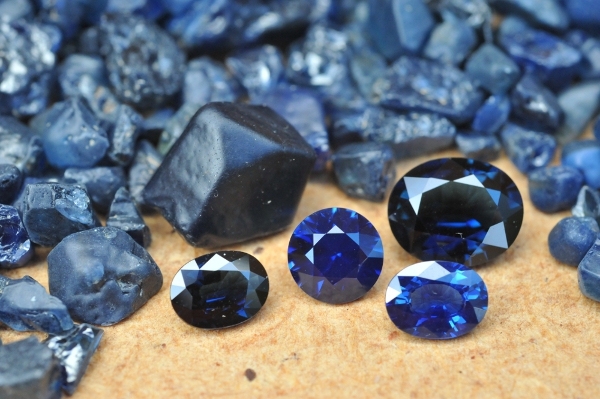 The good news is, however, that sapphires are incredibly durable, so it is a worthy investment if you are shopping for a jewelry piece that you are planning to wear all of the time.
And while deeper blue sapphires are considered more valuable, if you happen to prefer a lighter shade of blue, you will find that those stones will be less costly. Always keep in mind that any jewelry you purchase you should enjoy the appearance of –  it isn't just about how valuable it is. 
Shop Sapphire Jewelry
Got sapphires on the brain now? Of course, you do. Here are some awesome pieces you can shop right now – including simple studs, more elaborate rings, and more. 
Ruby & Oscar Sapphire & CZ Ornate Floral Ring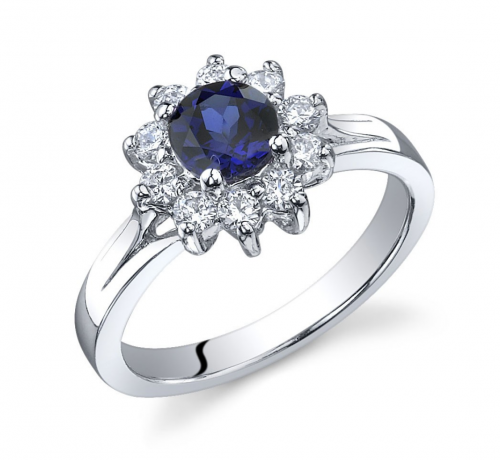 Looking for something similar to Princess Kate's ring? This gorgeous sterling silver ring certainly has a resemblance. Instead of the simple halo, the ring actually has a more ornate floral type halo design, which we really like.
This gives it a more vintage leaning aesthetic, making it perfect for anyone who loves more traditional and vintage-inspired pieces.
This is a great choice for either an engagement ring or as either a special birthday gift (for all those September babies!) or as an anniversary gift. It would look great as a right-hand cocktail ring and is perfect for any special occasion.
Ruby & Oscar Sapphire Stud Earrings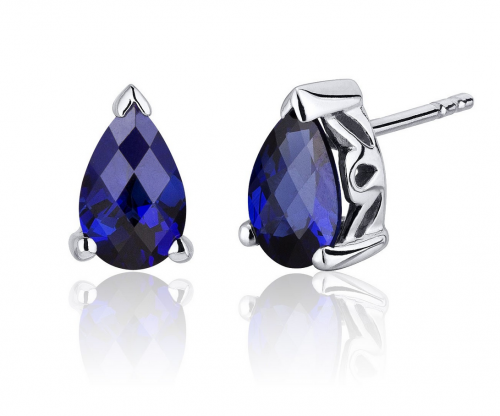 If you want something a bit more simple, look no further than these simple studs. We love that these studs have a pear shape to them, making them just a touch more unique than average round studs.
The gorgeous color of these sapphires makes them the perfect pair of sapphire earrings that every woman should have in their jewelry collection. You can easily dress these earrings up or down and can wear them every day. 
The Black Bow Jewelry & Co. Sapphire/Diamond Necklace
If you love Princess Kate's ring but are either already engaged or married or simply don't want that style for a ring, why not get it as a necklace? This very similarly resembles her ring, with a small change seeing as the sapphire is a cushion-cut instead of an oval.
Cushion cut stones are very popular these days, so this is a great modern take on the traditional style that we really love. This would make for a wonderful gift and is a great statement necklace to wear for a formal occasion.
Imagine this necklace worn with a high necked simple black dress – so elegant! 
The Black Bow Jewelry & Co. Sapphire & Diamond Hoop Earrings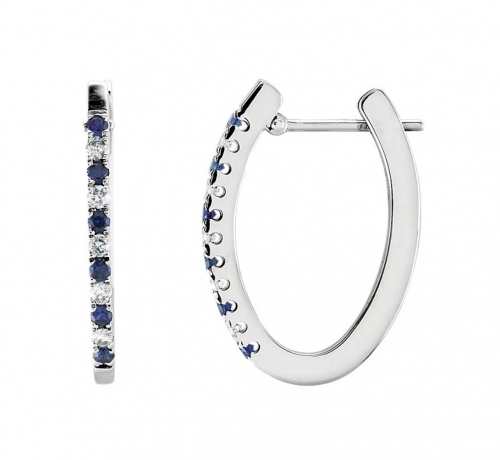 For something a bit more unique than a basic stud, these simple, small hoop earrings are the perfect n-between option that could easily be dressed up or down. The stones aren't too big, and neither is the hoop size itself, making them appropriate to wear during the day or at night.
These are great, versatile earrings that we really love at the moment. The contrast with the diamonds also adds a nice touch of added sparkle and dimension to these earrings.
PAVOI
Swarovski Crystal Sapphire Birthstone Ring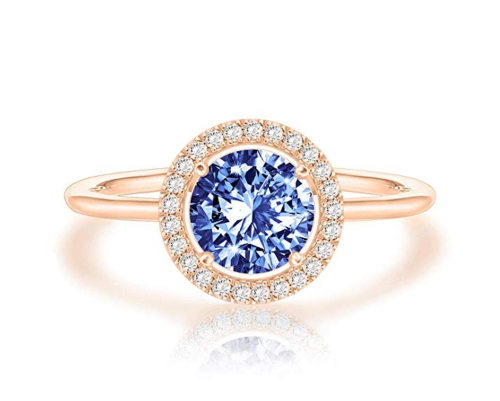 You might not think to pair rose gold with sapphire, but we actually love this color combination! It is a perfect mix of modern and vintage, and the added Swarovski crystals give a nice band of contrast between the center stone, and the rose gold band itself.
This is a really nice, eye-catching ring that would be perfect as a cocktail ring to wear out during a special occasion. 
The Black Bow Jewelry & Co. Sapphire Screw Back Earrings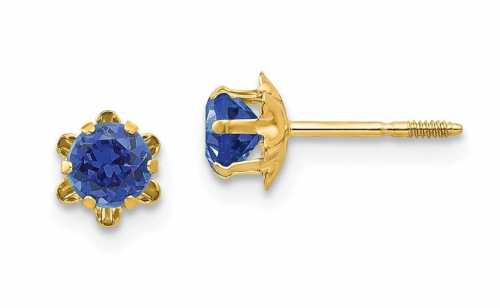 Finally, if you want a very vintage looking piece of jewelry, these simple studs are perfect. The yellow gold prongs give the earrings a very vintage appearance to them and make them stand out from other stud earrings you are used to seeing.
The gold and blue color combination simply couldn't be more regal looking, and we think these are great earrings to wear every day. While they can easily be dressed up, they are also simple enough to wear day to day. What's not to love?
Wrapping Up
Sapphires are some of the most beloved gemstones in existence, having been treasured for generations and generations. Across the globe, sapphires are seen as having a divine beauty, a connection to the heavens, and other spiritual qualities.
Here to help protect you from evil and send blessings your way, sapphires are filled with all sorts of powerful and positive meanings, as well as potential healing properties. 
Aside from their intangible elements, they are also physically beautiful gemstones that come in a variety of colors, though most famously known and recognized for their gorgeous, deep blue color. Are you considering adding more sapphire jewelry into your collection? We don't blame you- we are as well!
Would you consider going for a sapphire for an engagement ring, or is that a bit too traditional for you? Let us know!