Gemstones / Mix / Women
Check Out These Sapphire Earrings, They Seriously Rock!
A sapphire is one of the most valuable blue gemstones. It's the most precious and desirable gemstone due to its durability, hardness, luster and most importantly its colour. A sapphire is commonly known as being blue however natural sapphires can also be found in orange, yellow, purple and green. Interestingly, the only colour a sapphire stone can't be is the colour red because the coloured corundum is called ruby. A sapphire is made up of a variety of mineral corundum's, made up from aluminium oxide which contains traces of copper, titanium, iron, chromium and magnesium.
A sapphire refers to its blue colour when it doesn't have any colour prefix. A sapphire is known for being a very hard stone and comes is number 9 on the Mohs scale. Interestingly it is in fact the third hardest mineral after the diamond. Sapphires are also known as being the birthstone for September and it is the gemstone commonly used to mark and celebrate a 45th wedding anniversary.
The sapphire is known for its healing properties, they are supposedly meant to help you reach your creative potential and improve clarity. When worn they encourage focus and help with sexual and social relationships because the sapphire helps to create a deeper bond between people and achieves in creating loyalty. The stone also encourages new ways of thinking and new thoughts. It's also a very exciting stone because it's believed that the wearer will feel excited when wearing it and the stone will make you full about life! Interestingly the sapphire can be found in India, Thailand, Africa, Africa, Burma and Australia.
Our 10 Favorite Picks!
1. Sterling Silver Gemstone and Created Sapphire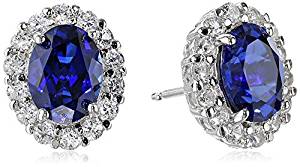 If you think you've seen these earrings somewhere before you may be mistaking them for the Duchess of Cambridge's engagement ring given to her by Prince William. This pair of sapphire earrings looks almost identical to Kate's engagement ring.
These earrings have been designed with an oval gemstone in the centre and sparkling white sapphires around the entire edge of the centre stone. These beautiful earrings have been created using a sterling silver metal with a rhodium plated finish. This not only makes them strong and durable but also prevents them from tarnishing over time. When it comes to the gemstones, this particular stone has been cut into an oval shape. They have then been designed with a stunning border consisting of round cut white sapphires. If you love sapphires, these earrings are full of them!
We've selected the blue gemstone because they're our favourite colour and they look like the real think – blue sapphires! If you prefer a different coloured set of earrings, this designer sells the earrings in a variety of colours – sapphire, emerald, ruby and garnet. These pretty gemstones look like the really thing and the designer allows you to purchase the earrings at a fraction of the price! We love a bargain.
When it comes to the weight they equate to 2.92 carats so even though they weigh a little high, these beauties will be very comfortable to wear! The round sapphire earrings arrive in a lovely small deluxe box, keeping your earrings safe from any damage. Arriving in a cute little box will also save you spending money on the extra gift wrapping. Lots of savings with this item!
This gorgeous set is being sold by Amazon Collection who loves their glitz and glamour! If you take a look at their extensive collection you'll notice they use sparkling diamonds and gemstones. Bracelets, necklaces, rings and earrings – you want it, they'll sell it! Their jewellery designs also offer plenty of personality which is what we like to see! They use a mixture of sterling silver, white gold, yellow gold and let's not forget rose gold! If you take a look at the price you'll notice they're being sold at a reasonable price, making them affordable for a lot of people.
2. Ross-Simons 20.00 ct. t.w. Sapphire and Cultured Pearl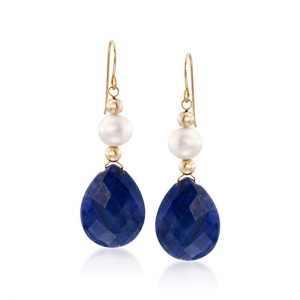 If you like girly jewellery, these dangly earrings are a lovely addition to your jewellery collection. These sapphire earrings have been designed with a dainty teardrop blue sapphire positioned at their bottom. Above the sapphire the earrings feature a delicate pearl which is small, smooth and curved. Above and below this gorgeous pearl you'll notice the earring has a tiny gold coloured jewel that stands between the two stones, protecting each stone from any scratches. The main structure of these earrings has been created using a yellow gold which complements the white pearl and blue sapphire.
Looking closer at the structure, the designer has decided to opt for a 14kt yellow gold metal for the earring. These are a dangly drop earrings which fasten to the ear via a ear wire backing. These have been designed to make them comfortable to slide onto your ear easily. You could go as far to say that the way these dangly earrings have been designed are in fact, pure comfort! These pretty earrings include a stunning pearl, in particular a cultured pearl which is approximately 6-7mm in size. The shape of the pearl is semi-round and they are moderately blemished.
The blue sapphire has been carefully shaped into a pear shape and is approximately 20 carats. The size of the sapphire is ½ inch wide by 1 3/8 inches in length. Paired with the pearls, these blue sapphire stones stand out beautifully amongst the earring.
This pair will arrive in a stunning presentation box that will protect your earrings. These Ross- Simons earrings are being sold for a medium price. The jeweller also offers a 30 day money back guarantee if you're not 100% happy with your purchase. If you take a look at Ross +Simons website you'll see their gorgeous collection of jewellery. Diamonds, gemstones and pearls – you're bound to find something you like in their collection!
3. Blue Sapphire & White Diamond Accent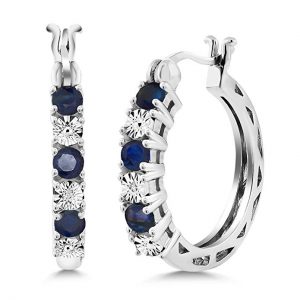 These sapphire hoops are a stunning sparkling piece of jewellery that every lady will want to have in their jewellery collection. Shaped as a hoop these cute hoops are large enough to make a statement but are small enough so they're comfy. They are also not too heavy for your precious earlobes. These sapphire earrings have been made from a shiny sterling silver metal that is extremely smooth and looks beautiful when reflected in the light.
They feature a pattern consisting of blue sapphires and white diamonds, positioned along the front of the hoop. Each earring features 3 blue sapphires and 3 white diamonds to be exact. These are positioned in an alternating pattern. Both the sapphire and diamonds have been cut into a small circular shape which looks extremely elegant when worn. They sapphire hooped earrings also offer a lever-back fastening, allowing the earring to be placed on your earlobe easily and will avoid the dazzling gems from coming loose!
Looking closer at these beautiful earrings, they have been created using a solid sterling silver metal. What's great about sterling silver is that the composition is tough enough, making the earring durable. They're very glamorous and they have a durable composition allowing them to be worn on an everyday occasion without them getting damaged. If you're interested to know the size of these earrings, the hoops are approximately 20mm high by approximately 10mm high.
These stunning jewelry have been made by GEM STONE KING. Founded in 1903, this jeweller produces a variety of gorgeous pieces. They specialise in creating jewellery containing diamonds and gemstones. All of their pieces have been made to the highest quality and are being sold for a great price. Their extensive collection includes engagement rings, pendants, bracelets and earrings.
GEM STONE KING prides themselves in producing sparkly and shiny jewellery. They design modern, contemporary and timeless pieces which you'll simply adore! When browsing their website you'll notice they adore coloured stones! Their pieces make a fantastic birthday, anniversary and wedding present, making their jewellery perfect for any occasion! Have a look for yourself.
4. 2.25 Carats Created Blue Sapphire Studs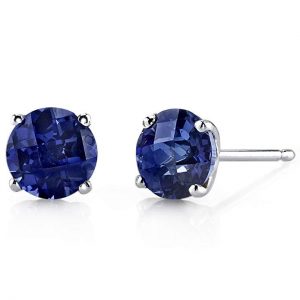 If you suit simple jewellery, then why not take a look at these lovely stud sapphire earrings!
These beautiful option would look fantastic with a sophisticated black dress or a smart suit and heals. The pretty pair of earrings features a blue sapphire stone which has been cut into a circular shape. These gorgeous stones have been positioned in place by a four prong setting which makes this pair look effortlessly elegant! The backing of the sapphire stud has been made using a shiny white gold metal and they are cleverly attached to your earlobe via a plain stud.
When it comes to structure of these earrings, the blue sapphires have been cut to a size of 6mm in diameter, consisting of 2.26 carats. The earrings have been made from 14 carat white gold metal and the earring features a stud post with a secure friction backing, allow it to be attached to your ear.
These earrings would make a fantastic romantic gift for the special lady in your life. Sapphires are extremely precious and are believed to hold lots of healing powers. Perfect to mark a special anniversary present, your girlfriend, finance or wife will love these stud earrings.
These studs have been designed and created by a jeweller called PEORA. If you view their website you'll love the variety of gemstones and birthstones they offer. They also design different pieces of jewellery including rings, pendants, bracelets and earrings. We love their style of jewellery and so will you.
5. 1.17 Ct OvalSapphire White Diamond 14K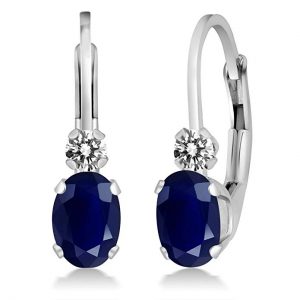 Another of our favourites sapphire earrings are these oval blue sapphire dangly earrings. These have been designed with an oval blue sapphire that has been positioned in place by a 4 prong setting. The deep blue sapphire earrings are then attached to a white gold drop earrings. To make the sapphire stone stand out even more, a white diamond has been positioned above it, complementing the stone.
This gorgeous earring has a classy and delicate vibe to it. The 14k white gold earrings will sit perfectly on your earlobe with the small diamond and blue sapphire sitting just below your earlobe. To give you more of an idea of the actual size of these earrings, these sapphire gems are approximately 10mm in length by approximately 5mm wide, making them a cute addition to any ladies earring collection.
If there was one word to describe these it would be elegant! The beautiful pair of earrings will arrive in a lovely jewellery box, ensuring their safe arrival. These earrings would make the perfect birthday present and will show the lady in your life how much they mean to you.
The designer, GEM STONE KING, have manufactured this pair of sapphire earrings in the USA which is great because you'll know where you buying your jewellery from. They produce all of their jewellery to the highest quality and have years of experience in the gemstone and diamond industry. If you want a piece of jewellery featuring sapphires, GEM STONE KING are the jewellers to buy from. All of their pieces have been carefully branded and packaged. Your pair of earrings will also arrive in either a foam insert or a sleek cherry wood box. Either way you can be rest assured that your pair of earrings will arrive safely to your doorstep so you can wear and enjoy them!
6. Radiant Teardrop 1.50 Carats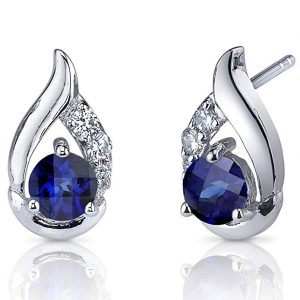 If you're looking for some more unusual jewelry, the designer of these earrings have really gone to town! The design and structure of the sapphire earrings are extremely unique. Unless they've bought from the same jeweller, you won't need to worry about someone else wearing these earrings! What we like about these earrings is that they represent a teardrop shape and are truly radiant. Wearing these beauties, you're bound to turn heads – every head in the room!
These consist of a shiny sterling silver that has been shaped into a teardrop shape. Instead of being a solid teardrop shape, these earrings allow for the blue sapphire stone to sit comfortably in the middle of the teardrop within a 3 prong setting. Looking at these earrings, the gorgeous deep blue sapphire is not going anywhere because it is neatly secured in this setting! The teardrop also includes clear diamonds along one side of the earring which bounces off the centre blue sapphire. The sparkling detail really is something special that you'll love and adore. Next, the teardrop shaped earring is then securely fixed to the earlobe via a plain stud which will avoid it falling off your ear.
What makes them special is that the solid sterling silver has a rhodium silver finish to it. This makes the earrings even stronger, durable and will prevent them from tarnishing. The blue sapphire centre piece has been cut into a round shape which is approximately 5mm long by 5mm wide. The total weight of the earrings comes to 2.6 grams and the stone weight is approximately 1.5 carats. We also need to mention the sparkling diamonds. You may think they're real diamonds, they certainly look it but they're actually white cubic zirconia stones which have a brilliant sparkle to them.
It's important to point out that these earrings feature a stud post and bullet back, allowing them to be fixed securely to your ears. They also have a rhodium and nickel finish to them. We think this pair of earrings has been exceptionally crafted to the highest quality. They also arrive in a cute little signature gift box and velvet pouch that will protect them when they aren't being worn.
The jeweller that has designed and produced these stunning teardrop earrings is PEORA. They produce an extensive collection of romantic style jewellery. The designer has given these earrings a lot of attention to detail when it comes to the design. They also offer plenty of variety when it comes to the type of jewellery, stones used, design and metal types. You're bound to find something to go with your new sapphire earrings!
7. 925 Sterling Silver Simulated Blue Sapphire Studs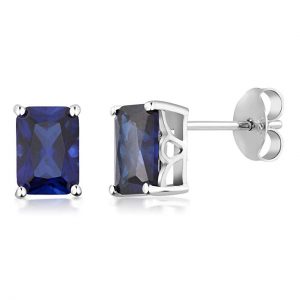 Are you tired of wearing the same old circular sapphire studs? Well to mix things up we've chosen these rectangle studs to feature in our top ten best sapphire earrings. We think these sophisticated stud earrings will transform your outfit into something very special!
These have been designed and created to be a wow factor for any ladies jewellery collection. The sapphire stone has been cut into a rectangular shape and has been carefully positioned within a 4 prong setting. The deep blue sapphire has been positioned on a sterling silver metal which has been shaped into a cube and has a plain stud, allowing the earrings to be securely attached to your ear. When it comes size of the studs, they're approximately 7mm high and 5mm wide and is approximately 2 carats in eight.
Talking more about the design of these studs, GEM STONE KING has carefully hand crafted each piece of this these earrings. The jeweller prides themselves in designing unique pieces which stand out. They also carefully plan the production of each piece of jewellery. When it comes to their jewellery style, their jewellery pieces are contemporary, modern and timeless. They also include intricate detail which we love to see! Take a look at their collection of jewellery you'll be spoilt for choice!
8. 14K Yellow Gold Blue Simulated Sapphire & White Created Sapphire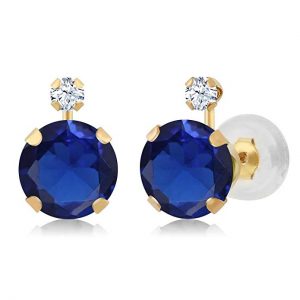 Get It Here
If you like yellow gold jewellery, you'll love this pair of earrings!
This stunning set consists of a circular cut blue sapphire that has been beautifully positioned in place by a 4 prong gold setting. These gold stud earrings also feature a small but sparkling diamond that adds a touch of glamour to this set of earrings.
These earrings have been created using a 14k yellow gold metal. The sapphire stones that are positioned in the centre of the stud and are approximately 6mm wide by 8mm in length. The sapphire is also featured in a 4 prong setting and consists of 1 carat. The smaller white diamond has also been cut to a round shape and is approximately 2mm in length by 2mm wide.
This is another of GEM STONE KING's jewellery which we love so much. The reason we like this jeweller so much is because they specialise in producing pieces of jewellery that feature diamonds and gorgeous gemstones. They pride themselves in producing unique pieces to the highest quality. They're also not afraid to experiment when creating their pieces of jewellery. Engagement rings, bracelets, pendants and earrings, you name it, they make it.
Another fabulous thing about this jeweller is they regularly make a variety of donations to charities including American Red Cross, American Cancer Society and Children's Miracle Network. They make fabulous jewellery and give back to charities. Take a look at their endless collection of jewellery, you won't be able to take your eyes off them!
9. Caperci Sterling Silver Round Set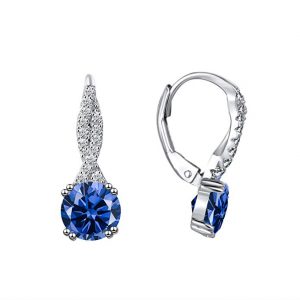 This is another of our elegant sapphire earrings that we have chosen to feature in our list of the top ten sapphire earrings. This pretty pair of earrings has been designed beautifully. It features a circular blue sapphire at the bottom of the earring which is fixed securely in place by a 8 prong setting. The sapphire is then connected to the sterling silver that has been crafted into a hoop. The front forward facing part of the hoop also features dozens of sparkling white diamonds. If you love diamonds, you'll love these earrings1
They are approximately 7mm wide by 200mm high and feature a 7mm wide blue sapphire. They also feature approximately 28 cubic zirconia diamonds across both earrings. All of these diamonds and sapphires make the pair of earrings weigh approximately 2.3g in weight. When it comes to the structure of the earring, these lovely jewels have cleverly designed to feature dazzling jewels and feature the cubic zirconia diamonds in a crossing ribbon pattern. Another thing that we love about these earrings is the glorious shine. The sterling silver has a polished bright shine which will catch everyone's eye as you walk in the room, wearing these beauties.
The lovely earrings have been created by jeweller, Caperci and are being sold for a low price. Caperci produce high quality jewellery which features crystals, cubic zirconias, colbat and titanium. Caperci Jewelery has been designed for the modern women and man as they produce exquisite jewellery like wedding and engagement rings.
10. Blue Sapphire 925 Sterling Silver Gemstone Stud Halo Set

Get It Here
This is a classy pair that would be perfect to wear with a cocktail dress to a fancy dinner or wear as part of your outfit on a date.
What we like about this pair of sapphire earrings is that the sapphire stones are darker than usual. They have also been cut to a round shape. These earrings have been designed quite cleverly. The sapphire stones have been positioned on the sterling silver metal in a 4 prong setting, allowing them to be positioned securely. What makes these earrings unique is the fact that the clasp which is pushed onto the back of your earlobe actually holds additional gemstones so when the earrings at placed in your ears the two pieces make one complete earring. The backing fixture includes a circular frame of dazzling gemstones held in a singular row. When placed on the ear securely, the earring finishes the earring off with a beautiful frame of white gemstones!
There are many things that we love about them, firstly the design, which we have spoken about in detail. We also like that the centre stone is approximately 6mm in diameter, making it a decent size. The total weight of the earring is approximately 2 carats. It has also been made using a high quality sterling silver solid metal. The composition of this sterling silver makes it extremely tough and suitable to include in a pair of earrings like this that will be worn over and over again.
Once again, to finish our line-up of the best sapphire earrings we've chosen to include another of GEM STONE KINGS pieces of jewellery. Sold for a medium price, these earrings are being sold for a bargain price. You can also be certain that you're buying a top quality product! There's nothing else to say apart from why not take a look at their collection and begin spending those dollars! You won't regret it!