Best Men's Leather Necklaces – 2023 Edition
last updated:
Nov 12, 2021
Leather necklaces for men are a fantastic option for trendsetters searching for a low-profile and confident accessory.
The organic feeling of leather combined with metal is a brilliant display for bold jewelry lovers. You'll also find these pieces have a unique masculine air to them paired with handmade features you're sure to love.
Whether you're shopping for yourself or a loved one, there's nothing more luxurious than the gift of leather. Let's explore some of the most fabulously designed pieces that every guy will love having in his collection.
Our Top 9 Picks!
1

. John Hardy Classic Chain Amulet Necklace with Leather
Lengths from 20" to 26"
Rounded soft leather
Sterling silver pendant
Lobster clasp
Every man deserves a little bit of luxury in their everyday life. The John Hardy classic chain amulet connector necklace with leather is the perfect touch of opulence your jewelry collection needs.
Read more
The simplicity of this necklace is what makes it a fabulous addition to anyone's jewelry box. You'll love the simple, soft leather necklace paired with the intricately designed circle pendant. Made of sterling silver, the charm is whimsical and resembles something you'd find in a fairytale.
We fell in love with the John Hardy Classic Chain Amulet Connector Necklace with Leather at first glance.
It allows for complete customization, as you can choose the necklace length from 20" to 26". You'll also find it's easy to take off and put on, thanks to the high-quality lobster clasp at the back.
Above all else, the circular pendant is the showstopper of this accessory. It features delicate engravings that add to the dimension of the piece.
2

. Macy's Americana Braided Leather Necklace
Bronze and sterling silver pendant
Black leather cord necklace
Twist lock clasp
Removable pendant
Men who love nautical themes are bound to fall head over heels for the Macy's Americana braided leather necklace. It has a fantastically designed bronze embellishment paired with sterling silver accents for an extra ounce of glamour.
Read more
It's simple and straightforward without any frills or bells and whistles. The streamlined black leather cord doesn't take away from the piece's focal point, the pendant.
You'll find an antique bronze and sterling silver pendant at the center of the necklace that showcases an anchor. It's the ideal embellishment for men who love the sea or have always dreamt of being their own captain.
Another feature that makes this necklace unique is its closure, which is a twist-lock clasp. When worn, you'll be able to twist the closure together, preventing it from accidentally falling off. If you're looking for a wear-anywhere everyday type of necklace, this piece is an iconic choice.
If you find that the embellishment isn't quite your style, you can reap the benefits of a simple leather corded necklace.
3

. Black Bow Jewelry Co. Tungsten Ring Necklace
Lobster clasp
Maintenance-free tungsten
Polished faceted ring
18" smooth leather cord
The Black Bow Jewelry Co. Tungsten ring necklace is a stunning alternative to a tungsten barrel. If you're on the hunt for a versatile and wardrobe-friendly necklace, we highly recommend this piece. It's so versatile, in fact, that we could even see it being a staple in women's accessory collections as well.
Read more
You'll find it's comfortable for sports, sleeping, swimming, as well as for everyday activities. Tungsten is one of the best materials for men's jewelry because it exudes class and confidence. It also has the added benefit of being maintenance-free, meaning it's great for any occasion.
With the added benefit of the smooth leather cord, you'll have a trendsetting piece to be worn every day. The Black Bow Jewelry Co. leather cord necklace is highly adaptable. You'll be able to pair it with an assortment of other pieces, whether you prefer wearing two or three stacked chains.
It's finely detailed with a flawless finish making it the perfect choice for men of any age. There's no doubt this is one of the most flawless tungsten necklaces on the market.
4

. U7 Black/Brown Leather Necklace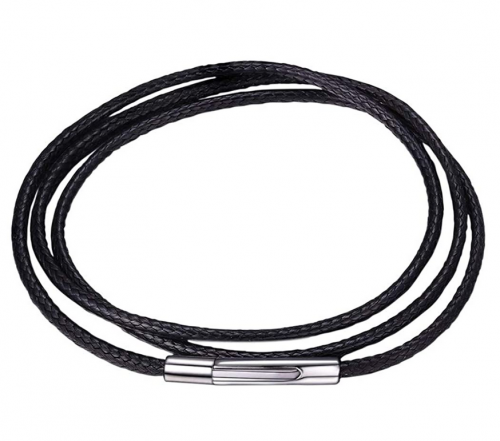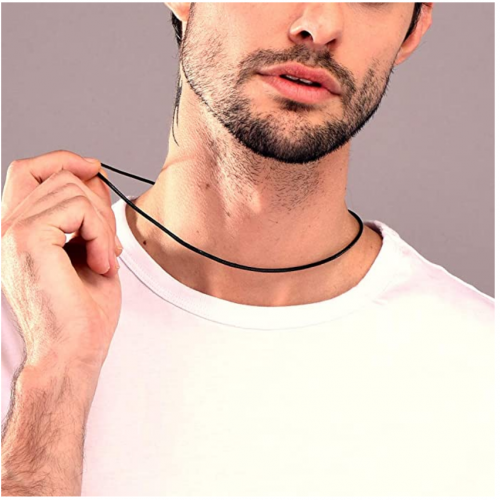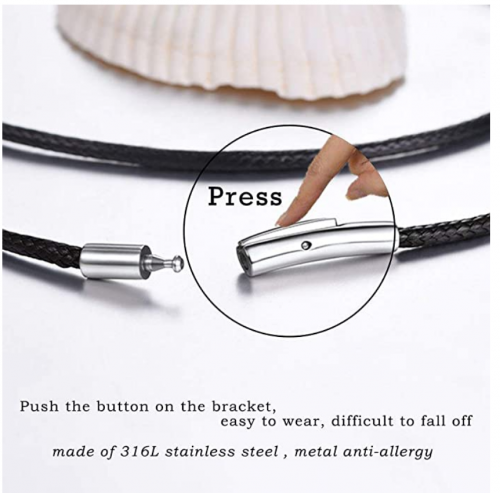 316L stainless steel clasp
Adjustable length
Synthetic leather cord
2mm wide
If you're the type of guy looking for an effortlessly simple accessory, this necklace is our top pick. The U7 leather necklace is a glamorous choice.
Read more
When worn, this piece looks incredibly sophisticated with its smooth leather and slender style. It sits comfortably against the neck, helping to add a unique detail that's sure to capture attention. It's one of the more funky and punk-inspired pieces we've come across that's adaptable to any man.
The most unique feature of the piece is that it boasts a customizable clasp crafted from stainless steel. Instead of tungsten, stainless steel is a fantastic alternative with a similar polished style and durability. You'll find this is one of the few necklaces that you can wear anywhere, whether swimming or showering.
It features a wrap-around style, allowing you to adjust the size of the piece depending on how you want to wear it. For example, you can extend the length if you want it to drape down your chest or tighten the coils for a choker.
Instead of using genuine leather, the U7 necklace features synthetic leather. The metal clasp is crafted from 316L stainless steel, which is both skin-safe and nickel-free.
5

. Quadri Vegan Leather Necklace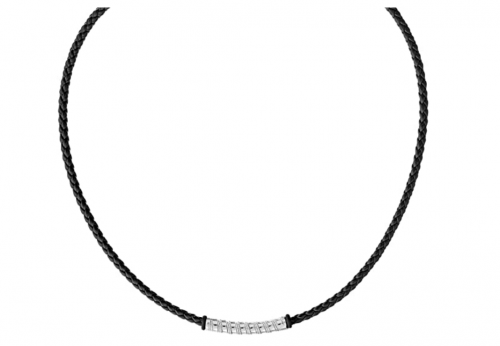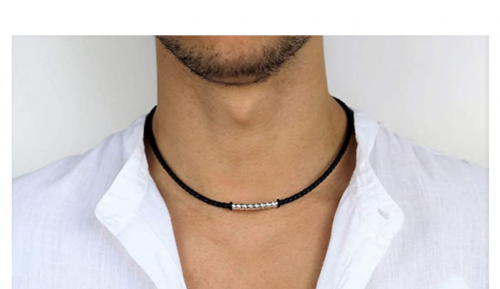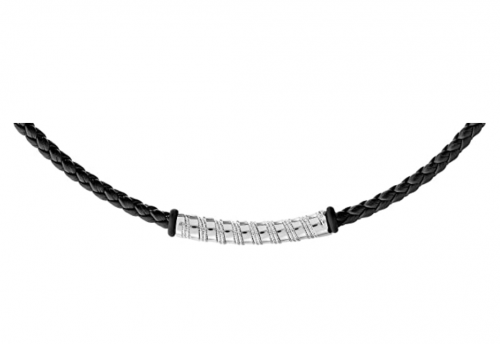 Vegan leather cord
Sterling silver clasp
925 sterling silver embellishment
Handmade in Italy
Opting for vegan jewelry has become a more prevalent trend throughout the world. The Quadri vegan leather necklace has plenty of fashionable elements derived from Italian fashion. It's a superior low-profile style with a sporty feel that looks sophisticated, flattering, and attractive.
Read more
The first thing you're bound to notice about this leather necklace is its textured leather cord. However, instead of using genuine leather, the material is a vegan alternative, adding to its eco-friendly design. You'll love the intricate braiding along the cord, adding a new look to your neckline.
You'll especially love pairing it with silver accents, thanks to the pure 925 sterling silver lobster clasp. Also, there's a stunning sterling silver embellishment at the front of the necklace that adds to its luxury.
This necklace is one of our top choices for a skin-friendly piece that any guy can wear. One of the most considerable benefits of the necklace is that every piece is handmade, adding to its authenticity.
When you receive your order, you'll find there's a beautifully decorated gift box included. You'll also have a Guarantee Certificate, which proves the piece was manufactured in Italy.
6

. BlueRica Two Feather Rope Cord Necklace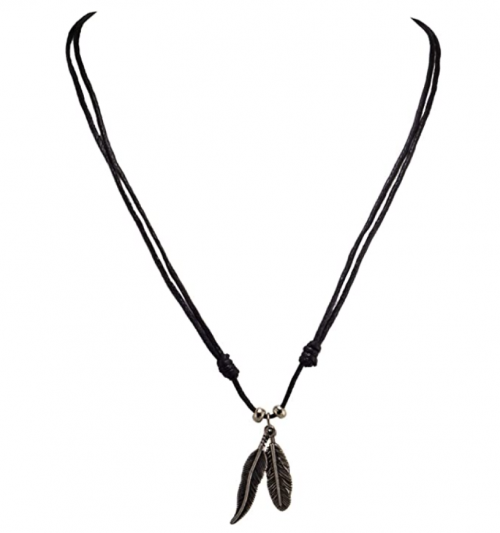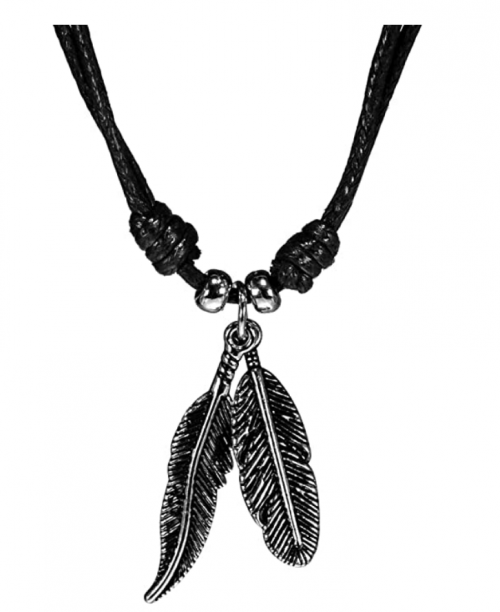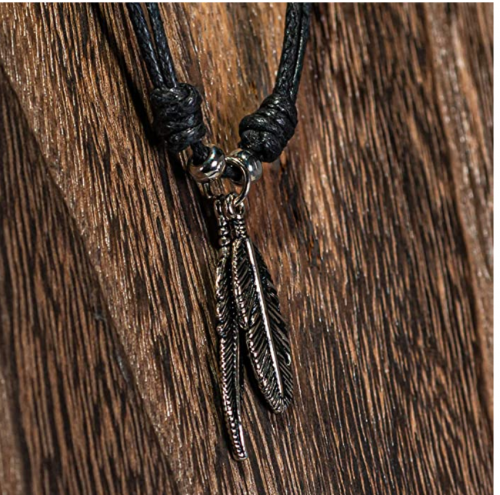 Adjustable
Antique silver pendant
Budget friendly
It's all about the vintagy feel and expert design when it comes to BlueRica's leather feather necklace. What we love about it is that this is a handmade necklace, so as unique as they come.
Read more
The leather used as the cord is super soft and adjustable. You can adjust the length anywhere between 18 and 32 inches, so you get a variety of ways to wear your necklace depending on your outfit of the day.
Hanging from the leather cord, there are 2 mid-sized (2.4'' in length), metal alloy feathers. Both feathers hand from a larger ring, which acts as the connector between the cord and the pendants.
The feathers are not the same in color; one is bronzy while the other is polished silver and we love this contrast of metals, which both go well with the soft brown leather cord.
This leather necklace is a great choice both for men and women and perfect for anyone who loves the chic boho style!
7

. Novica Carved Bone Skull Pendant on Cord
Sliding knot adjustments
Handcrafted cow bone pendant
27.5" maximum adjustability
Dark brown leather cord necklace
This wardrobe-friendly piece speaks to the confidence and allure of the wearer. With its handmade artisan appeal, every necklace is one-of-a-kind and resemblant of traditional Indonesian jewelry.
Read more
The necklace is designed using authentic Indonesian carving methods. What sets this piece apart from others is that the pendant is crafted from pure cow bone.
The whimsical carvings of the artist will give you a one-of-a-kind necklace that is sure to spark curiosity.
If you're someone who loves alternative fashion that doubles as an everyday accessory, this necklace should be your top choice. There are plenty of phenomenal details that help to pull the whole necklace together.
The stunning dark brown leather cord pairs perfectly against the skull, as does the bright metal hook that affixes the pendant to the corded necklace. There's something about this piece that makes it high-class and timeless.
Another great feature is its adjustability. As it's made from a leather cord, you can tighten or loosen the necklace as needed. Men can opt to wear it as a shorter or longer necklace ranging from 13.5" to 27.5".
8

. Fossil Stainless Steel Station Necklace
18" length with a two-inch extender
Black leather cord necklace
Lobster clasp closure
Stainless steel and lava rock pendant
Fossil has always been known for its collection of minimalistic and contemporary jewelry pieces. The Fossil necklace is no different, speaking to the modern jewelry lover. This unobtrusive necklace is something that you can wear every day without feeling the burden of a heavy accessory around your neck.
Read more
The simplicity of this necklace sets it apart, adding the perfect ounce of luxury without being too over the top. The streamlined black leather cord necklace paired with metal and lava rock is a unique style of the everyday man.
You'll love the thinness of the leather cord, which sits comfortably against the skin. Also, the waxed coating ensures the leather coloring doesn't fade over time, even if submerged in water. You'll also appreciate the minimalistic pendant that adds to the streamlined appeal of this piece.
In the necklace center, you'll find two stainless steel beads on either side of a piece of authentic lava rock. Up close, the lava rock bead has depth and dimension, showing the porosity of the stone.
To keep the pendant in place, two delicate knots are placed on either side of the pendant. This helps prevent the beads from shifting throughout the day, so the necklace always stays in place.
9

. American West Grey Leather Toggle Necklace
Grey leather ribbed necklace
Recycled sterling silver accents
Sterling silver endcaps
17" length
Sometimes, the perfect accessories are ones with small details that you can appreciate up close. The American West grey leather toggle necklace is a fantastic example. It has plenty of delicate components that add to its opulence and versatility.
Read more
It has a casual flair with the braided leather necklace and some luxury with the sterling silver toggle. If you've been on the hunt for a minimal and straightforward leather necklace, this is one of our top choices.
The braided leather cord is perfectly resemblant to the southwest and life on a ranch. You'll also find the polished sterling silver toggle pairs perfectly with the dark leather coloring of the necklace. You'll love the softness of the ribbed circle leather rope, which sits nicely against the neck.
Another amazing detail that helps to print this necklace together is the delicately designed endcaps. The endcaps are crafted from the same sterling silver as the toggle to prevent the leather from unraveling and fraying.
Also, they have intricately designed engravings that pair well with the main embellishment.
Who wears leather necklaces?
Style
Leather necklace heroes we love!
Hunk celebrities have the privilege of being styled by the best designers in the world. And more often than not, they accessorize with leather jewelry.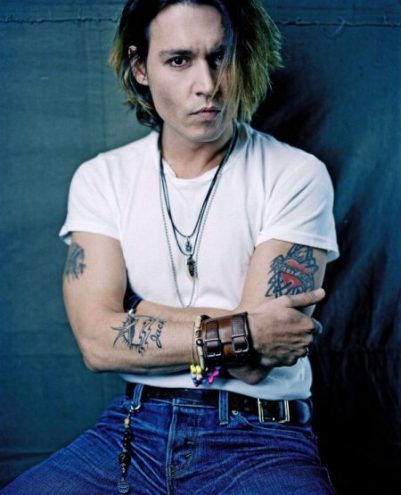 Just think of Johnny Depp; now he is the king of leather necklaces and bracelets, and when we think the guy just couldn't get any hotter, his jewelry makes him even more beautiful than he already is!
Another hunk looking so so good with leather necklaces around his neck is Chris Hemsworth! The Aussie hottie is often seen wearing leather accessories including necklaces and bracelets.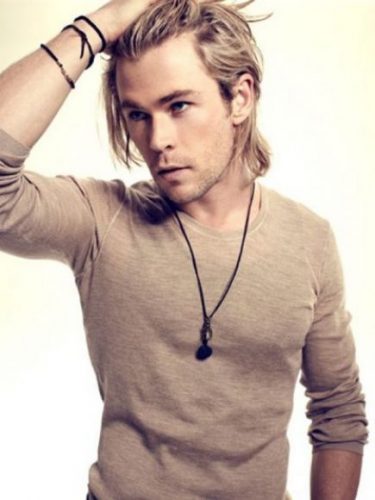 A simple white tee, bed hair and a leather necklace is our favorite styling of all!
FAQs
q:

What type of leather is used for the men's leather necklaces on our list?

a:

Cowhide is mostly used, and it goes through processes like cleaning and tanning before it becomes the leather commonly employed int the jewelry industry.

Basically, the hide is treated to remove impurities and soften it for the tanning liquid.

Then, it's soaked in a  tanning solution for days and finally split it and modified to shape it into a cord or any other leather object.
q:

What other accessories would go well with a men's leather necklace?

a:

When it comes to leather necklaces, they're a pretty versatile type of accessories.

We love seeing simple bead and rope chains layered along with a leather necklace.

You can also play with the metal colors, so both yellow gold and silver will complement any type of leather cord necklace and its color.
q:

How do I care for my leather necklace?

a:

Taking care of leather jewelry is quite different from the way you would take care of metal necklaces.

When it comes to a leather necklace, its shape and color will depend on how well you take care of it!

✓ Avoid exposing the leather to water or chemicals.

✓ When you want to clean it, just oat it down with a damp cloth. Don't use too much water and avoid immersing it into any solution.

✓ You can use a small dab of mild, moisturizing hand soap or get a leather cleaner for proper wiping out.
Finally...
Men's leather necklaces are super versatile accessories, a symbol of masculinity and sexiness. Let's admit it; there's nothing hotter than a guy sporting a cool leather necklace around his neck!
When putting together our list of men's leather necklace picks, we made sure to include a variety of styles and price points.
By browsing our list, you will find simple leather necklace designs, as well as necklaces with some gorgeous masculine pendant.
In case you're on a super tight budget, there are plenty of options on our list, which are super affordable yet made from quality leather and looking like a real splurge!
If you're looking for a gift for a special man in your life, a leather necklace is an excellent idea, and any of our picks would work depending on the specific style of the person you are shopping for. Time to shop guys!