Silver / Women
Silver Choker Necklaces You Can Mix & Match!
Silver choker necklaces are a great way to add some extra style to any look! They are really versatile jewelry picks that can range from elegant and fancy to simple and fun.
Sterling silver is always a great pick since it goes with literally anything. It is strong, durable, and beautiful! We are confident that you will adore these stunning dainty silver choker picks. You can even mix and match them for a stylish layered look or just wear them solo for something more minimalistic.
10 Silver Choker Necklaces Our Team Loves Right Now
1. GemStar USA Sterling Silver Short Choker Necklace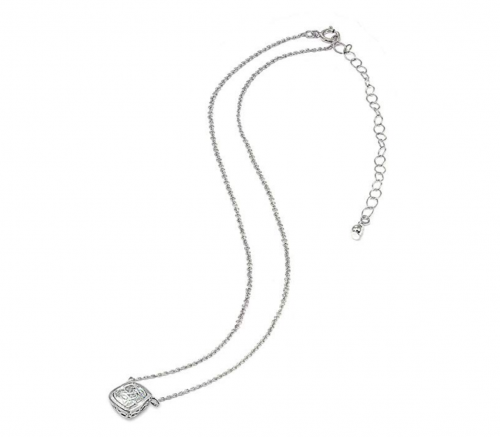 Our first pick is this lovely simple silver choker necklace from GemStar. The style of this dainty piece is simple and kind of minimalistic, but that certainly doesn't take away from its beauty.
The simple rolo-style of the choker's chain adds to the minimalistic design and helps keep the focus on the centerpiece of the choker necklace. It's 13 inches long and also comes with a convenient 3-inch extender allowing it to easily fit almost any neck size.
The chain is also super thin, adding a more feminine touch to this beautiful necklace. It also has a spring ring clasp allowing it to be super easy to put on and take off on your own without any outside help.
The rolo chain is made of solid 925 sterling silver. This means that it has a good combination of strength, durability, and beauty. The silver chain also contains no nickel, which shows the quality even more and helps to reduce any chance of skin irritation or allergic reaction.
Another really cool thing about this dazzling silver choker is the versatility! It can be used for more casual events as well as for formal events because it can easily be dressed up or down.
The 3-inch extender even adds to the versatility so that it can be used as a snug choker or loosened up to be used as a looser, more typical necklace. This is great because you don't have to choose a different piece of jewelry to have a different style.
Adding, again, to its versatility is the fact that you can order it with several different gemstone options. Amethyst, blue topaz, blue sapphire, and white sapphire are just some of the options for this gorgeous pick.
If you wanted, you could even buy multiple necklaces with different stones to wear for different occasions and with different outfits.
2. MetZakka Handmade Sterling Silver Choker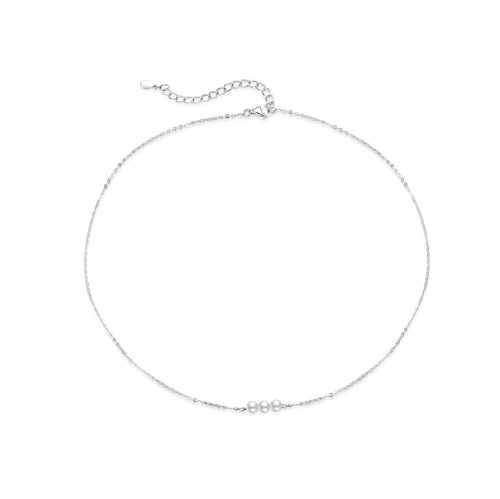 This MetZakka pick is actually handmade and we are sure you're going to adore it as much as we do! It features a simple rolo chain that, just like our last option, helps you focus on the centerpiece of the necklace.
The rolo chain is made using solid 925 sterling silver, but it actually also has a white gold plating added onto the silver chain. This really brings out the shine and beauty of the piece but keeps the simple silver look well.
Thanks to a convenient 2-inch extender, the necklace can be adjusted between 14 inches and 16 inches in length. This is a pretty good size for most necks. However, it might hang a little lower for those with particularly small necks even when adjusted to the smaller 14-inch length. Either way, it is still a very pretty necklace perfect for a more minimalistic look.
The main focus is a small silver bar with 3 stunning freshwater pearls strung onto it. The little bar is 12mm across in length. The chain is attached to each end of the bar carefully for a delicate look and secure connection.
Each of the little pearls is a natural off-white color and measures at about 4mm across in diameter. This takes up all of the space on the bar so that the bar itself is not actually exposed and you just see the nice, straight line of the three little pearls that sit daintily on your neck.
The price is even incredibly reasonable on this lovely piece of jewelry. That is especially true when you consider the quality materials and handmade design. It is a very nice piece of jewelry well-worth adding to your collection!
3. HooAMI Stainless Steel Collar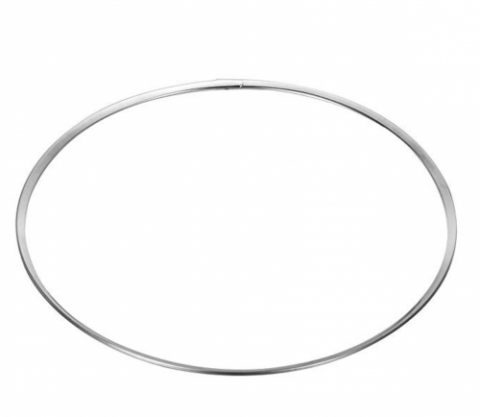 It doesn't get much simpler than this when it comes to a silver choker necklace. Instead of being made of chain links that connect together, this necklace is actually just one solid piece of metal that is shaped to fit around your neck properly.
The metal is actually stainless steel, but it has that nice silver tone to it. The stainless steel material actually makes it superiorly durable. It will never fade and can't be easily damaged. It is also very unlikely to cause any kind of skin reaction or irritation.
The piece is a band-style, which is what allows it to work as a necklace even though it is all one solid piece of stainless steel. The band is flat in design and sits flat around the base of your neck.
Width of 3 mm is the perfect size to really stand out without being overbearing. It also has a really nice polished finish that provides the beautiful silver-tone shine of the necklace.
The clasp of the choker necklace is super easy to operate. One end has a small opening. The other end has a small pin piece sticking out just a bit with a ball-tip end on it. This slides into the opening to hold the two ends together securing the necklace onto you.
A slight angle designed into the band also keeps it flatter against the base of your neck for a smoother look. This is definitely a good choice for anyone wanting to layer or mix and match gold and silver necklaces.
It is a simple piece that goes great with other necklaces of almost any kind. You can choose to wear just the collar necklace on its own or you can add nearly any charm or charms to it. This lets you customize it if you prefer and actually increases the versatility even further.
The price is also unbeatable and should work just fine for any budget!
4. DAOCHONG Sterling Silver Pendant Star Choker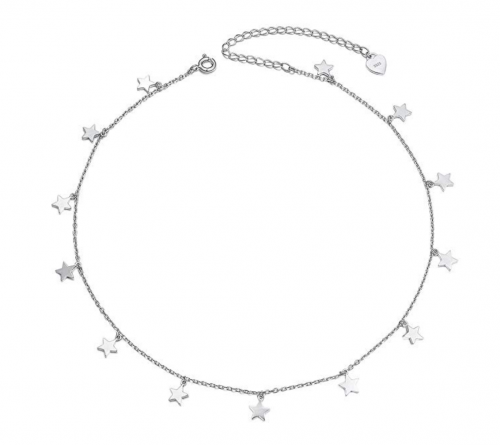 This pick is tons of fun! This is a much more whimsical choice that is best for strictly casual occasions. You wouldn't want to wear this to a formal event or even your office probably, but it is definitely perfect for a more care-free casual setting.
It features a rolo chain that measures at 13 inches long. It also features a little 3-inch extender that allows the necklace to get up to 16 inches in length for anyone that has a particularly large neck or just wants to wear their jewelry a bit lower instead of up higher like a typical choker.
The width of the chain is just over 1mm keeping it dainty and simple. All around it, small little star charms hang down. These precious star charms give a lot of character and style to it in a really fun way.
This makes it the ideal silver choker necklace for younger girls like teenagers and pre-teens. It also works great for adults that are young at heart, though! It is a great way to add a bit of whimsy to any outfit.
The stars are all spaced an inch apart from each other for a total of 13 stars on it altogether. They are small, flat star charms. Each one has a nice symmetrical and uniform cut to it and shines in a lovely way with the high-polish finish. Just like the chain itself, the star charms are all high-quality sterling silver for durability and great looks.
The charms each measure at about a quarter of an inch across. A simple ring spring clasp is easy to use and fits well with its dainty look. Something else cool about this option is that you can choose different charms if you don't prefer the stars.
It also comes in crosses, triangles, squares, moons, dots, hearts, and more. There is definitely a good choice for practically anyone!
5. GemStar USA Polished Tree of Life Necklace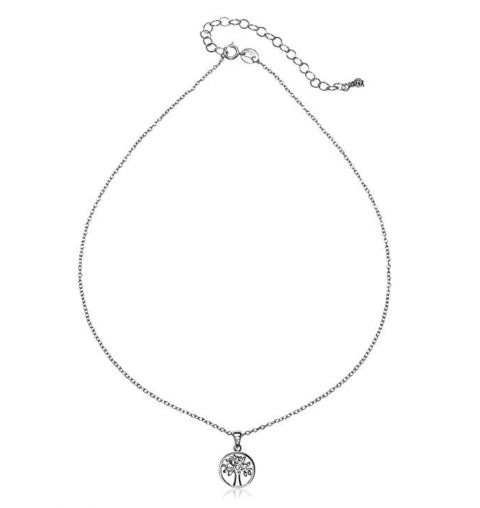 This elegant little silver choker holds a ton of special meaning while also just looking awesome. It features a tree of life charm on it, which holds a special symbolism that can actually represent a few different very special concepts and meanings.
The tree of life stands for positivity and a bright future. It is about a fresh start or just a general appreciation for mother nature and all living things within it. Alternatively, the tree can also represent immortality.
This is because even as the tree itself may age and become older, it still continues to produce seeds that allow the tree to continue on eternally. Whatever meaning you feel from the tree of life, this is still a super cool and fun necklace that is special and beautiful.
The dainty feel is perfect for everyday wear. It leans more towards the casual side but can certainly be dressed up or down as desired. The pendant itself is an open circle with the tree shape inside. It has a slightly abstract and modern design but still represents the tree of life with clarity.
The entire thing fashions sterling silver that is high-quality and free of impurities that may cause skin irritation in some. The necklace is about mid-priced, so it is pretty affordable overall.
The rolo chain keeps with the dainty and lightweight feel and a simple ring spring clasp is easy to use. The choker necklace measures at 13 inches long and has a 3-inch extender for greater versatility. It is a great, high-quality choice for all ages!
6. Silver Mountain Sterling Silver Sideways Cross Choker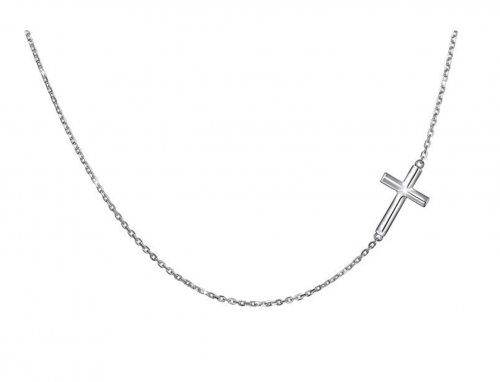 For spiritual or religious individuals, this is a very sweet and dainty pick that can allow you to subtly display your faith to the outside world. It can also act as a gentle reminder to yourself to stick to your faith at all times.
The necklace features a small cross pendant that is artistically placed into the necklace sideways. This gives it a unique look and lets it fit well into the design.
Both the top and the bottom of the cross pendant are hooked to a rolo chain. The chain measures at 1.5mm in width. The cross itself is a bit under an inch long and just over half an inch wide. It fits very nicely with the rolo chain.
The chain measures at 14 inches long, so it is on the longer end for chokers. It is best worn at the base of the neck. It also includes a 4-inch extender, though. This means you can even wear it as a longer necklace if you prefer rather than as a choker. It also helps give it greater versatility for different looks and even layering!
Of course, we have included this necklace because it looks stunning in the sterling silver. However, if you prefer, you can choose it in rose gold or yellow gold too!
All are great options and if you really love the necklace, you could get more than one color for wearing on different occasions and different outfits. It is a little pricier than a lot of our picks, but really not too bad.
It also comes with a free gift box for a nice presentation and a soft cleaning cloth to help keep your necklace shining beautifully!
7. Amkaka Minimalist Sterling Silver Choker
An especially dainty choker is this sweet minimalist pick from Amkaka. This super-simple option is perfect for any occasion and any wearer. It is super stylish but still so simple that it really matches with any look you are going for.
One of the best necklaces for layered looks since it will complement any other necklace very nicely. The piece features a rolo style chain like most of our picks, but in-between sections of the chain, there are small silver beads.
Instead of being strung onto the chain where they can move freely, they are suspended on the chain with equal spacing. This is definitely the ideal design for a choker.
The sterling silver is also plated in platinum for increased durability and incredible shine. The length of the necklace is 13.3 inches – so, perfect for a great choker. It also includes a 3.2-inch extender section on the chain to allow you to get the exact length you want for a perfect fit and look every time.
An included gift box makes it super easy to give a great presentation when gifting the necklace or gives you an easy storage solution if you are purchasing it for yourself!
It also even comes with a convenient and helpful cleaning cloth to keep the necklace polished well. It is a very affordable option as well, which means that it should easily fit into any budget.
8. Ladytree You Are My Sunshine Sunflower Pendant Necklace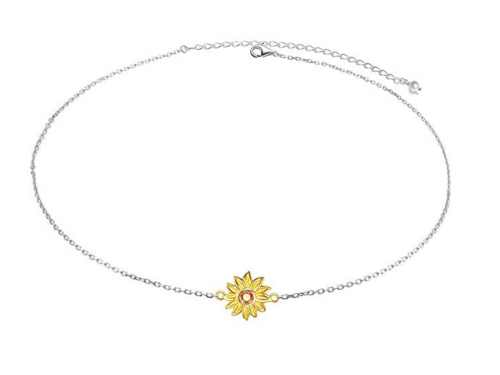 A really fun choice is this silver sunflower choker from Ladytree. This pretty necklace has a sterling silver chain and sterling silver pendant. There is a silver pendant, coated in lovely yellow gold, though.
It is shaped like a stunning sunflower with sweet curling petal details. The yellow gold helps bring to life the look of the sunflower. It is especially great for summertime!
The sunflower is suspended on each side by a dainty rolo chain that holds it perfectly centered on your neck. The chain length is 14 inches and it also features a 4-inch extender to allow you to easily adjust the necklace to a longer size if you prefer to wear it lower down or if you just have a larger neck. Right at the center of the sunflower, there is a small cubic zirconia gemstone inlaid.
It is orange-toned and really adds to the look of the sunflower pendant. It also includes a polishing cloth and gift box for added value.
One of the coolest things about this particular choker necklace is that there is also an entire set of matching jewelry available for purchase. You can get the choker necklace and/or you can choose two other necklace styles featuring the sunflower.
One includes a stem and one includes a heart around the sunflower. There are also matching stud earrings, a ring, a bracelet, and even an anklet all available with this sweet little sunflower design. The entire set would make an absolutely incredible gift for a loved one of just for you to get yourself!
9. Silver Mountain Sideways Camellia Flower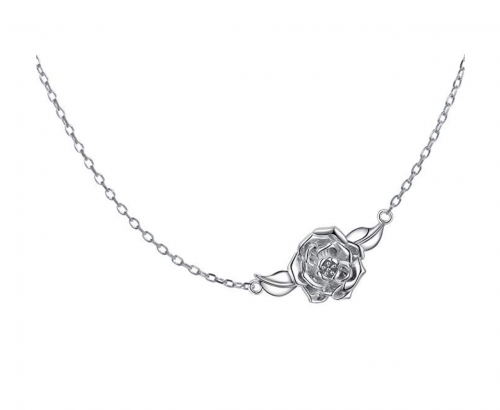 This Silver Mountain camellia flower necklace is definitely on the longer side for choker necklaces at 15 inches, but it still works well for those with larger necks or as a lower choker at the base of your neck.
This also helps make it great for those awesome layered looks. It is another sideways designed choker as in the pendant is meant to sit towards the side of your neck rather than right at the center. The pendant is an elegant camellia flower!
The flower has a perfect detailed 3-D look that really makes it look realistic apart from the fact that it is solid sterling silver. The pedals bend up perfectly around the center of the flower.
On each side, a silver leaf extends out from behind the flower and connects to a rolo chain that holds the flower suspended perfectly. An extender on the chain is 3 inches long allowing you to actually adjust the length all the way up to 18 inches if you would like the choice of switching between using the necklace as a regular length necklace and a choker necklace as desired with different outfits and on different occasions.
Also, if you don't love the 3-D look of the flower as much as we do, it is available with a sweet little 2-D camellia flower charm instead!
Both are beautiful options and it is really just about personal preference. The price is mid-range, and it comes in a nice necklace box for easy gift-giving or storage!
10. YinShan Adjustable Sun Moon and Star Choker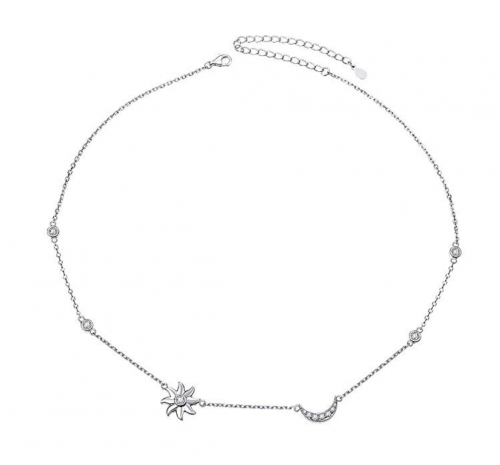 YinShan sells this dainty astronomy-inspired pick! Jeweler makes this choker, also form 925 sterling silver and while it is close to the top of our list in terms of price, it definitely has a good value due to the detailed design and high quality.
It features several different charms throughout the design. The two center charms sit on opposite sides of the center of your neck and are a bit larger than the rest of the necklace and other charms within the design.
On the left side, there is a sparkling sun charm. It features swirling arms representing the fire of the sun and has a sparkling clear cubic zirconia stone at the center of it.
Then on the right side of the center of the choker, there is a moon charm. This is a crescent moon charm and does a great job at balancing out the sun on the opposite side. Higher up on each side, you will find 4 different smaller charms. There are two on each side.
They feature more cubic zirconia stones like that in the center of the sun charm and each one is bezel set inside a ring of silver. All charms are suspended onto the rolo chain to keep them in their proper place.
The little charms represent stars to go along with the astronomical theme of the necklace! It also comes in a lovely blue gift box. Oh, and you can even purchase the matching bracelet to go along with it!
Silver Choker Necklace Style Tips
Silver chokers are a really great piece of jewelry to have in your collection and include throughout your wardrobe. They are super versatile and add a really lovely touch to almost any look or style.
They're pretty easy to wear due to the versatility. There are just a few things you will want to think about when adding them to your outfits.
✓

Consider the Cut of Clothing

When wearing any necklace, you need to think about the top you are wearing with it. Whether you will have on a shirt, blouse, or dress, the cut of your top is going to help determine what necklaces may be most appropriate. This is especially important for necklaces specifically due to how close they are to your actual clothing unlike things like rings and earrings.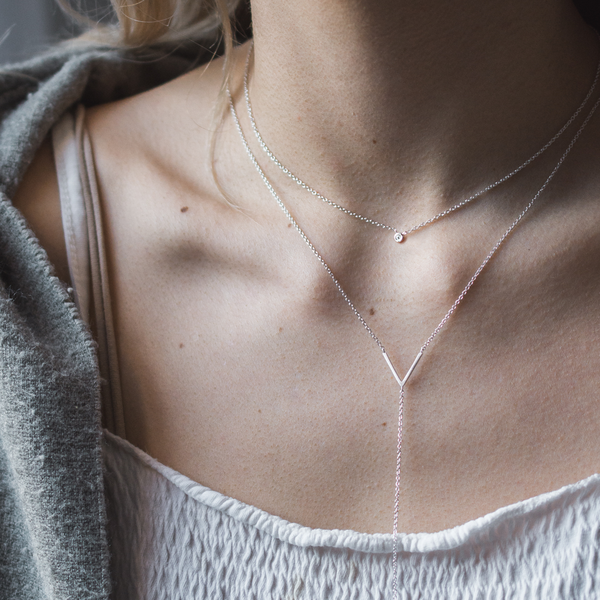 For chokers, the main thing you will want to avoid is anything that comes up super high. Obviously, turtle necks are out when it comes to a choker necklace! Mid to low cut tops are best for showing off your choker. If you are wearing a particularly low-cut item, you can even add in a regular length necklace in addition to your choker.
✓

Mix and Match Silver Chokers

Another cool thing about simple jewelry like these is that they are great to mix and match! When it comes to mixing and matching silver chokers specifically, you have a lot of room to play. As long as you are using silver jewelry, they will all go together nicely. You just have to work on choosing the right lengths.

You can wear one longer puck at the base of your neck, and then add one above near the lower section of your neck, and even another one high up on your neck.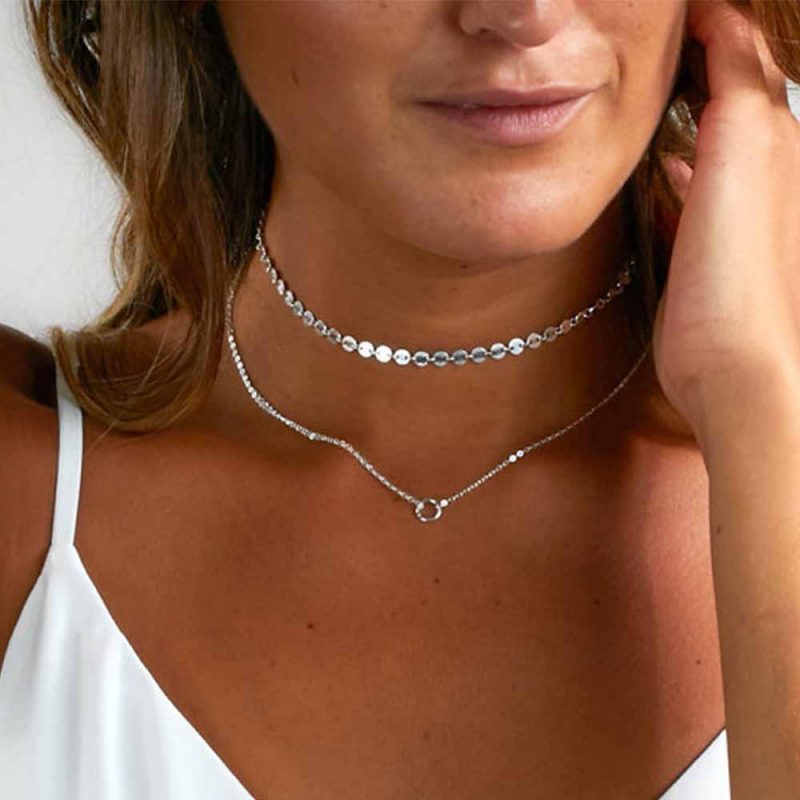 You can wear as many as you want, but keep in mind that you want to have enough room between them to show off each one individually. Overlapping the necklaces can create a busy look that loses style.
You can also add longer necklaces lower than the base of your neck to keep that layered look going farther down.
✓

Dress for the Occasion

Finally, keep in mind the actual occasion you are dressing for. This is true for silver chokers just like it is for all jewelry and wardrobe choices. Since chokers are particularly versatile pieces, you can definitely find the perfect pieces for the fanciest and formal occasions as well as a fun choice for a little girl to wear every day.

They are great for all occasions and ages. Just remember that a dangly star charm choker won't be great for a fancy wedding in the same way that a white-gold-plated jewelry piece isn't ideal for a little girl to go play outside in. You can just use your common sense to figure this one out!