Inspiration / Jewelry
The Crystals For Protection We Are Wearing!
In today's hectic world, we can all agree that any added protection we can get is much appreciated. From warding off negative energy to fostering positive thoughts, to even protecting finances or helping navigate difficult relationships, there are a variety of powerful crystals for protection that can help shield you from just about anything you are fearing. 
For generations people have been fascinated with crystals and understanding what their specific healing properties are. In particular, crystals are known for their ability to provide emotional and spiritual protection from all sorts of negative forces out in the world. 
No matter what you may specifically believe about crystals, the idea that a certain stone could help give you a life that is more protected, balanced, and peaceful is certainly intriguing.
If you simply have a lack of knowledge about protection stones, understanding their history, and which crystals are best known for their protection powers can help you begin to open your mind to the idea of wearing crystals for protection. 
While some may have a collection of crystals that they display at their homes or offices, plenty of people actually wear the crystals to carry their protective forces with them wherever they go!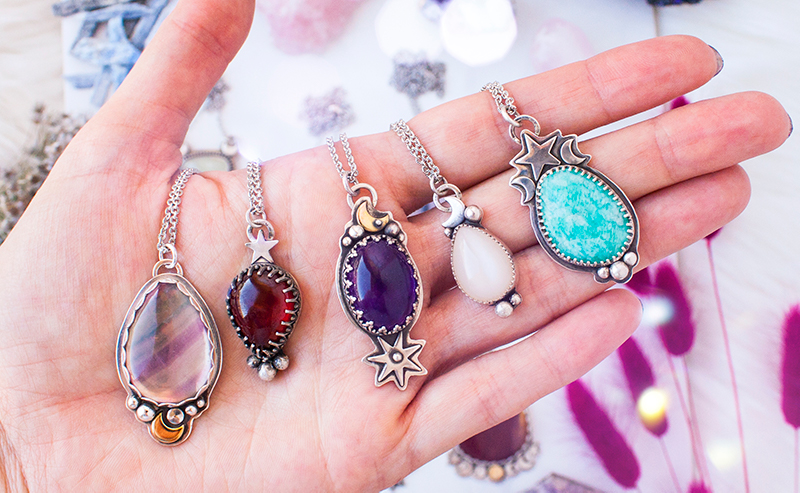 Best of all, there are plenty of gorgeous jewelry pieces that feature top protection crystals. Even if you aren't completely sold that these crystals will help protect you, you may fall in love with their appearance and need to add them to your jewelry collection. Even if they don't necessarily help you, it can't hurt to try, right?
Let's discuss the history of crystals and top crystals that provide protection. Depending on your specific life situation, you may find that certain crystals are better suited for you.
Keep on reading to find jewelry pieces you can shop today that feature all of the crystals we cover today!  
History of Crystals
So, how long have people been looking to crystals for protection? And how did we first discover their protection powers? Great question!
In actuality, people have been turning to gemstones for protection and healing for nearly all of time. That's right! Evidence goes back to ancient civilizations that utilized various gemstones for healing or protection.
Various cultures throughout history have relied on different gemstones to provide them with protection from everything from fighting in battle to making it successfully into the afterlife.
For example, the ancient Egyptians were one of the earliest civilizations to use gemstones. They primarily used quartz to help guide them into the afterlife.
During life, they also used various gemstones to adorn themselves to promote enlightenment. They would wear gemstones like lapis lazuli and rubies. 
Since ancient times, Chinese culture has utilized green jade to help provide protection and even bring good luck and prosperity to people.
The ancient Romans would wear various gemstones to help protect them in warfare.
Numerous other cultures, including tribes in New Zealand, civilizations in Mexico, and some South American cultures strongly believe in the power of green stones like Jade for bringing protection and, most importantly, good luck. 
The Greeks also strongly believed in the power and protection of crystals, and in fact, many of our words today for these crystals are of Greek origin.
The word crystal itself is a Greek word that means ice, and for stones like clear quartz, the Greeks believed that the stone was water frozen so powerfully that it would never melt.
Two other main crystals that have Greek origins are amethyst and hematite. Amethyst means 'not drunken' and was traditionally worn to ward off drunkenness or hangovers (something we may keep in mind for our next night out!).
Hematite means blood and was given that name because the gemstone turns red when it oxidizes. The Greeks would wear this stone or run it on their bodies before battle as a way to protect themselves.
Today, crystals remain popular for their various protection and healing powers. While we may not believe in the powers as strongly as ancient civilizations did, many still believe in the healing and protection properties that these crystals may bestow on whoever uses them or wears them.  
Top Crystals for Protection
Are you interested in learning what the top crystals are that are best at providing protection? We don't blame you!
While there are tons of gemstones out there, and plenty that is believed to provide various forms of protection, these are the top 7 crystals for providing protection.
Our top picks are crystals that we have been wearing lately to lead a happier life, rid of negative energies, emotions, and thoughts! 
1. Black Tourmaline
Looking to ward off negative energies? Black tourmaline is the crystal for you! This stone is known as a grounding stone and is one of the most popular crystals used for protection purposes.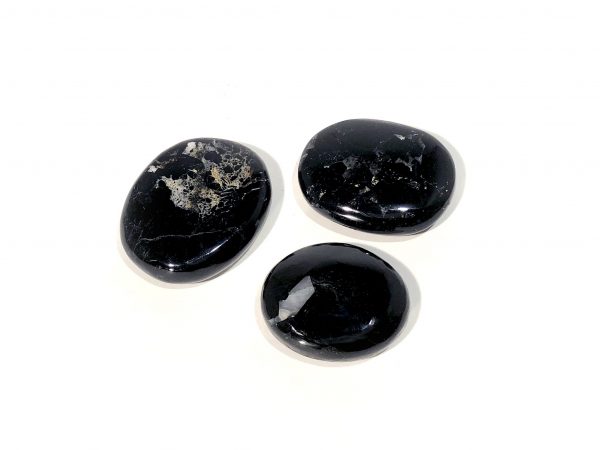 The reasoning here is that this stone will actually transform negative energy into positive. Who doesn't want that in their life?
Known as the best all-around gemstone for protection, this is one that everyone should have in their collection, no matter what your specific situation is. Black tourmaline can help everyone! 
2. Amethyst
If you want a gemstone to help you specifically with spiritual protection, turn to amethyst. This stone will help protect against both general negativity and psychic attack.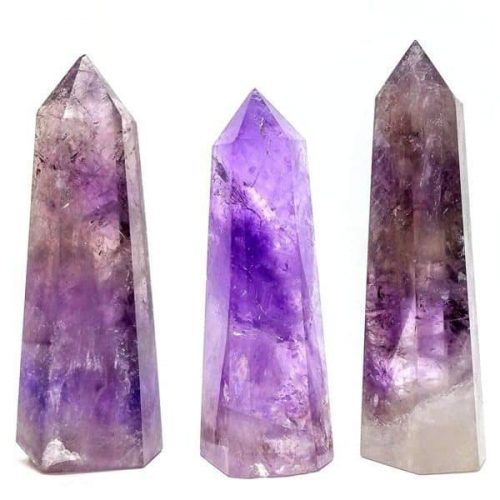 This stone vibrates at a higher frequency and can help tap into your higher consciousness, helping to give you wisdom and guidance to make decisions. 
3. Jet 
Jet is an interesting stone, as it isn't a crystal, but fossilized wood! However, don't look past jet; it is a powerful grounding stone that can protect against negativity and help with reducing pain. Jet works to absorb negativity and keep you protected from it.
Because it does not typically transform negative energy into positive, it just stores it; you have to be sure to clear the stone from time to time.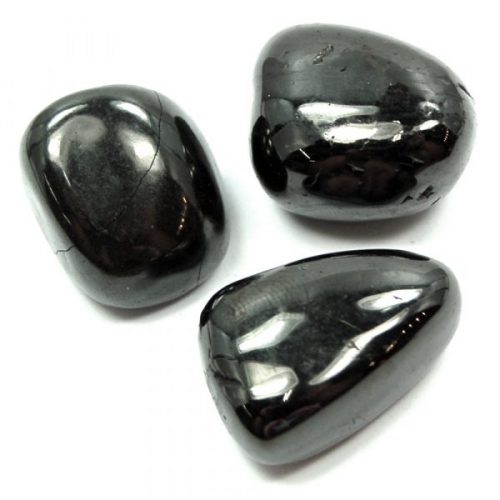 Think of jet-like a filter, catching all the negativity that comes its way. Eventually, you have to clean the filter, or it won't catch anything more!
Here's a guide to clearing and cleansing crystals if you want more information on what to do.   
4. Labradorite 
Looking for a crystal that will help you to be who you are without fear of others either criticizing you or taking your own energy? You need labradorite!
This crystal will help protect you from ill-wishes from others, or even the fixations of others (such as unrequited love, or someone who wants something from you).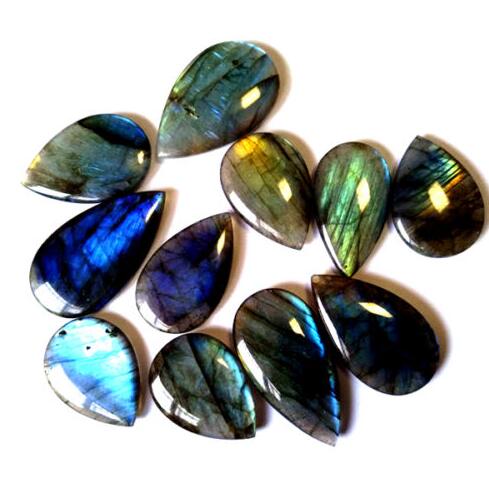 If you worry that people are often thinking about you, jealous of you, or want something from you, labradorite is the crystal to wear to protect you from all of that negativity. 
5. Smoky Quartz
Another all-around, the excellent crystal to wear for warding off general negativity is smoky quartz. This crystal has the power to ward off all negativity, and can even help with things like digestion, and can protect you from things like electromagnetic smog!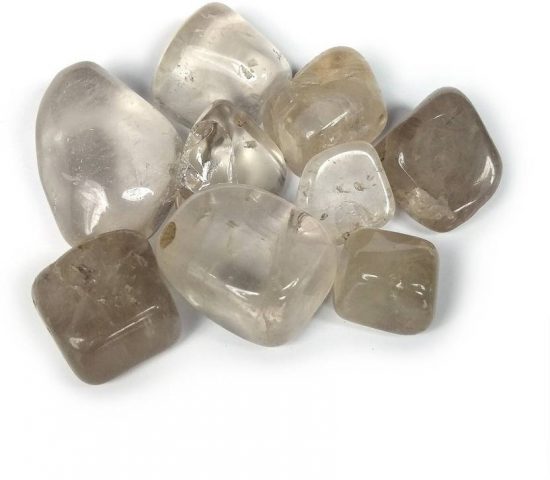 If you suffer a lot from fear, depression, or anxiety, this crystal can help to lift you out of that and give you an overall sense of calm. 
6. Fluorite 
If your primary desire with a crystal is protection, you should be turning to fluorite. This crystal is the ultimate protective crystal, as that is its main purpose.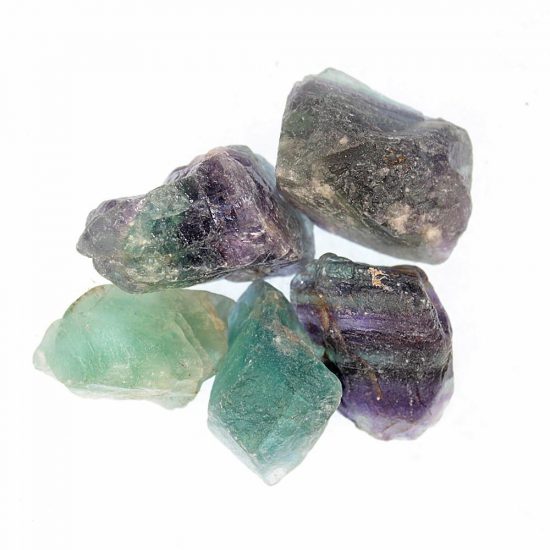 If you want to stay shielded from everything from general negative energy to stress, negative thoughts, outside influence, or even psychic attack from others, fluorite can help keep you protected from all of that.
Think of fluorite as your shield or a cloak that covers you and keeps you safe. 
7. Tourmalinated Quartz  
Finally, tourmalinated quartz, as the name suggests, is a clear quartz crystal that has pieces of black tourmaline inside of it.
If you are looking for a crystal that is less about protecting from negativity, and instead is about healing and improving negative thought patterns or behaviors, turn to tourmalinated quartz.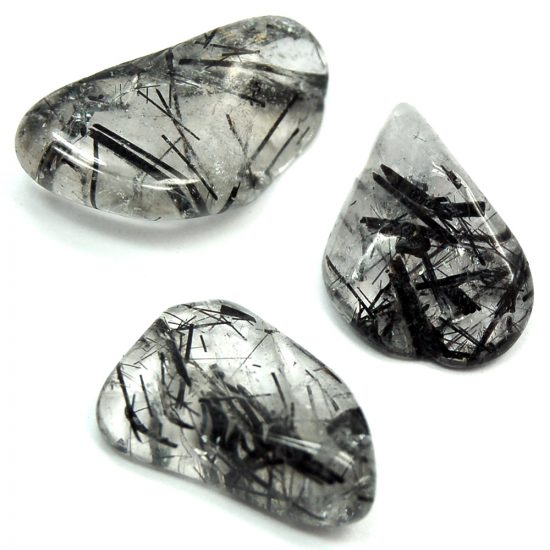 The mix of these two crystals makes this stone very powerful to clear you from all negativity.  
Shop Crystals for Protection
Now that you've learned all about these crystals, do you want to start adding some to your jewelry collection? Of course you do!
Here are some excellent pieces that feature all of the crystals we mentioned. Whether you want a strong protective crystal, a healing stone, or a strong filter to remove negativity, you can find exactly what you need.
Best of all, you will be looking great while protecting yourself from outside negative energies! 
Black Tourmaline Jewelry

1. Shop LC 925 Sterling Silver Black Tourmaline Engagement Ring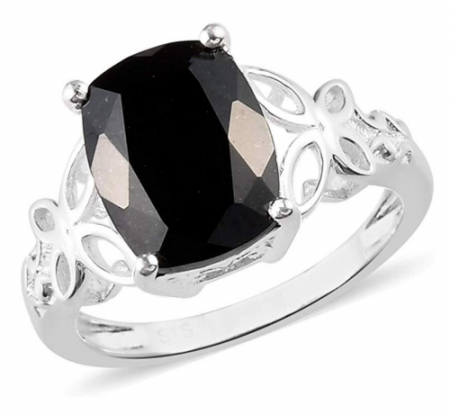 This tourmaline ring is a gorgeous statement piece that could actually serve as an engagement ring if you were looking for something completely unique.
If you don't want it as an engagement ring, it will still look gorgeous as a right hand ring that will get tons of attention. The cushion-cut stone gives this ring an antique vintage look, as does the scrollwork on the side of the sterling silver band.
This is perfect for anyone who enjoys antique or vintage-inspired jewelry who also wants the powerful grounding protection from the black tourmaline. 
2.
Top Plaza Adjustable Bracelet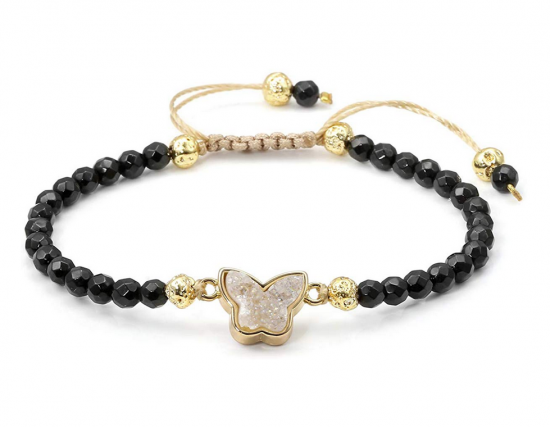 If you don't want a fully black piece of jewelry, but still want the protection from the black tourmaline, consider this simple bead healing bracelet that also contains rose quartz.
While rose quartz isn't a protective crystal, it is a powerful one that helps with fostering feelings of love and peace. The combination with the black tourmaline makes this a bracelet that is equally powerful and beautiful.
The elastic used in the bracelet is tested for durability, ensuring you will be able to wear this all the time without it breaking. Given the power of the bracelet, you won't want to take it off! 
Amethyst
1. The Black Bow Jewelry Co. Amethyst and Diamond Bracelet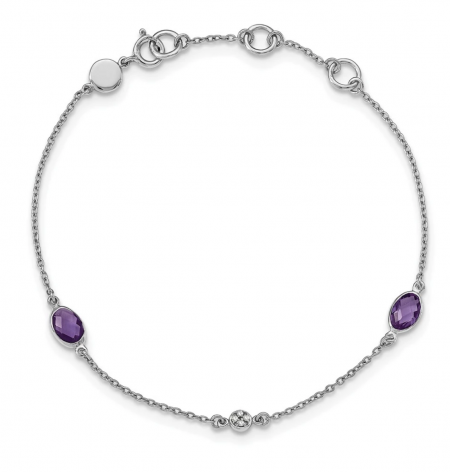 For a simple bracelet that is elegant and has just a touch of the gorgeous amethyst stone, this silver bracelet is perfect. There is one simple diamond in the center of the bracelet, with two amethyst stones, one on each side.
We love the simplicity of this bracelet and think it would be perfect to wear either day or night.
You can easily dress this bracelet up or down, meaning you'll be able to have the protective power of amethyst with you no matter where you go! 
2. The Black Bow Jewelry Co. Stackable Bezel Set Amethyst Band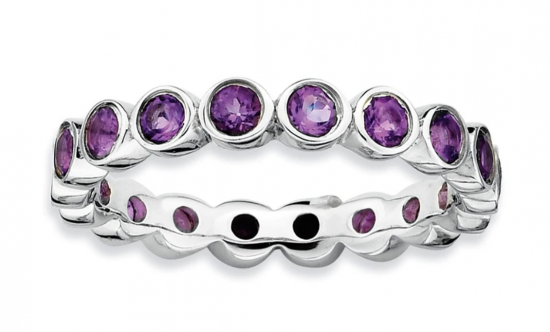 If you want more than just a touch of amethyst, consider this gorgeous stacking amethyst ring that features beautiful round cut amethyst stones. You can easily stack this ring with others that you have, or wear it all on its own!
We think this is gorgeous to wear alone, especially given the brilliant color of the stones. Who wants to take away from that?
We also love the uniqueness of the band; each stone looks to be just sitting next to each other instead of set into a band. 
Jet
1. GUESS "Basic" Jet Dainty Floral Necklace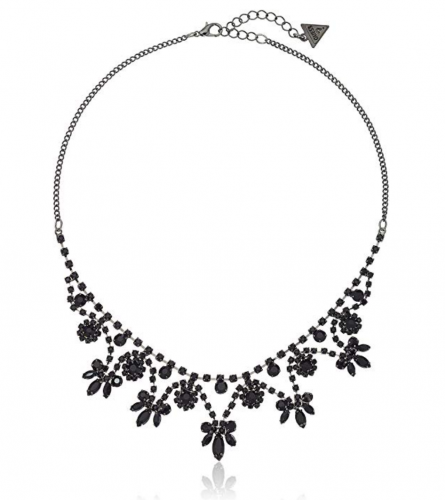 A great way to wear a stone-like jet is to combine it with more feminine elements, which is exactly what this necklace does!
While it is completely black and made from jet, the floral design of the necklace gives it the perfect feminine touch, making it a great statement necklace to wear for a night out.
Wear with a low cut dress to show off the detailing, or wear it with a contrasting color high necked shirt or dress so that everyone can see all of the gorgeous detailing.
Perfectly balancing more edgy elements with more soft, dainty ones, we love this statement necklace.
2. Ed Heart Small Pendant Necklace with Swarovski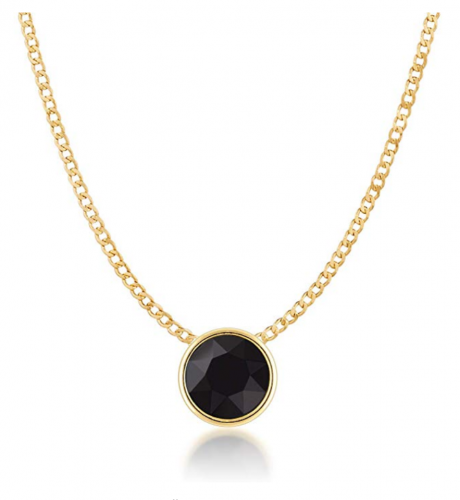 If you are more into simplistic jewelry pieces, this jet stone necklace is perfect for you! Featuring the simple jet on a basic gold chain, this is a modern, simple necklace that you can easily wear every day.
If you want the powerful filtering of negativity that jet provides with you every day, this simple necklace is a great way to get that!
Easily dress this necklace up or down; wear it with a little black dress for a night out or with a simple shirt and pencil skirt for at the office. 
Labradorite
1. Silvershake Rope Stud Earrings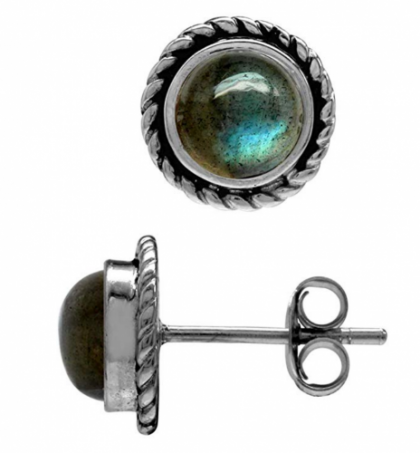 Labradorite is one of our favorite crystals in terms of its physical appearance; we love the multicolored look of this stone; it is so eye-catching!
These simple labradorite earrings are perfect for showing off the beauty of this crystal. Because these are just studs, they are also easy to wear every single day.
If you want to be protected from other people and their negative thoughts about you, perhaps office gossip that you hate to hear, you should absolutely wear these labradorite earrings every day! 
2.
YoTreasure Labradorite Ring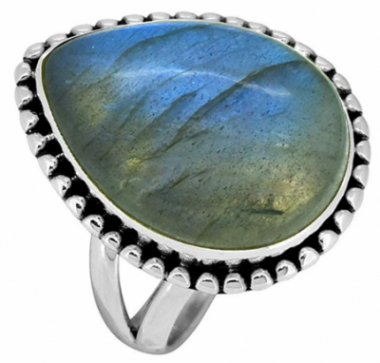 This ring is gorgeous and we love how the labradorite is faceted. You will easily be able to see all of the beautiful color variations that the crystal has, and we love that the ring has a simple band so that all of the attention is on the stone itself.
This is actually a stackable ring, so you can easily wear it with other labradorite rings in your collection or all by itself.
Maybe you could stack it with the amethyst stacking ring for a powerful protective and equally gorgeous ring set!    
Smoky Quartz
1. Ruby and Oscar Smoky Quartz Necklace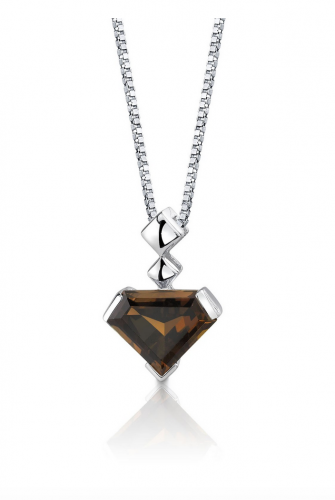 We absolutely love how unique this necklace is. Not only does it feature the smoky quartz crystal, something you definitely don't find in a lot of jewelry, the stone is a Superman cut! How cool is that?
Considering how powerful smoky quartz is as a crystal for warding off all negativity, it actually makes great sense that this would be cut to resemble Superman. You will feel powerful, just like Superman when wearing this pendant!
If you want a necklace that is simple, yet unique- it doesn't get better than this. 
2. The Black Bow Jewelry Co. Briolette Smoky Quartz Lever Back Earrings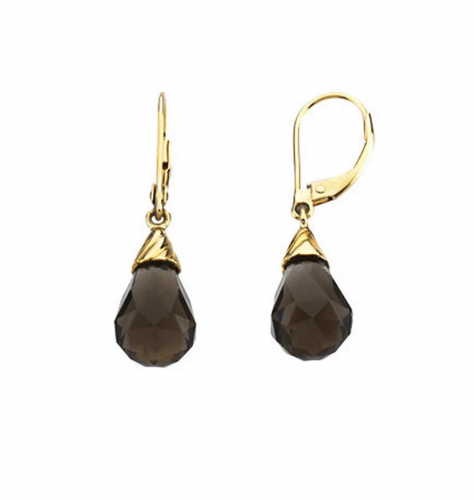 Looking for something a little more traditional? These gorgeous drop earrings are a great choice if you want a more formal pair of earrings that would look great at a work event or for date night.
The smoky quartz gives it that perfect elegant, vintage appearance that makes these earrings perfect for a formal occasion. The deep brown color pairs perfectly with the gold clasp and prongs.
If you want something in between a stud and a chandelier earring, these drop earrings are perfect. 
Fluorite
1. Shop LC Fluorite Statement Ring
Fluorite is another gorgeous stone that has some beautiful color variations that make it incredibly pretty to look at and perfect for a jewelry piece.
This statement ring features a large oval fluorite crystal with a subtle halo effect around the stone. There aren't any other gemstones with this ring, it is just the fluorite, but with such a gorgeous colored stone, you don't even need any other stones.
This is a gorgeous statement ring to wear that is totally eye-catching and perfect for a special occasion or night out. You are sure to have people asking you all night what type of stone you are wearing! 
2. CXD-GEM
Raw Natural Fluorite Stud Earrings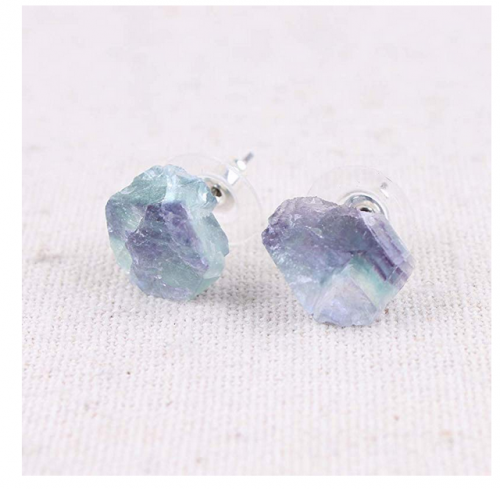 The last few years have seen a rise in the trend of raw cut stones, and honestly, we love the trend, especially in small instances like these stud earrings.
Studs can sometimes be a bit basic, but when you add a detail like the raw cut, it makes them all that much more interesting to look at. Coupled with the gorgeous blue and purple hues of the fluorite, we absolutely love these studs.
They are a perfect, casual set of earrings to add to your collection and wear when you want something a little more colorful with your jewelry. Plus, having the added fluorite protection- the ultimate protection crystal- never hurts!  
Tourmalinated Quartz
1. Ana Silver Co Tourmalinated Quartz Ring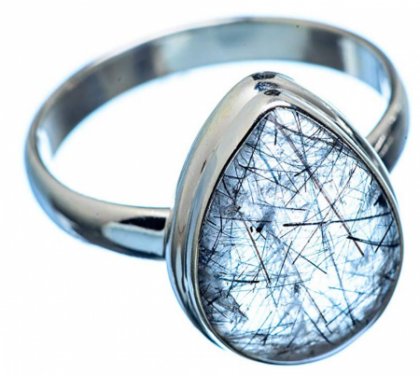 We absolutely love the look of tourmalinated quartz. The black and white combination is such a classic, but the way these crystals look to give the classic look a bit of edge, which we really love.
This ring, in particular, has such an interesting appearance to it, the way the black tourmaline slashes through the quartz is so intriguing and sure to get you a lot of compliments.
We also love the teardrop shape of the crystal- it gives it even more of a unique appearance. The band itself is simple, which is perfect in this instance, the crystal doesn't need anything else; it can stand on its own!   
2. Ice Carats Black Crystal Tourmalinated Quartz Earrings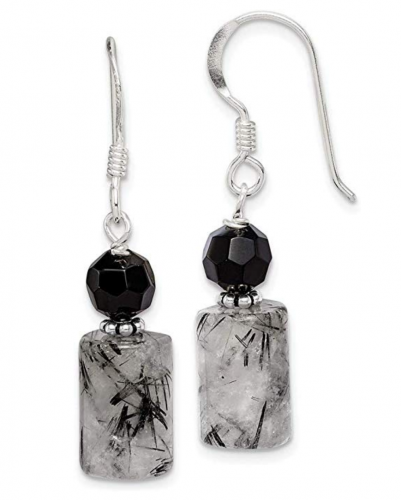 These drop chandelier earrings are a gorgeous addition to your jewelry collection, perfect for a nice evening out paired with a simple black dress.
If you are looking for a unique set of earrings, this is the perfect pair to consider. While they are still fairly simple, the gorgeous tourmalinated quartz stones just elevate the earrings and make them totally unique.
We are positive you don't have anything else like these earrings already, so they are the perfect purchase!
Since they are neutral colors, they also go with a variety of outfits already in your wardrobe, making them a perfect practical addition to your jewelry collection.  
Finally…
There is a lot of negativity out in the world, including our own negative thoughts that we deal with daily. These protection crystals can help protect you from outside negativity, and internal negativity that you struggle with.
Even if you aren't quite convinced that these crystals can help, they can't hurt. They also look gorgeous, making them an excellent addition to your jewelry collection either way. You might just be surprised how these protection crystals might help you out!
What protection crystal do you think would have the best impact on your life? Do you need to focus on filtering outside negativity, or do you need to focus on healing? Are outside influences impacting you? Let us know!