Earrings / Gemstones / Necklaces
10 Labradorite Jewelry Pieces Which Will Make You Look Like a Fairy!
If you're looking for an attractive gemstone for your jewelry collection then look no further than labradorite jewelry. Known for its spiritual nature this gemstone is often referred to as enhancing magical and spiritual abilities. It is also suggested that this crystal offers protection. As well as this there's doubt the stone will make a gorgeous addition to your jewelry box.
Labradorites range in color, often featuring deep blues, pale greys and hints of green and brown. This gemstone reflects light extremely well. When positioned within a sterling silver ring setting the gemstone can transform a piece of jewelry and make it extremely desirable. When featured in a ring setting, these gemstones come in a variety of shapes and sizes depending on the look and feel of the ring.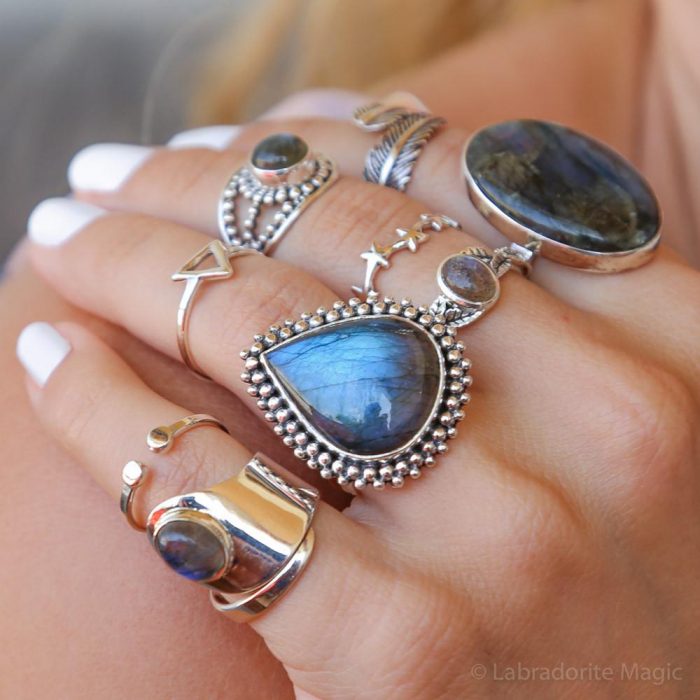 Our favorite and most popular shapes include oval, pear drop and circular. When choosing your labradorite keep an eye out for gemstones that feature natural inclusions which will often add an extra depth to your jewelry. You'll often notice that many feature grey inclusions which are visible to the eye.
Something we particularly like about the gem is how reasonable they can be in term of price. This will, of course, depend on the size and cut of the gemstone, in addition to the material in which the piece of jewelry has been made out of. If you invest a little time into researching labradorite jewelry, we're sure that you'll find a bargain.
Our top ten pieces will give you a head start to help you find your perfect piece. Happy shopping!
Our 10 Fave Labradorite Jewelry Picks!
1. Iconic Delta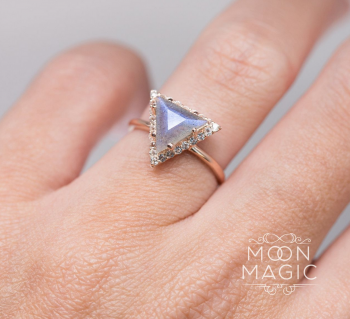 Jewelry designers at Moon Magic Jewelry have done a fantastic job with designing this beautiful piece!
The first element of this piece that really stands out and grabs your attention is the blue-purple color in the center of the stone. Your eye is then drawn to the outer edge of the gemstone to the striking straight lines and pointy corners. When looking at the stone as a whole the gem also varies in the tone of color.
Another aspect of this ring that we simply love is the mix of clear white diamonds and rose gold jewels which frame the gem. The combination of the two different stones creates a lovely contrast in color and texture. The clear diamonds have a sparkling quality which makes them shimmer effortlessly in the light. They have also been cut into a round shape and have an angular texture to the top of the jewel.
In between these diamonds, the designer has chosen to feature circular rose gold studs. You'll see from the picture that these sphere balls are extremely smooth in texture and have a lovely shine.
The contrast in color and texture between the two stones work well in creating a beautiful pattern around the gem. The band has been crafted using a rose gold metal that ties in nicely with the rose gold stones.
This piece has been crafted using a genuine labradorite stone. Shaped into a triangular shape, this gem has been securely positioned on a glamorous rose gold setting. The rose gold material used to create this ring is a14kt rose gold vermeil. Interestingly, the base metal is actually sterling silver.
What's great about this is a piece is that if you like wearing sterling silver, those with skin allergies can safely enjoy wearing this ring. The rose gold coating is also 50% thicker than a traditional gold plated piece which means you're getting more for your money.
The designer has also chosen to design this ring with a simple rose gold margin that emphasizes the exquisite stone positioned in the center of the ring.
We'd definitely suggest wearing it on its own on your hand because it will certainly show off on your finger. You'll be pleased to hear that the beautiful ring is available in a range of sizes including 5, 6, 7, 8, 9 and 10. The piece of jewelry is also being sold for a medium price which makes this a great buy!
2. Grazia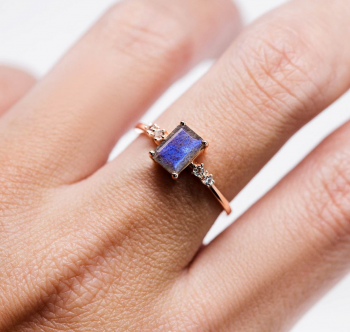 Another of our favorite rose gold pieces from Moon Magic Jewelry is this classy 14kt rose gold vermeil option.
The gem featured in this ring has been lovingly cut into a rectangular shape. You'll notice that the stone has been cut from a gorgeous purple color which has beautiful textured detail to the stone.
What's interesting about this labradorite is that it features shards of a darker purple within the stone that creates a gorgeous pattern within the gem, giving it a lovely depth. What's striking about this stone is that the top surface is flat and curves round towards the edge of the gem.
This stunning gemstone has been positioned securely in place by a four prong setting. The prongs that keep the stone in place are made from a rose gold plated silver. In the photo, you'll see that they are small circular balls that have a lovely smooth shine to them. The combo of the purple stone and rose gold prong works really well together.
Either side of the gemstone you'll notice that the ring band features two singular clear diamonds that shine very brightly. The position of these diamonds gives the ring a glorious sparkle that makes the piece extremely elegant and classy. We love this detail of the two contrasting stones. This band has also been beautifully shaped with a smooth finish, making it extremely comfortable to wear.
This gorgeous piece features a mesmerizing gemstone. What's lovely about this ring is that the simple golden margins emphasize the exquisite stone beautifully. We think this piece of jewelry definitely exudes a vintage and elegant style. The flawless rectangular cut showcases the straight lines within this ring and it gives it a contemporary touch.
We love this ring not only because it looks fabulous but because it's being sold for a fantastic medium price. Take a look for yourself!
3. Rising Spirit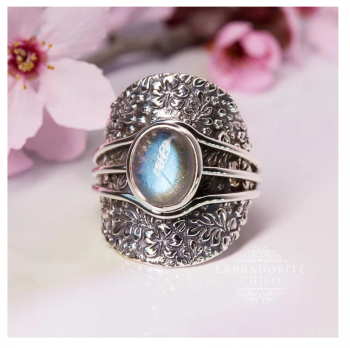 If you've been looking for a chunkier piece then take a look at this unique ring from Moon Magic called 'Rising Spirit'. We think the name cleverly alludes to the style of this ring in that it has a bohemian vibe to it. If you like the sound of this, you'll love this ring!
It has been designed with a piece of oval labradorite jewelry in the center of this cuff ring. The gemstone gives off a deep midnight blue color which consists of varying shades of blue and has a hint of grey and black.
We love how you look at this stone and can get lost in a midnight sky color emerging within the gemstone. This makes a very interesting ring!
When it comes to the main structure of the ring, this has been crafted using a sterling silver metal. What we like about this particular ring is that the band is much wider than the average ring so it creates a cuff style ring.
You'll also notice that the jeweler has decided to feature intricate design on the surface of the band. This includes ying yang shapes, circles, dots, and borders.
To add some further depth to the piece the jeweler has included a dark shading of grey in some areas of the metal. This gives the piece an aged look and extra detail. The wide band also makes this ring extremely comfortable to wear.
It is called the 'Cosmic Love Labradorite Ring' and is definitely a statement piece. The designer has chosen to include embellishment on the surface of the ring including a rope-like optic detail that gives this ring a 3-dimensional effect.
These gemstones can calm the wearer's emotions by simply looking at the stone. This ring, therefore, has fantastic labradorite healing qualities and makes a timeless vintage piece. The piece is also being sold for a low price which makes it a great buy, we love it!
4. White Virgin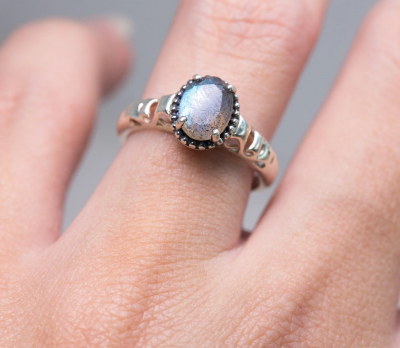 If any stone was to remind you of ice, this ice blue labradorite ring would definitely be it!
This gemstone called 'White virgin' has been cut into a small delicate looking circular shape. The jewelers at Moon Magic Jewelry have definitely opted for a minimalistic vibe this time!
One of the things we love about this ring is the soft colors that appear across this gemstone. A mixture of light blue, aqua, grey and white can is captured within this stone, giving this ring a subtle beauty that can't be mistaken.
The gorgeous stone has been securely positioned in a four prong setting which looks simply classy. The four prongs have been crafted out of sterling silver and have been covered in a rose gold coating. The metal also has a smooth and shiny surface that complements the stone well.
To continue the minimalistic vibe the designer has chosen to add a tapered texture to the surface of the rose gold plated band. This textured surface gives this piece of jewelry a modern feel.
What's great about this textured surface is that it makes this piece very unique and different to any other labradorite jewelry piece you would have seen. We love it and are certain you will too!
This stone has a mesmerising gleam to it which is utterly wonderful. The jeweller has chosen to create this piece with a modern clean design in mind. This beautiful ring is meant to emanate honesty and warmth to the wearer. The radiant stone is also meant to bestow relaxation, flexibility, and balance to the wearer.
We think this ring would make a fantastic addition to your jewelry collection. It's also being sold for a medium price which makes it a great buy. Take a look at Moon Magic Jewelry's extensive collection, every piece has been handmade to perfection!
5. Yonder Glow
Labradorites really are one of the most versatile gemstones that you'll find and this ring proves it! This is a particularly dainty and attractive ring which is sure to complement your jewelry collection.
You'll instantly notice the pear drop shaped labradorite gemstone which is a very pretty shape. The pear drop shape of this gemstone adds a really nice contrast to the soft and elegant band. We love that you can choose to either have the point of the gemstone pointing towards or away from your hand.
In addition to the elegant shape of this gemstone, another feature of this ring that you'll notice straight away is the light blue color. The gemstone includes a number of small inclusions which add to the design and give the gemstone an extra level of depth.
The color also works really well with the rose gold color of the band. The base metal is actually sterling silver which has been gold plated with 14k rose gold. This pale rose gold band is truly spectacular and the thin, elegant design is very refined.
The gemstone is held in place by a simple four prong setting. The simplicity of the design further adds to the overall feel of this ring. We would recommend this ring not only for special occasions but also as a perfect option to brighten up your everyday wardrobe.
If you're looking for an elegant ring which is easy on the eye and very sparkly, this has to be on your list!
6. Aurora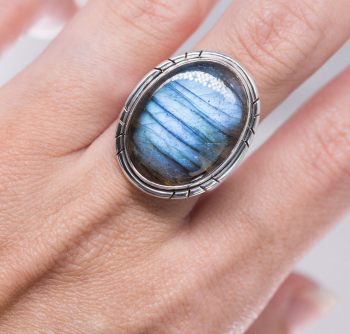 You'll be drawn in with this striking ring. Featuring one of our favorite labradorites, this ring is all about the stone. The colors that make up this gem are similar to that of a stormy winters day on the sea.
The use of dark blue, grey, black and aqua blue colors mixed together create a fantastic display of color within the stone. What makes this ring stand out even more than normal is the size and shape of the stone.
The jeweler has chosen to create this ring using a large stone that has been cut into an oval shape. We think this ring is best suited when worn on your middle finger and as the only ring on your finger. To frame the mesmerizing gem, the designer has crafted this lovely piece with a sterling silver border around the piece.
This border also features some further embellishment within the frame that gives the piece that extra detail. This lovely detail gives the ring a bohemian feel to it so if you like the sound of that you'll love this piece.
It has also been designed with a wider band in comparison to our other rings. This detail makes it extremely comfortable to well and ties in well with the look and feel of the piece.
This mesmerizing labradorite is definitely a statement piece that radiates several colors within. The jewelers at Moon Magic Jewelry call this piece 'Aurora' and it's meant to give the wearer infinity of endless possibility.
What makes this piece of jewelry special is that you can't help but be drawn into the stone. When looking at this ring the wearer is meant to achieve direction and clarity, allowing you to see who you are and what you need to be!
This beautiful piece is certainly meant to give you a greater awareness of your intuition. It is meant to be very good for you and extremely clever!
Sold for a high price, it's a little pricier than the other rings we've reviewed but we feel the extra pennies spent on this piece are well worth it to own this gorgeous ring.
7. Sneaky Light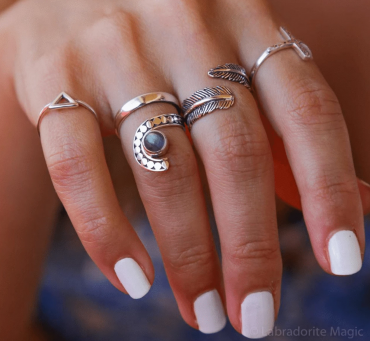 Named 'Sneaky Light' you'll instantly see where this ring gets its name from! This ring is another example of just how versatile the labradorite gemstone can be.
Upon first seeing this ring you'd be forgiven for thinking that the band is a standard band. However, after taking a closer look you'll see that this band is actually incomplete.
Made from sterling silver, the band has cleverly been designed to feature a crescent moon, complete with craters! The moon has been molded into the band and is a surprisingly natural extension of the band.
On the opposite side of the band, you'll find a round cut gemstone which contracts the crescent moon perfectly; it looks instead like a full moon, shining in all its glory!
At the heart of the full moon shape, is a deep blue gem. When we say blue, this gem features shade after shade of blue mixed with hints of green and flickers of grey. It's a very pretty gemstone which reflects light extremely well and is sure to sparkle!
The gemstone is surrounded by a thin border of silver which complements the gemstone extremely well and further adds to the design of this piece. Alongside the harsh contrast of the full and crescent moons, the soft and fine design of the band completes this ring and gives it a really relaxed feel. This is quite a strong design and may not be to everyone's taste, but we love it!
It makes a great ring to wear with casual clothes and may even offer something a little different if you're looking for something special for going out. What makes this piece even better is that it's being sold for a medium price which makes it a great buy!
8. Ornamented Teardrop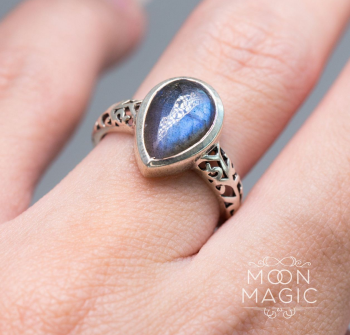 This is another Moon Magic's chunkier rings.
This breathtaking piece features a teardrop-shaped labradorite stone made up of light blue and grey colors. You'll notice when the light reflects on this stone, it creates a beautiful display of color. This ring also features extra detail in the form of the pattern of the stone, giving it a lot of depth and character.
When it comes to the structure of this ring it has been created using a lovely sterling silver metal. The designer has chosen to include a wide silver border around the gemstone which works in making the centerpiece stand out and grab your attention. They have continued to add a wider band which features interwoven strands along the band.
This attention to detail adds another dimension to it and gives the piece an unusual quality. The patterned detail also contrasts well against the smooth and shiny sterling silver surface.
This simple margin positioned around the stone definitely emphasizes the exquisite stone in the center. The designer has also decided to feature a slightly wider band for this ring which balances well against the slightly larger stone.
Wearing this ring is meant to help the wearer discover a deep connection with the spiritual world. It's also believed that you should wear this piece if you're in need of spiritual lucidity, making it a very clever and powerful ring.
You'll also be pleased to hear that you can purchase the piece of labradorite jewelry for a medium price. We think this is a fantastic price so buy yours today!
9. Lynx Light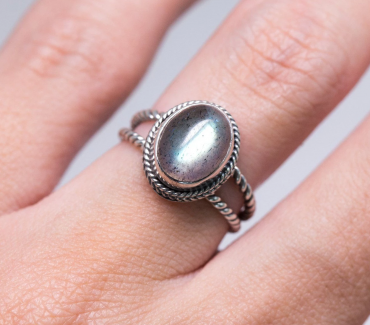 This is a truly pretty piece of jewelry that deserves a spot on anyone's finger!
Crafted using a light blue and silver colored labradorite gem, the stone has been cut into a small cute circular shape. The beautiful stone has a magical sparkle that looks similar to that of a shimmering star you'd see in a night's sky. The pretty gem has been held in place by six prongs, evenly positioned around the stone keeping it securely in place.
The band has been crafted using a lovely sterling silver metal that has been beautifully polished so it's smooth and shiny. This timeless piece has been bent to incorporate the delicate gem into the design of the ring so both the band and stone look like one whole piece.
The gorgeous gemstone definitely radiates a spectacle of different shades of blue making a mesmerizing display.
Interestingly, this ring named 'Eternal Bliss' gets its name from the Greek goddess of wisdom and boasts beauty, craftsmanship, truth, and valor. It is believed that this stone is meant to make you realize your life purpose and manifest wisdom into the present moment within your life.
Historically, it is believed that this stone was used by astral travelers to guide them in transporting to other realms and ensuring they are kept safe until their return home.
This historical reference makes this piece very interesting. Sold for a medium price, this beautiful ring would make a fantastic addition to your jewelry box.
10. Moon Child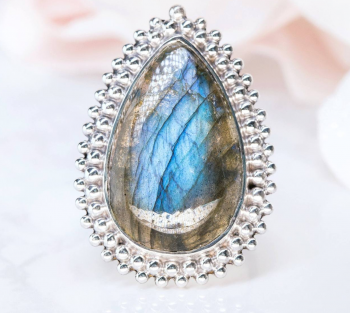 To finish our list we had to feature this striking piece in the line-up. It's very unusual and extremely eye catching. We agree that you'll either love this ring or will hate it!
This piece consists of a pear-shaped gemstone positioned in the center. The stone is made up of dark blue midnight shades mixed with a black charcoal tone.
The combo of the two gives this piece a deep magical feel to it. Surrounding the stone the designer has chosen to feature prominent silver studs around the entire gemstone.
These studs have been crafted into a circular shape using sterling silver.  When it comes to the band, this is another interesting design choice of the piece. As you'll see the band consists of three separate strands making up the band.
Two of the strands intertwine to create one sold band while the third strand adds a prominent loop that drops from the bottom of the gem. This detail works well in extending the ring and making it feel larger than it actually is.
The jewelers at Moon Magic have named this piece 'Mystic Moon'. The name definitely alludes to the design of the ring, symbolizing similar to that of a moon.
The highly polished silverwork also gives this ring a bohemian feel to it. This ring comes with a very spiritual vibe of the night. It is believed that when worn, the wearer of this precious stone will experience the sensation of being in the right place at the right time. If you believe in this myth, this ring makes a very powerful piece of labradorite jewelry to wear. Buy one today and find out for yourself!