Mix / Necklaces / Women
Unique Moon Necklaces in Silver, Gold, Or Rose Gold
Marianne 19 Jul 2019
4000
Moon necklaces always have been associated with beauty, strength, and power and this has piqued the interest of highly fashion-minded circles. The aesthetic appeal of moon necklaces is smooth, no doubt about that; which is why you're going to love our little list.
Regardless of the occasions, whether it is a dinner with a lover or wedding party, the uniqueness of moon necklaces will make you stand out among the crowd. Being handcrafted with high-quality materials, it is a kind of pieces of jewelry designed for high-profile individuals, and that's why moon necklaces have become the favorite of celebrities.
If you desire to have a moon necklace, but you don't know which is best for you, we've got you covered. Below is a list of top ten moon necklaces that have wowed our audience.
Why You Should Choose Moon Necklaces?
For one, moon necklaces are unique in the sense that having a shining moon around your neck gives you some sort of beauty and power. Also, the crescent appearance of the moon necklaces makes it very fascinating. And the fact that most of the moon necklaces are handcrafted with high-quality materials shows both traditional and sophisticated appeal to lovers of pieces of jewelry. There is something so distinct and unique about moon necklaces that make people stare in awe when they see you wear it, perhaps because it is the symbol of light and strength.
The materials are used to created moon necklaces are often high in quality. Thus, they always remain durable enough to stay unblemished and shiny for some while. More so, they are versatile and are available in many forms, shapes, designs, and colors. The following three features of moon necklaces are worth considering:
Karat: Its karats measure the purity of a moon necklace. These moon necklaces are designed with a gold plate of karats between 14 and 24 karats, which is the maximum. The high purity of the gold plate is much responsible for the glamorous look of the necklace and its ability to last a very long time.
Colour: These moon necklaces are available in three different and distinct colors. They are silver, gold and rose gold. So you are not restricted to any particular color.
Quality: The quality of the moon necklaces is already seen in the number of karats of the gold plate. Also, the high-quality materials used in the crafting of the accessories add to the overall aesthetics.
Our 10 Favorite Picks!

1. Amanda Deer Crescent Moon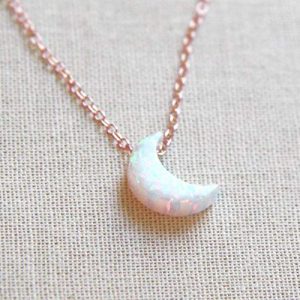 If you've wanted a moon necklace that comes with social proof, here's one that always sits among the top-hitters on everyone's list. Made from gorgeous and high-quality material, the Amanda Deer Necklace is here to stay.
It's an exquisite rose gold necklace (14K) with a beautiful spiraled chain. If you have any occasion you want to attend where you need to make a statement, this is recommended if you like tasty fashion pieces.
Owing to the 16-inch long chain and 2-inch extender, the pendant lays resplendently on your neck. The necklace is simple since the design/theme is minimalistic. It's the type that celebrities wear when attending their favorite shows and events. Apart from wearing it occasionally, it's perfect for casual activities since it doesn't corrode or tarnish.
Other info; the necklace is available in different colors other.
2. Liquidation Necklace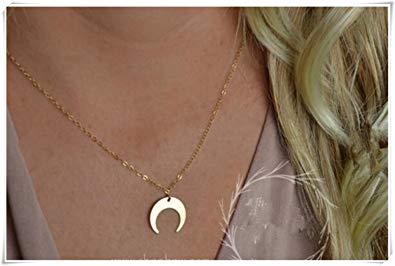 This piece is one of the newest from Golf Liquidation, and the manufacturer has done a great job in the design department. Aesthetic-wise, this necklace goes beyond what you are familiar with. There's a way it just hangs on your neck and draws attention (the good kind).
Under the fringes of sunlight, this piece dazzles with the glory of infinite beauty. Wearing this necklace around your neck feels like having a small moon on your chest.
So if you're looking for an option that'll separate you from the crowd, then, don't go too far. This one's aesthetics is what we liken to a 'Keeper' (take that literally). It's a 14-carat necklace and is available in gold, rose gold, and sterling silver, depending on your choice.
Whether you have a grand party, a small get-together, going on a date, or having dinner with your spouse, you don't want to miss out on the splendor of having this moon necklace around your neck.
3. MJLuLu Rose Gold Moon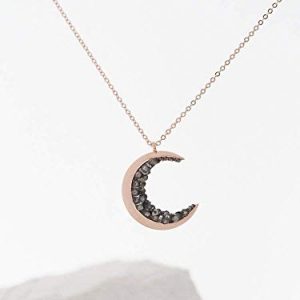 If you are one of those people who are enthusiasts of the fashion industry (in the area of jewelry), you must have heard of this piece. The MJLuLu rose gold necklace is an excellently crafted piece. The necklace's pendant is encrusted with chunky little stones that are tightly held together inside the core part. All the while, the necklace has this whole other design that tries to convince you that it looks casual. In our case, the contrasting look is the highlight.
Wearing it will make you look chic. And this applies to any event (big or small) that you go to. While the chain is brass plated, the pendant is rose gold. It also comes with a lobster clasp closure and a gift box which makes it a perfect gift for your loved ones.
Other info; the chain is 32 inches, and the pendant is 30 X 25 mm in size.
4. WDSHOW Star Moon Pendant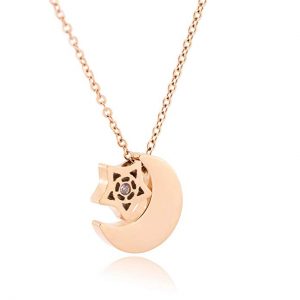 Combining the star and the moon, having this moon necklace in your collection alone makes you feel like you have in the world in your hands. It is made of high-quality stainless steel and cubic zirconia. Likewise, it spots a sophisticated touch in the form of the handcrafted parts. It has a bright silvery finishing and is durable which means you can use it for quite some time without the fear of it tarnishing.
Moving on, the necklace has the typical 18K gold finishing while the length sits between 16.5-18.5 inches. Also, the necklace is strong enough to resist some pull which is always good if you're planning on gifting this. It doesn't require any maintenance from you also, and you'll easily get away a little cleaning is enough.
If there is anything to take away from this particular review, remember that whatever your personality is—whether inconspicuous or showy, this is the right necklace. And guess what? It is very affordable.
5.Lil Klein Jewelry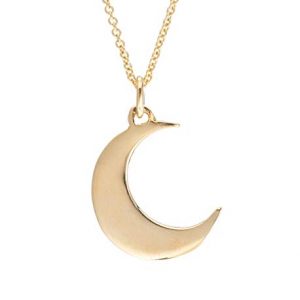 Lil Klein Jewelry designs this piece to be among the best, and as you can see, it is competing with the best moon necklaces on the market. The necklace is made out of sterling silver which is plated by 14K gold vermeil. On the chain's part, it's the same. Its features include 18 inches length, a dimension of 5/8 by ¼ inches, and multi-sized and multi-colored stones.
As you can see, this is the right moon necklace for someone who loves varieties. The design allows you to pick your preferred color and size. Besides, you can also grace any event with this product. It is so dazzling that the moment you arrive at the occasion, you become the cynosure of all eyes.
Whatever the occasion is—Christmas, birthday party, get-together, this is the necklace that will genuinely place you among the stars. It is specially designed for shoppers who prefer quality, at a respectable price.
6. Benevolence Horn Necklace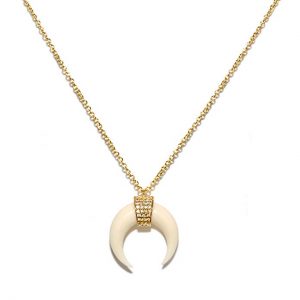 This is one of the moon necklaces that caused some friendly frenzies among jewelry lovers. The manufacturer of this product, Benevolence makes constant hits. This necklace is handcrafted down to the bone pendant and is exquisitely made to represent feminine strength.
Simple, elegant and classic, it's the perfect necklace for that everyday look. The 16 inches half-moon handcrafted with mini bone double horn should tell you the intricacies of the design of this necklace and wearing something with such a rare design will undoubtedly bring some attention.
Like the ones before, it is also 14K gold electroplated on brass with luminous cubic zirconia stones spread across the pendant to make it look 'wavy.' This is the kind of piece that every girl deserves since it makes you feel cheeky. Moving on, the necklace isn't only designed for your personal use since it comes in a gift wrapper with various messages inside it. This includes anniversary, birthday, graduation, Christmas, mother's day and even Valentine's day messages.
7. Adorn512 Sterling Silver Tiny Moon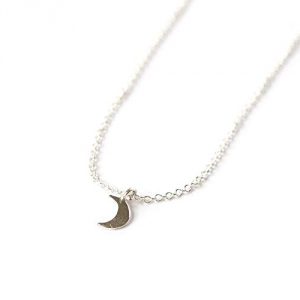 Cast in high-quality sterling silver with 24K gold plating, this necklace is a powerful symbol that can be at your beck and call for a budget price. Here's why we think so.
Perhaps you've got an event that celebrities and dignitaries will be attending, this is the kind of piece that will place you among the show's highlights. The beautiful silver crescent moon hangs gently in between your bosom, and you can't help the awesome look it creates.
Also, despite being handcrafted, it's designed to be extremely durable and forever shiny. The chain is available in a variety of colors such as rose gold, gold, sterling silver, and gunmetal. So you are not restricted to some particular colors. It's all about your choice.
The chain is 16 inches in length with an extender of length between 16 and 18 inches, and the material is sterling silver plated with gold. If you desire high quality and beautiful moon necklace, this product is a great choice.
8. Linana Women's Silver Moon + Gift Bag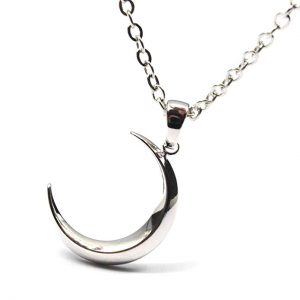 If you've only seen gold moon necklaces and they weren't your taste, then maybe something in silver will be better. The primary advantage of silver, in this case, is that it takes the actual shade of the moon, so the depiction is better.
So, it's perfect for any occasion—anniversary, wedding, birthday or even casual office outfit; this silver moon necklace is one of the most suitable for lovers of fabulous jewelry. Being aesthetically woven together, the chain looks sophisticated in all dimensions (Length: 19 inches).
Having this shining silver moon around your neck gives you an ethereal vibe which we particularly love. Other features that the team loved was the meanings; clairvoyance, strength, and femininity are woven to give the necklace form. That's why it is solely designed for women. To provide them with power and strength.
9. Geo Minimalist Jewelry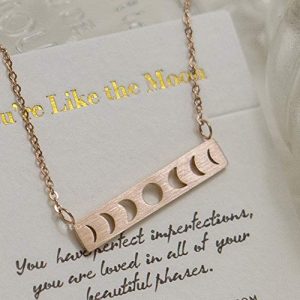 While some necklaces are made for direct and personal use, some others are prepared to serve as a gift. This moon necklace belongs to the latter category. It comes in a beautifully packaged gift box embedded with an original card where your wishes can be inscribed. For men who want to make their lovers happy, this is the best moon necklace you can get for them.
Each of the pieces that make up this necklace is stylish and unique with a touch of love to add a deeper meaning to the gift. It's also designed to last a long time since the primary metal is 316 Stainless Steel while the plating is in 14K rose gold. The chain is 18 inches, and the pendant is 1.38 inches width by 2.4 inches height.
Likewise, to ensure the gift isn't harmful, the moon necklace was created free of dangerous materials such as lead or nickel. And of course, this is regardless of the skin sensitivity of your loved ones.
The necklace is beautiful, durable and made with a touch of love, which we think makes it the best gift for yourself, a bridesmaid, best friend, or maybe your lover.
10. Camilee Designs Rose Gold Moon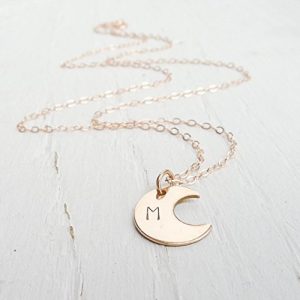 Also, like the rose gold moon necklace above that's designed as a gift, this one can be a gift too. This is because it can be personalized: You can engrave your initials on the moon pendant or in the case of a gift, use the initials of someone close instead. This is the highlight of this moon necklace that makes it highly appealing to lovers of jewelry.
However, because you'll be able to personalize the necklace with your initials doesn't mean you can't go further. Do this like including the necklace in a gift box to at the very least, show that you took your time to choose "this gift". The chain is woven exquisitely and is between 16 and 18 inches in length, making the moon pendant hang daintily around your neck, just where it should be.
Brief History on Moon Necklace
As you might know, the moon is a natural satellite that revolves around planet Earth. Moon is the fifth-largest natural satellite in the solar system and the largest of all satellites in the earth. And after the Sun, the Moon, though not source, is still the second brightest celestial body that we see regularly. Simply put, while the Sun appears during the day, it is the moon that gives us light at night.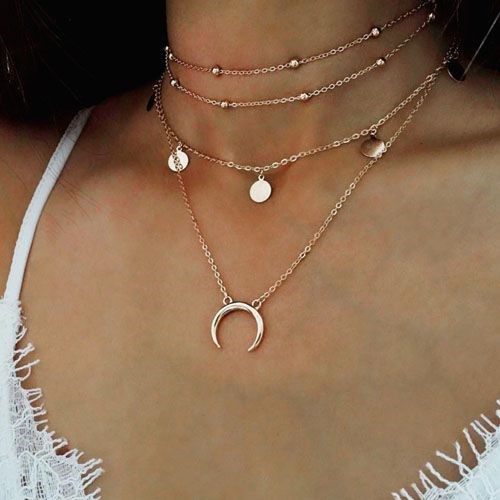 Some people believe that the moon symbolizes a female influence, kindness, and power which make them rule over the world. In Greek Mythology, for instance, the moon stands for fertility and regeneration. It was said that in those days' women wishing for a child would pray to the goddess of the moon known as Selene to help them bring a new life into the world. In ancient Chinese tradition, the moon was seen to be female while the sun was the male.
One of the shapes that the moon exhibits at some particular season are crescent which has come to be a favorite and beautiful design in many artistic works, including pieces of jewelry. This crescent moon has inspired the modern world, especially in the areas of fashion and the moon necklace has come to represent tender love, strength, and power.
Celebrities Seen with Moon Necklaces
Moon necklaces are a favorite of many celebrities. It is common to see celebrities wearing a moon necklace to exquisite parties, award ceremonies, and similar events. The popular German-American model, Heidi Klum, has been observed to wear one many times and at different classic occasions. Her wearing of crescent moon necklaces has inspired many of her fans to join the trend.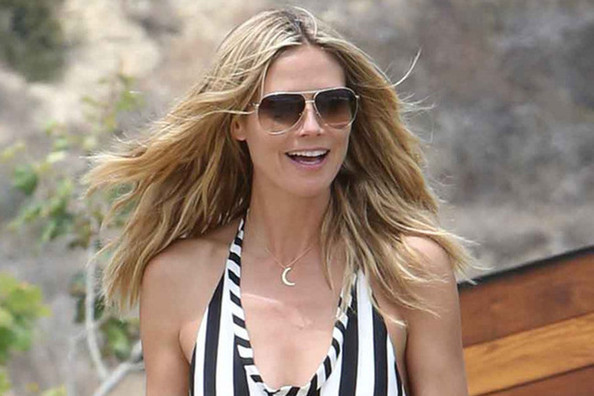 Another celebrity that has also inspired the wearing of moon and star necklaces is Beyonce. Moon and star necklaces have been seen hanging and dazzling around her neck when she graces an event ceremony. Kate Middleton and Jennifer Aniston are also some of the celebrities that are great lovers of moon necklaces.
Many other celebs are in love with moon necklaces, and these people are very stylish and highly sophisticated. Seeing them wearing moon necklaces should mean a lot to you as a fashionista.
Frequently Asked Questions about Moon Necklaces

Having outlined the best moon necklaces for you in this article, it should be pretty easy for you to choose a moon necklace that is perfect for your personality.
However, in case you still have some unanswered questions about moon necklaces, we have come up with answers to questions that our audience usually asks us.
Q: Which One of the Moon Necklaces is the Best for Me?
A: Of all the ten moon necklaces that we have written about, there is no one that you can easily neglect because they are all beautiful and of high grade. However, there are differences among the ten moon necklaces, so if you want to know which is best for you, read them through again and based on their features, you may select the one that perfectly suits your personality and fashion style. For instance, if you prefer silver to gold, you may go for the silver necklace.
Q: How Do I Clean my Moon Necklace?
A: Cleaning a moon necklace is no big deal. It doesn't require chemicals or any expertise to clean your moon necklace. The moon necklaces we have offered above for you are devoid of any harmful element and are healthy to clean. A piece of soft cotton cloth should be beautiful, or instead, you can purchase a special jewelry polishing cloth made for necklaces.
Q: How to Take Care of Moon Necklaces?
A: We have selected the best from the best moon necklaces available on the market. The ones we chose for you are highly durable and perfect for any skin type. However, you may need to be careful with the kind of body lotion you use or body spray when wearing your moon necklace, so that it doesn't cause any reaction.
Also, you may need to consider taking off your moon necklace during physical activities such as jogging or swimming as it is dangerous to have a necklace around your neck during such events.