Mix / Personalized / Rings
Let's Get Personal When Gifting: 10 Very Cool Monogram Rings!
A monogram ring is a personalized ring which tends to include your initials or the initials of someone which is really special to you. If you own a monogram ring it will be one of the most personal pieces of jewelry that you may own in your lifetime.
The great thing about it is that you can choose the letters that appear on the ring, making it unique and special. It's also very unlikely that someone else will have the same ring as you.
It can also symbolize your heritage. The ring tends to feature your family name in the center and is normally given as a gift from parents and grandparents. Another name for the monogrammed ring is the signet ring which you may be more familiar with.
The history of the monogram ring
The monogram ring dates back to 1876 when it was made famous by Louis Vuitton. During this period the fashionable ring included a person's first name initial on the left, middle name initial on the right and the last name initial in the middle. The last name initial, positioned in the middle, was designed to be slightly larger than the other two initials.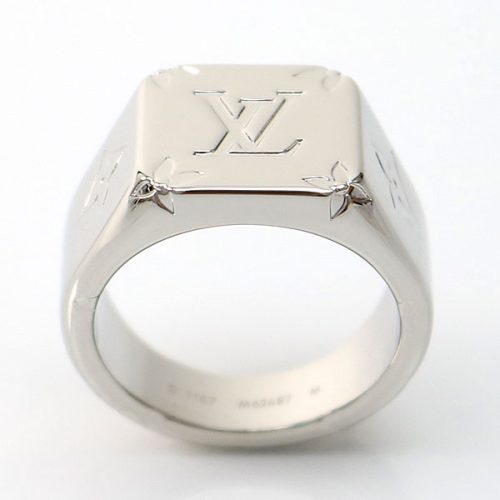 Monogrammed jewelry has however been around for centuries. It is thought that the Greeks and Romans were the first people to feature a monogram, in the form of a coin.
Rulers would use these so people could recognize they ruled a particular area. In the middle ages, the monogram was used to mark the work of craftsmen and artists so their work could be marked and identified through their signature. The monogram was also used on family crests, tartans, and heraldic symbols. Historical monarchs would use a monogram as a symbol to represent their kingdom. These would be seen on flags, armor, police badges and important documents.
In was then in the Victorian Era that monograms started to be used for personal use. The monogram would be sewn into a piece of linen so when it was washed people could tell which item was theirs. This would also prevent the item from getting lost.
They also began using monograms for decorative purposes and featured them on personal items in the home like lockets, silverware, and mirrors.
If you wore a monogram on your clothing it was also seen as representing the family and their status. They would also be used to represent a families place in society.
 The reinvention of the monogram ring
Recently the monogram ring has been reinvented by a host of A-list celebrities. Gone are the days when you only had one design to choose from when buying your ring.
Traditionally it would be made from gold and created with a traditional oval style. The ring would also include a person's initials. Now there are so many different monogrammed rings to choose from it's difficult to know where to start!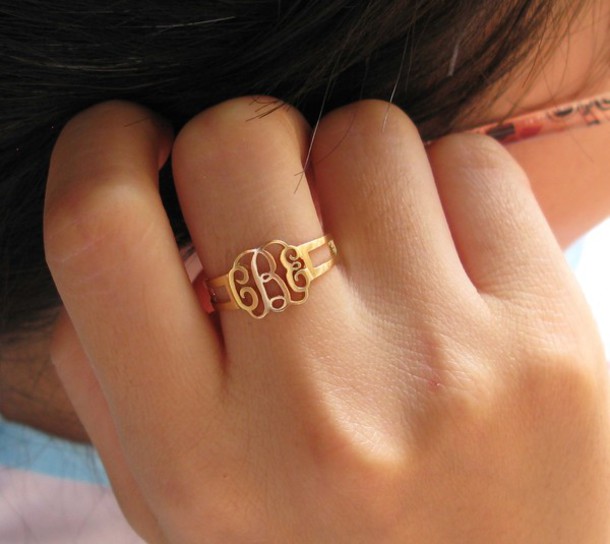 You can choose from different engravings, front styles, shapes, metal types and ring sizes. You can also now design your own monogrammed ring from scratch which is great if you have a specific design in mind.
Celebrities who love their monogram ring
We've probably all seen lots of pictures of the late Diana, Princess of Wales wearing a gold signet ring on her smallest finger. However, in recent years trendsetters like Cara Delevingne and Kate Moss have been photographed wearing a monogram ring on their small finger.
The sister of the Duchess of Cambridge, Pippa Middleton is also often photographed wearing a gold ring on her little finger.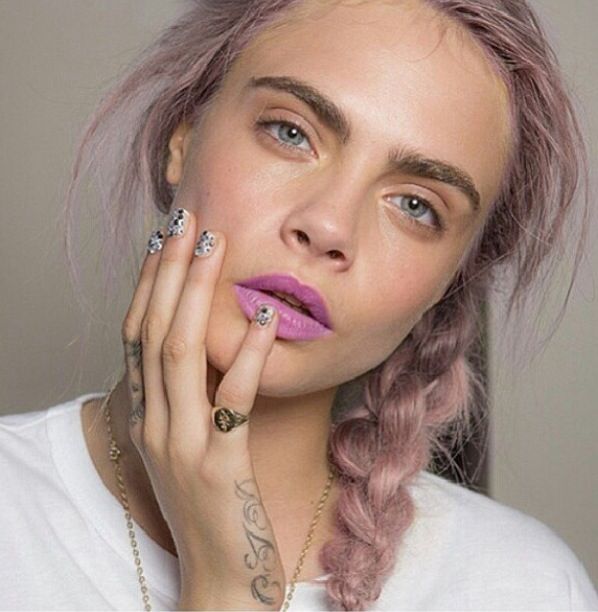 These gorgeous rings have allowed celebrities to wear a bespoke piece of jewelry that displays a piece of their family heritage or represents some sentimental value.
Our 10 favorite monogram ring picks!

1. Monogram signet ring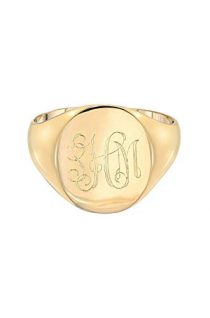 Large, modern and stylish! If you've been looking for a classic style ring with a sprinkle of the 21st century, then this is the ring for you! The designers have stayed true to the classic concept of the monogrammed ring by keeping the iconic oval shape.
They've also kept the initials which make this ring ooze sophistication and class. The inclusion of initials also guarantees the personalization aspect of this ring which we love!
When it comes to modernizing the ring, the designers have achieved this in a number of ways. They've made the ring face slightly larger, 0.4 inches wide by 0.5 inches high.
Historically the ring face would be smaller but instead, they've enlarged it. Traditionally the monogrammed ring has always been worn on the smallest finger however the designer has increased the ring size (ring circumference of the ring band), making it much larger.
This change in design has therefore made it suitable to wear it on the middle or wedding finger. How the ring can be worn definitely affects the overall look and feel of the ring.
The type of metal used to create a traditional signet piece would normally be gold however this supplier offers the choice of buying the ring in rose gold vermeil, sterling silver or gold vermeil.
When purchasing your ring you are also given the choice of fonts and the type of engraving. The designer also allows you to choose from either one initial or two initials when it comes to the engraving on your ring.
Designed by Zoe Lev Jewelry, this ring will arrive safely in a beautiful jewelry box which has been wrapped in a lovely satin ribbon. If you have a larger budget available to spend, this piece would make the perfect personalized ring to add to your jewelry collection.
When it comes to craftsmanship Zoe Lev Jewelry know a thing or two about making jewelry. Their collection consists of gorgeous necklaces, rings, bracelets, charms, and earrings.
Their collection shows off their love for gold jewelry as well as personalization. Some of their jewelry also features stunning gemstones and diamonds which you won't be able to take your eyes off!
2. Nautical Rope Monogram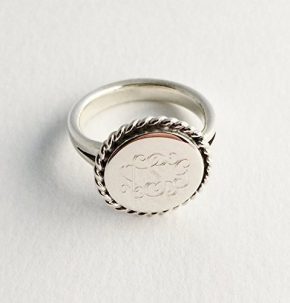 Boats, sand and the sea… If you like all things related to the seaside then you'll love this nautical style ring! Apart from the iconic initials, this ring has been transformed from a traditional signet ring to a modern monogram ring with a feminine vibe!
It has been designed with a round flat ring face which features the traditional initials on. The ring face has been framed with a stylish rope border, making the ring stand out prominently. It's also been designed with a slightly thicker ring band which offers plenty of comfort for your finger.
This stunning piece has been created using a sterling silver metal which gives the ring a beautiful shine when reflected in the light. The ring face has a gorgeous shine and features the initials in an interlocking styled font.
The designer has also given you the option of choosing from three further fonts including roman, circle and diamond monogram. We like to see plenty of choices when it comes to design!
This is a great quality ring which is very pretty. The rope style border definitely gives it a trendy feel and plenty of originality. Crafted by The Personal Exchange, this ring is being sold at a medium price.
Browsing their collection they offer rings, necklaces, bracelets and lockets, all at a similar style. Don't miss out on taking a look at their collection!
3. Teeny Tiny Ring By Hannah Design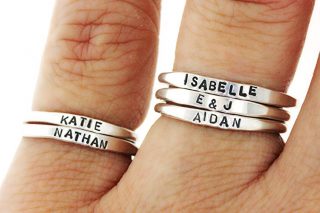 Take a look at these tiny rings! This clever designer has completely reinvented the monogram ring. Beautifully designed to perfection, these tiny stackable rings look great worn in a cluster of two or three.
The thin band also has a flat surface allowing for an engraving to be included on the ring. Whether you want to feature your full name or just your initials, this thin band gives you the option to include either. The text is also printed in a bold black text, making the ring stand out.
The words teeny and tiny definitely spring to mind with this piece. The band has been made from sterling silver, giving it a beautiful shine.
The silver band is approximately 1.3mm wide and the letters are approximately 1mm wide so when featured on the band, they fit very nicely.
When choosing your text you can include your name, initials or date of birth. The silver band can include up to ten characters which are a lot of text in comparison to the traditional monogrammed ring. Each character is featured in uppercase letters which gives it a sharp and clean feel.
Stackable rings are very popular at the moment which makes these rings bang on trend! You can tell that the craftsmanship of these rings is of high quality.
The ring also has a handmade feel to and the metal has a lovely polished finish to it. Your gorgeous ring will also arrive in a cute jewelry box with a pretty bow.
This piece of jewelry has been crafted by Hannah Design who specializes in creating handmade jewelry made using stunning sterling silver.
Their jewelry collection consists of beautiful pendants, rings, necklaces, bracelets, bangles and key rings. They also like to incorporate lovely colorful gems into their designs which complement the modern feel of the pieces.
All of the individual pieces have a smooth glowing surface which finishes them off perfectly. We like this jeweler so take a look at her collection!
4. Custom Name Ring – ROCB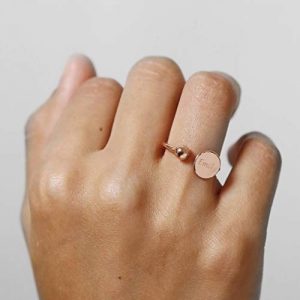 Another designer has created a slightly different but utterly gorgeous stackable ring that you won't want to take off! This ring has been designed with a thin plain band that features a small round sphere on one side of the band and a small flat circular plaque on the other end.
Even though the plaque is extremely small this tiny surface area provides enough space for your name or initials to be featured on the plaque, giving you some lovely personalization.
The cute piece has been created from a gold plated metal base. If you don't like gold, the supplier also offers this ring in a pretty rose gold or silver plated metal as well. This ring is 0.35 inches wide and what's great about the ring is that it's resizable.
Due to the open design, this ring is easily adjustable. It also features a round coin plaque which allows you to include your personal information on. When it comes to choosing the message, the supplier gives you the choice of three font types including Script, UPPERCASE GOTHIC, and Times New Roman.
This is a very fashionable and on trend piece which would look great with any outfit! You could also pair the ring with a stylish coin necklace or a stunning pair of earrings.
The piece has been designed by Mignon and Mignon. From bracelets, necklaces, and charms, they offer a variety of jewelry to choose from. The pieces are all handmade, made from either silver, rose gold or gold, depending on which metal you prefer!
5. Block Monogram Ring, Handmade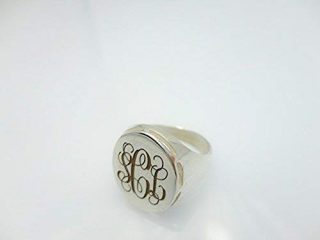 If you like silver jewelry then you'll adore this piece made from sterling silver! Designed with a traditional signet ring in mind, this ring has been created with a flat oval face giving you plenty of space to include your initials on the ring.
The monogrammed ring has also been designed with a traditional style band which provides extra comfort when wearing this ring on your little finger.
Created using sterling silver metal, this material alongside the handwritten black text works very well in complementing one another. The handwritten style font also hints at a more traditional signet ring design, even though the overall design has been modernized and reinvented.
The supplier has also given you the option of picking any three initials to feature on the ring. This ring definitely deserves to be the center of attention on anyone's finger so would be best worn on its own.
What's great about this signet ring is that it has been made to the high-quality finish and the shiny polish makes the piece of jewelry look amazing!
Another thing which is important to point out is that this ring could be worn by either a man or women, making it extremely versatile, The ring also arrives in a pretty little gift pouch.
This piece has been designed by Handmade Studio who has done a great job in creating this piece of jewelry. Priced at a medium price, this ring is a very good value for money. Take a look, you know you want to!
6. Yiyang Name Ring for Girls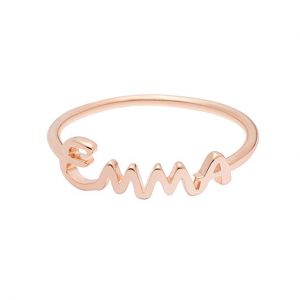 You needn't worry about anyone having the same ring as you with this piece! The designer has created a very unique style. The piece has been cleverly crafted using a high-quality brass and it has been molded to include the name in the band.
There are no frills, like gemstones with this ring and no extra detail. The designer has decided to focus on personalization all the way!
This pretty ring has been created using a brass metal which has been covered in a rose gold plated finish to give it a very shiny and polished surface. Combining brass and a plated metal finish makes the ring extremely durable and sturdy.
The supplier is also giving the option of this ring being sold in a gold and silver-plated finish. The dainty ring is very lightweight and offers a simple and minimalist design, ideal for a younger aged girl in her teens.
If you want to buy a personalized piece of jewelry for your daughter, niece or granddaughter for her birthday, this would make a great gift.
Furthermore, this quality ring is being sold at a low price so you'll definitely have some dollars left over after the shop. The ring is also packaged in a beautiful velvet gift bag which will ensure the safe arrival of your precious gift.
This cute piece has been designed by Yiyang, who specializes in creating handmade jewelry. If you take a look at their collection, they sell other items of jewelry including bracelets, bangles, necklaces and rings.
7. 3 Initial Monogram Ring – Fine Jewellery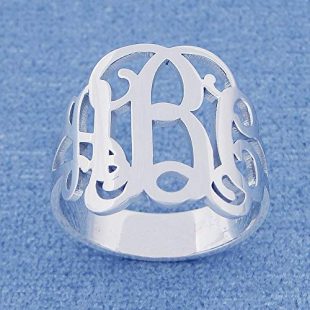 A word used to describe this ring would be beautiful! This sterling silver piece resembles a very decorative ring. The metal has been designed to create the shape of three large initials while at the same time actually forming the piece.
The initials not only give this ring some personalization but also display a lovely intricate design. You could say that the design resembles similar to a Celtic ring.
This unique piece has been made from a high-quality sterling silver metal which has then been coated with a rhodium finish. The rhodium plating achieves in doing a number of things including making the silver looking very white and reflective.
It also gives it a dazzling sparkle which makes the sterling silver look very special. The rhodium finish also helps the ring in retaining its original appearance much longer than with just sterling silver.
The rhodium also cleverly prevents it from scratching or tarnishing. The metal is also much cheaper to purchase in comparison to other metals which are used to create jewelry. These are just a few reasons why we love rhodium plating so much!
If you're curious about the size, to give you a rough idea the height of the center initial is approximately 1.6cm. The height of the finger band is approximately 5mm which ensures comfortable wear and the thickness of the band is 0.9mm, making the band a good size.
This piece of jewelry has been created by Soul Jewelry Inc. Their collection consists of pendants, name tags, rings and necklaces, made from either gold of silver. Prices vary from low, medium to large. Have a browse, you're bound to find something you like!
8. Handmade, Sterling Silver 925, Jewelry by Katsudio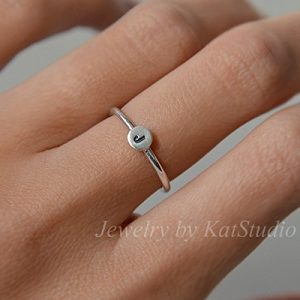 As soon as we saw this dainty ring we just knew it had to be in our line up for the best monogram rings! This silver piece is effortlessly simple and very gorgeous. The thin shiny band creates a lovely shine.
The round flat disc has a matte wash finish which works well in making the black initial stand out. In contrast, this also complements against the shiny silver band. This ring is definitely one to add to your jewelry collection!
Made from sterling silver it has been beautifully handmade to a high-quality finish. The band dimension is approximately 1.6mm and the disc size is approximately 5mm wide.
A tiny 1.5mm tall letter completes the ring perfectly. When it comes to the characters this jeweler gives you the option of including uppercase letters from A to Z as well as digits on the disc.
One of the things that's great about this ring is that it's a stackable ring which means it can be worn alongside multiple rings.  However, if you'd prefer it to be worn on its own then this dainty ring would look great also.
This ring has been made by Katstudio who specializes in creating stunning pieces of handmade jewelry. Their collection consists of a gorgeous display of unique and interesting rings which you'll want to wear all day long. Priced at a low price this ring is extremely well priced which makes it even more appealing.
9. By Hannah Design – Sterling Silver Personalized Ring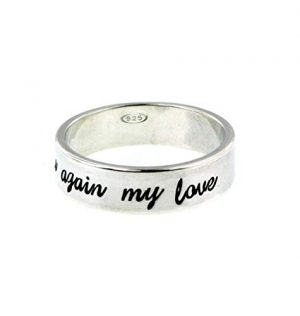 Monogram rings can come in all shapes, styles and sizes so this ring is no exception! This shiny band has been gorgeously designed to contain a loving message on it.
Crafted as a single band this cute ring includes a collection of sentimental words and when given as a gift this ring would definitely make the receiver feel loved and cherished.
This personalized piece has been made from a high-quality sterling silver metal which has a high polished finish. Carefully created by hand, this jeweler gives you the option of including names or a simple phrase on your special ring.
Offering you space for up to 30 characters in total, this 6mm wide band gives you plenty of room to include your personalized message.
The designer has also given you a choice of font styles including script, typewriter, designer and fancy. We think the designer has made a great ring, to a very high quality. Take a look at their collection!
10. Floral Monogram Engraved Biker Style Polished Ring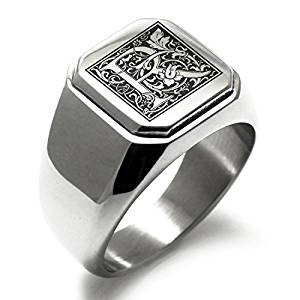 Men also like monogram rings, so here we've selected this more masculine design which we're certain the man in your life will love! This chunky ring has a square flat top and a thick chunky band.
The square flat face includes a decorative design, consisting of an 'R' initial alongside a floral design, giving this ring a biblical feel. The grey 'R' against the black square works very well in complementing each other and making the design stand out.
Made from stainless steel, this ring has a very masculine feel about it. The designer has used a surgical grade of stainless steel which is very strong and resistant to tarnishing and corrosion. The steel also has a minimalist polish finish to it which looks very sophisticated.
The flat square top is approximately 13mm by 13mm in size. The style of this ring makes it a very comfortable fit which is what we love to hear!
Made by Tioneer, the jeweler also specialize in making pendants, necklaces and bracelets. If you don't like the stainless steel finish this supplier also sells the ring in a gold plated and black plated stainless steel finish.