Latest Trend Around? Anchor Bracelets and We Love Them!
last updated:
Jul 25, 2021
There's something about the best anchor bracelets that remind us of the freedom of the sea. It's also a fantastic symbol that helps to remind you to stay grounded, even when faced with incredible adversity.
Undoubtedly, anchor bracelets are an attractive way to add to a casual outfit and add a little touch of luxury for everyday style.
Top 6 Picks
1

. Paul Hewitt Anchor Spirit Bracelet
925 sterling silver
20cm length
Carabiner clasp
Engraved Paul Hewitt branding
The Paul Hewitt anchor spirit bracelet is another phenomenally styled unisex bracelet that's slightly daintier than other designs. The graceful thinness of the chain allows your eyes to focus on the structurally appealing anchor embellishment.
Read more
Like many other anchor bracelets, your eyes will be drawn to the center where the anchor is perfectly placed.
Either end is affixed to both sides of the bracelet, holding the piece together with its strength. On the anchor's surface, you'll see the Paul Hewitt signature perfectly stamped into the metal, as is the metal grading.
As mentioned, this bracelet is available in gold and rose gold coloring as well as silver. The silver bracelet boasts 925 sterling silver, known for retaining its luster over years of wear.
You will love how smooth and snag-free this piece feels, even when paired with other bracelets.
2

. Wistic Leather Bracelet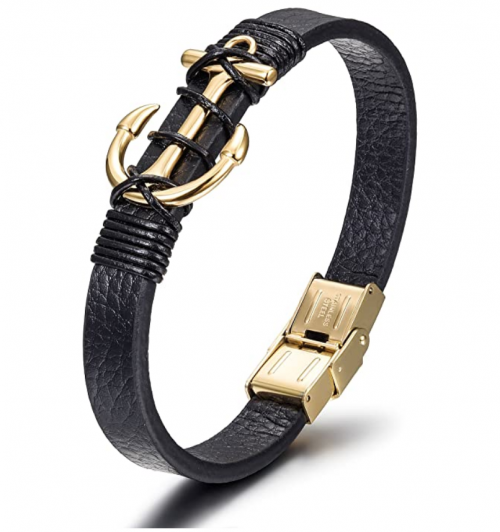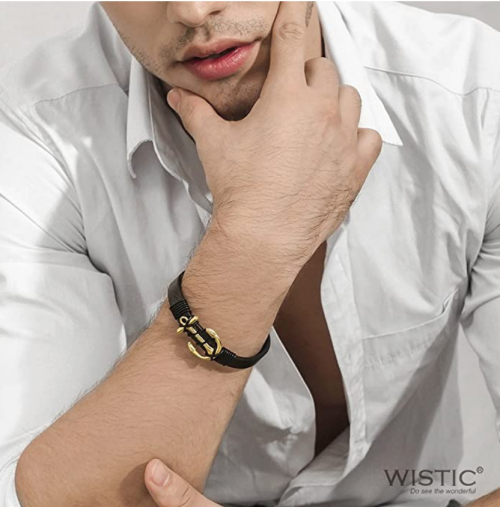 Leather
Stainless steel
Affordable
First, on the list, we have this handsome anchor bracelet for the special man in your life. Yes, you read that right. The man. These bracelets can be dainty and adorable, but you can also find anchor bracelets that are masculine and unique.
Read more
The leather is thick and durable, so it takes a lot to scratch or damages it. The anchor and the clasp are both made of stainless steel which is a metal product that we always get excited about when it comes to durable jewelry.
It measures 8.5 inches and should fit a wrist about 7.5 inches to 9 inches because of the clasp. This means that there is a wide range of wrists that it will fit and chances are it will be a great option for you.
It comes in a black velvet bag which makes it a great piece to add safety to your collection or to gift to a friend for Christmas, a birthday, or even to your significant other on Valentine's Day or your anniversary.
There are so many great qualities to this anchor bracelet and we think this trend is just as stunning on a man as it is on a woman.
3

. Miansai Mini Hook Rope
Genuine Italian leather
Maritime-grade rope
14k gold plating
Fully adjustable
The Miansai Mini Hook Rope is the perfect unisex accessory with a distinctive style that adapts to any wardrobe. You will fall in love with the radiant hook embellishment paired with the thick, luxurious leather straps that encase your wrist.
Read more
The genuine Italian leather used to craft the bracelet is what makes this piece as remarkable as it is.
You will love the brilliant style of the leather that matches perfectly with the rose gold hook anchor that holds the piece together.
There are even gold-colored flecks throughout the bracelet that create a stunning contrast within the black leather material.
By far, the most prominent part of the entire piece is the rose gold hook in the center. It features the iconic Miansai signature embossed into the beaming metal that captures the light in every direction.
This piece also doubles as a functional addition, as it's the closure for the bracelet. You will easily be able to adjust the width of the bracelet for a more custom fit to your wrist size and shape.
4

. Giani Bernini Anchor Bolo Bracelet
Bolo clasp closure
Sterling silver chain
10" maximum adjustable length
Sterling silver anchor pendant
The Giani Bernini anchor bolo bracelet in sterling silver is delicate, dainty, and prismatic. It's the perfect complement to other sterling silver or white gold accessories, though it can also be worn independently.
Read more
The brilliant thin chain sits comfortably against your wrist as the piece's focal point is surely the anchor embellishment.
This bracelet is made from sterling silver, an excellent material for a cost-effective yet high-fashion accessory.
You will also find the bolo clasp closure is a breath of fresh air compared to traditional lobster clasp closures.
You will love how easily you can adjust the bracelet's width to accommodate your wrist. With that said, the maximum adjustable length is ten inches, which is more than enough for most men and women.
The brilliantly styled anchor pendant will capture the attention of everyone in the room.
5

. Esquire Braided Leather Bracelet
Stainless steel accents
Polished metal anchor pendant
Double braided black leather
Professionally styled
When you see the Esquire black braided leather anchor bracelet in stainless steel, it's bound to impress. This uniquely styled bracelet has a fashion-forward aesthetic that oozes sophistication and an edgy appeal.
Read more
The majority of the bracelet is made from genuine leather, while the accents are crafted from polished stainless steel.
You will love the natural shine of the stainless steel, which is a modern step away from traditional brushed metal.
With this accessory, we guarantee you've never seen anything quite like it. There are two polished metal beads along with the leather bracelet that helps keep the dual straps in place.
Also, the anchor embellishment is crafted from the same premium-grade stainless steel for stunning contrast.
Interestingly, the anchor also works as the bracelet's closure, pulling the entire piece together. It's a far more modern style compared to traditional bracelets that have a lobster clasp closure.
6

. Effy Silver Anchor Bracelet
925 sterling silver
Cuban link chain
Hinged closure
Polished metal
The Effy 925 sterling silver anchor bracelet is the perfect combination of trendy jewelry styles. You will have the modern adaptation of a thick Cuban link chain paired with the beautiful styling of polished sterling silver.
Read more
Everything about this bracelet speaks to its affluence, from its weight to its impeccable polishing.
Beautifully polished 925 sterling silver looks similar to white gold, which only elevates the luxury of this piece.
There's no doubt you could pair this with a casual outfit, but it has a professional side as well. We can imagine this hiding beneath the cuff of an expensive tailored suit or a stunning dress for an important meeting.
We love how unisex this bracelet is, making it highly adaptable for anyone's sense of style.
Frequently Asked Questions
q:

What is the symbolic meaning of an anchor?

a:

The symbolic meaning of anchors is one of the main reasons these accessories are as popular. You'll find these pieces showcase how grounded you'll stay, even when faced with the most adverse conditions.

You're your own port in the storm, and you're ready to take on any obstacles that are thrown your way.
q:

How do you wear an anchor bracelet?

a:

Anchor bracelets can be worn in several ways. It's best to wear them with the pendant facing outwards so you can show off the best feature of the piece.

Alternatively, they are popular for ankle bracelets as well, as long as you find a piece with an adjustable clasp.
q:

What does an anchor mean in a relationship?

a:

An anchor means the same thing in a relationship as it does out of one. It's a potent symbol of resilience and commitment to one's self or your partner.

This meaning is why anchor bracelets make a fabulous gift for a loved one to show how much their strength means to you.