10 Moonstone Pendants: Perfect Gift Idea for Her
last updated:
Mar 25, 2021
A dashing gemstone has always had the heart of jewelry lovers, which is why we bring the delightful moonstone in the form of gorgeous pendants.
Moonstone is known for being a beautiful stone characterized by adularescence; this means the stone will dazzle and reflect a million colors and lights when hit by sunlight.
Moonstone is believed to bring emotional stability and stress relief as well as growth and strength to the person who wears it.
Whether in the form of moonstone earrings, rings, bracelets or moonstone pendants, this is certainly a gemstone you should own, not only because it's beautiful, but for its amazing healing properties as well!
Check the 10 moonstone pendants we simply adore and are well worth a place in your bling box!
Our Top 10 Picks!
1

. MoonMagic Moonstone Pendant Ellipse
A gift indeed shows that you care for someone and this first item on our list is a perfect gift. It is a beautiful moonstone and is intricately designed to have an elliptical shape. There is nothing you wouldn't love from the components.
Read more
The 925 sterling silver selected for it is charming, as it looks quite well-polished. It features a genuine and iridescent rainbow moonstone which makes it look even more beautiful. As far as gift items go, Moon Magic got all sides covered.
The pendant also brings good vibes to the party, as moonstone symbolizes powers that can grant any wish. You need to keep it close to your heart, and each of your dreams become a reality.
All we care about here is to see smiles light up the face of your loved one. So you can get this moonstone pendant and watch the expression of your teenage daughter or bestie when she opens it.
It's all a perfect reflection of how beautifully she sits right there at the center of your heart. The price is also really affordable so you can get one without digging too deep in your pocket.
Other info: the pendant has a stone size of 0.71 x 0.98, and each item might not have the exact length as others.
2

. Jewelry Impressions Rose Quartz and Moonstone Pendant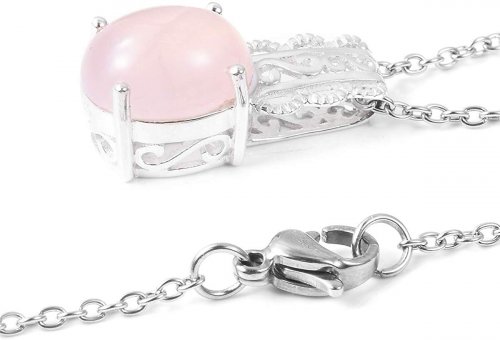 If your teenager is a lover of simple designs infused with boho detailing, then you want to lay your hands on this piece.
Read more
It was carved by some of the best craftsmen that you will find in the jewelry business.
And there are a lot of nice features to be described in this piece; the most colorful of them all is the extra gemstone that was added to five more sparks to the already flaming beauty of the pendant.
Tagged as the stone of perfection, rose quartz is used to add that stunning bit that transforms any jewelry from magnificent to awe-inspiring.
This piece features both the moonstone and a rose quartz stone; it will make your eyes glaze over as you look at the perfection infused into it.
The pendant features 925 sterling silver in a circular design. It has the rainbow moonstone set into the middle while the rose quartz beautifies it at the top.
The arrangement makes its ravishing look more pronounced.
For Christmas, Thanksgiving, Valentine's or her birthday, you can be sure she won't mind finding this in her gift bag.
The piece works well with other accessories and outfits and can be used in a layered necklace.
Other info: the product described here is the pendant, there are no chains attached to it.
3

. Silvershake Leaf Vintage Pendant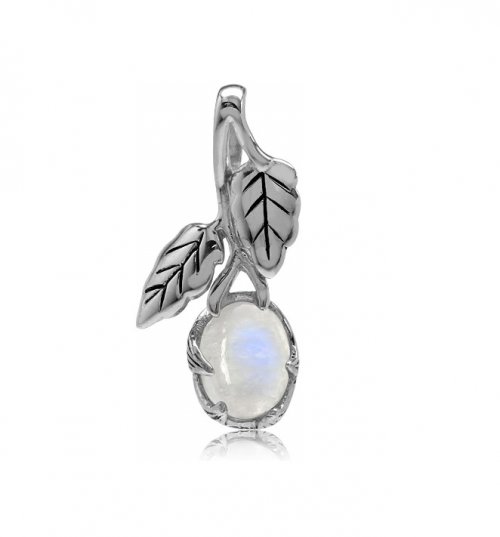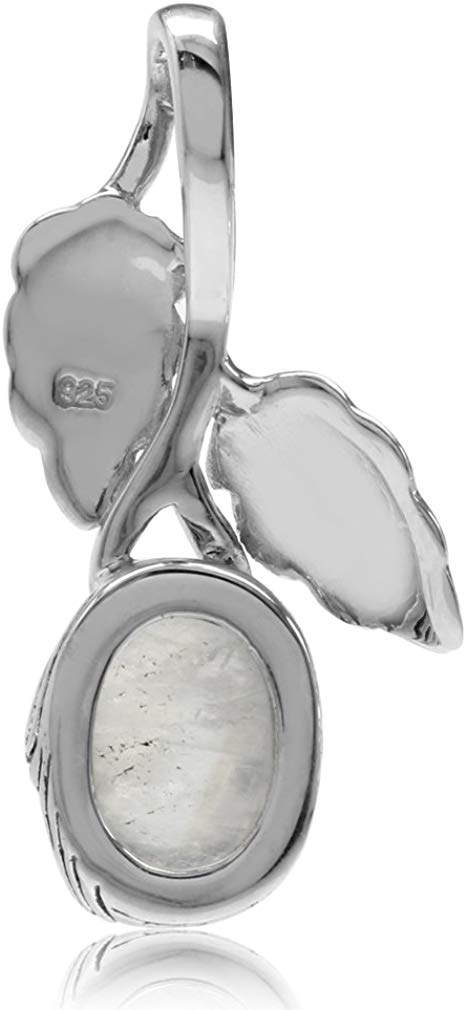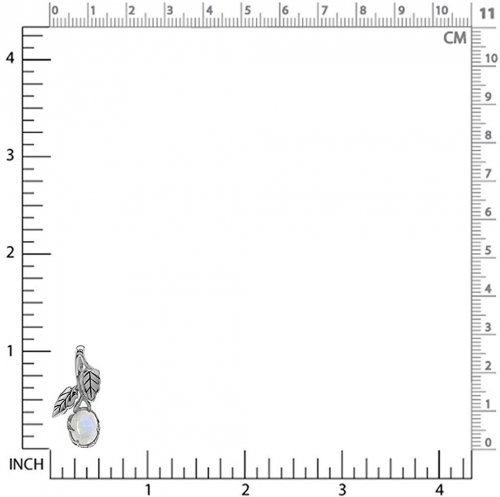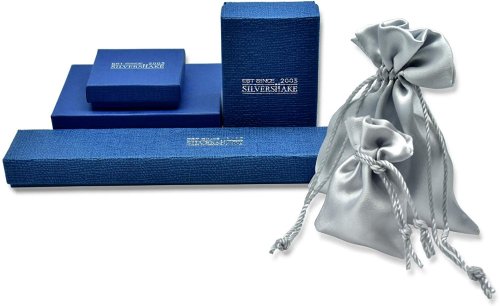 Moonstone is one gemstone that holds a lot of reverence for females. It exhibits feminine energies, and delicate carvings would bring out the beauty in them.
Read more
This piece has fully grasped this description, and it has been crafted with one aim – to see you looking gorgeous. The pendant is perfect for gifting, and its leaf design is artistic perfection.
Crafted with 925 sterling silver, you don't need to worry about the allergies of whoever you are getting it for.
The pendant has a leafy design and right there where the leaves boll at the center is our genuine and iridescent piece.
The whole thing creates an illusion of rising moon rays breaking through leaves. There is also a vintage feel to the piece, and it is rumored that you can experience life-changing events as you bath under the moon with the moonstone firmly between your hands!
Stop your mind from wandering off as you think of whether to get this piece or not. Just go ahead and buy this charming jewelry either for yourself or as a gift to someone who loves vintage accessories as well as iridescent gemstones!
Other info: there is a 30-day return policy, and the pendant comes with a nickel-free certificate.
4

. MoonMagic Orbit Teardrop
We chose moonstone pendants for you because they come with so many great qualities. Apart from the fact that a moonstone looks ravishing and complements just about any outfit, it is also mentioned in legends.
Read more
It has mystical abilities, and we thought you'd love some of that. This is one gift that whoever gets will forever appreciate and you will be excited when you see how great they look with the pendant on.
This particular moonstone pendant was crafted using the brilliance of 925 sterling silver. The material works well with a lot of gemstones, and it's quite exceptional with moonstone.
A teardrop rainbow moonstone was used to accent this piece, and it mimics the wax and wane of the moon.
The name moonstone is associated with the energies of the Lunar cycle, and it's all about good stuff when you get one.
Yes! It's a fantastic piece, we thought so too. The best part? You can get it at a super affordable price!
Other info: the pendant has a stone size of 18 x 25 millimeters, and each of them is unique since they were handcrafted.
5

. Silvershake Silver Rope Pendant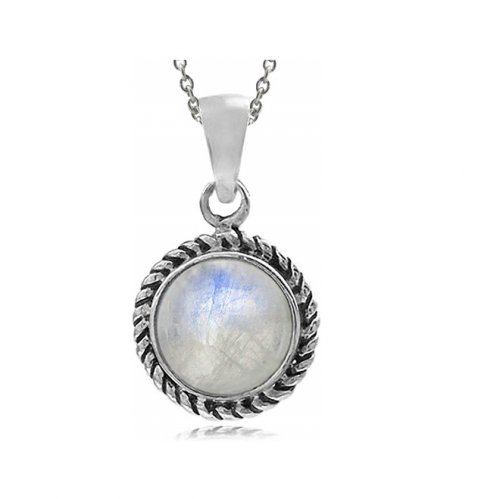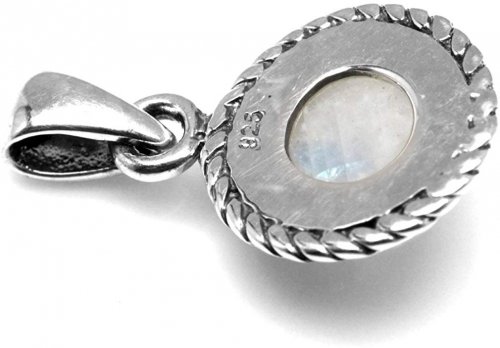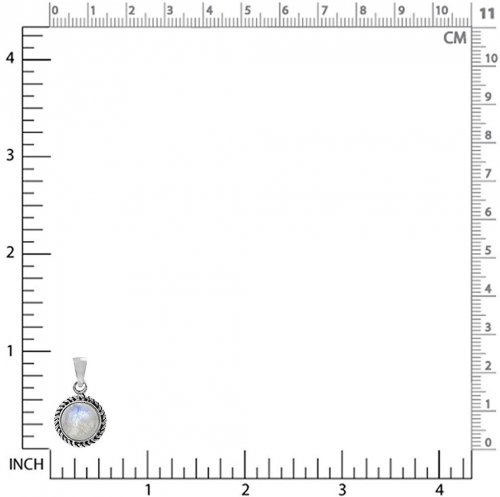 Magic is in the air, and you can catch it with a gemstone like the famous June birthstone (which is moonstone!). What we have here is one of the best pendants that we found.
Read more
It has a perfectly round shape and gives off all the colors of the rainbow when hit by the sun in the perfect spot.
The pendant has a moonstone at its center, but what makes the design intricate are the layered sets of the ornate sterling silver setting around the gemstone.
Right there at the center, the "gem of winter" looks entrancing and just staring at it will make you see life-changing visions.
The expert crafting is a testament to the professionalism of the craftsmen at Silvershake.
They added every bit of beauty to the curve and made sure that even the surface is pleasing to behold.
We are all about making life more beautiful for you, so we choose only pieces that are dripping with positive detail.
Wrap this up in a gift wrap and send it to your beloved one in case you're in need of a special gift!
Other info: the stone size is 18 x 28 millimeters, and all the components are made with materials of outstanding qualities.
6

. Chuvora Sterling Silver Moonstone Pendant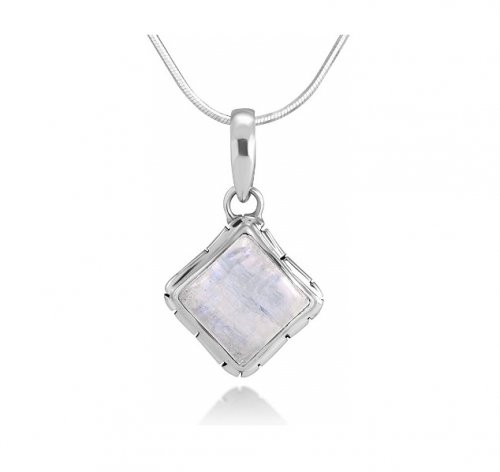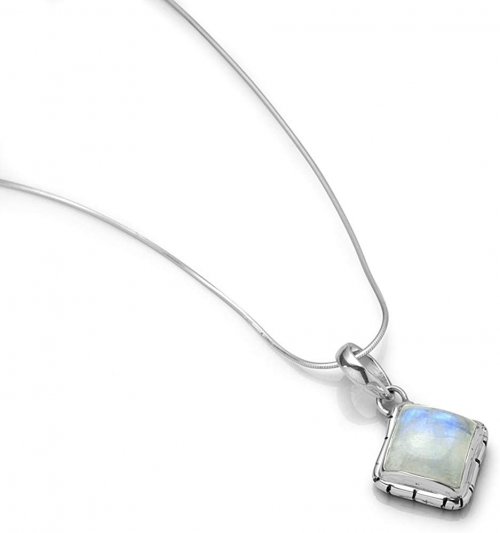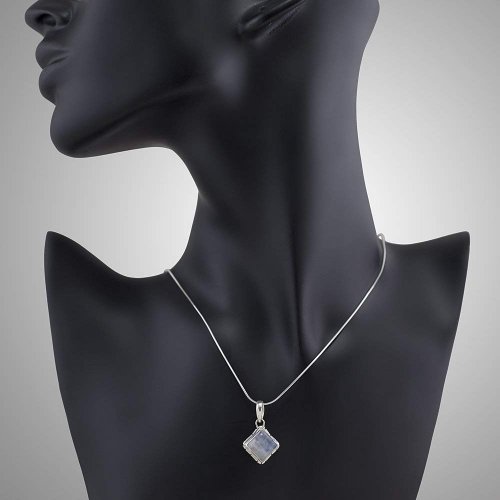 If you have been looking for a beautiful addition to bring that new feel into your wardrobe without exhausting all your resources, then you want to check out this pendant carefully.
Read more
It is simple, chic, and comes with all the best components from one of the best brands when it comes to moonstone.
There is nothing to worry about when buying the fantastic jewelry Chuvora designs and the moonstone added only serves to make a bold statement right there as it dangles at the nape of your neck.
Chuvora is a mystic clothing brand, and they believed that June birthstone is as sacred as they come.
This piece of jewelry has nickel-free sterling silver as its band and is accented using a moonstone in the form of a rhombus.
The shape, size and aesthetic appeal of the pendant are top-notch, and you can't help loving how chic, yet stunning it looks.
Here is a pendant that comes with a chain, but the chain can be easily removed and changed.
Be it Christmas, New Year, Thanksgiving or Hanukah, the timeless beauty of the pendant makes it fit as a gift for all season.
You also get the pendant in a gift pouch that makes giving it out much easier than you may have anticipated.
Other info: it is only 0.62 x 1.06 inches, and it comes in a black velvet pouch.
7

. Silvershake Celtic Knot Moonstone Pendant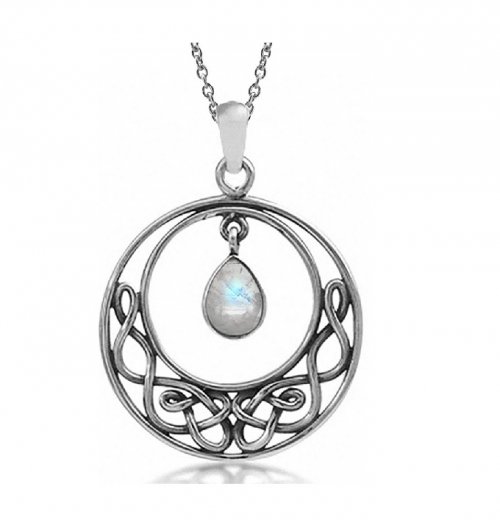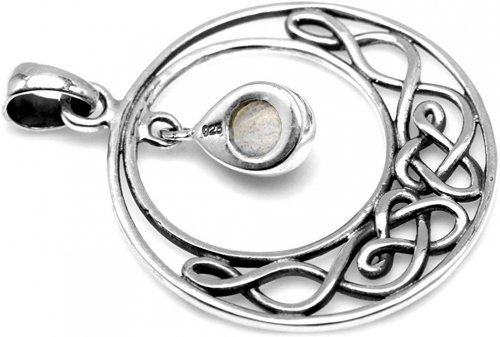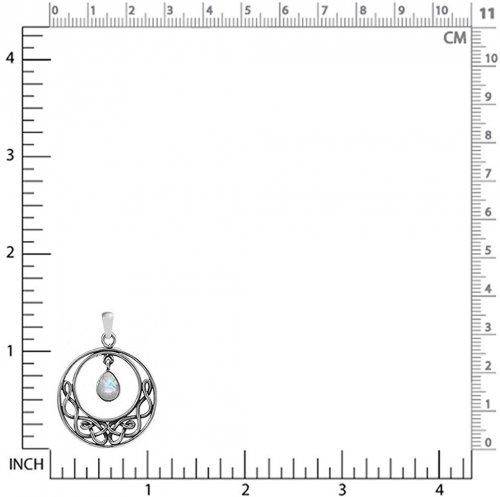 The Celts have always carried a sort of attraction with them that feels vintage but is still stylish enough to be part of the trending accessories.
Read more
This piece from Silvershake comes with a Celtic knot design and features a beautiful moonstone dangling from the center like a treasure.
It's adorable the way the pendant encapsulates the little moonstone hanging within the intricate design of the silvery wires.
The first thing that you will notice when you take a look at this piece is the gemstone. Right there in the middle of the circle that is made with 925 sterling silver.
It has this iridescent effect that makes it look like several colors were trapped inside the teardrop-shaped moonstone.
Looking closely at the pendant would make you see it look like a full crescent moon on a bright night with all attention on it.
Silvershake employed the bezel setting to make sure that you look beautiful when you wear the pendant.
With pendants like this, it doesn't matter the type of chain you use, be it gold, silver or even leather cord.
It's gorgeous enough to look beautiful no matter what. The piece is quite affordable, and when it comes to gifting, it's one of the best things you can get for the one you cherish so much.
Other info: the item has a dimension of 1.4 x 1 inch and weighs about 0.32 ounces.
8

. Novica Two Teardrops Moonstone Pendant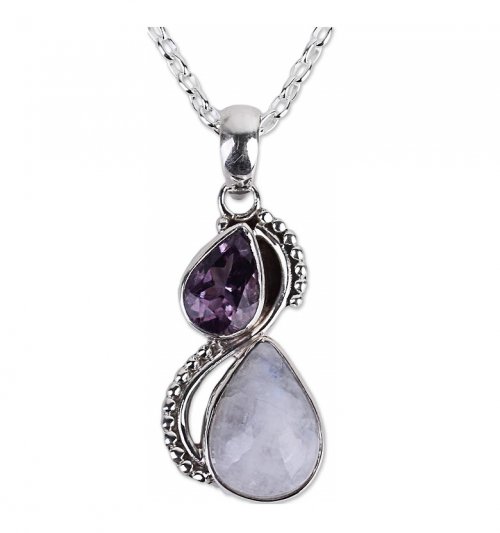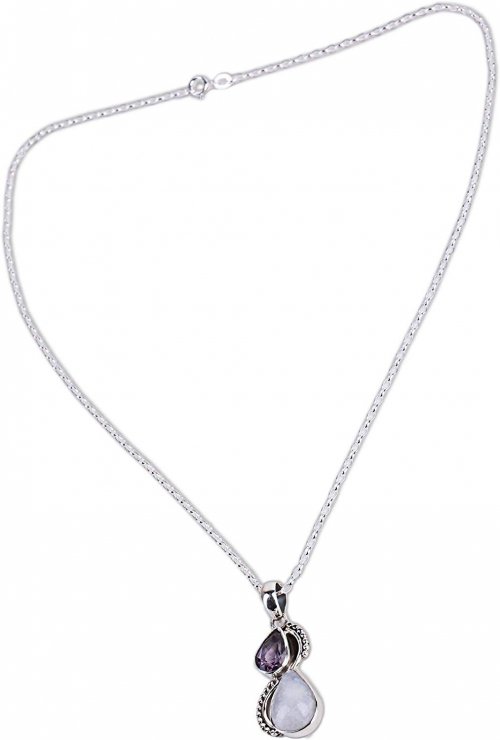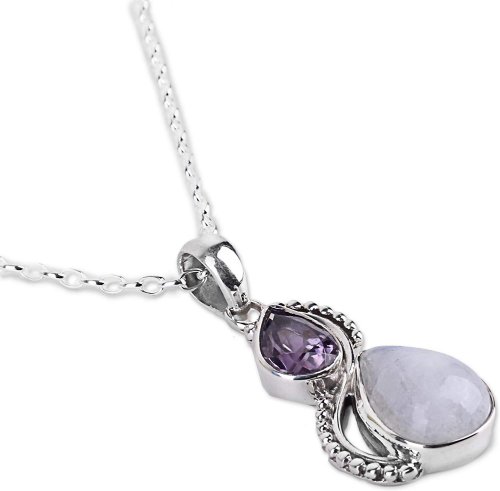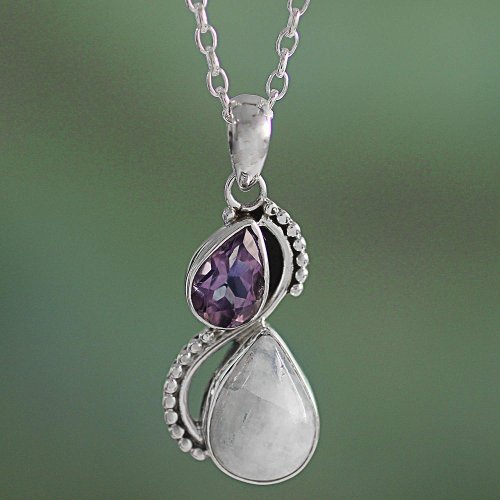 We always love to add jewelry pieces that have multiple gemstones to our collection, and this is another one of them.
Read more
It comes with two beautiful stones that are so well arranged they complement each other perfectly.
The whole pendant is an embodiment of allure, and there are no flaws to be pointed out in the build.
The pendant has a moonstone shaped like a pear right where everyone can see it. It is nestled gently into 925 sterling silver metal for optimal quality.
We mentioned another stone and that is the amethyst used to complement the pendant.
It hangs resplendently above the moonstone, and its two-carat is definitely attention catching.
Wear the pendant and stay where the light catches it and you will be amazed at how gorgeous it looks.
And the price is affordable too for such great value.
Other info: the pendant comes in a unique jewelry pouch, perfect for gifting.
9

. Leila Nicole Designs Pendant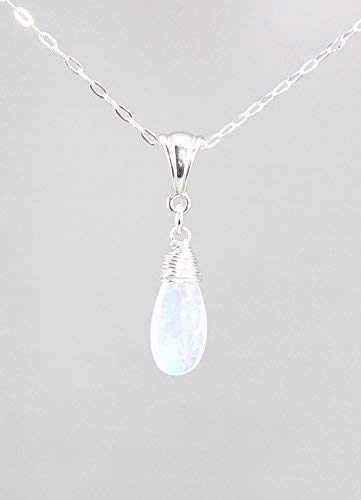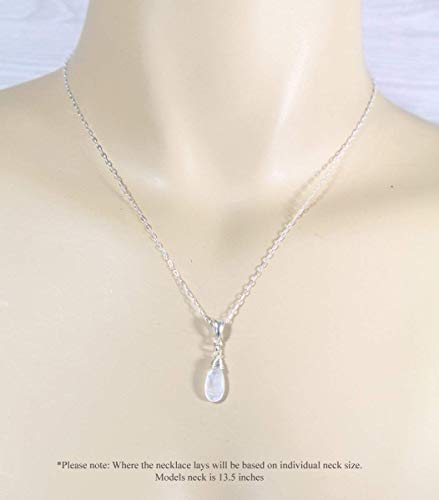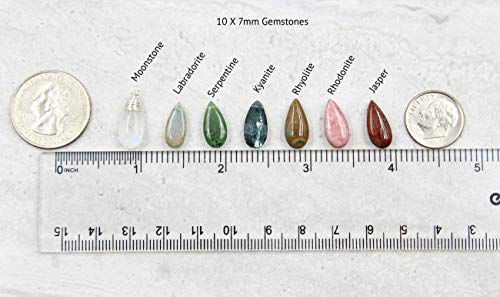 For the last item in this category, we decided to pick something simple yet stunning. This moonstone from form Leila Nicole shows the moonstone in all its glory.
Read more
Not covered with any kind of other gemstone and not surrounded by so many materials, you can see how gorgeous the stone is. You can replicate your inner sparkle with this piece just hanging from your neck.
It features a pear-shaped moonstone that hangs from a sterling silver wire wrapping. The wrappings are done such that only a tiny part of the moonstone is covered and you can see the rest all around.
The pendant comes with a chain, but you can always remove it and replace it with whatever choice you have in mind.
Just make sure it's something that will complement the stone rather than take the attention off of it.
The piece is quite lightweight, so it doesn't weigh heavily on your neck. You can get a gift wrap and push in under the Christmas tree or hand it to your loved one during celebrations.
Moonstone stands for so many positive features you would be well appreciated for considering June birthstone as your gift item.
Other info: it was handcrafted and had a stone length of 15 millimeters.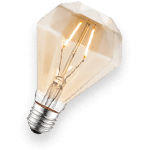 Why moonstone?
The moonstone pendants on our list are made with materials like solid karat gold, sterling silver and accented using moonstone.
They don't come with a chain, and this means you will be able to personalize your pendant by choosing the type of chain, including the metal color of it, in order to match your style and preferences.
You might still be wondering, but why moonstone? Well, moonstone is the official birthstone for the month of June.
It has a property described as adularescence which makes it reflect different colors when hit by a ray of light at different angles.
The effect is always beautiful, and trust us when we say it will be a spectacle to behold whenever wearing your moonstone jewelry!
Frequently Asked Questions
q:

Which moonstone pendant is best for a necklace?

a:

You may want to consider if you or the person you are shopping for have any allergies.

For example, you can't buy a copper chain for someone that has allergies to copper. But we strongly recommend a chain made of 925 sterling silver.

They are hypoallergenic so they won't cause unnecessary reactions with your skin and, are very durable as well. You can also get rhodium-plated metal alloys or solid 14 kt plated alloys and above.
q:

Can I get other accessories made with moonstone?

a:

The answer is a big YES; you can get moonstone earrings, a moonstone bracelet or a ring to compliment the gift bag.
q:

Is this gem easy to clean?

a:

Moonstone is easy to clean; you can follow the instructions we have listed below to have a polished, shiny looking stone anytime you want to wear it.

Clean it with a mild detergent, soft cloth, and water. Keep it in a soft velvet cloth or in the pouch it came in (if it came with one).

Avoid hitting it against hard surfaces. Make sure that the chain you get comes with a secured pouch not to risk losing it.
Finally...
We don't want you to go through the stress of logging into several sites and searching ceaselessly for the right moonstone pendant.
So we selected ten options and we are sure there's at least 1 pick you will love and add to your cart. How do we know? Because that's exactly what we did when adding these amazing pendants to our list!