10 Superb Moonstone Earrings!
last updated:
Oct 31, 2019
We have had some pretty exciting things to say about moonstone earrings, and you will agree with us that moonstone on any jewelry is simply a touch of perfection.
To complement your outfit for any occasion or to accent other jewelry you have, we picked 10 ever-radiant moonstone earrings.
All picks are daintily gorgeous pieces of ear accessories that reflect the colors of the rainbow because that's exactly what a moonstone does!
Moonstone is known for its iridescent nature and the beautiful colors it dances with when hit by a ray of light.
Moonstone earrings are the perfect choice for anyone looking to wear something more unique featuring a stone that symbolizes calmness and inner growth.
Time to start browsing our list!
Our Top 10 Picks!
1

. YoTreasure Moonstone Stud Earrings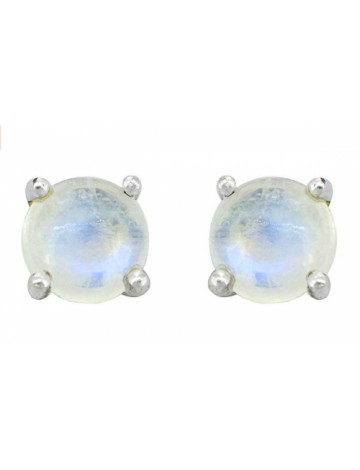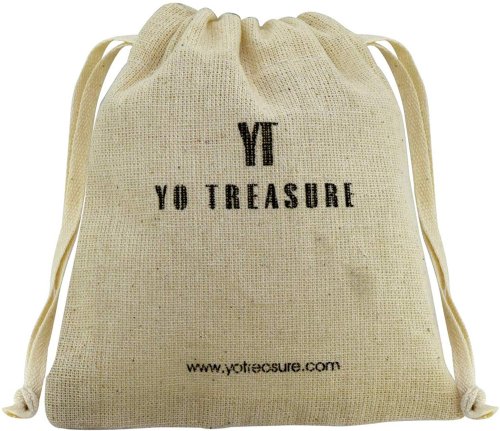 Moonstone is an excellent piece of gemstone that complements any woman's beauty. This pair of studs were designed to do just that!
Read more
These were inspired by how beautiful the moon looks. The detailing is made to match the boho style, and you wear the earrings pretty much with any outfit, whether casual or formal.
The jewelry is crafted with a round-shaped rainbow moonstone set into 925 sterling silver. This earring is stud style, super simple and elegant.
All the materials used are safe for your skin, and the clasp style makes sure it doesn't fall from your ear.
If you are all for simple styles that are classy yet unique, then you don't want to miss on this super affordable pair of moonstone studs.
Other info: stone size is 6 x 6 mm.
2

. NOVICA Rainbow Moonstone Silver Stud Earrings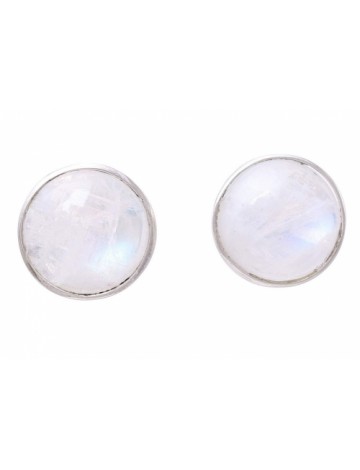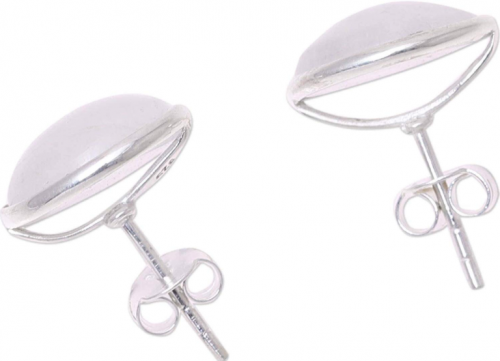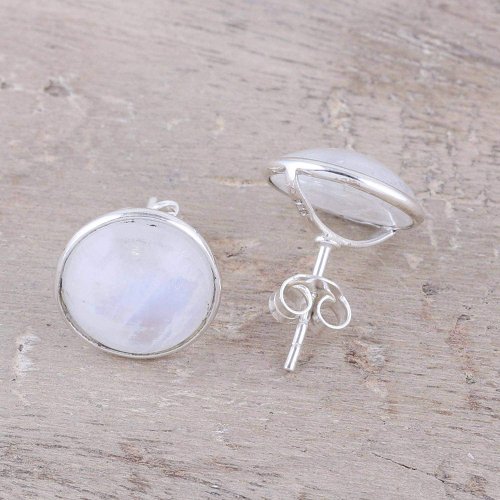 We have always found fabulous jewelry here at Jewelry Jealousy, and this is another earring that fits our bill 9ehm style!).
Read more
It features a moonstone with crystal clear radiance accented with 925 sterling silver.
This combo is like a match made in heaven, and looking at these studs all the focus is put on the iridescent stone; we love that!
The dimension of the stone has been adjusted to make sure that it fits your earlobe without weighing on it.
Since it's made from sterling silver, there are no risks of metal allergies or skin reactions.
The pair of earrings bear a pure gem and are quite affordable so you can get one for yourself and one as a gift for anyone close to you!
Other info: the stone is 9 carats and set into 925 sterling silver.
3

. Silver Palace Sterling Silver Moonstone Earrings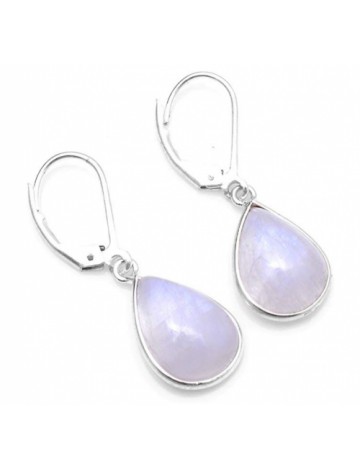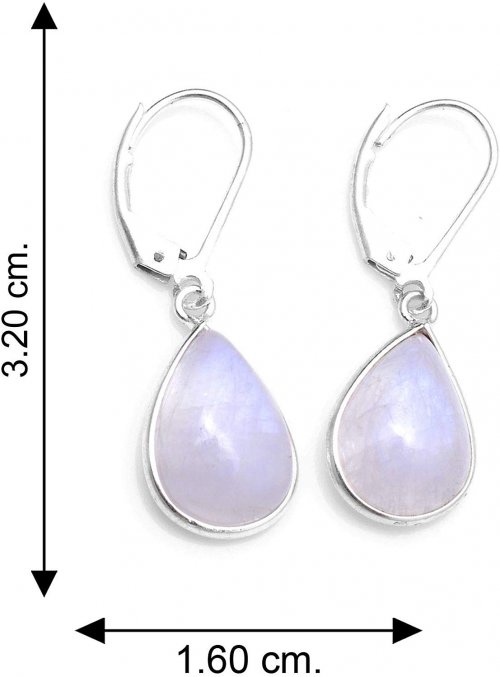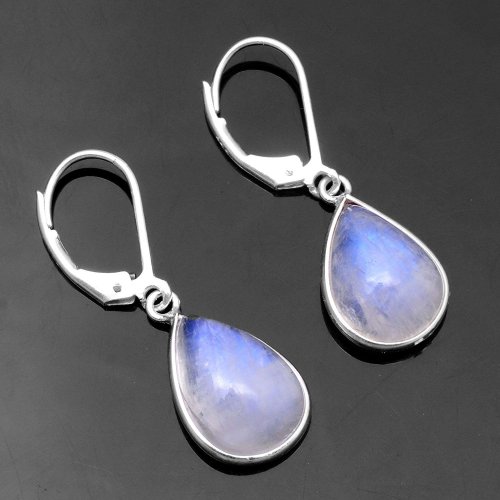 Let's spice things up a little with these lever back moonstone earrings that highlight the pear-shaped natural moonstone.
Read more
The pair has been crafted by expert hands and is delicately made in a bohemian style.
Made with a genuine and iridescent rainbow moonstone set into 925 sterling silver, the earrings have an eye-catching effect.
The dangle extends 4.29 centimeters beneath the moonstone and is made with highly polished silver that looks and feels super smooth.
These are super lightweight with a stone weighing. 3.60 carats and a float setting.
The price is super affordable!
Other info: 925 sterling silver stamp guarantee.
4

. Silvershake Silver Filigree Leverback Dangle Earrings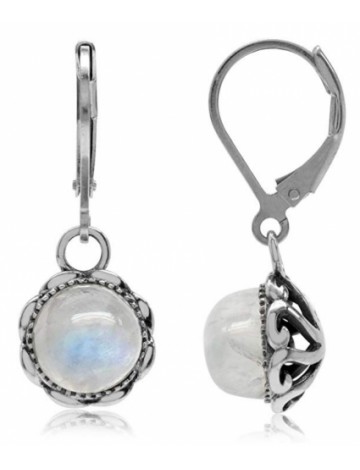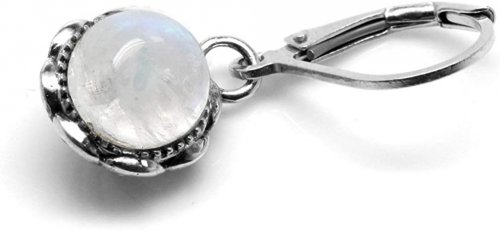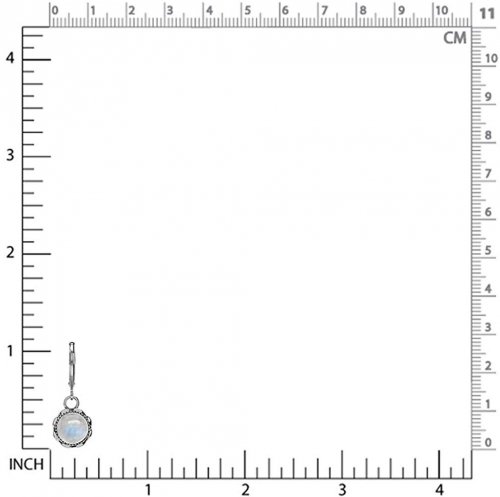 What we have here are dangle earrings with gorgeous rainbow moonstones set into a flower-shaped halo.
Read more
These mimic a lotus flower and symbolize enlightenment.
The stones are set into rhodium-plated 925 sterling silver and the setting is bezel.
The moonstones weigh a little bit over 4 carats and are natural gemstones.
The earrings are unique and perfect for those looking for an affordable option that is not a stud earring.
Other info: the size of the earrings is 10 x 28 mm.
5

. Silver Palace Handmade Rainbow Moonstone Earrings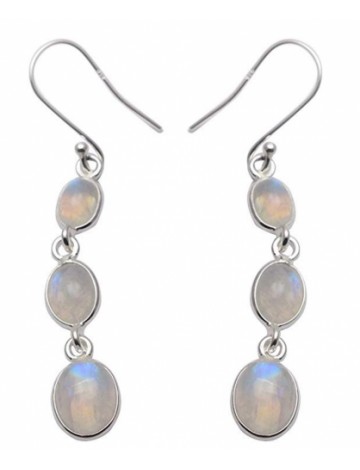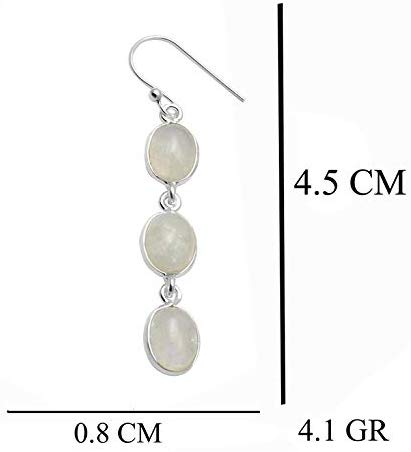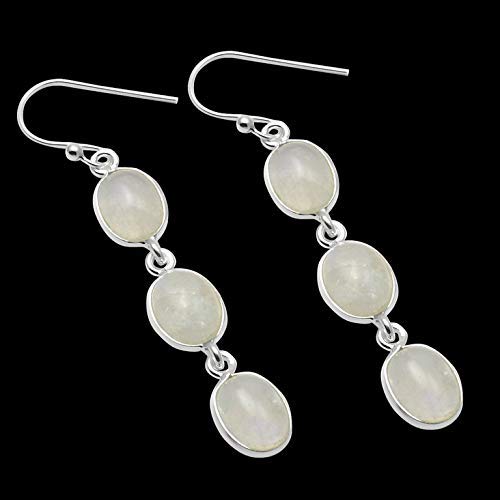 This earring is made with three gorgeous moonstones hanging one below the other. The 3 moonstones represent the past, present, and future, therefore they are perfect as bridal jewelry!
Read more
These are rainbow moonstones set into 925 sterling silver.
Each was handmade, meaning you will get a pair of literally 'unique' moonstone earrings.
The quality of the craftsmanship is quite good, and the floating setting is assured by the strength of sterling silver, one of the most durable metals you can get.
The best part? The earrings come with a super special price tag, meaning you won't have to dig too deep into your pockets to get them!
Other info: the earrings have six stones sized 5 x 5 mm.
6

. NOVICA Oval Dangle Earrings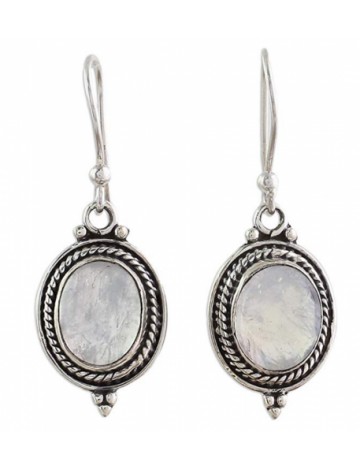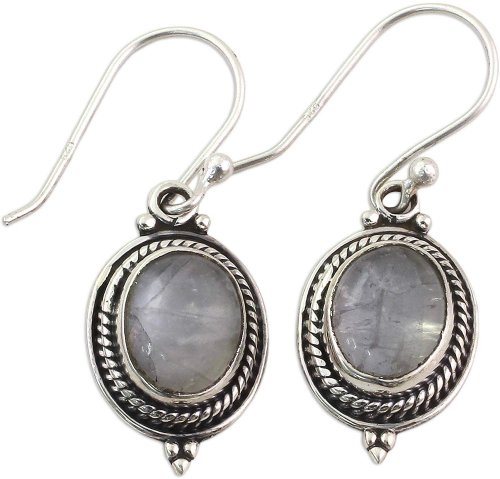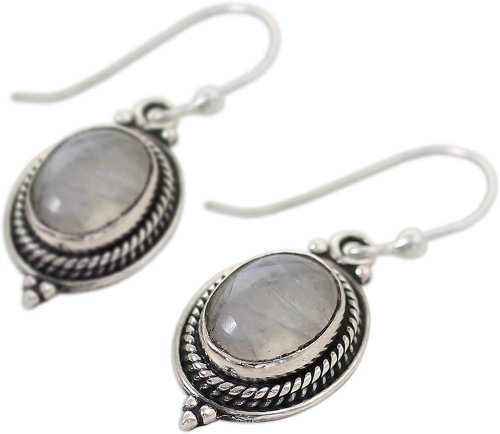 This is another dangle option with beautiful natural moonstones set into sterling silver. The gemstones are surrounded by an intricate filigree-style halo attached to the hooks through a simple jump ring.
Read more
The gems, being natural and non-lab created, are super sparkly and quite big coming in at 4 carats.
These are artisan made earrings and were hand-crafted by an artisan jeweler.
The earrings will come with a pouch so you won't have to worry about storage, and, in case these are meant as a gift, the pouch comes as a convenient addition.
Price? A little bit higher than some of the other options on our list; however, we think they are worth every penny!
Other info: the hook is 3 x 2.5 cm.
7

. Adita 14K Gold Moonstone Earrings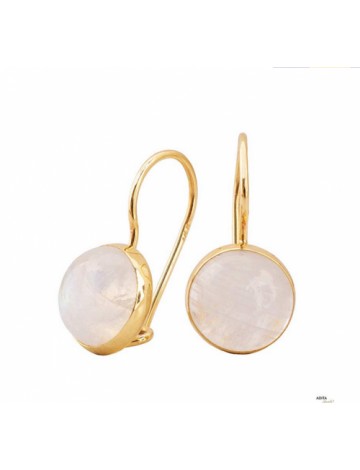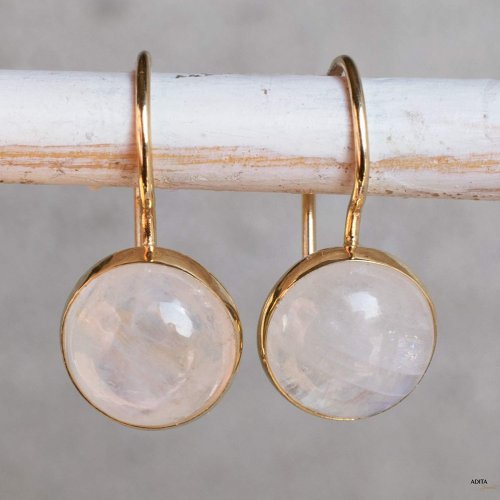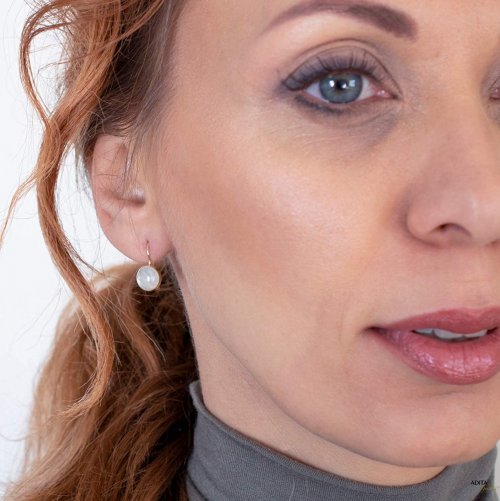 Now here we have a combination of 14 k yellow gold and gorgeous natural moonstones. The dangle drop earrings feature an 8mm non-lab treated stone.
Read more
The yellow gold assures durability and looks super smooth and polished. This type of og natural moonstone reflects a soft pink hue that looks gorgeous next to the gold of the earring.
The simple pair is set into a silverback mechanism, meaning there is no chance you will be losing your earring.
Even though the price is higher, considering you are getting 14 k gold it's still worth the purchase!
Other info: they ship fast!
8

. Silvershake Celtic Knot Dangle Hook Earrings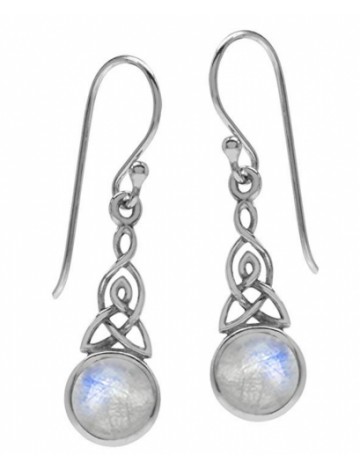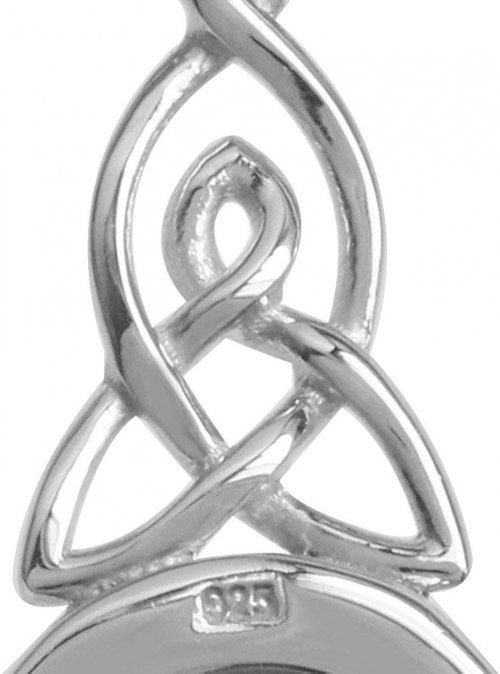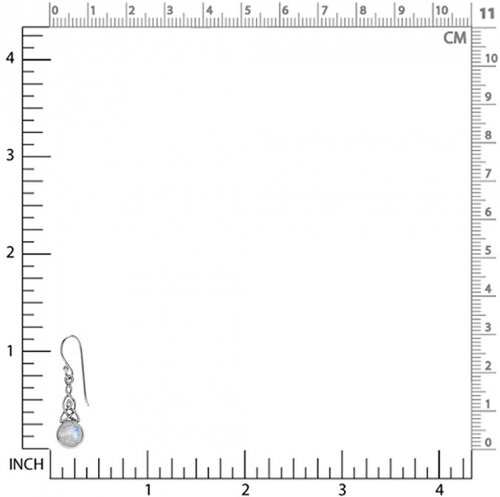 These rhodium-plated, 925 sterling silver moonstone earrings are our favorite in this list! The particular design featuring a Celtic knot from which the bezel set moonstone dangles is gorgeous.
Read more
The Celtic-inspired style is one of a kind and the perfect accent to these earrings.
The 925 silver is oxidized, meaning it has been given a vintage look rather than the polished smooth style of classic jewelry.
The earrings hang from easy to put on hooks, which will not weigh down.
The stone is a natural one, and the earrings are quite long in reality, so keep in mind these are not dainty but rather a statement piece of jewelry.
Other info: 30 millimeters long.
9

. CZgem Moonstone Earrings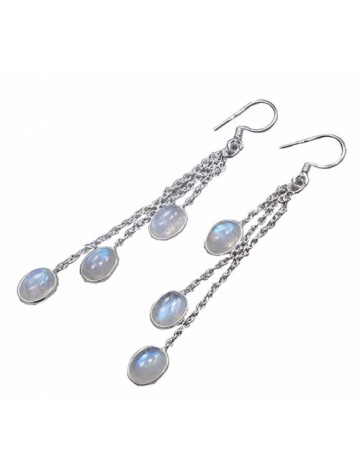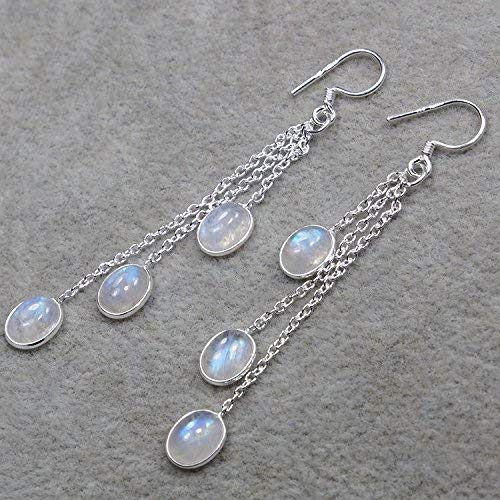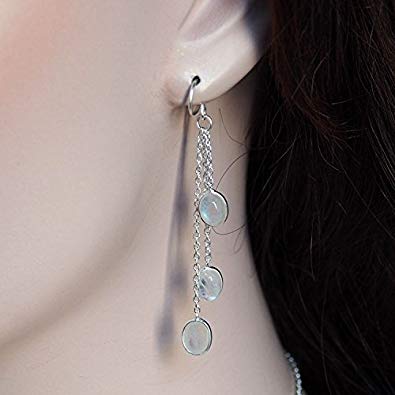 Don't you just love these threader earrings featuring 3 natural moonstones at the end?
Read more
These are quite spectacular, and the fact you get 3 gemstones in each pair knocked us right out!
The handcrafted earrings were made out of silver and non-treated moonstones.
The dainty and dangly threads of silver are super solid, meaning they won't tear easily.
The hook is a simple one, and not having a clasp, you will be able to put these on and off in less than a second.
If you're concerned that they may weigh down on your earlobe, they're actually quite lightweight, weighing only 0.16 ounces!
Other info: handmade by jewelry artisans.
10

. Silver Insanity Celtic Knot and Crescent Moon Earrings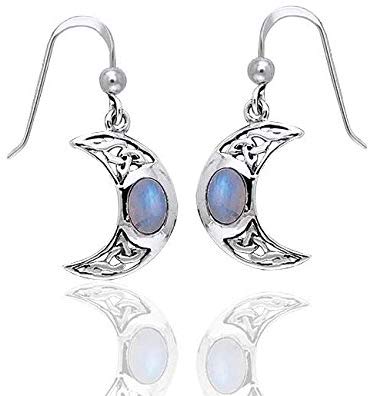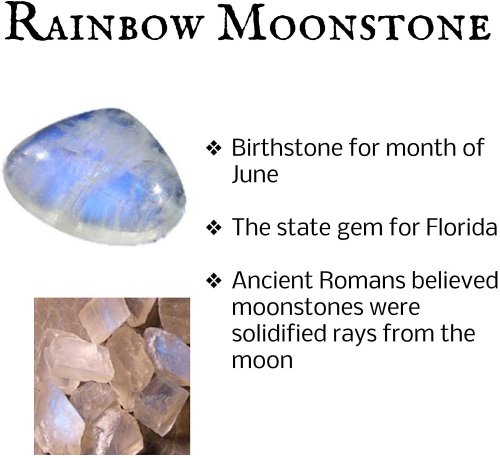 We just couldn't resist these crescent moon inspired beauties. Made with genuine rainbow moonstones and 925 sterling silver, you will be getting the best of materials for an amazing price!
Read more
The earrings feature simple hooks attached to crescent moon-shaped forms.
Each crescent moon features a Celtic knot design, in the middle of which the moonstone is set.
They are super unique and 5/8″ high without hooks, meaning they're not super long but quite dainty.
These hold a boho feel thanks to the oxidized silver and filigree details within the crescent moon shapes.
Perfect as a highlight piece when adding them to other ear jewelry such as helix and cartilage earrings.
Other info: these weigh 2.8 grams.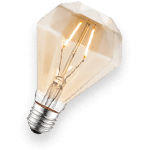 Moonstone types and colors
There are different types of moonstone you should consider when looking to buy jewelry featuring this stone.
Green Moonstone: it comes in a  pale green-yellow color. It is not as popular as other moonstones but is still quite unique.
Rainbow Moonstone: This is perhaps the most popular moonstone among jewelers. It has inclusions and layers that allow it to reflect all the colors of the rainbow when hit by light.
Moonstone types and colors
Pink Moonstone: honey, beige to peach; this type of moonstone can have a translucent or opaque look.
It usually comes with a cat eye or star effect to making it more than eye-candy.
Blue Moonstone: commonly found in Myanmar, Burma. This is one of the most highly sought after moonstones.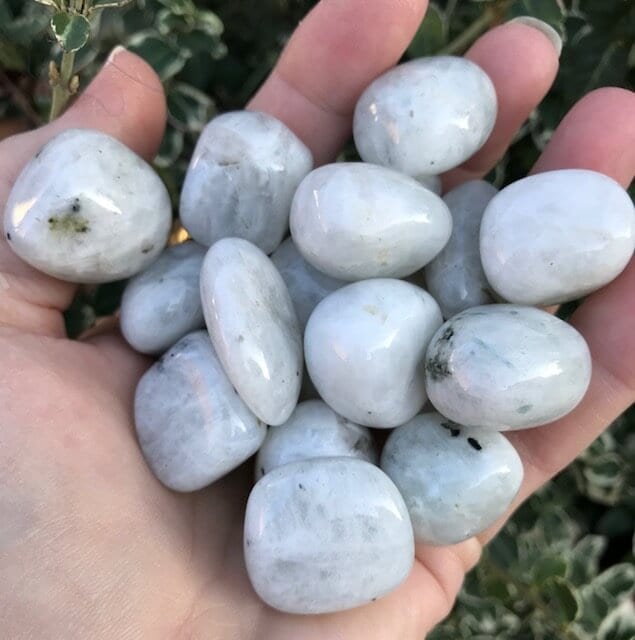 It has a transparent, crystal clear color with a beautiful floating blue effect on the surface.
It is rare so much more expensive than other moonstones.
Frequently Asked Questions
q:

What does iridescent mean?

a:

While describing the properties of moonstone, this word is usually mentioned a lot.

Iridescent is a concept of light that occurs when materials capture a ray of light and then reflect changing colors when viewed from different angles.

It happens with moonstone because this stone features different layers.
q:

How do I take care of my moonstone earrings?

a:

You can clean them with soap, water, and a soft cloth. Make sure you store your earrings in a jewelry box or pouch when not wearing them.

While all of our picks are made from skin-safe and durable materials, we still advise you to take your earrings off when showering.
Finally...
Moonstone earrings are among our favorite type of earrings since moonstone is such a beautiful gemstone.
Being characterized by iridescence, meaning the reflection of various colors of light when hit by sun, this stone is quite unique and almost mesmerizing.
Whether you're looking for a dainty piece of jewelry or a unique pair of earrings featuring sparkling gemstones, the 10 picks we selected for you include both minimalist as well as statement pieces.
The best part? We made sure to pick options made of durable and quality metals that don't cost a fortune. Time to add to your cart ladies!