We Found the Perfect Threader Earrings!
last updated:
Feb 22, 2021
The innovative design of threader earrings helps to elevate your style with far less effort. Compared to traditional studs and hoops, threaders have a more delicate and intricate design ideal for any occasion.
You'll find they have an exceptionally modern appeal that allows you to showcase an effortlessly chic aesthetic.
10 Threader Earrings We Fell Inlove With!
Criteria Used for Evaluation
Style
Let's face it, if it's not pretty and doesn't match anything you wear, you won't wear it. If it doesn't match your style or the style that's trending, you are not going to wear it. And what good is jewelry that just sits (or in this case hangs) there? It's a waste of your money. That's the last thing we want!
Wear Comfort
We didn't show you anything too heavy and in fact, all were the total opposite. You may not even realize you have these threader earrings on until the compliments start rolling in.
The bottom line is with our picks, we want you to be comfortable all the way around.
Durability
We wanted to bring you pieces that were sturdy (as sturdy as a chain) and, with the proper care, bring you years of joy.
We do feel that the threader earring trend is timeless, so we wanted pieces that are made from quality materials that do not tarnish or discolor. Nothing brings more satisfaction than getting a good deal.
These sets will give you great value for the money you will spend. When cared for properly, these picks will flatter you, wear well, and last a long time.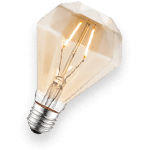 How to Insert Threader Earrings
Maybe you have never worn a threader and maybe you have. The biggest tip we can give you is to hold your entire ear and earing in your hand while brushing your hair. If you do not, the brush will get caught on the earrings and yank on one. You will feel like your ear is being torn.
There are several tips on how to insert them. First, take the chains of the earrings and put a bit of wax or oil on your fingers (we like coconut), and run the chains through your fingers.
With that complete, put the straight/post end through your ear just to get it started. Then, hold the other end parallel to the floor.
DO NOT pull downward, but pull gently toward the back of your head. Adjust the threader to whatever length you prefer.
You can pull a little or all the way. This would make the ornament snug to the front of the lobe and the chain and post hang down the back of the lobe.
If you have two, or three holes, the ways you wear your threader are practically endless.
How to Insert Threader Earrings - Images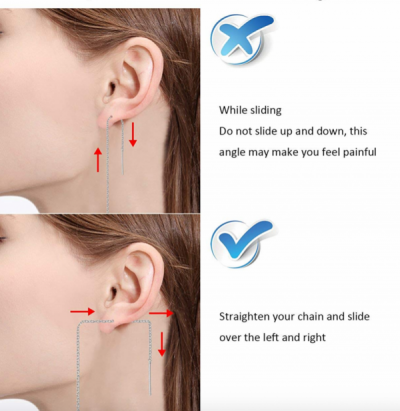 Frequently Asked Questions
q:

What is a threader earring?

a:

Threader earrings are designed for pierced ears. They are made of some type of chain and pulled through your ears.
q:

Can you use this type of earrings in double or triple holes?

a:

Most definitely! These earrings can be used in some of the most creative ways we have seen.
q:

How to wear threader earrings?

a:

Threader earrings are explicitly designed to be different than standard earrings. You'll find they have a longer length without a traditional backing, which can make them much more comfortable to wear.

All you have to do is follow these key steps to slip them into your piercings easily.

✓ First, you'll want to grab onto the earring's post at the opposite end of the pendant.

✓ Next, use the bar and thread it through your piercing, ensuring you pull the chain through entirely.

✓ Adjust the earring's length so the post is hanging at equal length as the earring's front.
q:

Does putting them on hurt?

a:

Only in a few circumstances. You MUST cover the ear and earring when brushing your hair; you shouldn't insert or remove them from the hole too quickly, and when inserting them, hold the ornament end parallel to the ground so they slide sideways through your earlobe.
q:

Are thread earrings expensive?

a:

They can be, but they don't have to be. Check out our picks for some that are very affordable.
q:

Can you sleep wearing them?

a:

Some people say that you can sleep in threaders. We, however, prefer to take all jewelry off at night, as part of good jewelry care practices.
q:

Will they fall out of my ears?

a:

It's not likely that they'll fall out of your ears.
q:

Can you use baby wipes to clean your earrings?

a:

Yes, you can use baby wipes on your jewelry, but it really depends on what the manufacturer suggests. Always follow the care instructions that the manufacturer provides for pieces that will give you long-lasting wear.
Finally...
Years ago, the clip-on earrings were all the rage. Today, threader earrings may just take that place as the new and hot fashion trend. We've seen them all over.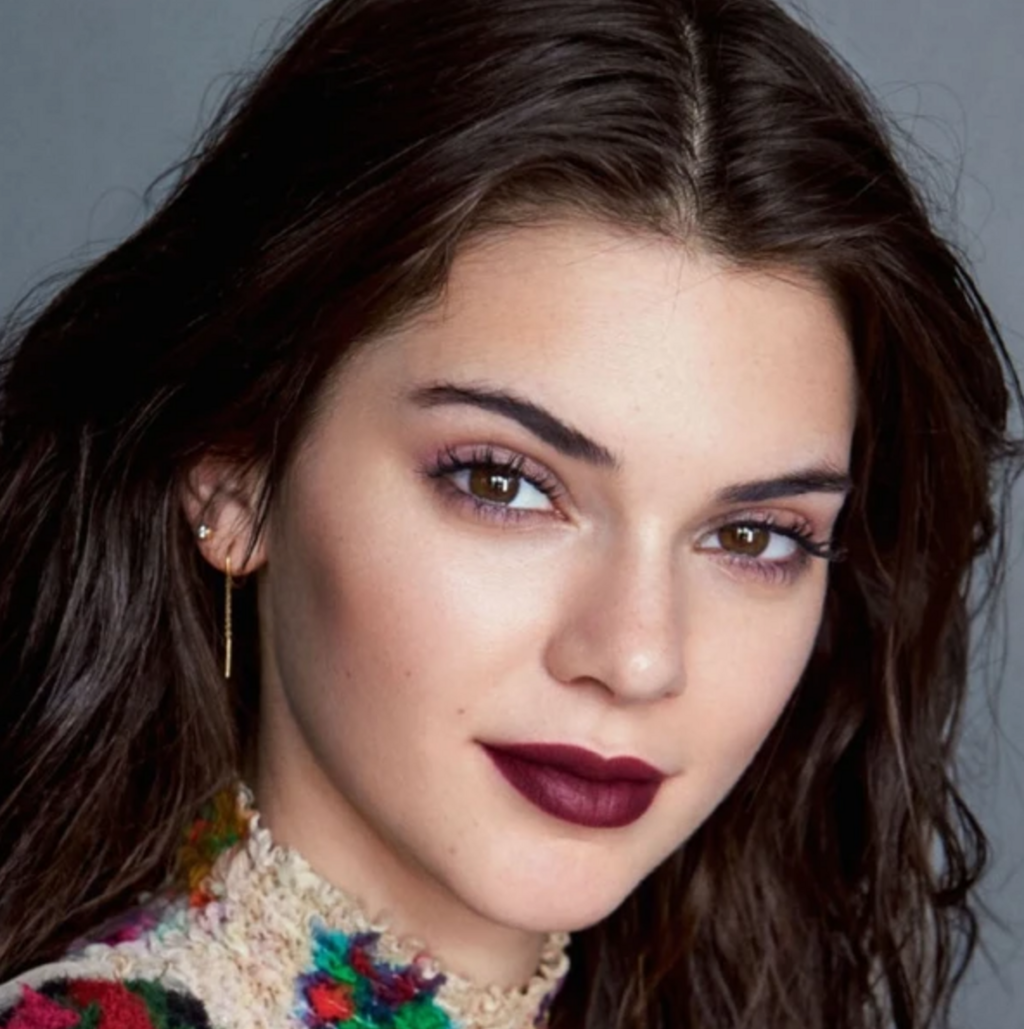 Source: Pinterest
We have also seen them on celebrities like Scarlett Johansson, Kendall Jenner, Olivia Munn, Maya Brenner, Emily Bett Rickards, and Emma Watson (of Beauty and the Beast)!
If you want to keep your pieces from turning beastly and have them around for a very long time, there are several guidelines to follow. Most of which are standard for taking care of any type of jewelry.
✓ First, there are the usual things like keeping your piece dry and not wearing your earrings while bathing or swimming.
✓ Avoid sprays, like perfumes and hair spray, and lotions.
✓ Try not to touch them a lot. The grease and/or sweat on your hands may cause discoloration.
✓ Always store them in a soft-lined container or pouch. These earrings dangle or have a drop, and the best way to store them is to lay them flat or hang them on some type of jewelry mount like an earring tree.
We like these threader earrings for lots of reasons. First of all, there are no posts to poke you in the head. Secondly, there are no earring backs to get lost. And last, of all, they are simple and fun.
So you don't have to be a rock star or even a movie star to wear threader hearings, just take care of them and rock them with style!