Mix / Women
We Found the Perfect Threader Earrings!
When talking earrings, threader earrings are a totally different breed. They are unique because of how they are made, what they look like and how they are inserted. Aside from that, they may just be the most versatile earring you have ever worn and may be your "go-to" set for any occasion.
Yes, we mean ANY occasion. Depending on the style of the threader, you may find one you can wear all day and all night. What is really nice about readers is, you can dress up even the most of casual outfits when you wear them.
The extra bonus is they are so lightweight, you won't even know you have them on. They are also known as ear thread earrings, ear thread findings, or thread earrings and they have been featured as the biggest trend to hit the fashion market in 2020. Oops!
We forgot to mention that they are designed for pierced ears. And we need to tell you, in this bunch, it's going to very hard to choose a favorite.
10 Threader Earrings we Fell Inlove With!
1. Amazon Collection Sterling Silver Threader Earrings

These double-curved threader earrings are just stunning! The feature is two curved, long, linear pieces. There is no post for this set, the curved bangles act as the posts.
One curved piece is in the front and the other is in the back. Both of them are connected to a rolo / trace chain. This is the part that sits comfortably in your ear lobe.
The entire set is made of gold plated sterling silver. The sterling silver is 925 sterling, adding to its authenticity. These are very lightweight and very comfortable.
Wear these with a dressy T-shirt, a blouse, a dress, or out on the town. We think they are very versatile as far as clothing is concerned. You can only wear them one way in your ear, however (we don't mind, though, they are just that pretty!).
For the versatility of this set you just can't go wrong with the price. We think they are right in a buyers "sweet spot" budget-wise.
This set is 2 inches long and weighs 1.42 grams, or 0.05. That's less than 1 ounce.
2. Benevolence Turquoise Opal Black Onyx 14k Gold Dagger Earrings

Opal and gold are the perfect pairing when it comes to this set of threader earrings. The gold is 14 karat gold plated, hypoallergenic, stainless steel.
They are nickel free. One end of the earring has the post for threading. It is attached to a chain of about 3 inches. The chain is a rolo chain. It attaches to a wire that sits in the hole of the ear lobe.
Because of the wire, you can wear these only one way, instead of looping them through multiple holes. Then comes another wire. This one is attached to a fiery white opal stone in the shape of an arrow or triangle. This set would be great for a dressier occasion!

We think the price you pay for this set is a fair one. Considering the materials used and the quality, this is a good value.
Total chain length is about 3 inches on this set. They are very lightweight and wearer friendly.
3. Amazon Collectio Open Heart Thread Earrings

This simple set of heart threaders can be worn by more than one generation. This makes them versatile in a different way than most; you can share them!
Made from 925 sterling silver, they are the perfect set for wearing every day. The post, going through your ear is longer than most, making it easier to thread. The pin attaches to a rolo chain. The rolo chain attaches to a just-right sized sterling silver heart.
This set is the least expensive pick on the list.
The earrings weigh 1.1 grams or 0.03 ounces. The set is slightly adjustable, meaning you could try threading it through a second hole.
4. MaeMae 14K Gold Filled Leaf  Earrings

This set of gold leaf threaders can make the jump from casual to evening wear in no time flat! The set is made from a gold-filled metal and is very pretty.
The post is attached to a rolo chain. The chain is attached to a jump ring and from there is the pretty gold-filled leaf with very nice details.
They are lead-free, hypoallergenic and will not tarnish. You can't get much better than this.

The set is adjustable, meaning you can get more looks and wear it in more than one hole.
The price of this set is affordable; however, it is more expensive than you might typically pay for a set of earrings.
The leaf charm is 5 mm by 12.5mm or 0.19 inches by almost ½ an inch.
5. AllenCOCO 925 Silver SWAROVSKI Crystals Long Tassel Threaders

This set of long tassel thread earrings is really pretty because it has Swarovski crystal charms. They are sure to catch the light and reflect the gorgeous colors surrounding it.
This set is simple, yet elegant and pretty. The charms are cube-shaped and are attached to a type of box chain with a screw eye pin. The chain is platinum-plated 925 sterling silver. It is nickel-free, making it hypoallergenic and great for sensitive ears.

We think this set is great for a classier occasion. A great find for a great price. It's not the least expensive on our list, but for a few dollars more, you can have a great set of threaders.
The chain on this set is 2.76 inches long and the cube is just a bit over a quarter of an inch.
This set is adjustable, meaning you can get more looks and wear it in more than one hole.
6. ANGEL NINA ❤️ Castle in The Sky ❤️ Rose Gold Plated Threader Earrings

This set has a small surprise…sort of. The charm, on this set, is a charm within a charm. The post is attached to a rolo chain. The chain is attached to a curved bar that sits nicely in the hole of your ear.
This bar, then, attaches to another chain. From this chain, dangles a half-inch wide circular crystal pavé. The crystals in this setting are an ideal cut. They are round and brilliant, with angles that will give an excellent shine. This is a more rare cut and is designed to reflect almost all the light that enters it.
The surprise is the smaller crystal pavé that intersects the larger one. This gives this set a very elegant look. Both the chain and the charm are a rose gold color, making them something just a little bit different. Both are stamped 925 sterling silver as well.
It has also passed the Swiss SGS inspection standard, giving this set even more quality and integrity. This adds to the quality and authenticity of the set.
We like it with something turquoise or coral in color. We think this set could pair well with a funky / dressy casual outfit, or move into eveningwear without a problem.
The price of this set reflects the quality and beauty of the piece. It's not too expensive, but not cheap either.
Because of the curved bar, on the thread, the set is not adjustable. It is 2.40 inches in length and weighs 0.18 ounces.
7. Wave Chain Twisted Chain Threader Earrings by Lovey Lovey

The wave chain threader looks exactly that. It looks as though two fine gold waves are are hanging from your ear. This design is so simple and elegant that it's absolutely gorgeous.
Both waves are attached to a rope chain. The rope chain is the part that sits nicely in the hole of your ear lobe. Or you could switch it up a bit and offset the back from the front. Just pull the front wave all the way to the hole for a slightly different look!
This set is the perfect price. It's not cheap, but it's not too expensive either.
The hanging height, in your ear, is 2.7 inches or 6.9 cm.
8. L. Erickson Threaded Stone Earrings

This is our favorite pick on the list. They are just a bit different than all the others. The set is simple and elegant.
A turquoise stone attaches to a post that has a bend. The post attaches to a rope chain that attaches to the post at the other end. The stone has pretty black striations that are grizzled throughout the stone.
This set is a bit different because you thread the chain, which is gold plated brass, and pull it through the hole until the stone stops snug to your ear lobe. Then the chain hangs from the back of your ear lobe.
If you have a second hole, you could thread the chain through the back, making it hang from the front. It would almost look as though you were wearing two different pair of earrings.
We like the price of this set. You get a combination of materials and a slightly different design for the price you pay. It's not outrageously expensive.
The stones in this set are each 3/16 inches in diameter and the set has a 2.75-inch drop.
9. ZENGORI Horn Australia Jade Faceted Thread Earrings

If you are into jade, this is definitely the threader set for you! A natural piece of polished jade is attached to a gold cap, making it look like a short horn.
One of the awesome things about this set is that the gemstone is real. When the gemstone is real, there are variations in the color of the stone. The stone is as unique as you are.
The horn is attached to a rolo chain. The chain is gold plated. We think these have a Boho vibe. Wear it for any occasion and with a color that picks up on the color variations in the stone.
If you have two holes, you could thread this through partway, run the post through the back of the second hole and let the chain and post dangle in the front. It would be very pretty.
For real jade, this set is a gem of a price! It is easily affordable. It's so easy that you could purchase several and give them as gifts…think stocking stuffers.
The stone size is approximately15 x 11 mm, or a bit over half an inch by a little under half an inch. The length of the chain is 3.5 to 4 inches long.
10. Arts & Molly Sterling Silver Threader Earrings with Cubic Zirconia

These 925 sterling silver threaders are different from all the picks on our list. First, there are two different chains on this earring. Then, there is a glimmering cubic zirconia triangle pavé.
That's not all, because there is also a dazzling cubic zirconia stone on each earring. There are 74 stones in all!
We will start in the post. It is connected to a box chain. Box chains are great for added strength. The box chain is attached to a rounded bar that sits in the hole of your ear lobe.
From there, there is a cable chain. About halfway down the cable chain is a cubic zirconia stone. Last, but not least, is the triangle-shaped, cubic zirconia pavé.
There is not a dazzling price for this set. You'll easily be able to afford them and we think this is the best pick for a sweet gift!
The hanging length of this threader earring is 2.5 inches. The triangle charm is 0.4 inches x 0.04 inches x 0.5 inches.
How to Insert Threader Earrings
Maybe you have never worn a threader and maybe you have. The biggest tip we can give you is to hold your entire ear and earing in your hand, while brushing your hair. If you do not, the brush will get caught on the earrings and yank on one. You will feel like your ear is being torn.
There are several tips on how to insert them. First, take the chains of the earrings and put a bit of wax or oil (we like coconut) on your fingers and run the chains through your fingers.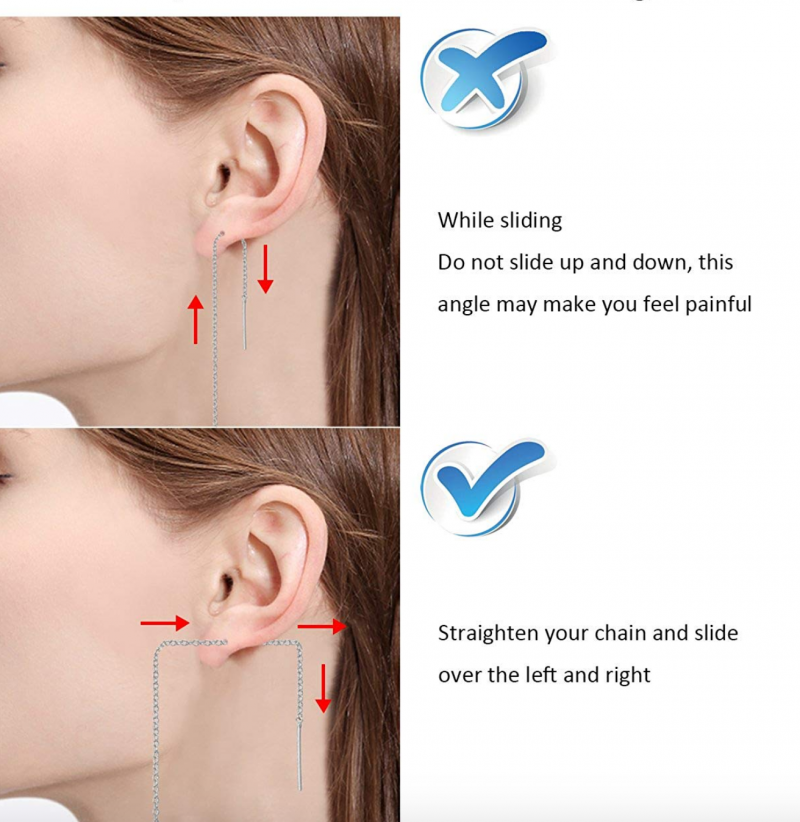 With that complete, put the straight/post end through your ear just to get it started. Then, hold the other end parallel to the floor.
DO NOT pull downward, but pull gently toward the back of your head. Adjust the threader to whatever length you prefer. You can pull a little or all the way. This would make the ornament snug to the front of the lobe and the chain and post hang down the back of the lobe.
If you have two, or three holes, the ways you wear your threader are practically endless.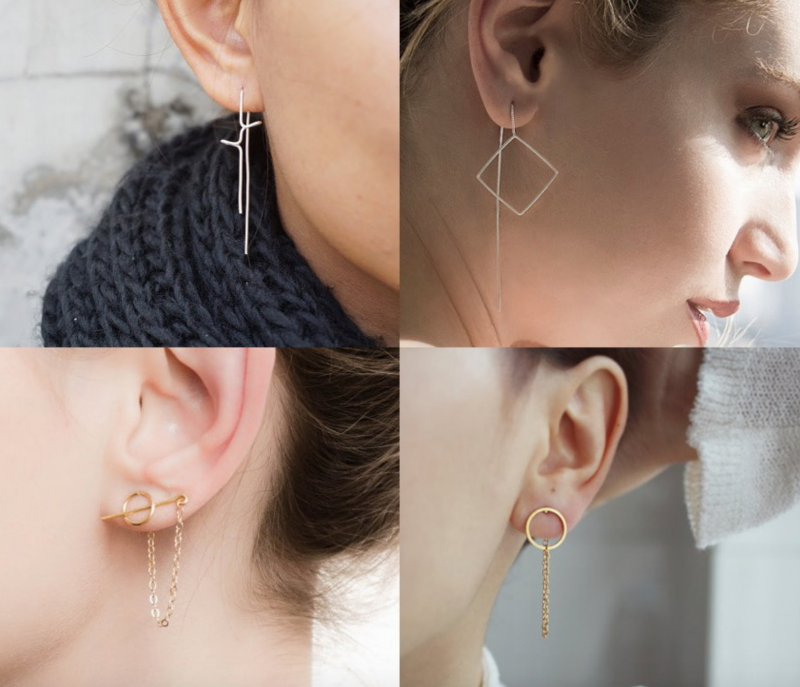 As far as clothing styles are concerned, the sky is the limit. You can wear threader earrings with any outfit you like. This makes them the most versatile earrings we have ever seen!
Criteria for Evaluation
A few of the main criteria we used in bringing you our picks were style, beauty, and comfort. We wanted to show you pieces that were gorgeous.
Let's face it, if it's not pretty and doesn't match anything you wear, you won't wear it. If it doesn't match your style or the style that's trending, you are not going to wear it. And what good is jewelry that just sits (or in this case hangs) there? It's a waste of your money. That's the last thing we want!
Our first and main criterion was the ease of wear. We didn't show you anything too heavy and in fact, all were the total opposite. You may not even realize you have theses threader earrings on until the compliments start rolling in.
The bottom line is, with our picks, we want you to be comfortable all the way around.
One other aspect was durability. We wanted to bring you pieces that were sturdy (as sturdy as a chain) and, with the proper care, bring you years of joy.
We do feel that the threader earring trend is timeless, so we wanted pieces that will last you a long time. Nothing brings more satisfaction than getting a good deal.
These sets will give you great value, for the money you will spend. When cared for properly, these picks will flatter you, wear well, and last a long time.
FAQs
1. Q. What is a Threader Earring?
A. Threader earrings are designed for pierced ears. They are made of some type of chain and pull through your ears.
2. Q. Are Threader Earrings plain?
A. No. They come in many styles.
3. Q. Can you use this type of earrings in double or triple holes?
A. Most definitely! These earrings can be used in some of the most creative ways we have seen.
4. Q. Does putting them on hurt?
A. Only in a few circumstances.
You MUST cover the ear and earring when brushing your hair, you shouldn't insert or remove them from the hole too quickly, and when inserting them, hold the ornament end parallel to the ground so they slide sideways through your earlobe.
5. Q. Are thread earrings expensive?
A. They can be, but they don't have to be. Check out our picks for some that are very affordable.
6. Q. Can you sleep wearing them?
A. Some people say that you can sleep in threaders. We, however, prefer to take all jewelry off, at night, as part of good jewelry care practices.
7. Q. Will they fall out of my ears?
A. It's not likely that they'll fall out of your ears.
8. Q. Can you use baby wipes to clean your earrings?
A. Yes, you can use baby wipes on your jewelry, but it really depends on what the manufacturer suggests. Always follow the care instructions that the manufacturer provides for pieces that will give you long-lasting wear.
9. Q. What is crystal pavé?
A. Pavé is pronounced pa-vey. It's a setting that has many small gemstones in it. They are attached to the jewelry by droplets of metal. The surface of the piece, then, looks like it's been paved with the stones or gems.
Conclusion
Years ago, the clip-on earrings were all the rage. Today, threader earrings may just take that place as the new and hot fashion trend. We've seen them all over. They are on the Internet, in magazines, and in stores.
We have also seen them on celebrities like Scarlett Johansson, Kendall Jenner, Olivia Munn, Maya Brenner, Emily Bett Rickards, and Emma Watson (of Beauty and the Beast)!
If you want to keep your pieces from turning beastly and have them around for a very long time, there are several guidelines to follow. Most of which are standard for taking care of any type of jewelry.
✓ First, there are the usual things like keeping your piece dry and not wearing your earrings while bathing or swimming.
✓ Avoid sprays, like perfumes and hair spray, and lotions.
✓ Try not to touch them a lot. The grease and/or sweat on your hands may cause discoloration.
✓ Always store them in a soft lined container or pouch. These earrings dangle or have a drop, and the best way to store them is to lay them flat or hang them on some type of jewelry mount like an earring tree.
We like these threader earrings for lots of reasons. First of all, there are no posts to poke you in the head. Secondly, there are no earring backs to get lost. And last, of all, they are simple and fun!
So you don't have to be a rock star or even a movie star to wear threader hearings, just take care of them and rock them with style!