All Occasion Clip-On Earrings – We Selected The 10 Best Picks for 2023!
last updated:
Aug 12, 2021
Clip-on earrings boast a radiant and reflective addition to any outfit. Instead of making the commitment of an actual piercing, you can add affluence and luxury in a matter of seconds. An impressive number of clip-on styles look identical to traditional earrings, making them a fantastic alternative.
Whether you're on the hunt for dramatic hoops or more distinctive studs, the options are endless. Let's review some of the most fashionable clip-on earring options for every fashion-forward jewelry lover.
Top 10 Picks
1

. Ralph Lauren Rope Clip-On Drop Earrings
Mixed metal
Gold and silver-toned
1.5" drop
Doorknocker embellishments
Ralph Lauren is one of the best accessories and fashion designers for professional and distinctive women. The Rope Doorknocker clip-on earrings are the perfect combination of professionalism and glam with their Lauren line.
Their beautiful vintage design would look brilliant on women of any age, especially if you prefer a more nautical-inspired piece.
Read more
There's nothing simple about these earrings with their ornate rope-inspired curvature. The beautiful oval curvature adds a sophisticated touch, making them easy to pair with business-professional and casual wear.
If you can never decide between yellow-tone and silver-tone metal, you'll be glad to know these earrings are available in both.
The gold color has a more vintage aesthetic, while the silver-toned earrings are best for modern events. We especially love the fluidity of the doorknocker design, which makes the earrings move with you.
You'll also love the clip-on closure, which makes them easy to wear in any position on your ear. With the lightweight nature of mixed metal, you can guarantee the earrings will stay in place once secured.
2

. Gas Triple-Drop Earrings
24k plated gold
Requires clip-on converter
Hand-hammered discs
Triple-drop embellishment
This option has a stunning vintage appeal that you'd expect to see adorned by some of Hollywood's elite. If you're looking for a whimsical pair of drop earrings, these are a fabulous addition.
Read more
What makes these earrings unique is that they're not designed similarly to traditional clip-ons. Instead, you'll need to consider a clip-on converter, which allows you to wear classic earrings without a piercing.
The Gas Bijoux earrings have a beautiful texture that makes them look handmade. The hand-wrapped dangling pendants glisten perfectly when worn, sitting gracefully against the sides of your jaw.
If you're a fan of teardrop earrings, the individually designed tiers of this earring are a stunning upgrade.
The gracefulness of this set cannot be understated, mainly as they feature a 24k gold-plated finish. Each of the discs is hand-hammered, offering an elevated artisanal flair with a tribal finish.
There's no doubt that these earrings are top-of-the-line, crafted using French techniques for a stunning display.
3

. Body Candy Handcrafted Clip Earrings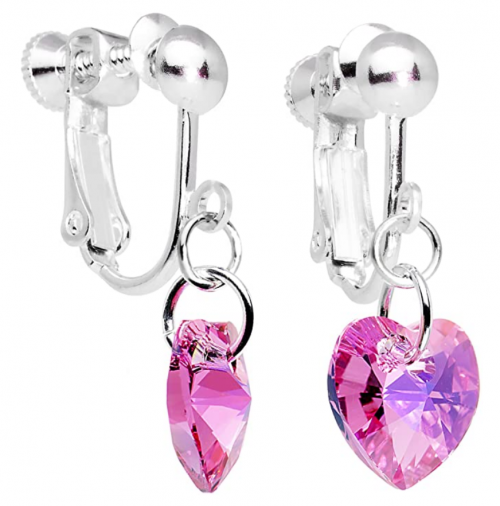 Swarovski crystals
Hand assembled
These adorable earrings are just over an inch long. They are really great because they are super versatile. They are nice enough that they can easily be dressed up for formal wear, but they are also playful enough that you can easily wear them with casual wear as well.
Read more
The metal on these clip-on earrings is plated in silver for a beautiful look that won't tarnish over time. From the silver-plated metal, a sweet little pink heart hangs.
The heart is made from pink, Swarovski crystal. They are both cute as well as elegant. The pink color is absolutely beautiful and can be worn with a wide variety of different things.
One more super awesome feature about these earrings is the way that they clip on. Instead of just a traditional clip-on style, these earrings have a back that screws in and out. This allows you to fully adjust the tightness of the earring on your ear.
This easy adjustability makes this an awesome pair of earrings a fantastic choice for anyone with a high level of comfort that they provide.
4

. Josie Natori Crown Clip-On Earrings
Hand-hammered finish
Gold-plated brass
Clip-on design
Cut-out details
The Josie Natori Crown clip-on earrings are an eye-catching piece that you won't soon forget. If you've ever heard that clip-ons have to be tiny to stay in place, these are a phenomenal fashionable display.
With a structurally striking design, they're perfect for pairing with formal outfits to be the focal point of your wardrobe.
Read more
At first glance, it's easy to see how these earrings are one of the most glamorous clip-ons you're bound to find. They're anything but subtle, with a stylish design that'll capture the attention of anyone in the room.
The hammered-effect finish helps to add depth to the piece while the oversized elements speak to your wild side.
The main component has a beautifully polished surface with hand-hammered embellishments. You will also find five chains trailing down the bottom of the earring, helping to elongate your neck.
At the bottom, several hand-hammered metal feathers dangle effortlessly, adding movement to the piece.
They also have a unique feminine flair that would pair them perfectly with a minimalistic black dress. Alternatively, we can imagine these paired with a basic black t-shirt and your favorite jeans.
5

. Anne Klein Pave Heart Clip-Ons
E-Z Comfort clip
Pave-covered heart drop
Mixed metal
Cubic zirconia
Anne Klein is another notable name in fashion, especially for women who love expensive-looking costume jewelry. These earrings are a fabulous addition to your collection as they're sleek and shimmering with a sexy finish.
If you need a piece that will capture the attention of any passer-by, this is one of our top recommendations.
Read more
This option will quickly become one of your favorite pairs of clip-ons because of how comfortable they sit on the earlobe. The fine detailing of the flattering heart pendants is what sets this pair apart from the rest.
When the earrings hit the light, you'll see the natural glisten of the cubic zirconia stones sparkling perfectly. You'll also love the subdued tone of the mixed metal, which is less yellow than standard yellow gold.
We especially love the pave-covered heart drops, as they add a unique structural element to the piece. You will also notice the cubic zirconia stones cover the entirety of the earrings, adding a luxurious touch.
If you're concerned about the quality of clip-ons, these will impress. They're designed with the unique E-Z comfort clip, which makes them comfortable to wear for hours.
The earrings will hug your ears without pinching or causing numbness.
6

. Kendra Scott Ari Clip On Earrings
Rose gold-plated brass
Light pink drusy
Clip-on closure
Lightweight
There's nothing more stylish than heart earrings, especially when they're designed with high-end finishes. The Kendra Scott Ari stud clip-on Eerrings are a perfect addition to your collection with their spectacular styling.
These adorable clip-on earrings are ideal for adding a flirty and feminine touch to your favorite outfit.
Read more
They have an attractive two-tone style with elegant finishes, such as polished metal surrounding the interior stone. Instead of opting for standard cubic zirconia, these earrings have a dusty pink stone known as drusy.
Drusy is a natural crystal that forms on the surface of rocks and has a jaw-dropping sparkling appeal. Kendra Scott harvests the genuine crystal and then treats it with custom plating that coats the stone's surface.
There's no doubt that when you purchase these earrings, you'll receive a one-of-a-kind pair. Every stone is authentic and unique, providing different colors and patterns to make the piece your own. We also love the contrast of the rose gold plated brass against the luscious pink of the stone.
Both colors work perfectly together by offering a graceful and glitzy display. You will fall in love with the comfort of the clip-on closure, which keeps the earrings in place all day.
With the lightweight nature of the piece, they won't shift inadvertently or accidentally fall off.
7

. Topwholesalejewel Teardrop Clip-On Earrings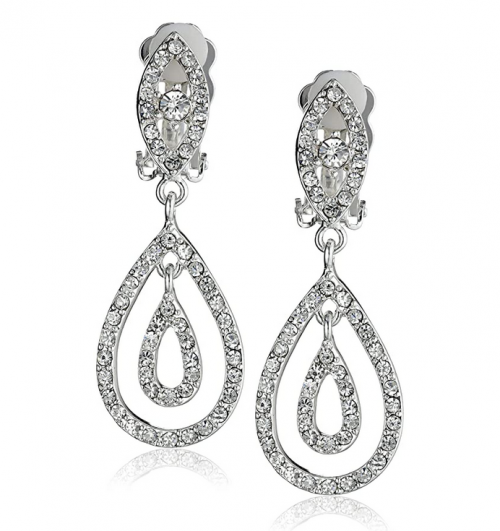 Silver plating
Rhinestones
Lightweight
Here is another wonderful, classy-looking set of clip-on earrings, but these ones are much more simple and clean-looking in their design. This set of earrings features a beautiful, elegant-looking, silver-plated metal along with multiple, beautifully set rhinestones that look like little diamonds.
Read more
The design of these earrings features one larger diamond-like rhinestone that is resting carefully at the bottom of a delicate, silver-plated metal teardrop.
The silver-plated metal teardrop is hanging in the center of a larger teardrop shape that is made up of many smaller diamond-like rhinestones.
The entire thing is hanging from a smaller teardrop made up of the same rhinestones, only it is hung upside down so that the two teardrops meet at their thinnest parts.
The clip of these earrings is at the top, on the upside-down rhinestone teardrop. It has a small, white pad on it to help increase the overall comfort of these particular pieces, which will be greatly appreciated if you decide to wear this pair for any length of time.
They are 2 inches long, 1 inch wide, and weigh about 5 grams. They are perfect for any formal event such as a wedding or prom.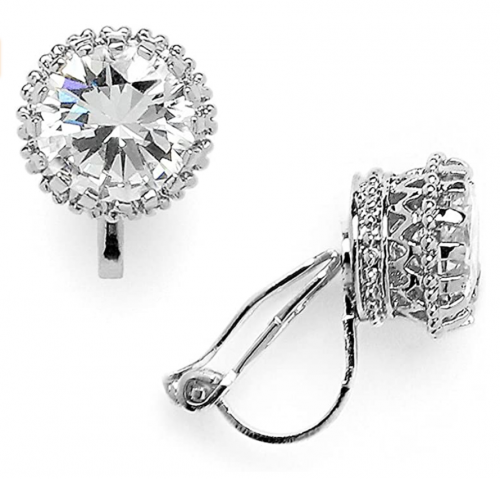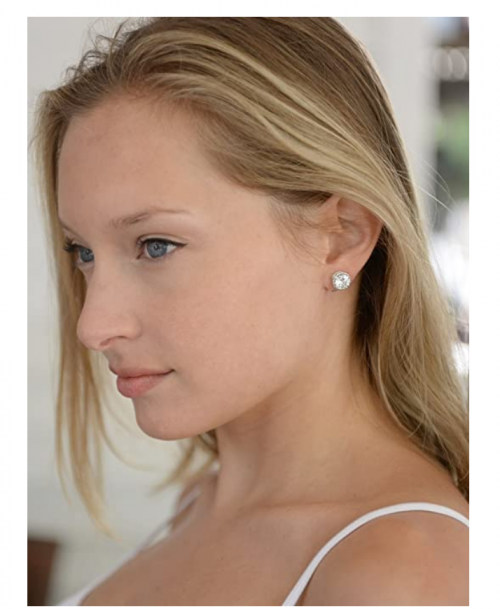 Cubic zirconia
Rhodium plating
100% money back guarantee
These beautiful, cubic zirconium studs look just like diamonds for a truly classic earring. They feature stunning 2 carat, simulated diamond, cubic zirconium studs that appear to be large, sparkling diamonds. Everyone needs an amazing pair of earrings like these ones in their jewelry collection!
Read more
These are exquisitely simple diamond-simulated stud earrings that are a great choice for almost any occasion. They are simple and low-key enough that you can definitely get away with everyday wear in these earrings, but they are also elegant and fancy enough that they can make a great, simple choice for a more formal event, too.
The silver platinum plating gives these luxurious jewelry pieces an expensive appearance without an expensive price.
The simulated diamonds are round and 8mm across. They are accented very well by the 4 prongs that hold them securely in place.
This is truly a lovely pair that makes a great choice for a variety of uses including everything from weddings and dates to business and casual wear. They are perfect for all occasions and all ages!
9

. Grace Jun Handmade Earrings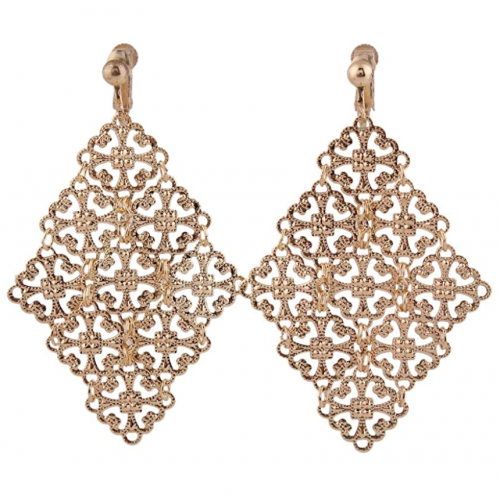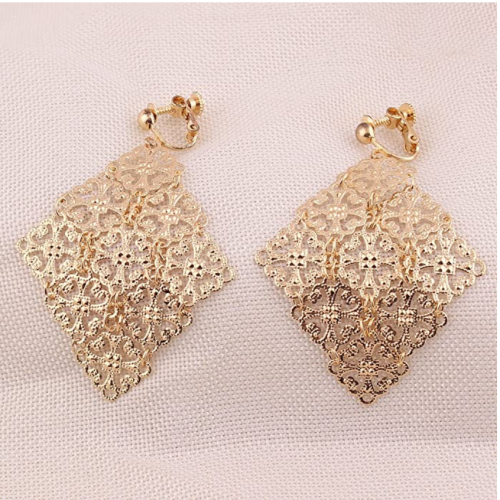 Handmade
Copper base
Gold plated
Here is another great pair of eye-catching, clip-on earrings. This set of earrings is from Grace Jun and is handmade! They come in a delicate pattern of thin lines that create a large diamond shape altogether.
The earrings are made from copper and coated in gold for a beautiful finish. They are even environmentally friendly materials.
Read more
These earrings dangle loosely down almost a full 3 inches, so they are a little more boisterous than some of the other earrings on the list. They are very flashy and fun, but still elegantly beautiful.
They are really great with formal or semi-casual wear, and make a great accessory when going to a party, an interview, or even on a date!
They have a screw clasp backing that allows you to easily adjust the tightness of the earrings on your ear. This allows you to get them at just the right tightness to ensure that they don't accidentally slip off, but that they remain comfortable to wear, even for longer periods of time.
This is truly beautiful, dangle, pair that is perfect for a good variety of different occasions.
10

. Yoursfs Rose Flower Clip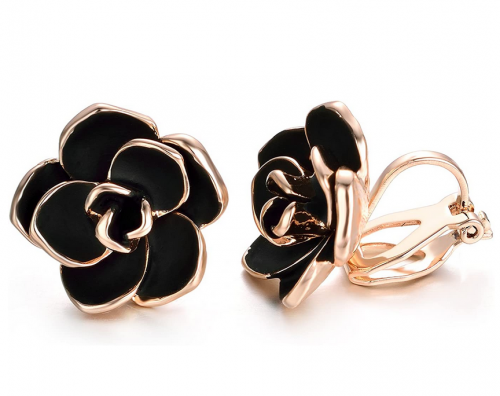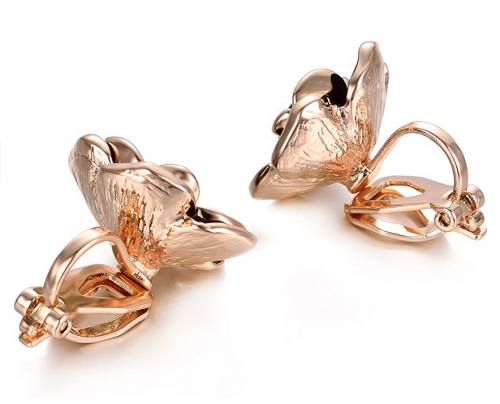 Eco alloy
Gold plated
Handmade
These clip-on earrings are another fantastic choice from Yoursfs. These are simple, yet beautiful, casual clip-ons. They are perfect for everyday wear and semi-formal occasions. They are fairly small but still very noticeable with their bold, beautiful design.
Read more
This pair is designed to look like black rose flowers. They are 3-dimensional with sweet petals unfolding from a tight center. They are made from an eco-friendly metal alloy and coated with gorgeous, 18k rose gold.
Black enamel fills the pedals, allow the rose gold to peek out around the edges creating a gentle, yet bold style. These are truly stunning earrings that are great for wearing almost anytime.
The clip on the back of these lovely, little, black rose earrings is made to be slightly smaller than the flower earring itself. This provides great coverage of the clip and makes it very difficult to discern the difference between these earrings and any other regular earrings.
It is also designed to keep you comfy as you wear them without the risk of them accidentally falling off while you are wearing them.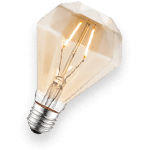 Why We Love Clip-On Earrings
There are lots of great reasons that you may want to seriously consider clip-on earrings rather than traditional earrings for pierced ears.
The first reason is super obvious – you don't have to pierce your ears! Many people are afraid of even simple body alterations such as piercing their ears, which is completely understandable!
These earrings provide a way for you to wear earrings and have all the benefits of them without actually having to put a hole in your ear.
Some people only want to wear earrings every so often, so even they pierce their ears, they may have problems with the holes closing up over time.
This can be annoying and inconvenient, and even painful in some cases for when you do want to put earrings back in at some point and the hole is gone, or partially gone. You never have to worry about that with clip-on.
The Benefits!
Another awesome benefit of earrings like these is that they don't put all of the weight of earrings just on that center hole in your ear.
Instead, they spread the weight out and distribute it much more evenly across your ear lobe.
This makes it much less likely that wearing earrings will end up stretching your ear out and can improve the long-term health and appearance of your ear lobes.
Also, since these earrings don't actually go through your ears, there is no chance that they will cause a rip in your ear lobe.
These many great benefits get even better when you realize just how many gorgeous clip-on earrings there are out there today!
Frequently Asked Questions
q:

Are clip-on earrings painful?

a:

Clip-on earrings are designed to be some of the most comfortable accessories you can wear. However, the quality of the pair you choose has a lot to do with how comfortable they are.

Some of the higher-end options have uniquely designed closures to keep your ears from feeling sore after a few hours.
q:

How do you keep clip-on earrings from falling off?

a:

One of the best ways to stop clip-on earrings from falling off is to use soft foam adhesive pads. You can affix the sticky side of the pad to the inside of the clip, so the soft side touches your ear.

The extra traction the pads offer can help to keep the earrings from slipping throughout the day.
q:

How can I make my clip on earrings more comfortable?

a:

Clip-on earrings are a one-size-fits-all accessory, which can make them uncomfortable at times. Our recommendation is to consider resizing the closure so that it can fit comfortably on your ears. You'll need to use pliers to gently loosen the closure so that it fits snug against the width of your lobe.

Be sure to do this process carefully, as moving the metal too far apart can cause the earrings to slip off.

Alternatively, you can use the soft foam adhesive pads we discussed above to add extra padding between your ear and the earring.