Mix / Women
All Occasion Clip-On Earrings! We Selected The 20 Best picks for 2021!
Clip-on earrings are often thought of as just playthings for little girls. Many women and even men don't realize how many amazing options there are out there of truly nice, earrings. If you can find it as a regular earring designed for pierced ears, you can probably find a clip-on version, too!
There are lots of great reasons that you may want to seriously consider clip-on earrings rather than traditional earrings for pierced ears. The first reason is super obvious – you don't have to pierce your ears! Many people are afraid of even simple body alterations such as piercing their ears, which is completely understandable! These earrings provide a way for you to wear earrings and have all the benefits of them without actually having to put a hole in your ear.
Some people only want to wear earrings every so often, so even they pierce their ears, they may have problems with the holes closing up over time. This can be annoying and inconvenient, and even painful in some cases for when you do want to put earrings back in at some point and the hole is gone, or partially gone. You never have to worry about that with clip-on.
Another awesome benefit of earrings like these is that they don't put all of the weight of earring just on that center hole in your ear. Instead, they spread the weight out and distribute it much more evenly across your ear lobe. This makes it much less likely that wearing earrings will end up stretching your ear out and can improve the long-term health and appearance of your ear lobes.
Also, since these earrings don't actually go through your ears, there is no chance that they will cause a rip in your ear lobe. These many great benefits get even better when you realize just how many gorgeous clip-on earrings there are out there today! Check out these top 20 best picks for you to choose from in 2020!
Our Top 20 Picks
1. EleQueenAustrian Crystal Art Deco
This beautiful art deco, teardrop earrings from EleQueen are a superb choice of earrings. They are very classy and elegant, and they even come in tons of different color combinations. They are made from Austrian crystals and rhinestones that are environmentally-friendly.
You can choose from many different stone colors including clear, black, ruby, emerald, sapphire, and more! You can also choose from several different high-polish-finished metals such as gold-tone, silver-tone, and black-tone. They feature a beautiful tear-drop-shaped stone surrounded by smaller, round, diamond-like stones hanging from an elegantly designed base of a mixture of both stones and the high-polish-finished metal.
These earrings are just over 1 ½ inch long and are half an inch wide, creating a size that draws just the right amount of attention without becoming tacky or overbearing. These amazing earrings can be worn for a multitude of different occasions. Some great places to wear these earrings would be on a nice date, with the girls for a night on the town, to a wedding, or even to church. They are also designed in a clever way that gives no hints to the fact that they are actually clip-on earrings, so they look just like the real deal.
2. Topwholesalejewel Silver Crystal 2 Layer Teardrop Pear Shape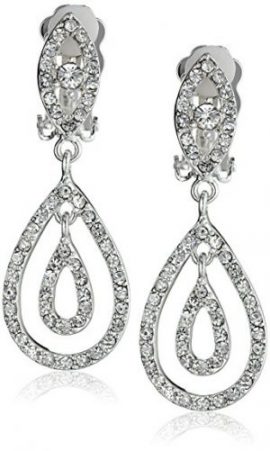 Here is another wonderful, classy looking set of clip-on earrings, but these ones are much more simple and clean-looking in their design. This set of earrings features a beautiful, elegant-looking, silver-plated metal along with multiple, beautifully-set rhinestones that look like little diamonds.
The design of these earrings features one larger diamond-like rhinestone that is resting carefully at the bottom of a delicate, silver-plated metal teardrop. The silver-plated metal teardrop is hanging in the center of a larger teardrop shape that is made up of many smaller diamond-like rhinestones. The entire thing is hanging from a smaller teardrop made up of the same rhinestones, only it is hung upside down so that the two teardrops meet at their thinnest parts.
The clip of these earrings is at the top, on the upside-down rhinestone teardrop. It has a small, white pad on it to help increase the overall comfort of these particular pieces, which will be greatly appreciated if you decide to wear this pair for any length of time. They are 2 inches long, 1 inch wide, and weigh about 5 grams. They are perfect for any formal event such as a wedding or prom.
3. Body Candy Handcrafted Heart Clip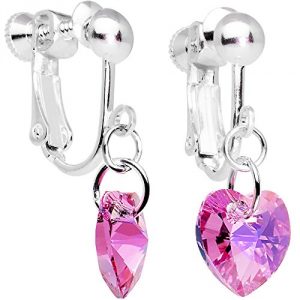 These adorable earrings are just over an inch long. They are really great because they are super versatile. They are nice enough that they can easily be dressed up for formal wear, but they are also playful enough that you can easily wear them with casual wear as well. They could even make a great dress-up accessory for little girls.
The metal on these clip-on earrings is plated in silver for a beautiful look that won't tarnish over time. From the silver-plated metal, a sweet little blue heart hangs. The heart is made from Bermuda Blue, Swarovski crystal. They are both cute as well as elegant. The blue color is absolutely beautiful and can be worn with a wide variety of different things.
One more super awesome feature about these earrings is the way that they clip on. Instead of just a traditional clip-on style, these earrings have a back that screws in and out. This allows you to fully adjust the tightness of the earring on your ear. This easy adjustability makes this an awesome pair of earrings a fantastic choice for anyone with a high level of comfort that they provide.
4. Yoursfs Ivory Pearl Yellow Gold-Plated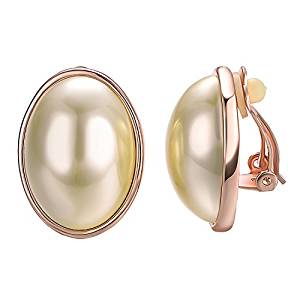 If you are going for a truly sophisticated style, these ivory pearl clip-on earrings from Yoursfs are the absolute perfect choice for you! These breathtaking earrings are not only nice and sophisticated but are refreshingly simple. The design is absolutely classic and therefore can be worn to something as formal as a wedding as well as just for everyday use. They are a perfect addition to your earring collection.
These are stud clip-ons that are made to look just like real fine pearl jewelry. The glass-based pearls are just like the real deal but come with a much more affordable price tag. They are surrounded in a thin, but a bold band of metal that is plated with real, 14k, yellow gold. This really adds a nice touch of class and brings out the beauty of the pearl very well.
The round, dome shape of these earrings creates a soft and smooth look that will compliment any outfit well. The earring is just under an inch across and is, therefore, the perfect size for just a touch of sophisticated elegance to compliment the rest of your attire. These clip-ons are also designed to not make it obvious that they are a clip on earrings. The clip parts of the earrings are hidden well behind the pearl.
5. Mariell Silver Platinum-Plated 2 Carat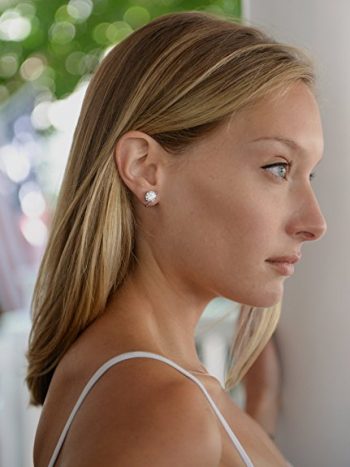 These are the most versatile clip-on earrings on our entire list! These beautiful, cubic zirconium studs look just like diamonds for a truly classic earring. They feature stunning 2 Carat, simulated diamond, cubic zirconium studs that appear to be large, sparkling diamonds. Everyone needs an amazing pair of earrings like these ones in their jewelry collection!
These are exquisitely simple earrings that are a great choice for almost any occasion. They are simple and low-key enough that you can definitely get away with everyday wear in these earrings, but they are also elegant and fancy enough that they can make a great, simple choice for a more formal event, too. Their clean, classic design will go with literally anything!
The silver platinum plating gives these luxurious jewelry pieces an expensive appearance without an expensive price. The simulated diamonds are round and 8mm across. They are accented very well by the 4 prongs that hold them securely in place. This is truly a lovely pair that make a great choice for a variety of uses including everything from weddings and dates to business and casual wear. They are perfect for all occasions and all ages!
6. Kemstone Rose Gold White Enamel Flower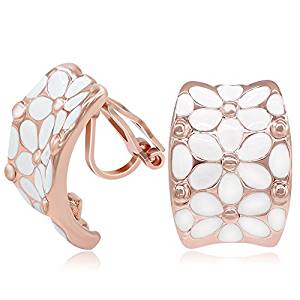 For something more casual, but still classy too, check out these great rose gold, flower clip-on earrings from Kemstone. The metal on these earrings is a metal alloy that is plated in beautiful rose gold. Small holes are artfully placed in the metal and rose gold in order to create a space where they've filled the holes with white enamel. This creates a gorgeous floral pattern on the clip-on earring.
The earrings themselves are a lovely curved rectangle shape and are close to one inch in length and just over half an inch in width. They draw just enough attention to make them a great touch to your outfit. They are definitely good earrings for everyday use. They are somewhat delicate and require gentle cleaning with a soft cloth.
Another great bonus about this pair is the very luxurious gift box that they come in. It is a soft, velvety, black box with gold ribbon lining the sides. The gold ribbon extends across the top of the box diagonally and is finally adorned with a small gold bow. These are fantastic finishing touches that make this set of earrings the absolute perfect gift! Get them for yourself, or as a very thoughtful present for any number of occasions such as Valentine's Day, Mother's Day, a birthday, an anniversary, or just because!
7. RareLove Fashion Silver Hoop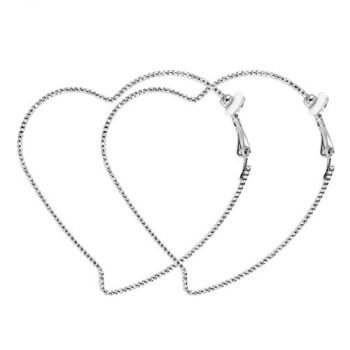 These fantastic clip-on earrings are a hoop design which is a staple for every woman! They are a very plain earring which makes them fantastic when it comes to versatility. They can easily match any outfit or accessories that you have. They are a wonderful choice for more casual, everyday wear, but they can certainly be dressed up with something nicer, too.
These great hoop earrings are made of a metal alloy in classic silver color. They are even hypoallergenic, so they are perfect for anyone with sensitivities to other metals. They won't cause any bad reactions or irritation to your skin, unlike some other jewelry.
The back section of the clip that secures these earrings to your ears even features a soft pad that helps to add comfort to your ear when you are wearing them. This is a great feature that will allow you to comfortably wear this pair of earrings for longer than you would otherwise. These hoops also come in 3 different sizes, so you can choose the size that best fits your own personal preference! They are available in small (1.57 inches), medium (1.96 inches), and large (2.36 inches).
8. Grace Jun Handmade Gold Color Hollow-out Pattern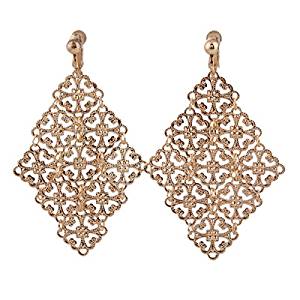 Here is another great pair of eye-catching, clip-on earrings. This set of earrings is from Grace Jun and is handmade! They come in a delicate pattern of thin lines that create a large diamond shape altogether. The earrings are made from copper and coated in gold for a beautiful finish. They are even environmentally friendly materials.
These earrings dangle loosely down almost a full 3 inches, so they are a little more boisterous than some of the other earrings on the list. They are very flashy and fun, but still elegantly beautiful. They are really great with formal or semi-casual wear, and make a great accessory when going to a party, an interview, or even on a date!
They have a screw clasp backing that allows you to easily adjust the tightness of the earrings on your ear. This allows you to get them at just the right tightness to ensure that they don't accidentally slip off, but that they remain comfortable to wear, even for longer periods of time. This is truly beautiful, dangle, pair that is perfect for a good variety of different occasions.
9. Acefeel Jewelry Simulated Dangle Pearl 18K White Gold Plated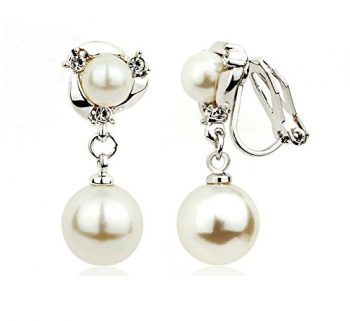 These stunning earrings from Acefeel Jewelry mix modern beauty with classic style. They are made up of gorgeous simulated pearls, stunning 18k white gold, and beautiful clear crystals. These are the perfect formal clip-on earrings, and thanks to the way that they've designed and placed the clip of these earrings, you won't even be able to tell that they are actually clip-ons and not just regular earrings.
A single simulated pearl dangles down from a beautiful base. The base consists of a second pearl that is slightly smaller than the first. It is surrounded by metal coated in 18k white gold that twists around it in a modern design. Finally, 3 small, clear crystals adorn the metal around the edges of the smaller simulated pearl.
These are definitely earrings that are best saved for a special occasion. They will add the absolute perfect touch to any more formal attire that you choose. They are very high-end in appearance and they are made to be both nickel-free and tarnish-free, so they will last you a very long time and shouldn't cause any negative reactions or irritate the skin.
10. Sparkly Bride Adjustable Screw Back Blue Resin Silver Plated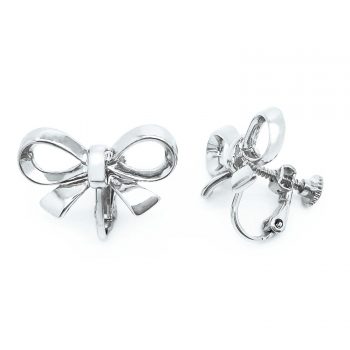 Here are some awesome clip-on earrings from Sparkly Bride. This is definitely a more casual pair of earrings that you can incorporate into just everyday wear. They are very pretty and stylish and even have a sort of Western flair to them with the imitation turquoise that they feature.
The main focus of theses earrings is the beautiful teardrop-shaped piece of imitation turquoise that dangles down from the base of the clip-on earring. The base it dangles from consists of a beautiful, deeper blue, resin circle. The entire thing is surrounded by a layer of metal that is coated in yellow gold. It complements the blue colors very well and brings the piece together nicely.
This pair is about an inch and a half in length, so it is a really great size. They aren't so big that they may be considered tacky, but they aren't so little that they won't be noticed either. They also feature that awesome screw backing that allows you to tighten or loosen the earring on your ear for optimal fit and comfort. Overall, this is a fantastic casual clip-on earring choice.
11. Loyallook 4 Pairs Unisex

Loyallook has taken a whole new approach to clip-on earrings with their innovative magnetic earrings! These are seriously unique and cool earrings that use a magnetic button as opposed to an actual clip to secure on to your ear. The magnetic backing is just the right strength to hold the earring on your ear without causing discomfort or pinching your skin. Since the back and front are separate pieces, they look just like your ear is actually pierced!
Another awesome bonus that adds tons of value to these is that they actually come in a set of 4! Each magnetic, clip-on earring features a beautiful 8mm cubic zirconium stone. This set of earrings includes 4 different pairs of stunning stud earrings. Each one is a different color, too! That way you always have the perfect option to wear with any outfit that you have! One set is a classic clear stone with the silver-tone setting. There is also an edgier black pair, a gold pair for fancier occasions, and even a rose-gold-tone pair that is modern and elegant.
These awesome magnetic, clip-ons are also extremely versatile. Not only is the small and simple stud design that features a single cubic zirconium stone the perfect shape and design to fit with a variety of outfits, but the different color choices that this particular set comes with also give you ample options to match with different things for different occasions. If you really want to go for the pierced look without having to really put a hole in your ear, these magnetic clip-ons are the ideal choice for you!
12. ZN LOVE Bohemian Vintage Sapphire Blue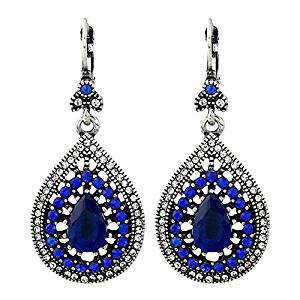 This pair of bohemian-style, vintage, clip-on earrings are super fun and unique. These are somewhat more casual clip-ons but can be worn with just the right more formal attire. They are edgy and a little darker than most of the choices on our clip-ons list. Even though they are kind of edgy, the beautiful color gives them a royal feel as well.
The center of these great earrings is an unbelievably gorgeous sapphire resin stone. It is shaped like a teardrop and the design of the rest of the earring extends out from there keeping the teardrop shape all the way out to a teardrop-shaped ring of smaller, round, sapphire rhinestones, and then out even farther to the outer layer of even smaller, clear rhinestones.
The entire thing hangs from a base that harbors the clip on the back of it. The base itself includes a single, round, sapphire rhinestone as well as a couple of clear rhinestones surrounded by metal that is both silver-tone and black-tone, which adds to the awesome, bohemian-vintage look of these earrings.
13. Yoursfs Black Enamel Flower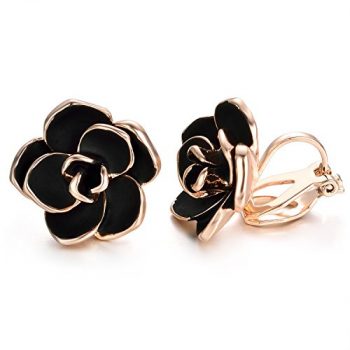 These clip-on earrings are another fantastic choice from Yoursfs. These are simple, yet beautiful, casual clip-ons. They can be dressed up some, but are probably not ideal for the most formal of events. They are perfect for everyday wear and semi-formal occasions. They are fairly small but still very noticeable with their bold, beautiful design.
This pair is designed to look like black rose flowers. They are 3-dimensional with sweet petals unfolding from a tight center. They are made from an eco-friendly metal alloy and coated with gorgeous, 18k rose gold. Black enamel fills the pedals, allow the rose gold to peek out around the edges creating a gentle, yet bold style. These are truly stunning earrings that are great for wearing almost anytime.
The clip on the back of these lovely, little, black rose earrings is made to be slightly smaller than the flower earring itself. This provides great coverage of the clip and makes it very difficult to discern the difference between these earrings and any other regular earrings. It is also designed to keep you comfy as you wear them without the risk of them accidentally falling off while you are wearing them.
14. Jstyle 4 Pairs Stainless Steel Hoop Huggie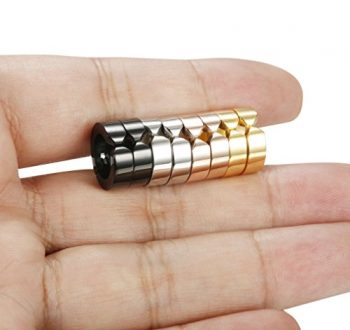 These stainless steel, hoop, clip-on earrings from Jstyle are an awesome and unique choice of clip-on earring for women or men! They work a little differently than other types of earrings. Instead of the earring being attached to a clip, the way that most clip-ons work, with these, the earring IS the clip! The entire earring acts as the clip that secures these cute little hoops to your ears.
They are made of fairly thick stainless steel that creates a small hoop. The two halves of the circle connected by a hinge at the bottom of the circle that allows them to open and close. Opposite of the hinge, the two halves come together at soft points that almost meet but leave a small opening when fully closed. This is where they clip onto your ear at. It leaves just enough space for you to comfortably wear them without accidentally losing them.
When purchasing these small hoop earrings, you have several options. You can buy a single pair, you can buy a 3-pack, or you can buy a 4-pack. If you buy a single pair, it will be a black pair. However, if you choose the 3-pack, you will get a black pair, a gold-tone pair, and a silver-tone pair. Finally, if you choose the 4-pack, you have some options. It comes with the black pair, the silver-tone pair, and the gold-tone pair, but you can choose the 4th color that you get. For the 4th color, you can choose a blue, a rose-gold-tone, or a metallic rainbow color. These are great casual earrings that are great for women and men alike!
15. Clip Earring Shop Sparkle Fun Owl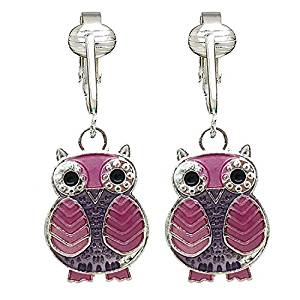 These are the most playful clip-on earrings on our list! They are tons of fun. These earrings are shaped like cute little owls! They are made of a metal alloy and then filled with enamel. The enamel fills the little owl clip-ons with different colors for a fun, eye-catching pop! You can even choose from blue and teal owl earrings and pink and purple clip-on owl earrings.
These earrings is awesome because it is coated in silver to help prevent any potential irritation or reaction from other metals. This is perfect for those with sensitive skin and for younger clip-on earring wearers. The clip is also made to be exceptionally comfortable.
These are definitely casual earrings. They won't work for any type of fancier or formal wear or events, but they do add a super fun touch to a casual outfit! The other cool thing about these earrings is that they are great for a fun touch to an adult's outfit, but they also work great for little girls who want some earrings as well. They are perfect for all ages!
16. Sparkly Bride Antique Round Dome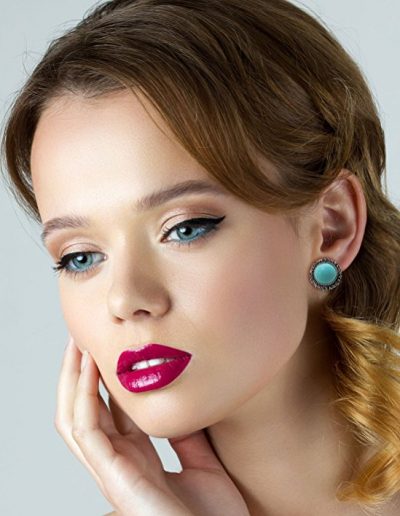 One more amazing choice of clip-on earrings from Sparkly Bride are these gorgeous blue resin, antique earrings. They are so beautiful, and exceptionally elegant. You could choose to wear these as casual ones since they are pretty small and fairly simple, but their beautiful detail makes them an amazing touch to a more formal or fancy outfit for a nicer event.
These little clip-ons feature a simple, round blue resin sphere. It is a deep, royal blue that brings a very elegant and royal feel to the design. The small resin sphere is held in place with tiny, intricate designs in the metal base. The entire earring is about ¾ of an inch in length. This is the absolute perfect size for just a touch of amazing color to go along with your attire.
The base and the metal that holds the resin sphere in place has a very antique-style to it. The designs are ornate and adorn the sphere perfectly. The backings on this set of earrings is the perfect size and design to keep the fact that these are a secret. The base also has a nice little pad on the clip to provide optimal levels of comfort to you while you wear these. They are a wonderful, comfortable and elegant clip-on earring option.
17. RareLove Fashion Large Heart Hoop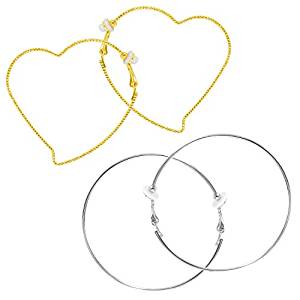 Another great hoop clip-on earrings choice from RareLove are these adorable heart-shaped hoop earrings. They are nearly identical to the other hoop clip-ons from RareLove, but they are heart-shaped rather than the traditional, round, hoop shape. This adds a super cute, very fun touch to these awesome pieces!
These heart-shaped, hoop earrings are very fun, and therefore probably will work bet as a casual earring. This is something you could wear just with your everyday attire. They brighten up any normal outfit. The other thing that sets these heart-shaped hoop clip-ons apart from RareLove's regular hoop earrings is that instead of smooth metal alloy, the metal alloy of this pair is made in an almost beaded looking pattern. Some might compare it to a braid. It adds even more fun to the clip-on earrings!
These hoop earrings also come in three different sizes to fit everyone's needs and preferences. They come in small (1.37 inches), medium (1.96 inches), and large (2.36 inches). You can even buy all three sizes to give you a little more versatility when choosing which size may go best with a specific outfit or for a specific occasion. One more bonus of these great earrings are the pads on the clip that help to increase your overall comfort.
18. BEMI Elegant Gold-Plated Alloy Irregular Natural Stone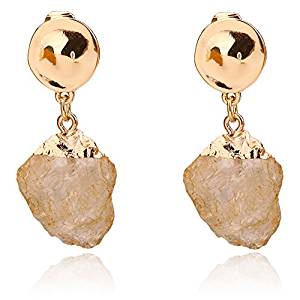 This cool pair from BEMI is likely the most unique choice of clip-on earrings on our whole list! Each earring features a completely unique, all-natural stone! That means that each earring won't match perfectly to the other earring in its pair. This is really cool and special because even though humans appear mostly symmetrical, there is something about each individual that is imperfectly perfect. It is what makes us human and these earrings celebrate that!
To add to the beauty of the natural stones, the top of each stone has been coated with gold that connects the stone to a small gold-plated chain which holds the stone onto the gold-plated earring base where the clip lies. The clip rests perfectly behind the base without revealing that these are really clip-on earrings opposed to regular earrings for pierced ears.
The makers of these earrings even keep the environment as well as your safety in mind. Their jewelry is not only eco-friendly, but it is free of potentially dangerous substances such as lead, cadmium, and nickel. This means that they shouldn't cause any kind of reactions or negative side effects, unlike some other jewelry. They are versatile, too. They can make great more casual earrings, but if you match them with just the right attire, they can go right along with something more upscale.
19. Menoa Women White-Gold-Plated Fashion Tassel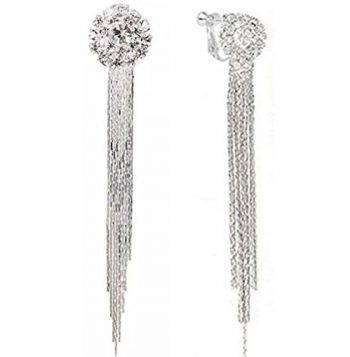 Menoa brings us these seriously classy pieces. They are absolutely stunning clip-on earrings that feature a beautiful, shining clear rhinestone in the center of their white-gold-plated base. From the base, small strands of metal, also coated in white gold, fall delicately and elegantly down approximately 5 inches.
Every bit of this set of earrings shines and sparkles in an eye-catching way that is sure to draw in plenty of compliments. Nobody will even be able to tell that these pieces of jewelry aren't the real deal thanks to the way that the clip is hidden. Speaking of the clip, it is made using a screw-clasp. That means that you decide exactly how tight or loose these earrings are on your ear. This is ideal to achieve maximum comfort.
These amazing, truly beautiful earrings are not going to be your go-to for everyday dress, but instead, are something that you can look forward to wearing to the most special occasions you attend. These are earrings that would be perfect for an anniversary date, your best friend's wedding, or even your own wedding!
20. Body Candy Handcrafted Silver-Plated Midnight Rain Swarovski Crystals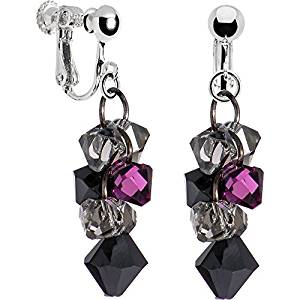 The final clip-on earrings to make our list is another fantastic choice from Body Candy. This is another fun pair of earrings that are just a little edgier! They feature dark colors like black and purple that can be used with a variety of styles from gothic to royal. They are very fun and can be worn in a casual way with the everyday dress, but they can also be dressed up with the right outfit for a slightly more formal occasion.
These are another set of earrings that is made using the beautiful Swarovski crystals. They feature multiple, small crystals in black, purple, and clear. The crystals hang down from a beautiful earring base that is coated in silver. The silver, not only gives the earrings a very up-scale appearance, but it also helps to protect you from the potential of a negative reaction to other metals.
To add even more to how awesome these little earrings are, they come with a screw-clasp in the back as the clip. This gives you full control over how they fit you as you can easily change how loose or tight the earrings are on your ears. This means that these earrings are not only adorable, but they are also super comfortable, too!