Rings / Women
A Selection of Stackable Birthstone Rings
One of the reasons why we love talking so much about getting jewelry is the spark that they add to everything you have on. They are like the centerpiece that brings out the beauty of every other accessory you have adorned yourself with. In this article, we're going to tell you about one of the most stunning types of rings we found on the market. The combination of the delectable gem is quite alluring, and you would want it to decorate your fingers as soon as you see it.
We are talking about nothing more than stackable birthstone rings. These rings are a combination of grace, beauty, and have a deep meaning that would leave you awe-stricken. We have been careful enough to select the ones that would make a great addition to your jewelry collection without denting your budget.
Why You Should Choose Stackable Birthstone Rings
Rings are excellent pieces of jewelry; the way they look simple yet can be very catchy when they glimmer in the light is simply just fantastic. From gold rings to silver rings, this is definitely not the first time you have heard of the beauty of rings. But stackable birthstone rings are on another whole new level. They contain a mixture of different gemstone and material blended quite perfectly to provide the best ambiance and beauty effect. They have been crafted to look like you are wearing more than one ring at a time, but you are wearing just one magnificent ornament.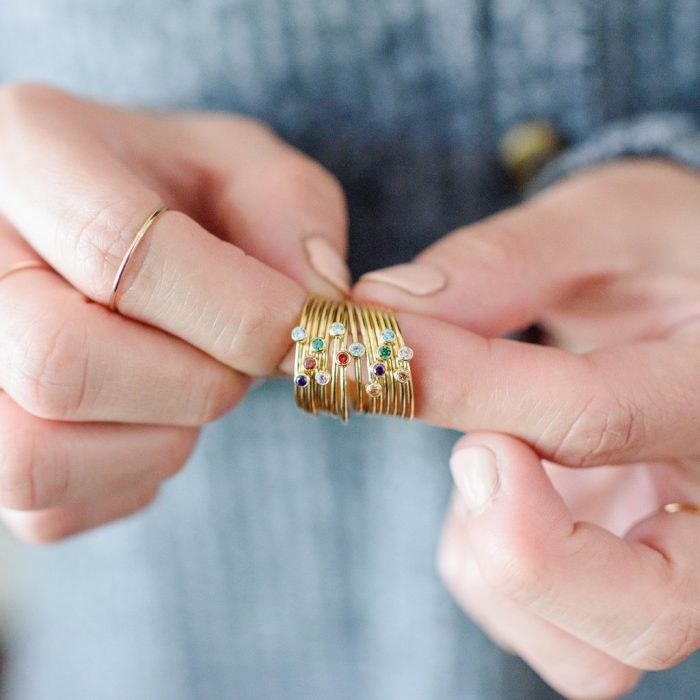 There are so many reasons why rings are so popular, but one of the most famous of them is that it supposedly has the power to heal and protect all those that wear them. It is also famous as it stands for a seal of a romantic journey with the one that you genuinely want to spend an eternity with. This type of jewelry gets its name from the gemstone used to craft them. These stones represent each month, and they come with each of their personal histories.
Traditionally, a birthstone is usually associated with each month of the year. Some of them include garnet for January, amethyst for February, diamond for April, pearl for June, sapphire for September, and topaz for November. There are also several of them that are still part of these group, and they are each part of the family of jewelry called stackable. You can choose to adorn your fingers any way you like with the rings. In other words, you can either be conservative or you can be bold choices.
Celebrities Seen Wearing Stackable Jewelry
We found some celebrities with this type of rings on their fingers. Yes, you can count on the popularity of the ring to capture the heart of even the most famous people we know. One of the first persons we saw is the lovely Meghan Markle wearing a set by Ecksand . Eve Longoria, Jessica Simpson, Hailey Baldwin, and Courtney Cox are other beautiful examples of the celebrities rocking these birthstone rings proudly. The ring also gave them the chance to combine their wedding rings with the required nicety of a fashion accessory trailing alongside their beauty.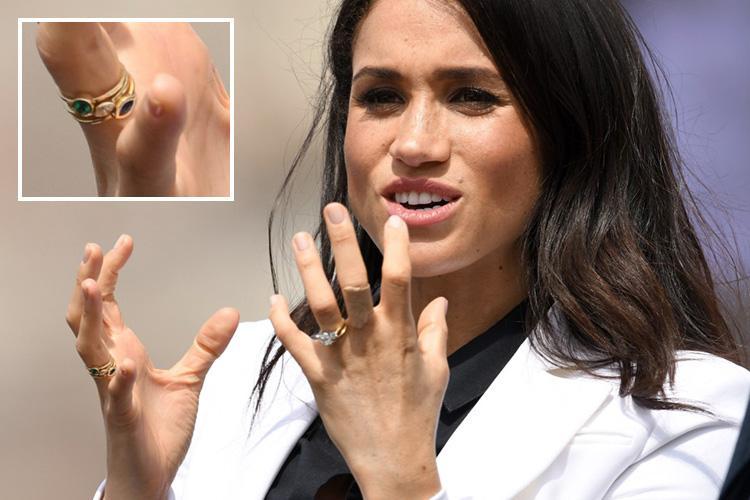 Celebrities, royals, and even models on the runway, we found that stackable rings are following the trend of the season. We didn't want you to miss it, so we added ten products that would make a great combination with any outfit you have picked out for the year.
10 Adorable Options We Found for You
1. Bella Pearl Freshwater Stackable Ring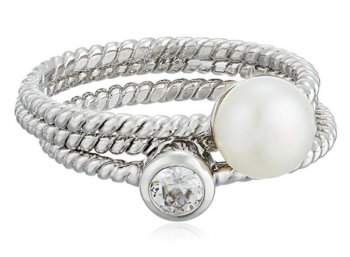 We start this list with a product that has some of the most reliable and durable material. The ring is a combination of two birthstones with remarkable qualities. Their sparkle is enough to throw complement your way all day. Other than that, there are lots of reasons why you would want to have this in your collection.
First is the fact that it's crafted from rhodium-plated sterling silver. You are guaranteed of a safe metal that won't cause any skin allergies or peel easily. The first stack is decorated with a pearl right at the center of the material, while the second has big shiny cubic Zirconia. It has a bezel setting that makes it cool to wear, and the luster is high enough to give off a smooth finish. It comes, shaped like a button, with a silvery white color.
Additionally, the pearl is sized 6.5-7.0 millimeter and isa  Chinese freshwater pearl. The CZ stone is also synthetic and not treated. With a gorgeous design and the expert hands at Bella pearl, you have an excellent quality wrapped up in a lovely box for you. Check the price, and it's just right for your budget.
Other info: There are 2 sizes available, and that is 6 and 8.
2. SURANO DESIGN JEWELRY Eternity Band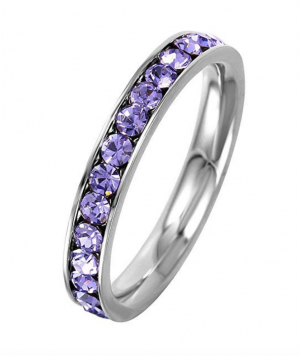 With the discovery of each gemstone, there came more beautiful accessories that could be created. And brands made sure that they tapped into this potential to create unique ornaments that would beautify the hands of anyone. This option was created simple, to increase the stacking ability. You can get more than one and arrange them so well they would be the best thing anyone has seen on you.
Having said that, the one thing the rings all have in common is that they're made of stainless steel. It's a quite safe metal that won't trigger any allergic reaction. Further, the design makes use of gold plating to add that bit of allure to it. We recommend you buy rings representing all the birthdays of your loved ones. Definitely makes for a pretty sight and the meaning too isn't shabby.
Other info: The piece is available in the different band size and is available in several colors.
3. Jewel Zone US Round Cut Green Emerald Ring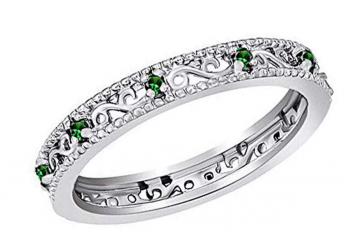 You could comfortably stack these things with your wedding band, but that's just an idea. Here, you have no limitation on how you can wear these. This particular piece has a flat top/bottom for convenience of stacking, and the design is quite immaculate to fit into the setting of any other fantastic product.
Moving on, it was crafted with 925 sterling silver to infuse durability and strength. There is also the hypoallergenic property the material brings to the table. The ring has simulated green emerald, which is May's birthstone, for significant and higher aesthetic appeal. You don't want to miss such a great product in your stacking collection, especially if someone close to you was born in May.
That said, Jewel Zone adds something exciting to the sale of this product, you can send them an email with the ring size you need, and they will help you deliver it as a gift. So if it's your mother's birthday, your parents anniversary or your daughter's prom, this is an excellent opportunity to show them how much they mean to you.
Other info: Available in different sizes, and you can also get the yellow-gold plated design.
4. Quiges My Creation Personalised Ring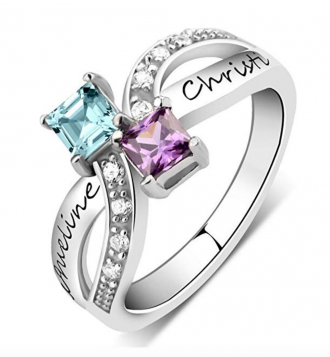 Personalized jewelry is always in the trend list of every season. They never get old or go out of demand, and here is one that fits into the profile almost perfectly. This option is made out of enchanting material that is well combined by the very best of craftsmen to give you nothing but utter quality. Also, you won't need to break the bank to get it.
Made with 925 sterling silver, the ring is fantastic in all shades of the word. There are two birthstones used to decorate the front of the ring, and both of them are well arranged to give it that touch of beauty. You can also choose to have it gold plated or rose gold plated. Whichever one you want, nothing has been taken away from the charming effect.
It is customizable, and you can choose any birthstone color that is your favorite. You also get to have it soon after placing your order.
Other info: You can order for any size you want, and since the ring is handcrafted, you get the perfect one.
5. Silvershake Natural Amethyst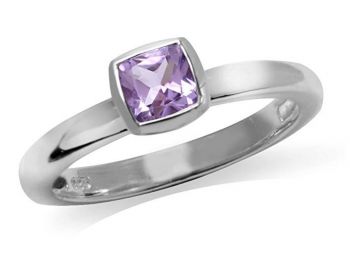 Silvershake makes some of the best jewelry in the fashion world. They are one brand you can always trust to deliver terrific quality at affordable prices. This option from them carries the trademark of their expertise.
Crafted with rhodium-plated 925 sterling silver, the durability and hypoallergenic property of the metal is not in doubt. Also, incontestable is the beauty of the stone used to accent the ring. It is a 0.54-carat amethyst which is naturally treated and has a good cut. The stone is heat treated and stays inside the ring band with a bezel setting. It is 6 millimeters wide and purple in color.
Other info: It comes in size 5 to 8.
6. Bling Jewelry 3-Set Geometric Cubic Zirconias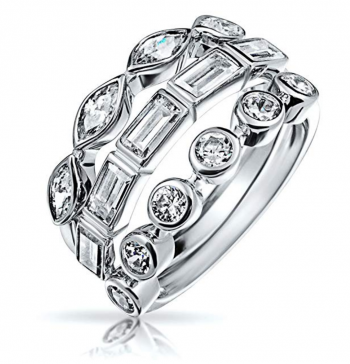 It's all shade of ice with this ring; the bling is enough to illuminate your whole outfit. Like so, with the stones set into the band, it wasn't too difficult to notice the ring and add it to our collection. The band is created to look like you have three rings on, but they go so well you won't even notice.
Like most affordable but top-quality rings, this particular one is also crafted from 925 sterling silver. It weighs 6 grams, which is convenient enough to wear throughout the day without thinking of taking it off. All the composition have been craved to make sure that satisfaction is guaranteed. The three front bands have CZ stone to triple the glitz and luckily, you can reduce the effect accordingly. It has a simulated emerald, marquise with a round shape and clean look.
You can wear it stacked up with other fantastic stackable rings. Just check the color and see that they are well combined. There are 19 stones, simulated with emerald shaped in the bezel setting. Overall, we recommend this option if you love to make bold statements with your jewelry.
Other info: It is 12 millimeters wide and available in different sizes.
7. Espere Sterling Silver Halo Opal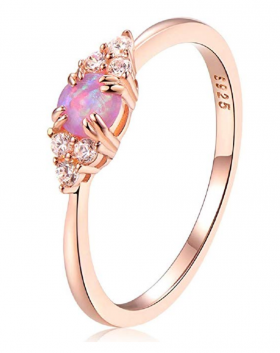 One thing that is common among stackable jewelry is that it is chic, but also has a great design that you can't help but love. This piece is made by Espere, and the appeal is pretty great. It was made with cubic Zirconia to add the needed lustre.
The piece is crafted with sterling silver and has an 18K gold plating to increase the polished shine. You can count on the integrity of the material and trust that you have a product that would last you for years to come. It makes a perfect combination with your wedding ring, and there is a pink opal right there in front of the band. To support it, there are 6 cubic Zirconia stones for added sparkles.
Other info: You can get the product in a branded box and gift it for anniversaries, graduations, Valentine's Day, birthdays. It also comes in different sizes.
8. BORUO Stackable Ring Set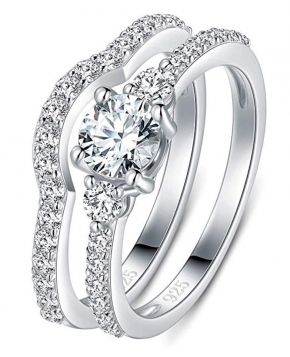 This option is fully iced with high-quality Zirconia. The band was made using 925 sterling silver which isn't only hypoallergenic but strong as well. Tarnish resistant, the platinum plating gives it a white gold appearance which is both subtle and expensive-looking.
You can get it in an eco-friendly cotton bag that is great for storage and gifting. For the latter, our recommendation is anything from Valentine's and anniversaries, to birthdays and graduations. Alternatively, it can make a very cute spontaneous gift to your loved one.
Other info: Band size is customizable.
9. Oxford Diamond Co Promise Ring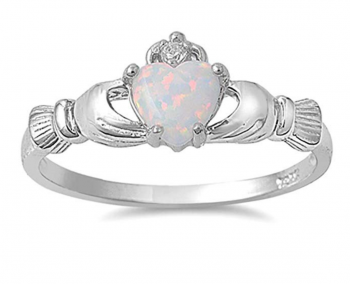 For the ninth product on our list, we chose something unique in both design and quality. It has a different design than most options on the list.
All the rings in the collection are made with the same 925 sterling silver band, but they come plated with different materials. While some are plated using rhodium, other have gold or yellow gold plating. There is also different birthstone set into the heart of each band.
From white opal to simulated emerald and even rainbow topaz, the combination varies vastly for the best appeal. If you need to have a stackable ring but want something that can give you different designs on the same band size, then you definitely want to lay hold on this masterpiece.
Other info: It is available with different birthstones, designs, and band size.
10. Ice Carat 925 Blue Topaz Yellow Citrine Flower Band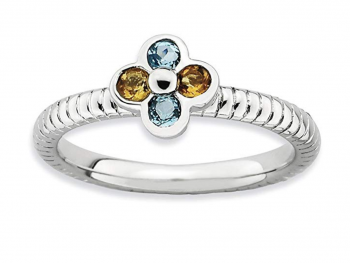 Birthstones are beautiful with the way they sparkle. They complement any outfit pretty well, and the best is that they are very symbolic when it comes to gifting for a birthday. This option has two birthstones to celebrate a specific month – November and December. It does not tarnish nor does it contain lead or any other harmful materials.
Made by Ice Carat, the piece is crafted with solid 925 sterling silver. The front is decorated with four birthstones arranged in a floral pattern. Horizontally, there are two citrines to represent December while the blue topaz is for those born in November.
These come packaged in a cute and charming box for easy gifting and storage. It's an excellent choice for any woman around you, be it your friend, colleague, family or coworker. You can also get one for yourself, as it fits any outing whether casual or formal.
Other info: The band size ranges from 6 to 10.
How to Stack Your Jewelry
You might be wondering the best ways to stack this type of jewelry. The following 4 tips always apply!
✓ Use a mixture of colors, don't stack up to three green rings with the same design. That would defy the purpose. Select a mix of colors that works and fit your dressing.
✓ Keep it simple; don't let the love for stackable rings drive you to take on too much.
✓ Make the stack your own by wearing it as you own it. You can throw in a bit of swag to spice things up.
✓ Go all out with your rings, you shouldn't allow the fear of doing too much stop you either. Just meet us somewhere in the middle.