Opal Earrings: Our 10 Fave Choices!
last updated:
Oct 31, 2019
Nothing screams versatility of style like opal earrings!
One of the things that makes an opal truly special is that no two are the same, and they are a very versatile gemstone that can be matched with a range of styles.
We would find it hard to choose our favorite gemstone, but if we had to select our top five gemstones, opals would be in there (maybe even taking the top spot!).
Opals come in a variety of colors, but you'll see from our selection that one of the most popular opal gems is the white/ blue variety.
We've selected our top opal earrings that show why this is such an attractive gemstone and a must-have item in your earring collection.
Our Top 10 Picks!
1

. Dazzling Rock Collection Opal Stud Earrings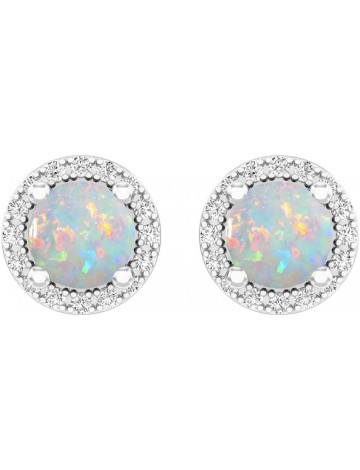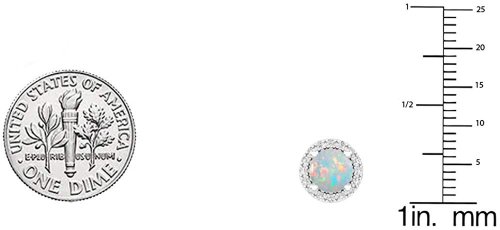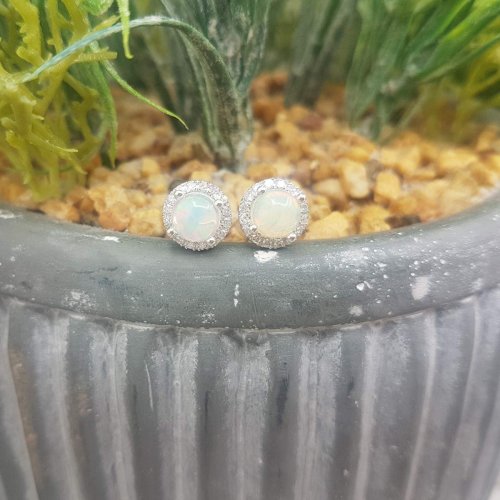 The opal takes center stage in these earrings, accompanied by clear sparkling diamonds that have been cleverly positioned around the stone to represent a full moon-like shape.
Read more
The circular opal positioned in the center allows your eyes to get lost in the beauty of the gem.
The added crystals give the opal earrings a touch of sparkle that no pair should go without. We'd definitely give this jewelry 10 out 10 for design originality and flair!
The studs have been crafted using medium-sized opal stones. The gemstones are synthetic and beam with shimmer that you won't be able to take your eyes from, even for a second.
One of the things we love about opals is that they present such a wide range of colors, making them a fantastic jewelry accessory to wear on any occasion. They're extremely versatile and make a great investment piece to have in your jewelry box.
The round circular opals are also a great size. They stand out enough to make a statement but are small as well, so they're comfy and not too heavy when wearing.
The four individual diamonds positioned around the opal stone really do add a touch of pure beauty.
To make them even more desirable, they're being sold for a medium price, which means this pick is a fantastic investment!
2

. Amazon Collection Leverback Opal Earrings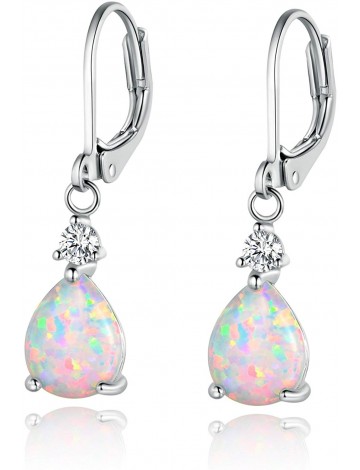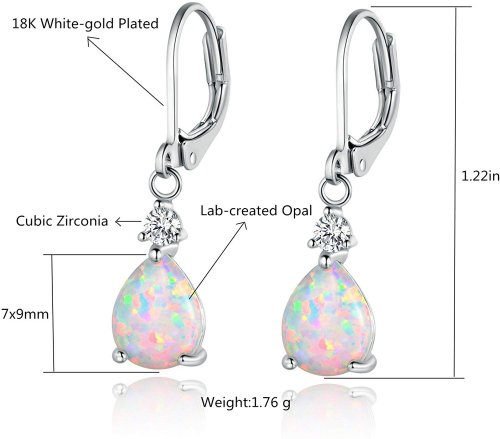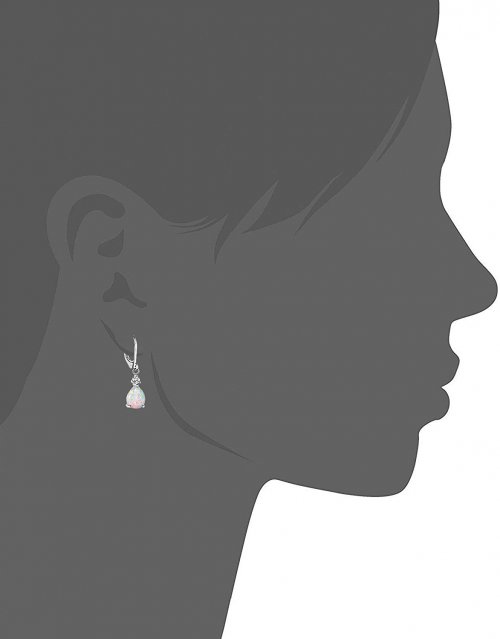 Designed to perfection, these lever-back earrings are really out of this world. The most striking element is the fact the opals hang from the lever-back setting and nothing else. And we love it.
Read more
The combination of the gemstone and sterling silver set the tone for these earrings and give them that sophisticated vibe.
The beautiful gemstones have been shaped into a clean, straight-edged diamond that has been held securely in place by four prongs.
The elegant opal will inject a wonderful element of sparkle to your earlobes that you'll become addicted to.
These gorgeous opal earrings are being sold by Amazon Collection for a medium price.
We feel that the earrings are well worth the price, and you won't have to worry about anyone having the same earrings as you.
They would make a fantastic jewelry accessory when going out for an evening or a day at the office.
Either way, they're a lovely pair of earrings that you'll cherish for years to come.
3

. Decandence Rose Gold Opal Stud Earrings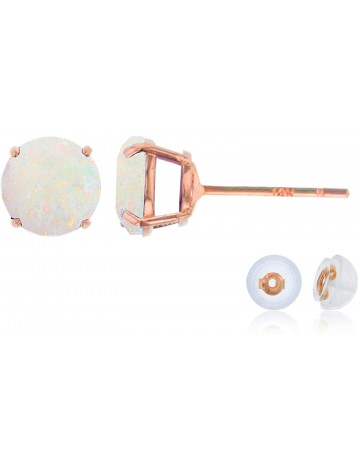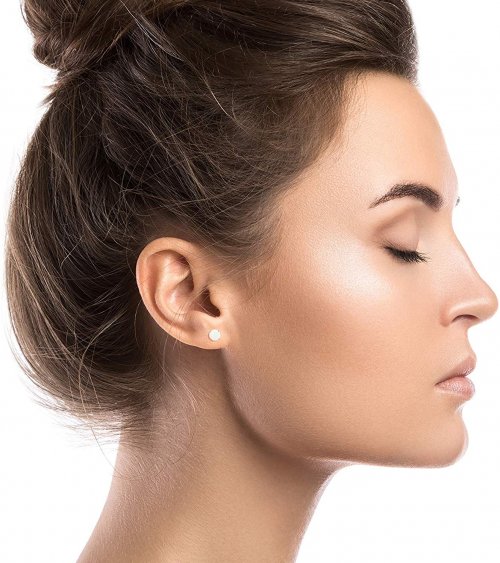 When we first saw the next item on our list, we couldn't help but notice how the shape of these earrings mirrors the side profile of a diamond.
Read more
This is a unique design that works really well (it also looks very similar to the Superman logo!).
These feature two beautiful opal gemstones that catch light effortlessly. The opal gems are stunning and sized at 7mm.
The stud opal earrings will make a fantastic choice if you're looking for something simple and elegant to complete your outfit.
The metal that surrounds them is actually sterling silver which has been plated with 14k rose gold.
The light and delectable hue of the rose gold works extremely well with the soft opal gems and you'll see straight away that the gemstones have a wonderful hint of pink and blue.
Due to the diamond shape, the lower point of the earring is likely to sit just below your earlobe which gives these a nice feel and an extra level of depth.
Another thing we really like is the way the metal carefully encases the stones. This helps to reflect light and has the effect of making them really shiny.
The shape really helps to lengthen the ear, and the small-medium size means that they can be worn with a range of other jewelry like ear cuffs and small hoops.
We'd recommend matching them with rose gold jewelry or even better, with something that features another opal gemstone.
4

. Sterling Silver Genuine Round Bezel-Set Dangles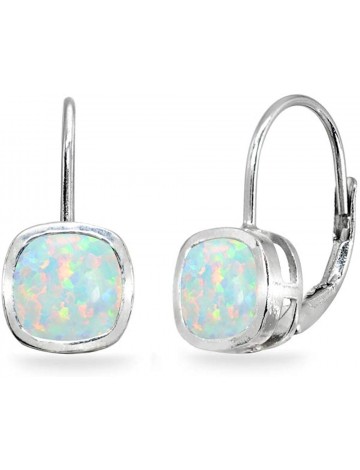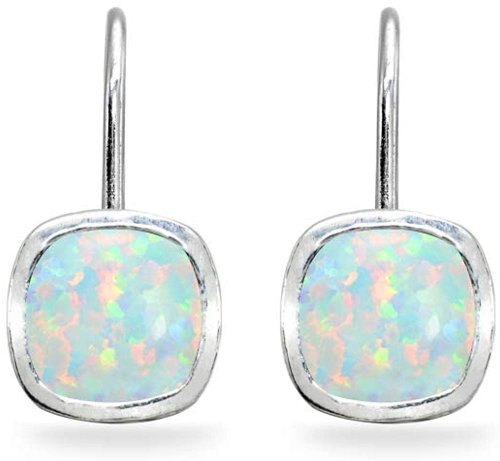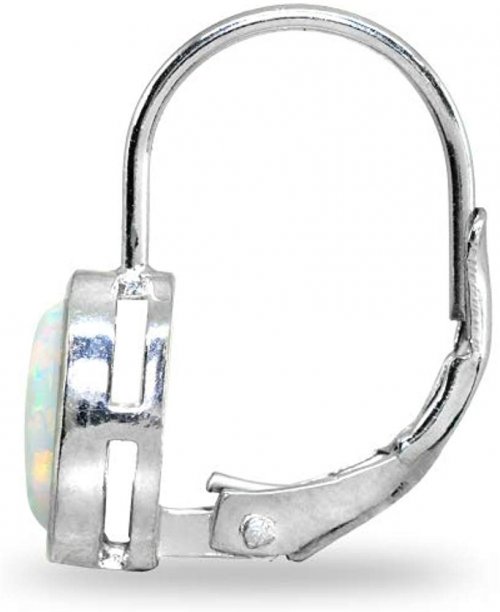 We all love a pair of dangle earrings. What's not to love! Our next choice is a real bargain and a great option if you're looking for a pair to wear on an everyday basis.
Read more
Made from sterling silver, these earrings feature a large hoop, which includes a lever back fitting.
This means that you're getting the benefits of a pair of hoop earrings with the added sparkle of a beautiful round opal.
Coming in at 32 carats, these simulated white opal gems are eye-catching and we lost count of the number of colors that we could spot in them!
We couldn't help but notice the light blue hue of these gemstones, which are effortlessly set within a sterling silver setting.
The lower section, which features the opal gemstones, is connected to the upper part of the earring through a small hoop which means that you'll get a good amount of movement and 'dangle' from your earrings.
Another thing we love is that they are nickel/tarnish-free and a great option if you suffer from metal allergies.
You'll receive them in a lovely pouch, which is a nice touch if you're planning to give these earrings as a gift.
Sold by GemStar USA, they come with a very reasonable price tag!
5

. DwearBeauty Cubic Zirconia and Opal Earrings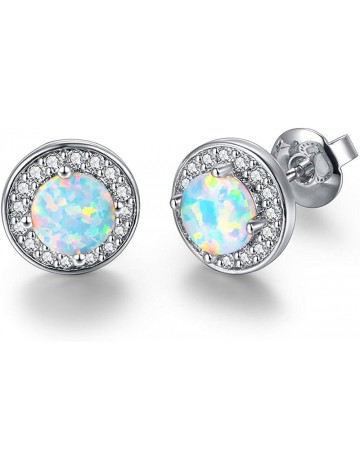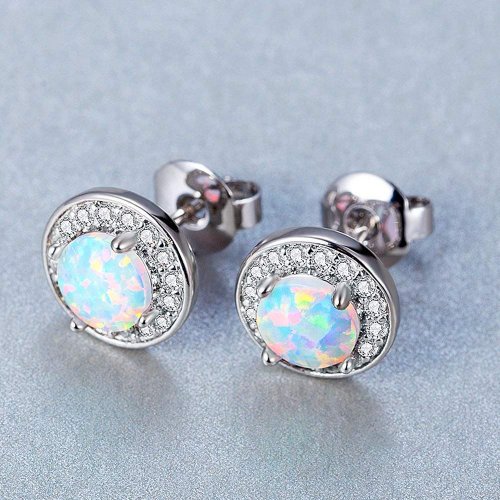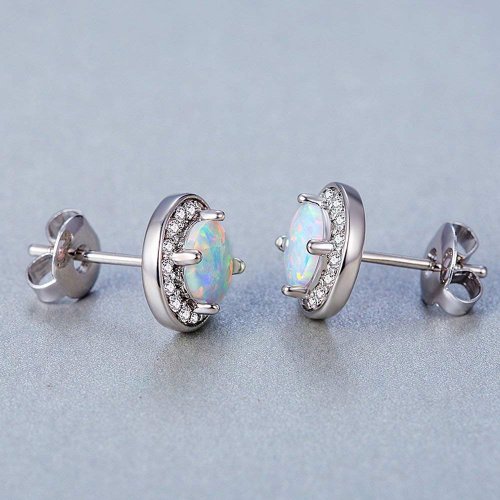 Looking for a low-cost pair of opal stud earrings? Then look no further! The opal gemstones that have been chosen for these earrings are created good cut gems.
Read more
These are very attractive opals and we love the shades of blue that are reflected (there-s also the occasional hint of orange opals are known for!).
The gemstones are held in place by a simple four-prong setting, and this adds to the overall design.
Surrounding the stones are 30 cubic zirconia crystals (15 on each earring!), and this adds amazing dazzle!
They are actually made from brass which has been plated with white gold.
Considering that you're getting such attractive opal gemstones and so many cubic zirconias, the price tag is very reasonable.
Whether you're looking for an everyday pair of studs or something to wear on special cocasions, you won't be disappointed with this pick
You'll receive your earrings in a handy pouch to keep them safe, and if you're looking for another item of jewelry to match with your new studs, we recommend taking a look at the seller's page (DwearBeauty).
They feature gorgeous opal jewelry worth a glance!
6

. Opaltop Teardrop Vintage Earrings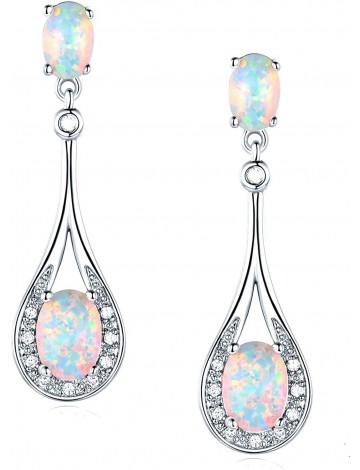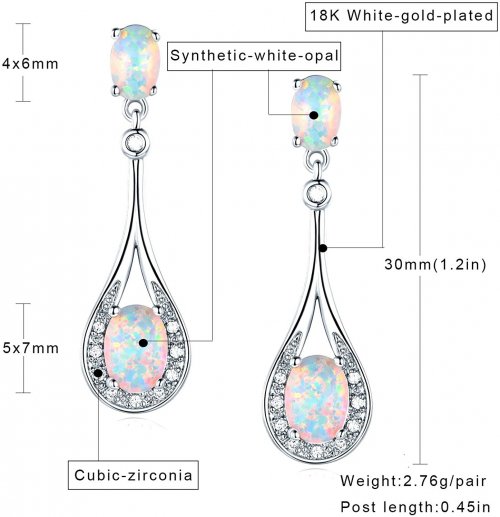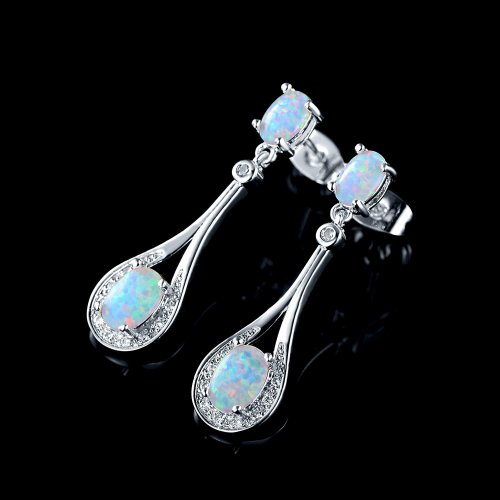 What caught our eye in these earrings is the wonderful opals. These offer you two stone for the price of one!
Read more
They are longer, so if you want a pair of earrings to lengthen your profile, these certainly will do!
The bottom of the dangly earrings features an oval-shaped opal which is surrounded by sparkling white diamonds.
The diamonds are positioned on a silver drop connected to a second oval opal that attaches to your earrings.
The gemstones are extremely breathtaking! They are a white synthetic stone approximately 30mm long and weighing 2.76 grams.
The bigger opal featured at the bottom is approximately 5 x 7mm and the smaller one comes in at approximately 4 x 6mm.
Dazzling cubic zirconia stones frame the larger of the two opals. This framing consists of 10 stones and adds the much-dazzling sparkle.
The earrings have been handcrafted using a brass material covered in 18k white gold plating.
What's great about this gold plated brass is that it's nickel and lead-free, making it safe for people with sensitive skin.
The jewelers at Opaltop have been hand-making pieces like this for over 10 years and they are known for quality craftmenship and unique jewelry.
7

. Ruby & Oscar Blue Opal & CZ Nebula Drop Earrings
The stunning opal has been positioned in a four-prong setting that is attached to a sterling silver lever backdrop.
Read more
We think it makes this pair look extremely elegant. The opal is a blue color that can be described as almost fire blue.
The beautiful opal has been cut into a pear shape. The lever backdrop and prongs setting that holds the opal securely are silver covered in dazzling crystals.
This dangly pair of earrings features an easy hook clasp, which makes it effortless to hook through your ear. The fixture also makes the earrings very comfy to wear.
One of the great things is that they are nickel and lead-free, making them safe for you to wear if you have sensitive skin.
To give you an idea of the size of the earrings, they are approximately 1.25 inches in length.
They will arrive in a beautiful jewelry gift box that will keep your earrings safe from getting scratched.
They are being sold for a higher price, but honestly, these are worth every penny!
If you're looking for a dazzling pair of earrings that would make a fantastic gift to give to the special someone on their birthday, this is it!
8

. Ruby & Oscar Opal Trinity Stud Earrings
If you've been looking for a glitzy pair of stud earrings, these feature a beautiful opal stone and a flower-inspired design.
Read more
One of the reasons we love them so much is because of the rainbow-like type of opals.
As you can see, the gemstone features a variety of different colors, including blue, yellow, green, pink, white, and purple.
When the light catches on it, it reflects a different color, which is quite remarkable!
When it comes to the gemstones setting, it is securely held in place by a four-prong setting.
The opal has been cut into a round shape, which is approximately 6mm in diameter.
As previously mentioned, the gemstone has been positioned in a petal-shaped silver that surrounds it.
These petals have been crafted out of 925 sterling silver. What's great about the metal choice is that it's extremely smooth and shiny.
When it comes to the fixture, the opal stud earrings are fixed to your ear with a 12mm post.
These earrings are being sold by Ruby & Oscar for a mid-price.
9

. CiNily Opal Leaf Dangle Earrings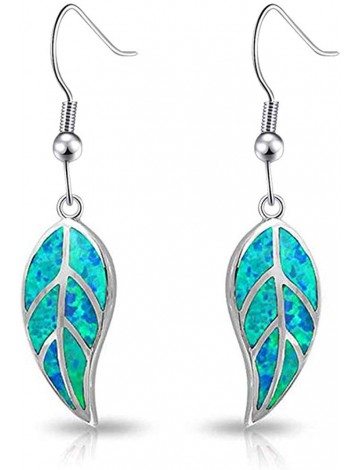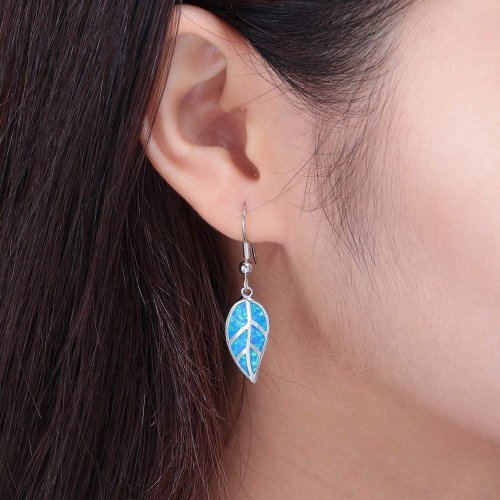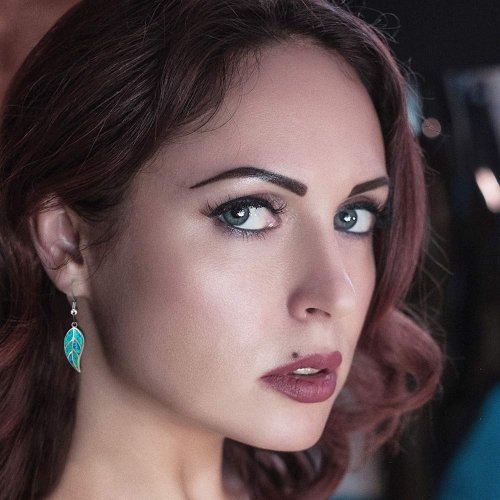 If you're going for a more unique, check out these dangly leaf opal style earrings. The jeweler has cleverly designed these with an infusion of green and blue speckled opals that gives them an amazing and quite unique hue!
Read more
The designer has also decided to give these earrings an extra bit of details in the form of leaf veins; create sections that frame the opal highlighting it thanks to the contrast with the silver metal.
The earrings are approximately 2 inches long and 9 mm wide with a weight of 4.34g.
The foundation has been created using a rhodium-plated base metal; this type of plating assures durability and extreme hardness, meaning the earrings are not prone to breaking.
The rhodium metal has a lovely polished finish and is lead and nickel-free as well as hypoallergenic.
This pick has been made with a blue created opal. Even though the designer specifies the choice of a blue-colored opal, the stone hints to green speckles making the earrings reflect a range of colors beyond blue.
If the color blue and green isn't your favorite, these leaf style dangly earrings are also available in red, orange, green and white, giving you plenty of choices.
You'll also love the fact that these are being sold by CiNily for a very low price, making them a fantastic buy!
10

. GemStar USA Sterling Silver Earrings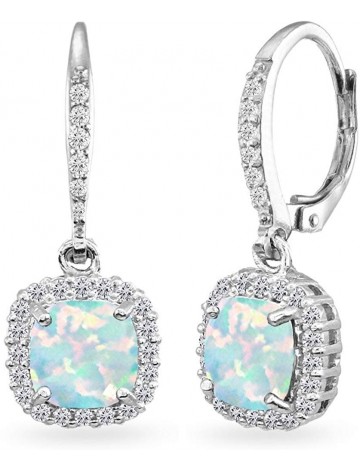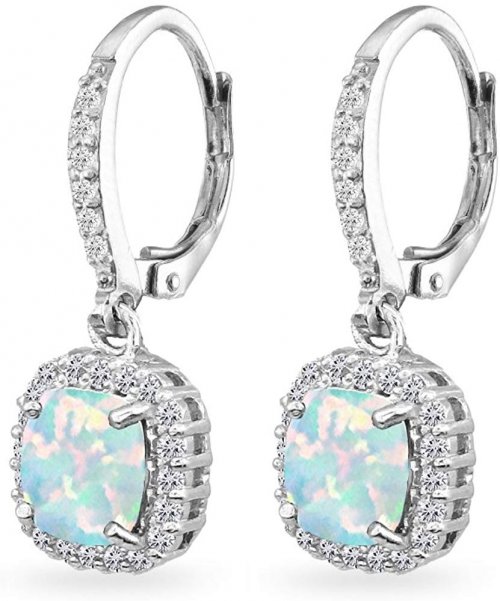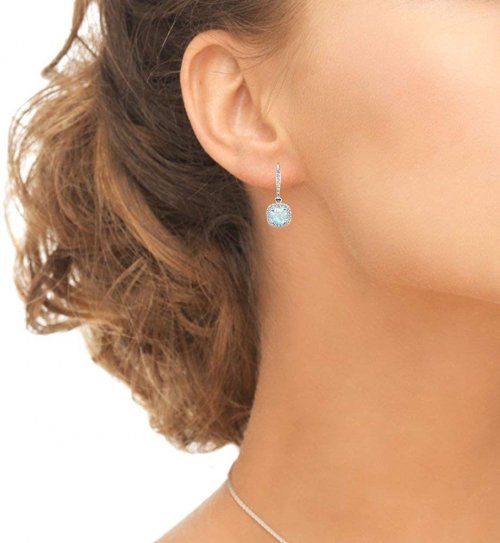 Throughout our top ten, we've included a selection of different styles and designs to suit any occasion, and these combine the best of all the options on our list!
Read more
At the center sits a stunning cushion-cut opal, which is simply spectacular.
Held in place by a four-prong setting, these opals sparkle effortlessly, and the cushion-cut works really well to complement the design.
Coming in at a whopping 1.20 carats, these beauties are sure to turn heads!
Surrounding the opals are 54 smaller crystals (yes 54!), which add dazzle and highlight the opals even more choice.
These include a lever back clip that will assure a secure closing and no risk of losing your earring while wearing it.
They are also very dangly; you'll get a lot of movement, and this is perfect if you are looking for a pair of earrings that will stand out and sparkle.
Being covered in som many clear crystal stones, these earrings are perfect for special occasions. These make for perfect bridal jewelry as well!
The opal earrings are available from GemStar USA which means that you're getting reassurance in the form of a 30-day money-back guarantee, along with a cute little pouch to store them.
Finally...
There you have it! Our 10 favorite opal earrings ranging from stud earrings to gorgeous dangly pairs and unique styles.
We made sure to only include picks from jewelers known to produce quality jewelry using skin-safe metals and highly rated gemstones.
As for the prices, you will find options in all budget ranges, meaning there is something for you even if you're on a super tight budget!
Whatever your style, we feature the perfect pair of opal earrings for anyone in love with this fantastic gemstone!