9 Whimsical Ear Cuffs We Cannot Help But Love
last updated:
Aug 12, 2021
Ear cuffs can transform your everyday style into an effortlessly glamorous art display. These pieces are ornately crafted with slender and eye-catching components every wearer can love. Whether you're looking for a focal piece or a flawlessly designed minimalistic accessory, they're an attractive option.
Let's take a look at some of the most graceful and gorgeous whimsical ear cuffs that you can wear for any occasion.
Top 9 Picks
1

. Missoma Claw Celestial Ear Cuff
Adjustable fit
Single cubic zirconia
18k gold vermeil
Solid sterling silver
Instead of being inherently modern, ear cuffs can also add a softer and more youthful glow to your appearance. The Missoma claw celestial ear cuff is the perfect combination of flirty feminine accents with modern styling.
Read more
This everyday piece is exquisite in its own right, with a small, slip-on style that looks fabulous on any wearer. It has a multi-faceted design with smooth, polished metal and a single cubic zirconia gemstone for added glitz.
On the other end of the swirl, you'll find a dainty star that nestles comfortably against the outer ear. If you're a fan of star-inspired jewelry, this is a piece that you'll constantly reach for.
It's eye-catching without being too bold but also adds a little sassy flavor to an ordinary outfit. The round-cut edges are remarkably comfortable against the skin, helping to make the piece easy to wear all day.
We love the unique styling of the cuff itself with a stacked design that looks like three cuffs in one. The added elegance of the cubic zirconia gem makes it easy to pair with diamond studs or hoops in your real piercings.
You will also appreciate the overall quality of the piece. The earring is crafted from sterling silver but also has an 18k gold vermeil plating for added resilience.
It's one of the more luxurious options to consider for all occasions.
2

. Maison Miru Crystal Claw Ear Cuff
14k gold plated brass
Cubic zirconia crystals
10mm thick
Customizable fit
When you're searching for the perfect ear cuff, opting for costume jewelry can be a fantastic option. The Maison Miru crystal claw ear cuff has elegant styling in an affordable package, making it obtainable for anyone.
Read more
The amount of texture within this piece is what makes it exquisite for everyday wear. It's also crafted from durable materials, so you can guarantee it will last over an extended period.
The distinctive beauty of this option is achieved with polished metal and cubic zirconia. There are two bands combined into the single piercing, making it look like you're wearing two cuffs at once.
The top cuff has delicately polished metal, while the bottom boasts individually-set cubic zirconia. The stunning gold prong settings help to keep the cubic zirconia in place while adding contrast and depth.
It's the perfect combination of prismatic gemstones and soft, feminine beauty for formal occasions. You will also find it's one of the few ear cuffs that can work well with relatively any accessory.
People without piercings will particularly love this accessory as it's designed to be slip-on. All you have to do is affix it to the narrowest part of your ear and bend the metal slightly.
As the metal bends, it creates a custom fit that stays secure throughout the day and night.
3

. SHASHI Serpent Ear Cuff
18k vermeil
Cubic zirconia
Gold-toned metal
Slide-on design
There's something beautifully ornate and exotic about serpent-inspired accessories. The SASHI serpent ear cuff is what you've been looking for if you're a fan of a textured and timeless tribal piece.
Read more
This is a solo piece that can be worn independently or coordinated with other components. It has a memorable glisten as natural and artificial light is captured within the individually set gemstones.
You'll also find it has a hand-crafted appeal, setting it apart from any other accessory you own.
Instead of using traditional diamonds, this piece offers lightweight and effortlessly glamorous cubic zirconia. Each of the individually set stones is wardrobe-friendly, emulating the classic chic nature of diamonds.
You will also find the material is much easier to upkeep over the years, especially if you wear your new cuff often.
Trendsetters are bound to love the gold-tone vermeil that gently encapsulates the edge of your ear. The twirling setting of the serpent will work its way up the side of your ear for a supportive and glitzy addition.
It's also designed to be slide-on, meaning that you don't have to be pierced to wear it for any occasion.
There's no doubt that this wear-anywhere cuff is whimsical, as it has delicate feminine detailing. You'll love the contrast between the subtle gold vermeil and the clear cubic zirconia that captures the light.
4

. Zoe Chicco 14k Gold Thin X Wire Ear Cuff
14k gold
Slide-on design
Customizable fit
Smooth, polished metal
Wire ear cuffs have become increasingly popular, especially with minimalistic jewelry lovers. The Zoe Chicco 14k gold thin X wire ear cuff is one of our favorite pieces with its classic elegance.
Read more
There's plenty to love with this piece, especially if you need a subtle accessory. The smooth polished metal is exceptionally detailed for minimalism, making it easy to pair with your other accessories. Alternatively, you can wear the cuff on its own to contribute to casual and formal styles alike.
You'll find the smooth metal is snag-free, making it comfortable for all-day wear. Also, it holds onto the ear effortlessly without the worry of slippage over time.
Like many other ear cuffs, this piece can be worn without a piercing, making it perfect for any jewelry lover of any age.
There's a combination of timeless components and modern styling in this cuff, making it great for men and women. It also has a sportier aesthetic than some of the more formal ear cuffs on this list, making it effortlessly fashionable. We especially love how small it is, adding a casual flair to any outfit.
The cuff is crafted using 14k gold rather than sterling silver or vermeil. You'll find the high-quality metal withstands plenty of wear and tear over the years with easy maintenance.
5

. Missoma Silver Pyramid Ear Cuff
2mm band thickness
Rhodium-plated
Solid sterling silver
Smoothed edges
Adding an alternative flair to your everyday outfits is a striking way to elevate your style. With the popularity of rocker and punk-inspired accessories, the Missoma silver pyramid ear cuff is ideal.
Read more
The flawless finishing makes it ideal for any jewelry lover's collection. It's effortlessly glittering with the perfectly polished metal, and it sits comfortably against the skin with rounded edges.
However, it also has an edgier side, as it adorned multiple smoothed studs along the exterior.
This will quickly become your favorite wear-anywhere piece, mainly as it works well with other accessories. We imagine pairing the studded cuff with silver studs or hoops to add an extra pop to your style.
It's effortless to pair thanks to its softer elements that contribute to the overall superiority of the piece.
Instead of having harsh and obtrusive studs, this cuff has smoothed edges. It's also ideal for mixing and matching with other more rocker-inspired pieces for an edgier aesthetic.
You'll love how versatile it is for more flirty accessory combinations or edgier options.
6

. AeraVida Treble Clef Ear Cuffs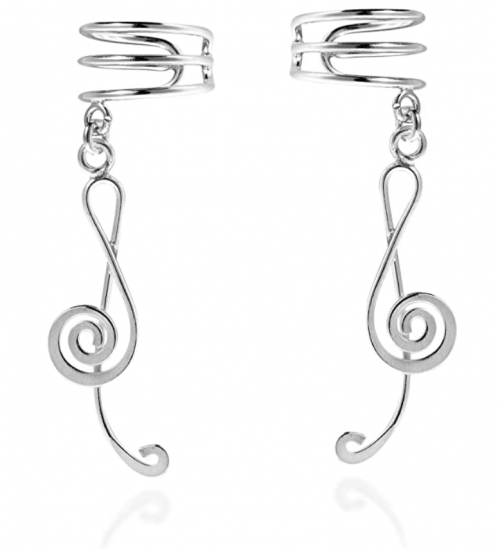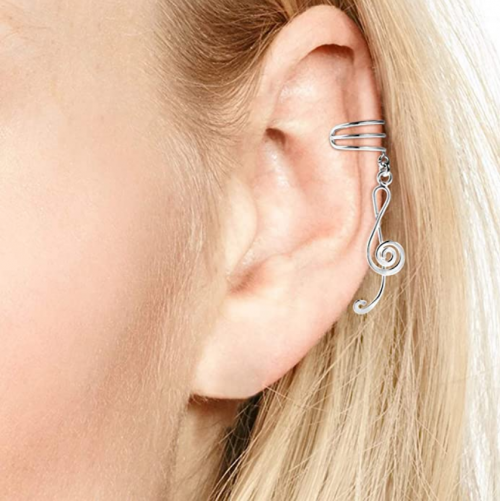 Sterling silver
Comes with gift box
Affordable
This next selection takes the feisty feel of cuffs and adds a sweet element. Dangling from a triple band cuff suitable is a hammered wire treble clef. Created in sterling silver, this piece is best suited for wearing at the orbital position.
Read more
We did not expect to love charm on an ear cuff as much as we love this piece. Created by AeraVida, the makers have taken a simple wire and cleverly wrapped it into a treble clef shape.
The tail and swirl are hammered flat to add depth and dimension to the charm. We first thought the generous size would look out of proportion but we were pleased to be wrong.
The treble clef is a musical symbol found on sheet music. The treble clef, also known as the G clef, indicates what notes should be represented on the staff, or bars that indicate the notes.
The swirl and bar of a treble clef cross the second line of the staff no less than four times. This second line is the musical letter name G above middle C. It is the most common clef for music to appear in.
We love the motion of the charm paired with the wire cuff. It swings gently and is a perfect selection for music-lovers and concert-goers. We can absolutely see this silver wire piece as part of a festival look.
It does come as a pair but we really like the idea of wearing just one on one side. Wear a dream catcher dangling earing on the other side for a complete festival-ready look.
7

. SLUYNZ Silver Wave Cuff Earrings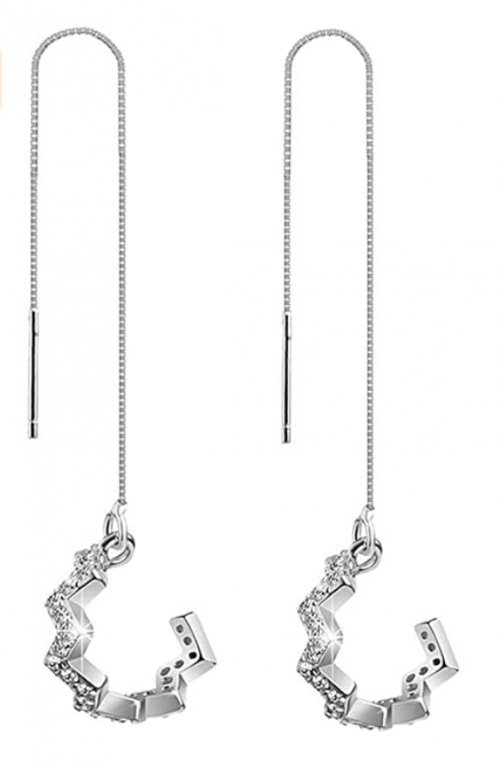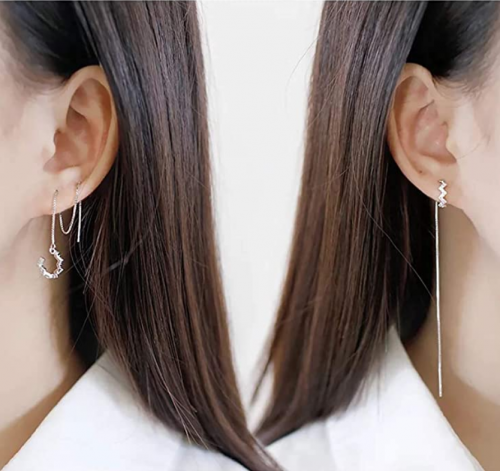 925 sterling silver
Cubic zirconia
Best rated on Amazon
Our next selection is an example of a banded chain. A simple chevron-styled band zigzags across your cartilage with an elegant chain attached. Equipped with a stud, you can loop the chevron band across the helix and insert into your standard lobe piercing.
Read more
If you have your cartilage already pierced this is wearable a second way. Wear the band at the orbital location and insert the chain through the cartilage piercing.
You can elect to pull the chain through your piercings to any preferred length. Use a butterfly back to leave the chain loop at its longest and still secure the piece.
As another option, pull the chain gently through and leave a long tail behind your ear. This will add motion and intrigue.
The chevron band sports a handful of white crystals which really bumps this cuff up to the next level. Avoid heavy chandelier or dangling earrings as a match.
With the subtle finesse of the chevron banded chain, we feel a heavy, low-hanging match would end up feeling a bit lopsided.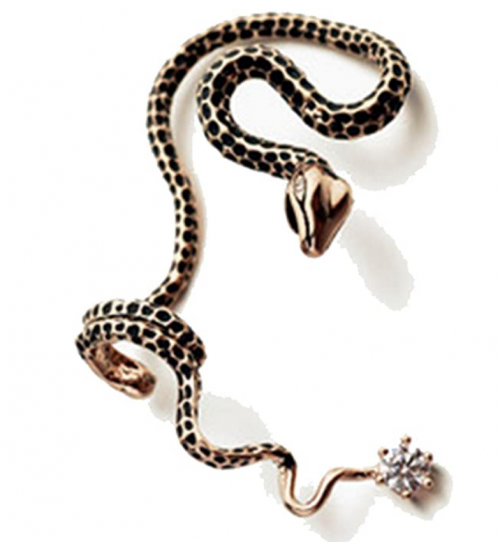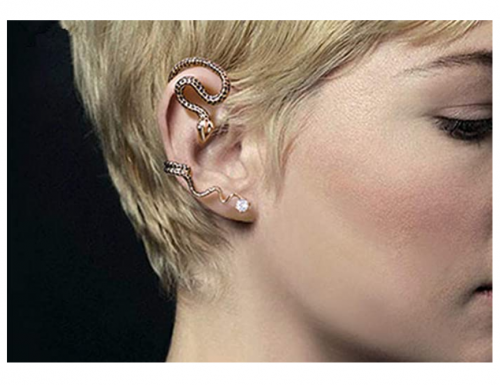 18K gold-plated
Austrian crystal
Affordable
This ear wrap is perfect for pierced or non-pierced folks. An antique gold-toned snake coils around your entire ear, held in place by an orbital hugging cuff.
Read more
The tail of the snake ends in a lovely piece of Austrian crystal. It lays at the perfect place to give the illusion of wearing a stud for most people. The eyes sparkle with crystal inclusions as well.
The stainless steel snake is triple plated with 18k yellow gold alloy so for the price, this full wrap cuff is a steal.
We love the detail of the carving and the sly little facial expression. Paradoxically the gold-tone softens the aesthetic a bit. This makes it ultra-wearable.
The full wrap cuff by Cherryzz walks that fine line between fashion jewelry and being too costumey. Be it a night out with friends, a hot date or a casual coffee meet-up, this clever little gold snake is absolutely gorgeous.
9

. AeraVida Dreamcatcher & Ear Cuff Chain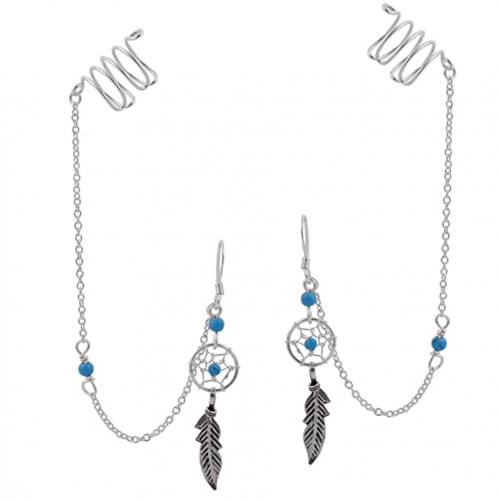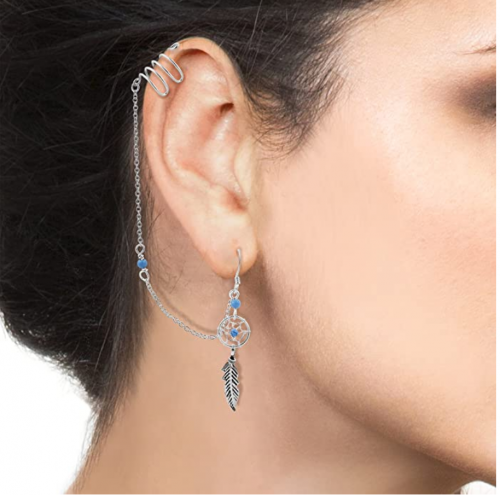 Sterling silver
Simulated turquoise
Very lightweight
Our next pick is everything a dream catcher earring should be. This intense example of an ear cuff is for pierced ears. It begins with a four-banded cuff made of bright silver wire. This can be worn at the helix or the orbital.
Read more
A long chain loops down from the band to join a wire hooked dream catcher. Worn in any lobe piercing you end up with a very alluring, exotic look.
The chains and eye of the dream catcher are adorned with a lovely stone in simulated turquoise. The pleasing shade of blue plays perfectly with the bright 925 sterling silver.
Dream catchers are a common creation of North American Native Americans. Originally made of horsehair and twigs, they can be powerful amulets.
Traditionally dream catchers are hung over the head of a bed or sleeping place. They are believed to catch and filter dream spirits.
The pleasant ones are able to slip right through the eye of the dream catcher and onto its protected sleeper. Bad dreams, negative energies, and unpleasant spirits get caught in the web and the sleep is undisturbed.
We cannot get enough of this complete look. No additional ear jewelry is needed for a fully formed concept. Wear this with your best earth tone get-up. Lace and more pops of turquoise will really polish the whole feel.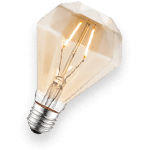 Types of ear Cuffs
Ear Crawlers: These begin at the lower lobe and sweep upward toward the top of the ear, following the natural sweep of the ear lobe into the cartilage. These are available in both pierced and non-pierced varieties.
Full Wrap: While full wraps are not new, they have not always been popular with the trends. Full wraps do just what they say, fully wrap your ear. Often they are a combination of an ear crawler, an orbital cuff, and a helix crest.
Banded Chains: This also offers a pierced and non-pierced variation. The non-pierced offers two bands joined by a chain. Often these go on the helix and orbital. Occasionally you'll see them worn tragus to ear lobe or tragus to helix as well. The pierced variety includes a band and a chain with a stud end. This stud end can be placed through any standard gauged piercing on your ear.
A Note on Cleaning Your Ear Cuffs
Just like earrings, ear cuffs will need more regular cleanings than the necklaces or bracelets in your collection. Your ear cuffs will likely be exposed to the oils natural to your skin as well as the grime and dirt of the day.
Additionally, your ear cuffs will also have to deal with any hair products you apply. This is true even if you don your ear cuffs after styling your hair. As the day or evening wears on the product is sure to find its way to your new favorite piece of earwear.
Wipe your ear cuffs with a microfiber cloth every time you take them off. This will clear away damaging substances and keep your pieces fresh and damage-free. Check for stray hairs that may have snagged on chains or full wraps.
Occasionally, a bath in warm water with fragrance-free soap and a light scrub with a soft-bristled brush will really make them shine. Be sure to follow any special procedures for fine jewelry, gems, or materials such as natural stone or enamel.
Frequently Asked Questions
q:

Can you wear ear cuffs without piercing?

a:

One of the most significant benefits of ear cuffs is they can be worn without piercings. These unique accessories are designed to cling onto the side of your ear and can be adjusted for tightness.
q:

Do ear cuffs stay on?

a:

The majority of ear cuffs are designed for customized wear, meaning you can pinch the metal to make them tighter. Alternatively, you can pull on the metal to make them wider to accommodate different ear placements.

As long as you choose a piece with malleable metal, they should stay in place throughout the day.
q:

Which ear should I wear my ear cuff?

a:

It's possible to wear your ear cuff on either ear, though it's crucial to ensure you style it properly. For example, if you have multiple piercings in one ear, adding an ear cuff to the opposite side can balance your jewelry.
q:

How do you fit an ear cuff?

a:

Fitting an ear cuff is relatively simple, especially as they're designed for adjustability. All you have to do is decide which part you want to wear it on.

You can then adjust the metal as needed to accommodate the unique curvature of your ear. The majority of manufacturers design their cuffs to fit on the widest part of an average-sized ear.

However, with the adjustability, you can create a more tailored fit.
Celebrities Rocking Ear Cuffs
Emma Stone lives for ear cuffs. Not only are they a part of her Hollywood premier stylings, but she has also been spotted wearing them in her daily comings and goings as well.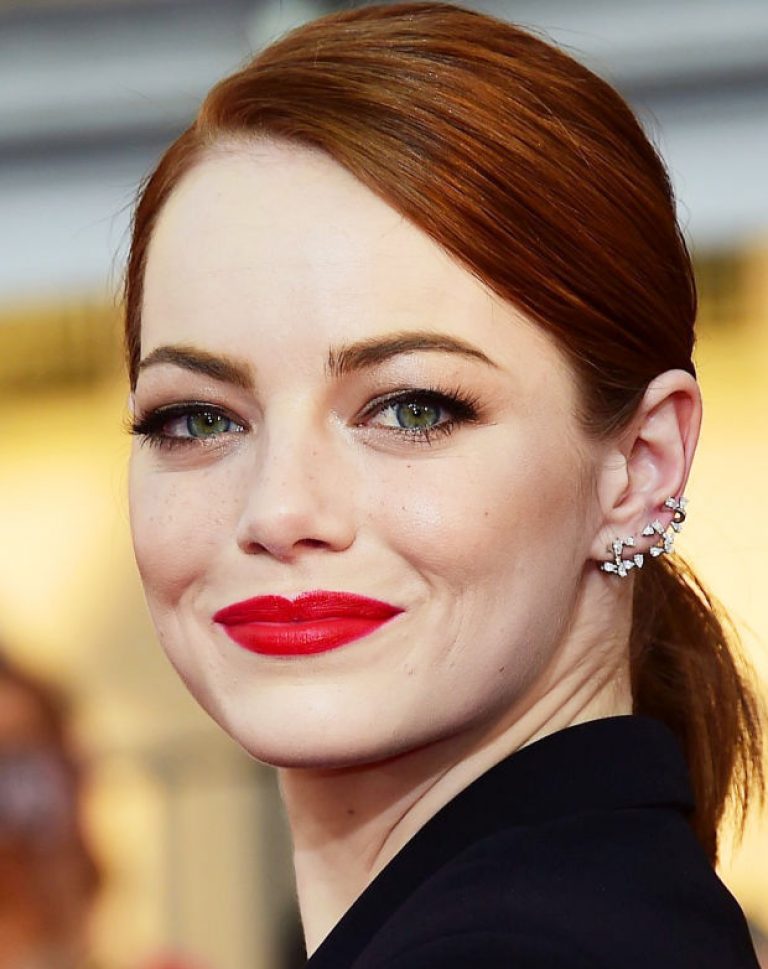 Jennifer Lawrence stacked some diamond-encrusted cuffs high on her ear for her premieres of two different Hunger Games movies.
For her Hunger Games premiere in Los Angeles, she stacked some diamond-encrusted cuffs high on her ear. Her couture look at the Catching Fire premiere amped that lookup with some heavy-duty ear crawlers.