Mix / Women
10 Whimsical Ear Cuffs We Cannot Help But Love
Whimsical ear cuffs were once the sole dominion of the edgier aesthetic. Folks who prefer the rocker, biker, punk, or gothic looks could rock ear cuffs.  Others might have felt out of place popping one on. Gone are those days. The list of other stars working hard to bring this 90s trend back is long too. Rita Ora, Kiera Knightley, Natalie Dormer, Jennifer Connelly, Margot Robbie…we could go on and on. With that much celebrity backing, it is safe to say, ear cuffs are trendy again.  We are not even mad about it, either.
Ear cuffs give you all the edge of non-standard ear piercings without the long term commitment. For those who are piercing averse for health, fear, professional, or religious reasons, ear cuffs are here for you. Get the look you want, no needles involved.
Types of Ear Cuffs
The old school look was pretty much just hoops of metal, gold, or gems looped around the top portion of your ear. Sometimes these would be joined by a chain to another ear cuff or a stud. Luckily as this trend returned to the red carpet, it also evolved. Simple bands remain fine and dandy and we still love them. We also love the new options.
Ear Crawlers: These begin at the lower lobe and sweep upward toward the top of the ear, following the natural sweep of the ear lobe into the cartilage.  These are available in both pierced and non-pierced varieties.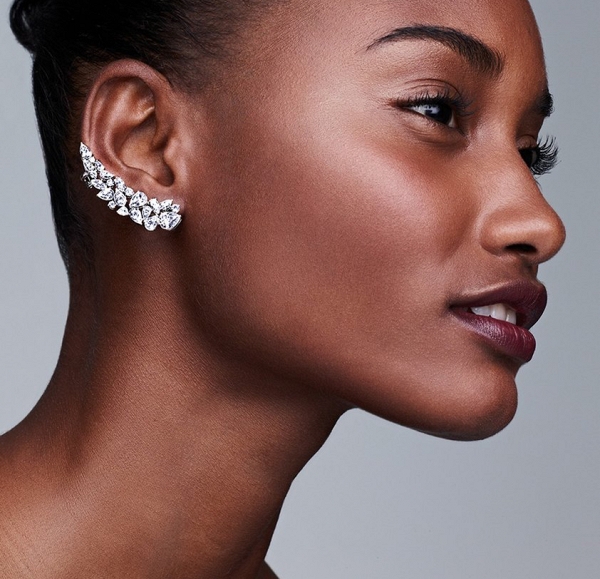 The non-pierced versions either slip underneath the lobe so that a long bar will pinch the decorated front portion of the crawler to your ear.  A second variety, slightly more comfortable in our opinion, includes a cuff that hugs the orbital.
The pierced version often uses the standard lobe piercing and includes a positioning bar along the back that you can snug up along your ear. This prevents the top-heavy ear crawler from tipping out of place.
Full Wrap: While full wraps are not new, they have not always been popular with the trends.  Full wraps do just what they say, fully wrap your ear. Often they are a combination of an ear crawler, an orbital cuff, and a helix crest.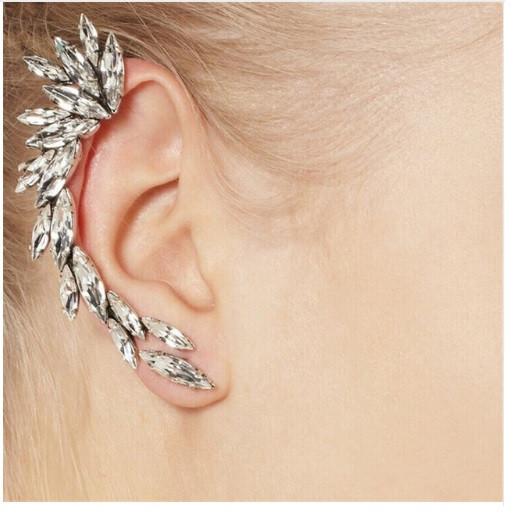 These enable you to wear bolder, larger pieces. Equip yourself with elf ears, angel wings, or large bangles.
Banded Chains: This also offers a pierced and non-pierced variation. The non-pierced offers two bands joined by a chain. Often these go on the helix and orbital. Occasionally you'll see them worn tragus to ear lobe or tragus to helix as well.
The pierced variety includes a band and a chain with a stud end. This stud end can be placed through any standard gauged piercing on your ear. This can be pulled through at any length to leave a trail from behind the ear or a long loop hanging off the ear.
Celebrities Rocking Ear Cuffs
Our two favorite Emmas, Emma Watson, and Emma Stone are all about the ear cuff life. Emma Watson, of Harry Potter fame, even convinced the good folks at Disney to style her up with a full wrap ear cuff in the promotional photos for the live-action Beauty and the Beast.  Beyond that, she has been up and down the red carpet in ear cuffs. From the ear crawlers to the multi-hoop use, she has the look down.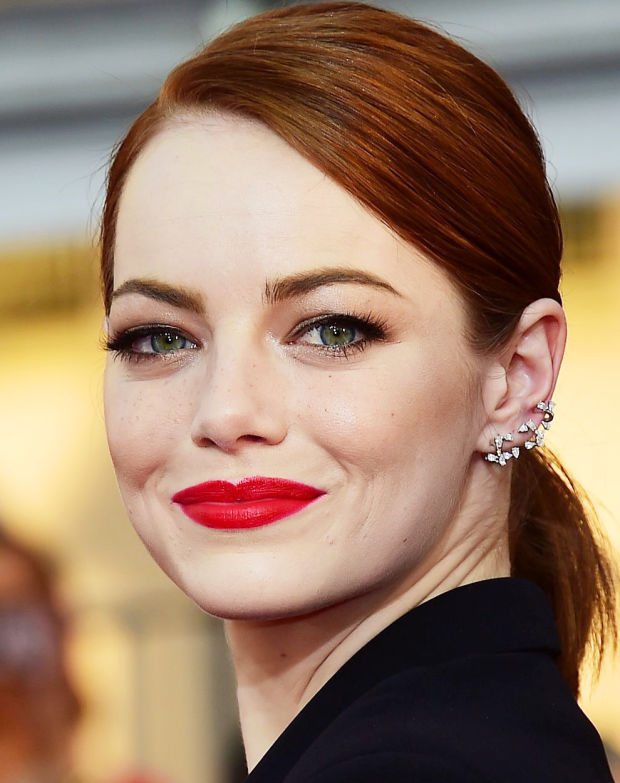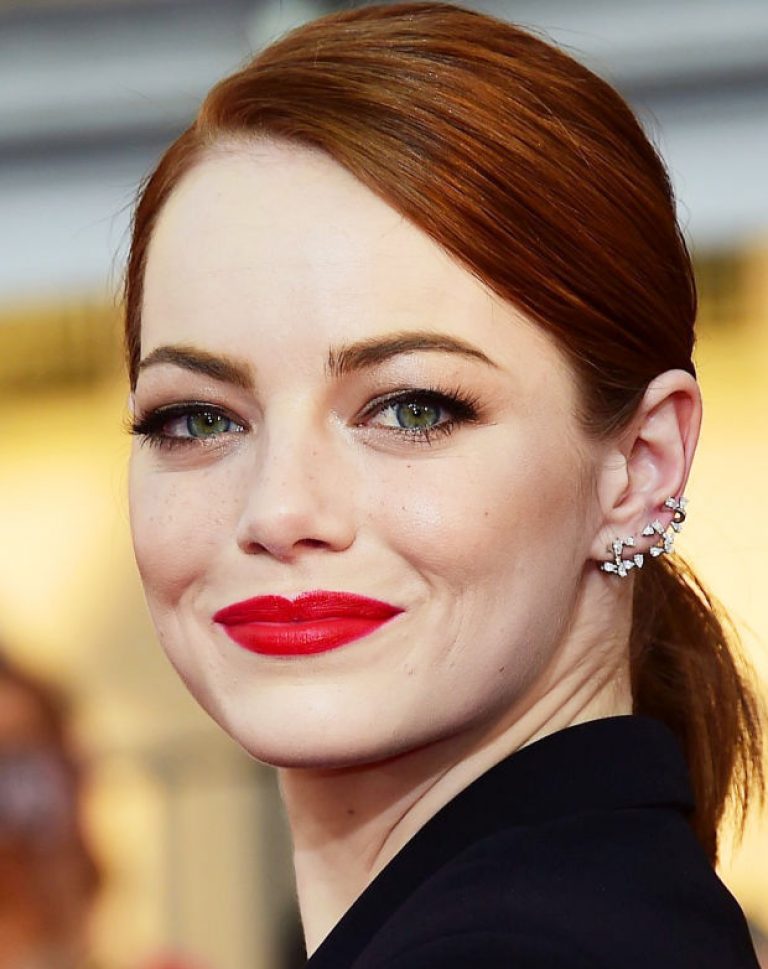 Emma Stone, most recently of La La Land, also lives for ear cuffs. Not only are they a part of her Hollywood premier stylings, but she has also been spotted wearing them in her daily comings and goings as well.
Jennifer Lawrence stacked some diamond-encrusted cuffs high on her ear for her premieres of two different Hunger Games movies.  For her Hunger Games premiere in Los Angeles, she stacked some diamond-encrusted cuffs high on her ear. Her couture look at the Catching Fire premiere amped that lookup with some heavy-duty ear crawlers.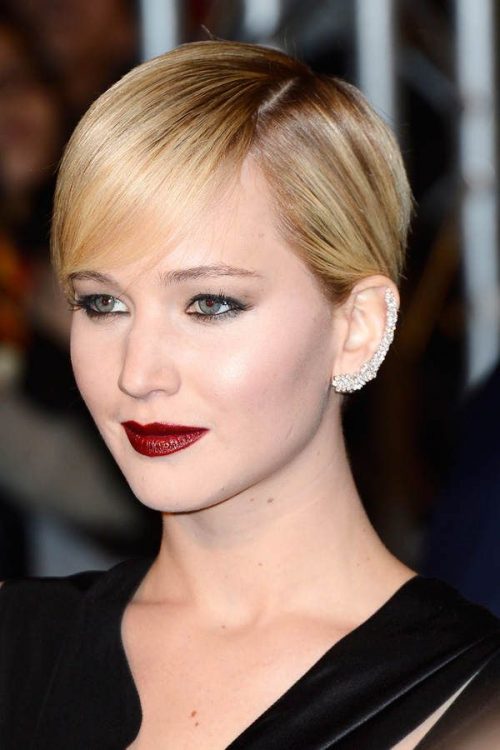 Now you know who wore what type of ear cuff, it is time to find your own favorites.  We have already located ten of ours but honestly, that list just keeps growing. Here are our top ten ear cuffs to get that inspiration flowing.
Our 10 Favorite Ear Cuffs!
1. Braided Silver Band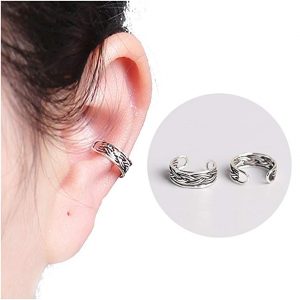 We will start with the simplest piece on our list. An homage to its 90s roots, this is a single band of 925 Sterling Silver. It is intricately styled into a braided twist that adds texture and interest to the otherwise standard piece of jewelry.
This will fit around the orbital or the helix with a bit of a pinch. The metal is flexible so you can resize it. For best results, find the size that you prefer and do not repeatedly resize. This is eventually lead to warping, leaving you with a misshapen piece.
You can also make this a jewelry multi-tasker. The simple design allows it to migrate a bit. This piece is narrow enough to wear on your septum or the bridge of skin between your nostrils. It may also work for some people as a lip cuff, however, it may be too big for your preference. This depends on your mouth shape.
We love the simplicity of this ear cuff. It is a wonderful place to start your collection.
2. Four Piece Simple Set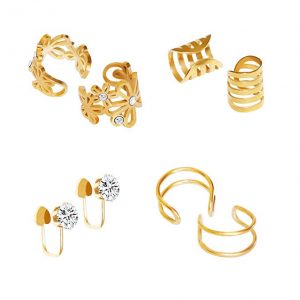 Available in your choice of yellow gold-tone, rose gold-tone, or onyx-tone, this set of four is also fantastic for a burgeoning ear cuff collection. Four sets of ear cuffs make for a great stackable set. Wear matching rows on each ear or mix and match across both ears for a varying effect.
This set features a pair of triple-band cuffs, three solid lines joined into one piece. It includes a daintier double band that acts as a two-in-one. You get the look of wearing two thinner bands in one cuff. This one is also perfect for use as a lip or nasal cuff for some.   
Thirdly you'll receive a pair of the crystal-studded floral loop. Tiny flower cresting over your cartilage is a very pretty look that we love.  It is simple but with enough detail to not be understated.
The final piece in the set is your basic clip-on studs. Wearable on the lobe or over the cartilage, it will add a bit of sparkle to your ear cuff assembly. This will include a bar that is visible along the bottom of your lobe if you choose to wear them there. We typically do not prefer clip-on studs because they look like clip-on. This feels antithesis to the point of clip-on. However, we are willing to make an exception for this particular set. The stud sort of completes the look.
3. Silver Leaf Branch Cuffs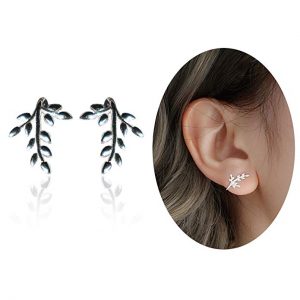 This single set of 925 Sterling Silver cuffs draw on the inspiration of nature. This particular design is one part simple band and one part ear crawler.  The mechanics of the piece is that of an ear crawler with the decoration on the front and a pressure bar in the back. However, it is also small, reaching across only the lobe for most people.  A single branch of leaves in gleaming silver will crawl up your lobe.
This pair is perhaps our least versatile where wearability is concerned. Given the size and design of the piece, it is almost exclusively wearable on the lobes. Luckily, you can switch position. Place in on the outer portion of the ear so that the leaves "grow" toward your face.  Or swap them over and slide them up over the bottom of your lobe. This way you will have it "growing" skyward. Finally, swing them over and slide them up over your lobe closest to your skull so the branch will reach out to the world.  
We love this look for a professional setting as well. Since it is rather relegated by design to lobe it is a fantastic little detail appropriate with pretty much any look. Pair it with several other simple band style cuffs up the cartilage for an edgy evening look a la the red carpet looks.  r wear it simply to slip in a little cuff action in the boardroom.
4. Chevron Banded Chain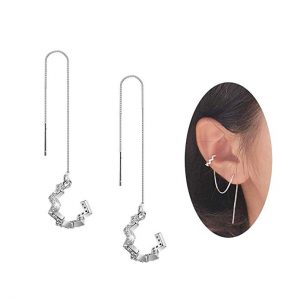 Our next selection is an example of a banded chain. A simple chevron styled band zigzags across your cartilage with a simple, elegant chain attached. Equipped with a stud, you can loop the chevron band across the helix and insert into your standard lobe piercing.  If you have your cartilage already pierced this is wearable a second way. Wear the band at the orbital location and insert the chain through the cartilage piercing.
You can elect to pull the chain through your piercings to any preferred length. Use a butterfly back to leave the chain loop at its longest and still secure the piece. As another option, pull the chain gently through and leave a long tail behind your ear. This will add motion and intrigue.
The chevron band sports a handful of white crystal which really bumps this cuff up to the next level. This is sold as a single as opposed to the pairs of our previous picks. Pair this piece with a single earing in the other ear.  We recommend a nice, chunky stud. A triangle or pyramid-shaped stud would look most cunning. It would really compliment the angles of the chevron.
Avoid heavy chandelier or dangling earrings as a match. With the subtle finesse of the chevron banded chain, we feel a heavy, low hanging match would end up feeling a bit lopsided.
5. Treble Clef Wire Cuffs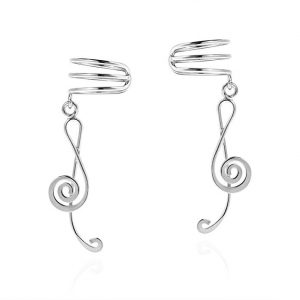 This next selection takes the feisty feel of cuffs and adds a sweet element. Dangling from a triple band cuff suitable is a hammered wire treble clef. Created in sterling silver, this piece is best suited for wearing at the orbital position. Because of the hanging element, it may lay weird if wrapped around the helix.
We did not expect to love charm on an ear cuff as much as we love this piece. Created by AeraVida, the makers have taken a simple wire and cleverly wrapped it into a treble clef shape. The tail and swirl are hammered flat to add depth and dimension to the charm. We first thought the generous size would look out of proportion but we were pleased to be wrong.
The treble clef is a musical symbol found on sheet music. The treble clef, also known as the G clef, indicates what notes should be represented on the staff, or bars that indicate the notes. The swirl and bar of a treble clef cross the second line of the staff no less than four times. This second line is the musical letter name G above middle C. It is the most common clef for music to appear in.
We love the motion of the charm paired with the wire cuff. It swings gently and is a perfect selection for music-lovers and concert-goers. We can absolutely see this silver wire piece as part of a festival look. It does come as a pair but we really like the idea of wearing just one on one side. Wear a dream catcher dangling earing on the other side for a complete festival-ready look.
6. Dream Catcher Band Chain Hybrids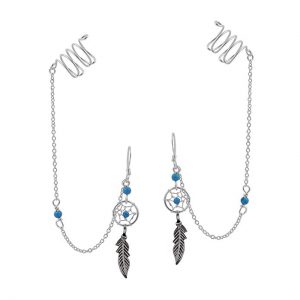 Speaking of dream catchers our next pick is everything a dream catcher earring should be. This intense example of an ear cuff is for pierced ears. It begins with a four-banded cuff made of bright silver wire. This can be worn at the helix or the orbital. A long chain loops down from the band to join a wire hooked dream catcher. Worn in any lobe piercing you end up with a very alluring, exotic look.
The chains and eye of the dream catcher are adorned with a lovely stone in simulated turquoise. The pleasing shade of blue plays perfectly with the bright 925 Sterling Silver. Carved feathers hang off the dream catchers to complete the look.  
Dream catchers are a common creation of North American Native Americans. Originally made of horsehair and twigs, they can be powerful amulets. Traditionally dream catchers are hung over the head of a bed or sleeping place. They are believed to catch and filter dream spirits. The pleasant ones are able to slip right through the eye of the dream catcher and on to its protected sleeper. Bad dreams, negative energies, and unpleasant spirits get caught in the web and the sleep is undisturbed.
We cannot get enough of this complete look. No additional ear jewelry is needed for a fully formed concept. Wear this with your best earth tone get-up. Lace and more pops of turquoise will really polish the whole feel.
7. Cubic Zirconia Ear Crawler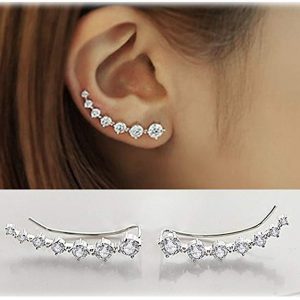 The first of our ear crawler pics, we can absolutely envision this one on the ear of a Hollywood starlet. Perfect for a red carpet look or a bold daily wear ensemble, this piece is fairly straightforward. This does not make it any less striking, though.
Seven AAA grade cubic zirconia stones are arranged in descending sizes that crawl up the ear. This particular design can be worn by pierced and non-pierced alike. Created by Elensan these can either be slipped through a piercing and threaded up the ear. A light pinch toward the top will pin it in place and prevent the piece from rotating downward.
If you are unpierced you can still slide this crawler over the earlobe and follow the same procedure. It will not climb as high as using a piercing but you will still be able to achieve the same effect.
This is another piece that is simple enough to be incorporated into a lot of looks and trends. Because it is a simple arrangement of gems it does not make it so fiery you cannot incorporate it into a daily wear look. Paired with an off the shoulder top and your best hip-hugging jeans this piece will look great capping off the outfit.
8. Birds on a Branch Ear Crawler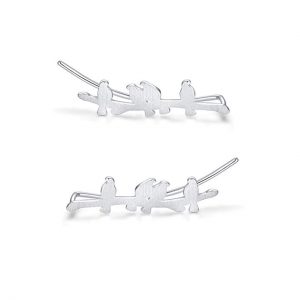 Our second pick in the ear crawler categories lacks in sparkle but more than makes up for it. Adorable little birds perch on a branch that crawls across your ear lobe. We are big believers that putting a bird on it makes everything just that much more adorable.
Crafted out of 925 Sterling Silver this piece does not feature the high shine we are used to. The birds on a branch feature more of a matte finish which works perfectly. It allows the carving to shine as opposed to just the metal. The color is soft and the matte gives more of a warmth to the metal.
This, like our previous ear crawler, is definitely capable of translating across looks. Dainty enough for professional wear and adorable enough for leisurewear. Paired with a few cartilage hugging cuffs with a bit of sparkle above them and you can dress it up for evening looks.
You can also wear this with a pierced or non-pierced lobe. We love that the creator designed it for the versatility of both piercing preferences.
9. Snake Full Wrap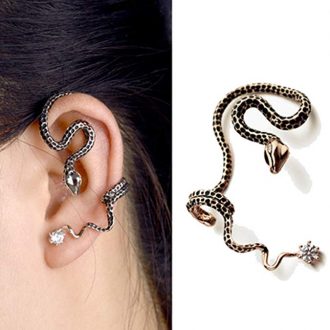 Our first full wrap on the list is probably our favorite on the list. It is perfect for pierced or non-pierced folks. An antique gold-toned snake coils around your entire ear, held in place by an orbital hugging cuff.  The tail of the snake ends in a lovely piece of Austrian crystal. It lays at the perfect place to give the illusion of wearing a stud for most people. The eyes sparkle with crystal inclusions as well.
The stainless steel snake is triple plated with 18k yellow gold alloy so for the price, this full wrap cuff is a steal. We love the detail of the carving and the sly little facial expression. Paradoxically the gold-tone softens the aesthetic a bit. This makes it ultra-wearable.
While this piece may not be particularly perfect for a professional place, we do it love it for everything else. It will add a sort of forbidden fruit and the tempter edge to your looks. The full wrap cuff by Cherryzz walks that fine line between fashion jewelry and being too costumey. Be it a night out with friends, a hot date or a casual coffee meet-up, this clever little gold snake is absolutely gorgeous.
10. Elf Ear Full Wrap

These elfin-pointed ear wraps are the most complex on our list but we love them so much. Designed simply of silver-toned wires, these full-wrap ear cuffs are anything but simple. The wires traipse across your whole ear and feature a wire-wrapped styling.  This gives us a very hand-made, organic look. Tiny flowers cap the pointed crest of the ear elegantly.
These are most definitely not an everyday wear sort of ear cuff. They are held on by a single guidewire that hangs down the back of the ear and peeks out from below the lobe.  Swirls of wire have a very fairy-like quality.
These will be perfect for cos-play and styles like Lolita fashion and manic-pixie dream girl aesthetics. If those are not your cup of tea we also kind of love them for adding a super playful element to any casual outfit. They are wonderful to have in your jewelry arsenal in case of surprise (or forgotten) costume and fancy dress parties. Pop on these adorable cuffs, add some glitter and a cute, whimsical outfit and you have an instant fairy look.
Ear Cuffs in History
As far as modern jewelry trends, ear cuffs drop us back to the 90s with the velvet tracksuits and plastic coil chokers. But ear cuffs reach way farther back than that. Way, way farther than that. The earliest ear cuffs were kaffas. The oldest found date back to 2000 BCE and were made of brass. Kaffas were often simple hooks or loops that slipped around the pinna or outer part of the ear. In modern piercing terminology, we would call this either the orbital or the helix, depending on where the kaffa was placed.  
Other versions evolved in India. Some excavated examples hung from the forward helix where the ear joins the head and swept down the back of the ear. A decoration in stone or brass would then be visible below the lobe.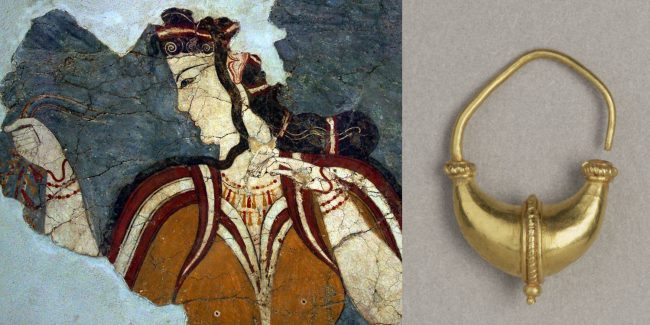 Thai kaffas would sometimes be styled to add large peaks, almost like flames of dragon horns to the ear. This was likely for dancers or participants in religious ceremonies. They remind us very much of the full wraps of today's ear cuff varietals.
By the 1800s kaffas still failed to look like the ear cuffs we think of today. They still hooked to the ear near the forward helix. Some types swept around back for a big reveal of a charm or dangle below the ear. Others kept everything to the front allowing for a large piece to coat the ear, almost reminiscent of a full wrap but not quite the same.
The trend as we know it really came to pass in the last decade of the twentieth century. Banded chains and simple bands were all the rage. It gave all the shock and awe of having gotten tons of difficult and sometimes painful piercings without all the hassle of maintaining them. Various sizes became available to allow for cuffs to be used in smaller places. Cuffs for the tragus could also be used on the nose or septum. The 2000s saw a brief hiatus on the style. It surged back by 2015.
A Note on Cleaning Your Ear Cuffs
Just like earrings, ear cuffs will need more regular cleanings than the necklaces or bracelets in your collection. Your ear cuffs will likely be exposed to the oils natural to your skin as well as the grime and dirt of the day. Additionally, your ear cuffs will also have to deal with any hair products you apply. This is true even if you don your ear cuffs after styling your hair. As the day or evening wears on the product is sure to find its way to your new favorite piece of earwear.
Wipe your ear cuffs with a microfiber cloth every time you take them off. This will clear away damaging substances and keep your pieces fresh and damage-free. Check for stray hairs that may have snagged on chains or full wraps. Occasionally a bath in warm water with fragrance-free soap and a light scrub with a soft-bristled brush will really make them shine. Be sure to follow any special procedures for fine jewelry, gems, or materials such as natural stone or enamel.
If you will be wearing a band or banded chain on your lip or nose you will want to also disinfect your piece before and after use.  To do this you can use a formulated cleaner such as barbicide cleaner. Alternatively, you can use rubbing alcohol or hydrogen peroxide. Dip your piece in the solution and then rinse and dry with a clean cloth.  This is a vital step to making your cuffs multi-taskers. Care for your jewelry aside, the inside of your mouth and nose are more susceptible to germs that can make you sick.