Mix / Women
Statement Jewelry Special: 10 Dazzling Chandelier Earrings!
Today, we'll be treating you to chandelier earrings, a type of earrings known for their flair and appeal!
A few factors took priority during our search and selection. We looked at the type of metal used (durability and whether it is hypoallergenic), the design, how easy it was to put on the earrings, and the quality of gemstones.
Below you will find a selection of 10 fantastic chandelier earrings we think are worth to spend your pennies on.
10 Gorgeously Dazzling Chandelier Earrings!
1. CHRAN Silver Chandelier Earrings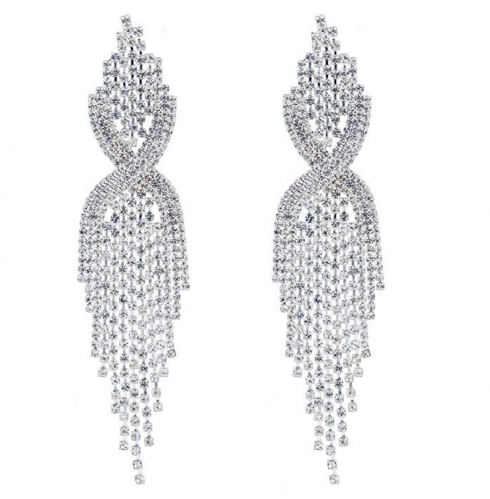 While the brand name (CHRAN) is unassumingly ordinary, their collection of chandelier earrings (studs) is anything but. You have up to seven options to pick from, with our favorite being the teardrop & tassel variant due to its use of stones.
These are created from a combination of rhinestones (small, medium, and large-sized rocks), and a silver-plated alloy.
Now, while most people won't be worried about the metal's strength, the question of whether or not is hypoallergenic will no doubt come up. And to that, the silver-plating is immensely helpful as it makes the pair of earrings absolutely skin safe.
As for the rhinestones (otherwise known as an imitation of diamonds), these keep the cost down without sacrificing the looks and sparkle!
They measure 4.17 inches in length and 1.2 inches in width. Also, they come in a gift box which makes gifting really easy.
2. Mariell Victorian Scrolls Earrings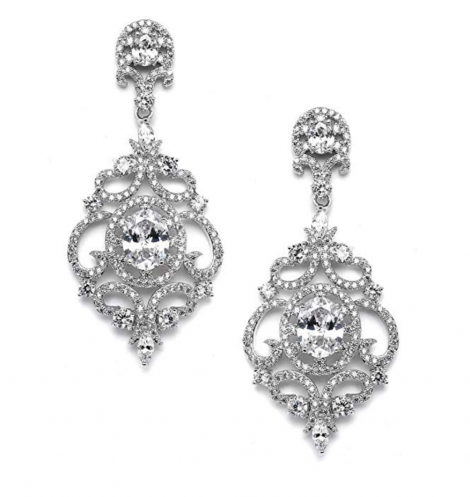 These are one of the best dress chandelier earrings you can get for a super affordable price. They are made from a combo of an alloy plated with a mixture of silver platinum and rhodium, and cubic zirconia stones.
The use of the allow makes them super durable due to the nature of the metal while plating gives the accessory a polished shine (rhodium looks like white gold).
As for the cubic zirconia, the quality is 5A-grade, or in other words, the stones are super sparkly and relatively hard with a Moh's score between 8-8.5 while also being affordable.
In terms of the design, it takes inspiration from Victorian-era jewelry. But the highlight here is the oval-cut zircon in vintage pave setting.
It just attracts attention like no other, and that's despite its petite frame (measurements: 2 1/16 " High x ⅞" Wide).
The earrings come in a jewelry box and with a 100% money-back guarantee as well.
There are also available options with 14K rose and yellow gold plating and, you get to choose between clip-ons and regular earrings!
3. Mecresh Crystal Earrings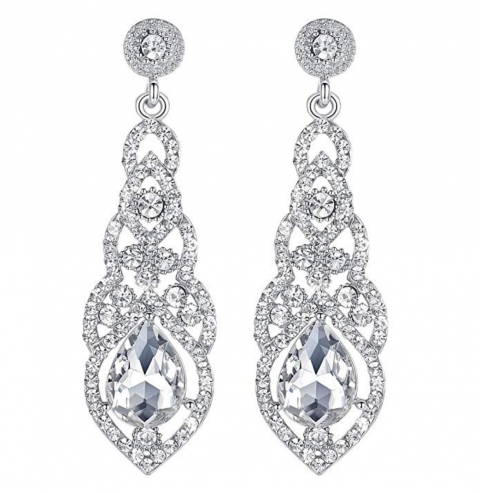 This pair of chandelier earrings from Mecresh is available for purchase in 5 colors. The colors you can choose from are clear, gold, champagne, blue, and black.
Regardless of which one you go for, the semi-honeycomb design gorgeously sticks out. At the bottom center, there's a large sparkly gemstone that's the highlight.
The earrings are made of a mix of silver-plated zinc alloy and crystals sourced from Austria. The alloy is plated to give it a bit of luster, while it doesn't sacrifice durability nor its hypoallergenic nature.
As for the crystals, they look and feel (down to the hardness) like diamonds, but then they're not that expensive at all!
Last features we'd like to highlight are the inclusion of a gift box (comes with a pouch too!) and return eligibility on any order you make.
4. BriLove Boho Chandelier Earrings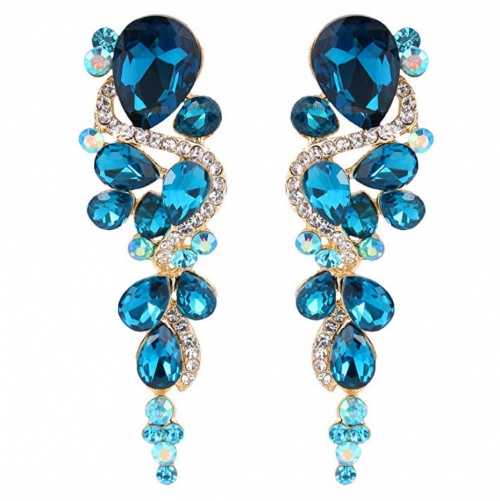 BriLove's chandelier earrings come in 11 different color schemes, but regardless of the one you choose, the design remains distinctive and beautiful.
The earrings are made out of a mix of different colored and sized rhinestones. Our favorite ones (the multicolor gold-tone option), there are about 20 medium-large stones with colors ranging from aqua blue and pink to peridot and dark blue.
Along the length of the gold-plated zinc alloy, you'll find 20 clear rhinestones being the perfect accent to the colored rhinestones.
The plated alloy is hypoallergenic (lead-free & nickel-free), and with a dimension of 3X0.9 in (LXB), it's pretty dainty and easy to wear.  Lastly, the earrings come wrapped up in a velvet pouch which is placed inside a beautiful jewelry box.
5. Mecresh Vintage Style Earrings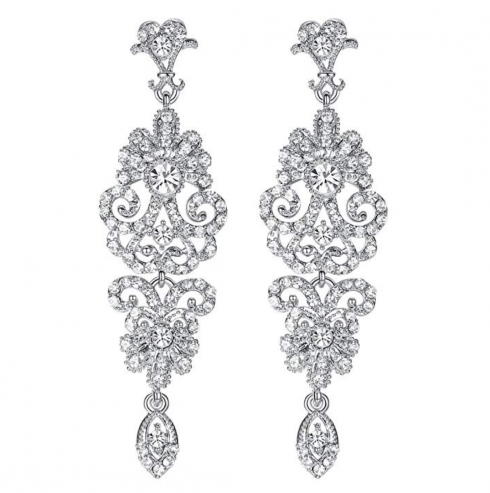 Like the other Mecresh option we included in our list, you get a few color options, clear, gold, and black. The design is vintage (flat-top-setting), with the pair of earrings actually made up of a cluster of rhinestones.
Underneath the stones, there's a silver-plated zinc alloy, and it's a design element that we love. Firstly, it is super durable while also making the earrings skin safe (free of nickel and lead).
The pair of earrings come in a velvet pouch inside a jewelry box. You also get the option to return them in case you change your mind.
Now that is a good thing and it shows the brand has awesome customer service.
6. BriLove Flower Earrings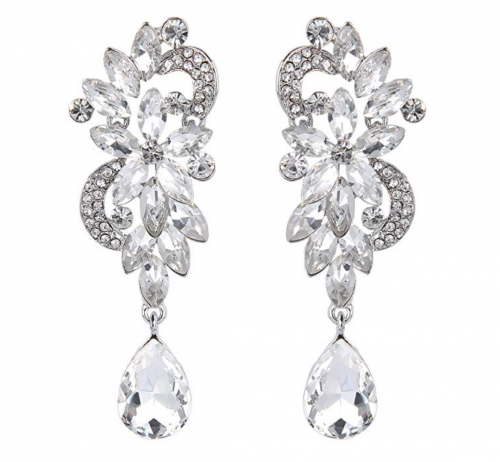 For BriLove's second option in this list, the first highlight is the intricate arrangement of stones in the form of a flower. It's the perfect pair of earrings for special occasions like anniversaries, parties or any other special occasion!
You can get the earrings in several colors (eight), with gold-tone emerald and clear gold-tone being our favorites.
The earrings are made of rhinestones and zinc alloy. Here, the alloy is plated with either silver or gold, depending on the color you're going for. Regardless of your choice, you're getting the same quality in the form of the alloy's durability and hypoallergenic nature (free of lead and nickel).
Lastly, the earrings come in a jewelry box for safekeeping.
7. Happiness Boutique Gold Chandelier Earrings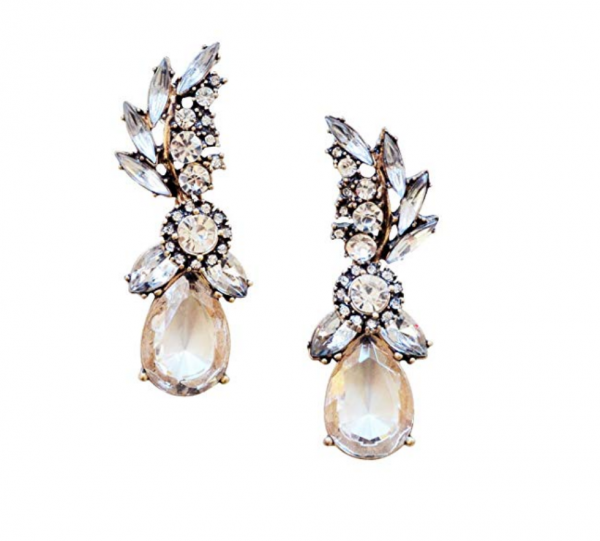 With this pair of gold chandelier earrings from Happiness Boutique, you don't get a lot of color options, but that isn't necessarily a bad thing.
They make earrings out of a neutral color (antique gold) rhinestones (medium and large-sized ones) and zinc alloy. Keep in mind that rhinestones are incredibly hard to scratch, not to mention that their aesthetic similarity to diamonds is almost spot on.
Moving on to the design, the arrangement takes inspiration from vintage earrings. They feature a huge statement rhinestone in the form of a teardrop, while the surrounding cluster consists of other smaller stones.
The pair of earrings arrive in a jewelry box/velvet bag for safe keeping, and there's a 60-days return policy which is perfect in case you intend to gift these beauties.
8. DZWT Tassel Chandelier Earrings
From just a single glance at this pair of earrings, it's Gypsy inspired design is clear as day. Some people, consider this is a pair of ethnic statement earrings, but to us, it's one of the better-looking pair of boho chic chandelier earrings we've seen.
They are made out of a combination of zinc alloy and rhinestones. These come in various shades of blue (aqua, sky, and deep blue) instead of the neutral colors we've seen so far.
We just love the huge pear-shaped center stone and the smaller tassel-like, cube-shaped ones at the bottom.
Tassels are one of our favorite feature in any type of jewelry and this is why this option is an absolute hit if you as our team of ladies in the office!
There are other colors available with different vintage designs for you to consider.
9. Happiness Boutique Clear Color Crystal Earrings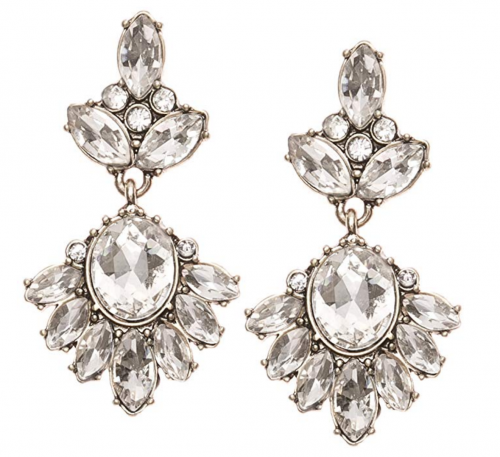 Now, these are a super bold and sparkly piece of jewelry! The jeweler makes these chandelier earrings out of zinc alloy, which makes up the frame of the earrings, rhinestones, and then some epoxy coating.
The epoxy coating, which acts as a solvent resistant layer added to the earrings. Combined, all of the three come together to create a pair of gorgeous chandelier earrings perfect for parties.
Other highlights of this option include the jewelry box (with a sealed bag) the pair comes in and the 60-days return policy.
10. EVER FAITH Silver Chandelier Earrings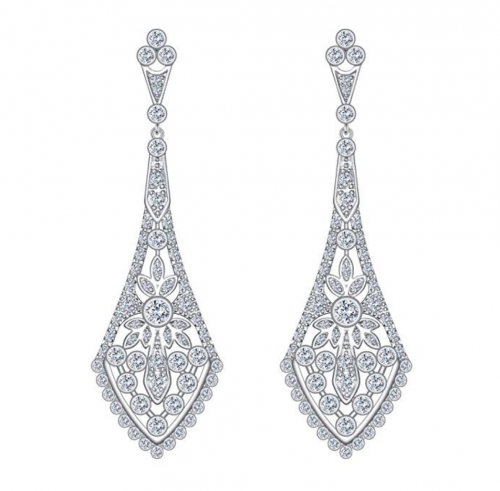 This pair of earrings' design takes inspiration from art deco. The manufacturer uses materials like white gold-plated bronze encrusted with cubic zirconia in this pair of earrings.
The metal used is both robust to handle any scratch without leaving the mark and hypoallergenic (free of nickel and lead), therefore perfect for people with sensitive skin.
The stones are relatively hard as well, with CZ having a Mohs score between 8-8.5 which isn't shabby when you compare it to a diamond's 10.
Other highlights include comfort (each earring weighs 3.4 grams only), the inclusion of spare crystals, and the earrings arrive with a jewelry box and a favor bag (great for bachelorette parties!).
Frequently Asked Questions
What are chandelier earrings?
They are long, intricate dangling earrings made up of clusters of gemstones, beads, pearls, etc. These type of earrings are best known to be worn to formal events such as weddings, parties, proms, holiday dinners.
How do I avoid any damages to my chandelier earrings?
Below a few tips to avoid any type of damage to your earrings:
Avoiding contact with chemicals
Wipe the pair of earrings with a soft cloth regularly to prevent tarnishing
Don't use hair spray while wearing chandelier earrings and Davis contact with water
When not wearing, put them in a sealed box
How to wear chandelier earrings?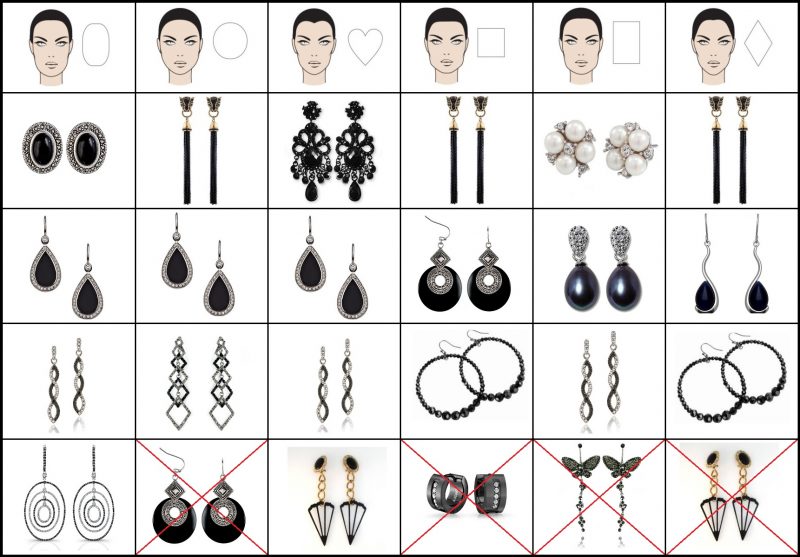 As you know, there are different face shapes to work with. So what you need to think of is the right earring for your face shape.
If you have a square shaped face, you'll look outstanding if you soften your edges with round chandelier earrings.
If you have a round shaped face, you'll look your best with longer dangling earrings.
For a woman with a broader forehead, you'll look beautiful with earrings that are bigger at the bottom and hang below the jawline.