Necklaces / Women
10 Vintage Necklaces That Will Complement Almost Any Outfit
Vintage jewelry is a fascinating world on its own beyond just the love of vintage style.  There is something so incredibly alluring about owning a functioning piece of history. Most people likely go straight to the brilliant and architectural art-deco pieces from the 1920s when they think of vintage jewelry.  Most importantly, there are four distinct levels to help define what are and are not vintage necklaces.
Estate Jewelry Vintage Necklaces
First, there is estate jewelry. Estate jewelry is a blanket term for any piece that has been previously owned.  It can include antique, vintage, costume and fine jewelry. Most of these pieces are a part of a person's estate and sold off after their passing. Thusly we arrive at the name, Estate Jewelry.  
Most often purchased at estate sales or estate auctions, this is a fantastic way to find incredibly unique pieces from almost any era. However, estate jewelry can sometimes be very high-dollar, designer-made pieces or it can be bargain basement, dollar-store collections. Either way, you can typically purchase whole lots for very reasonable prices.
Antique Jewelry Vintage Necklaces
The first and largest classification is antique jewelry. Any piece older than one hundred years qualifies as antique. This means everything from Ancient Egyptian funerary collars to Queen Elizabeth I's extravagant pearls are considered antique. Of course, some antique pieces are priceless treasures that are included in museum collections the world over. Other pieces are valuable for their age and design.
While not everything that is old is valuable, most antique jewelry pieces carry some value due to rarity, even if they lack valuable stones or materials. Because so many pieces classified as antique were often created by hand, as opposed to mass production common in twentieth-century creations, craftsmanship alone can confer value. Interestingly, there are even pieces of costume jewelry that are valuable for their role in history.   
Aside from the broad and sparkling collection of royal and crown jewels of many European countries, there are a handful of recognizable pieces of antique jewelry pop culture fans will recognize.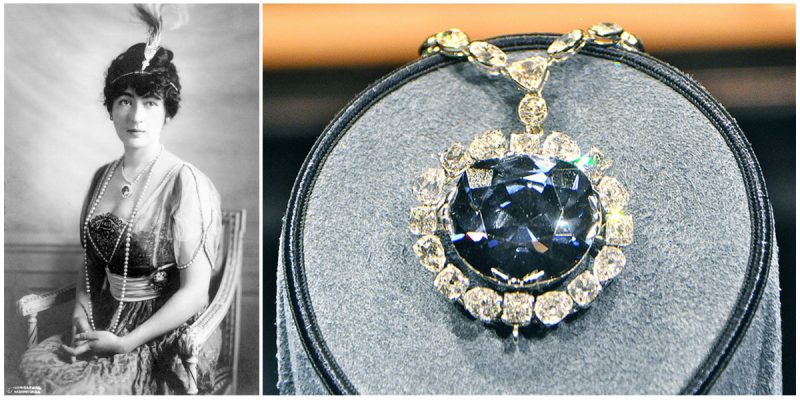 One of the most famous selections is the Hope Diamond. A killer 45.52 karats, this whopper is notable because, as far as diamond rating goes, it is not perfect. The color is a dark grayish blue and there are noticeable inclusions. It's the biggest claim to fame is the sheer size. Sold to Louis XIV of France in 1668, it is said to be cursed, each of its owners said to be under a curse. The Hope Diamond is currently on display at the Smithsonian Institutes Museum of Natural History in Washington DC.
Also in Washington DC is the Mubarak Gift Collection of antique Egyptian pieces. Not only is the collection chock full of antique and even ancient Egyptian jewelry, but it is also known for the rumors surrounding its presentation. Gifted over three decades to a total of five US presidents by Egyptian president Hosni Mubarak, it might be viewed as an attempt to bribe the United States. While President Mubarak was later ousted in a coup, the gifts he gave the US presidents and various representatives and diplomats working on its behalf have been added to the National Archive.
Vintage Jewelry
The smaller and perhaps most misunderstood class is vintage jewelry. Anything between fifty and one hundred years old qualifies as vintage. At the moment the roaring twenties and all its fantastic creations are still considered vintage, but barely. By age classification, many of these stunning works of jeweler's art are quickly aging into the antique category.
While in the broadest sense, the term vintage can be applied solely on the basis of age, most people think of costume jewelry when they hear the term Vintage Jewelry. Jeweler's making clever use of inexpensive materials meant that they were able to give a lot more design and complexity at affordable prices. The twenties saw several revolutions not only in overall fashion but the size and statement of jewelry on the general public. Of course, royals and nobles throughout history had rocked some sizeable pieces. But the everyday Joe and Jane were lucky to have wedding bands and maybe a family piece or two, handed down through the ages.
The early twentieth century enjoyed a host of revolutions. From women gaining the right to vote in several countries to a massive shift from steam to electricity, the style shifted with the technology and social consciousness. Jewelry was no exception.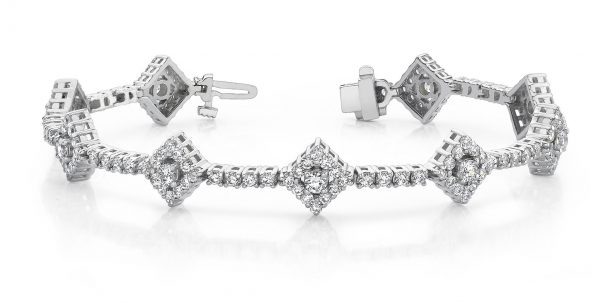 The most notable fashion trend in what we now consider vintage jewelry was the art deco design aesthetic. Art deco began as an architectural movement and shifted effortlessly into fashion, jewelry, and home decor. There was a certain attitude of refinement that went along with it. Jewelers were able to channel that refinement into elegant and complex designs. Using cheaper, more readily available materials like nickel, glass gems, and rhinestones meant that those Joes and Janes could accessorize like royalty.
And the jewelry trend did not stop at the twenties.  The remaining decades of the twentieth century saw the use of costume jewelry increase more and more. So much so that most of the pieces we enjoy and include in our collections are considered costume jewelry. Fine jewelry featuring natural gemstones and solid gold is a rare and expensive treat.
The term vintage jewelry encompasses a good many of those looks. Iconic looks, including the natural vibes and heavily layered vibes of the sixties' flower children, the bold, geometric pendants of the seventies and the wild, girlish vibes of the nineties all relied heavily on costume jewelry. These are all now considered vintage by definition. Fine jewelry, naturally, still has a place.  It is especially relevant for commemorative occasions such as engagements, weddings, and anniversaries. But for daily wear looks, costume jewelry reigns supreme.
Vintage-Inspired Jewelry
The fantastic designs held their own as today, there is a huge market for vintage and vintage-inspired pieces. Vintage-inspired works are exactly what they sound like. They are modern creations, often not a piece of estate jewelry, designed and styled after those iconic looks for days gone by.
Vintage jewelry, depending on the age and design, can get quite pricey.  Hugely popular pieces from the flapper era can range into the thousands of dollars at auction. Vintage-inspired jewelry gives you the feel of a finely aged piece without the finely aged price tag.
We've located ten pieces of vintage and antique-inspired jewelry that will add that old school vibe to just about any outfit.  
Our 10 Favorite Picks for Best Vintage Necklaces!
1. Edwardian Style Icicle Pendant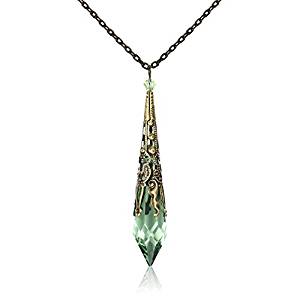 Inspired by the Edwardian elegance of the first two decades of the twentieth century this filigree wrapped icicle pendant is just darling. Choose your stone color from a warm peridot green or a cool sapphire blue. Either is wrapped in a delicate sleeve of antique bronze-toned filigree.
There is a delicate feel to this piece although the modern construction is fairly solid. It comes on an eighteen-inch chain with an optional two-inch extender. These are the perfect lengths for this piece. The pendant itself is quite long at just over two and a half inches. Combined with the sternum length chains, it will hang beautifully in a layered look.  
Edwardian styles both in apparel and accessories tended toward long shapes, immensely intense detailing, chunky stones and a certain air of elegance. The Edwardian age lasted from 1901 after the death of the much-lauded Queen Victoria.  It is named after the British monarch who reigned at the time, Edward VII.
As the global economy reached new heights, so to did taste and style. Commercial production and faster and faster shipping methods meant that styles could be more fluid and forgiving. Putting aside the rigidness of the Georgian and Victorian eras that preceded it, the jewelry produced in this brief fourteen-year span is some of the most complex works to date.
Typically colored pieces are best paired with either like or complementary colors. However, for this vintage-inspired piece, we love it with just about any outfit for any occasion. This seems to be the way with almost all vintage-inspired looks. Something about the classy, ageless aesthetic transcends are standard fashion advice.
2. Flapper Inspired Crystal Back Drop Choker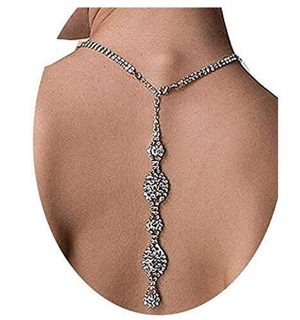 At the close of the Edwardian period the fashion world dove head first into the flapper age and art deco period. While these two fashion trends coexisted, they were quite distinct. Flapper jewelry is often associated with the generous strands of swinging pearls hanging over fringed dresses. But flapper jewelry was far more than that.
Flappers were the direct result of women achieving an unprecedented level of freedom in the aughts and teens of the twentieth century. Through the women's suffrage movement they gained a voice on the political scene. However, with the other side of the same hand, the women's voice giveth and taketh away. Flappers rose to prominence along with Prohibition, the movement which banned all alcohol production, sale, and consumption from the American public.
This piece is a fantastic example of flapper-inspired pieces. The flapper styles were very much about statement pieces, dramatically large and dripping with glitz and glamour. Essentially it was all about being as extra as possible. This backdrop choker offered by WIPUU characterizes that beautifully.
The front side is an elegant scroll of scallops. Rows of rhinestones frame generous crystals. The culmination of the piece is the long row of crystals and rhinestones designed to drape down your spine.  
While this has a tendency to lean toward the evening looks, we believe this is a wonderful piece for more than just balls and ballets. Wear this piece with your best low slung bodysuit and a mini skirt for a punch of drama. An open back t-shirt and ripped pair of jeans would contrast so expertly with this necklace, it is almost irresistible.  
3. Flapper Inspired Black Pearl Beads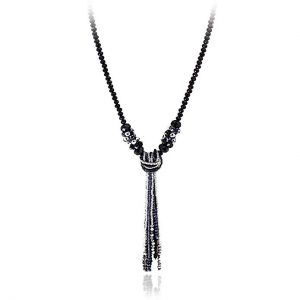 The flappers were a personification of the rebellious spirit that had consumed women up to that point. They wore short to the point of scandalous dresses and bobbed their hair short, a style is unheard of in history for women. Often spending evenings out at illegal booze joints, often referred to as speakeasies, they danced immoral, indecent dances while there. All of this happened while dressing to the nines as well.
The chased the height of fashion for the age and, in doing so, reshaped it entirely. Flappers as a culture tended toward excess and challenging boundaries. Most famously of all the flapper looks, were the long strand of glittering pearls. Naturally, we would be unable to do a list of vintage-inspired jewelry without including one.
This creation offered by Jane Stone skips straight past the more traditional chain of white pearls and leaps straight into the dramatic with black beads. Baubles and bunches of crystal cut beads in black and silver surround a tassel of black and silver seed beads.
We can imagine this being swung in time to the music on the dance floor of a seedy gin-joint. We can also imagine this over a business suit, presenting to a boardroom full of executives. Pair this with your best blazer to add a bit of that rebellious, flapper spirit to your outfit.
Alternatively, wear it with a super casual look as well. The neutral color means it goes with everything. The lightly detailed simplicity means it transitions from patterned shorts and a bold blouse to a night on the town without batting an eyelash.
4. Flock of Swallows Bib Necklace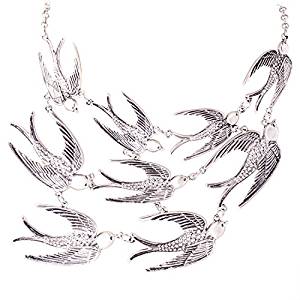 Our second offering from designer Jane Stone moves the timeline up a couple of decades. Swallows have been a fascination with artists, photographers, painters and even jewelers for centuries. The majestic and beautifully graceful bird captures the imagination with their smooth flight and interesting shape.
Swallows in jewelry became rather popular in the 1930s and 1940s. They were also a common art choice in the rising tattoo trend of the same era. Countless brooches, hat pins, earrings, and vintage necklaces presented the shape of the swallow with its tail spread wide and shapely wings swept back.
This sterling silver piece offers that look and more. These birds will swoop down across the sternum with all the grace and elegance characteristic of both the bird and the symbol. We think the length is perfect and the silver-tone even more so.
Often used to represent freedom, it is not a simple coincidence they rose to such popularity in the age of the Great Depression and Second World War. Given the hard times, rationing, loss of life and general hardships of the age, it is not surprising people longed for freedom.
Wear this piece solo. Once again, we are confident this piece can move from day to evening, boardroom to boudoir in the blink of an eye.  Vintage pieces are so fantastically versatile. It is really quite astounding.
5. Victorian-Styled Cameo Brooch Pendant
We will rewind the clock once more. This time we will go a little further back to the Victorian Era. Beginning when Queen Victoria came to power in England in 1868 and lasting until her death in 1901, the Victorian style has a distinct character of subtle elegance and modest appeal.
This brooch takes the Victorian ideals and pumps it up with a pop of modern color, however. The purple color of the cameo is paired with two wonderfully amethyst rhinestones on top and bottom. It is framed by gently violet crystals and brass toned paisleys with a light floral motif. This is practically a textbook representation of the Victorian cameos.  
The figure represented in stark ivory over the purple background is styled in the Grecian form, common to the time. Victorian art borrowed heavily from the classic.
Again this piece would typically come with the recommendation to wear with a specific palette, but the antique feel matches it with pretty much any look you need it to. Additionally, it can be converted to even more of a vintage feel by removing it from the fourteen-inch choker chain and adding a purple or black ribbon. Or you can hang it from a significantly longer look for a shout out to the matronly looks. We love either hang length with a layered look. The pendant itself is an inch and a half long so it is no small, dainty piece that will get lost with other additions.
6. Filigree and Paisley Bib Necklace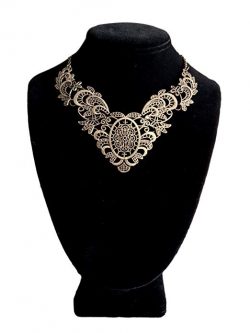 This piece rather defies placement in a vintage era. This is not because it is not vintage-inspired but because the look is so timeless it has been a common motif in several periods. From the subtle stylings of the Victorian era to the more dramatic Edwardian times all the way up to the classic fifties housewife, this 3D cutout bib necklace works with any of those aesthetics.
This piece is gently shaped to lay slightly above the skin so you get a wonderful dimension to the look. It makes fantastic use of shadow and light to create a genuinely unique look using a classic styling. In an antique gold tone, the color really is perfect to achieve that vintage feel.
We love this worn over the skin with a low, square neckline. The swirls and sweeping, rounded shapes of the cuts will juxtapose with the solid lines of a square neckline. Alternatively, using an extender, wear this over a high-necked piece. This styling will really draw on the Victorian feel.
For a far more dramatic look and just touching on the Lolita looks, pair it lace. All the lace. The lacey feel of the piece itself begs for a lace choker hung above or a lace shrug or throw worn over your blouse. This will capitalize on the Edwardian-ness of the vintage necklaces.
Worn without an extender this will drape right over the collar bone and dip down toward the sternum. It is absolutely a statement piece that, as with our other offerings, goes across the style genre effortlessly.
7. Floral Cloisonné Vintage Necklaces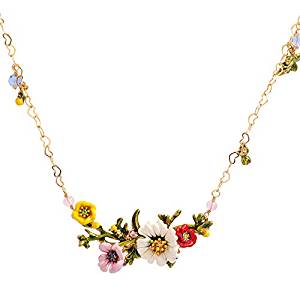 Hit the fast forward button once again and we ramp all the way up to the thirties and forties with this next inclusion on our list. This is most likely our favorite selection. There is a lot going on in this necklace and we love every bit of it.
It pairs gentle metalwork and heavy enamel flowers to create a vintage-inspired look you might see gracing the neck of a gal about town in 1939.  The flowers give us a very "We're not in Kansas anymore" vibe that we cannot get enough of.
Cloisonné is a type of enamel work that takes a flat metal form and combines shaping techniques with layers of colored enamel to get very detailed, dimensional forms. Many pieces of enamel work are flat, using hollows filled with the color. Cloisonné treats the pieces more as sculpture.
The color palette is broad but with warm olives, blues, rusts and white, it achieves the Golden Generation feel easily. Even the chain is detailed. An antique gold color, the designers of this piece have forgone the standard box chain and linked together tiny hearts to create the chain. Charms hang of those little hearts with more enamel flowers for the perfect amount of movement.
With all the colors this is fantastic for any color scheme in your wardrobe. We love it for just about any look (and are starting to sound like a broken record saying that, we know). Most especially this will really shine with a vintage-inspired look though. A cute little calico print top, perhaps sporting a peplum bottom for volume and a pencil skirt screams 1930s without going to the realm of costume.
8. 1970's Inspired Geometric Bib Vintage Necklaces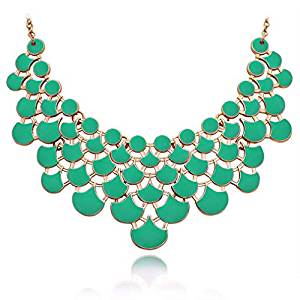 We debated quite extensively whether we thought this piece was most inspired by vintage jewelry of the 1920s or the 1970s. The fan shapes are very art-deco but the bold enamel work and bib cut absolutely say 70s fashion. Ultimately we settled on the 70s but it could go either way. It depends entirely on styling.
This is our third piece by Jane Stone and the designer just kills with the vintage-inspired pieces. Yellow gold tone metal hugs a wonderfully tropical green enamel in bold fan and circle shapes. As a bib necklace, it will lay just below the collarbone, just kissing the sternum at its lowest point.
This one is heavy enough in design to stand up to being worn over strong patterns. This will definitely dress it up with the 70s feel. Especially if worn with chocolates, rusts, oranges or reds. The gold metal gives it just enough edge around the green to make the enamel really pop.
If you want to take it to art deco styling, pair it with stripes. A poplin shirt with this necklace strung underneath the collar and a straight, flowy edged skirt will give that modern spin on the art deco look. Pair it with a small fascinator and your best pair of strappy heels and you've got the look down.
9. Classic Pearls Vintage Necklace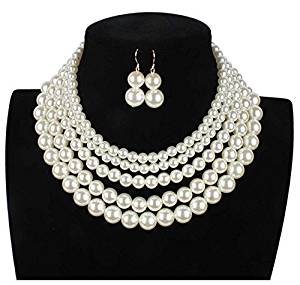 Another piece on our list that works across almost any generation or era, the classic pearls look is most associated with the 1940s and 1950s.  Every good housewife of the 1950s knew you simply were not dressed until you donned your strand of pearls. From Coco Chanel to Jackie Kennedy to June Cleaver, pearls were the piece of jewelry to have.
Really, little has changed but when we are talking vintage-inspired jewelry, we would be amiss to leave off the icon. We have selected a slightly more dramatic take on it. Most pearls of the 40s and 50s were worn as a single or double strand around the collarbone. Our selection includes five tiers of simulated pearls (and a bonus matching double pearl earring.)
This will hug the neck just a bit at the uppermost layer and drape down to collar height for the lowermost. It adds a more modern flare of drama that a single or double strand might lack.
10. Blue Hematite-Toned Vintage Pendant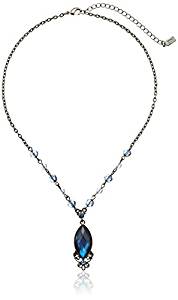 We will end in the era that we started with this blue hematite-toned pendant from jewelry designing company, 1928. This gorgeous pendant with its brilliant blue simulated stone is absolutely a 1920s homage in every way. The pendant is framed by crystal cut beads in a paler blue that highlights the wonderful stone perfectly.
The pendant features understated scrollwork and two additional rhinestones above and below the star of the show. It comes on a sixteen-inch chain so the pendant should hang just in the hollow of the throat. This really is the perfect placement for it.  
Hematite is an iron-based stone that can occur naturally in several brilliant colors. Most often it is an onyx style black but blues and deep greens were also common. It was a trend of the twenties to make use of these more readily available stones in place of the more expensive sapphires and peridots.  
This is another piece that despite all the blue really translates well into wearing with just about any color scheme. Given the subtle detail on the almond-shaped stone, it might look best if worn against the skin or over a solid color. We love this paired with an evening look most especially. Think little black dress. The pop of bright blue will do wonders. (And if you want to get really authentic, find something fringey!)