7 Pearl Engagement Rings – Because A Pearl is Always a Girl's Bestie!
last updated:
Jun 14, 2021
Pearl engagement rings are the ideal classic statement piece that turns into a timeless treasure when worn.
The elegance of pearls cannot be understated, making them the ideal accessory with an antique allure.
If you're looking for a unique fashion faithful that pairs perfectly with an assortment of beautiful pieces, pearl rings are your best option.
Let's take a look at some of the most intricately designed pieces that you can give as a sign of your everlasting love.
Top 7 Picks
1

. Kasun London Fairytale Pearl Ring
Sterling silver band
Large-size pearl
Vine and floral accents
Polished metal
The Kasun London Fairytale pearl ring looks like something out of a storybook with features like intricate detailing with a classic charm. There's no doubt this piece is one of the most elegant you'll find, with delicate details trailing up the sides of a perfect pearl.
Read more
Its ornate complexity makes it look like a family heirloom passed down through generations. However, it's not too over-the-top, taking away from the minimalistic confidence and beauty it exudes.
The sterling silver band offers effortless glam, with a brilliant polishing that captures the light from every direction.
You will love that sterling silver is corrosion-resistant, making the band last an extended period with minimal maintenance.
There's a beautifully selected pearl encircled in delicate detailing in the ring's center, adding an extra layer of appeal.
The swirling metal floral accents make it look like natural growth has overtaken the pearl, holding it gently in place.
With its larger size, you can guarantee this is a piece that will take your love's breath away.
It would also look beautiful paired with an organically designed wedding band, adding to the charming fantastical appeal it offers.
2

. The Pearl Source Tessa Ring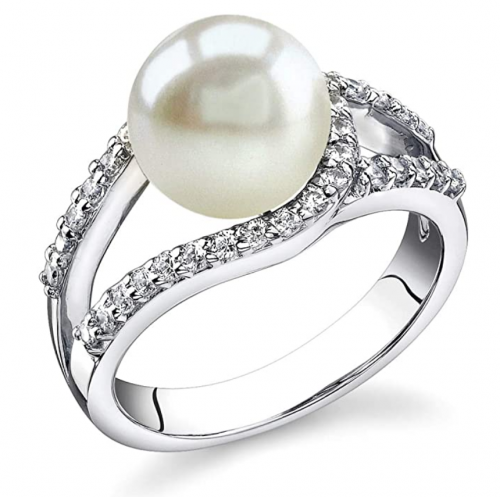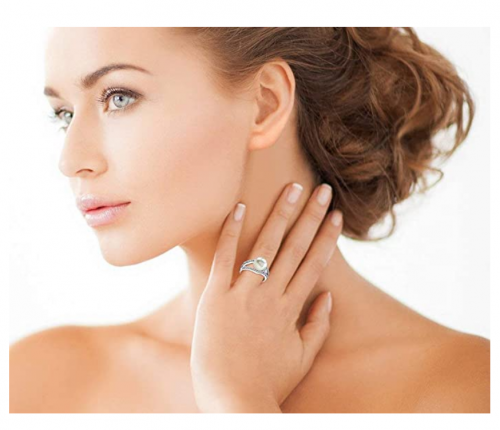 Freshwater cultured pearl
925 sterling silver
60 day money back guarantee
The Pearl Source is undoubtedly one of the best pearl suppliers there. They have been operating for over 25 years, and their experience really shows. They started just selling loose pearls, but now they create absolutely stunning pieces of pearl jewelry. The pearls they use are only the best of the best.
Read more
This particular pearl engagement ring has just the right amount of detail for an interesting and lovely design, but still maintains a relative simplicity that helps avoid an overbearing or busy look.
The pearl in this ring is a nice size at 9-10mm in diameter. It is set on a shining 925 sterling silver band.
This pearl is a freshwater cultured pearl that is a bright, clean, white color. On one side, the small sections of the band actually wrap all the way around the side of the pearl.
This creates a really stylish asymmetrical look. Precious little Swarovski crystals also line all along the smaller sections of the band starting at the place where the band splits halfway up the ring.
The crystals are clear in color and uniform in size. They look nearly identical to tiny little diamonds and compliment the white freshwater pearl perfectly.
The pearl ring is available in sizes ranging from 5 to 8, including half sizes.
The price of the ring is a little higher than a lot of pearl ring choices, but the quality and design definitely match the price.
3

. Alexander McQueen Pearl Ring
Brass ring
Antique gold-hue coating
Pearl and skull accent
Individually set gemstones
In true Alexander McQueen fashion, this pearl ring is sure to capture the attention of everyone in the room. You'll fall head over heels for the classical elegance of a pearl paired with a significantly edgier sidepiece.
Read more
Settling for generic engagement rings is so last year, which is why we love the Alexander McQueen pearl ring.
It captures the true essence of an alternative punk rocker on the hunt for a high-quality ring with luxurious features.
This option is bold, nouveau, and artsy, perfect for premium grade, prismatic piece.
One of the things we love about this ring is that you can immediately tell it's an Alexander McQueen piece.
The noticeable skull detail is a signature of the brand, elevating the appeal and luxury of the entire piece.
You will love the brassy hue the gold-tone metal has, adding even more uniqueness to the piece. It has a cutting-edge style that's easily worn, thanks to the thin, softened detail band.
As an added luxury, there are individually set gemstones along the top of the skull.
These individually set stones grab onto the light and shine effortlessly, adding an extra ounce of glitz and glamour.
4

. Amazon Collection Platinum Plated Ring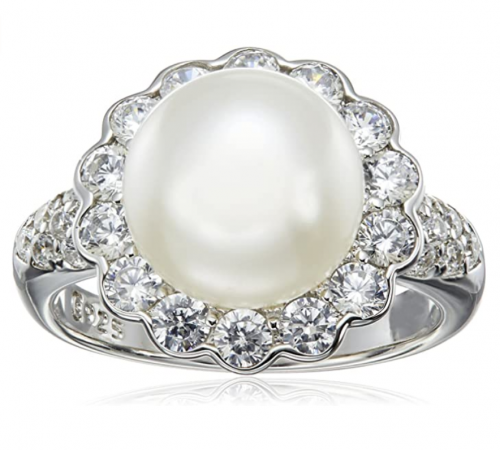 Freshwater cultured pearl
Swarovski zirconia stones
Platinum-plated ring
It is surprising to realize that this breathtaking pearl engagement ring is actually one of the most affordable choices on our entire list of recommendations. Upon first glance, it seems like a relatively normal ring. The creamy white pearl at the center of this ring measures in at 10mm across. It is a good size with wonderful luster and a nice button shape.
Read more
It sits in the center of a small silver plate with flower-pedal like designs around the edges.
In each curve of the pedal-like design, there is a round-cut clear Swarovski crystal inlaid into the silver. This surrounds the pearl completely giving it a bed of sparkling crystals to sit on.
They are so carefully cut and placed that they resemble diamonds better than nearly any other diamond look-alike. They are very beautiful and incredibly sparkly.
A total of 14 of the Swarovski crystals sit around the base of the pearl, while more adorn the sides of the ring's bad.
The metal of the ring is all made from solid 925 sterling silver for impressive durability and stunning beauty. Then, the silver is plated with platinum.
Not only does this increase the overall value of this piece, but it also helps add to the gorgeous look of the ring and even increases durability.
If you prefer, you can also choose to get the Swarovski crystals in pink or frosty mint color when purchasing rather than just the typical clear ones. The sizes available for this ring are 6, 7, and 8.
5

. Karen Walker Split Wisdom Ring
Individually set pearls
Two accent pearls
Sterling silver
Front slit
The Karen Walker Split Wisdom ring deserves a spot on any pearl-lovers finger with its classic elegance. This premium-grade ring has a professional and radiant appeal, making it ideal for wearers of any age.
Read more
Compared to traditional engagement rings, this piece takes a new approach by capitalizing on vintage jewelry.
You will love the tiny hollowed pearls set along with a comfortable sterling silver band. Instead of being placed on top of the band, they're threaded, making the entire ring crafted from pearls.
It has an open-worked appeal, with a small gap between the two ends, allowing for versatility.
You can twist the ring for a more modern approach, so the opening is at the top of your finger.
Alternatively, you can turn it around to showcase a beautifully designed band made entirely from pearls.
Each pearl is brilliantly polished, showcasing its natural beauty, which your love is sure to appreciate.
The ring sits comfortably against the skin without being too overbearing, offering a subtle yet exotic appeal.
The most important thing to note is that it cannot be exposed to chemicals and oils. Fortunately, the ring is easy to slide on and off, which the smoothness of the pearl band.
6

. Astley Clarke Yves Ring
Dual-pearl design
18k gold vermeil band
Twisted band
Polished metal
The Astley Clarke Yves ring is another open-worked option with immaculate styling for everyday wear. It's a daring piece that's sure to put you at the center of everyone's attention, and it boasts classic styling.
Read more
At first glance, there's no doubt that this daring and edgy design makes significant improvements to antique styles.
The delicately polished metal glistens effortlessly while the mattified pearls sit on the ends. We especially love the curved edges, helping the ring slightly trail up the finger for added elegance.
The secure fit of the ring makes it perfect for everyday wear, so you'll never have to worry about it falling off.
You can also pair it with many other accessories as it combines natural pearls with gold-toned metal.
Instead of pure gold, this ring is crafted from 18k gold vermeil, helping to make it more affordable.
There's no doubt that the twisted design is one of the most impressive features.
It also has a slight antique allure, making it an ideal option for vintage accessory lovers.
7

. ICE CARATS Button Pearl Diamond Ring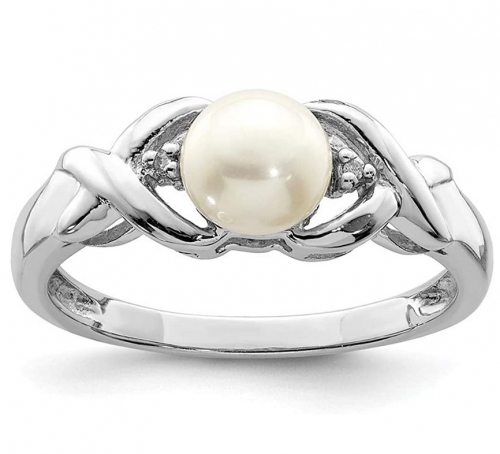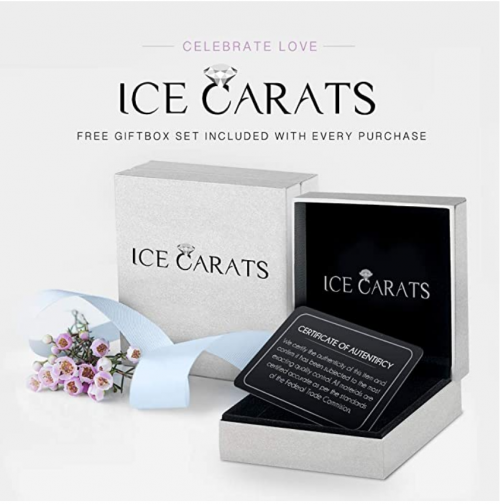 Freshwater cultured pearl
Sterling silver band
Rhodium plating
This very pretty pick from ICE CARATS features genuine diamonds and a stunning freshwater cultured pearl. The pearl is white in color and has a sweet button shape to it. It is the centerpiece of the ring sitting on top of beautiful silver bands.
Read more
The metal of the ring is all solid 925 sterling silver. The bottom of the band is relatively narrow but gets wider the higher up on the ring you get.
Right at the top of the band, the silver splits into sections that curve around each other beautifully. This is where the pearl sits.
On each side of the freshwater pearl, there is a tiny little genuine white diamond. These tiny diamonds are a sweet accent to the overall design of the ring and look adorable with the pearl.
While they are very small, they still add a bit of sparkle to the ring for the perfect subtle bling.
The high polish finish of the silver helps give the whole ring a shining glow that captures attention perfectly. It is a sweet and modern ring that has a very clean cut and smooth look to it overall.
The price is right for most people and it definitely has a good value to it. It does have a more limited range of sizes, though. You can get this ring in a size 6, size 7, or size 8.
Frequently Asked Questions
q:

Can you wear pearl ring everyday?

a:

Pearls are one of the more delicate options for everyday jewelry, as they're not as strong as diamonds. With that said, taking proper care of your engagement ring can help to ensure the pearls stay in their best condition.

It's essential to keep them away from acidic materials and cosmetics that contain oils to prevent staining.

You'll also want to ensure you don't wear your pearls when working near hard surfaces. It's very easy to scratch the surface, which can significantly damage the quality of your ring.
q:

What does a pearl ring symbolize?

a:

When you look at a pearl for the first time, it's easy to see how they exude distinction and subtle glam. The majority of pearls have a water association, and some cultures tie them in with the goddess of love, Venus, as she came from water.

You'll also find they symbolize helping the soul find its final resting place in some Asian cultures.
q:

Do pearl rings damaged easily?

a:

Pearls are incredibly soft materials, meaning they can get damaged easily. They are susceptible to scratching, tarnishing, staining, and denting.

You must keep them away from as much high-impact exercise, oils, and astringent materials are possible.
q:

How can I tell if my pearl ring is real?

a:

The best way to tell if a pearl ring is real is to touch the surface with your finger. Natural pearls have a gritty texture, similar to sand that you should feel with your hands.

By gently rubbing, you'll have a good idea of whether it's genuine or not.