Take a Look at These 10 Gorgeous Amethyst Necklace Options ASAP!
last updated:
Nov 25, 2019
If you like the idea of owning your very own amethyst necklace then we've chosen some of our favorites which we think you'll like.
Amethyst is a precious stone that consists of a variety of purple or violet quartz.
Depending on the individual amethyst, the color of the stone can range from very light violet to an intense royal purple.
The price of amethyst can also vary quite a lot depending on the quality of the stone and the size of it.
In our top 10 list, we made sure to include fantastic amethyst necklace options in all price ranges; even if you're on a tight budget, there is something for you!
Our Top 10 Picks!
1

. Black Bow Jewelry Co. Amethyst Necklace in 14k White Gold
Wearing this dainty necklace will certainly give your neckline an effortless and lasting glow!
Read more
This classy piece has been created with a small, oval-shaped amethyst. What we love about this piece of jewelry is that it's really all about the gemstone.
The purple stone has been positioned in place by four prongs on a bed of sterling silver coated in 14 k white gold.
The delicate-looking amethyst pendant is then attached to a solid loose rope chain.
The size and setting of this beautiful amethyst definitely deliver a less is more look which we simply love!
This option would make a fantastic birthday present, especially if your birthday takes place in February because amethyst represents the month's birthstone.
To give you an idea of the size of the pendant, it is approximately 6 mm by 6 mm square. The shape of the gemstone is oval cut and weighs approximately 0.10 carats.
One of the things we love about this option is that the design is very classy and would suit being worn with a variety of outfits, making the piece extremely versatile!
When it comes to the choice of metal, sterling silver plated with white gold works really well with this amethyst.
The shiny gold complements the deep violet shade of the gem really well. The rope chain is approximately 14 inches long which gives the necklace a great length.
This pretty piece is being sold by Black Bow Jewelry Co for a higher price.
It will arrive in a cute little jewelry box and offers the wearer something very special to model!
2

. Peora White Gold Oval Shape Pendant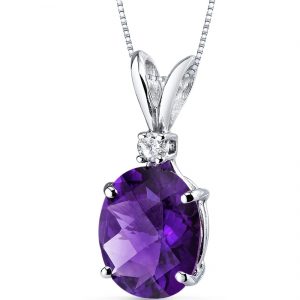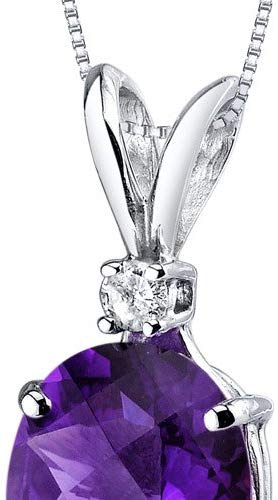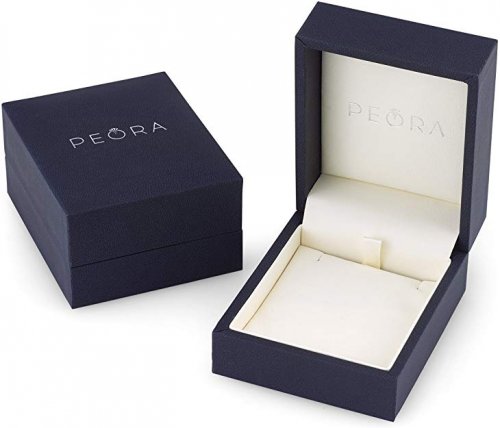 When you catch eyes of this option it will certainly take your breath away! This stunning amethyst necklace definitely gives you that 'wow' factor.
Read more
The gorgeous piece has been created with an oval-shaped amethyst gemstone in the center.
Appearing directly above the stone is a smaller circular white crystal that gives it a lovely sparkle.
To give you an idea of the size of this piece, the amethyst is approximately 10 mm by 8 mm and has been cut into an oval shape.
The color of the stone depicts a royal purple shade which has a brilliant sparkle. The gemstone weighs approximately 2.6 carats.
The jeweler has lovingly designed this piece so the amethyst sits neatly on top of a white gold base where the gemstone has been securely positioned within a prong setting.
The main structure consists of a 14 carats white gold metal. What's great about this is that it's extremely smooth and very shiny. The white gold complements the royal purple amethyst beautifully.
The pendant also comes with a complimentary 18-inch sterling silver chain that has a rhodium finish which looks shiny and smooth. These two really go well together.
We also must mention the touch of sparkle in the form on the genuine white diamond which gives this piece a beautiful shimmer.
The jeweler is selling this necklace with a 30-day return policy. It is being sold by PEORA for a high price.
We simply love this pendant and are happy that it arrives in a signature gift box.
3

. Silvershake Leaf Pendant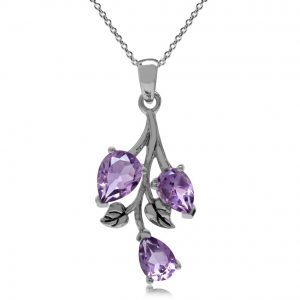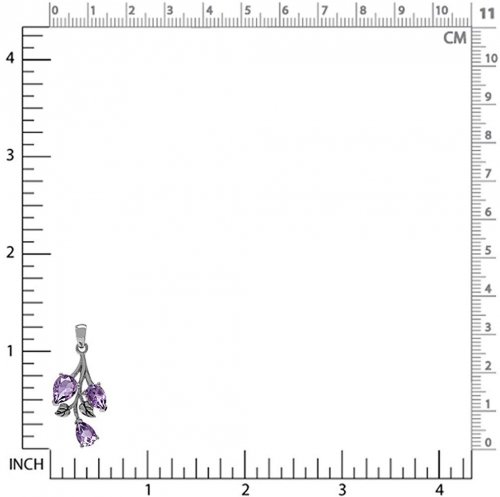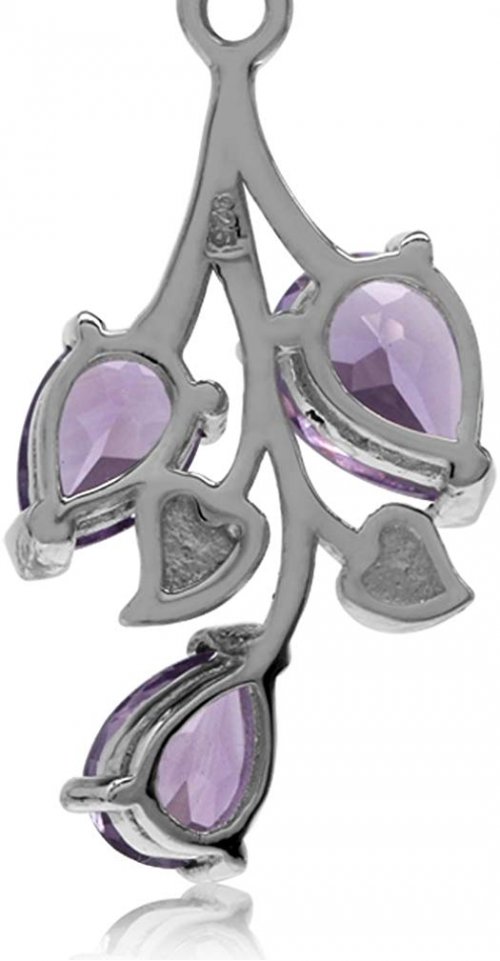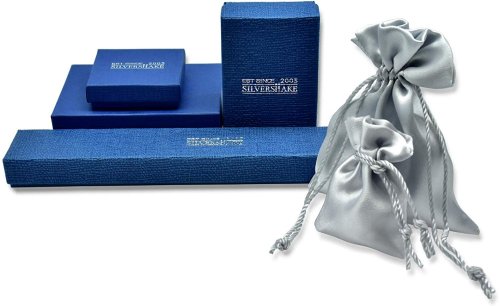 If you have a passion for nature and natural beauty, in particular flowers, then take a look at this wonderful pendant from Silvershake.
Read more
The gorgeous amethyst pendant represents a cluster of leaves alongside purple flowers. The design represents beauty, color, movement and most importantly nature.
We love how the jeweler has tried to create movement within the shape and composition of the flowers and leaves.
The varying shades of grey that are displayed within the branches and leaves add a feeling of depth and dimension within this piece.
This pendant really gives off a lot of intricate detail across the amethysts and sterling silver.
The pendant features three pear-shaped amethysts. Cut beautifully, these purple-colored stones give it much-needed color.
Within the design, each amethyst has been held securely in place by a v-prong setting. In total, the three stones equate to 2.28 carats.
The main foundation of the pendant has been crafted using a rhodium-plated silver.
Not only does the silver give the piece a lovely shine and smooth finish, but the rhodium plating gives the pendant great strength ensuring durability in time.
To give you an idea of the size, this pendant is approximately 14 mm wide by 33 mm long.
Approximately 18 inches long, this piece of jewelry comes with a cable style chain that has a spring-ring clasp on it.
This allows the necklace to be put on and taken off with total ease. When looking closer at the chain, it is ultra fine and very delicate which we think is great.
However, if you prefer a thicker or more substantial chain, then you may like to invest in a separate option to wear alongside this pendant.
4

. Voss+Agin 14K Rose Gold Halo Amethyst Necklace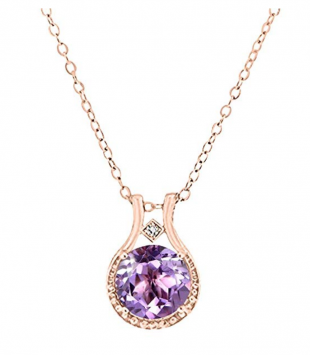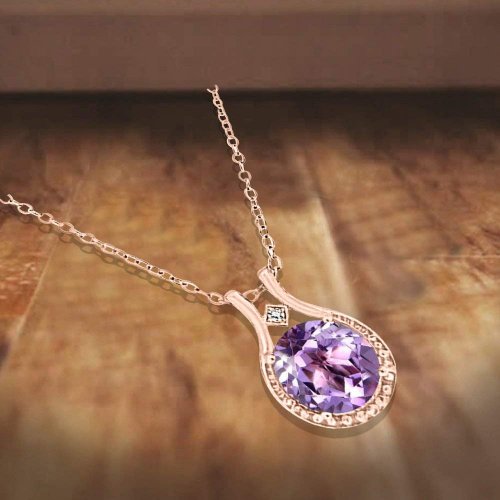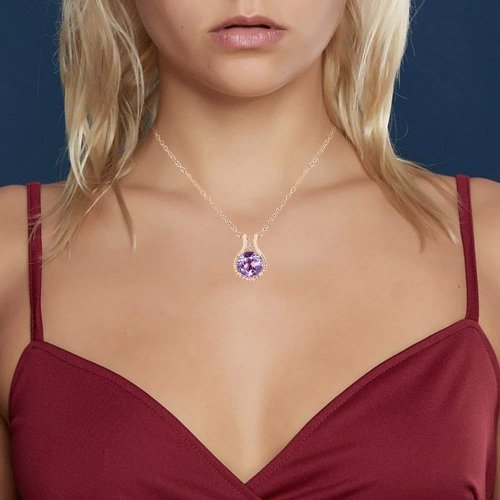 If you're browsing for a special girly piece of jewelry, then this necklace could be exactly what you've been looking for!
Read more
This option has been designed with a circular amethyst in the center of the pendant, giving it a lovely focal point.
Surrounding this is a rose gold frame that goes around the entire gem and is used to join the piece to a cute chain.
What's special about this amethyst necklace is the use of small dainty diamonds surrounding the entire gemstone, which have been embedded within the rose gold metal.
A slightly larger diamond hangs above the amethyst creating a beautiful sparkle. This is a unique piece that would add some much-needed glamour to your neckline.
The genuine amethyst quartz has been cut into a circular shape and placed in a gorgeous halo style setting.
This gemstone colored in violet shines beautifully within an elegant horseshoe-shaped rose gold setting.
The stones used in the set consist of amethyst quartz and genuine diamonds varying in size and shape.
The size of the pendant is approximately 10mm by 10mm and in total the piece equates to 3 carats in weight.
The necklace comes with a rolo style chain that is approximately 18 inches long and has a spring clasp closure making it very easy to put on and take off.
The main structure of the pendant has been crafted using a 14k rose gold over a sterling silver base.
This piece of jewelry is very pretty, unique and fashionable which could be worn with a variety of outfits.
Dressy, simple and casual, this rose gold amethyst necklace is extremely versatile and a fantastic piece to have in your jewelry box!
When it comes to a gift, this necklace would make the perfect anniversary present for your girlfriend or wife.
The design, color, and materials are very feminine so if you have a lady in your life, don't hesitate to treat her to this stunning piece of jewelry.
This pretty option is being sold by Voss+Agin for a medium price. We're shocked at the price because looking at the craftsmanship, quality, and attention to detail, this piece of jewelry is a complete bargain!
5

. Ruby & Oscar Amethyst Pendant
Another option which we just had to include in our list of the top ten amethyst necklaces is this stunning piece sold by Ruby & Oscar.
Read more
The beautiful gemstone has been cut into a triangle shape which has been positioned on a sterling silver base.
The stone is then connected to a double loop silver attachment which joins onto the necklaces box chain.
This is an extremely elegant piece of jewelry which could be worn on a daily basis as well as special occasions.
The gorgeous amethyst necklace has been created using genuine stone which displays a royal purple color and has a brilliant sparkle.
We love this shade of purple because it's extremely rich and vibrant and has an eye clean clarity.
The gem has been shaped into a trillion checkerboard cut which is approximately 1.5 carats in weight.
To give you an idea of the size, the stone is approximately 10 mm wide by 7 mm long. It has been positioned in a 3 prong setting on top of a base of sterling silver.
This pendant has been created using top quality craftsmanship and completed with a beautiful finish, we simply love it!
If you look after this necklace it will stay in great condition for years to come.
The stylish pendant comes with an 18-inch sterling silver box style chain which certainly finishes off the necklace well.
This wonderful option will also arrive in a lovely gift box which has been decorated with a pretty ribbon.
If you decide to give this precious necklace as a gift, you won't have to worry about any wrapping because the jeweler has done it all for you for free!
6

. Amazon Collection White Gold Accent Flame Pendant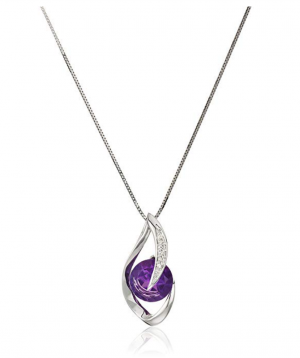 Amazon Collection has done a fabulous job creating this dainty amethyst necklace!
Read more
The jeweler has chosen to frame the amethyst in a very elegant setting which really shows off the beauty of the gemstone in its full. The purple stone is captured as the centerpiece of this necklace.
The pretty stone appears as a flat circle shape encapsulated within a single silver flame accent.
The best way to describe this accent is to simply look at the image for yourself!
A plain chain is then effortlessly looped through the accent. There is no special attachment for this chain to loop onto, just the pendant itself.
The two main stones are amethyst and a clear diamond. The larger of the two is the amethyst gemstone that has been cut into a round shape.
Featured along with the accent we also have a row of small, perfectly-formed clear diamonds that add a beautiful sparkle to the amethyst crystal necklace.
The diamonds have been cut into a small round shape. It's important to point out that these are natural diamonds that haven't been treated.
The jeweler has also made of point of stating that these diamonds comply with the Kimberley Process which ensures that the ones featured in this pendant are conflict-free.
The pendant has been crafted using a 10k white gold metal that gives off a glorious shine.
As mentioned earlier, this piece features a very elegant pendant designed not only to highlight the colorful gemstone but also the beautiful diamond accents.
The piece comes with a box-style chain that has a spring-ring clasp. The great thing about this is that the necklace is very easy to put on and take off.
Other than the amethyst, the necklace is also available to purchase with a blue sapphire, created emerald, pink sapphire, created ruby, garnet, and Swiss blue topaz; however, our favorite is definitely the colorful amethyst!
This simple but elegant piece of jewelry is being sold by Amazon Collection for a high price.
7

. Gem Stone King Purple Amethyst Necklace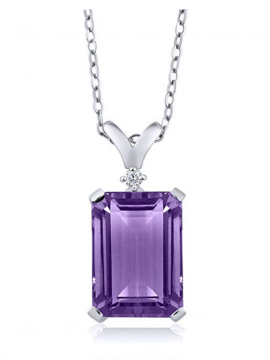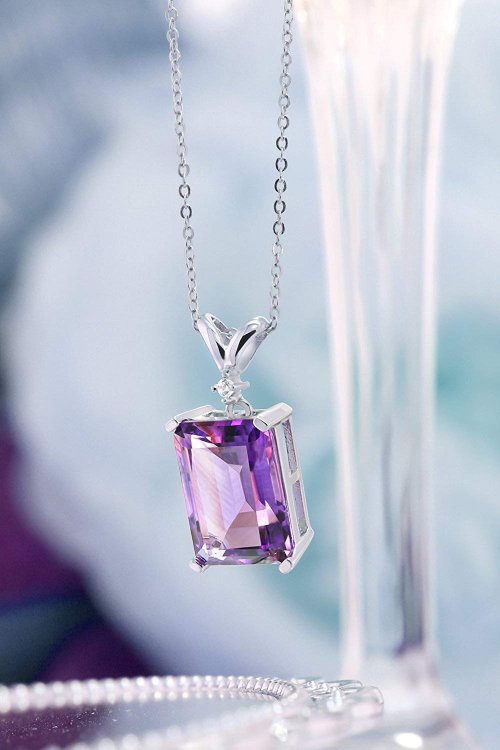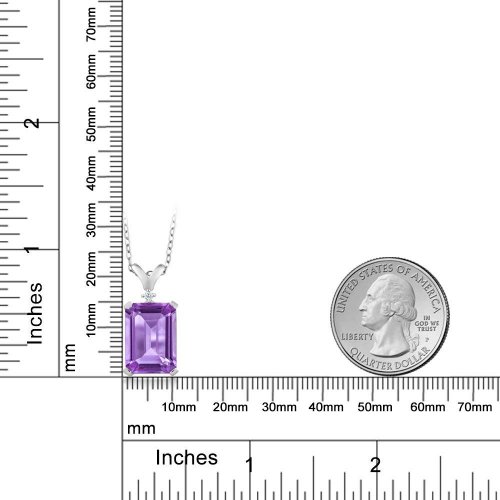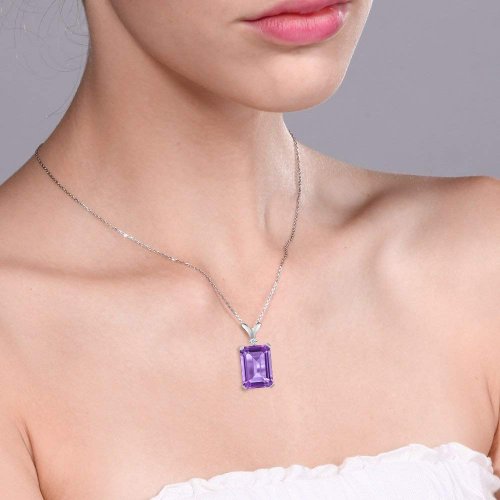 This chunkier looking option is definitely a statement piece of jewelry that will get heads turning.
Read more
Created with an octagon gemstone at the center of the necklace, the main focus of this piece of jewelry is the striking stone.
The piece contains a prominent straight line and striking corners. To give you an idea of the size of the center stone, it's approximately 14mm by 10mm. The beautiful gemstone is held securely in place by a 4 prong setting.
Different to some of our other pieces, the prongs used to hold this gem in place are quite dainty which really works well in pushing the stone forward to the forefront of your attention.
Positioned directly above the gemstone is a diamond-shaped clear crystal. Sized approximately 1.5 mm by 1.5 mm, this white diamond gives off a dazzling shine.
It's great to hear that both the purple stone and the white diamond are natural and you can see that both stones shine brightly.
Altogether this is a very chunky display of stones, weighing in at a total of 6.52 carats.
The prongs and the 'V' shaped attachment that joins the gemstone to the chain have been crafted out of sterling silver.
Not only is this material utterly gorgeous but it's also extremely tough making it perfect for everyday use.
The pendant also comes with an 18-inch cable style silver chain that has a spring-ring clasp.
This gorgeous piece has been made and sold by GEMSTONE KING for a medium price.
8

. Serafina London Chain Necklace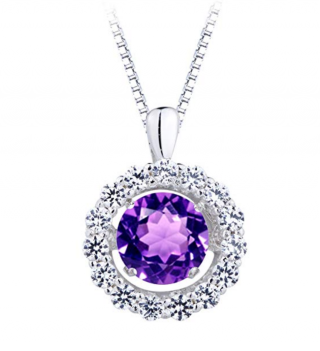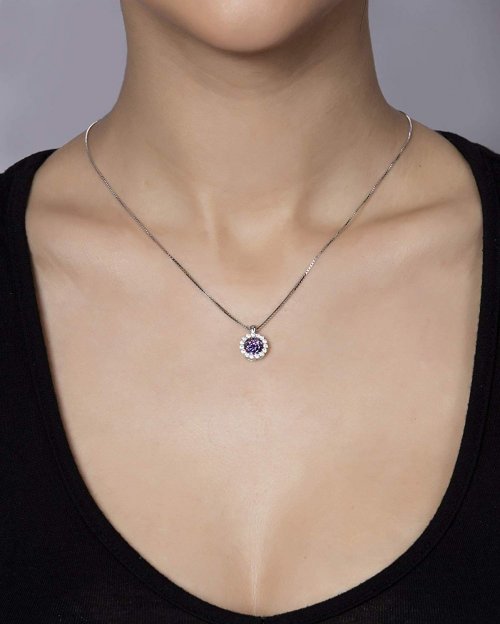 If you want to treat yourself to a pretty piece of jewelry then take a look at this pick.
Read more
With a circular-shaped amethyst in the center of the pendant and sterling silver around the gem featuring diamonds, it looks similar to that of a flower.
In the center, the piece features a simulated amethyst gemstone held securely in place by a 4 prong setting.
What we love about this stone is that it gives off a lovely sparkle and beautiful twinkle which certainly catches your eye.
Surrounding the purple gemstone, white sapphires frame the gem giving the piece a brilliant shine.
The main structure of the pendant has been made from sterling silver. The pendant also comes with a sterling silver 18-inch box chain that has a lobster clasp.
What makes it even more appealing as a gift is that it comes in a beautiful black velvet box!
The pretty amethyst necklace is being sold by jewelers at SERAFINA and the item comes at a medium price.
9

. The Black Bow Jewelry Co. Oval Amethyst Necklace
If simple jewelry is what you prefer then take a look at the piece! The gorgeous necklace is made up of a big oval purple amethyst which has a yellow gold rim to it.
Read more
The gem featured has 2 tiny loops at the top of the stone which then allow for a yellow gold chain through.
This necklace may be simple in design but it's extremely elegant to look at!
The stone has been shaped into a cushion checkerboard shaped gemstone which is approximately 8mm by 6mm in size.
It's important to point out that this purple stone is 100% natural, increasing its value. It's also quite heavy to wear coming in at 1.2 carats.
Surrounding the center stone is a 14k yellow gold border that gives a lovely smooth golden finish to the pendant.
We think that this is a very high-quality piece of jewelry that could be worn on any occasion. The piece is very stunning and extremely flattering.
The pendant also comes with an 18-inch yellow gold chain that complements the gemstone beautifully. Altogether this is a very flattering piece to wear.
10

. Finejewelers Heart-Shaped Center Stone Pendant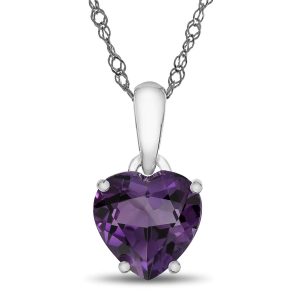 What could be more romantic than a heart-shaped amethyst necklace!
Read more
This beautiful little number consists of a small heart-shaped stone. When it comes to this piece, it's definitely all about the gemstone!
The violet-colored stone is approximately 7 mm by 13 mm in size and weighs approximately 1 carat.
Attached to the top of the heart-shaped stone is a small simple white gold loop that allows for a chain to be threaded through it.
It's important to point out that this necklace may look like it's made out of silver; in fact, it's made out of solid 10k white gold. We really do love the simplistic vibe that we get from it.
What's great about the necklace is that it arrives in either a cute velvet jewelry bag or a stylish navy blue jewelry box.
The pretty piece is being sold by Fine Jewellers for a great price.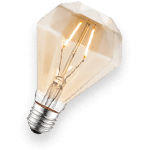 Amethyst Stone: Notes to Take Into Consideration
The best amethyst stones are sourced from Africa; however, the largest quantity of the gemstones is produced in South America.
Interestingly, the purple amethyst is the birthstone for the month of February and is the stone for those people who are born under the sign of Pisces.
It is believed that the procession of a stone like this can result in you having lovely dreams and visions.
The gemstone has also been used to symbolize wealth, humility, happiness, love and sincerity.
Amethyst is known for carrying many healing properties. Whether it's emotional issues, physical ailments or energy healing, this stone is wonderful in working its healing.
Amethyst Stone: Notes to Take Into Consideration
The gem crystals are primarily known for helping the nervous system and curing insomnia, nightmares and balancing the crown chakra.
The gemstone is often seen worn by healers because it provides them with a lot of power to focus on energy.
It is also known for helping with any breathing and blood-related problems. Amethyst crystals are used to keep the life force and air in a home very positive and clean.
The stone is known to relieve headaches and help a person overcome fears, cravings and overall increase positive feelings.
Finally...
An amethyst necklace is a beautiful piece of jewelry that not only looks good around any neck, it also comes with awesome benefits and healing properties!
Amethyst is known to calm, destress, help with insomnia and meditation. It's the birthstone for the month of February and amethyst jewelry is the perfect gift for those born this particular month.
Our top 10 picks for amethyst necklace includes beautiful designs in all price ranges, from super budget-friendly to fantastic and well-worth splurges.
Time to shop ladies!