Mix / Personalized / Women
Personalized Bracelet Ideas to Wear or Gift to a Special One!
Marianne 16 Mar 2020
8978
Jewelry is all about making a statement. It is an indispensable part of fashion. Even when it comes to gifts, jewelry tops the list. You wear it every day or save it for a special occasion. Regardless, a great piece of jewelry is a thing to cherish forever. In case you are conflicted about jewelry – after all, there are so many options to pick from – there is one piece everybody loves, which takes any outfit and look to the next level. We are talking about personalized bracelets.
Bracelets are simple, easy to style and everybody loves them. And let's not forget their versatility. Whether you are dressing for red carpet royalty or running to get groceries, for school or date night – bracelets are the cherry on top for any look you are going for. Metals chains, prayer beads, charms or diamond-encrusted bracelets, the options are endless.
Unlike some of its flashier counterparts, both men and women can wear bracelets. Besides unisex bracelets, jewelry labels even offer separate collections for the two genders. For fashion-conscious men and women from all over the world, this is great as styling is often different for the two.
With the vast range of designs available for both categories, styling with bracelets need not be "one size fits all", a flat look for everyone. Instead, everybody can curate their unique looks with bracelets, as per their personal style, preferences, and even their moods. And when it comes to being unique, personalized bracelets are a great way to show the world how special you are.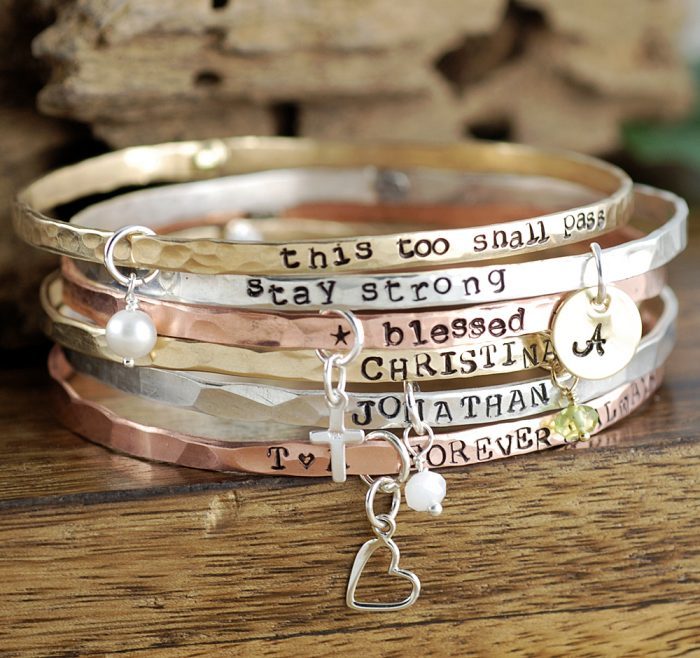 There is just something about owning a personalized item; you know it's meant for you. On a day when you need a little pick-me-up, simply looking at personalized jewelry reminds you to chin up and hold your head high. You keep your personalized jewelry away from the rest. Because amongst the clutter of ostentatious stones and jewels, it is the meaning and not the glitters that you cherish and hold close to your heart. Personalized jewelry as gifts is in a league of its own. You are, after all, etching your bond in metal and it will stay for years to come; this is a loving, nurturing relationship.
For the ride or dies in your life, the ones who make your life beautiful, a simple personalized bracelet can mean the world to them. Something that reminds them of you and a host of loving memories, you know they will treasure it for the rest of their lives.
Here are some of our favorite personalized bracelets- simple, beautiful and full of love: Personalized Bracelets for Women
Marriage anniversary, Mother's Day, Sister's Day or even Women's Day – there are just so many occasions to celebrate the women in your life. And of course, a spontaneous gift, at any time of the year, is a wonderful way of reminding them what they mean to you.
These are our top 5 personalized bracelets idea for women, the loving creatures who deserve all the best things in life.
Personalized Bracelets for Women
1. Lily Brooke Personalized Family Birth Month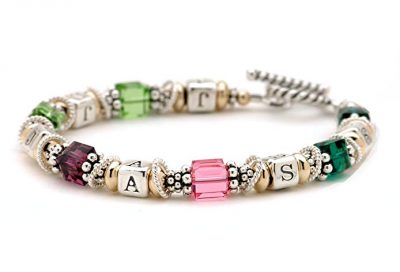 Soft, feminine and meaningful- this bracelet warms the heart at first sight. The Personalized Family Bracelet by Lily Brookes makes a thoughtful present for the women in your family, especially the mother hen. Wound with maternal love, this bracelet might even cause a few happy tears to be shed.
If you are looking for personalized bracelets for women, say, for your sorority or bridesmaids, Lily Brookes has it all. For more than 10 years, they have been crafting sentimental keepsakes which grow to become part of family lore. With a goal to create the finest personalized jewelry in the country, Lily Brookes never disappoints and the Family Bracelet is yet another stunning piece from the brand.
The bracelet is made from sterling silver of the highest grade. It can be customized to represent up to 7 children with sterling silver initial beads and a matching Swarovski cube crystal for the birth month. Between the initial beads and birth month crystals, the bracelet is chock full with 14k gold spacer beads, in gold and silver. The two tones of the bracelet, gold, and silver, with a pop of soft colors in between adding a beautiful everglow to the bracelets.
To add 8 or more initials to the bracelet, you may contact Lily Brooke personally to resize and they will happily oblige. It's available in 4 sizes- 7 inches, 7.5 inches, 8 inches, and 8.5 inches. You can also choose the clasp, toggle or lobster claw, as per your preference. Lily Brookes offers a gift wrap option and the Family Bracelet itself comes in a beautiful baby blue box.
Despite being slightly more expensive than the average beaded bracelet, people are raving about this piece, its quality, and the sheer sentimental value.
These days, there is no dearth of personalized gifts. But the right one, the kind that speaks to the heart, is rare. The Family Bracelet by Lily Brookes is one of a kind. A perfect gift for a mother or grandmother, you know she will hold it dearly forever.
2. Yiyangjewelry Inspirational Jewelry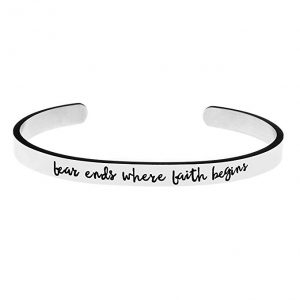 Over the last few years, cuff bracelets have had a major comeback. Sleek, fashionable, classy – you see it on runways and you see it on the street. And when you add a touch of personalization to it, bam! You've found yourself an everyday accessory, the one-piece which completes you. Yiyang Jewelry brings to the ladies a simple cuff bracelet. Subtle and charming, the Personalized Engraved Bangle bracelet has both style and significance- a blend not every bracelet can accomplish.
Yiyang Jewelry is an online retailer that has amassed quite a bit of fan following. Their product line consists of mainly cuff and bangle bracelets, initial necklaces, pendant necklaces and so on. They target young women who prefer contemporary styles rather than an old-fashioned extravaganza. They offer exclusively on-the-go accessories, often with a motivational quote on them.
This bracelet embodies everything Yiyang Jewelry stands for. It is a trendy piece, light on the wrist and perfect for everyday wear. It is made from 316L stainless steel, classifying it into a higher grade quality. This means that the bracelet will not corrode, stain or rust and will even withstand high temperature. With most affordable jewelry items not exactly what can be called durable, this piece here is a breath of fresh air.
When it comes to the fit, the bracelet is designed for any wrist size, teen and above. Its width is 0.25 inches while the length is about 6.4 inches. The open end can be adjusted to fit wider or more petite wrists.
About personalizing it, Yinyang Jewelry offers 12 inspiring quotes, the kind that never fails to put a smile on your face, for you to pick one from and have it engraved on the bracelet. There is plenty of variety too, among the quotes. For instance, you have "Enjoy the journey"; this will make a sweet gift for the girl who is graduating from college. Or maybe you'd like, "Difficult roads often lead to beautiful destinations", a perfect reminder to get one through the drudgery of daily life. There is also one about beating cancer!
There is no doubt that cuff bracelets are fashionable; with these, you certainly won't have to worry about being out of trend. Add a favorite quote to it and you have a gift that is much more than just a regular fashion accessory. It might just be the thing that gets them out of bed in the morning. And if you are the one down in the doldrums, why not buy it for yourself? Self-love is, after all, the best form of love and this bracelet has it in oodles.
3. MignonandMignon Personalized Name Plate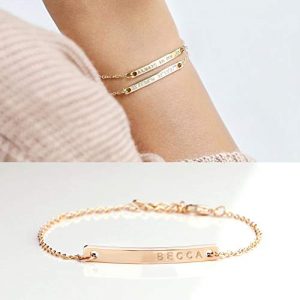 If you've been with us so far, you might have already gotten our gist: personalized bracelets are the best thing ever. But what if they are handmade too? The bracelets, it would mean, are not just mass-manufactured objects but a labor of love. For a beautiful handmade bracelet which can also be personalized, the Name Plate Gold Bar Bracelet by Mignon and Mignon is what you are looking for.
Mignon, in French, means sweet and cute. That is how the jewelry brand, Mignon, and Mignon got its name and the way it is emblazoned proudly on their website, they clearly take it very seriously. They are a team of seasoned artisans, passionate about making jewelry and not just any kind. Dainty little trinkets, pretty and feminine is what they are best at. Mignon and Mignon love the fact that their creations bring happiness all over the world. Charms, bar necklaces, bracelets, pendants, rings and all of these customizable too, this brand is completely in tune with its customers from the word go.
This beautiful piece is available in 3 of the most popular options for jewelry: yellow gold plated, silver plated or rose gold plated. Joined by two cable chains on both ends, it has a solid bar in the middle- the clear board for your words.  The bar allows 17 characters, including spaces. So, do choose your words wisely.
You can, of course, never go wrong with names. Phrases such as "Best Friend", "Best Mom", and "Forever & Always" are some common classics. You can even choose a word or phrase which is utter gibberish to everyone else except you and the intended wearer – a private moment or an inside joke. You can choose to engrave on either or both sides of the bar and to make things even better, you can pick the font too. The available fonts are uppercase gothic, lowercase gothic and lowercase handwritten.
The bracelet closes with a lobster claw clasp. The bar is about 1.25 inches in length and 0.12 inches in height. Mignon and Mignon can add a 2-inch size extender too. The total length of the bracelet is 10 inches.
The Name Plate Gold Bar Bracelet is as sweet as a gift can get. The soft hues, the beautiful lettering and the overall prettiness of the bracelet make it a must-have on the wrist. This is a handcrafted piece of art with words which come straight from the heart.
4. Zuo Bao Rose Gold Initial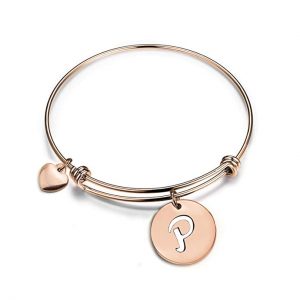 Personalized gifts don't always have to be a grand gesture. A simple pick, as anyone will tell you, is often more genuine and heartfelt. Bracelets are nothing if not classy wrist accessories, sweet and subdued. And while we are talking about bracelets in their best, the Rose Gold Initial Disc Bracelet Bangle by Zuo Bao is everything we love about bracelets.
As far as online retailers go, Zuo Bao is one of the best. Engraved bracelets, necklaces, sweet mementos made with love for the family – this brand knows how to tug at the heartstrings. They even offer hair tie bracelets – bracelets with a groove to place your hair tie in without compromising your look. But among everything they offer, our favorite is the Rose Gold Initial Disc Bracelet Bangle. The unique simplicity enwrapped in a beautiful bracelet is a design we just cannot resist.
When it comes to styling, this bracelet is for those who believe less is more. This too is a handmade creation, made with love and care to be cherished for years to come. The bracelet comes in beautiful rose gold, a tone lit with the softest of glows. It closes with an adjustable toggle clasp, designed to fit most wrist sizes comfortably while the toggle clasp itself becomes part of the overall aesthetic of the bracelet. The diameter is around 2.56 inches.
The bangle is made from stainless steel and absolutely free from lead or nickel. Customers wholeheartedly vouch for the quality as they don't rust or tarnish, not even from contact with water. Besides, the metal is hypoallergenic, so the wearer doesn't have to worry about having an allergic reaction from the bracelet. But if for some reason you would rather return the bracelet, Zuo Bao offers a 30-day money-back guarantee policy.
The bracelet has a little heart charm on it in the same rose gold shade. Small and dangling, the heart does add an adorable touch to it. And for the initial disc, slightly larger than the heart charm, you choose the letter you want from A-Z as Zuo Bao engraves them into the steel in a lilting font. Remember though, you cannot add more than one letter to it and the bracelet only allows one initial disc.
Zuo Bao, with this bangle and its unerring quality, can even give high-end brands a run for their money. Pretty, durable and matching almost any outfit you can name, this bracelet is perfect birthday or christening present for a young girl and rests assured, she will keep it close to her heart as the years go by.
5. SOUFEEL Photo Bangle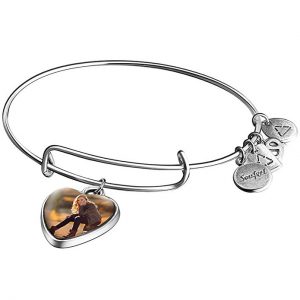 Initials, names, quotes – we've seen these. Heartwarming and made with love, these are our usual options when it comes to personalized bracelets. Now, it's time to take it a step further, inject a little more soul in your wrist accessory. The Personalized Cross Bangle Bracelet by Soufeel allows you to place a beloved picture in the bracelet, redefining personalized bracelets altogether. Ladies, you can now keep your loved ones close by at all times.
Soufeel has been creating some of the finest jewelry at affordable prices since 2009. The magic word, "Love", lies at the heart of everything the brand does. Glance through their product catalog and you will find diverse collections, made from beads, silver, rhinestones, and whatnot. But they do have one thing in common and that is their heartfelt designs. All of their creations come from a place of love and it shows. All sorts of personalized jewelry and beautiful accessories make Soufeel one of our favorite stops for gift pieces.
The bracelet is made from a special alloy, strengthened so it does not bend easily. Soufeel's products, of course, go through SGS quality certification which vouches for the quality of the metal. It is a polished silver, thin and finely crafted with a toggle clasp which can be adjusted according to wrist size. On one side of the bangle bracelet, there are four little charms in different shape: round, oval, heart and a square. These add a unique vibrancy to the accessory. There is also another larger charm pendant which is definitely the star of this bracelet.
Moving on to what makes this coveted piece: the photo charm pendant. You can place a treasured memory, a picture of loved ones, on a charm pendant and proudly display it on your wrist. There are three settings available – a circular disc surrounded by ornate work, a heart shaped and lastly, another heart-shaped but with a thicker bevel. The photo charm, once made, is covered by an organic glass cover, keeping it safe from damage.
Visuals are everything. But when the visual in question is that of a loved one or a precious memory, you know it can mean the world to a person. The Personalized Cross Bangle Bracelet is an accessory not to simply wear on one's wrist but the kind that you savor and hold dear for as long as you live.
Personalized Bracelets for Men
Presenting gifts to the women in our life has always been a bit of a competitive sport. There is just so much variety! But let us not completely forget the men. On birthdays, anniversaries and other such special days, men too deserve a vote of thanks.
Shopping for men is, we admit, are a chore and men agree. Especially on occasions when you really want to show the love, you will often find yourself at a dead end. That is, of course, until you've learned about the best personalized bracelets for men.
Personalized gifts are undoubtedly the best of all when you want to go the extra mile and bracelets, well, these were never exclusively female territory; special designs for men allow them to wear it any time they want and without a care in the world.
Here are our top picks.
1. Free Engraving – Quality Stainless Steel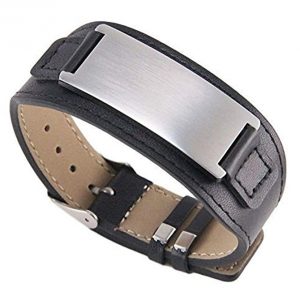 It is true that the vast variety of female bracelets largely outweighs those for males. But that does not mean there aren't any top-notch designs to be found. And if you're concerned about giving up on the masculine edge with a wrist accessory, we've got you covered on that ground too. The Quality Stainless Steel Leather Bracelet is for the alpha male who isn't afraid to play up his style with a bracelet that is completely unique to himself.
When you think about bracelets for men, the first image that comes to your mind is probably a leather, denim or chains piece. Well, it seems like the manufacturer knows a thing or two about mind-reading because this bracelet is exactly how we'd imagine it to be.
Sleek yet rugged, this bracelet is the perfect sidekick for a man as he takes on the world. Made from the finest quality leather, in a stylish black and a rich texture, it has the heavy masculine feel that leatherwear is renowned for.  The inner bracelet is rubberized in a desert brown and nicely smoothened so you can wear it for hours without feeling a thing.
The bracelet, in its design, channels pant belts almost entirely. For instance, there is a standard belt buckle at the back, complete with punch holes and belt loops. The setup even allows you to adjust the size of the bracelet to fit the wrist accordingly. In its original size, the length is about 9.645 inches and can go higher when adjusted.
The centerpiece is the 316L stainless steel board- the zone for all the action. 316L stainless steel is one of the finest, more strong and durable than the average steel board. Moreover, it allows 3 lines of personalized text, each line allowing up to 20 characters including spaces. And if you'd like symbols or a foreign language, well, your wish is their command. Where personalized bracelets hardly allow more than 17 characters and nothing besides English lettering, all the space, and flexibility in this men's bracelet has been giving us all sorts of ideas.
People who've purchased this bracelet have only wonderful things to say about it. It's manly, durable and at a very affordable price too. When it comes to personalized men's bracelet, this one is a heavyweight in the league.
2. GAGAFEEL Leather Classic Braided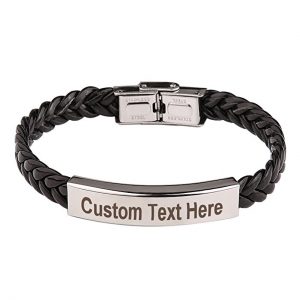 If you are going to be asserting your dominance over the rest of the world, you might as well do it in a stylish way. The Classic Leather Braided Rope Bracelet is for the guy around the block as he goes out with the boys after a long day at work. Effortlessly unique and undeniably macho, his presence is hard to miss. And although the bracelet is categorized as unisex, we know men especially love it.
Gagafeel has been in the business of personalized jewelry for a while and their product lines back their experience. Celebrating relationships with beautiful designs, their largest category seems to be couples accessories (his and hers, matching rings etc.). Among so many wonderful jewelry, one piece stands apart- among all the silvers and golds, a heavy black rope, tightly wound and heavy.
On its own, it's a simple bracelet; an accent to your overall look, not a statement. And for men out and about on a regular day, this is perfect. The bracelet is made from a shiny PU leather, tightly braided for a sleek look. PU leather is basically polyurethane, artificial leather but just as good as the real thing.
It is available in a number of color selections – black, brown and red. But for the strong manly appeal that we are aiming, the black color has it cinched. The length is about 8.66 inches and can fit most adult men's wrists. If you want it to be smaller, there is a steel clasp at the back; open it, cut the braid into your preferred length, close it back on and you've got a perfect fitted bracelet. And if you'd like a bigger size, Gagafeel is happy to create a custom-sized bracelet all for you.
For the engraving, the bracelet passes through a stainless steel cover and this is where you can write your heart out with the wonder of laser engraving. It allows one line of text with up to 20 characters, perfect for names, anniversaries or even a secret word. They offer plenty of fonts to choose from including Celtic, Actionis and many more. But do keep in mind, the more characters you use, the smaller they will appear.
Personalized to hold a unique meaning with as few words as possible and braided in leather, this bracelet has coolness in abundance. If you ask us, this piece is a winner.
3. Tungsten Carbide ID Bracelet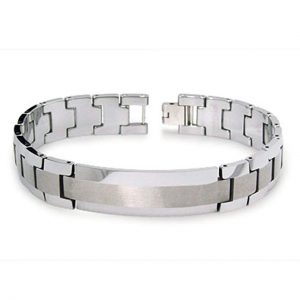 Most of the personalized bracelets in our list have been affordable options, easy on the pocket. But every once in awhile, you just need to splurge on a piece, especially crafted for you. In the realm of men's jewelry, tungsten is a revered metal; there truly is nothing like it. And when you can have it personalized too, you know you have snagged quite a deal. As a bracelet for men, the Tungsten Carbide ID bracelet by Tioneer is one such behemoth.
Tioneer believes jewelry is not about mere adornment; every piece is a story of love and friendship. And to that effect, the brand has been crafting gorgeous jewelry – rings, bracelets, necklaces and more- with a personalized touch. Because quality is what separates the good from the best, Tioneer is serious about using the finest materials to create their masterpieces. The brand works exclusively with tungsten, stainless steel, sterling silver, and titanium.
The Tungsten Carbide ID bracelet is a vision in silver. Chains of beautiful silver metal, connected by gunmetal tungsten links- the quality shines through the elegant design. The fold-over clasp at the back is strong and easy to use. It is, of course, made from 100% genuine tungsten carbide and has no cobalt in it. The width of the links is about 13mm while the total length of the bracelet is 8.5 inches.
This is not just any other men's bracelet but one which can be personalized to your taste. The link at the middle of the bracelet is long and plain, ready to be engraved. There is no limit to the number of characters or any fixed requirements for that matter. So, feel free to pour your heart out. However lengthier content means it will appear smaller. Mention all the specifics of your message- font, angle, placement etc. – and let Tioneer do the rest.
The Tungsten Carbide ID bracelet is for the man with an expensive taste, the man who oozes class and style. He knows how to make an impression in any room and stand apart from the rest. A powerful figure, he is aware of how unique he is and he dresses to prove the point. This bracelet is definitely his match in the game.
4. Diamondido Personalized Engraved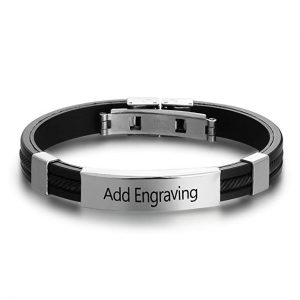 A casual bracelet, personalized to suit a sporty style- sometimes, this is all a man needs to top off his look. Personalized accessories for men are usually ostentatious, in thick leather bands or steel links and impossible to miss. With a dearth of simple bracelets, the kind any man can wear at any time of the day, the Stainless Steel Rubber Bracelet by Diamondido is a rare beauty. And it proves our point too: some steel, a little rubber, and your own name in the mix; it is as simple as that.
Diamondido, an online jewelry retailer, mostly works with jewels and stones. Sparkling hearts entwined silver, this is where the brand shines. Especially for gifts for the family, there are some truly beautiful pieces, made with a lot of heart. But as far as heartfelt accessories go, men shouldn't be left behind either. And this is where this bracelet comes in.
Although it is classified for everyone – men, women and children- it can pass off as being exclusively for men. It has a smart build, sturdy and sleek. It primarily consists of two layers of black rubber with a twisted cord in the middle. There are different colors available for the cord, red, blue, black and more but the black is a favorite among men.
The front of the bracelet is covered by stainless steel; this is the part where the engraving is done. It is flanked by two smaller steel loops. You can engrave up to 2 lines, each with 19 characters and you can choose your preferred font too. Besides, Diamondido also allows symbols and logos to be engraved.
The bracelet closes with a strong steel clasp at the back. The default length is about 7.67 inches and will fit most adult wrists. But if you want it altered, you can have it customized to a larger size by contacting the manufacturer or shorten it yourself with the given instructions.
If you know an athlete or a sports maniac, this bracelet deserves to be a part of their collection. It is a casual wrist accessory they can flaunt at the matches, raising the style quotient in any game.
5. Mealguet Jewelry Stainless Steel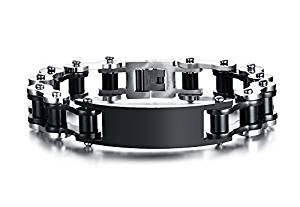 Some men enjoy the limelight. With a flair for showmanship, they like their clothes and accessories to mark them apart from the rest of the crowd. And they aren't subtle about it. Most of our personalized bracelets for men have been understated sort of designs; a subdued elegance or a casual prop on the wrist. But this one here is unabashedly itself, a personalized bracelet that will definitely catch the eye. The Stainless Steel Chain Bracelet by Mealguet Jewelry is for the showman, the entertainer, the man who always makes himself noticed.
Mealguet Jewelry is a haven for the fashionable man. While they do have a lot of eclectic designs for women, they have quite a knack for the men's styling department. Take a glance at the bracelets section, for instance, and you will find a mindboggling variety which leaves you spoilt for choices. But among these, the chain bracelet is the one which is unlike any other men's bracelet we have seen.
If you ever found yourself wondering about the aesthetic appeal of a bicycle chain, well, you've got your answer, in the form of this bracelet. The entirety of the bracelet is basically a stainless steel bicycle chain, screwed in tight. There are two color options- black and silver or yellow gold plated. There is a classic fold-over clasp at the back while the front, where the actual personalization is done, is plain. It can allow up to 2 lines, 25 characters each and Mealguet Jewelry offers several font choices too.
The width of the bracelet is around 13.5 mm while the length is 9.2 inches. Indeed, this is a big bracelet, a statement on its own.
It can't be argued that jewelry is mostly women's territory. But that doesn't mean men can't play up their style with some trendy accessories. And fashion gurus are with us on this. So, if flamboyancy is your thing, the Stainless Steel Chain Bracelet, with its added bonus of personalization, is the bracelet you've been looking for.
Find The Perfect Personalized Bracelet For You!
A bracelet is often the missing piece which completes your look, the finishing stroke to a work of art. But when it's personalized, it makes for an accessory that is more than a style statement. With all your heart and soul, you cherish the words carved onto it; after all, it represents you and nobody else. So, find a personalized bracelet that speaks to you – shower love on someone with a few heartfelt words or get one for yourself to add a special piece to your collection.