Necklaces / Personalized / Women
10 Gold Nameplate Necklaces That Have Our Name All Over Them
Oscar-nominated rapper Kendrick Lamar once said, "If I'm gonna tell a real story, I'm gonna start with my name." We love this idea. Most often our first interactions with new people are sharing our names with one another. They identify us and, in some ways, define us. While very few of us picked our own names, we take ownership of that earliest label assigned to us and make it our own. We authorize purchases, agree to contracts and promise our services with the power of our name.  The best way to showcase your awesome name is definitely a gold nameplate necklace.
We have located these ten nameplate necklaces that we really love. They are stylish and unique, even without your own name added. They are all customizable as well so you do not have to pick your own name from a list. Elect your child's name, significant other, passed on relative or even or social media handle @jewelryjealousy!
Our 10 Favorite Picks for the Best Gold Nameplate Necklace!
1. Birthstone Carved Name Necklace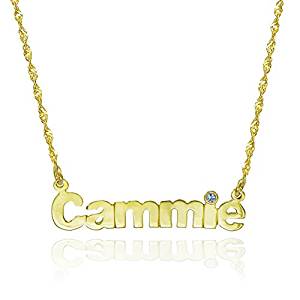 Our first pick is super customizable. Not only do you get to choose your own name, but you can also select your chain length and a stone accent. Cast in 14k yellow gold, this is a fine jewelry piece and we kind of love it. The font is chipper and bubbly. While we love a good script font, this one just feels a little more playful without crossing the line into juvenile. Apologies to anyone with a longer name, however.  This one can only support up to eight characters.
Choose from one of twelve birthstones colors to include on your nameplate. The stone is lab-created colored cubic zirconia in one of twelve colors, each designed to represent a birthstone. While you can certainly select the correct month's stone for you or your named one's birth month, we are also big fans of bucking the instructions. Feel free to simply choose your favorite color.
The yellow gold chain comes in your choice of sixteen, eighteen, or twenty inches. It is a style of a chain called Singapore. Three links are, in a sense, braided together. This creates wonderful texture and visual appeal. It is a nice break from the standard box and cable chains we are accustomed to.  
A Singapore chain is also much stronger than the single link designs. This makes this necklace fantastic to wear in celebration of your children. The chain can stand up to grabby little fingers pulling at the shiny thing around Mom's neck.
2. Scrollwork Script Nameplate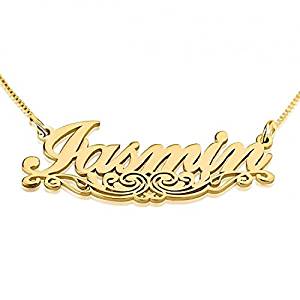 This is another fairly classic presentation of the nameplate necklace. This one features 24k gold plating of a nice script font and a flourish of swirling curlicues underneath. The texture is added to those filigrees with lightly engraved lines.
This one also features customization beyond just the name. Select both your chain length and your chain style. Chain length options available range from sixteen to twenty-two inches. You can pick from a rolo chain or a box chain. The two are rather similar in basic design but the box chain uses tightly sized links to create the look of a series of boxes. Rolo chains use large circular loops linked together that adds a chunkiness to the chain. We like either option depending on how you intend to style it.
This being a fairly classic design we love this as a daily wear piece. It is a little ornate so depending on your style choices, it might be tucked into your shirt a little more often if all the swirls don't match an understated look you have put together.
If you are going to wear this one out and proud, the yellow gold and detailed design absolutely scream layer me over dark colors. Might as well really make all those swirly twirly details stand out against a black, chocolate, or auburn top.
3. Gold Bar Name Plate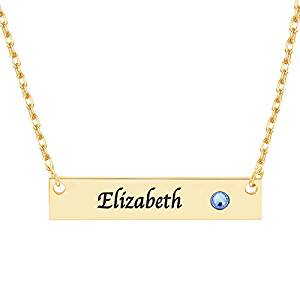 Taking the idea of the nameplate necklace a little more literally, we present this bar necklace. The necklace is plated in 18k gold and comes in your choice of chain length. The name or word of your choice is engraved on the bar and a round cut crystal stone is fixed on the bar. You can choose from colors that are associated with a birth month or simply choose your favorite color.
The bar necklace is getting to be a fairly popular choice as far as nameplate necklaces go. They are a little less obvious and obtuse than the carved, script work variations. This means they can be a little more subtle. Of course, the stone inclusion definitely brings attention to the piece but somehow does not rob any of the subtlety of the overall piece.
This is a wonderful idea as a bridesmaid gift.  Since this necklace is available in yellow, white, and rose gold-tones you can pick the color that best complements your wedding color theme. Do the same with your jewel or elect the birthstone of each of your bridesmaids. Engrave each with their names and you have a beautiful piece that they can wear even after the wedding is done.    
4. Customizable Gold Bar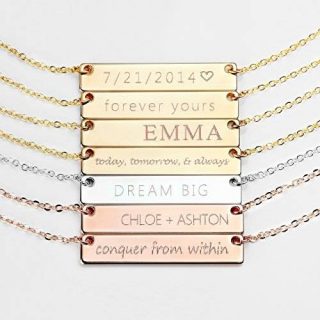 We love the jeweled detail on our previous selection. While this one lacks that little bit of bling, holy customization, Batman. Handmade by California-based artist firm, Mignon and Mignon, the options for this are almost endless.
Choose your metal finish from yellow, silver, or rose gold and your preferred chain length. Both sides of the gold bar are engraved with your name, phrase, date, or even coordinates. You can select from a few different fonts and typefaces. The artist even offers a few different languages with non-English characters, a rare find in engraved pieces. Finally, you have options on how it is packaged. Adorable cards to celebrate the reason you are gifting this necklace are offered. The artisan will hand package your creation on your choice of a wide variety.
This is one of the options we think is great for men or women, no matter their style preferences. Another fantastic choice for bridesmaids, this is also an adorable couples gift. Engrave one side with each other's names and the other with an anniversary date. You can also create a layered look for your children or grandchildren by ordering more than one. Include a nickname or a special message or saying that reminds you of your little one in place of the traditional birthdate.
6. Vertical Nameplate Bar Collection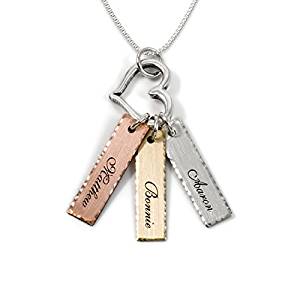 Our next find turns things a bit on its head. Rather than just a horizontal name scrawled across your chest, this one turns the bar on its side. It also automatically adds one of our favorite jewelry trends to every look that features it; combining gold colors.  
Three bars in 14 yellow gold plate, rose, and Sterling silver is suspended from a tilted heart charm. You can custom engrave each bar with a different name, word or date. Hanging from your choice of length chain in a box, ball, or cable, you can style this depending on your chain choice. A ball chain will keep it far more casual whereas a box chain will dress it up a bit more.
This is a fantastic choice for a Mother's Day gift from moms, grandmothers, and aunts. Even if you only have one child to celebrate, use the other two charms to list birth stats like date, length, and weight.  We love this as a gift for a brand new mom. After all the work of being pregnant and choosing the perfect name for Earth's newest resident, a custom-engraved gift like this nameplate necklace is sure to impress.
While most of our pieces are great for layering, we find this one more of a solo piece. Certainly a daily wear candidate, it will wear well with just about anything.
7. Tiny Name Necklace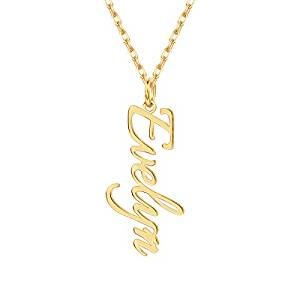 This is our second pick that turns the nameplate vertical. It has more of a pendant feel than a bar feel when designed this way. This necklace, offered by Dreamdecor, offers three gold plate colors and two base metal options. Select from the three gold tones and either a copper or sterling silver base.
Six different font choices are offered. Our personal favorite is a fun, playful cursive script called S**t Happens. Not only did the name make us giggle a bit, but we love the carefree but structured feel of the lettering.  
You also get to choose from chain lengths in fourteen to twenty-two inches. With a fourteen-inch length, this gold nameplate necklace is also a perfect selection for a child's gift. Name necklaces and bracelets are often a common gift for a christening, bris, or naming ceremony for newborns. The shorter chain option makes this a very viable option for such an occasion.
As with most nameplate necklaces, we love this for a daily wear piece. The vertical hang of the name means it will look wonderful on a layered look. It adds a bit of twist to the standard nameplate variations.
8. Birthstone Charm Nameplate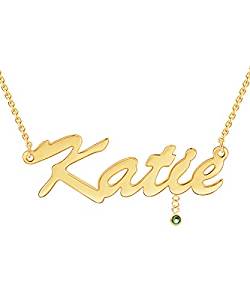 We return to the more traditionally styled gold nameplate necklace for this next one. Your choice of gold colors and ten different, distinct fonts create your pretty standard nameplate. It also includes a birthstone, which, in and of itself, is not that unusual.
What sets this apart from others for us is the clever design. Rather than mount the round cut crystal to a part of the letter or at one end of the name, the creators added a dangling setting for the stone. This offsets it just a bit and creates a lovely motion in the piece.
Since the name is a static hang, the gentle sway of the gem pendant is a very clever use of charm. It is such a simple thing and yet very effective. We find that with the gem charm this piece is best worn directly against the skin. While it would look just fine against the fabric of a blouse, we feel that the movement of the charm would happen more readily when worn bare.  
While this can always be purchased for a gift for someone else for a host of holidays and occasions, we love this as a gift just for you! Do not be afraid to wear your own name proudly!
8. Yoke Style Nameplate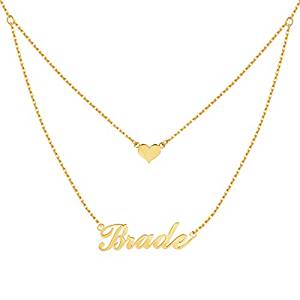 Get It Here
We love the automatic layering this piece gives. A standard design nameplate hangs below a yoked chain with a dainty heart. You can select from five fonts and all three popular gold tones.
A yoke outside the jewelry world is a wooden element used to link together two working beasts such as oxen. It combines their efforts and synchronizes their motions. In the jewelry world, it typically represents two pieces combined together in a single clasp assembly.
In this case, this is everything you need to start a layered look. Your own name or the name of a loved one and a tiny little heart floating above it. Add a lace or ribbon choker and you have an effortless look in just two pieces. Since this is a rather dainty piece you can afford to pair it with some pretty dramatic earrings as well.  
9. Infinity Gold Bar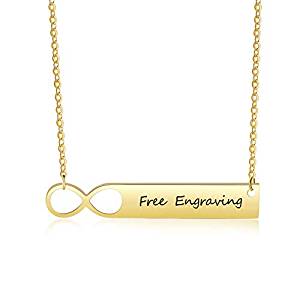 Our next to the last find features a gold bar with an infinity symbol carved into the right side. The name of someone who you will love forever can be engraved opposite that. While this piece is not as customizable as some, we fell in love with the infinity symbol. The standard eighteen-inch chain it arrives on is the perfect length for this daily wear candidate.
Originally a mathematical symbol, the infinity symbol has come to be forever associated with true love. Be it the unconditional love a mother has for her children or the eternal flame of passion between a married couple, the loop-de-loop of the infinity symbol represents both parties equally. One side for each partner, it has no beginning and no end.
This is also a wonderful piece to celebrate the life of a loved one who has passed on. Laying close to your heart the infinity symbol will come to represent that your loved one will forever be in your heart, even if they are no longer by your side. Such a touching memorial could include their name or their birth and passing dates. This way it is something special just for you. Tuck it inside your shirt and wear it always.
10. Hammered Tri-Color Nameplate Pendant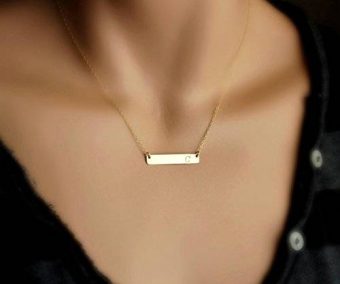 Our final find is somewhere between a letter pendant and a nameplate. While this gold nameplate necklace features round pendants as opposed to the more traditionally thought of bars and scripted carving, we still feel it captures the essence of nameplate necklaces.  
Our selection features four discs in the three gold colors, silver, rose and yellow. The fourth disc is silver again. Each of the four-disc you can engrave with a name or date. The character space is a little more limited than some of our other selections but with styling so impeccable we could not pass it over.
Each disc features a hammered look for a more rugged, shabby-chic look. With all three gold colors included this is perfect for layering. Laying atop the final pendant is a dainty little heart to complete the look.
This is the perfect gift for moms and grandmoms. List each kid's name or birthdate for a complete look. Since the discs lay on top of each other, rather than beside, each name is always on display. Also, consider it for the pet lovers in your life. List the names of their furbabies on the discs and you will have a forever friend, same as them.
Oddest Names on Gold Nameplate Necklace
For most people, the instant they discover they are expecting a little bundle of joy, discussion of what to call it begins. There is so much hubbub around selecting a name. Whole websites are dedicated to helping new and expecting parents to select a name for their newest addition or addition-to-be. There is even an app for expecting parents to swipe left or right on names to narrow down the list to the ones they love.  
Some folks do not need an app to help them name their kiddo. Family names, legacy name, and even portmanteaus of the parents' names are readily available options. However, recent years have seen some interesting trends in naming. There are always the spiritually charged names. Famous celebrities often see their names peak in popularity in the time around the release of their biggest hit movies or sporting events.  For instance, there was a huge boost in the popularity of the name Drew in 2010 after Drew Brees led the New Orleans Saints to victory in Super Bowl XLIV.
But folks also take a little more of an unorthodox approach when trying to find unique names for their little ones. According to baby name site Nameberry, in 2017 no less than 130 girls and 11 boys were given the name Tesla, likely more after the innovative car company than the famed nineteenth-century inventor. Sixty-some-odd girls came out of the year with the brand name inspired Maybelline, Fanta, and Beretta. Ten lucky boys were named Evian. We suppose if they are going to pick a brand name for your son, might as well pick one associated with luxury, like Evian. Our favorite, however, were the eighteen children, twelve girls and six boys who reportedly get to order their name necklaces to say Espn. We do love sports here at Jewelry Jealousy. But not that much.
 Gold Nameplate Necklace of Note
In 2015 a scholar and nameplate enthusiast, Marcel Rosa-Salas, launched the #DocumentingTheNamePlate project to more closely examine our relationship and obsession with our own names, whether we kept the names our parents gave us or changed it to reflect our own sense of self. They discovered some interesting thoughts about naming standards.  
They launched an entire podcast and eventually published a scholarly article outlining the role nameplate necklaces have played in various Western cultures. While for some nameplate necklaces are just pretty bits of shine, many people do not think of cultural significance when shopping for names on necklaces.  Any Google search for nameplate necklaces will turn up hundreds of buying options and thousands of references to the gold nameplate necklace worn by Carrie Bradshaw, the main character in the hit show and movie, Sex in the City.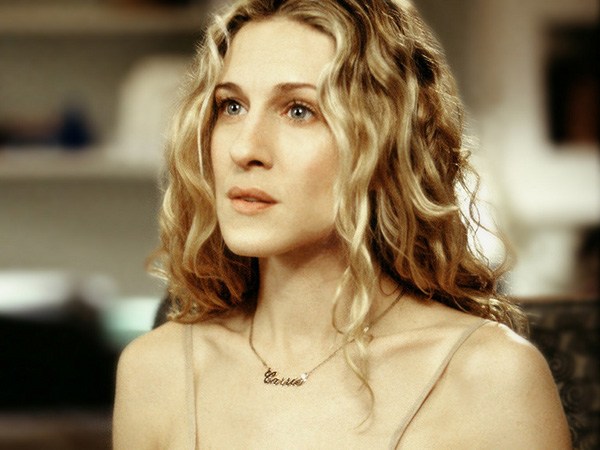 Often called Carrie necklaces as a result of the fictional style icon, their meaning goes a little deeper than just self-indulgence for many. According to Rosa-Salas, nameplate necklaces and other means of self-identification have played a remarkable role in immigrant populations. It was essentially a way to maintain their identity in a new land with new expectations of amalgamation. If everything about their way of life had to change, their name could, at the very least, be their tie to the culture of their homelands.
We also celebrate the names of those we love most. Be it a significant other, an idol, or the names of our own progeny, the names of those we love to play an important role in our lives. They are reminders of our feelings for them. Lovers and parents alike tattoo the names of their special ones on their bodies. And nameplate necklaces are all the rage. They have been for a good number of years.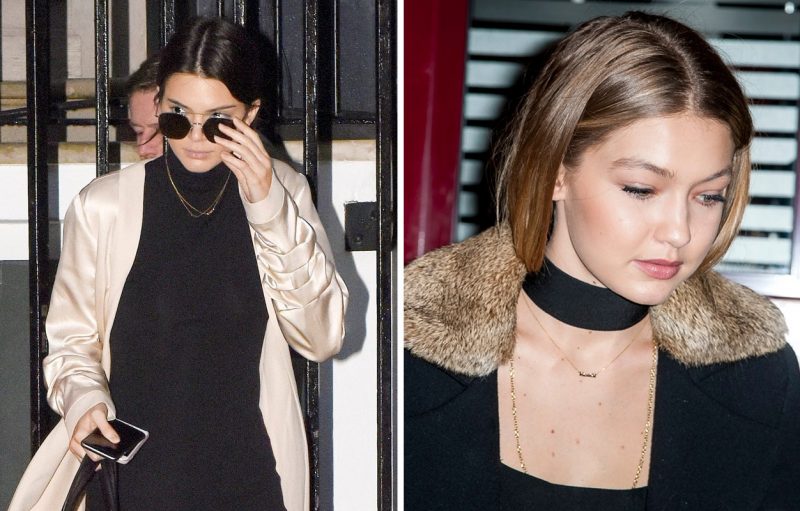 While some folks find nameplate necklace tacky or tasteless, the trend is turning around. Although rarely do the trendiest folks sport their own name. Typically they wear their children's name in gold nameplate necklace form. Christina Applegate wears her daughter's name, Sadie, in a fun scripty font. Besties Kendall Jenner and Gigi Hadid swap nameplates to celebrate their friendship. A good number of Instagram influencers and Twitter all-stars have taken to putting their custom hashtags and @names on nameplate necklaces. Because the world of social media is all about branding, what better way to get your name out there than to wear it stylishly.