Silver Heart Necklaces That Have Stolen Our Heart (for Less Than $50!)
last updated:
Oct 08, 2019
In the 80s, anybody who was somebody wore yellow gold. It was the epitome of ritz, class, wealth, and refinement. By the nineties, silver was all the rage. Everyone wore the cooler cousin to yellow-gold toned works.
The 2000s continued to carry the torch for the grey goddess of the jewelry world. So much so that at some point the percentage change of the cost of pure silver on open markets was higher than that of gold.
However, by the 2010s trends leveled and then shot out in three different directions. One of these directions leads to the creation of these amazing silver necklaces. Check them out!
Top 10 Picks
1

. Dancing Diamante Pendant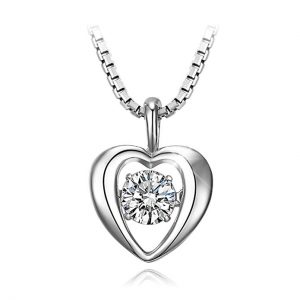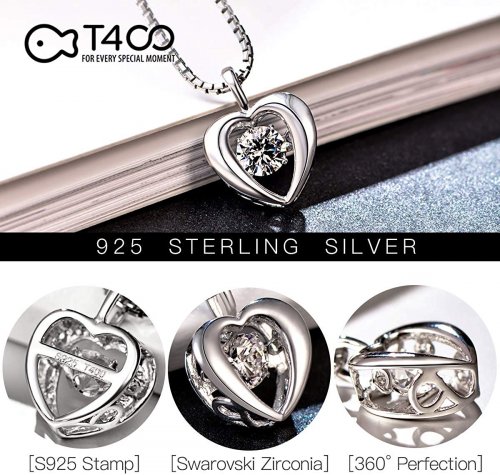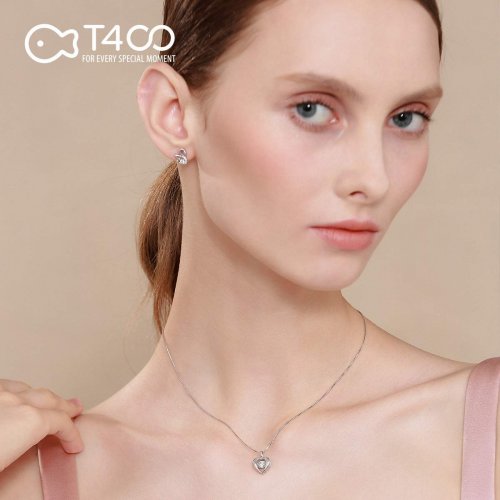 Offered by dealer T400, this is a motion piece that is subtle almost to the point of understated and yet so powerfully eye-catching. A 925 sterling silver heart surrounds a round-cut cubic zirconia stone.
Read more
The gem is set in a special setting that allows the pendant to rock inside the pendant. This movement catches light in the facets of the stone, which creates a constant sparkling effect.
Mounted in a prong setting and hanging from two specifically sized jump rings, the stone can rock gently in the necklace.
Invented by Hidetaka Dobashi, the Chinese jewelry CEO and innovator patented this design in November of 2010.
He discovered that using this inventive assembly, the stone would rock and sway in response to bodily movement. Even the simple act of breathing will keep the stone dancing in the light.
This silver heart necklace is stamped with the S925 mark as well as the maker's mark, T400 on the back support bar.
The support bar prevents the diamante assembly from contacting your skin or shirt, ensuring the dance goes on and on.
Hung from a perfect length eighteen-inch chain, it will hang right at or just below the collarbone for most people.
The term diamante is one of our favorite buzzwords in the jewelry industry. It is a blanket term that means any type of diamond-like stone.
These could be cubic zirconia, white sapphire, Austrian crystal or another white, faceted stone that resembles a diamond. It is a clever wordplay for those who love the look of a diamond but not the price tag.
For our purposes with these cost-efficient beauties, diamonte is the way to go. You get the glitz and glamour of a girl's best friend and for less than fifty dollars, USD. We are more than okay with this!
2

. Heart and Arrow Lariat Necklace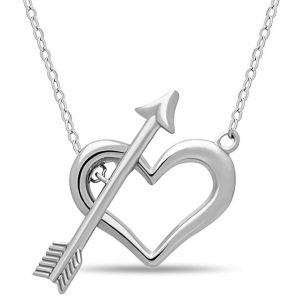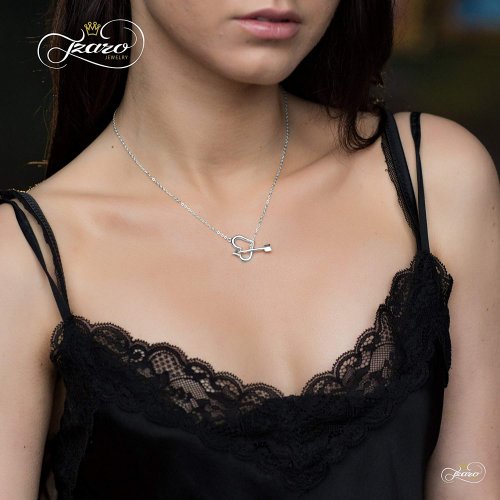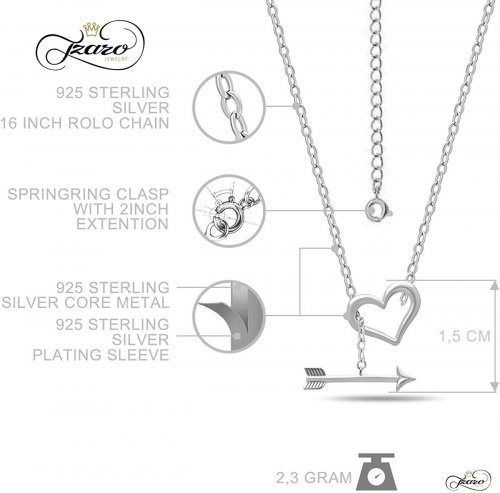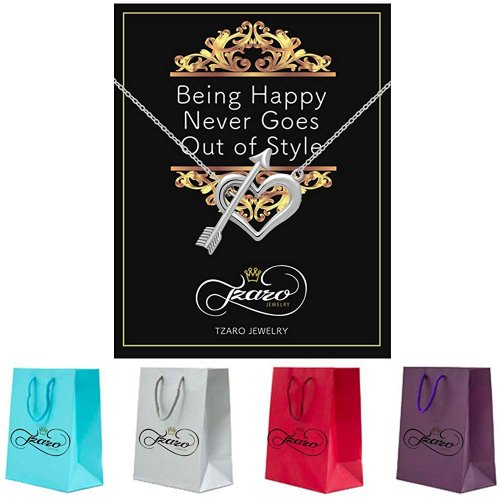 Our next silver heart necklace is a wonderful and playful use of the cupid's arrow design. A 925 sterling silver heart hangs from a sixteen-inch classless chain.
Read more
It sweeps around the neck to end at a sterling silver arrow. To close and secure the necklace, simply thread the arrow through the hollow heart.
Wear this with the arrow pulled through so the shorter chain snugs up to a choker length around the throat. This will leave the arrow floating below, as if still on its way to the target.
Alternatively, let the arrow hook through the heart and stay close. This will appear as if the heart has already been pierced. Either way, we love the design.
A universal symbol for romantic love, a heart pierced by an arrow stems from Greek and Roman mythological traditions.
The Roman god of love was Cupid, the name we are all most familiar with. The Greek equivalent was Eros.
The legend has it that Cupid (or Eros') arrow is filled with an insatiable romantic desire for whomever the target was gazing at when struck.
Although our necklace is in silver, in the myths Cupid's arrow was always made of gold. This was because the Romans recognized how valuable and precious love is. Cupid has a second arrow made of lead in the stories.
Supposedly if a person were struck by the leaden bolts, they would never find love. Here's hoping that silver means a good solid, long term relationship.
3

. Paw Print Silver Heart Necklace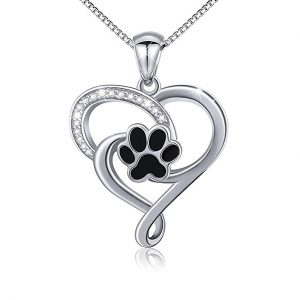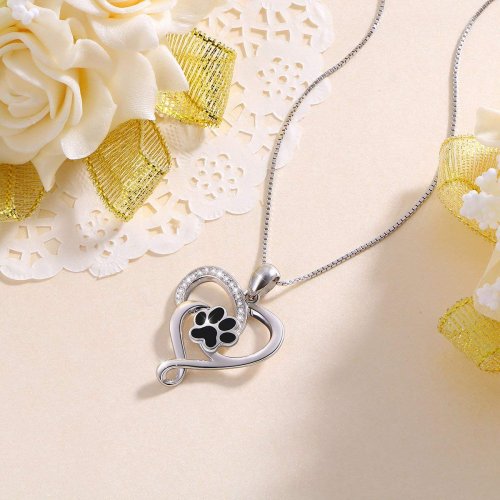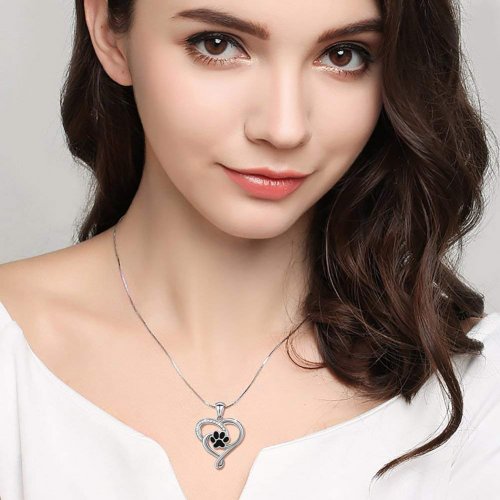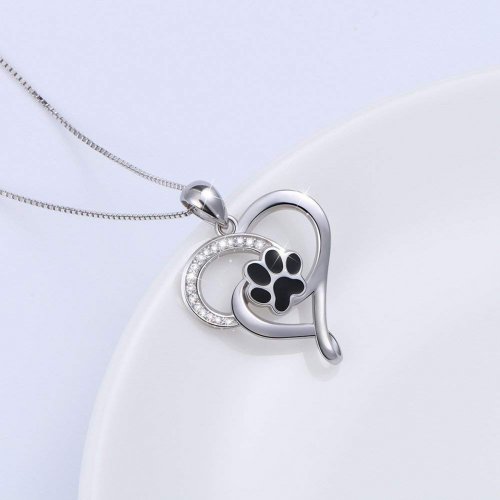 For the pet and animal lovers among our readership, we included this adorable paw print necklace. We wear a heart pendant to celebrate our love. Whether you love dogs or cats, this pendant can work for both.
Read more
We love this for a daily wear piece. Not all hearts have to represent your significant other. They can show your love for your feline friends or canine companions.
This necklace is the perfect thing to celebrate than the eternal love of our fur babies? Offered by Athena, this charm comes in two styles.
The first is a more ornate heart in 925 Sterling silver. The silver swirls around a stylized paw print made of silver and black enamel. The top crest of the heart is adorned with white crystals for added sparkle.
The second version is far more simplistic. A simple 925 Sterling silver heart frames a paw print also in silver or black enamel. We love this for men or women with pets.
As always, wear what you love no matter what label the makers applied, but for those with more traditionally masculine tastes, this pendant is perfect! It is not overdone or particularly feminine. Rather it is a straightforward "I love my pawed partner" kind of look.
Either pendant comes on an eighteen-inch chain so it is almost tailor-made for a daily wear piece. Since sterling silver is highly hypo-allergenic, with proper care, it will not irritate sensitive skin.
Tuck it in under your blouse for an homage close to your heart, a reminder just for you. Or wear it loud and proud for your four-legged loves!
4

. Always in My Heart Memorial Pendant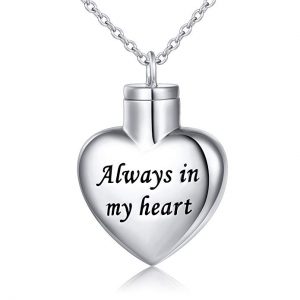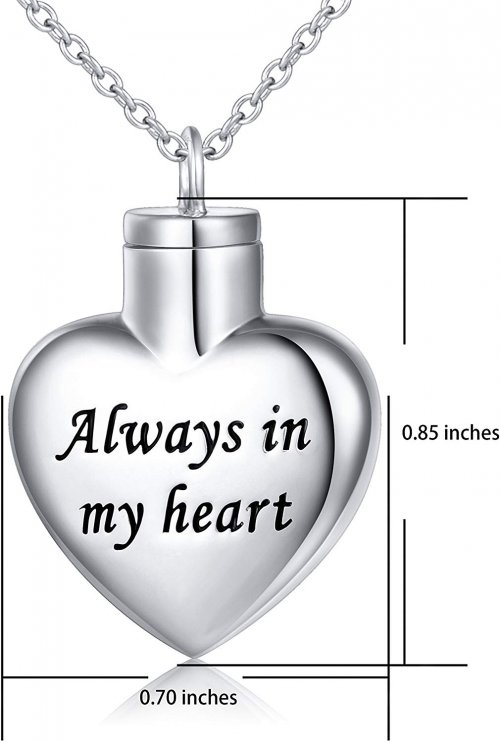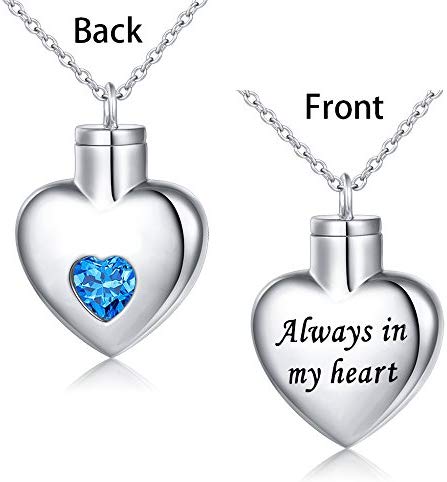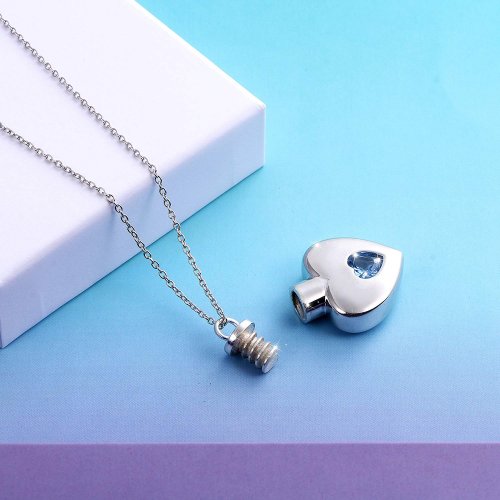 Not to turn the tone too somber, but our next pick is great for pet lovers as well. This 925 Sterling Silver heart does double duty.
Read more
Not only is it a wonderful pendant to show your pet love, but it is also a memorial urn to hold the ashes of your pet who has crossed the rainbow bridge.
Engraved with the words "Always in My Heart" in a fetching script font, this will keep a part of your pet near you at all times.
Simply place a small number of your pet's ashes inside the pendant and screw it closed. The stopper secures the ashes so you will not have to worry about spills or leaks.
The silver heart necklace arrives on an eighteen-inch chain with an optional two-inch extender. It is a daily wear candidate, both for the contents and the style.
Because it is hollow, the piece is a little bit chunky and hangs a bit wobbly. We do not hate this, but it is important to consider if you want to incorporate this into your everyday style.
While our first thought was to memorialize our pets, this pendant can also be used for loved ones' ashes as well should you be so inclined. Other options could be a few drops of essential oils on a bit of cotton inside.
Use caution when added those oil drops, however. Essential oils are wonderful but not particularly great when in contact with the silver. They may tarnish your pieces if not cleaned properly.
You could also store a bit of sand or earth from a special place. Perhaps sand from the beach you got married on, or water from an important river found on your globe-trotting journeys.
However you choose to fill this unique and useful piece, it is a wonderful way to remember!
5

. Stethoscope Silver Heart Necklace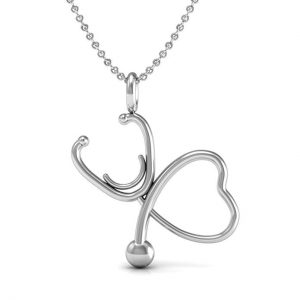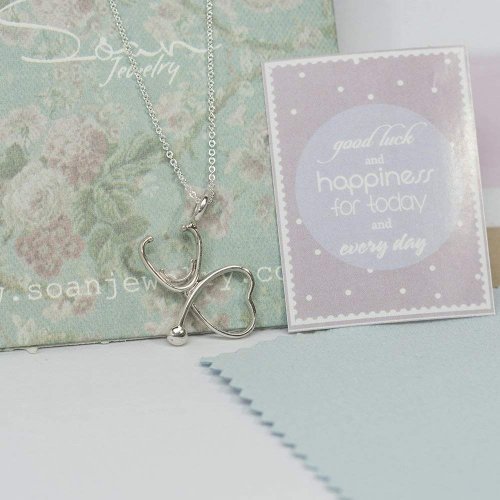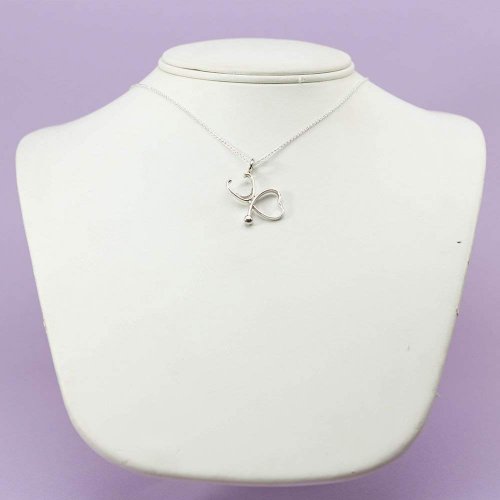 If you or someone you love is in a medical profession, this might be a must-have for your jewelry collection.
Read more
We adore the layers of thought in this creation by Soan. 925 Sterling silver is sculpted into the form of a stethoscope; its tubing arched into a heart.
Overall the styling is simple. Tubes and a small ball bearing for the resonator, you get the idea of a stethoscope without it going over the top.
It makes it ideal as a piece of jewelry. Hung from an eighteen-inch chain, this is another daily wearer.
Invented by René Laennec in 1816, the stethoscope is used to listen to the heart, lungs, stomach and other moving parts inside a body.
Before this invention, a physician, needing to listen to heart or lung sounds, would have to place his ear on the patient's chest.
Laennec was uncomfortable placing his ear to his female patients' chests, thus created the first stethoscope to give some distance.
The tool used to hear the heart to celebrate the love of a noble profession. This is a wonderful gift for doctors, nurses, veterinarians, and vet technicians in your life.
Most people do not get into a medical field without some level of passion and compassion for their patients. A heart-shaped stethoscope is a wonderful way to show love through jewelry.
6

. Music Lover's Heart Necklace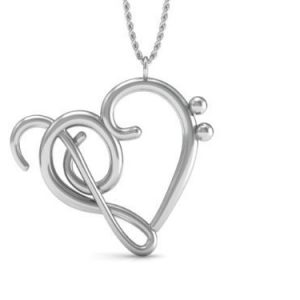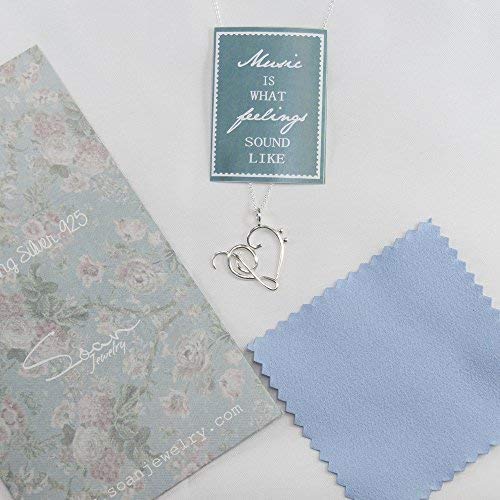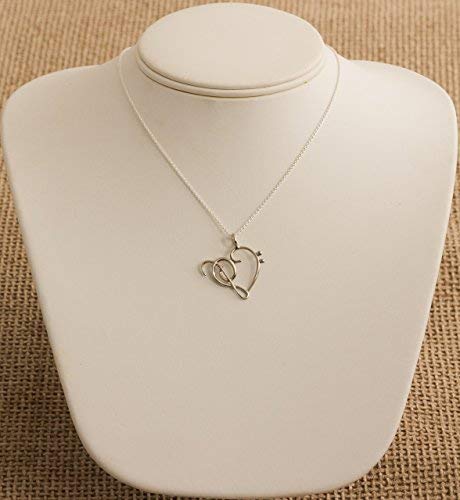 A second offering by Soan, this is a little broader in audience appeal. Any music lover, performer, instrumentalist, or composer will adore this musically themed pendant.
Read more
An upside-down treble clef meets up with a right-side-up bass clef to form a heart. Incorporating two of the most important musical symbols, it is a wonderful homage to a music lover's the world over.
The treble and bass clefs are musical symbols in written music. They indicate the relationship of the notes on the staff to Middle C. The treble clef, or G clef, place the note of the second line from the bottom as a G above middle C.
The bass clef, or F clef, places the note of the second line from the top as F below middle C. Often in choral and vocal music, women sing from the treble clef. Men sing from the bass clef.
A version of the bass clef dates back to the earliest musical notations of the ninth century. The treble clef as we recognize it today may have evolved sometime in the seventeenth century.
The shapes are naturally very smooth and flowing. It makes a surprisingly perfect heart when arranged in this manner.
We cannot stop singing the praises of this piece. Simply styled and hung on the eighteen-inch chain, this is a wonderful candidate for a layered look.
Consider other musically themed pieces to stick to the theme. Another option leaves you open to adding this pendant to a charm collection of all sorts of things you love.
7

. Opal and White Sapphire Heart Necklace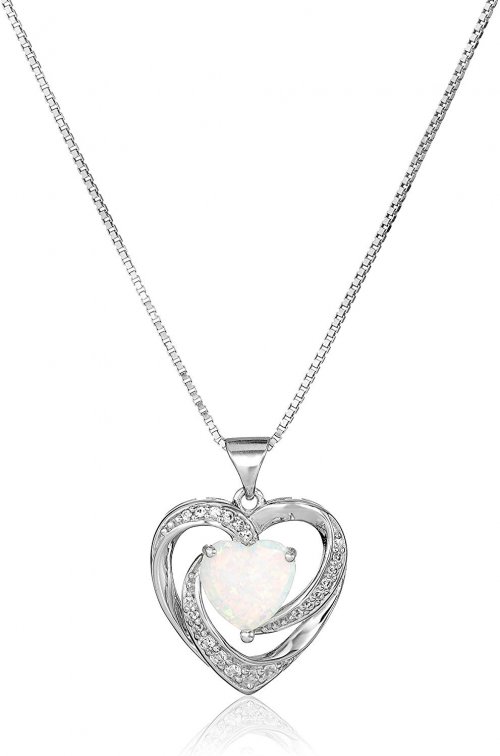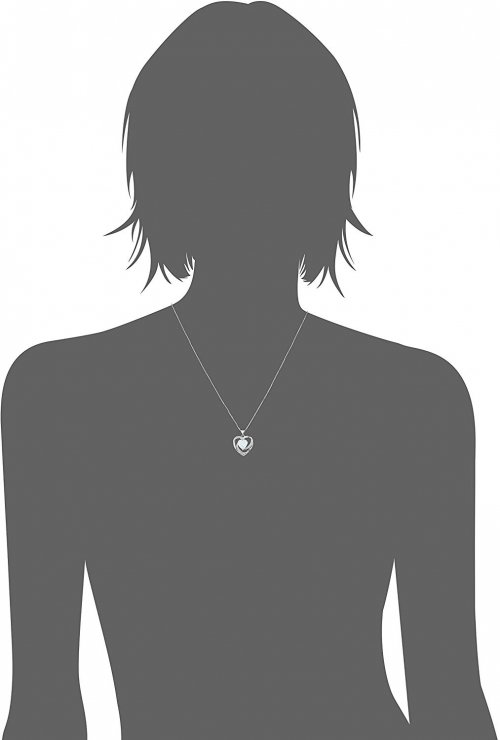 We wander closer to the realm of fine jewelry for our next recommendation. Plus we are back to the diamante pendants. A 925 Sterling Silver heart clings to white sapphire stones.
Read more
The heart seems to swirl inward like a vortex toward a sizeable piece of opal. For all that bling, it is still under $50 though. You just cannot walk away from that!
White sapphire once rejected as an inferior stone, has come into its own in recent years as a diamond alternative. White sapphires are often whiter in color than I-J diamonds. I-J diamonds are very common in affordable fine jewelry.
The white sapphire color is comparable to D-E grade diamonds. White sapphire is less susceptible to chipping because of its molecular structure. However, it is also a bit less sparkly.
Diamonds sparkle due to both their cut and their crystalline structure. A white sapphire does not have this benefit, but it does still add a certain sparkle to your piece.
8

. I Love You Heart Pendant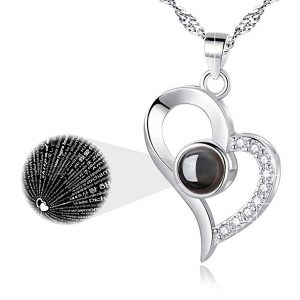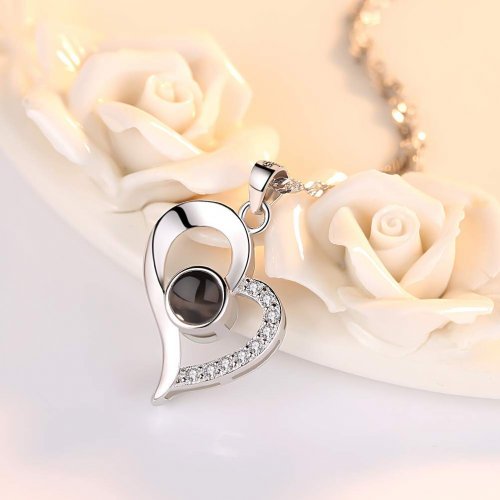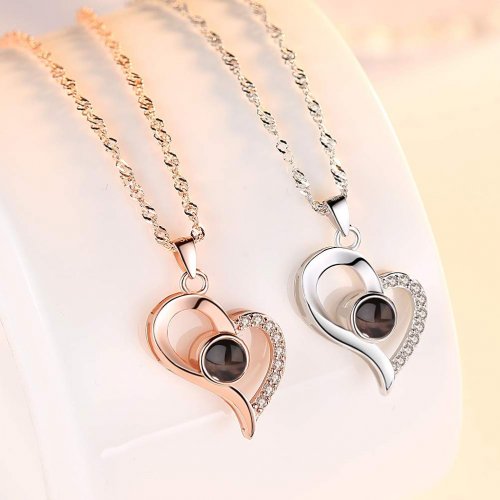 Our next silver heart necklace pick is a brilliant combination of elegant styling with modern technology.
Read more
A 925 Sterling silver heart wraps around a seemingly unassuming chocolatey brown to black glass cabochon. But there is more than meets the eye for this piece.
If you hold the bead up to the camera lens on your mobile device, you will see a starburst of "I Love You"s written in one hundred different languages.
Alternatively, shine a light through the bead and one hundred ways to say I love you will be cast across the wall, written in light.
There are over 6500 different languages spoken across the globe today. And every single one has a way to say I love you. This necklace only scratches the surface of ways to profess your love, but it is a good start.
Produced by EleShow, the heart also features a row of crystals up to one side of the pendant. It makes an amazing gift for that special someone in your life. When there are no words left between a couple, I love you can fill the silence.
This necklace makes sure you are understood in one hundred different ways. Gift it for an anniversary, Mother's Day or birthday and you are sure to win a lot of brownie points.
9

. Sterling Silver and Marcasite Necklace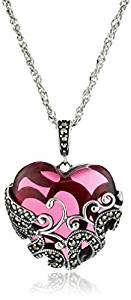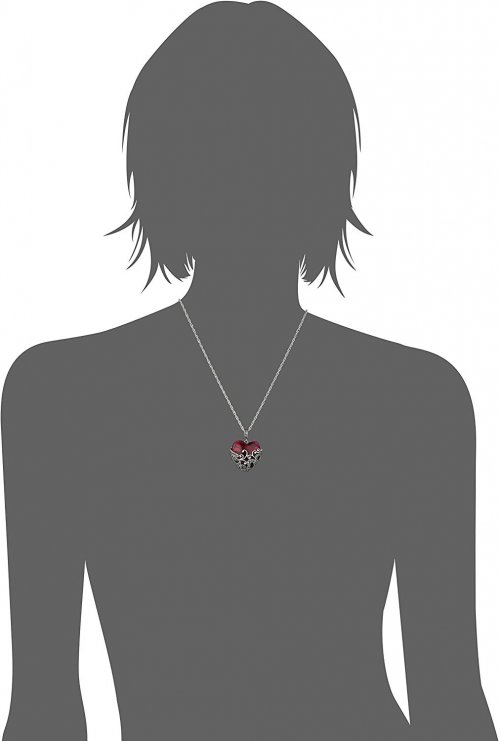 So far our list has been silver heart necklaces made primarily out of sterling silver with accent and feature stones or decorations.
Read more
However, sterling silver can also be used wonderfully to accent colorful stones and materials. Our final two selections highlight these metals' versatile presentations.
For this option, we have chosen a piece that features a beautiful rose glass heart curated by the Amazon Collection.
This necklace, hand-selected by Amazon for quality and design includes a heart-shaped stone, is then encapsulated in swirling filigrees of burnished sterling silver.
Capitalizing on the sterling silver's ability to hold a wonderful dark patina, it gives the piece a very antiqued or vintage feel.
The carving is tremendously detailed with brightly polished silver tendrils reaching upward across the heart.
Set in the sterling silver are several stones of marcasite. Marcasite is also known as pyrite or fool's gold and comes in tones of yellow, ochre and a sandy taupe.
This silver heart necklace will make a wonderful statement piece. We love how the color reminds us of the traditional red color of the heart shape without being TOO red.
You can also select from emerald green, sapphire blue, and amethyst violet according to your tastes.
10

. Pressed Flower Necklace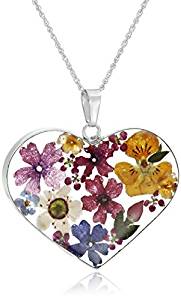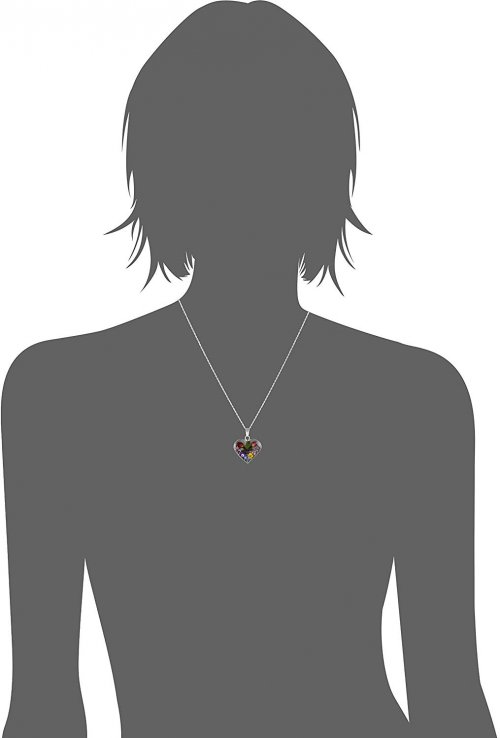 This amazing creation of by Amazon Collection features beautiful real flowers encased in resin and cut into the shape of a heart.
Read more
That disc is then wrapped in highly polished sterling silver and hung from a chain for a stunning combination of natural jewelry.
Each pendant is hand-crafted in Mexico. Each tiny flower is grown and hand-picked. They are gently pressed and preserved in resin. The bright sterling silver plays wonderfully with the bright rainbow of florals.
Because this here necklace features real flowers, each piece is wholly unique and will differ from piece to piece.
We know this to be a wonderful statement piece if hung from a shorter seventeen-inch chain. It will also work amazingly in a layered look.
The pressed flowers and solid, clear resin also beg to be included in your next festival or natural look.
Wear it over neutral colors, including sandy beiges and chocolate browns to bring out the bright colors of the tiny flowers. We love this for a perfect complement to a big, bold flower print as well.
Wear a solid tank with a nice flowing, open front overshirt, vest, or shrug in a bold flower print. This necklace will hang over the solid shirt and shine.
Finding jewelry to wear with your bold prints is always a challenge. We think this piece is your answer if styled correctly.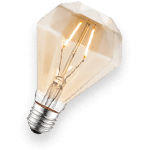 Caring for Your Silver Heart Necklace
Sterling silver is prone to tarnish as is fine silver. The softness of the metal, even when enriched into the sterling alloy, means that it can react with moisture to turn a muddy greenish-black color over time.
Regular care, maintenance, and cleaning can certainly prevent this.
✓ To prevent scratching or scuffing, store your sterling silver pieces inside their boxes and pouches as often as possible.
✓ After wearing your sterling silver jewelry, wipe each piece with a microfiber cloth to remove a build-up of natural oils and environmental dirt.
✓ If your pieces store for a long time, a dullness or tarnish may be evident. You can take this to a jeweler for a proper cleaning if you desire, however dipping the piece in warm water with a mild detergent and gently rubbing it with a soft cloth until the tarnish buffs away will typically do the trick.   
✓ There are silver cleaners available on the market. We, generally speaking, do not recommend these. However, if you do want to use a silver cleaner, make sure you get a quality one and follow instructions for use.
A Note on Disclosure
We have not acid tested the pieces we have included on our list. Generally, we have had a wonderful experience with the sellers, dealers, artisans, and creators we work with and have not felt the need to test for accuracy.
However, this means we do take them at their word and the metal stamps as to the purity of the silver used for the pieces we have recommended.
Finally...
Silver is so very versatile. Unlike yellow and rose gold tones that stay on the warm side of the color scales, silver can lean either way.
The brighter, harsher white tones commonly found in varietals of white gold can be very warm. The cooler, darker greyish tones often associated with sterling silver are often assigned to the cool family of colors.
We have set about beefing up that silver side of our jewelry boxes. To show our love for all things silver, we are sharing our ten favorite silver heart necklace picks. And now for the bonus! They are ALL on Amazon right now. And they are ALL less than fifty bucks each!