Best Gifts for Mom Our Team Carefully Handpicked!
last updated:
Jul 16, 2019
Mums are so important in our lives. Not only do they literally give us life, but they nourish and care for us in all the ways we need them to. Having a day set aside to celebrate our mothers is so special and it is a great opportunity to show her just how precious she is to you. This is why we decided to create this gift guide which includes the best gifts for mom, all handpicked by our team!
This Mother's Day consider adding a little something extra to the typical flowers or breakfast in bed.
These stunning and unique best gifts for mom list is a perfect way to give your mother a daily reminder of just how special she is to you and how much you appreciate her!
10 Best Gifts for Mom!
1

. Feilaiger Family Tree of Life Birthstone Locket Necklace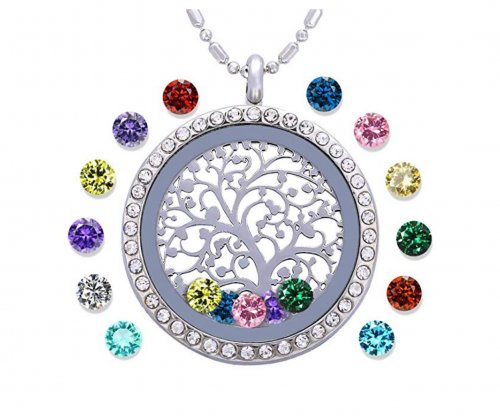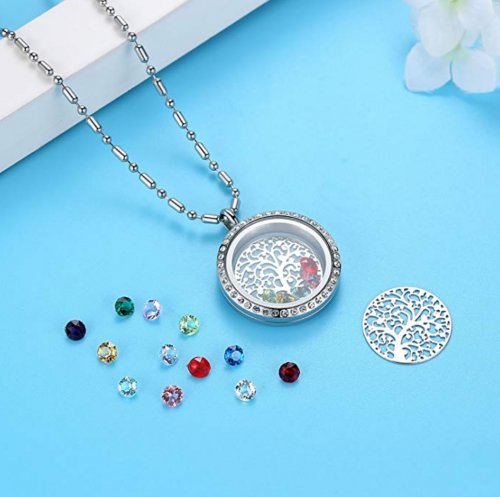 The tree of life – what symbol could be more perfect for the woman that gave you life? This stunning tree of life locket necklace is completely customizable and will mean so much to your mom.
Read more
The necklace features a unique pendant locket that is round in shape and measures at 30mm in diameter. The outside perimeter of the circle locket is silver-toned metal.
The two halves of the locket actually lock together via a magnetic clasp. This is super convenient and efficient. The magnet is strong enough to keep the locket secure, but still plenty easy to pull apart when you actually intend to do so.
The front silver-toned section of the locket has small simulated diamonds inlaid all around it for some really nice detailing. The front and back sections of the locket are clear glass, so you can see right through the entire thing.
The back, however, has the lovely silver-tone tree of life detail. You can see through the openings in the tree's branches, but it makes a perfect background for the locket.
There is an empty space between the front and back of the locket. You are meant to place the birthstones of your choice within this space to help give the locket an even more special meaning.
Your purchase will include a total of 24 birthstones. There are 2 stones for each month. This helps accommodate if you would like to place stones for more than one person born in the same month. You can put as few or as many stones inside the locket as you like.
Your mom is certain to love the special meaning of her new necklace if you place your own birthstone as well as the birthstones of any siblings you may have within the locket.
You could also choose to include her own birthstone and your father/her partner's birthstone. It is highly customizable for a very special personalized necklace for your mom!
The locket comes on a 22-inch bead chain with a 2-inch extender section. It is definitely a very sweet gesture for your mother on Mother's Day! It is even very affordable!
2

. Gracefully Made Jewelry Circles Necklace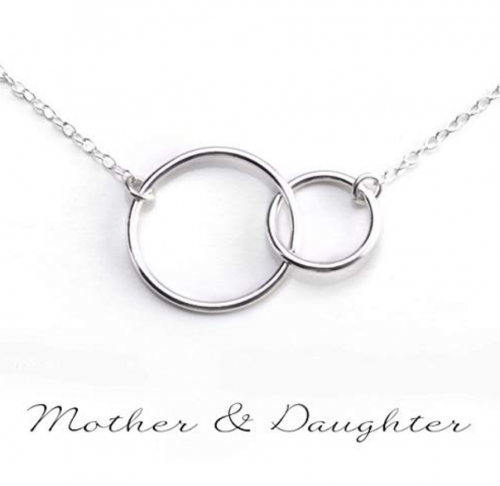 Here is an excellent and certainly unique piece of minimalistic jewelry perfect from a daughter to her mother!
Read more
This simple and beautiful necklace is made completely of 925 sterling silver for durability and beauty combined. The modern and minimalistic design of the necklace includes 2 sterling silver circles at the center of the necklace.
Each circle is made of a thin piece of silver that is sweet and dainty in appearance. One of the circles is larger than the other with the larger of the two circles representing the mother and the smaller of the two circles representing the daughter.
To signify the special bond and connection between mother and daughter, the two circles are interlocked together. This not only looks beautiful but is so meaningful.
The chain of the necklace hooks to the pendent on each side with one side of the chain connecting to the larger circle and the other connecting to the smaller circle.
This causes the two circles to hang side by side when the necklace is being worn. This creates a really nice asymmetrical look.
The chain is also made from the solid 925 sterling silver and is a simple and daintily thin chain for a highly feminine look perfect for your mother.
It measures at 18 inches in length and does not feature an extender like many options do. The necklace is very high quality and will easily work with any outfit and any occasion due to versatility of its design.
It is a little more expensive than our previous Mother's Day pick, but it is still very affordable when you look at the value you are getting.
It is even handmade in the USA! You can choose to get just one of these necklaces for your mother or go ahead and get a couple of the necklaces so that the two of you can match.
3

. Alex and Ani 'Words are Powerful You are Enough' Bangle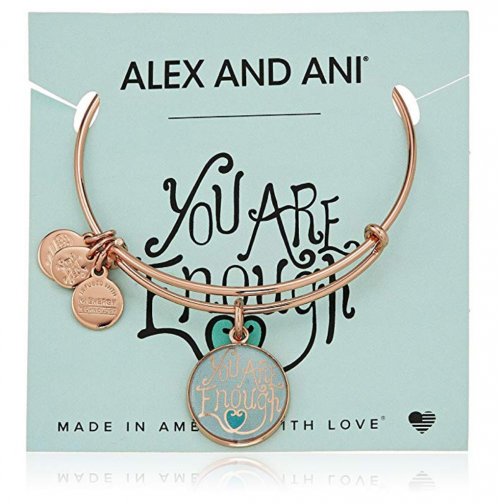 Mothers have always been harshly judged by others, but it seems like it is worse than ever in today's society. For mothers, they may sometimes feel like they can't do anything right because no matter how they choose to parent, someone will think they aren't doing it right.
Read more
It is the harsh truth of today's world, but no mother should be made to feel less than. You know that she's doing her best and that she has always been there for you and been exactly what you needed.
Let her know her value with this stunning and highly meaningful charm bracelet from Alex and Ani. This charm bangle features a large main charm that has a very special message beautifully displayed.
On a soft light blue background, rose-gold-toned words read, "you are enough". This means everything to anyone that has ever felt that they maybe were not enough. Let her know that she has always and will always be just what you need.
At the bottom of the charm, the elegant font comes together to create a small medium-blue heart. The entire bangle bracelet matches the tone of the font with beautiful and feminine rose-gold-tone metal.
You'll also see that the bangle includes 3 smaller charms that are the typical little charms you find on Alex and Ani bracelets. This includes their Made in the USA heart charm.
The bracelet, like all of Alex and Ani's bangles, is adjustable as well. It can be adjusted from 2 inches in diameter to 3.5 inches in diameter.
This makes it easy to put on as well as take off and it should fit most wrists without any issues. This is such a simple and sweet gesture of love and reassurance that your mum is guaranteed to truly love and appreciate.
This is the kind of bracelet that she won't just love for the daily reminder but also to show off to her friends how sweet her child is.
It works great for daily wear and the quality of the design and materials mean it will last a very long time! It comes from Alex and Ani's Words are Powerful collection and that is so true.
Words are powerful and this message just means so much coming from a son or daughter. The price is a little higher with this bracelet due to how sought-after the brand is as well as the careful design and high level of quality.
It isn't too bad for a great gift, though, and the meaning truly is priceless.
4

. MEGACHIC White Opal Heart Necklace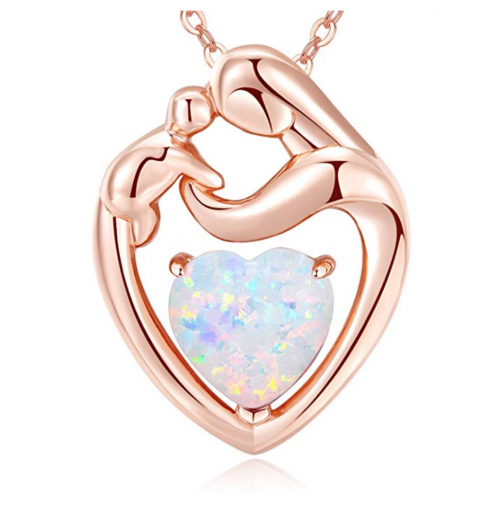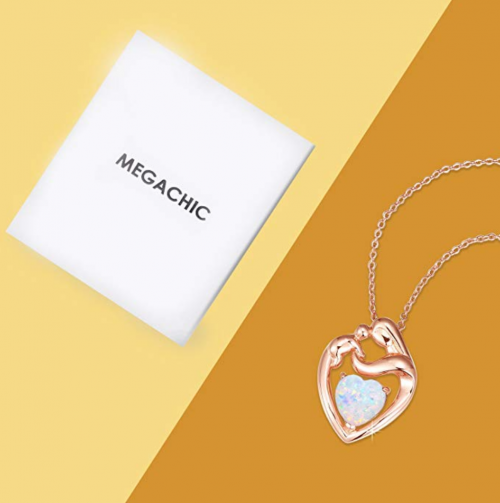 This gorgeous rose gold necklace is another excellent mom gift pick! This is a great choice coming directly from a child (adult or otherwise) or coming from a partner for the mother of children too young to get their own gift.
Read more
It is very sweet and helps to symbolize the special bond and joy between mother and child. The necklace features a simple rose gold tone rolo chain.
It keeps the focus on the lovely pendant charm of the necklace. The chain is 18 inches long and also includes an extender section of the chain that allows you to adjust it up to 20 inches if you prefer. This adds a little versatility to the necklace.
This pendant is the same rose gold tone metal as the chain. It is shaped carefully to create an abstract heart shape that rises up into the smooth slightly abstract form of a mother holding her child lovingly.
It looks almost as though the mother is holding the baby up in the air with foreheads touching in loving embrace! The entire thing has a very nice, smooth, high-polish finish.
It shines beautifully and has a very high quality feel to it. Inside of the open-heart shape created by the form of the mother and child, there is a smaller created white opal stone. This created white opal has a smooth polish finish and is cut in the shape of a heart.
It sits at the bottom of the rose gold tone heart but appears to almost float inside of the heart pendant. It is mounted with 3 secure prongs. The sparkle of the white opal looks incredible with the lovely shine of the rose gold.
It is all quite feminine and perfect for your mother! The pendant measures at 25mm tall and is 20mm wide at the widest part.
The entire necklace – pendant and chain – is nickel-free, lead-free, and non-allergenic. This helps to reduce any chance of possible skin irritation with higher quality materials.
This is a mid-priced item compared to the rest of our Mother's Day gift ideas and has a pretty decent value overall!
5

. NEW-EC 'I Love You in 100 Languages' Necklace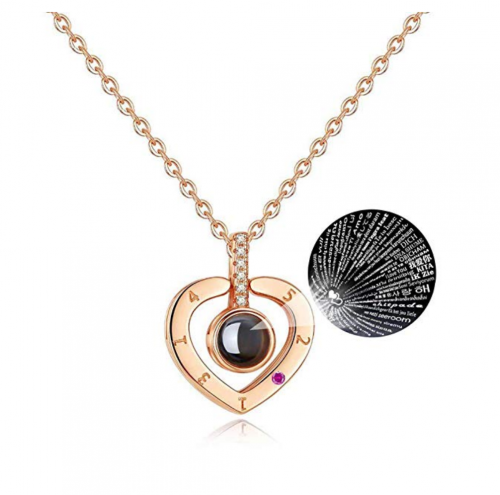 This unique necklace is so special! It features a stone at the center of the pendant of the necklace that is specially nano-engraved with the words, "I love you" in 100 different languages! Wow!
Read more
So, the tiny little stone, literally says, "I love you" 100 different times in 100 different ways. This means a lot in and of itself, but it is also just fascinating and fun!
There are two different ways that you can view the words on your little stone. Either you can use your phone's camera and place the stone right up to the lens, or you can shine a light through the stone.
If you are using your camera to view the words, they will show up on your phone's camera, and you could even take a picture of it.
When doing this, you need to keep the background either clear or have something lightly colored behind the stone.
When using the light method, it is best to use the flashlight on your phone. When doing so, you will put the light right up to the stone the same way you put your phone's camera lens up to it.
The light will shine right through the stone and project the words onto whatever is on the other side. A smaller focused light that is also bright is the best choice for this method, which is why your phone's flashlight is most recommended.
The stone is held in place by surrounding rose gold plated copper. The rose gold plating is specifically designed not easy to come off or fade.
A bar of rose gold plated copper also extends up from the circle of it around the nano-engraved stone. This bar connects to the nearly 20-inch chain of the necklace. The bar also features a row of sparkling simulated diamond stones inlaid into it.
Also connected to the bar, but able to move freely, is an open heart shape that circles the main stone of the necklace. This part of the necklace can be turned around the stone freely.
The best part is that this super cool necklace is super affordable! It makes a great budget Mother's Day gift that still has lots of meaning.
6

. A Charmed Impression Sterling Silver Double Infinity Necklace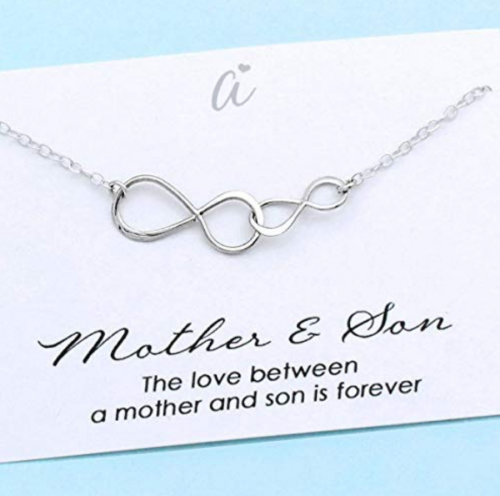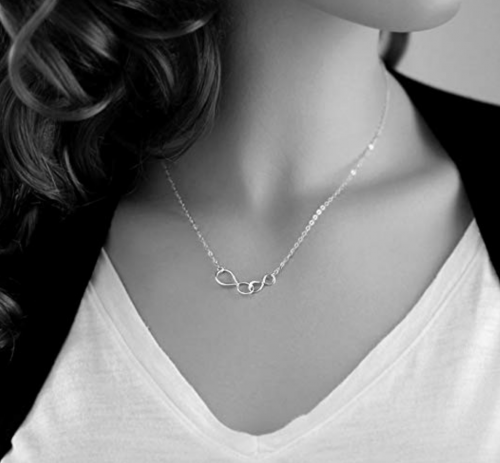 Here is another really simple and sweet infinity necklace. This one is similar to our mother and daughter circles necklace pick above from Gracefully Made Jewelry.
Read more
This piece, made by A Charmed Impression, is actually designed with a mother and son in mind instead. It is a perfect gift to a mother from a son of any age from a sweet little baby to a full grown man.
Regardless of her son's age, it will be so special to her. The necklace consists of two main pieces. Each one is an elegantly designed infinity symbol.
These little pendants are interlocked through each other to represent the close bond of mother and son. The infinity symbols represent how the love and special bond between the two will last forever.
The chain is a plain rolo chain to keep the focus just on the sweet symbolism of the necklace. It measures 18 inches long and has a small lobster clasp to secure it closed and allow you to easily put it on and remove it as desired.
The infinity symbols are also slightly thicker at the edges than they are in the centers. This adds to the smooth elegant design they have.
The entire necklace is made from solid 925 sterling silver and features a high polish finish for that perfect silver shine!
The necklace even comes on a sweet card that says, "Mother& Son – the love between a mother and son lasts forever" to help clarify the symbols of the necklace.
This means it is all ready to go for gifting too! The price is a little higher, but that is probably just because the necklace is completely hand-made, which adds a lot of value to the necklace.
7

. Amazon Collection Sterling Silver Pressed Flower Earrings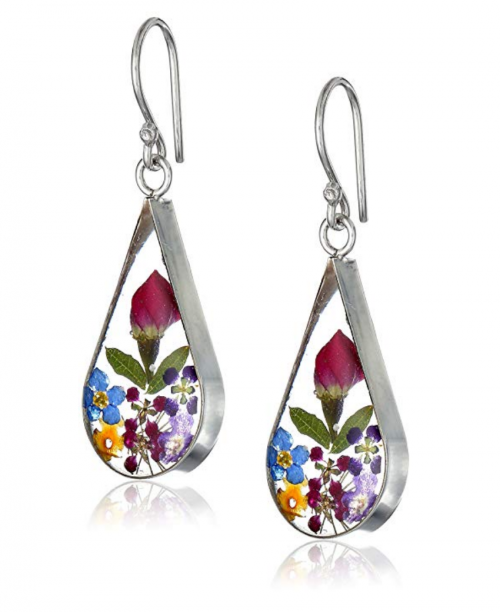 Flowers are beautiful and show your thoughtfulness. Unfortunately, they quickly fade and wilt. They just don't last more than a few days in most cases.
Read more
These gorgoes earrings are a perfect twist on the gift of flowers for moms. They let you give your mum pretty flowers that last forever!
Not only do they last forever, but she actually gets to wear them and take them everywhere she goes rather than just leaving them in one spot on the counter or table for a few days.
The really neat thing about these floral earrings is that they are actually made with real genuine flowers. The flowers inside the earrings are freshly picked and then carefully and completely preserved inside a special resin material.
This lets you see the flowers clearly without any damage to the flowers or ever needing to worry bout them fading! Since they are real natural flowers preserved in resin, each pair is entirely unique.
You do get to choose the primary color inside your pair of earrings, though! Each earring is a smooth teardrop shape that is large enough to hold the little flowers, but not so large as to be excessive.
The teardrop shape is surrounded by a sterling silver setting and finished at the top with a convenient fishhook-style earring hook.
The flowers picked for these beautiful earrings come from a field located in Taxco, Mexico and the earrings are actually made right there in Mexico.
You also get to choose if you would prefer a golden setting as opposed to the silver one! Your earrings will even come in a nice little gift box to make giving them to your mother super easy!
8

. FANCYCD "Always My Mother Forever My Friend" Necklace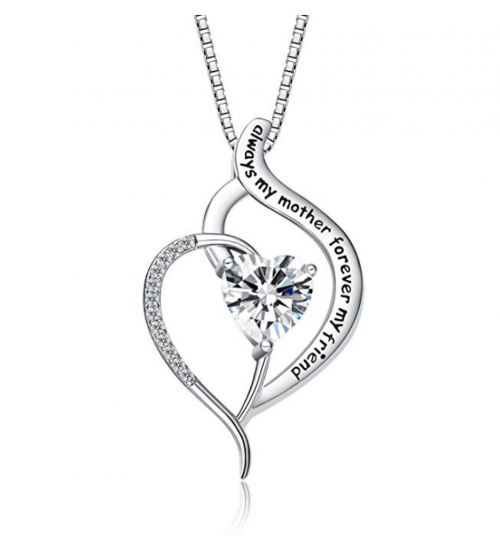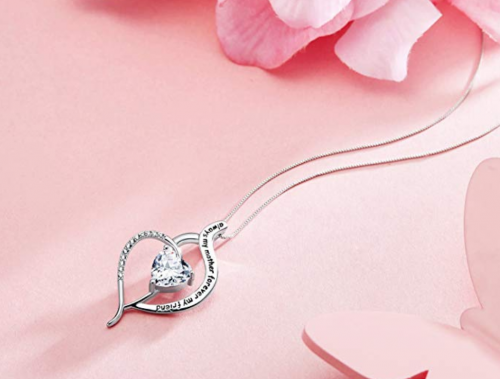 From FANCYCD, here is a stunningly elegant and modern necklace that any mother is sure to really appreciate. The main piece of the necklace is a medium-sized pendant that catches the eye well without overwhelming the whole look.
Read more
The pendant consists of multiple sections of metal that curve and twist together to create an elegant and slightly abstract design.
The metal is platinum-plated for increased durability and beautiful shine. On one of the thinner sections platinum-plated metal, there is a row of little cubic zirconia stones inlaid into the pendant that curves right along with the platinum.
There are a dozen of these tiny sparkling stones that look nearly identical to diamonds.
Then on the top right section of the pendant, there are words engraved. The words read, "always my mother forever my friend". This is such a sweet and sentimental saying that will mean so much to your mother!
The engraved words contain black to help them pop out and be easy to read against the platinum backing. They also curve with the pendant for a more elegant look that matches well with the endearing font used.
Right at the very center of the pendant where all the pieces come together, you will see a larger cubic zirconia stone.
This stone is in the shape of a heart and is covered in facets that help it sparkle wonderfully from all directions. It's mounted in a secure prong-setting.
The chain of the necklace is a block-style chain and measures at 18 inches in length. This is a really wonderful choice if you're looking for something more sophisticated that still has a nice unique look to it.
Now this one of our favorites on our best gifts for mom list!
9

. LADY COLOUR Blue Heart Lucky Clover Necklace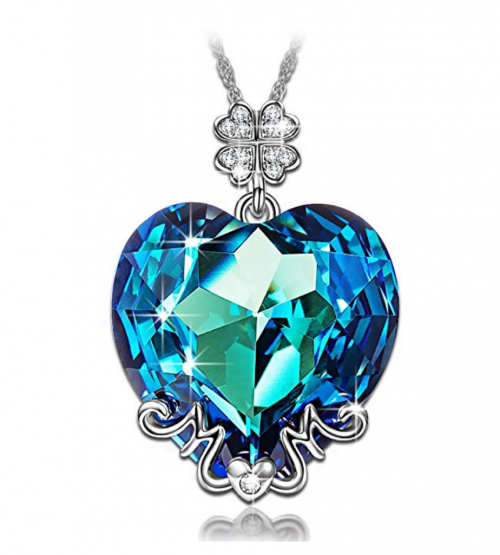 This Lady Colour necklace is great for mothers that really love showing off! This bright, big, and beautiful necklace will easily capture attention and spark conversation. The main piece of the necklace's pendant is a large blue Swarovski crystal in the shape of a heart.
Read more
This large crystal is absolutely stunning and sparkles amazingly in all directions. The metal of the necklace is hypoallergenic and plated in lovely white gold.
The metal holds the Swarovski crystal in place from the back while leaving nearly the entire front revealed.
The only part of the front of the crystal you don't actually see is at the very bottom where the word, "mom" appears. The word is spelled out in 3D white gold plated letters curving around the bottom of the heart. The M at the front and the M at the back are both curly and curvy in a very elegant sort of way.
The O is particularly unique. It is actually a heart shape with a small clear Swarovski crystal in the center! The whole thing flows together so nicely.
Right above the blue heart crystal, a small four-leaf clover is made up of 4 small heart-shaped leaves. Each of the leaves features 3 more small clear Swarovski crystals.
This is supposed to help bring luck or at least represent it! Even the backside of the pendant is decorated ornately with lots of little hearts and another four-leaf clover that reads, "love".
The chain of this necklace is a rolo chain that matches the pendant nicely. It measures at 18 inches and also includes a small 2-inch extended section for a better more preferable fit for anyone.
With a pretty low price and beautifully intricate design, it's hard to get a value much better than this one!
10

. Alex and Ani Wonder Woman Logo Bracelet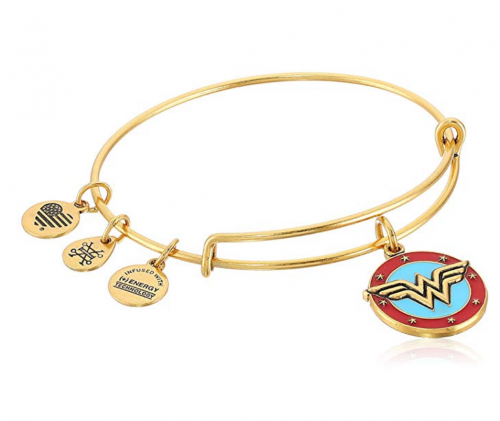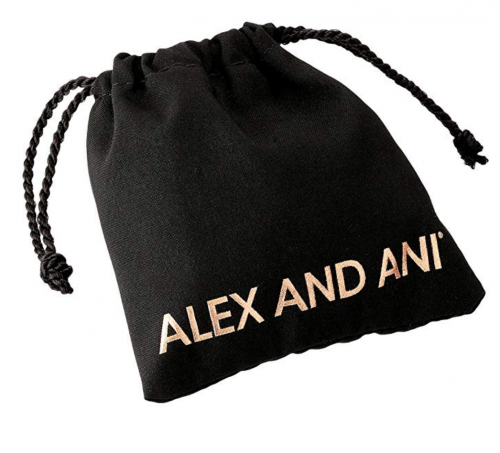 Our final pick on our gifts for mom list is another Alex and Ani bracelet! This is a bracelet that will really make your mother feel special and recognize just how important she is to you.
Read more
Last on our best gifts for mom list is this Alex and Ani Wonder Woman bracelet! The main charm of the bracelet features a very well-done Wonder Woman logo.
It features the classic red and blue design with the famous "WW" at the center of it. The bangle itself is, of course, adjustable. This is how all Alex and Ani bangle bracelets work.
They slide in and out to change their diameter. They can go anywhere from a 2-inch diameter to 3.5-inch diameter.
This is to help make wearing and removing the bracelet as easy as possible. This adjustable sliding section is actually where the main Wonder Woman charm sits. There are also 3 smaller charms off the side.
This is very typical of Alex and Ani and each charm has a specific meaning from the company. This includes both the American flag heart shape that shows the bracelet was made here in the USA as well as the positive energy-infused charm!
The entire bracelet has a really nice Rafaelian gold finishing touch on it. You could always choose the same bracelet in a silver finish instead if you do prefer that. The meaning is still clear – your mum is Wonder Woman.
This is an important concept because men are often compared to superheroes but women rarely share the same spotlight.
The price is a little higher but definitely worth it for such a special bracelet. Let your mother know just how super and heroic she has been in your life with this amazing Wonder Woman charm bangle bracelet!