Necklaces / Women
Best Mother Daughter Necklace Sets to Symbolize the Eternal Bond
Marianne 04 Mar 2020
9427
The bonds and relationships that exist among family members are quite unique. It is one that epitomizes sincerity and pureness of love. The family and the ambiance it hooves remain fundamental and germane in the general makeup of a person. Top ranking researchers have confirmed that the state and conditions of the self-value and self-image of a child are strongly informed by the messages (either direct or symbolic) communicated to him or her by the parents. Little wonder the family is said to be the strongest and most basic source of socialization. The place of the love shared by family members in the success of the kids cannot be over flogged. It is said that the family remains the bedrock and building brick for the self-esteem and personality portrayed by a child. Mother-daughter necklaces are a perfect item to depict and hold firmly such family bonds.
The mother-daughter necklace is crafted with such expertise to suit both the old-school, adult, youthful, teenage or toddlers fashion space. It has quite a large scope of usage and importance, as it appeals to various age brackets and neck size. This encourages a perfect fit in mother and daughter fashion, especially when attending an event together.
It is inarguably true that of all relationships that exist among individuals in the family, the mother-daughter bond has proven to be a bond that is beneficial to both parties especially when major life changes occur to either of both parties. Multiple theoretical perspectives recognize the mother-daughter bond as being life long, intimate and developmental. It is therefore paramount to strengthen this kind of relationship with symbols such as the mother daughter necklaces.
I'll be giving ten different options of some necklace jewelry that could be used to foster love and bond and also strengthen the existing connection between mother and daughter. These available options listed below have been chosen through deliberate study and scrutiny. They were chosen on the basis of their symbolism,  the aura they give away when worn, the price range, availability for shipping, the simplicity of the look, durability level and their health effects on the skin. The pieces below only accentuate the relationship between mother and daughter or daughters as the case may be and are all available online.
Our 10 Favorite Picks for Mother Daughter Necklaces

1. Silver Spotted Bird Necklace Set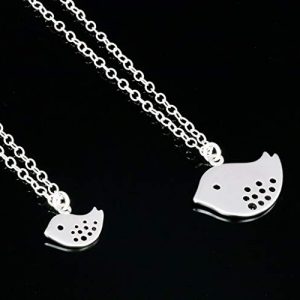 The Sterling Silver jewelry; a set of two interlockable infinity double circles necklaces is of high quality. It contains 925 Sterling Silver and has a 1.76-ounce weight with a highly rated customer review. It is environmentally friendly as it doesn't cause reactions to the skin; reactions like scaling skin and itching, and doesn't have any direct health risk, it can be worn at any period of the day, even while bathing, it's simplicity allows for its universal user-ability; it could be used for any occasion or as an everyday jewelry set.
The necklace is lead-free and nickel-free, which makes it therefore suitable for mothers and their female children at all age range. The 19 inches necklace is also practically wearable by everyone and is readily adjustable when requested by its users. It is durable, though lightweight, but very strong as it can withstand external pressure from surrounding engagements resulting from the pull, hit or push from gravity and other external bodies. Also, these make it suitable for children and it also has a strong spring ring clasp that keeps the chain tightly held and free enough for comfort. This characteristic quality assures mothers of their child safety, protection and also value for their money spent.
The stylish and well designed double circle necklace is a loving way to show and express care to daughter, wife, in-laws, and mother, and mother figures. Also, this act of love keeps family bonds stronger. The 925 Sterling Silver interlocking double circles neckless is very affordable and has a manufacturer warranty of 5 years, assuring you of achieving the best utility from your money. The necklace which is properly packaged in a white envelope in its package box and properly wrapped with a special card ready for giving is an excellent and cost-effective love expression and will be highly appreciated.
2. Mama Bear and Baby Bear Necklaces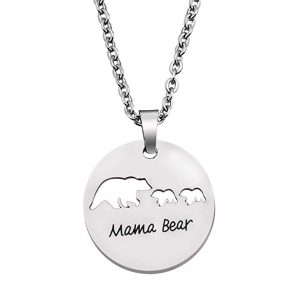 The necklace set includes two 18 inches Sterling silver cable chains and two charms: The mama bear and the baby bear. The mama bear charm is sized 15mm x 10mm x 1mm I.e 9/16 inches x 3/8 inches x 1/16 inches while the dimensions of the baby bear charm are 8mm x 10mm x 1mm I.e 5/16 inches x 3/8 inches x 1/16 inches. The set is packaged in two gift boxes making it easy to present the packages separately to the duo.
These mother-daughter necklaces have a high quality of 925 Sterling Silver, Necklaces Stamped 925. It is quite durable and quite affordable for the value it gives. It is a perfect pack for Mother's Day Gift or a birthday gift. It could be offered from mother to daughter, daughter to mother or from a father to both his ladies.
It is finely crafted, symbolic of shared love and trust, of dependency and beauty. The designing company is a US-based family-owned business that promises superior customer service including excellent communication and easy returns.
3. Sterling Silver Mother and Child Love Heart Pendant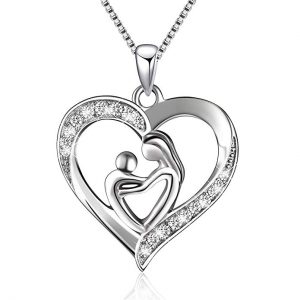 The 925 sterling silver chain decorated with 0.01ct diamond accent stone is a beautiful necklace whose awesomeness is buoyant enough to showcase one's true feeling as its characteristics express love, loyalty, compassion, beauty and many more caring qualities that express family bonds. The 18 inches silver chain comes ready to wear and well packaged to be presented as a gift.
The 2.4 ounces weighed necklace is free of dangerous elements that might cause unwanted irritation on the skin. It is of Sterling Silver quality, tarnish resistant and electroplating effective, all these assures buyers of its durability as it is very resistant to wear and tear.
The necklace designed as a mother holding a child love heart pendant will serve as a suitable gift for either mother or daughter, but it's a perfect fit from daughter to mother as a form of appreciation for her undying and uncompromising love; for aged mothers, god-mothers or motherly figures. It could also go as a gift from mother to daughter; their baby daughters, as a promise of safety and love from her to her female infant or adolescent.
But regardless, it is a perfect Mother's day, birthday, appreciation gift or a gift handed to a daughter to usher her into a new phase of her life (puberty or marriage). The pendant and chain which is about 4.5g will add no heavy additional weight to its user but will imply a dose of sophistication and beauty to its user. Its simplicity avails it's users the opportunity for it to be used as an everyday accessory.
4. Mother and Daughter Pendant Necklace –  Chain + 2 Necklace Pendants
Get It Here
This 2 in 1 necklace containing two pendants with separate chains and love inciting inscriptions is a perfect fit for a gift to mother and daughter. This is the best dual gift to be handed by a father to his ladies. A part of the pendant inscribed with "mother" belonging to the mother and the other matching half with a heart shape has inscribed on it; "daughter", belonging to the daughter, is a joy to behold and more of an ecstasy to experience when both mother and daughter put it on at an event or even within the house. The necklace can serve as a symbol of mother to daughter love or father to family love. It is a heartwarming, charming necklace available at affordable prices, a ready to wear, everyday neckpiece.
The recorded high durability of this necklace isn't farfetched from the fact that it is made up of high-quality alloy. It is designed to fit with any neck size since the necklace is adjustable to fit anyone perfectly. The necklace which is packaged in style comes with an attractive black velvet gift pouch. This sort of sophistication brings a whole lot of upgrades to the act of gifting.
Will it be an exaggeration to say that this set is an opportunity to kill three birds with one stone? You don't believe? Assume it is your wife's birthday and your only daughter's graduation while your only son also has been craving for a fancy little bag that he could easily carry for minute errands, you see that the luvati necklace set is the most cost-effective option in such cases.
5. MYOSPARK Set Heart Cut Out Necklace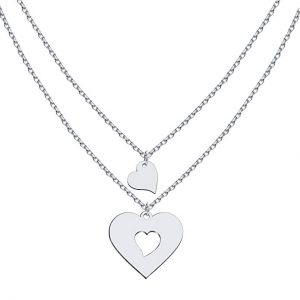 The set is made of 316L Stainless Steel and remains one of the best mother daughter necklaces to have ever been produced. This elegant and breathtaking designed piece of necklace is a set featuring hearts silhouette pendant necklaces for mothers and their daughters. Many have consented that it is a perfect piece to be gifted to a wife on Mother's Day or a mother of two – three daughters. The 0.8-ounce necklace is readily available. Affordable and cost-effective.
The jewelry fosters love in the family, strengthens bonds as it remains dear and appreciated by parties wearing it. The love/heart designed necklace made out of each other is a symbol of family love, strength and support. It encourages family members to have each other in mind and by extension strengthens family bonds.
One special characteristic is that while it also comes with a velvet gift pouch,  it is universal and could be used with all shades and style of clothes. This makes it a perfect accessory for varying occasions like birthdays, anniversaries, dating, weddings, meetings and all.  It is great in detail and suitable for personal collection, its great quality and durability make it last over decades and this increases the possibility of it an asset. It can also be passed down from generation to generation to show family ties.
6. DJwindfy, Little Bird Set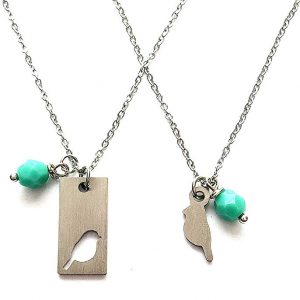 The DJwindfy set is a perfect choice of jewelry to accentuate te the bond that exists between the duo. Its pendant is carved portraying the concept of a peaceful and loved little bird. The pendant has attached to it an aqua blue glass bead symbolizing peace. The chain has a length of 18 Inch and a 2-inch extender making it suitable and adjustable to suit anyone, easy and comfortable to use.
The two in one necklace with one each for mother and daughter is made up of the mother necklace crafted to be a rectangle pendant with a bird silhouette and a matching little bird charm necklace for daughter. Asides the beauty that this wonderfully combined necklace adds to the mother daughter squad, the necklace also fosters the impression of love, unity, trust, and interference when worn.
The beauty and multiple interpretations to the symbols in the necklace make it applicable as a present for Mother's day, daughter's birthday, sister's birthday, Valentine's day, wedding anniversaries and birthdays of mothers-in-law, grandma, and great-grandma.
The necklace is a uniquely made modern design piece which is beyond the traditional heart or love pendant fashion.
7. Set of Two Matching Hearts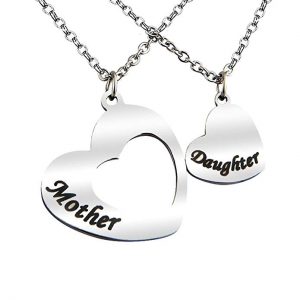 This necklace set is created in the shape of a heart of which the smaller belonging to the daughter fits perfectly into that of the mother. Made of 316L stainless steel, it is lead and nickel free and also hypoallergenic. It doesn't rust, change color or tarnish.
This feminine necklace is the perfect gift to hand to any female role-model in our lives. It is a suitable gift to share the love during Christmas or the birthday celebration of a motherly figure and other forms of love related anniversaries related to the females in our life. The simple but cute design makes it a special treat to be adorned on a lady who is an introvert.
8. Mom I Love You to the Moon and Back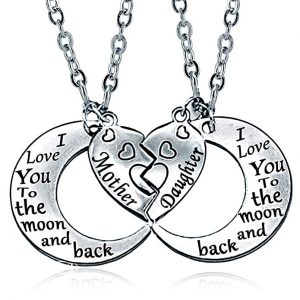 Mothers have a very unique relationship with their mothers just as daughters also adore and give special reference to their mothers. Building this sort of relationship is needful for a healthy relationship within a family. To enhance this sort of relationship which is key to family unity, fathers must learn to appreciate both pairs with gifts that the duo will hold dear, it initiates love and respect.
An item like the "mom I love you to the moon and back" necklace is an item that is the best fit as a Mother's day gift or a birthday gift. Its inscription of "I love you to the moon and back" on both sets, one inscribed with a mother belonging to the mother and the other inscribed with daughter belonging to the daughter is the best idea of a gift.
The necklace of an exact match is lovely evidence of love if worn by mother and child. It is also one to be cherished as it creates an emotional attachment between both ladies and to the necklace, in some cases, it could become a generational culture where the mother daughter necklaces get passed down from generations of mother and daughter to another.
9. Mother Daughter Necklace Set, 14k Gold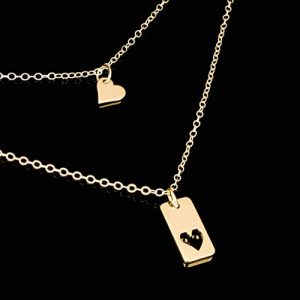 The set contains multiple necklaces to cater for a situation where there are a mother and multiple daughters. This particular set puts into consideration the fact that some mothers have more than one daughter and will definitely not want a case of jealousy or rivalry starting up between her girls. So, this jewelry set aims at projecting hope to female siblings and their mother, thereby giving them an opportunity to also own this love sharing device.
The set consists of a necklace with the cutout heart charm measuring 7mm x 14mm for the mother and a number other mother daughter necklaces with the small heart charm measuring 7mm x 7mm each. Each necklace is wrapped and packaged in a jewelry box giving room for all daughters and mother to be gifted separately. The charms are made of the natural bronze set while the chain is 14k gold filled. The Mother's necklace has only one heart cutout, this is regardless of the fact that the set comes with more than one cut out chain to be purchased.
The interlock on the charm symbolizes a never ceasing, uncompromising love and unity, between parties involved. The necklace is a sterling silver necklace. A perfect gift to show appreciation and love to any mother, grandmother, mother-in-law or any motherly figure who you cherish. Each necklace comes placed on a jewelry card and wrapped in a beautifully embossed jewelry box; perfect for gifting. The necklace is made of Rhinestone, cable chain and lobster claw clasp.
10. Silver Spotted Bird Necklace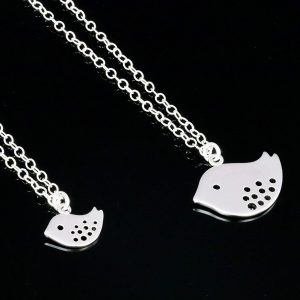 This set is a perfect way to express and show love and bond between both parties. The mommy bird charm measures 13mm x 17mm while the baby bird charm is about 3/4 the size of the mother bird's. The charm is an epitome of simplicity and beauty. The charm is set on a solid sterling silver chain. Its actual lengths are 18 inches for the mommy necklace and 16 inches for daughter necklace(s) but both are adjustable to suit the user.
Each necklace comes wrapped in a jewelry box, which makes it easier to gift individually. The neck piece is one that can be used at any time of the day and in whatever weather condition, it doesn't melt in the heat or fade off, and its makeup is devoid of elements that cause skin irritation on its users.
Wrapping Up
All of the above-listed necklace pieces are recommended as gifts to be shared between mother and daughter or daughters. They all share certain similarities like simplicity, beauty, durability, and high quality. All ten pieces of jewelry have tremendous power to facilitate love and bond between mother and daughters, they give them a sense of belonging, similarity, dependency and of unity.
In some cases, they could be used as a medium of appreciating the strong women around us; aged mothers who made huge sacrifices while their daughters were growing, iconic women whose life path tells the stories of strength, courage and love, women who have been instrumental to your becomings and a long list of women whom you would like to appreciate. Giving this jewelry as a gift could be the vivid move needed to win the love of a daughter or to even project your love to a daughter who seems far away.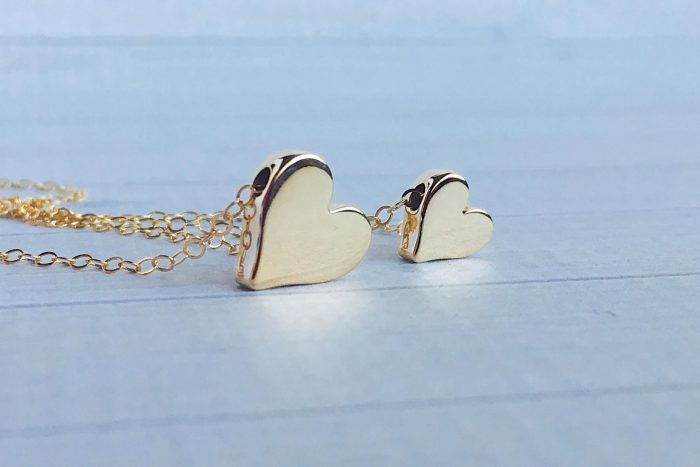 All the listed jewelry are sterling silver which is made from the combination of pure silver and copper. Sterling silver jewelry can be composed with varying amounts of copper but are most often the composition of 92.5 percent silver and 7.5 percent copper.
This is a good combination as compared to just pure silver, the combination is remarkable for maintaining the silver's durability without affecting its sparkle. But then, the sterling silver should be maintained well to enjoy its longevity and its continued shine.
Keep in mind that the sterling silver chain should not be made to come across harsh household chemicals such as bleach or chlorine. Scratches should be prevented too and the silver should be stored in a lined jewelry box or pouch to avoid any scratches. Regular Cleaning and storage of the silver jewelry will prevent it from wearing out and will help maintain its shine. Once discoloration is noticed, a gentle polish should be used on the chain removing tarnish.