The Cutest Jewelry with Symbolic Meaning? An Infinity Necklace!
last updated:
Mar 22, 2021
An infinity necklace not only showcases an iconic effortless style but also has a deeper meaning.
As one of the most popular jewelry symbols, an infinity necklace can connect you to yourself or a loved one.
With beautifully designed pieces that complement any outfit in your closet, you can showcase your elegance for any occasion.
Top 10 Infinity Necklaces
1

. Billie Bijoux 925 Sterling Silver Necklace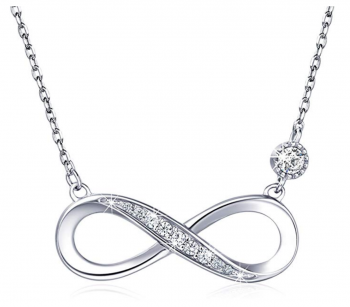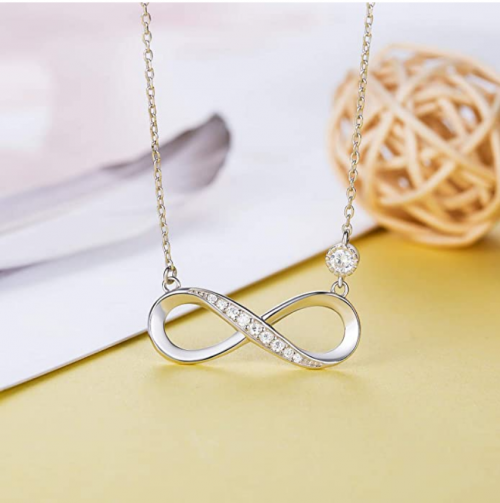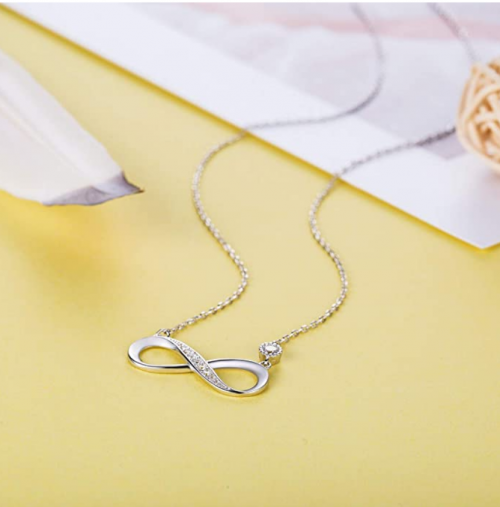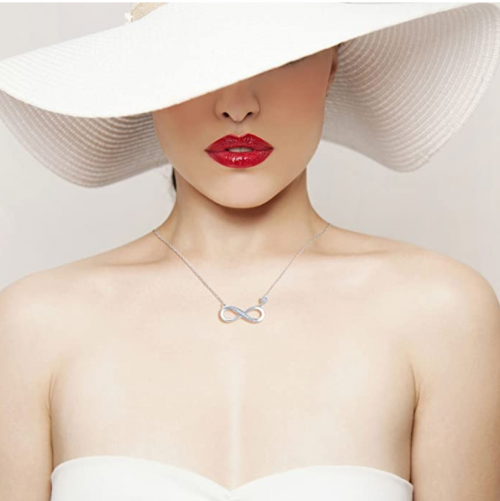 Sterling silver
Platinum finish
Nickel and lead-free
To begin our roundup we decided to feature this classy option which has been created using sterling silver. What's great about this material is that it gives the piece of jewelry a lovely shine and smooth finish.
Read more
The pendant includes cubic zirconia diamonds positioned in a line which adds a subtle hint of sparkle to the piece. The piece also features additional sparkle in the form of a small circular cubic zirconia diamond directly above the infinity symbol.
Your eye is drawn to this beautiful diamond which is approximately 3mm in diameter. The mini diamond is a great way of linking the pendant to the chain.
The pendant is attached to an adjustable cable chain that has a spring-ring clasp. The chain is approximately 16 inches long with an additional 2 inches if you require a longer length chain.
The main structure of this pendant has been made out of sterling silver metal that has a platinum finish. One of the things we love about this necklace is that it is lead and nickel-free!
It is also available to purchase in yellow gold and rose gold so if you fancy something slightly different, then take a look at these.
The pretty infinity necklace is being sold by Billie Bijoux for a low price. This item comes in a stylish white jewelry box that has a black interior.
2

. Swarovski Infinity Collection Necklace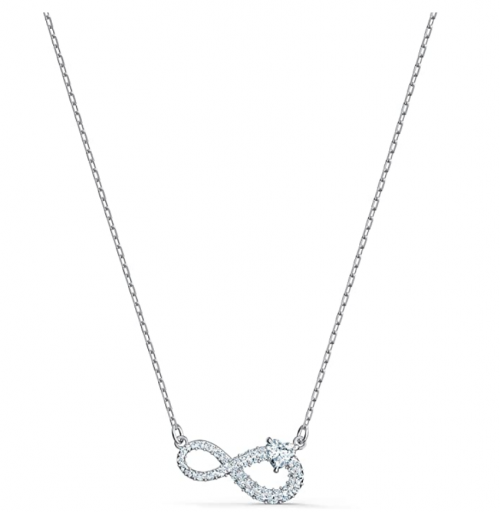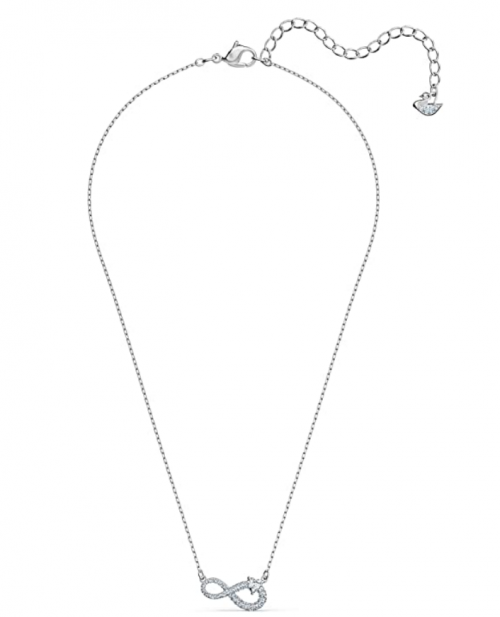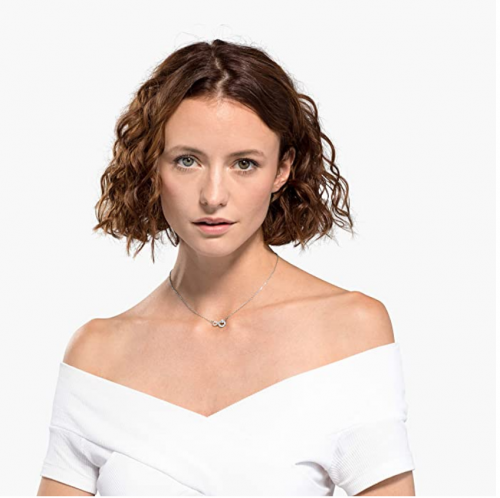 Pave Swarovki crystals
Brilliant heart-shaped accent
Thin and delicate chain
Rhodium plating
Swarovski is one of the most notable jewelry manufacturers as they capture the natural elegance of formal pieces. The stunning quality of this necklace is sure to make it one of your favorite pieces in your collection.
Read more
As with any Swarovski piece, this necklace has brilliant eye-catching crystals that sparkle vividly in natural and artificial light.
One of the most impressive features of this design is that it features rhodium plating, offering long-term wearability. With rhodium, the piece is more scratch-resistant and likely to hold onto its natural brilliance. It's also easy to maintain with a soft jewelry polishing cloth.
This piece is finely detailed with an assortment of white stones that speak to the necklace's romanticism. You'll also find a single white heart-shaped stone embedded in the pendant for a dainty accent. The beautiful crystal pave infinity sign is sure to capture the attention and hearts of passers-by.
If you're looking for a gift for a loved one, this is one of our top recommended styles to consider. It boasts a refined nature, which makes it exceptional for mature men and women. However, it's also youthful with a genuine glow that pairs well for young adults and teens.
3

. Black Bow Jewelry Polished Necklace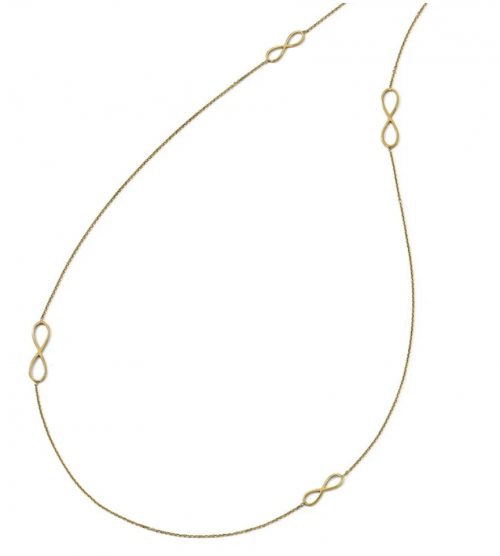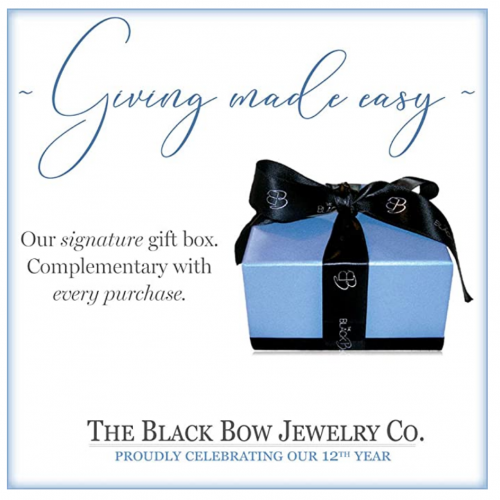 Solid 14k yellow gold
Made in Italy
Delicate .95mm chain
Infinity symbol link stations
The classic styling of this necklace is what sets it apart from the other pieces in your collection. It takes a more minimalistic approach to traditional infinity necklaces, with small individual embellishments along the chain.
Read more
The versatility of the Black Bow Jewelry Co. piece is incredibly impressive. It's gracefully gorgeous with a textured gold chain and smooth infinity symbol accents along the length.
Instead of being glitzy and over-the-top, the straightforward aesthetic of this piece is slightly sporty. You can wear it every day without worrying about oversized pendants and embellishments getting in the way. It's streamlined and effortlessly glamorous, making it easy to pair with other necklaces and accessories.
If you're looking for an eye-catching piece that speaks to your subtle fashion sense, it's an exquisite option. The fine gold is a luxurious upgrade, rather than settling with sterling silver or stainless steel.
In total, the necklace is 36 inches in length but can be adjusted as needed. It also features a lobster clasp with fancy finishing, easy to remove at the end of the day.
As an added elegance, the piece is made in Italy, featuring artisan craftsmanship you aren't likely to find in North America.
4

. CoolJewelry 'Love You To The Moon & Back' Pendant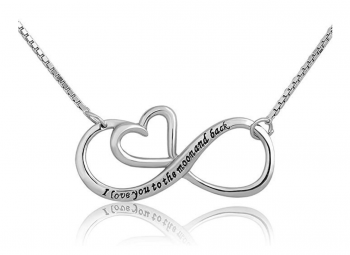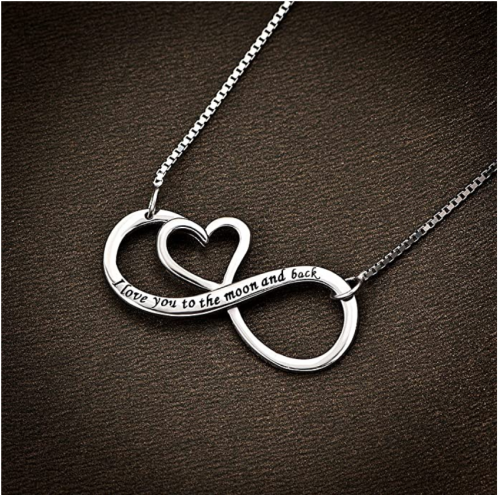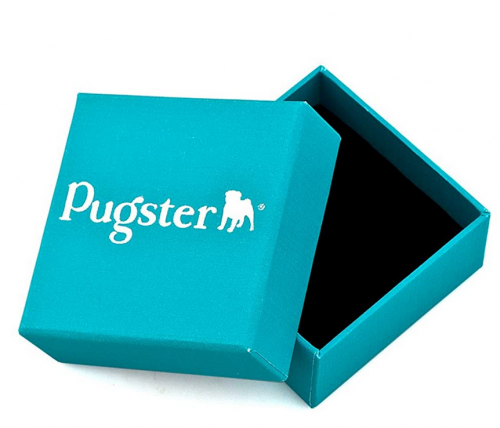 Sterling silver
Personalized with cute message
Jewelry box included
Love is in the air with this cute infinity heart necklace! CoolJewelry has done a fantastic job by incorporating a heart in their infinity necklace design.
Read more
The pretty pendant consists of the iconic bow shape but this time features a heart symbol alongside one of the sides of the bow.
Typically, jewelry of this kind features a touch of sparkle in the form of shimmering diamonds; the designer has decided to go against this which we think is a great idea. If you're not keen on diamonds, then this option is a great alternative.
What the jeweler has done is they've decided to decorate the infinity bow with a one-line message, "I love you to the moon and back". This short romantic message brings a lovely feel of sentimental value to this piece of jewelry.
We're certain that whoever receives this piece would love this personalized message, captured in a simple black text.
When it comes to the choice of materials, this jeweler has opted for classic sterling silver. It's smooth, shiny and sexy! To give you an idea of the size of the pendant, it is approximately 30.35 mm by 12.45 mm by 1.30 mm.
The chain which is approximately 18 inches long has also been made in sterling silver so these two work great together in a seamless and fluid piece.
It's important to point out that this gorgeous necklace comes in a bright turquoise jewelry box which will definitely catch your eye!
5

. Silver Mountain S925 Sterling Silver Choker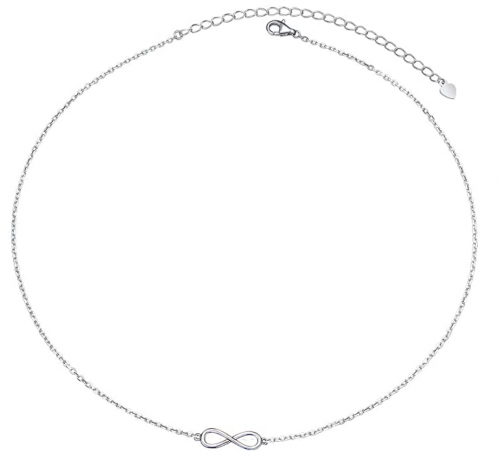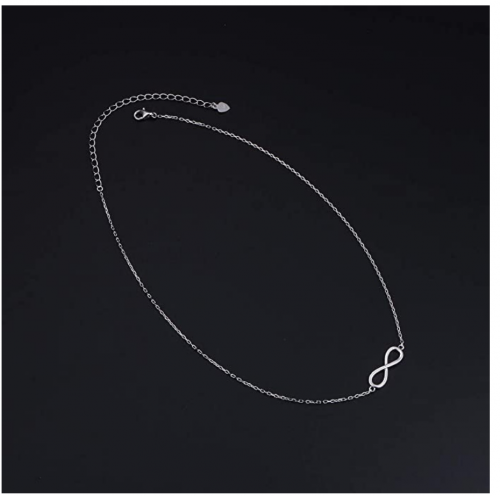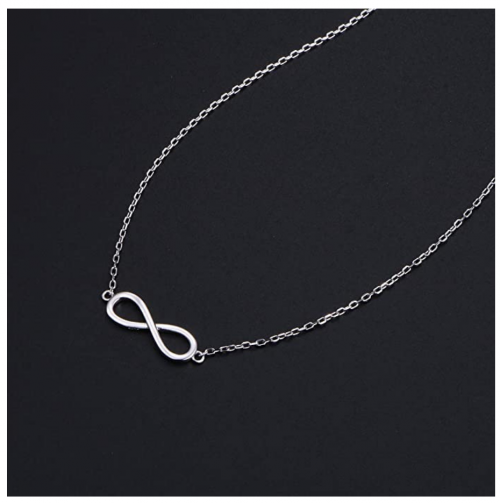 Crafted from 925 silver
Hypoallergenic
Tarnish-free
A simple and dainty style
Chokers have boomed in popularity, as they're a top-of-the-line trendsetting accessory. The Silver Mountain choker can easily be paired with other necklaces, especially low-hanging styles.
Read more
At first glance, you can see how this piece effortlessly combines elegance and simplicity in one package. It has a graceful, thin chain that sits comfortably against your neck. Also, you'll find the lobster clasp allows you to change the width of the necklace for a more comfortable fit.
At the center of the chain, there's a small infinity symbol crafted from high-quality sterling silver. Compared to other infinity necklaces, this style is simpler, which makes it ideal for everyday wear.
As mentioned, the necklace is adjustable, with a total length of 13 inches. Thanks to the extended chain for free adjustments, there are also an additional three inches.
The quality of this necklace is also important to consider, which speaks to its versatility. The entire piece is crafted using 925 sterling silver, remarkable for its longevity and wearability. You'll have the effortless glow similar to white gold with an easy-to-maintain material.
Sterling silver is relatively scratch-resistant, and it also tarnishes resistant with a nickel-free composition.
With that said, you can wear this choker necklace anywhere, whether you're swimming, showering, or sleeping.
6

. Ouslier Infinity Name Necklace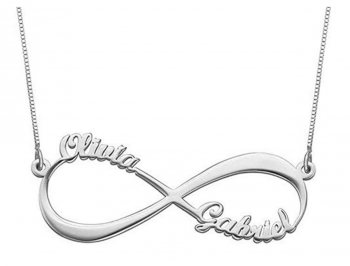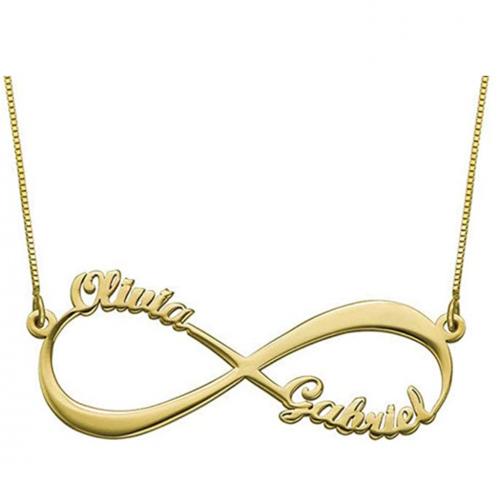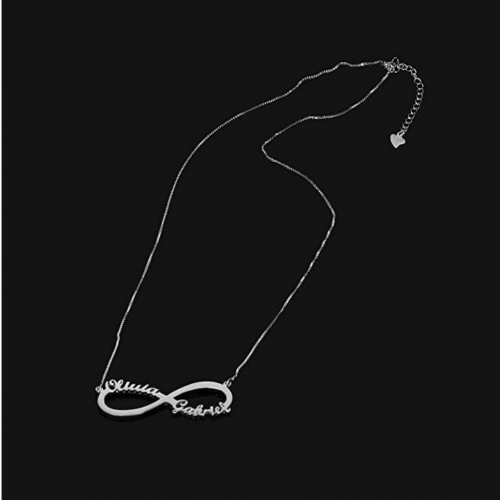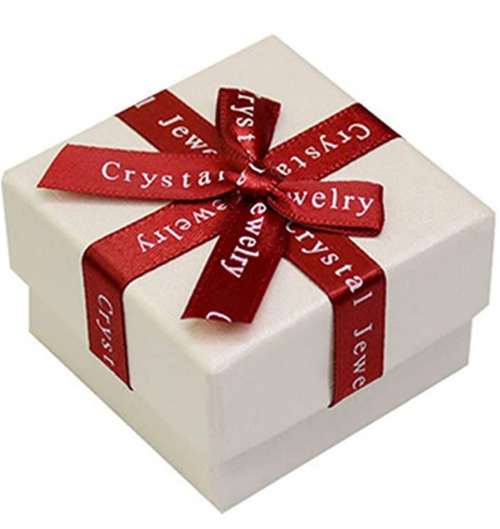 Sterling silver
Can be personalized with 2 names
Choice of chain length
This time we've chosen an option that really oozes personalization! The name necklace has been created with the iconic bow shape; this time the designer has decided to subtly feature a name at the top of one bow and at the bottom of the other bow.
Read more
The font type that the designer has opted for also works well in blending in with the shape of the bows and the overall style and feel of the pendant. The jeweler has gone for a three-dimensional look for this piece which looks really good.
We feel this piece would be best suited to a younger aged person. However, it's still got a great twist on the traditional infinity necklace that we know of and love!
Once again, this designer has chosen a sterling silver material to create this stunning piece; it gives the wearer the option of selecting and featuring two names within the pendant.
They have specified that the chosen name can be up to 9 characters long and has to have a capital letter for the first letter. This limit of characters gives the wearer a great range to work with to create their own individual piece of jewelry.
When it comes to the chain, the jeweler has gone for a box-style chain. What we love about this is that you can choose how long or short you want your chain to be by choosing your preferred length.
The infinity necklace also comes in a cute little box with a bow on the top; what more could you want?!
7

. Jeulia Infinity Pearl Necklace
Genuine cultured pearl
Sterling silver
1 year warranty
If you're looking for a more elegant option that would go well with a little black dress, then take a look at this gorgeous piece which features freshwater pearls.
Read more
Rather than the iconic bow or sideways figure of an eight shape, this jeweler has chosen to feature the pendant as a figure eight symbols.
What's lovely about this option is that the figure of eight cleverly includes a freshwater pearl within the symbol. If you're looking for a truly elegant piece of jewelry, then this is it!
The figure of eight pendants has been created using the finest quality sterling silver. This smooth, shiny and silky silver really looks timeless. When it comes to the pearl this is a handpicked freshwater cultured pearl.
It is a real pearl that has a thick and iridescent nacre on it. The pearl is white, round, has a high luster and is 9 mm in diameter. Mounted on the larger of the two loops, this piece of jewelry looks extremely classy.
The pendant has been suspended on a matching 17-inch chain. This is a link-style chain that has a lobster claw clasp which makes it extremely easy to put on and take off the necklace.
This stylish necklace has been created by Jeulia who has done a wonderful job. Founded over 20 years ago, this jeweler continues to grow from strength to strength.
What's great about this jeweler is that you can have the confidence that they've only used genuine cultured pearls.
8

. Black Bow Jewelry Stainless Steel Necklace
Stainless steel
Cubic zirconia
30 day money back guarantee
This necklace features an iconic infinity shape which has been molded into a gorgeous figure of eight. This is a great choice for a special evening out and would look stunning when worn with an evening dress, particularly when paired with some diamond stud earrings.
Read more
The necklace has two quite distinct features. On one side of the figure of eight design, you'll see a heart-shaped section that shows off the beautifully shaped stainless steel.
The design has been taken even further by balancing the second half of the pendant with a selection of white cubic zirconias.
There are in fact 15 diamonds along with the figure of eight pendants and this works really well alongside the plain stainless steel.
You may have noticed that there is actually one more crystal (that's 16 in total!); it has been carefully molded into the bottom of the pendant, sitting effortlessly within the lower hoop. The pendant comes with its own 18-inch cable chain.
This necklace is sold by Black Bow Jewelry & Co. who offers a range of attractive jewelry including beautiful diamond rings and necklaces.
9

. Swarovski Interlocking Circle Pendant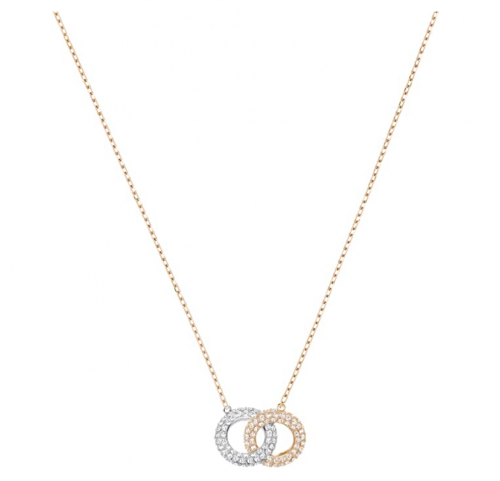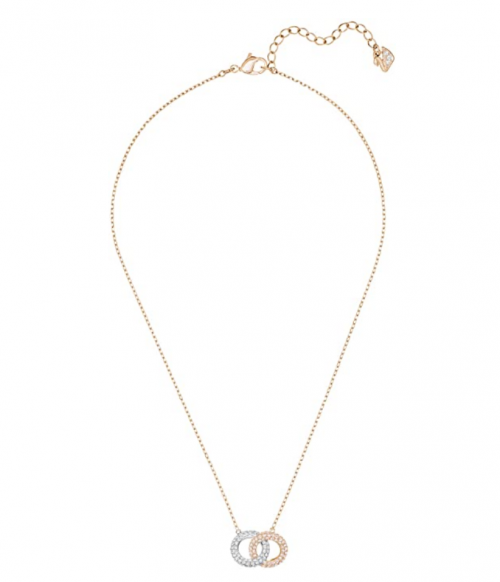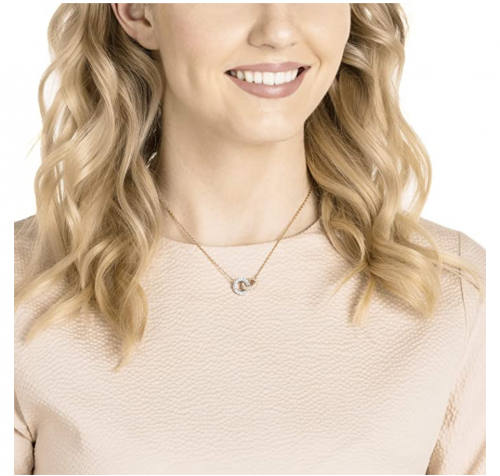 Gold plated chain
Rose gold and silver-toned accents
Pave Swarovski crystals
Adjustable 14" chain
If you love the idea of infinity symbols but want to stray away from traditional options, this necklace is ideal. This option has a glitzy pendant design that holds the same meaning as an infinity symbol but in a nouveau way.
Read more
One of the things we love the most about this piece is its two-tone styling, combining silver and rose gold finishing. Each of the interlocking circles showcases a different color, which creates a beautiful contrast. It also symbolizes two people coming together as one for a lifetime commitment.
It also boasts sparkling Swarovski stones, which glisten perfectly in all types of lighting. Apart from the gorgeous sparkling stones, the overall design of the necklace is rather subtle. You'll also find the individually inspected pave stones match perfectly with the two-toned embellishments.
If you're searching for a necklace that's designed to last over many years, this piece is ideal. As with most Swarovski jewelry, every component of the necklace maintains its brilliance and luster.
The chain is gold plated, which means it's slightly more resilient than other materials. Another benefit of the chain is that it's thin, offering easy wearability throughout the day. It will add the perfect striking and sparkly appeal to your neckline without feeling overbearing and weighty.
10

. BlingGem Diamond Heart Necklace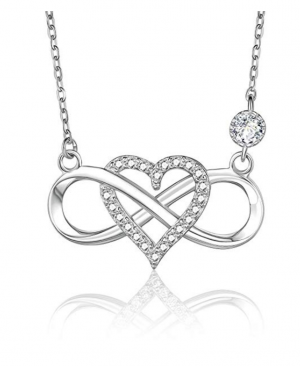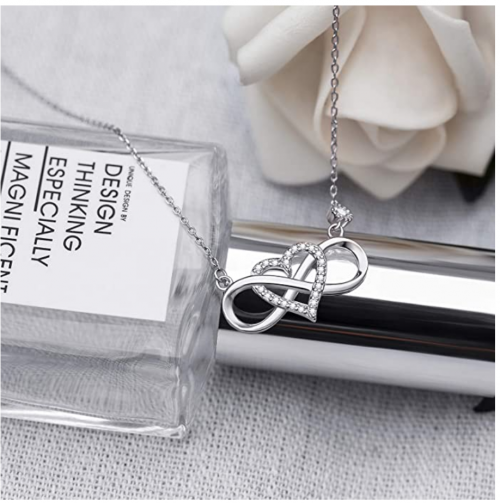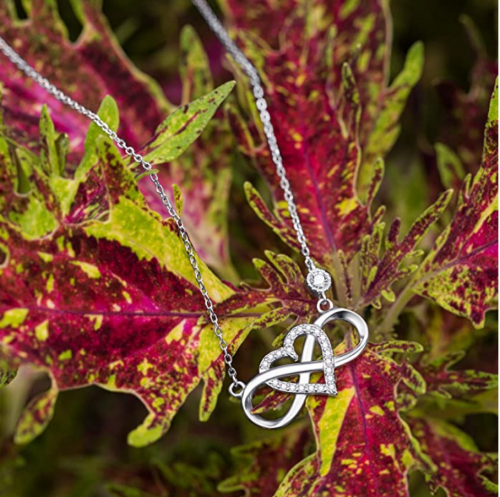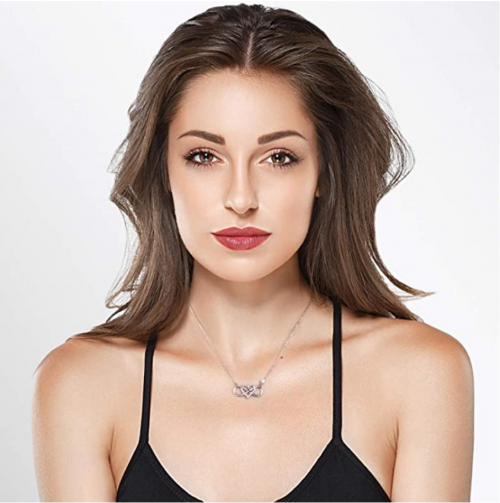 Sterling silver
18k white gold plating
Cubic zirconia
The final option in our shortlist is available from BlingGem and you're certainly getting bling with this necklace! Featuring a horizontal sterling silver pendant, the essence of this necklace is quite simple and elegant.
Read more
The sterling silver has been plated in 18k white gold; it gives it shine and this works really well alongside the gems that have been used to add sparkle to the pendant.
At the heart of this piece, there really is a heart. A sparkly heart shape has been cleverly interlinked between the infinity design as a symbol for being together forever. How romantic!
Adorning the heart are dozens of cubic zirconia gemstones that add sparkle and shine, meaning you'll get lots of attention when you wear it. There's one further detail in the form of a larger gemstone; it sits above the pendant and links it to the chain. This is a very unique design that helps to add extra sparkle.
The pendant is attached to a 16.5-inch cross chain; it can be extended by up to 2 inches. Your necklace comes in its very own black jewelry box along with a cleaning cloth.
There's even the option to order it in rose gold if you're looking for an alternative option to silver/white gold.
That's what we like, a stunning infinity necklace for a bargain price that offers different color options to suit your taste!
FAQs
q:

What does an infinity necklace mean?

a:

As their name suggests, infinity necklaces mean forever and are typically gifted to loved ones. Most wearers find that it symbolizes a bond with another person or a commitment to oneself that will last forever.

If you're looking for the perfect way to showcase everlasting love, infinity symbols are the way to go.
q:

What does infinity mean spiritually?

a:

Spiritually, infinity symbols take on a slightly different meaning, showcasing simplicity and balance. The simple nature of the sign itself shows that you prefer minimalism and avoiding challenging obstacles. It also provides a feeling of balance, knowing that all things have their meaning and will happen as they're destined to.

Alternatively, some cultures believe the infinity symbol means an eternal future. This representation could suggest that one's soul lives on throughout many lifetimes.
q:

What does a necklace with two circles mean?

a:

Necklaces with two circles typically signify two souls coming together and joining as one. When combined, they create an infinity symbol, relating to the infinite connection two people have.

These necklaces are most popular as gifts for anniversaries and birthdays when you want to show how much someone means to you.
Finally...
There you have it, our selection for some gorgeous infinity necklaces in all price ranges!
We made sure to pick options made from quality materials and attractive designs. Some picks are quite minimalist and simple while others sparkle and dazzle with crystal stones.
An infinity necklace symbolizes eternity, whether it's love, a friendship a family bond. That is why we think one of these 10 necklaces are the perfect choice for gifting as well!